There are multiple ways that you can choose to erase object from images,but Photoshop is not an easy tool. It requires expertise and experience. It also takes too much time to get rid of the watermark. Therefore, people usually avoid using it.
In this article, we will discuss some alternatives for Photoshop that can help you erase texts from your images. We will discuss the step-by-step methods so that you can do everything with ease. Let's begin.
Part 1. Remove Text from Picture – iMyFone MarkGo
iMyFone MarkGo is an amazing watermark removal tool. It is only for watermark addition and removal, so it has everything you need to achieve perfection. You can remove watermarks and text from photos without any hassle.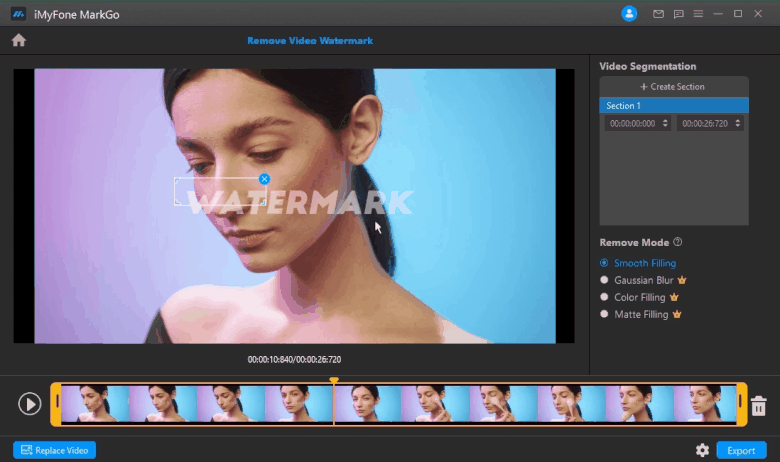 It is a praiseworthy tool as it offers batch watermark removal. You can add up to 100 images at once and delete text and watermarks. It makes the process quick and saves you from hassles. The tool is simple enough to be used by a beginner. Not only beginners but experts also use it to get rid of text from their images. It offers perfection and quick removal while maintaining the quality of the image.
Let's have a look at the simple steps of removing text from pictures using iMyFone MarkGo.
MarkGo Guide:
Step 1: Download MarkGo from this link. Install the application; the process is pretty simple. Lunch it after installation.
Step 2: You will have four options on the home window. MarkGo can remove watermarks and add watermarks. Click on Remove Image Watermark.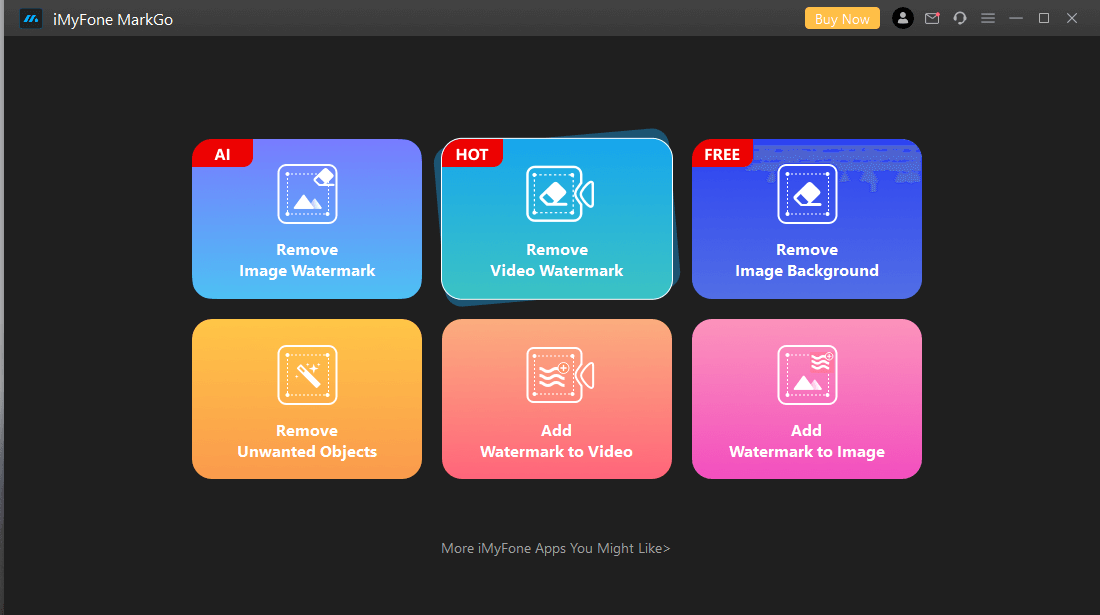 Step 3: Now, you will be in the image editor. There will be the Add Image button on the center of the screen. Click on it and browse your computer. Select the picture from where you want to remove text.
Step 4: Click on the Selection Tool. You will have a rectangle on the screen. You need to place it over the text that you want to remove. Drag the rectangle to adjust its position. You can drag its corners to adjust the size. If text is present at more than one location on the image, you can click on the Selection Tool again to add a new rectangle.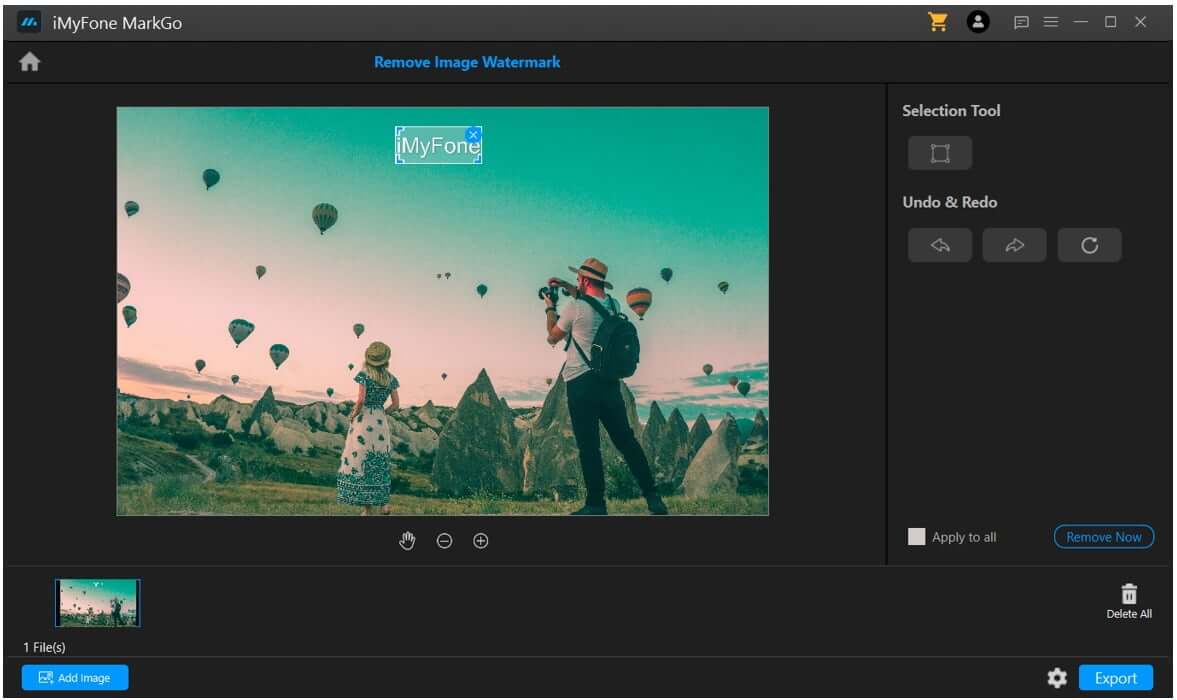 Step 5: MarkGo supports batch removal of text/watermarks. If you want to remove text from all files at once, click on Apply to all. Click on Remove Now. Within a blink of an eye, the watermark will be removed.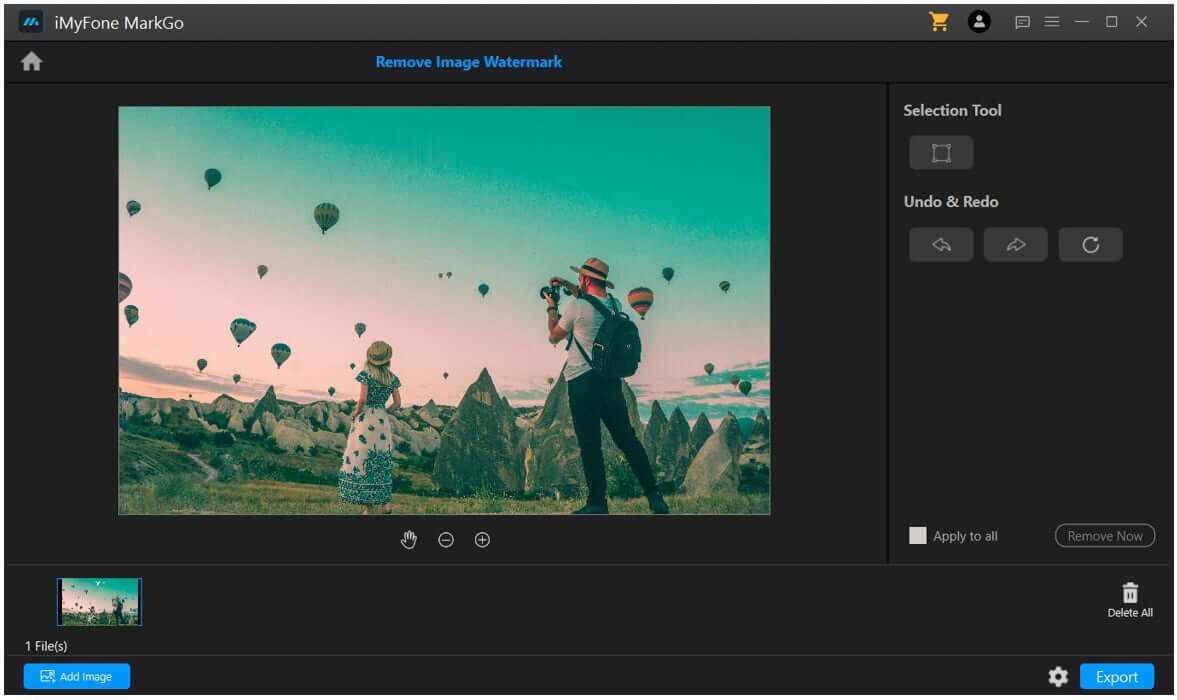 Step 6: You can see the results. If you need changes, you can use the undo, redo, and reset buttons. Click on the settings icon on the bottom right of the screen. You can select the location to save the file. Finally, click on Export. The images will be exported to the desired location.
Watch the video tutorial to learn more about MarkGo
Part 2. Get Rid of Text from a Picture without Photoshop
Photoshop is a pretty complicated graphics editor. No doubt, it has got splendid features, but it is quite complex for beginners. Even if you are an expert, you need to spend more time compared to other watermark removal tools.
Removing Text from Picture Using an Online Tool
Online tools are excellent if you want to remove text from one or a few images. You don't need to download files; just go to the website and use the tool. There are dozens of online tools, and they are just one search away.
Aiseesoft
Step 1: Open your browser and follow the website
Step 2: You will see the Upload Photo button on the center of the screen. Click on it. Browse your computer and select the image from which you want to remove text. You can also drag and drop the image.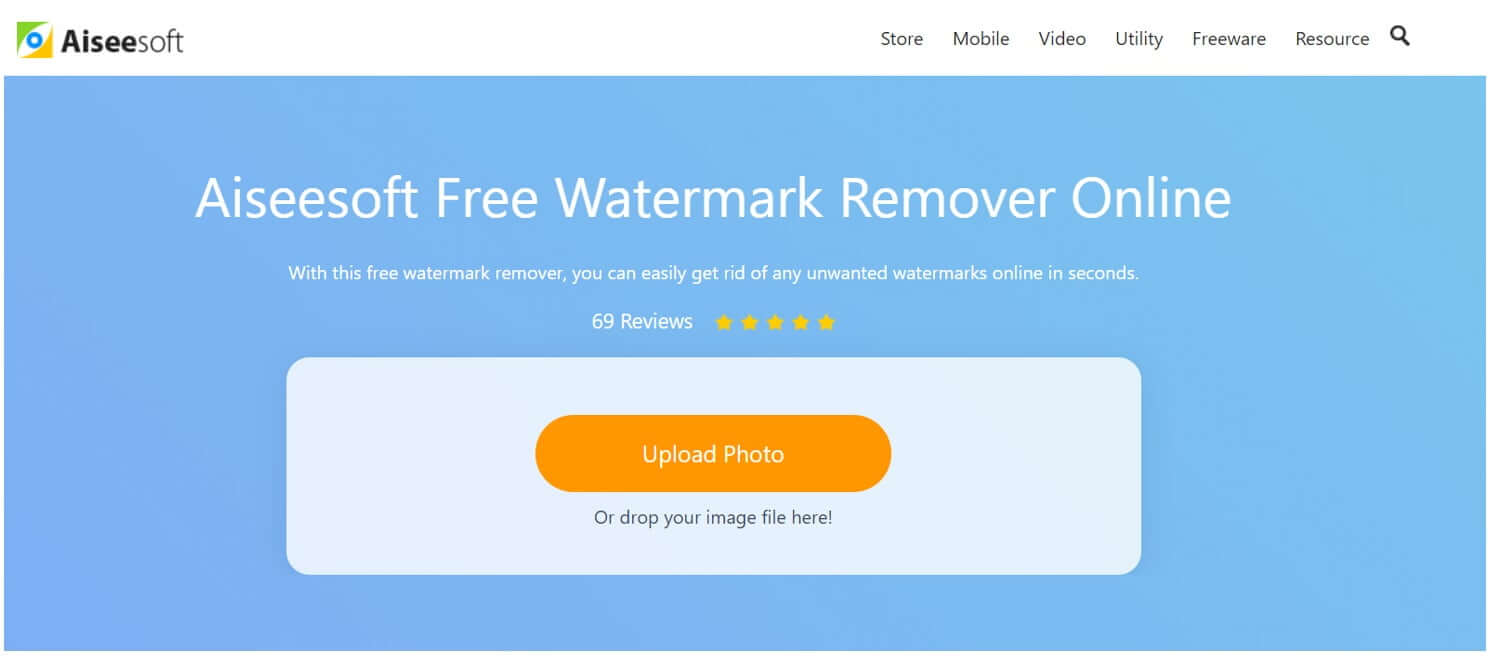 Step 3: After uploading the image, you will see it inside the editor. You need to select the watermark for removal. Aiseesoft has three tools for selecting a watermark. You can use its polygonal tool, lasso tool, or brush. Click on any tool you like; if you are a beginner, you should go with the brush tool.
After selecting the brush tool, adjust its size according to the size of the watermark. Use it to select the watermark area. You can remove the excess selected area by using the eraser tool.
Step 4: Click on the Remove button. The online tool will start processing it. It will take a few seconds to remove the text from your video. After processing, you can download the image by clicking on the Save button.
Removing Text from Picture Using an Android/iOS App
If you don't want to use your computer to erase watermarks, then you can use a mobile application. Such applications are available for both Android and iOS. You can use them to remove watermarks without any hassle. It will save you a lot of time. The images that you receive on your mobile can easily be edited using these apps.
Video Eraser App
Video Eraser is a versatile application that can be used for removing watermarks from videos/images, adding text, reversing videos, trimming, cover change, aspect ratio adjustment, and a few other purposes. It is the perfect tool toget rid of texts from picture in no time.Step 1: Download Video Eraser on your device. Open the app. You will see many options on the home screen. Tap on Remove Watermark from Image. Select the image from which you want to remove the watermark.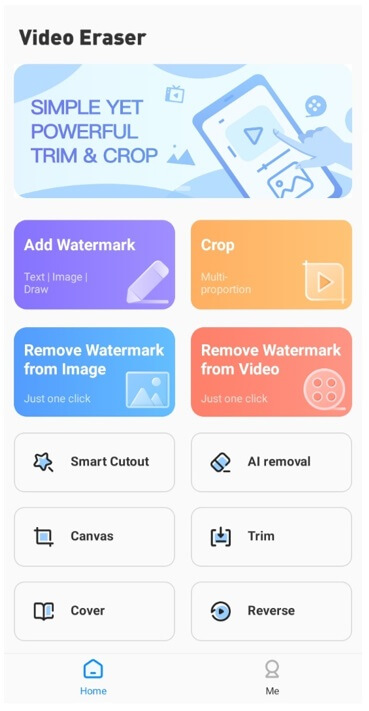 Step 2: You will see a rectangle on the screen. You can drag it to position over the watermark. Drag the edges to adjust the size. If there are multiple watermarks, tap anywhere on the screen, and you will have another rectangle. Adjust the rectangle as you like. When you are ready, tap on Done.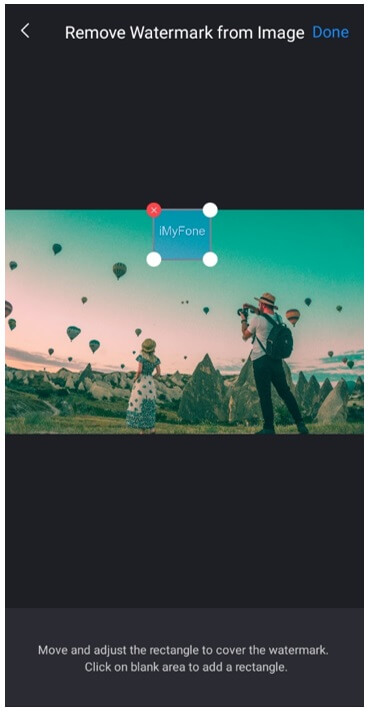 Step 3: It will take a few seconds to remove the text from the image. Tap on Save to Photo Album to save the image on your device. You can also share it with your friends.
Part 3. FAQs About Erasing Text from Image
1.How Can I Erase an Image Watermark for Free?
There are multiple ways to remove text from photo for free. You can use MarkGo to remove one watermark for free. If there is only one watermark on the image, MarkGo's trial version is enough for it. Other than that, you can use online tools. There are various web-based apps that remove watermarks for free, but most of them make the background blurry. You can also find free apps on Android; there are many available, such as Video Eraser.
2.Can I Delete Multiple Watermarks from an Picture?
Yes, you can remove multiple texts from an image. Usually, the tools allow you to select multiple watermarks. In MarkGo, you can click on the Selection tool to add more rectangles. Similarly, you can use other apps for this purpose.
3.Is It Possible to Remove Watermarks from a Batch of Images?
Yes, it is possible to remove texts from a batch of images. However, not every tool can do that. You cannot do this using an online tool or mobile app. The best way to do it is by using a desktop application. MarkGo has the feature to remove watermarks from a batch of images. You can remove watermarks from up to 100 images. You just need to select the watermark on one image and click on the Apply to All button. It will remove watermarks from all images.
Conclusion
Photoshop is not the only tool for editing your images. There are hundreds of tools available, and they are much faster and easier for removing watermarks. We have shared a desktop tool, mobile application, online tool. You can use any of them to remove watermarks from your images.
The best tool for professional, as well as commercial use, is iMyFone MarkGo. It is a desktop watermark remover along with the batch removal feature. You can easily remove watermarks from multiple images in one go. It can save you time and offer optimal results.
iMyFone MarkGo
Start to Remove Watermarks from Videos and Images Now.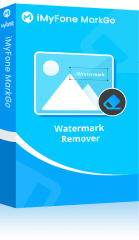 1,000,000+
people have downloaded it