In today's day and age, adding a watermark to your photo or video is a must to avoid unauthorized use. Consider the process of watermarking is a bit like an artist signing a painting, but for the digital age.
Almost every photographer and content creators add logos and watermarks to their photos to avoid their use without permission and to ensure their work was credited to them properly. Plus, make a watermark is the simplest and most efficient way to promote your business online.
Luckily, the internet is awash with tools and services that allow users to add watermarks to their photos and videos without any hassles. To help our readers out, we have prepared a curated list of the best websites to add watermark online free. No matter why you want to add a watermark, the below method will help you get that with just a few clicks.
Without any further ado, let's cut to the chase.
Part 1: Best Add Watermark Software-iMyFone MarkGo
iMyFone MarkGo has been used for nearly all the purposes related to watermark editing, so if you want to add watermarks to your photo/video, you can easily use iMyFone MarkGo for better results. You don't have to worry about how to use it, as all the steps are mentioned down below.
How to Use iMyFone MarkGo to Add Watermark
Step 1: Upload the image or video
Click the Upload button and pick the image or video you plan to remove/add a watermark from.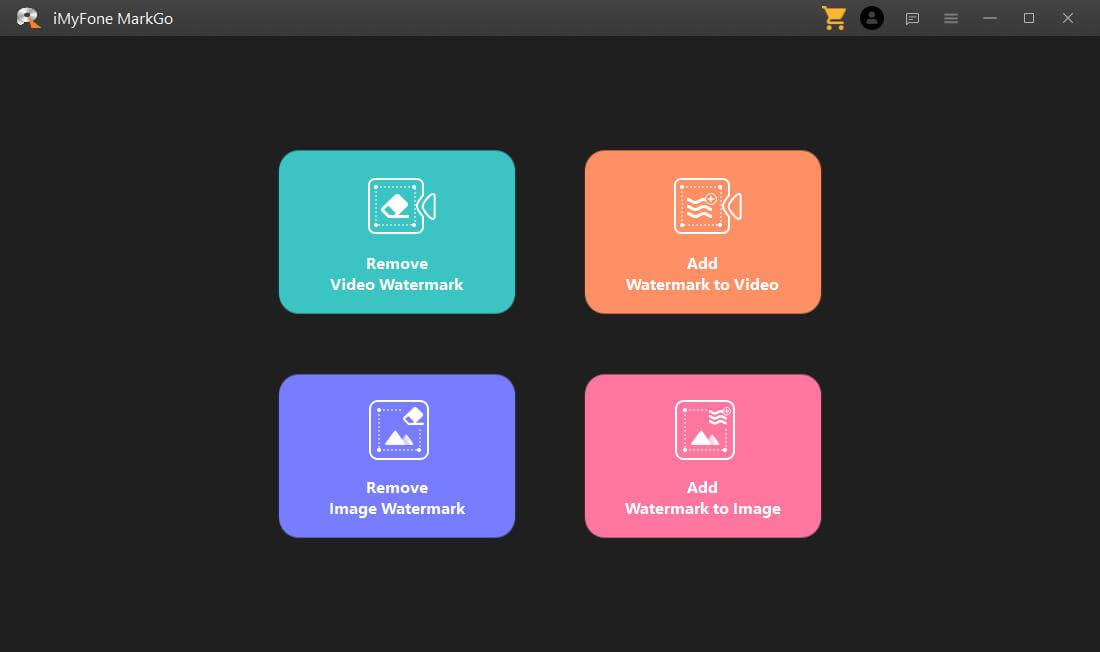 Step 2: Use add text/add image tool to add watermark area
click the add text/add image button to add watermark area,then you can drag the watermark area,you can also edit the text you want.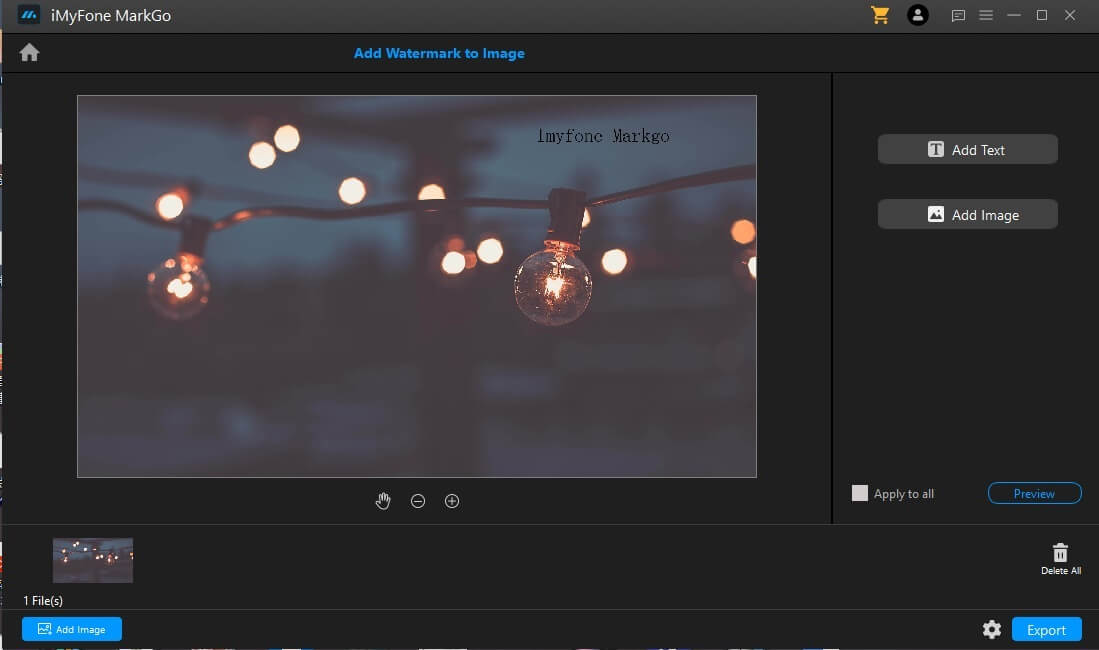 Step 3: Click the preview button
Now you have added the watermark successfully! Look into the details of your images and do slight adjustment.
Step 4: Export the video/image
After you already add the image/video watermark successfully,you can export it now.

iMyFone MarkGo
Start to Remove Watermarks from Videos and Images Now.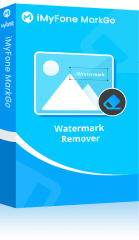 1,000,000+
people have downloaded it
Part 2: Top Websites to Add Watermark Online
Below is a curated list of the most efficient and sought-after websites for adding watermark online.
Watermark.ws is one of the most popular online tools to add watermark to your photos and videos. This simple yet feature-rich service empowers users to watermark files as well as use other editing features such as cropping and resizing.
What makes it so special is its simple and intuitive interface and its ability to add watermark on multiple files at the same time. No matter if you're a beginner or semi-pro when it comes to using online services, you can always handle this website with ease.
Features of Watermark.ws
Here are the highlighted features of this online service:
Users can create custom watermarks easily. Plus, you can also import logos or graphic designs from your computer.

Offers the feature of the batch watermark to watermark all the videos or photos in one go. Users can then edit and customize the watermark in each file individually.

Save the watermarks as templates for future use.

100% free to use
Here's How You Use This Remarkable Online Watermark Service.
Step 1
From your web browser, head the official website of the Watermark.ws and hit Enter to get started.
Step 2
Now, click on Select Files to Upload and import the video or photos from which you want to remove the watermark.

Step 3
Once they are loaded select the files and click on the Edit Selected option at6 the top-right corner.
Step 4
The program will now open a new interface where you can add text and graphic designs to your photos or videos. Use the editing tools in the left tab,
Once you're done editing, click on Finish at the bottom-right corner to save the output file on your computer.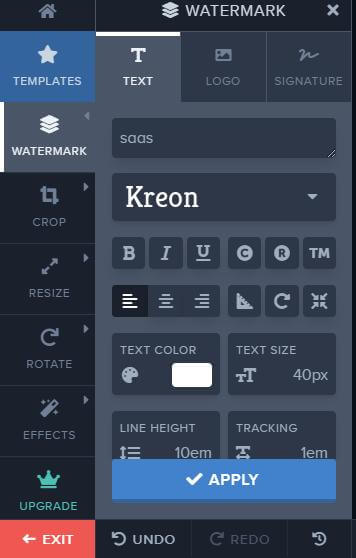 Another popular website that empowers users to add watermarks to the photos online with great ease. With just a few clicks, you can add a custom watermark to any picture online. All the editing tools are clearly available which makes the editing process quick and efficient.
Having over 900 editing premium fonts available, Make Watermark is an ideal choice for professional users to polish their content and add a watermark that fits into the image perfectly. This app is free but one can buy its premium version to access all its features.
Features of Make Watermark
Below are the highlighted features of this powerful online service:
Add watermarks to the pictures quickly and efficiently

Batch watermark

Hundreds of premium foots

Special transparent and glass-like watermarks to get all the attention

Add custom-made logos or import from your computer to your photos

Edit the photo after adding a watermark
Follow the Below Steps to Use This Software:
Step 1
Navigate to official website of Watermark for Free and hit on the Watermark for Free icon to get started.
Step 2
Now, drop and drag your files into the program and click on Next Step to continue.

Step 3
On the new interface, use the option Add Logo or Add Text and resize the watermark as needed. Use other editing options to further customize your file.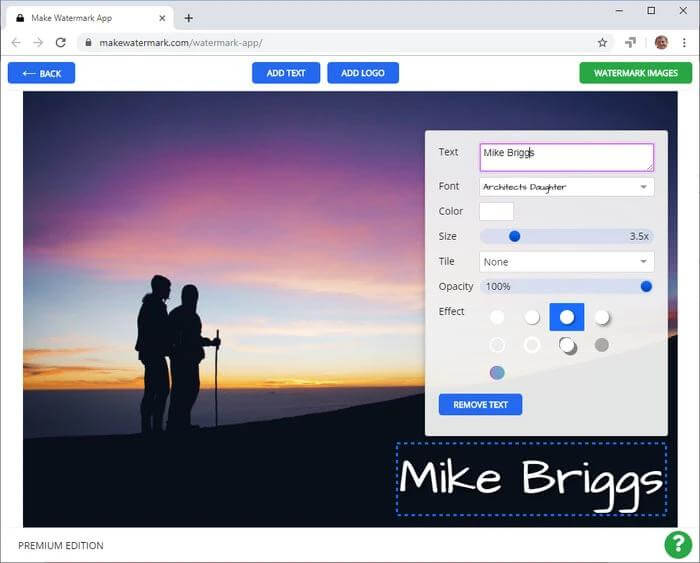 Step 4
When you're done editing, hit on Watermark Images to save the output file on your computer.
The last tool on our list is LunaPic. Just like the other online services mentioned above, LunaPic offers a simple and straightforward procedure to add watermarks to an image online. The highlighted feature of this remarkable service is its blazing-fast speed. With just a couple of clicks, one can add a custom-made watermark or logo to an image file.
Aside from adding a watermark, LunaPic is equipped with a wide variety of image editing tools and effects that help you polish your content and promote your brand like never before. From adding dozens of advanced animations and filters to customizing text, color, position, and transparency of the watermark, LunaPic provides an efficient way to get the job done with a little effort.
Features of LunaPic
Add customized watermark easily

Thousands of editing tools and effects

A wide range of options to adjust the watermark or logo

Quick and easy to use
Check Out Yourself How Easy It Is to Use LunaPic:
Step 1
From your web browser, head to LunaPic and Choose File to load the desired image into the program.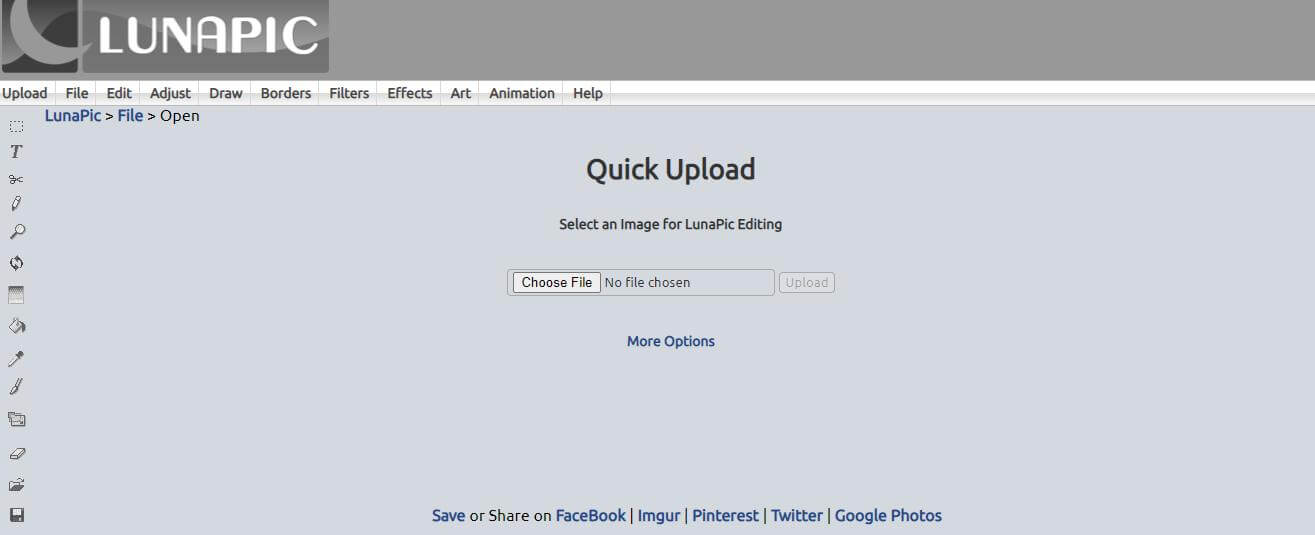 Step 2
Once the file is loaded, you can add tons of different text styles and logos as well as adjust the borders and implement other effects using the option in the top bar and left bar.
name: lunapic-add-watermark

Step 3
If you're satisfied with the result, hit on Save below the photo to download the output file on your computer.
Now that you know there're a plethora of ways you can add watermark to photos and videos via online services. All the aforementioned websites are proven and efficient when it comes to adding watermark to your multimedia files and you can rely on any of them to add watermark online free. You can also use MarkGo to remove watermark from picture.
But when it comes to the best tool to add watermarks to your photos and videos, then iMyFone MarkGo stands apart from other players in the market. It is smaller in size but comes preloaded with all the impeccable features and tools that make it exceptionally easy to add watermarks and logos to any photo or video with just one click.
What makes iMyFone MarkGo a go-to option for both newbies and professionals to include custom-made logos or import graphic designs from your computer. The most highlighted feature of iMyFone MarkGo is its ability to export the output file in multiple formats. We recommend users buy its premium version to enjoy all its services.
iMyFone MarkGo
Start to Remove Watermarks from Videos and Images Now.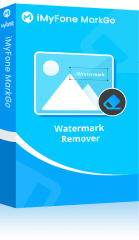 1,000,000+
people have downloaded it