Watermarks on a photo are mostly used by bloggers, photographers, or digital media owners, primarily for copyright purposes. So what they do is to put their brand name on their photos or videos, which simply means that no one else is allowed to copy them, or that no one is supposed to use your work without consent. The watermark basically depicts the owner's identity, copyright symbol, or his/her website link. Now, there are times that you may want to remove object, for whatever reason. This is where watermark remover software comes in handy. In fact, not only does a watermark remover software help you remove such marks effortlessly, but it is also equipped with additional features that allow you to edit the images and convert them into whatever you want. In this article, we will take a look at the best free watermark remover software that digital developers can rely on:
Part 1. Best Watermark Remover Software - iMyFone MarkGo
iMyFone MarkGo has been used for nearly all the purposes related to editing, so if you want to remove watermarks from photo, you can easily use iMyFone MarkGo for better results. You don't have to worry about how to use it, as all the steps are mentioned down below. Download iMyFone MarkGo below now.
Watch video to learn how to remove watermark from photo/video by iMyFone MarkGo
How to Use iMyFone MarkGo
Step 1: Upload the image or video
Click the Upload button and pick the image or video you plan to remove a watermark from.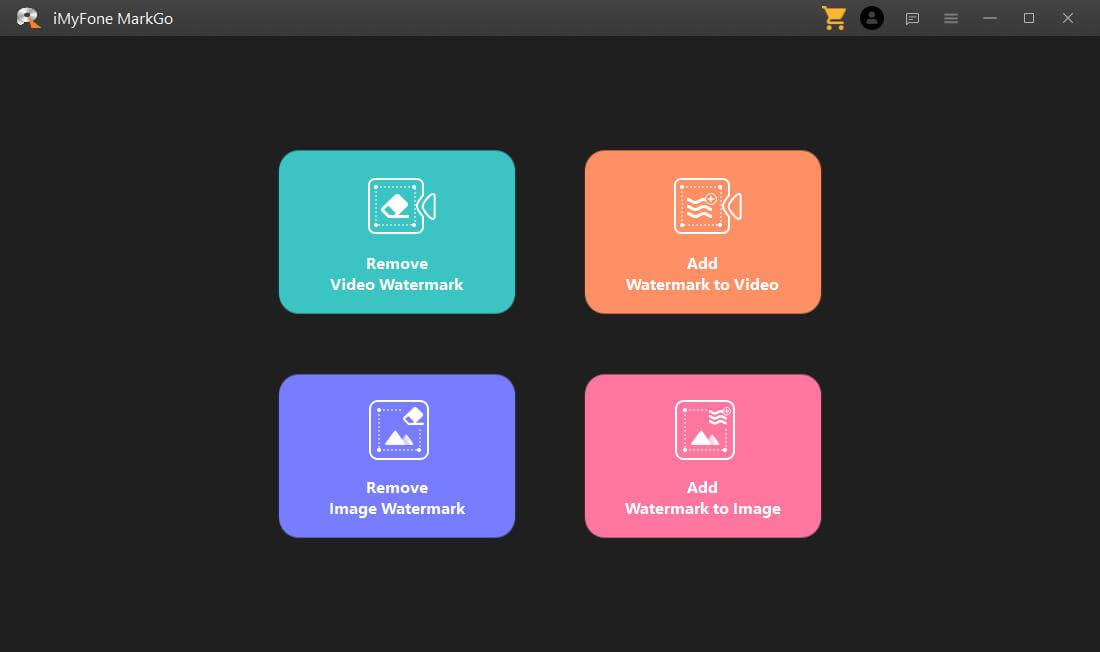 Step 2: Use selection tool to select watermark area
Select the area of the watermark you want to remove by the selection tool.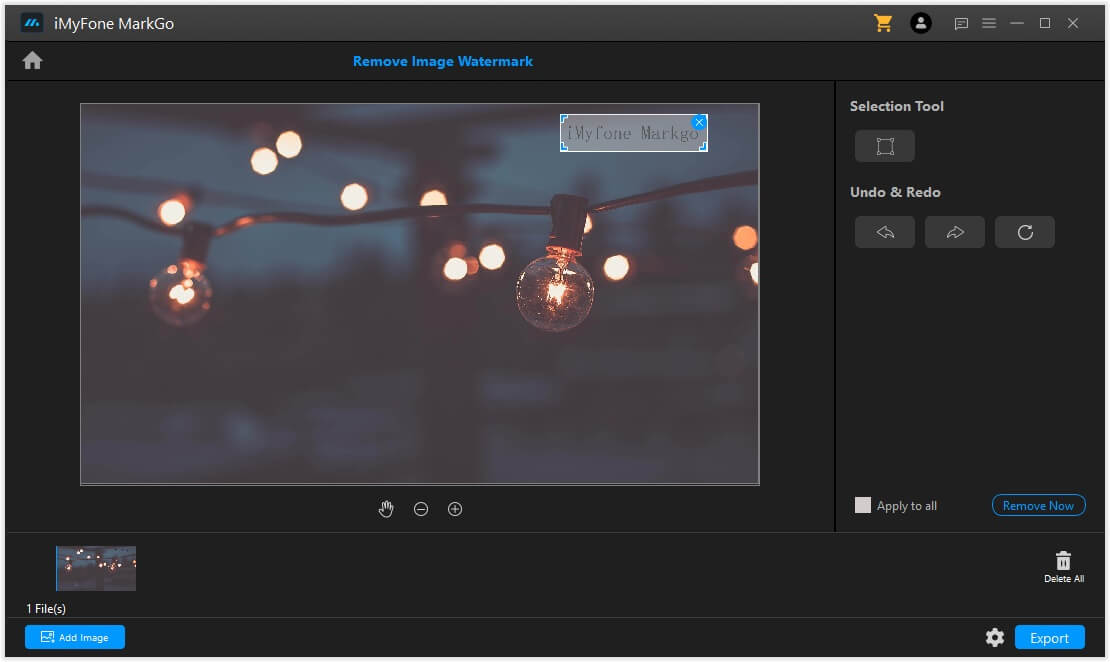 Step 3: Click the remove now button
Now you have removed watermark successfully! Look into the details of your images and do slight adjustment to cover the trace of watermarks.
Step 4: Export the video/image
After you already remove the image/video watermark successfully,you can export it now.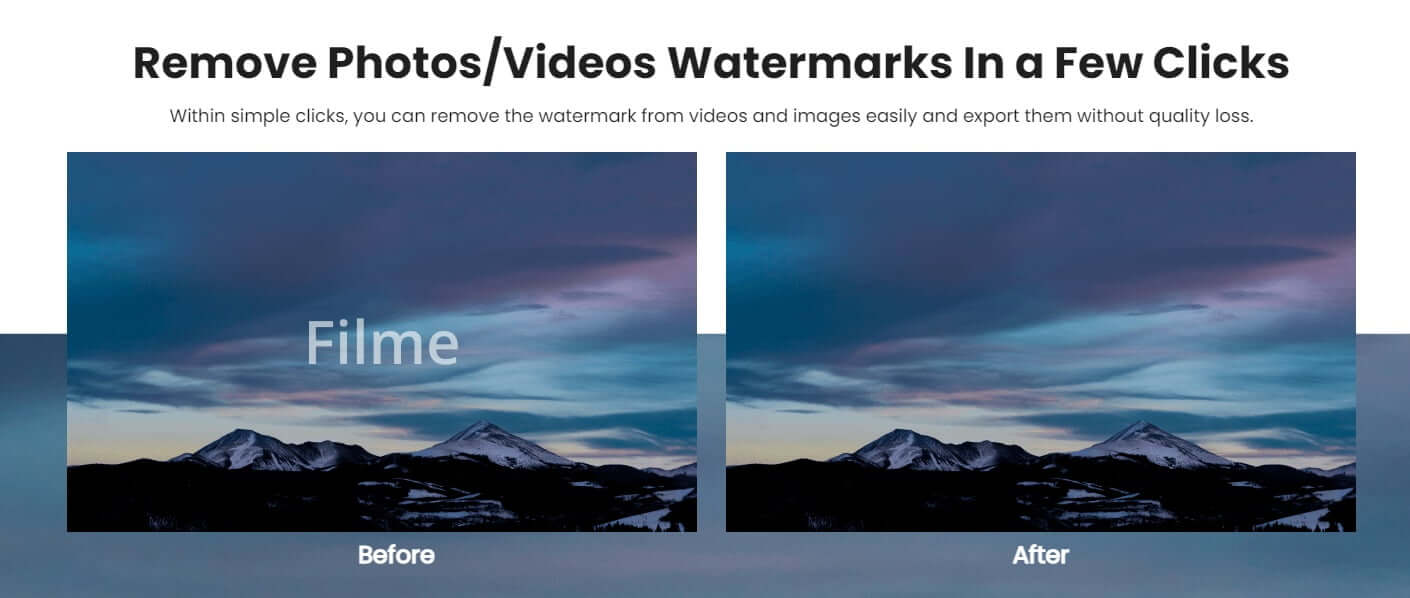 iMyFone MarkGo
Start to Remove Watermarks from Videos and Images Now.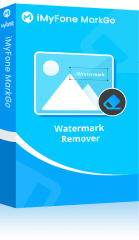 1,000,000+
people have downloaded it
This is a free watermark removal software that allows you to remove watermarks off images effortlessly. It is essentially an open-source photo editor that's compatible with all the major platforms including Linux, Windows, and macOS. With this software, you are not only able to create advanced logos and buttons, but they are also perfect for improving digital images and correcting errors.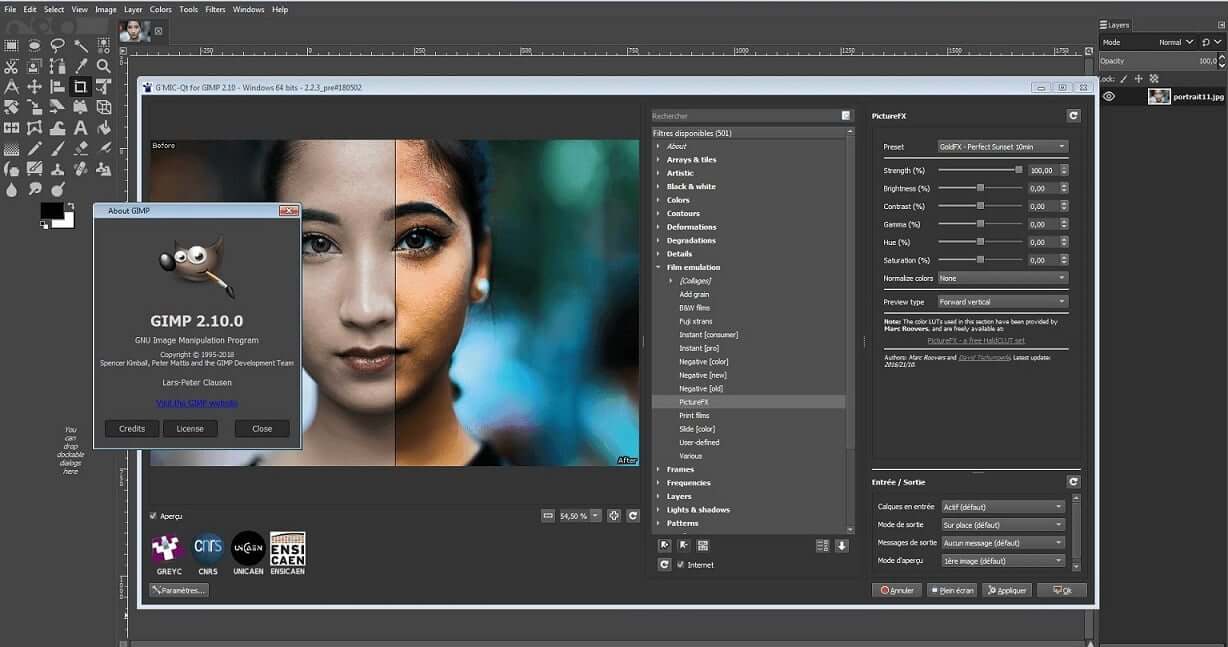 Moreover, the software allows you to erase watermarks and even correct lens-aim error that at times causes view distortion. You also get digital retouching features with this software, which means that the final product is always amazing. Overall, we consider GIMP to be a rational option for anyone looking to edit his/ her photos. To remove watermarks from your images, follow the following steps:
Step 1: The first thing will be to download GIMP and install it on your PC.
Step 2: Then, open the image you are looking to remove the watermarks from. What you do is drag the image and drop it on the GIMP interface, which opens the image automatically.
Step 3: Then on the interface, select the "clone" tool – found at the leftmost part of the interface – which you will use to remove the watermark.
Step 4: Then select the watermark portion on the image to remove it.
Step 5: Now you can save the image on your PC.
Part 3. Paint.NET Online
Watermark Remover
This is the other free watermark remover that is specifically designed for photo editing. To be honest, this software is pretty basic but it is quite useful, especially when it comes to erasing basic watermarks. And using this software is pretty easy, you know.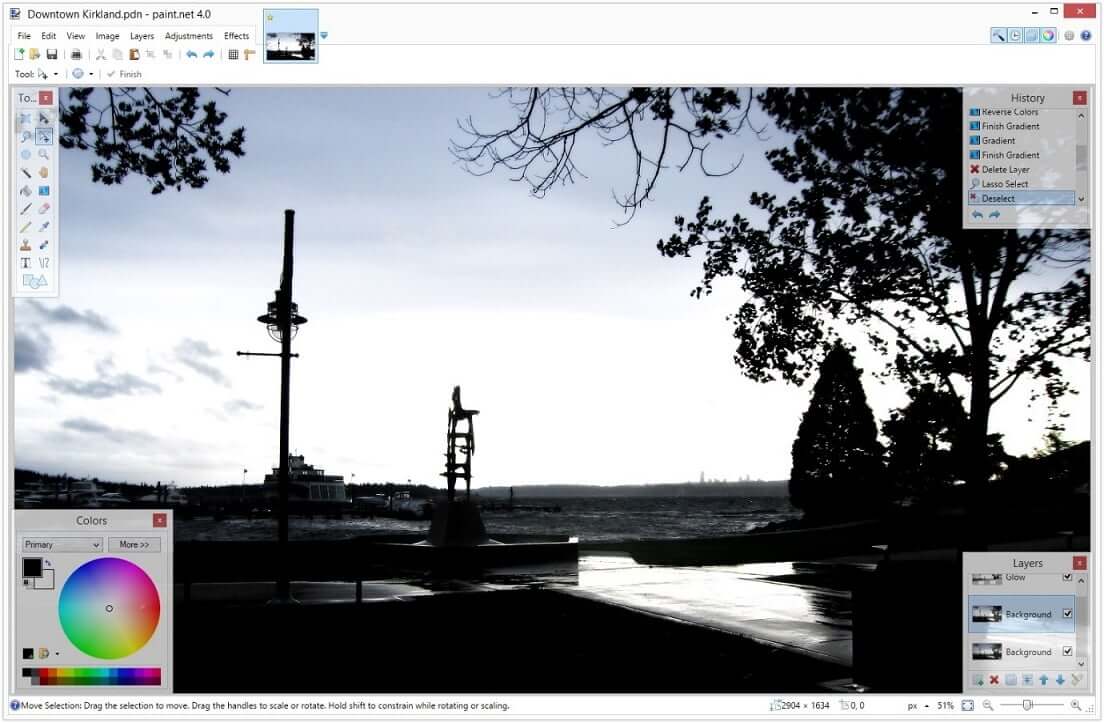 Once you've installed the software on your PC, you just need to open the photo with the watermark, and then select the "Clone" tool. After that, you just need to adjust the size of the brush, click on the CTRL button, and select the image background in order to create a clone of it. Now, to remove the watermark, you just need to click and hold the left-mouse key so as to point the cursor on the watermark. Pretty easy, right! Well, imagine all this for free.
Part 4. LunaPic
Watermark Remover
Here is the other free watermark remover software that is also known to do a pretty good job. It is a web-based tool, whereby making changes to the image results in the entire page reloading. Even though it can be time-consuming, particularly during the sign-in process, the rest of the process is pretty much easier.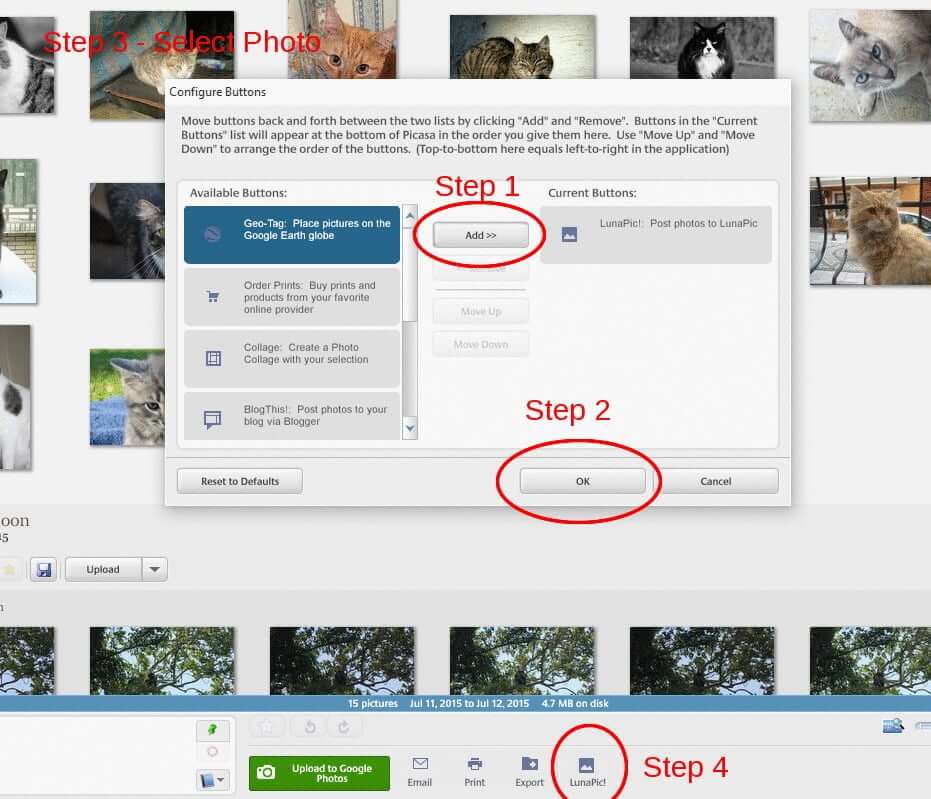 To remove the watermark, you first need to head to Lunapic.com on your browser. Then upload the image that you want to remove the watermark from. Select the scissors icon to get the cut-out tool and then draw around the watermark. After that, you just need to click the "Remove&Inpaint" button to remove the watermark.
Part 5. Apowersoft Online
Watermark Remover
This is an amazing and popular online watermark tool that allows you to remove unwanted watermarks from your photos or even videos easily and for free. This tool even supports batch processing of several watermarks at a go. I mean, it's just one of the best.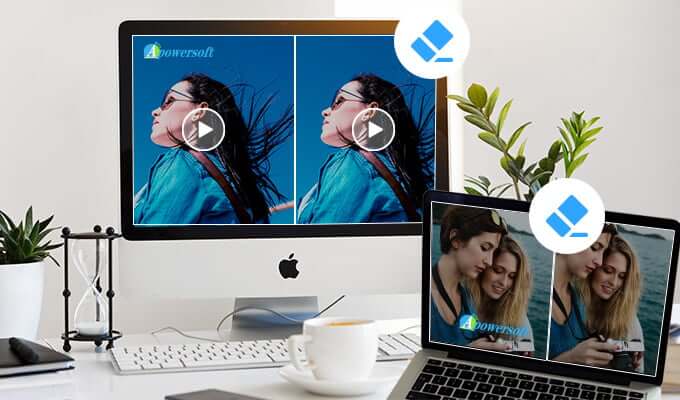 So, how can you remove watermarks with this software, you just need to upload your image on the Apowersoft website. Then drag the box to the watermark – and if there are several watermarks, just click "Add box" – and then hit "Erase." And just like that, the watermark will be removed. Thereafter you can download the image and save it on your PC.
Part 6. SoftOrbits
Watermark Remover
This is one of the most featured watermark remover software to have on your PC, and you can get it for free. The software is not only good at removing watermarks, but also in erasing date stamps, removing unwanted people in the background, or any other unwanted element on your image.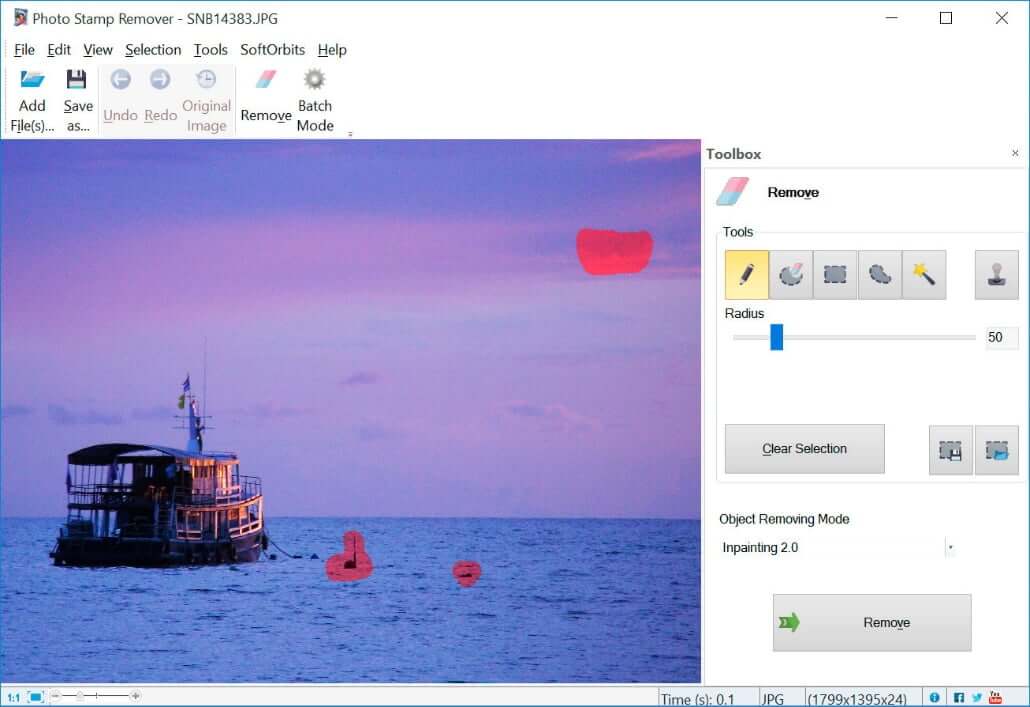 And to use it, there are only 3 very simple steps;
Step 1: First, you open the water remover software on your PC and upload the watermarked image simply by clicking "Add Files" on the menu.
Step 2: Secondly, highlight the watermark or any other element that you wish to remove using a marker.
Step 3: Thirdly, click to erase the selected portion – which in this case is the watermark. It's this easy!
Part 7. Photoshop
Watermark Remover Software
being one of the best imaging and graphic design software, it can handle everything from watermark removal, to photo editing, animation, as well as graphic design. The software comes with professional photography tools that make it pretty easy to do daily editing or even complete image transformation either on your desktop or iPad.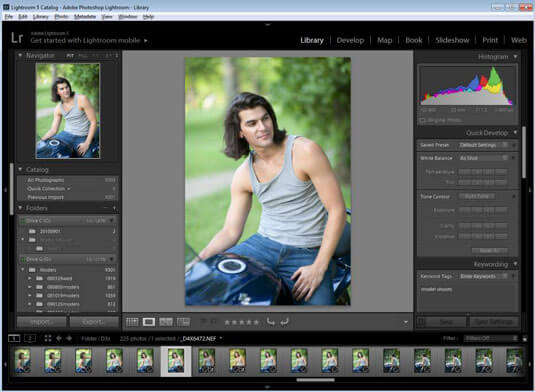 You are able to crop, retouch, remove objects, and combine photos, not to mention the colors and effects function that is also supported. Here is how you remove watermarks with Photoshop;
Step 1: First and foremost, you need to download and install the software on your PC.
Step 2: Then, drag the watermarked image directly to the software's interface. Another way will be to click "File" on the interface, then "Open" to load the image onto the software.
Step 3: The next step will be to select the "Context-Aware Move Tool" from the interface, then click and hold to select the watermark portion you need to remove.
Step 4: Then go to "Edit", the "Fill" and a pop-up box will show, where, under the content list, you will select "Content-aware", then "Normal" as mode, and lastly, opacity to "100%". Once everything is set just click OK and the watermark will disappear.
In conclusion
Let's conclude by telling you a little about iMyFone MarkGo, the latest watermark remover software. This software offers amazing video editing features, which a beginner can easily use. Some of its main features include:
You can easily edit videos without too much technical knowledge.

You can easily create or remove watermarks from your images

You can easily change colors and effects in videos

You can easily add or remove background noise/music from videos
So, as you can see, this is a software that you really should check out.
Moreover, while all the watermark remover software discussed above are perfect for removing watermarks and all other unwanted objects from your images seamlessly, MarkGo can also add watermark to video.they are also perfect for improving the overall quality of the images. So, you really need to select the one that gives you the best in terms of photo/video editing experience and does so in just a matter of seconds.
iMyFone MarkGo
Start to Remove Watermarks from Videos and Images Now.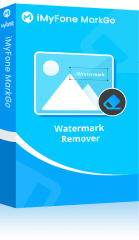 1,000,000+
people have downloaded it