Do you want to acquire a tiktok watermark remover app but couldn't find an appropriate tool yet?
You'll see watermarks or unnecessary things on a particular photo that may seem irritating to you. Generally, some companies opt to use texts or logos on photos not to allow others to use these pictures for private purposes.
Inserting a watermark on a video is the most common way to protect an image from being used on the internet by someone. You can also notice when you download a TikTok's video, the account owner's profile name would be automatically added to the downloaded video.
And it's lovely to protect your content as much as possible. But sometimes, you'll need to remove watermarks from a photo that's not copyright protected. You'll find some helpful watermark extracting tools here, but only a few are relevant.
We've reviewed some of the best tiktok watermark Removal app for iPhone or Android, which we're going to share with you.
Let's begin it.
Part1:Best Tiktok Watermark Remover-iMyFone MarkGo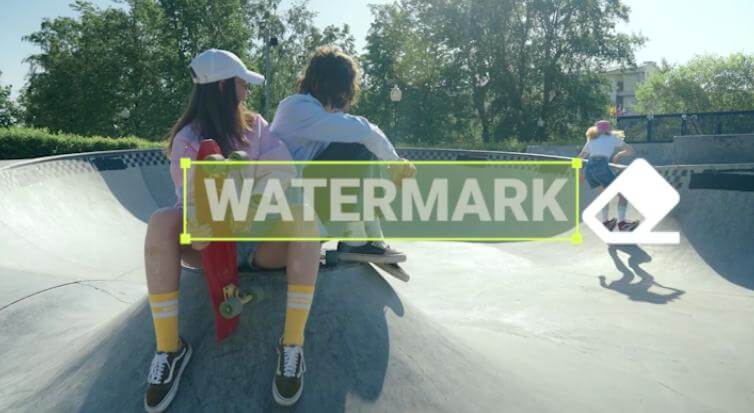 iMyFone MarkGo has been used for nearly all the purposes related to editing, so if you want to remove obejct from any tiktok video, you can easily use iMyFone MarkGo for better results. You don't have to worry about how to use it, as all the steps are mentioned down below.
How to Use iMyFone MarkGo to Remove Object
Step 1: Upload the image or tiktok video
Click the Upload button and pick the image or video you plan to remove a watermark from.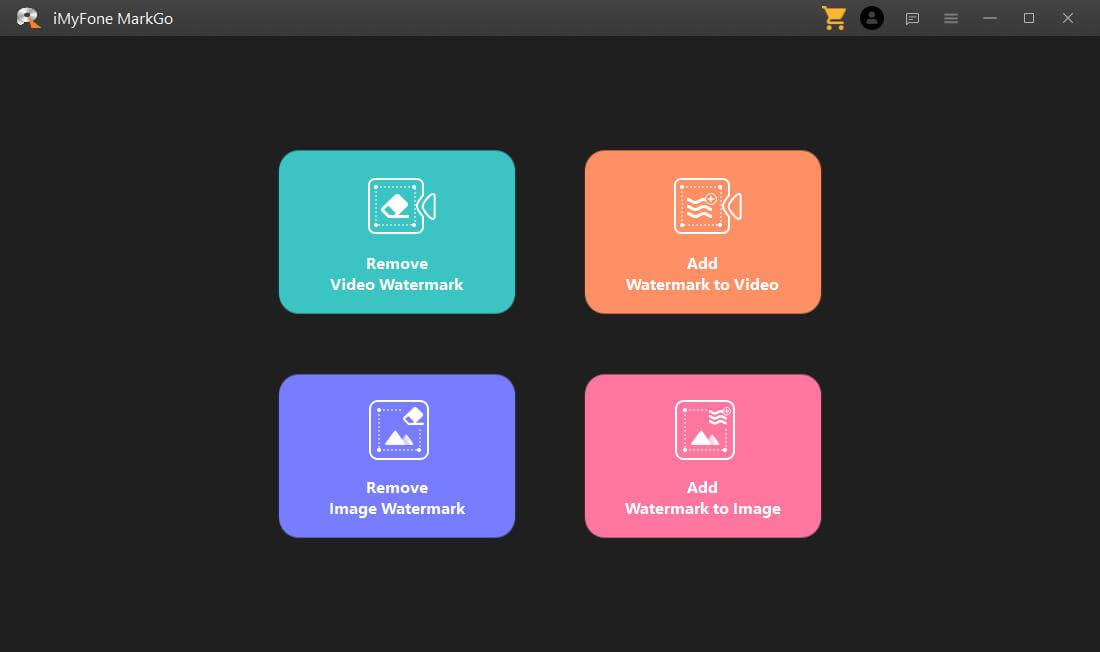 Step 2: Use selection tool to select watermark area
Select the area of the watermark you want to remove by the selection tool.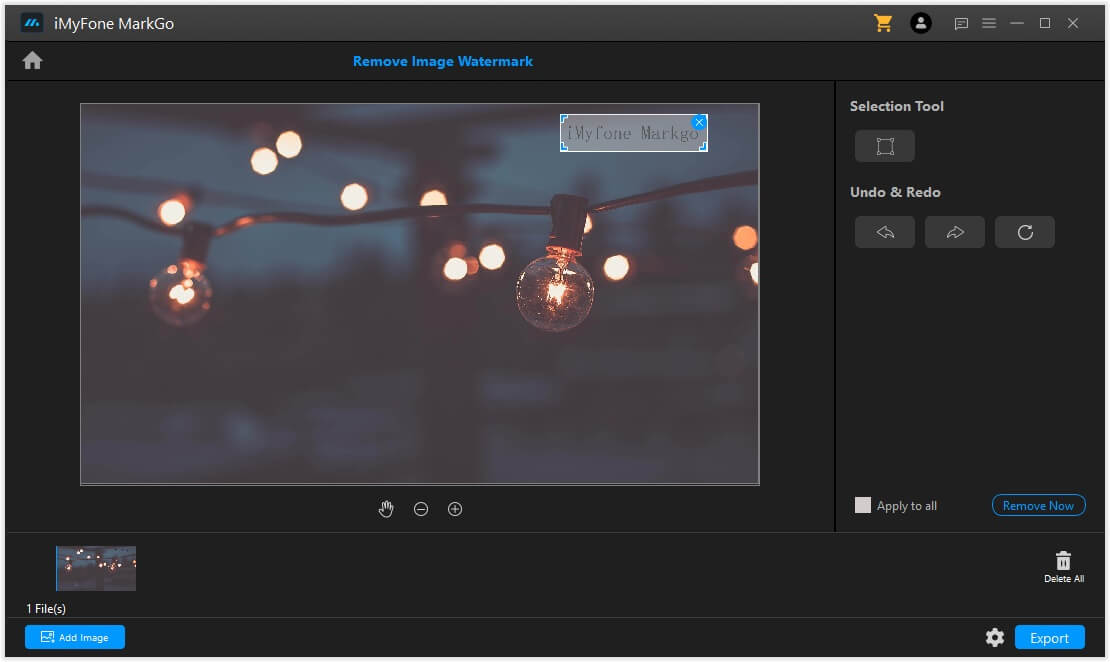 Step 3: Click the remove now button
Now you have removed watermark successfully! Look into the details of your images and do slight adjustment to cover the trace of watermarks.
Step 4: Export the video/image
After you already remove the image/video watermark successfully,you can export it now.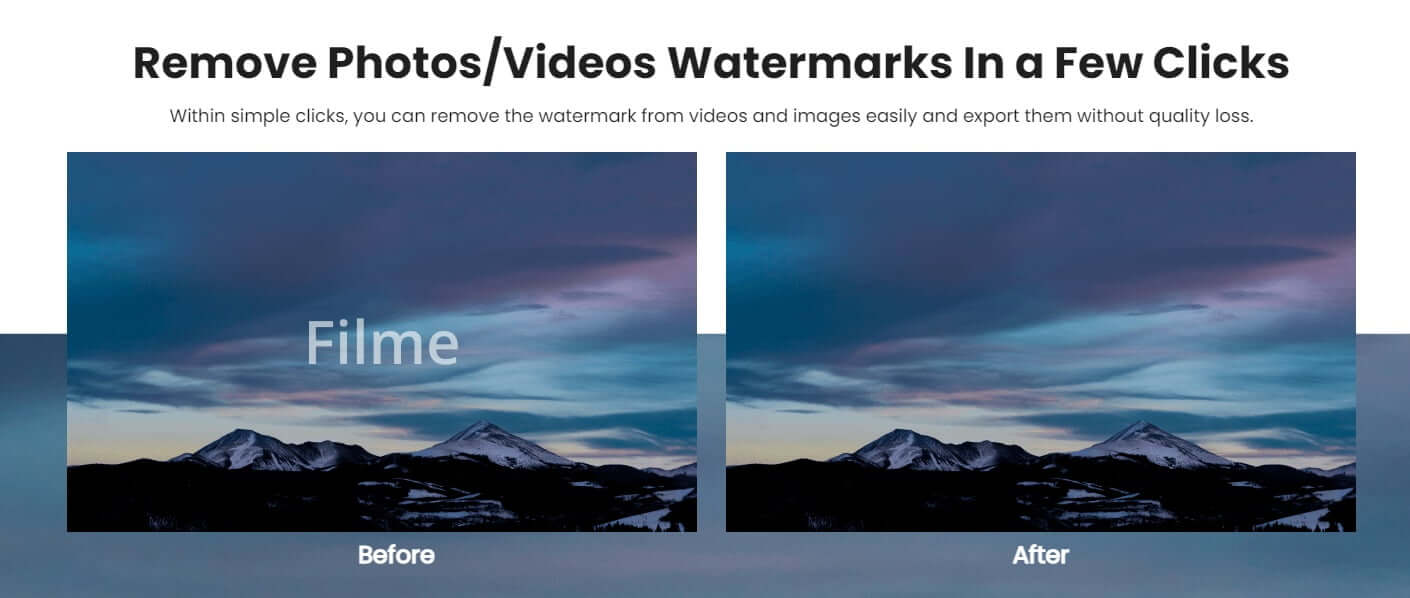 iMyFone MarkGo
Start to Remove Watermarks from Videos and Images Now.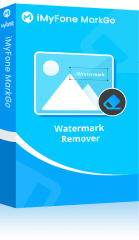 1,000,000+
people have downloaded it
Part 2: Top 3 Watermark Remover App for iPhone/Android
Let's explore the best three watermark removing applications.
PicLab is a watermark remover app that can remove useless items from your graphic images. Using this tool, you can remove logos, text, watermarks, dust, scratches, and more. You can also store some old photos using the feature of this tool.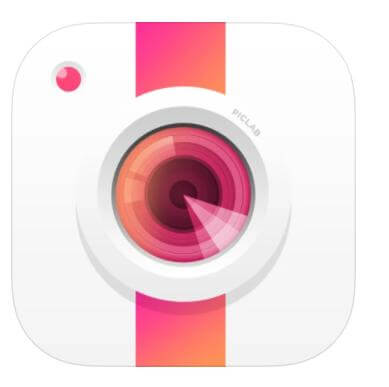 Features
User-friendly and simple interface

You can quickly restore your old photographs.

It removes the watermark from your photo quicker than you think.

PicLab allows you to save your photos in 4 formats.

Skin defect repair function

It enables you to preview the original image before saving it.
How to Use Piclab to Remove Watermark?
Step 1: Upload a photo
After installing PicLab on your device, open it and upload an image with a watermark. You can import a picture using the'' Open'' function' 'located on the top of the application's toolbar.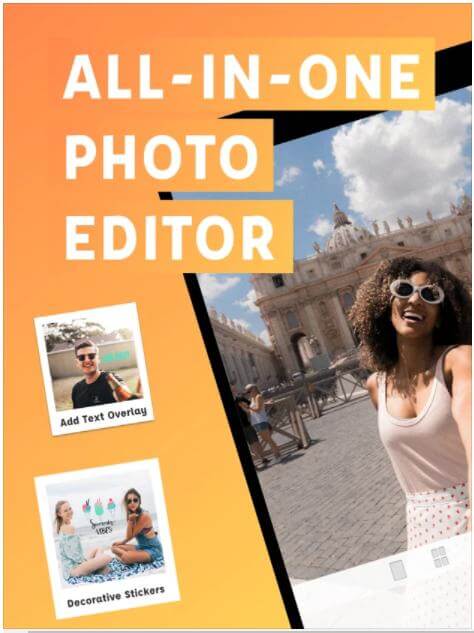 Step 2: Select '' Marker tool''
In this phase, you'll need to select the' Marker tool present on the left side of this tool's interface. Now, you'll have to paint the watermark by using the marker on the photo.
Step 3: Select watermark
After you select the watermarked area, you can now start deleting that particular part from your photo.
You'll need to click on the'' Erase'' button on the upper toolbar to proceed further. Wait for few seconds, and the watermark will appear pretty quickly.
Step 4: Click on '' Save''
After removing the watermark from your photo, if you want to save the file into the gallery, click on the' Save' function to serve your purpose.
Background Eraser is well known for editing and creating your graphic images in any format you want. This watermark remover app possesses various functions and effects; one of its best attributes is to remove a watermark from a photo.
It's a multidimensional application that serves you as an editor as well as a watermark remover app.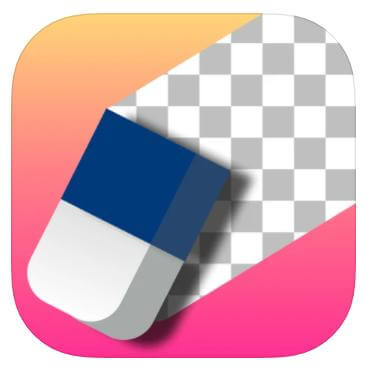 Features
It possesses a large variety of tools for creating and editing graphic images.

Background Eraser to supports all formatted photos.

It possesses the ability to edit 3D images.

Its interface is nothing less than spectacular.
How to Use
Superimpose to Remove Watermark

?

Step 1: Launch program

After downloading it on your device, open it. Now you'll need to upload a photo you want to remove a watermark from. You can do it by clicking the 'File' and then 'Open' from the tool's menu.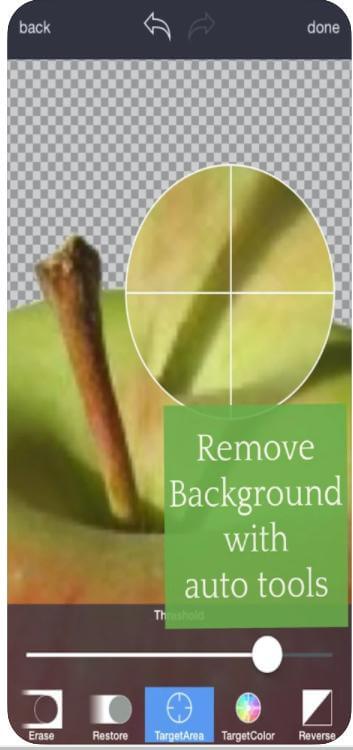 Step 2: Choose spot repair brush
In this phase, you can start the process of deleting the watermark from your photo. For this purpose, you'll need to click on the Spot repair brush, which is present on the toolbar.
Step 3: Hide the watermark
Now, you'll need to choose a particular area of your picture where you can hide the watermark. That area is the background of your logo.
Later, all you need to do is smear the watermark on your photo with the '' Restoration Brush Tool''.
It's a prolific app for removing watermarks, stamps, objects, and other elements from your photos.
This tool allows you to recover your old photographs. You don't have to do much to remove unnecessary things from pictures because this tool possesses a pretty straightforward procedure to serve your purpose.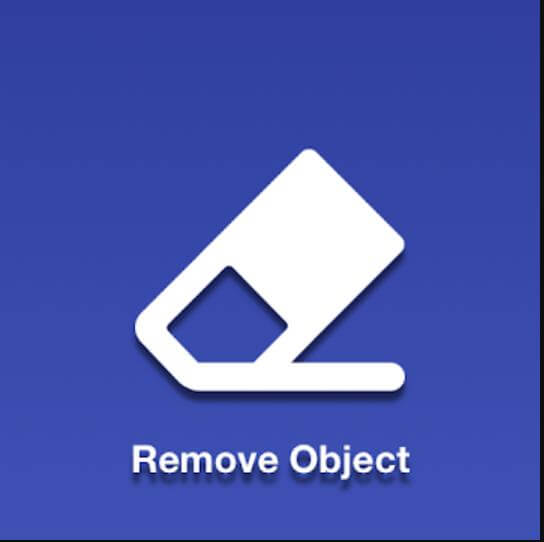 Features
Remove Unwanted Object application doesn't contain any restrictions.

It possesses a pretty friendly user interface.

Notably, there will be no advertising ads popping up your way.
How to Use
Remove Unwanted Object to Remove Watermark

?

Step 1: Install remove unwanted object

First of all, you'll need to download the application from your browser. After saving it on your device, launch it.

Now, you'll need to select a picture you want to remove unnecessary objects from. For this, you can use the tool's '' Add image'' function.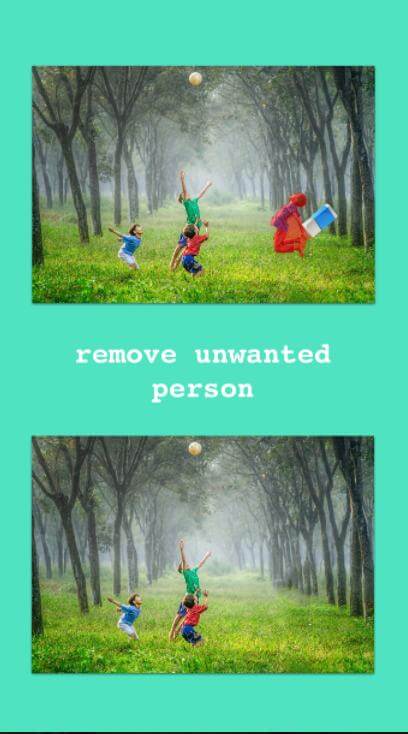 Step 2: Choose the marker tool
In this phase, you'll need to choose the '' Marker tool''. You can find that tool from settings. Now, you'll have to paint the area of the watermark on your photo using a marker.
Step 3: Click object deletion mode
After marking the watermark area, you'll need to select '' Object deletion mode'' from the right side of the tool's interface.
Now you can delete a watermark by choosing the corresponding item.
Step 4: Click on the delete button
If you want to remove the logo from your photo, you'll need to click the delete button. After pressing, you'll see there is no watermark on your image anymore.
Step 5: Save the file
After making all the changes, you can save that file into your gallery.
Part 3: FAQs of Watermark Remover Apps
1. Is There a PDF Watermark Remover App?
Yes, there are some PDF watermark remover apps available in the market. You can use PDF watermark removers online and the Adobe Acrobat Pro application as a PDF app for iPhone or Android. If you use these two applications appropriately, you'll get the desired results.
2. Can You Remove Unwanted Objects from a Picture in Photoshop?
You can use Clone Stamp Tool and Content-Aware Fill to remove unnecessary objects in Photoshop. For mobile users, you can use the applications mentioned above for a better result.
3. Which TikTok Watermark Remover App is Good?
If you're looking to remove the Tiktok watermark, you can acquire the services of Remove Unwanted Object, PicLap, Background Eraser: superimpose, or any other water remover app.
However, if you want to save your TikTok videos without unwanted watermark, you can use SaveTok, SnapTik, and more.
Part 4: iMyFone Filme-Best Video Editor
Have you ever thought about acquiring a video editor that can provide services that you would imagine?
Everyone who wants to create an attractive video would always look to find the best video editor.
Luckily, iMyFone fulfills the desires of those people who look to acquire a professional video editor. With its professional features and excellent support, Filme has been winning millions of people's attention around the globe.
You'll get all these things in iMyFone that are necessary for an editor to be a giant video editor.
iMyFone Filme Key Features:
Fast Video Mode: Fast create videos with multiple templates of different themes.
Effects: Filme looks like a typical video editor. It has a timeline, an effects library and a preview window. The effects library has 172 effects. 43 of them are filters, and the remaining 129 are GIFs of various themes.

Transitions: There are 112 video transitions. Video transitions are effects that enable smooth transitions from one video clip to the next. 25 of 112 transitions are designed specifically for slideshows.

Text: There are 45 text types in Filme. You can find texts for titles, subtitles, end titles and titles that appear on the lower third of the screen. Some of these texts are animated.

Audio: The library also contains 51 audio clips that you can use in your slideshow. The audio clips belong to different genres, and you get 28 sound effects.