Are you looking for Sonic AI voice for text to speech and voice change to fresh up your content creation, gaming and streaming experience, and more? If so, you are in the right place!

Sonic the Hedgehog is the most iconic game character who finally has a movie. The titular character is popular due to his unbeatable running speed and the way he turns into a rolling ball. If you are a fan of Sonic the Hedgehog, you might love to sound like him while playing an online game or communicating with your friends.

Therefore, this article will discuss the best sonic voice changer and Sonic voice generator to help you get the Sonic the Hedgehog AI voice.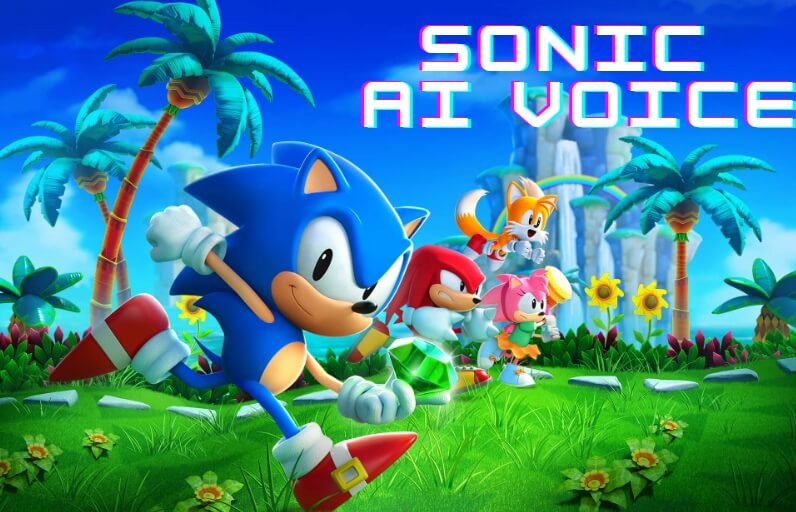 Tips
Change into Sonic voice using MagicMic - best male voice changer!
Change Voice
Part 1: What is Sonic the Hedgehog?
Sonic the Hedgehog is a video game franchise created by Sega. The main character, Sonic, is an anthropomorphic blue hedgehog known for his incredible speed. The franchise was first introduced in 1991 with the release of the original Sonic the Hedgehog game for the Sega Genesis console.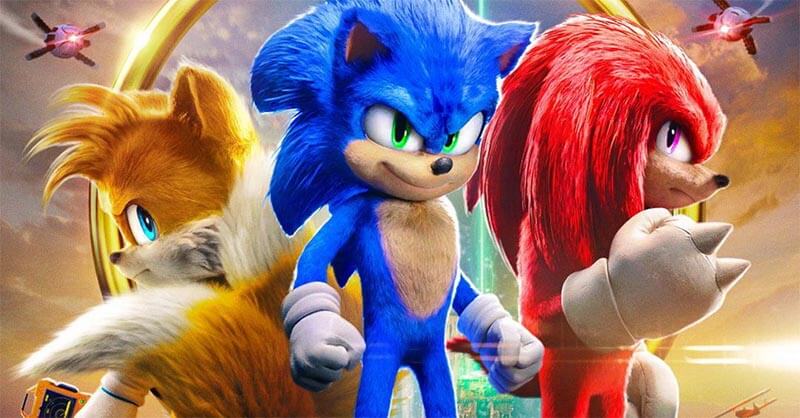 Over the years, the Sonic the Hedgehog franchise has expanded beyond video games and includes comic books, animated TV shows, merchandise, and even a feature-length film. Sonic has become one of the most recognizable and iconic characters in the gaming industry, representing Sega as its mascot.
The Sonic franchise has seen numerous sequels and spin-off titles across various gaming platforms, including consoles, handheld devices, and even mobile phones. It has also undergone several reboots and reinventions to keep the franchise fresh and appealing to new generations of players.
Part 2: How Generate Sonic AI Voice for Voice Change and Text to Speech
1. MagicMic - Sonic Voice Changer
If you are looking for the best Sonic voice changer that enables you to generate realistic Sonic AI voice for real-time voice change, you should consider yourself lucky because MagicMic Sonic voice changer will overhaul your experience.
It's perfect for streaming, gaming, and real-time interaction, in that it offers a wide range of voices, including iconic characters from popular games. With 300+ AI voice filters, 600+ voice effects, and 200+ voice memes, you can easily transform your voice for content creation, gaming, and streaming.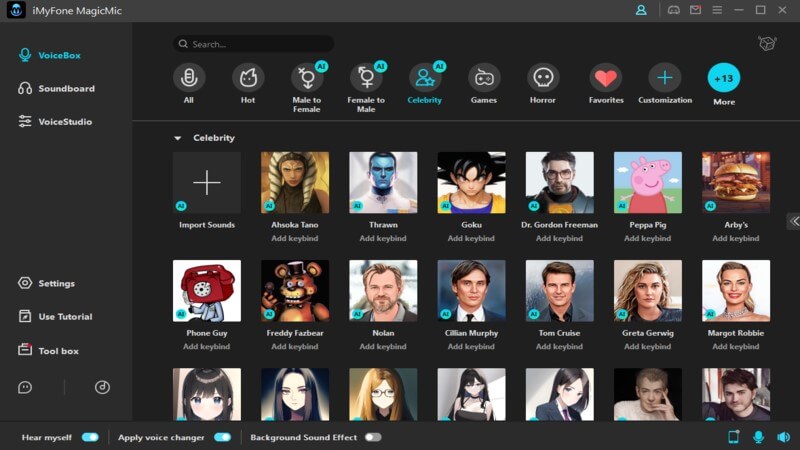 Features:
MagicMic allows to generate the most realistic Sonic the Hedgehog AI voice for real time voice modification.

Users can enjoy 225+ voice filters, 600+ sound effects, and 200+ voice memes, including SpongeBob, Elmo, Minions, and more.

It allows to fine-tune your voice and recordings by adjusting parameters.

MagicMic is compatible with various social media platforms and games, such as Discord, Twitch, Fortnite, etc.

Its voice effects and soundboard is the best for engaging interactions during streams or chats.

Easily enhance and save your voice as templates with simple steps.
Special Offer: Get Official MagicMic with A Discount
35% off Coupon Code: MAGICMICYT
How to Change into Sonic AI Voice with Sonic Voice Changer - MagicMic
Step1: Download MagicMic and follow the installation instructions.
Step 2: Configuration
Enable "Apply Voice Changer" for immediate voice change, and activate "Hear myself", and select your microphone and headphone as the input and output device.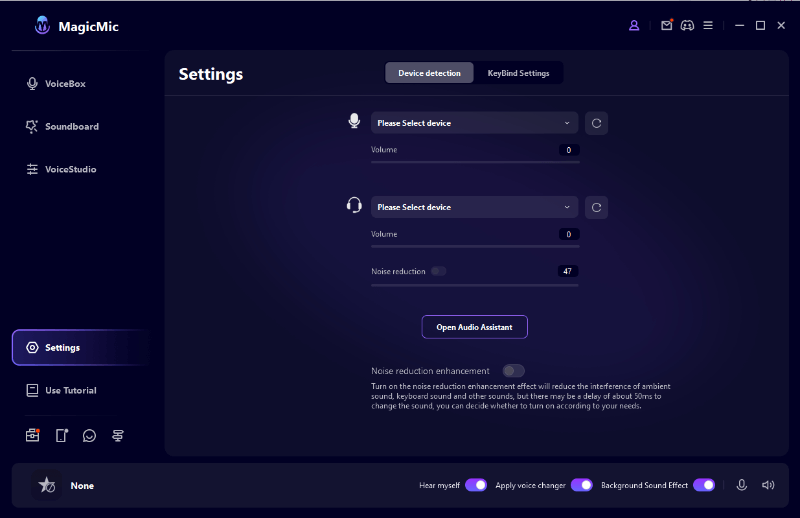 Step 3: Audio Device Selection
Opt for the Voice Changer Virtual Audio Device as your app's input.
Step 4: Get/Generate Voices or Effects
Click "Customization", and generate Sonic AI voice by uploading an audio file featuring Sonic the HedgeHog voice.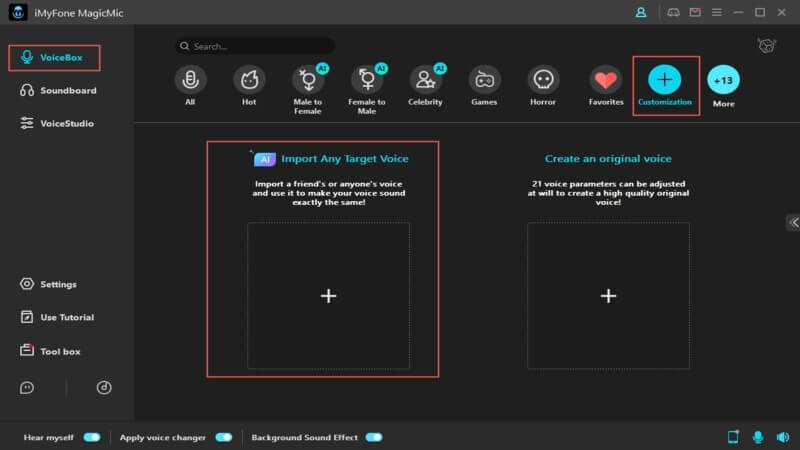 Step 5: Use the Voice Effect
Click the Sonic the HedgeHog AI voice generated and speak to your microphone to change your voice in real time.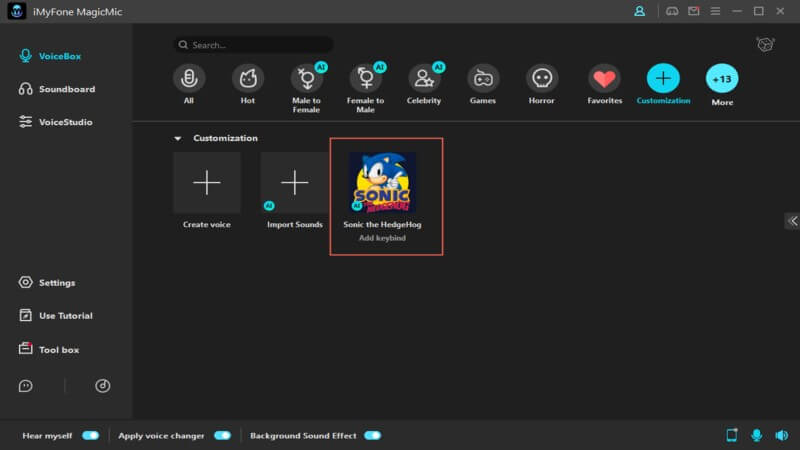 Video Guide About MagicMic Sonic Voice Generator
2. VoxBox - Sonic Voice Generator
VoxBox, serving as the ultimate Sonic voice generator, converts text into Sonic AI voice and offers 2000+ free character voices across 77+ languages, best for creating Sonic AI voiceovers for dubbing your videos if you want its voice to enhance your content creation.
It goes further than other AI voice generators in the market, providing access to 3200+ voices, including celebrities, singers, and fictional characters, and more. Moreover, it enables users to clone any voices as you want, and all you need to do is to upload an audio file of the voice you desire.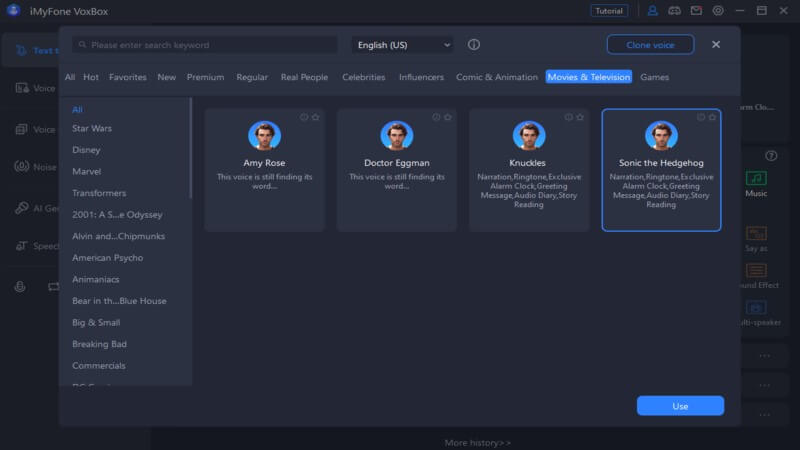 How to make Sonic text to speech AI voice in VoxBox
Step 1: Download & launch VoxBox
Step 2: Enter your text, and click "change speaker".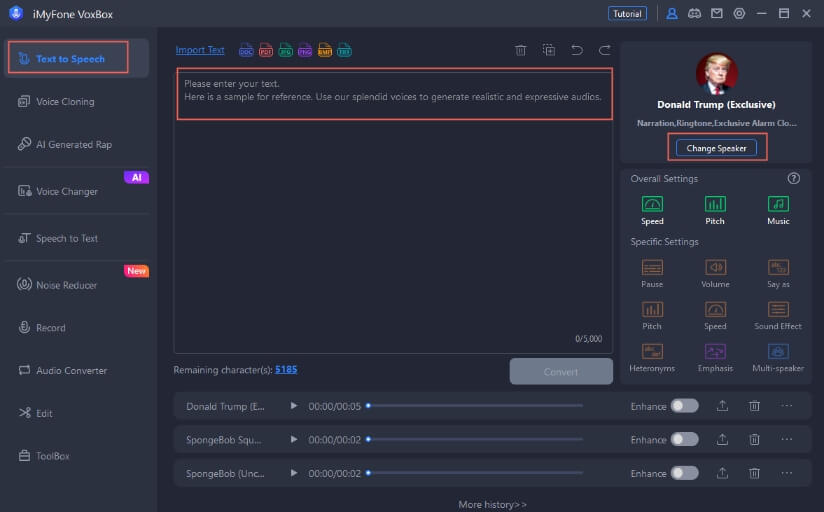 Step 3: Search for Sonic the HedgeHog voice, and click to use it.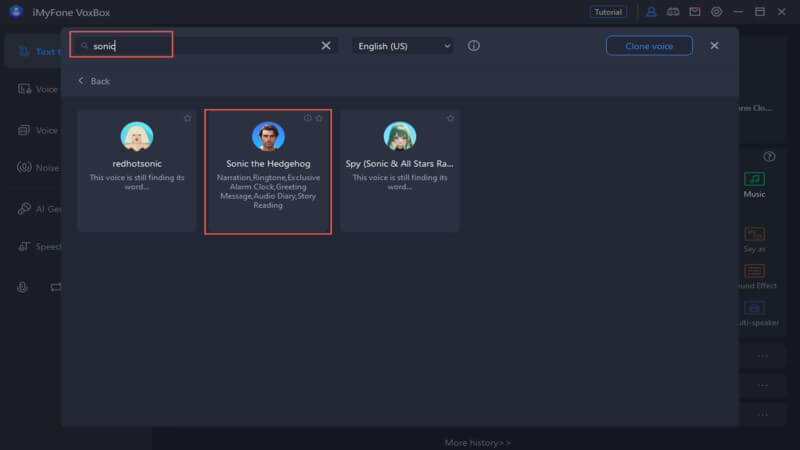 Step 4: Click "Convert" to get the Sonic the HedgeHog AI speech.
Key Features:
Users can choose from 3200+ voices to do text to speech in 77+ languages, including the realistic Sonic AI voice.

New users can gain access to 2000+ free character counts for text to speech conversion.

VoxBox comes with powerful voice cloning feature, enabling to clone any voices with high quality.

Text-to-speech, speech-to-text, recording, editing, and audio conversion, all in one software.

Users can save voiceovers in formats like MP3, WAV, Ogg, and more.

Perfect for audiobooks, podcasts, content production, and more.
Part 3: Latest Updates about Sonic the Hedgehog
Get ready for the anticipated arrival of Sonic the Hedgehog 3, set to race its way into theaters on December 20, 2024, barring any unforeseen delays. The official confirmation came in early August 2022, signaling a slightly extended wait for fans eagerly anticipating Sonic's next cinematic escapade.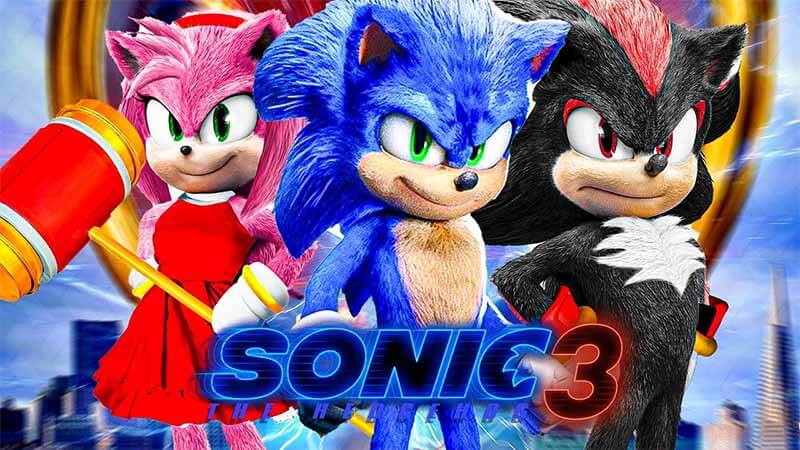 Part 4: FAQs About Sonic AI Voice
1. Who is Sonic the Hedgehog?
Sonic the Hedgehog is the animated game character introduced by Sega, a Japanese gaming franchise, but do you know how old is Sonic the Hedgehog? Sonic is now a 36-year-old character fighting with a mad human scientist throughout the game series and even in the movies.
2. Sonic the Hedgehog Video Game and Who is Sonic the Hedgehog Game Characters?
Sonic the Hedgehog game was introduced in 1991 and was launched by Sega Genesis. Every game requires the voice-over artist to give life to the animated characters in a way many artists endow their voice for Sonic Hedgehog characters.
Sonic the Hedgehog

Sonic the Hedgehog is the primary character of the game series "Sonic the Hedgehog." Rather than gaming character Sonic also appeared in movies and comics. Sonic become popular due to his unbeatable running speed and rolling into the ball to defeat the enemies and inflict devastating damage on them.
Dr. Egghead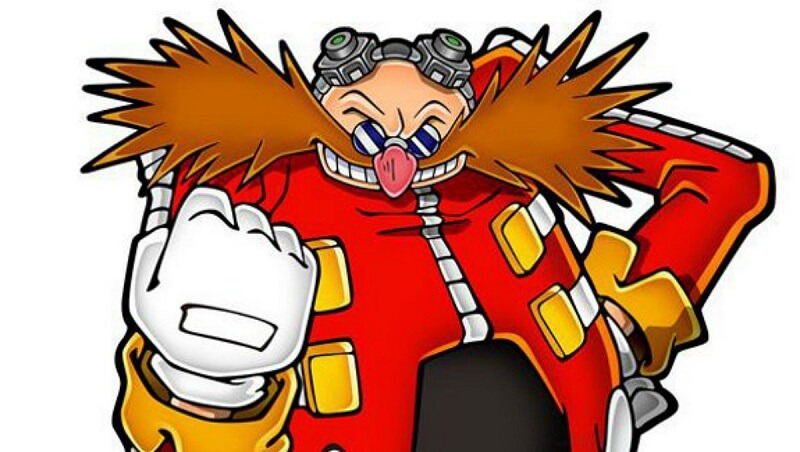 Doctor Ivo Robotnik is the main rival of the "Sonic the hedgehog" comic series, published in the Fleetway edition. Doctor Ivo Robotnik plays the role human scientist named Ovi Kintobor. After encountering an accident, he turns himself into an angry, crazy scientist Ivo Robotnik.
Tails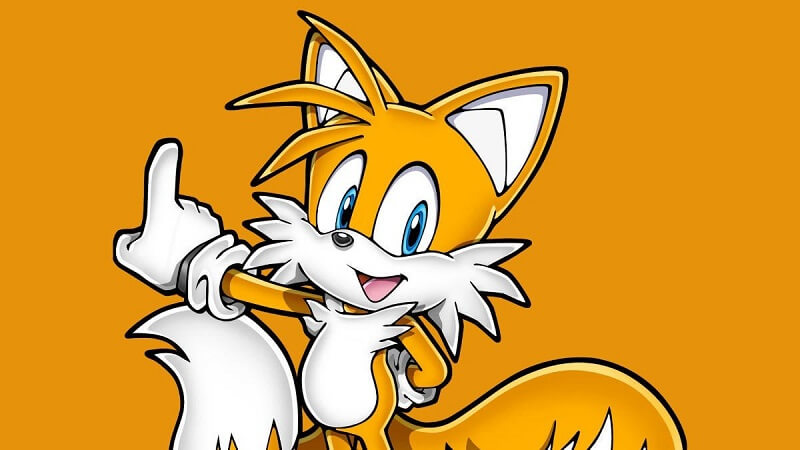 Tails is the nickname of Miles Prower, who is Gold Sonic the Hedgehog. Tails play the fictional character in the series Sonic Hedgehog. Miles Prower was introduced in his original Spin-off series, cartoons, comic series, and films. Along with the real Sonic character Gold Sonic the Hedgehog also plays a side role in the series of Sonic Hedgehog.
Tom Wachowski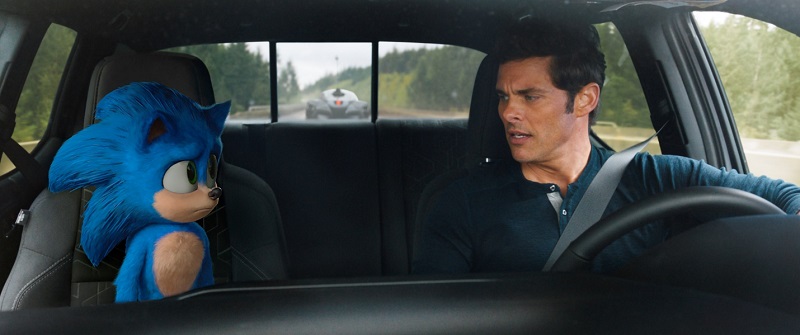 Tom Wachowski plays the role of Sheriff Thomas Michael Wachowski. He is the sheriff of Green Hills. He is one of his closest friends of Sonic, who tries to save the world from the wrath of the mad Doctor with the help of other allies, Tails, Prower, and Knuckles.
Knuckles the Echidna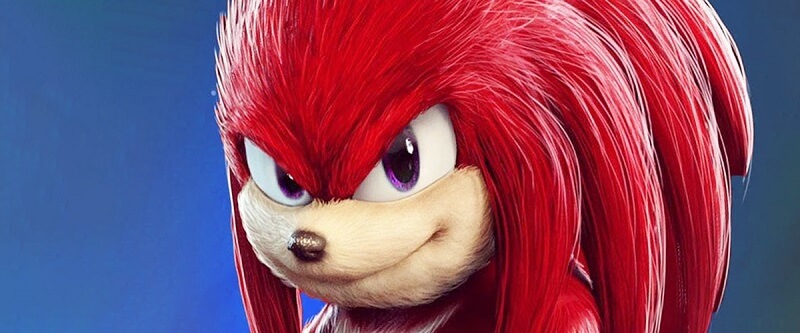 Knuckles is Red Sonic the Hedgehog. He was the enemy of the Sonic, but he possessed a noble heart and a serious attitude. When Doctor tricked Knuckles, he joined Sonic, but their rivalry continued.
3. Who Are Sonic Voice Actors?
Sonic the Hedgehog has appeared in movie series, and Sega game series, so more than one voice artist has worked to give the sound to Sonic's animated character. In "Sonic Unleashed," the voice artist was Tomokazu Seki, while in the animated series, Sonic, the voice was provided by  Ryan Drummond.
4. Why Is Sonic Not Popular In Japan?
Sonic the Hedgehog is widely recognized as an iconic video game franchise, primarily enjoying immense popularity in the Americas and Europe. However, its reception in Japan differs significantly, with the character not achieving the same level of widespread acclaim. This disparity can be attributed to Sonic's character traits and personality, which resonate less with Japanese audiences, leading to relatively lower sales figures in the country.
5. What is Sonic AI voice?
Sonic AI voice refers to the digitally recreated voice of Sonic the Hedgehog, generated using advanced artificial intelligence technology.
6. How can I get access to Sonic AI voice?
You can generate natural-sounding Sonic AI voice through specialized software like MagicMic or VoxBox, which offer voice cloning and text-to-speech capabilities.
Final Words
All in all, whether you want to make yourself sound like Sonic voice in real time or use the voice to do dubbing, the above-mentioned content can get your needs satisfied, since we have discussed the best Sonic voice changer to get realistic Sonic AI voice to transform your voice into Sonic the Hedgehog voice in real time, as well as the best Sonic voice generator to convert text into Sonic AI voiceovers.
So why wait? Download MagicMic now to get the iconic voice of Sonic the Hedgehog now!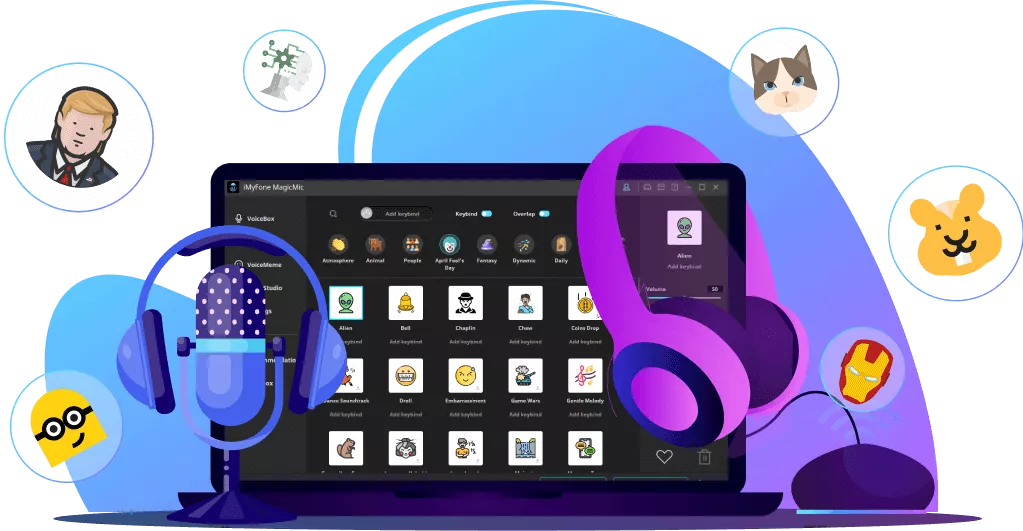 300+ Voice effects for one-click voice changing in real-time.
Huge library with 600+ Voice Effects and 200+ Voice Memes.
Sound emulator in games, live, chatting, online classes, and more.
Voice recording and audio voice changing is supported.
Voice studio lets you create any voice you like.