Donald Duck was undoubtedly a fantastic cartoon character that made its big screen debut in 1934, more than 90 years ago. From then till now, this worthwhile character got immense admiration from fans.
Whether you wish to sound like Donald Ducks to relive your childhood memories or just want to have fun when chatting with friends, Donald Duck text to speech tools are there to help you out!
These not only convert text into the Donald Duck voice but also enable you to share them with your friends. Dive into this article to discover the best Donald Duck voice text to speech converter!
Listen to Donald Duck Voice for free using iMyFone Voxbox down below!

Part 1: Things about Donald Duck Voice
Hop on below to learn what you should know about Donald Duck!
Interesting Facts about Donald Duck: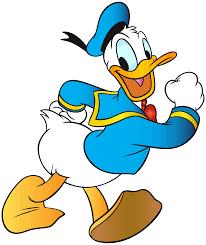 In many ways, the complete opposite of Mickey is Donald. Most Donald admirers are unaware that he has a twin. You probably had no idea Donald Duck is color-blind. Donald's lack of a brain and flat feet.
Fauntleroy is the middle name of Donald Duck. He was viewed as a "difficult child" by Walt Disney. They preferred a character that may exhibit different traits instead of being consistently amicable.
Do you know that Donald Duck is a sports mascot for Oregon Ducks? It wears green and yellow while representing the Oregon Ducks.
Who Is the Voice Dubber of Donald Duck Voice?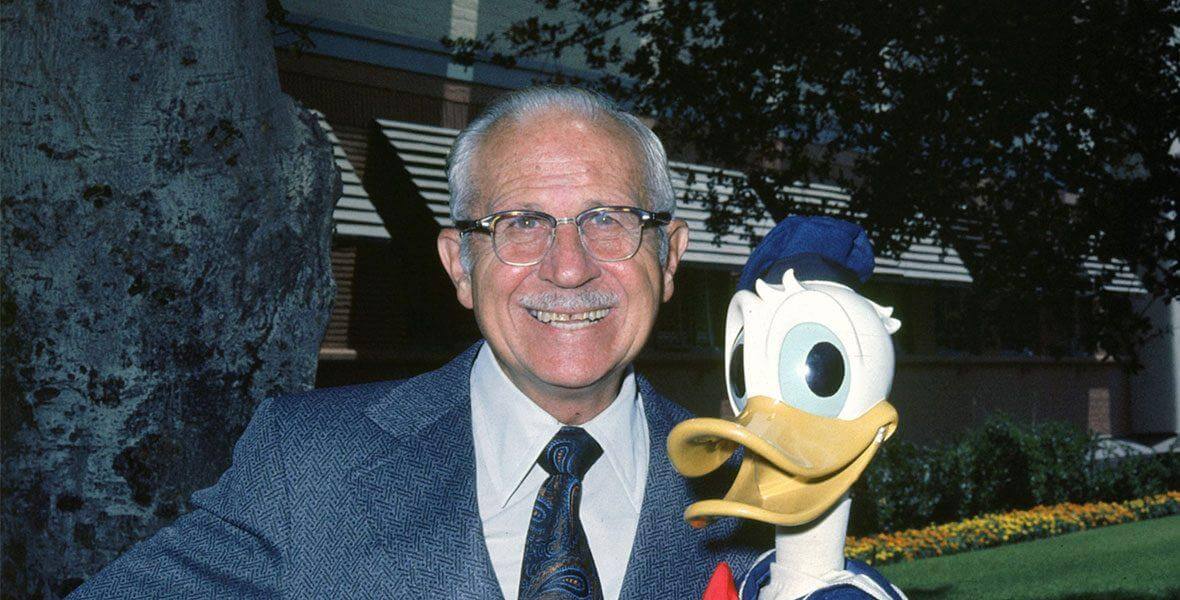 From 1934 through 1983, only one individual provided the prominent voice of Donald Duck: Clarence Nash. When Clarence retired, he taught Tony Anselmo, a Disney artist, how to adopt a distinctive voice.
Part 2: How to Make Donald Duck Text to Speech Voice with VoxBox?
VoBox enables Donald Duck fans to generate Donald Duck's text to speech and use it to prank their friends or cherish the memories of childhood.
When looking for a Donald Duck voice generator, VoxBox must be your first choice! This realistic voice changer has multi-input and output formats like WAV, MP3, etc. Its user-friendly, intuitive interface also adds to its worth. It has bundles of more features, too; let's have a look at them!
Key Features:
VoxBox offers various potent text-to-speech options for quickly and accurately converting text to audio.

VoxBox can digitize other media recordings or record audio live with a microphone or mixer.

With lightning-fast speed, VoxBox can convert media files to any chosen audio format.

VoxBox can modify audio files apart from vocal removal, recordings, text-to-speech voiceovers, and audio files. You can use delete, cut, restore, and cancel clips for editing your audio.
From a variety of sources, such as microphones and audio files, VOXBOX can convert audio to text.
How to Use VoxBox?
iMyFone VoxBox offers you the best capabilities being one of the best tools for your Disney text-to-voice entertaining videos for social media feeds.
Step #1: Download and install VoxBox from the official website.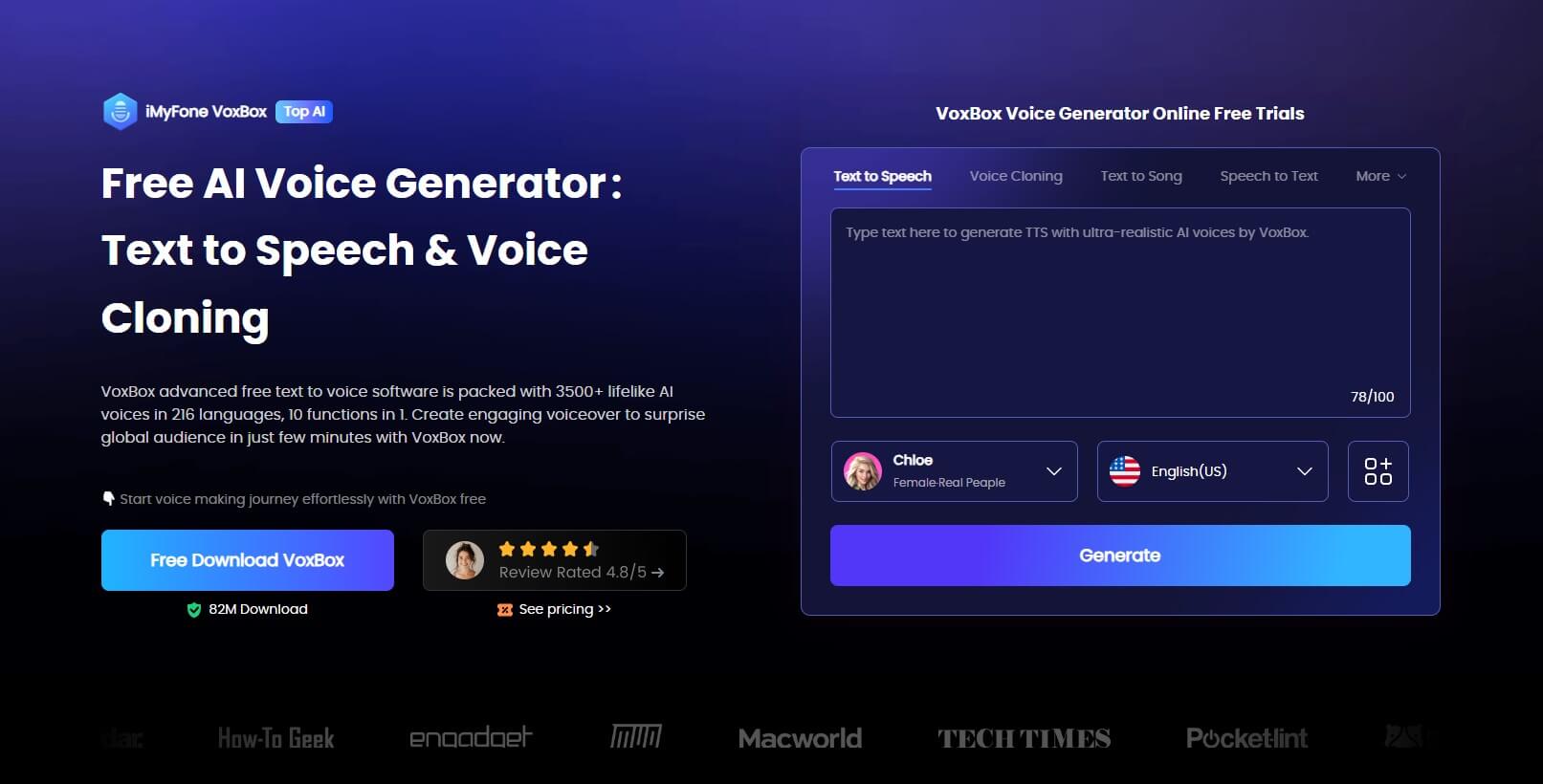 Step #2: Once done with downloading, launch it, and go to the Text to Speech section.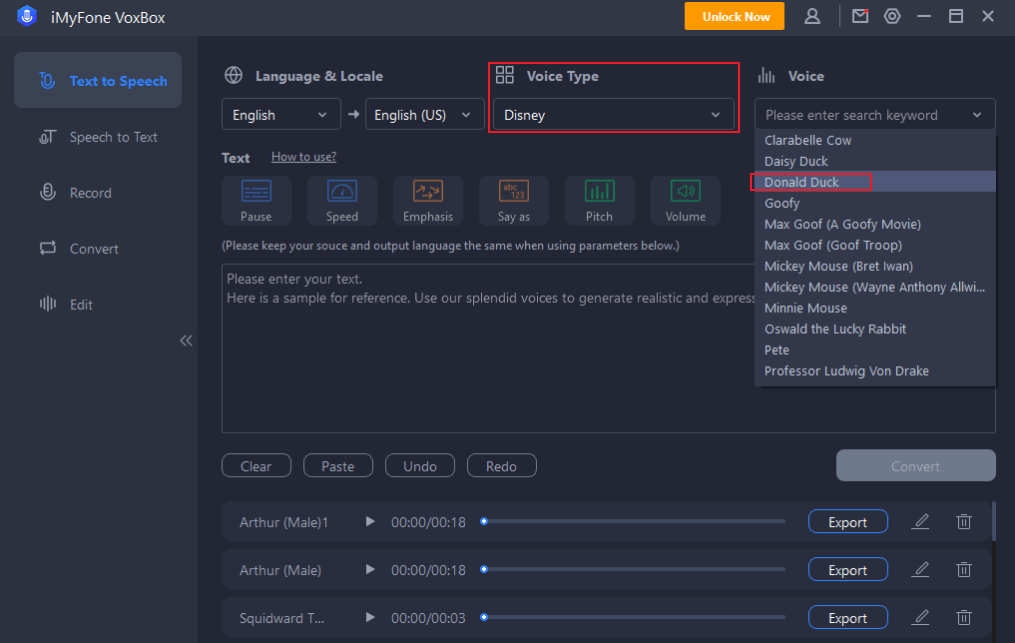 Step #3: Upload any pre-recorded file or record your live sound.
Step #4: Hit Voice Types and choose the type of effect you want to apply.
Step #5: Now, choose Donald Duck in the voice section.
Step #6: Export the audio file after editing it.
Pros of Voxbox:

Supports 46+ languages.

Ads-free and don't even read your privacy.

Supports a range of realistic voices other than donald duck voice.
Cons of Voxbox:

It is currently only accessible on Windows.

The tool's trial version has limitations, so if you want to use it fully, you must subscribe.
Watch this video to learn more about the Best Donald Duck Text to Speech Voice Generator iMyFone VoxBox:
Part 3: How to Unlock Duck Text to Speech on TikTok?
Disney and TikTok are working together to bring a variety of Disney character voices for you to use in your videos for free. Using the Disney text-to-speech feature in TikTok, you can now add voice to your TikTok streams and clips. Follow the steps mentioned below to do so.
Step #1: Record your video, and tap the TTS text button to add the necessary text.
Step #2: Select one of the new Disney voices that TikTok has added by tapping the Disney text-to-speech TikTok button.
Step #3: The Disney voices are now overlaid on your video.
Part 4: FAQs about Donald Duck Voice
1. How Do You Make the Donald Duck Voice?
Due to the hundreds of voice effects, filters, and premium features that VoBox Donald Duck voice changer offers, it has a huge fan base worldwide.
2. How does Duck Text to Speech on TikTok?
TikTok has added a feature that enables adding different characters' voices to your Tiktok videos. For detailed guidelines, follow the steps mentioned in the article.
3. How Can I Sound like Donald Duck Online for Free?
You can get your hands on the MagicMic for Donald Duck text to speech conversion online for free. It can change into 120+ realistic voices and has over 600+ sound effects.
Conclusion
If you love Donald Duck, then the VoxBox Donald Duck voice generator will be a great tool. It turns text into speech in a Donald duck voice, which is realistic! You can do a lot of things with this application. This Donald Duck voice generator is convenient to use during lectures, business meetings, or spare time.
Why not download
iMyFone Voxbox
for free to enjoy Donald Duck's voice for free?