Ever dreamt of using the groundbreaking RVC AI voice to sound like your favorite characters or celebrities, or using their distinctive voice to make AI cover songs? If so, you are in the right place!
RVC AI, short for Retrieval-based Voice Conversion, is a cutting-edge technique powered by deep neural networks.
In this article, we will walk you through how to use RVC voice models for real-time voice change and AI cover song generation, exploring the incredible possibilities it brings to the table.
Let's dive right in!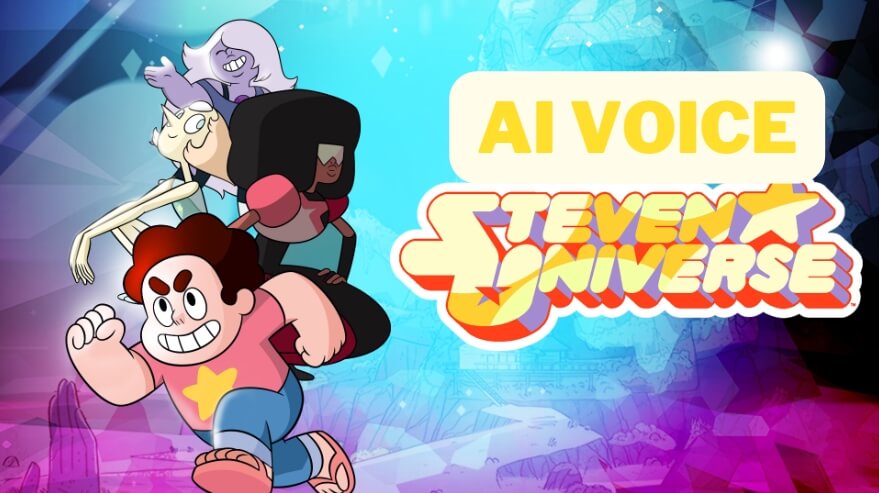 Part 1: What is RVC AI Voice?
RVC AI, or Retrieval-based Voice Conversion, employs deep neural networks based on the VITS model for realistic voice transformation. It excels in:
Features:
Minimizing tone leakage.

Efficient training, even on low-end GPUs.

Delivering quality results with minimal data (≥10 minutes of low-noise speech).

Supporting model fusion for timbre alteration.

Utilizing the UVR5 model for fast vocal and instrument separation.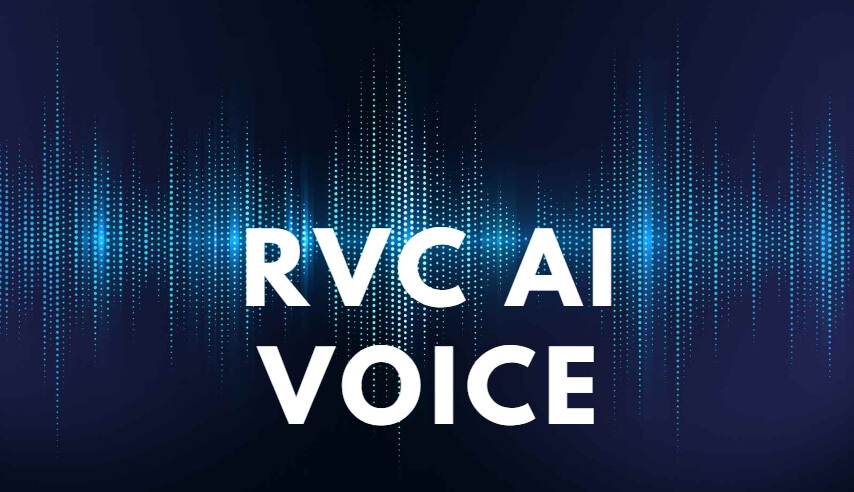 RVC, short for Realistic Voice Cloning, is a brainchild of Vinay Kumar Moluguri, a machine learning engineer and music enthusiast. It leverages deep neural networks to emulate singers' nuances and styles, enabling effortless creation of song covers in various genres and languages with just a few clicks, or tranforming your voice into any others'.
Part 2: How to Use RVC Voice Changer [Step-by-Step Guide]
RVC, a Retrieval-based Voice Conversion AI model, employs deep neural networks to transform one person's voice into another's. It's grounded in the VITS model and achieves lifelike voice conversions with minimal input.
If you're curious about using the RVC voice changer, keep reading for step-by-step guide.
How to Use RVC Voice Changer:
Step 1: Download a free real-time voice changer, such as W Okada, and download the latest executable binaries from Hugging Face.
Step 2: Unzip and extract the downloaded files.
Ensure you have HuBERT installed and place 'hubert_base.pt' in the same folder.
Step 3: Run "start_http.bat" from the extracted files (if prompted, select "Run anyway" for Microsoft Defender warnings).
Ignore the Windows firewall dialogue box if it appears.
Step 4: Once opened, click "Start" in the GUI.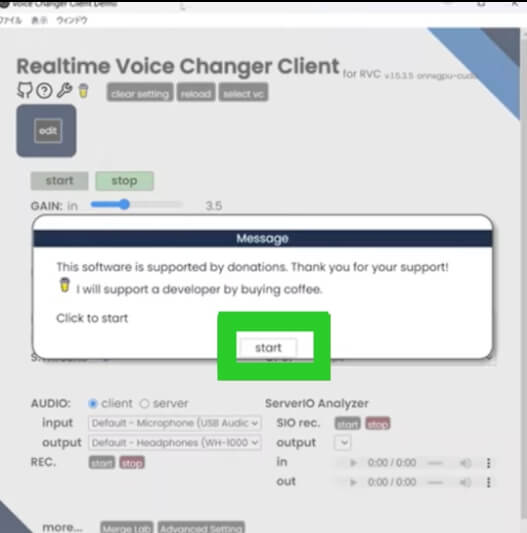 Step 5: Choose "Select vc" and then "RVC," customizing settings as desired.
Step 6: Select your input microphone and output speaker (or choose "client" for audio). Press "Start" to initiate voice changing, allowing time for data loading.
Step 7: Speak into the microphone to hear the transformed voice from the speaker.
Part 3: How to Use RVC AI Voice for AI Cover
If you are interested in making popular AI cover songs using RVC AI voices you like, such as celebrities, fictional characters, follow the following guide!
Use RVC V2 AI Voice Make AI Cover:
Step 1: Head to HuggingFace's RVC AI webiste.
Step 2: Choose RVC AI voice models you want.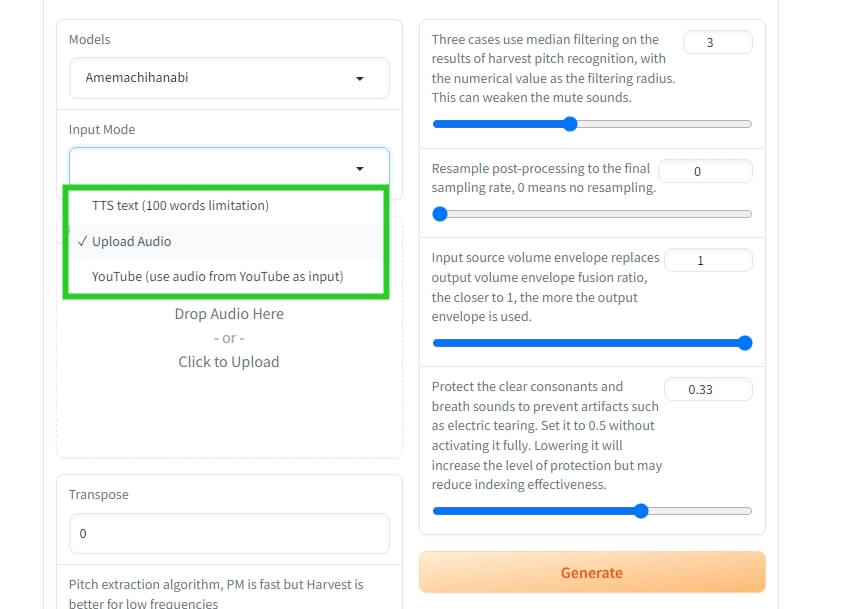 Step 3: You can choose to upload the audio file you have prepared, or provide Youtube URL of the song you want to make AI cover.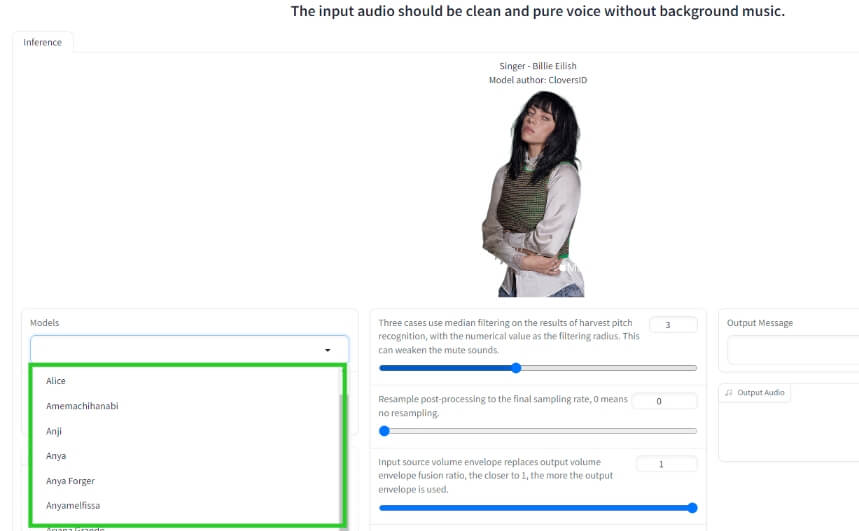 Step 4: Click "Generate" to get the AI generated cover song.
Part 4: Easier Ways to Get Realistic AI Voice Models for AI Cover/Voice Change/TTS
If you find the above guide to use RVC AI voice is not easy to operate, here are much easier ways to satisfy all your needs for voice change, AI cover song generation, and text to speech.
1. MagicMic - AI Voice Changer
With MagicMic, you can clone realistic AI voice models (RVC) for real-time interactions, streaming, and gaming. Besides, It accesses a wide range of voices, including game characters and celebrities.
It enjoys 225+ AI voice filters, 600+ voice effects, and 200+ voice memes to transform your voice instantly, improving your online presence on platforms like Discord, Zoom, and Twitch with MagicMic.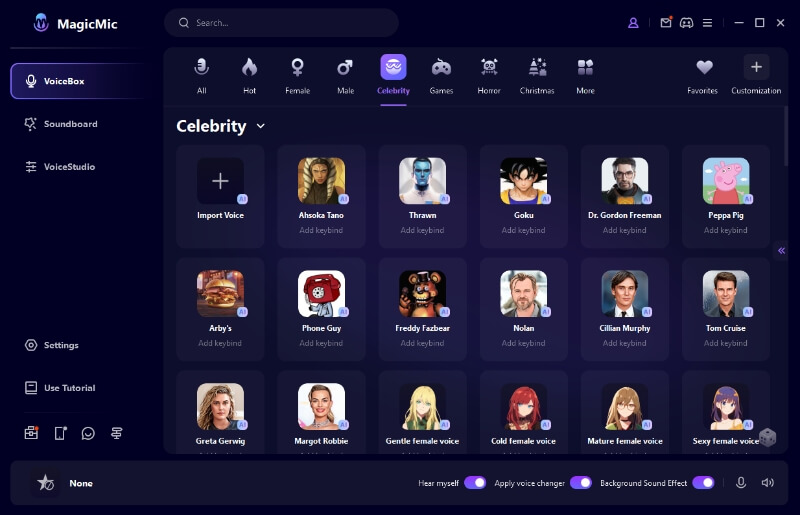 Key Features:
High-quality voice cloning for any voice.

225+ voices for live chats and gaming.

600+ voice effects and 200+ voice memes for creative content.

Customizable voice with adjustable parameters.

Seamless integration with Discord, Fortnite, Valorant, Zoom, Twitch, and more platforms.

Easy to operate with user-friendly interface and UI.
How Generate RVC AI Voice in MagicMic:
Step 1: Download and Launch this Application
Step 2: Configuration
Enable "Apply Voice Changer" for immediate voice change, and activate "Hear myself"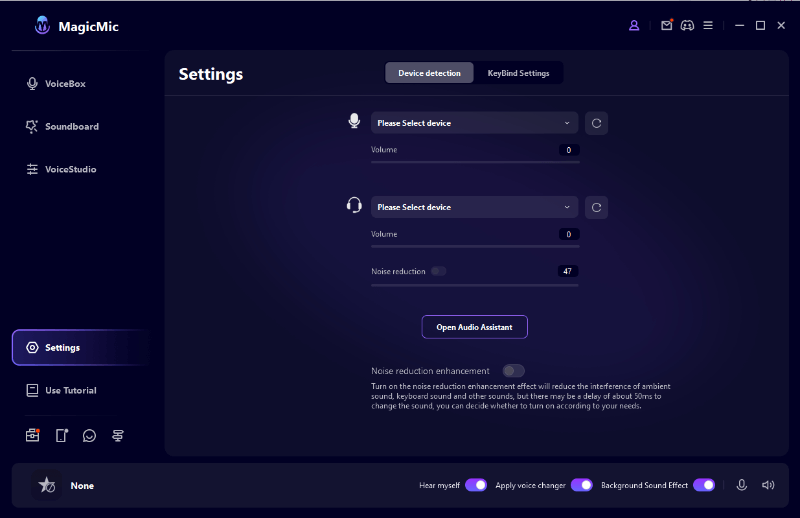 Step 3: Audio Device Selection
Choose the Voice Changer Virtual Audio Device.
Step 4: Get AI Voices or Effects
Choose your preferred voice and configure keybinds for smooth effect transitions. To create an iconic voice, click "Customization", and simply upload an audio file featuring that voice.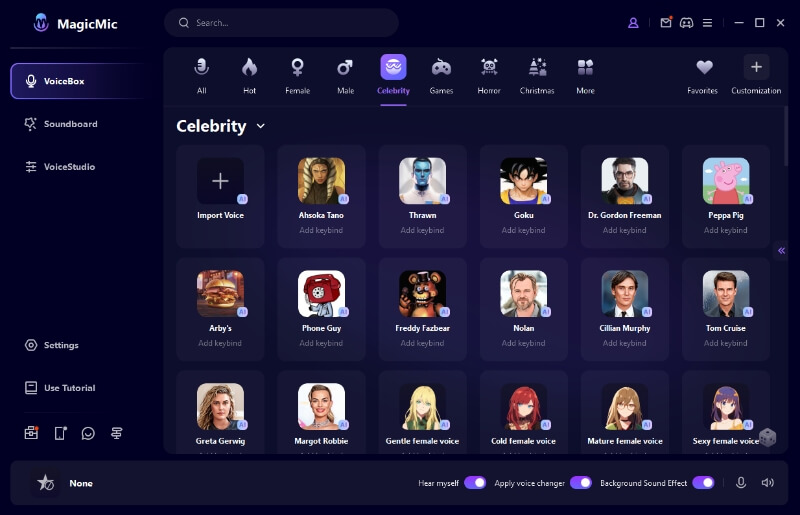 2. VoxBox - AI Voice Generator with TTS
VoxBox is a powerful text to speech voice generator with 3200+ RVC AI voices, and it also allows you to clone voices from any fictional universes, anime, or any characters.
It enables you to create high-quality AI voices, convert text to speech, and enhance your video content. Effortlessly clone voices, be it characters or celebrities, with a simple "generate" button click.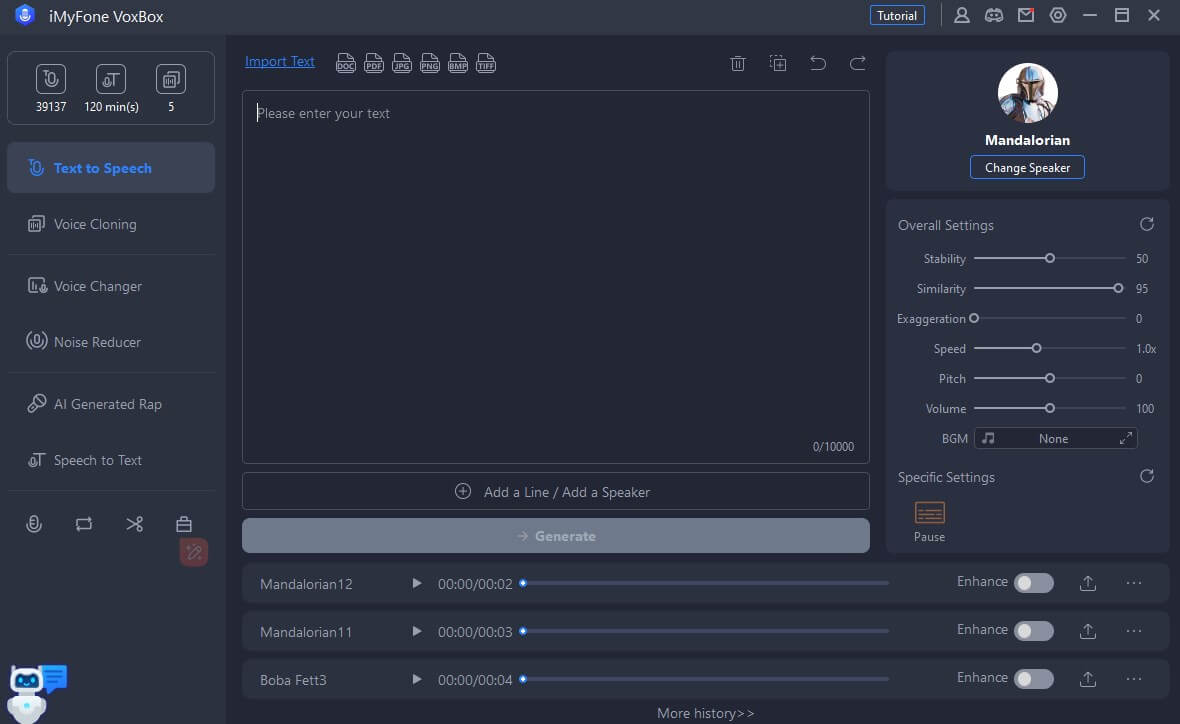 Key Features:
Access 2000+ free characters with RVC AI voices for text-to-speech.

Achieve high-quality voice cloning.

Perfect for audiobooks, podcasts, content creation, and gaming.

Choose from 3200+ voices in 77+ languages.

Text-to-speech, speech-to-text, recording, editing, and audio conversion.

Save voiceovers in convenient formats like MP3, WAV, Ogg, and more.
3. MusicAI – AI Cover Song Generator
If you want to make AI cover songs trendy on platfroms like YouTube and TikTok using these RVC AI voice models, visit MusicAI.
This platform combines AI and music composition, allowing users to create AI-generated covers inspired by various characters. MusicAI streamlines music projects with text-to-music conversion and vocal isolation, powered by a variety of AI models.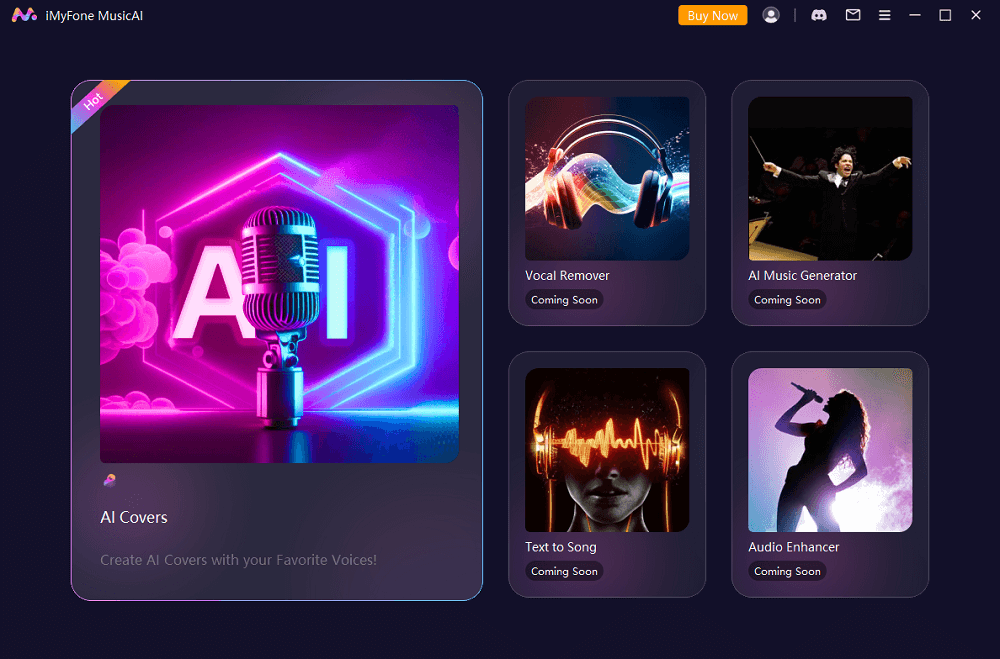 Key Features:
Utilize RVC AI voice models for your cover songs with single click.

Easily achieve accurate separation of vocals, music, and instruments.

Improve audio quality with a single click for superior results.

Export AI covers in multiple formats, including WAV, MP3, and OGG.
Part 5: FAQs About RVC AI Voice
1. What is RVC in AI?
RVC is a potent AI tool for creating lifelike vocal covers of any song. It stands for Realistic Voice Cloning and was created by Vinay Kumar Moluguri, a machine learning engineer and music enthusiast.
2. How does RVC AI Voice work?
It employs deep neural networks and the VITS model to convert voices with minimal inputs. It matches and emulates the target voice's pitch, tone, and emotion.
3. What are the key advantages of RVC AI Voice?
RVC AI Voice can minimize tone leakage, train quickly even on low-end GPUs, achieve good results with limited data, and offers a user-friendly interface.
Conclusion
In conclusion, RVC AI voice is a great tool that empowers content creators, entertainers, and media enthusiasts to push the boundaries of creativity. However, it may need learning curve if you are not familiar it.
Here you can use alternative tools like MagicMic, VoxBox and MusicAI to gain access to a variety of RVC AI voice, freshing up your content creation and more.
So, why wait? Dive in, have fun, and unleash the power of RVC voice models today. Download MagicMic now to experience the magic firsthand.