Are you a die-hard fan of Wilbur Soot? Do you want the realistic Wilbur Soot AI voice for real-time voice change, text to speech, or even making AI cover songs using his iconic voice? If yes, read on, you will find the best solution!
In this article, we'll explore the best Wilbur Soot voice changer & generator, allowing you to replicate Wilbur Soot's voice and infuse it into your content.
Whether you're a content creator, gamer, streamer, or simply a fan of Wilbur Soot, the tools we'll discuss can help you achieve your voice transformation goals.
Let's get started!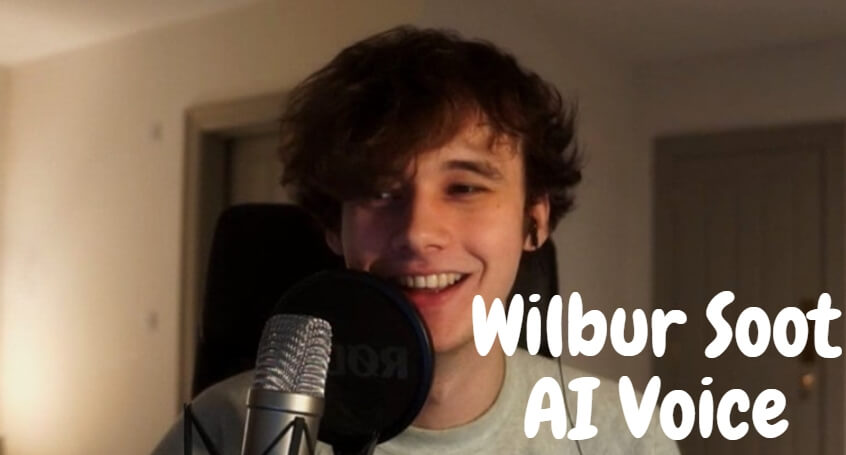 Part 1: Basic Info about Wilbur Soot
Wilbur Soot, born William Patrick Spencer Gold on September 14, 1996, is an English multi-talent known for his roles as a Twitch streamer, YouTuber, and musician. He gained initial recognition in 2017 through his contributions to the comedy YouTube channel SootHouse, where he served as a co-founder, recurring performer, and lead editor.
In March 2019, he launched his own YouTube channel, "Wilbur Soot." Additionally, he ventured into music, releasing singles like "The 'Nice Guy' Ballad" in January 2018 and achieving chart success with "Your New Boyfriend," which reached No. 64 on the UK Singles Chart.
Wilbur Soot is also a co-founder of the British indie rock band Lovejoy, where he actively participates as a songwriter, lead vocalist, and rhythm guitarist. Notably, in 2021, Lovejoy released their second EP, "Pebble Brain," which debuted impressively at No. 12 on the UK Albums Chart.
Part 2: Free Get Wilbur Soot AI Voice for Voice Change and TTS
1. MagicMic - Wilbur Soot Voice Changer
MagicMic grants you the ability to generate the authentic Wilbur Soot AI voice for live interactions, streaming, and gaming. And Not limited to Wilbur Soot alone, this versatile tool opens doors to a plethora of voices, including iconic characters and celebrities.
With an extensive collection of 225+ AI voice filters, 600+ voice effects, and 200+ voice memes, coupled with its potent voice cloning feature, you can effortlessly morph your voice into various personas.
It is the best option to improve your online gaming, streaming, and communication experiences across platforms like Discord, Zoom, and Twitch with the enchanting capabilities of MagicMic.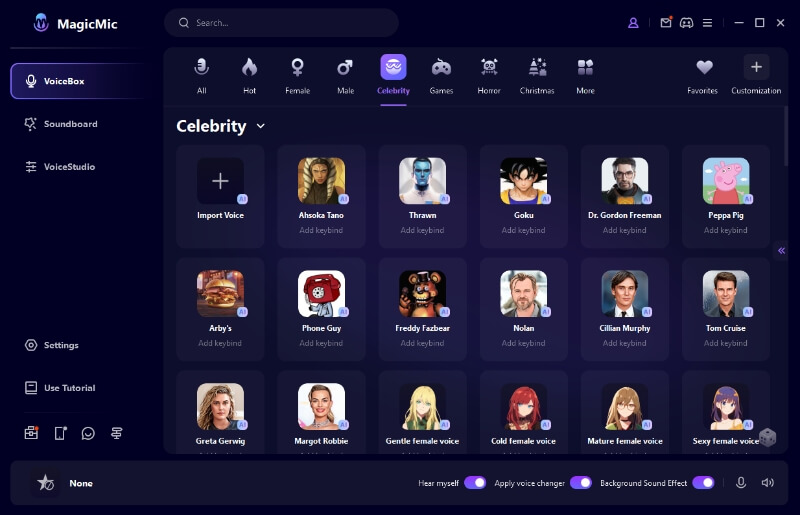 Key Features:
Voice cloning function enables users to create a wide variety of voices, including the Wilbur Soot AI voice.

Access to 225+ AI voices for real-time chats and gaming.

Enhance your creative content with a rich selection of 600+ voice effects and 200+ voice memes.

Easily capture and improve audio files with convenience.

Tailor your voice to your liking using adjustable settings.

Effortless integration with popular platforms like Discord, Fortnite, Valorant, Zoom, Twitch, and more.
How Generate Wilbur Soot AI Voice in MagicMic:
Step 1: Download and Launch this Application
Step 2: Configuration
Enable "Apply Voice Changer" for immediate voice change, and activate "Hear myself"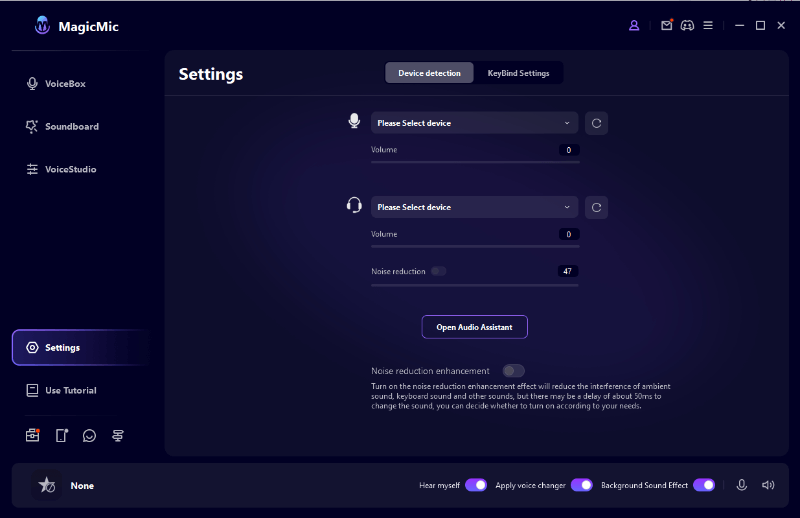 Step 3: Audio Device Selection
Opt for the Voice Changer Virtual Audio Device as your app's input.
Step 4: Get/Generate Voices or Effects
Select your desired voice, like Wilbur Soot and set up keybinds for seamless effect transitions. If you want to generate his iconic voice by yourself, all you need to do is to upload an audio file featuring his voice.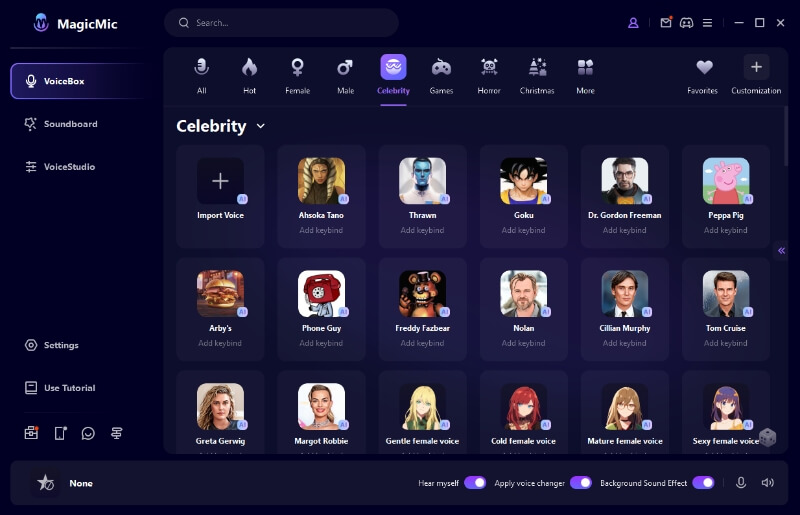 2. VoxBox - Wilbur Soot Text to Speech Generator
VoxBox is the best Wilbur Soot text to speech generator that allows you to convert text into his distinctive voice.
Moreover, it also provides other characters voices from diverse fictional worlds and series, and users are allowed to dub in 77+ languages.
With VoxBox's voice cloning feature, you can get whatever voices you want only by uploading audio files featuring the voice you desire.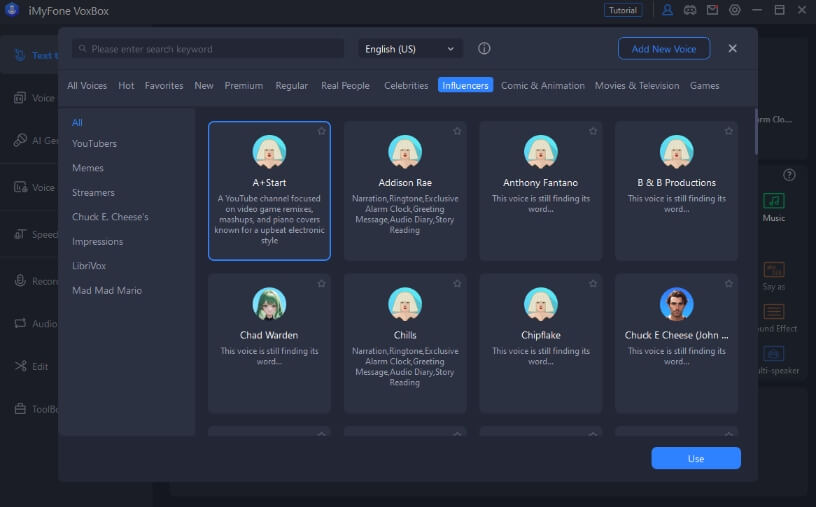 Key Features:
Gain access to over 2000 free character voices for text-to-speech

Achieve top-tier voice cloning capabilities for audiobooks, podcasts, content creation, and gaming.

Choose from a vast selection of 3200+ voices available in 77+ languages.

Text-to-speech, speech-to-text, recording, editing, and audio conversion, all-in-one.

Save your voiceovers in multiple formats like MP3, WAV, Ogg, and more for added flexibility.
Part 3: Bonus: How to Make Trendy Wilbur Soot AI Cover Songs
MusicAI – Wilbur Soot AI cover song generator
If you want to create popular Wilbur Soot AI Cover to gain more engagement for your channel, either for TikTok or YouTube, you can head to MusicAI.
This innovative platform seamlessly blends AI technology with music composition, enabling users to effortlessly produce AI-generated cover songs inspired by Wilbur Soot's unique voice and other popular models.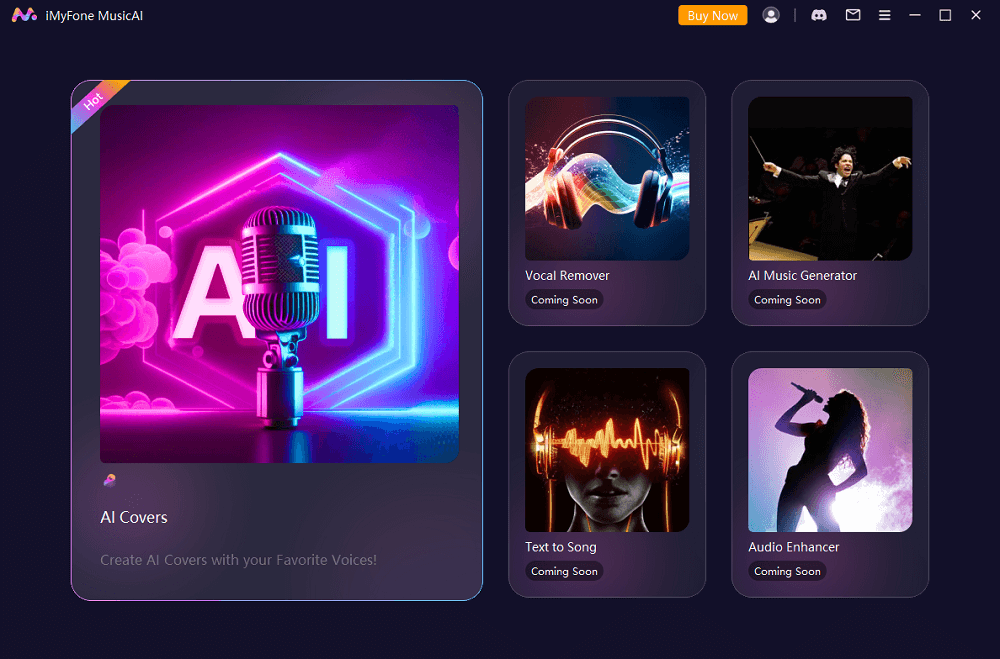 Key Features:
Various AI voice models, including celebrites, characters, and more for your cover songs.

Allows to isolate vocals, music, and instruments.

Imporve audio quality with single click.

Export in WAV, MP3, and OGG formats.
Part 4: FAQs About Wilbur Soot AI Voice 2023
1. What is Wilbur Soot AI Voice?
Wilbur Soot AI Voice refers to the artificial intelligence-powered generation that replicates or imitates the voice of Wilbur Soot, the English Twitch streamer, YouTuber, and musician.
2. How can I get Wilbur Soot AI Voice?
You can get Wilbur Soot AI Voice through AI voice generation and voice cloning tools or platforms, like MagicMic or VoxBox. These tools typically require you to provide a sample of Wilbur Soot's voice or follow specific steps to clone or generate a similar voice.
3. What are the applications of Wilbur Soot AI Voice?
Wilbur Soot AI Voice can be used in various applications, including online gaming, streaming, content creation, voiceovers, and more. Users can adopt this AI voice to enhance their interactions and content across different platforms.
4. What is the AI that sounds like YouTubers?
MagicMic and VoxBox are both powerful AI tools for generating realistic voices mimicing YouTubers, Streamers, and more, with which all you need to do is to upload audio file and generate.
Conclusion
In conclusion, the powerful Wilbur Soot AI voice generator offers endless possibilities for content creators, gamers, and Wilbur Soot fans alike. With MagicMic and VoxBox, you can effortlessly replicate Wilbur Soot's distinctive voice and infuse it into your projects, or use it for pranking, gaming, streaming, or making AI cover songs.
So, what are you waiting for? Download MagicMic now and your audience awaits the magic of your transformed voice.