Are you looking for the best Britney Spears AI voice generator to get her iconic voice for pranking, gaming, content creation, AI cover song making, and more? If so, read on, you will find the perfect solution!
In this blog post, we will walk you through the best tool to get Britney Spears AI voice, satisfying all your needs, either for real-time talking using her voice, dubbing, gaming, or making AI cover songs.
Let's get started!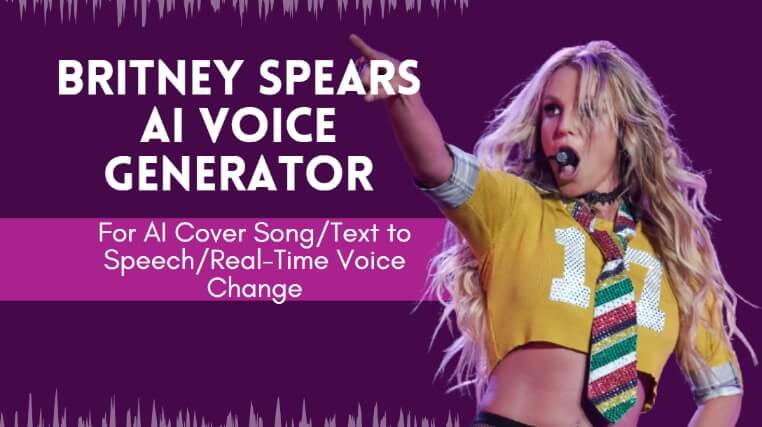 Part 1: Who is Britney Spears?
Britney Spears, the "Princess of Pop," is an American singer-songwriter who revitalized teen pop in the late '90s and early 2000s. With over 100 million records sold globally, she has garnered numerous accolades, including a Grammy and six MTV Video Music Awards. Known for her iconic choreography, Spears's career highlights include chart-topping albums, successful concert residencies, and a thriving perfume brand. Her highly publicized conservatorship battle led to the establishment of the #FreeBritney movement, ultimately resulting in its termination in 2021. Time recognized her as one of the world's 100 most influential people.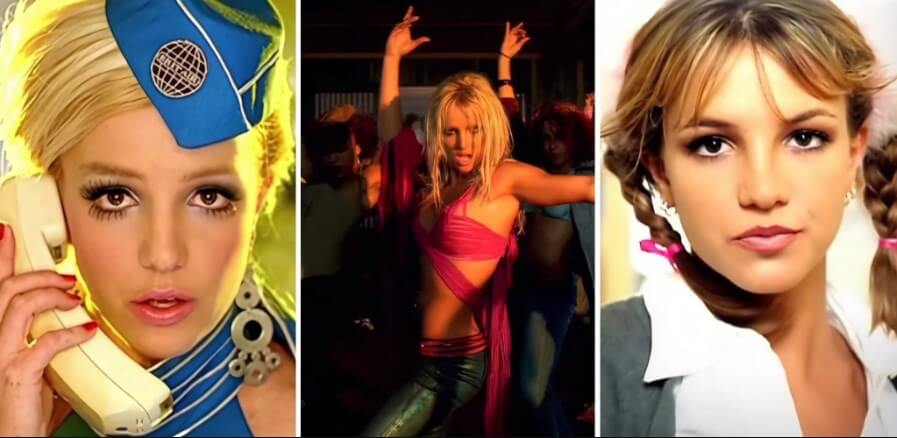 Britney Spears is a pop star known for her unique voice and style.She faced personal struggles and public scrutiny but remains an influential figure and a symbol of resilience. Spears is a gay icon and has shown support for social causes. Her legal battle over her conservatorship sparked a global movement advocating for her freedom.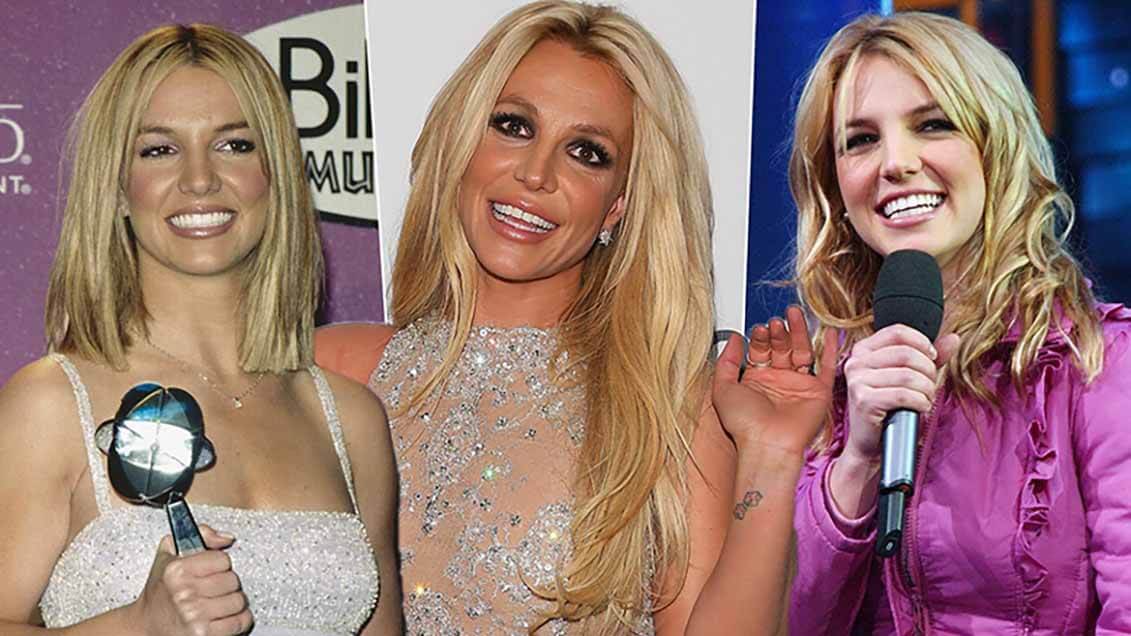 Part 2: Best Britney Spears AI Voice Generator You Can Try
Experience the dream of sounding like Britney Spears with the Britney Spears AI voice generator. This innovative software lets you replicate the iconic sound of this talented artist, allowing you to modify and create music with her distinctive style.
1. iMyFone MagicMic - Britney Spears AI Voice Generator
MagicMic is a cutting-edge Britney Spears AI voice generator designed to mimic the vocal style of Britney Spears. Utilizing advanced machine learning algorithms, MagicMic seamlessly transforms the user's voice into the distinctive sound of this iconic artist.
With its user-friendly interface and exceptional voice replication capabilities, MagicMic has become a favored option for pranking, gaming, streaming, or real-time communication using Britney Spears AI voice.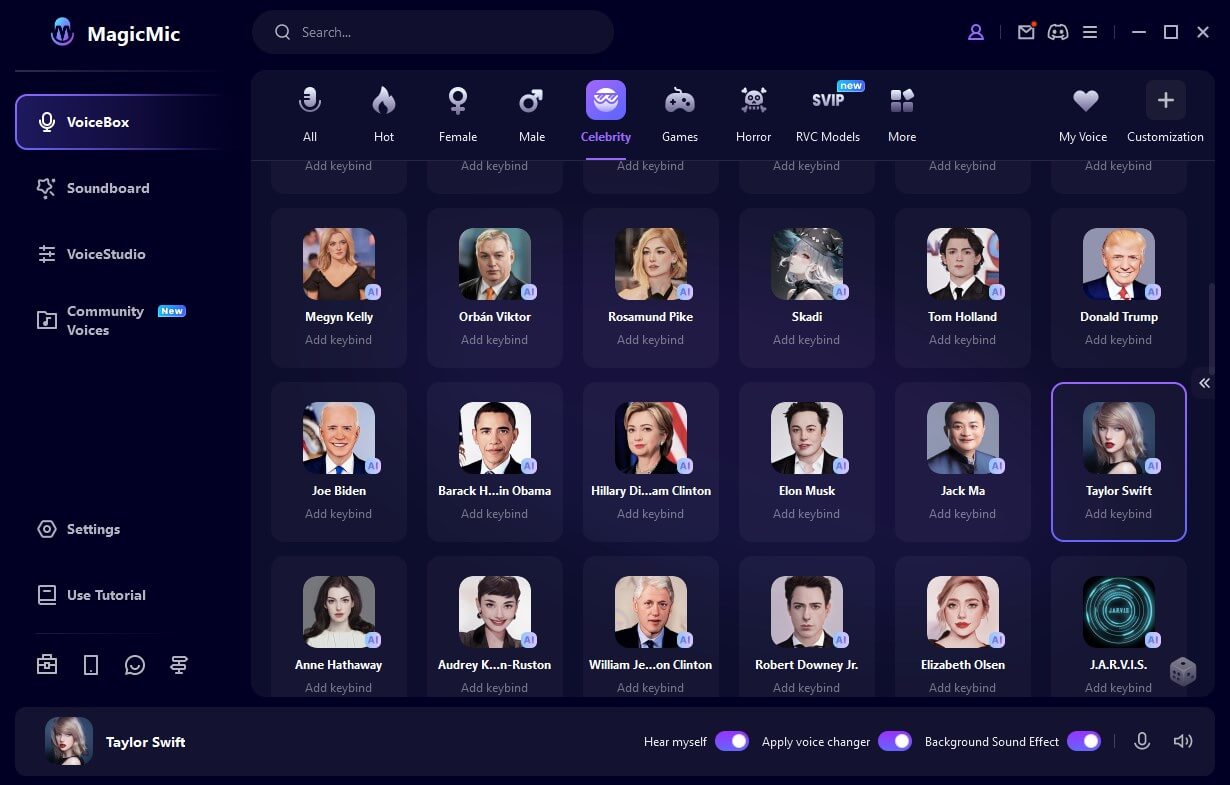 Generate Britney Spears AI Voice in MagicMic:
Step 1: Download and Launch this Application
Step 2: Configuration
Enable "Apply Voice Changer" for immediate voice change, and activate "Hear myself"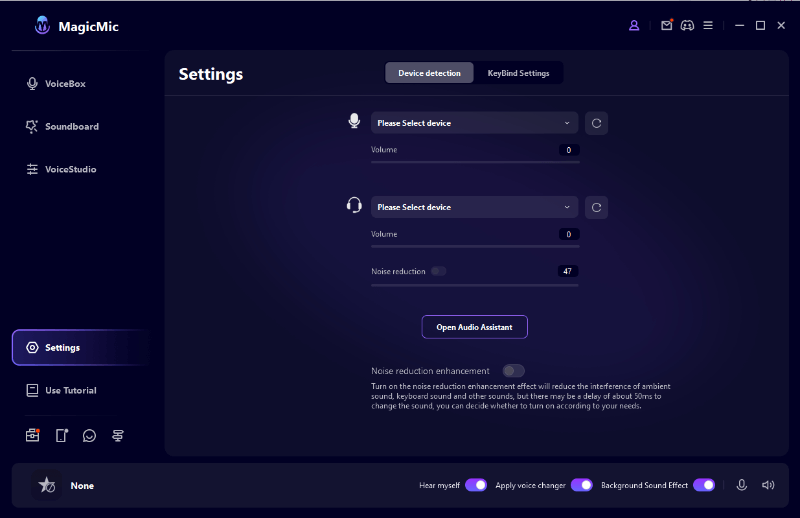 Step 3: Audio Device Selection
Opt for the Voice Changer Virtual Audio Device as your app's input.
Step 4: Get/Generate Voices or Effects
Choose or create your desired voice, like Britney Spears, and set up easy keybinds for smooth effect transitions. Simply upload an audio file with her voice for realistic voice generation if you prefer to do it yourself.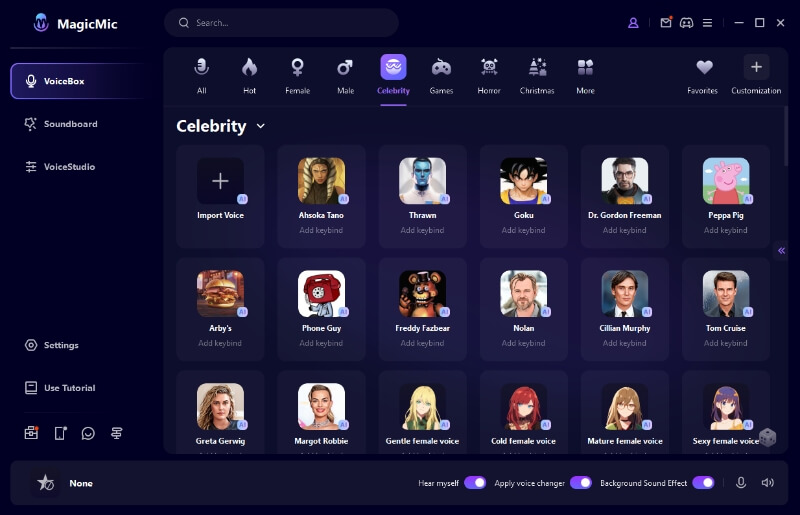 Key features of
Britney Spears AI Voice Generator
Allows to generate any desired voices, even Britney Spears AI voice.

Access 225+ voices for real-time voice change in live chats, gaming, streaming, etc.

Choose from 600+ voice effects and 200+ voice memes for creative content.

Capture and enhance audio files effortlessly.

Customize your voice with adjustable parameters.

Seamlessly integrate with popular platforms like Discord, Fortnite, Valorant, Zoom, Twitch, and more.
Pros:

User-friendly interface suitable for beginners and professionals.

Compatibility with a wide range of music software programs and platforms.

High-quality output, delivering clear and accurate replication of Britney Spears' voice.

Diverse selection of voice-changing effects to enhance creativity.
Cons:

Being a new product in the market, it may not have gained widespread popularity yet.
2. VoxBox - Britney Spears Text to Speech Generator
VoxBox is a robust Britney Spears text to speech tool that breathes life into the iconic Britney Spears voice. VoxBox doesn't stop there — it excels in replicating character voices from various fictional worlds and series.
It is ideal for enhancing your video content. Besides, VoxBox simplifies voice cloning, whether it's famous personalities or fictional characters, all with just a single click.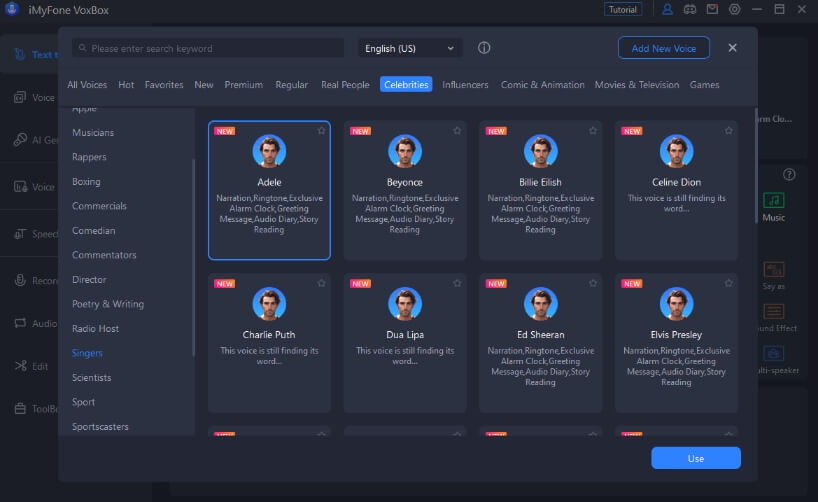 Key Features:
Access 2000+ free text-to-speech characters.

Achieve top-tier voice cloning for audiobooks, podcasts, content, and gaming.

Choose from a vast selection of 3200+ voices in 77+ languages.

Enjoy an all-in-one solution for text-to-speech, speech-to-text, recording, editing, and audio conversion.

Save your voiceovers in multiple formats like MP3, WAV, Ogg, and more for convenience.
Part 3: Other Britney Spears Voice Generators for PC/Mobile
Voicemod is a versatile Britney Spears voice generator & voice changer designed for PC, providing real-time voice modification and effects. It seamlessly integrates with different applications and games, enabling users to incorporate Britney Spears voice into their live streams or recordings.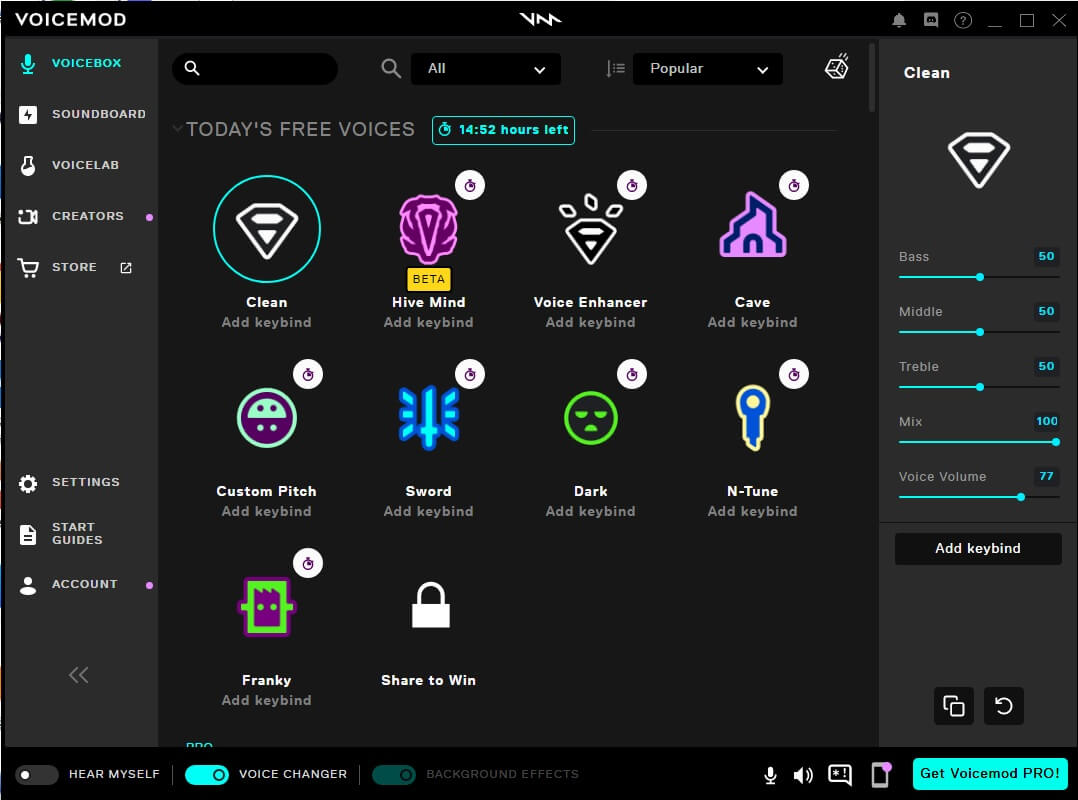 Pros:

Diverse voice effects, including Britney Spears' distinctive style.

Compatibility with numerous applications and games.

High-quality output for accurate voice replication.

Regular updates for ongoing user experience improvements.
Cons:

Relatively high pricing for potential cost concerns.
MagicCall is an innovative voice changer app that enables real-time voice modification into Britney Spears voice for users. With a diverse range of effects, including the distinctive vocal style of Britney Spears, users can indulge in prank calls or record their transformed voice for future purposes.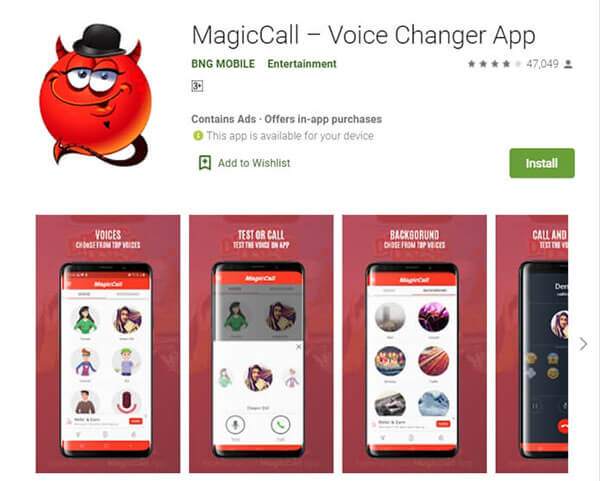 Cons:

Intuitive interface that makes voice modification easy and accessible.

Extensive selection of voice effects, including the distinct vocal style of Britney Spears.

Real-time application of voice effects for immediate use during calls or recordings.

Flexible pricing options to accommodate users with different budgets.
Cons:

Restricted compatibility limited to mobile devices only.

Potential technical issues or glitches that some users may encounter while using the app.
Part 4: Go Viral on TikTok: Make Britney Spears AI Cover Song
MusicAI – Britney Spears AI Cover Generator
If you want to make Britney Spears AI cover songs that are popular in social media platforms like YouTube and TikTok, head to MusicAI.
This innovative platform blends AI and music composition, enabling users to craft AI-generated covers inspired by Britney Spears and other renowned models. MusicAI simplifies music projects with text-to-music conversion and vocal isolation, driven by diverse AI models.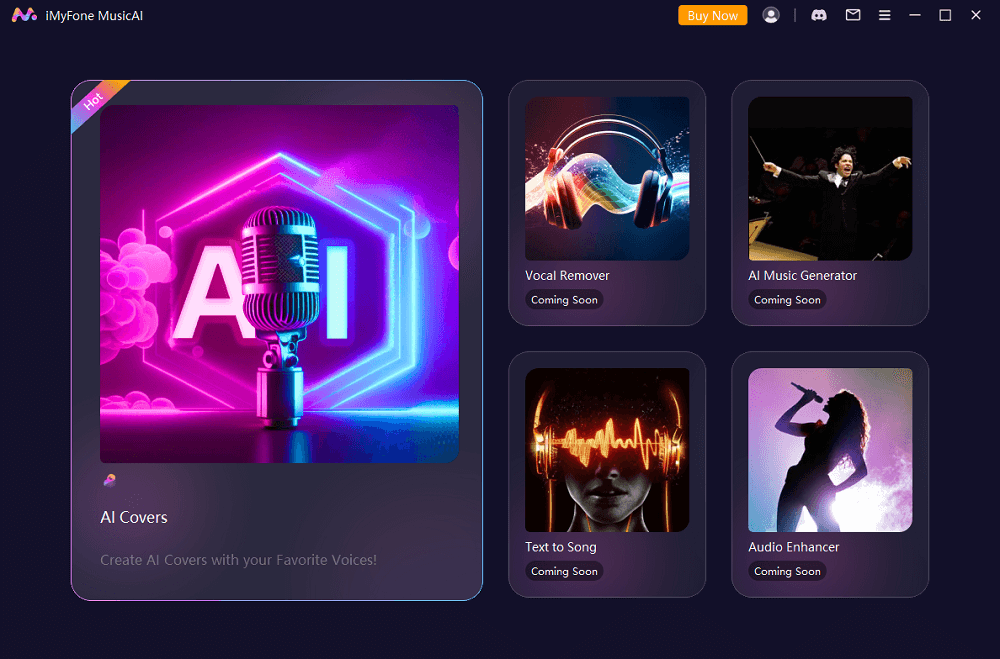 Key Features:
Incorporate celebrity voices using AI models in your cover songs.

Achieve precise separation of vocals, music, and instruments with ease.

Enhance audio quality with a simple click for elevated results.

Export AI covers in various formats, like WAV, MP3, and OGG.
Part 5: FAQs about Britney Spears AI Voice Generator
What is Britney Spears AI voice?
The Britney Spears AI Voice Changer is an innovative software powered by artificial intelligence. It utilizes advanced algorithms to accurately replicate and modify Britney Spears' iconic voice, empowering users to express their creativity and craft music with her distinct vocal style.
What are the top 10 Britney Spears songs?
The top 10 Britney Spears songs, in no particular order, include "Stronger", "Work Bitch", "Lucky","Circus","Toxic","I'm A Slave 4 U","Criminal","Gimme More",...Baby One More Time, and Oops!...I Did It Again. These iconic tracks showcase Britney's talent and have left a lasting impact on the music industry.
Can the Britney Spears AI voice changer modify voices other than my own?
Depending on the specific software you're using, it may have the capability to modify voices other than your own. MagicMic allow you to modify samples of Britney Spears'voice or other pre-recorded vocals.
Is the Britney Spears AI voice changer suitable for beginners?
The suitability of the Britney Spears AI voice changer for beginners can vary depending on the specific software you choose. MagicMic offer a user-friendly interface, beginners may still benefit from tutorials or guides to fully understand and utilize the features effectively.
What is a Britney Spears AI Voice Generator?
A Britney Spears AI Voice Generator is a technology that utilizes artificial intelligence to replicate the distinctive voice of Britney Spears for various creative purposes, including voiceovers, music production, and content creation.
Final words
In summary, Britney Spears AI voice generator has opened doors for mimicking Britney Spears' unique vocal style. iMyFone MagicMic stands as the premier AI voice generator, a best option for prank calls, gaming, streaming, and more.
Bring Britney Spears' captivating AI voice to your fingertips – download MagicMic now.