Voice AI technology has revolutionized our daily lives, making tasks like setting reminders, playing music, and getting answers effortless.
In this article, we'll explore the top Prime Voice AI options and unveil the secrets to creating lifelike voices of your choice. Discover the power of voice assistants in the age of AI.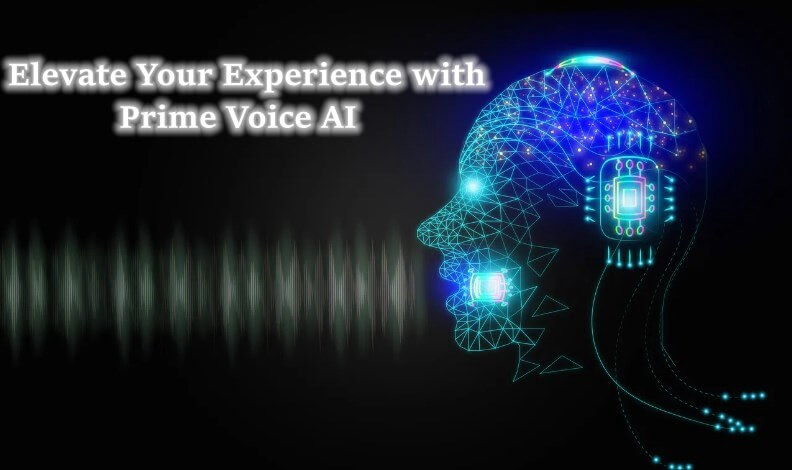 Part 1: The Essentiality of Prime Voice AI
The demand for voice AI is surging as virtual assistants gain popularity for device interaction. With the aid of natural language processingand machine learning algorithms, these assistants have elevated convenience.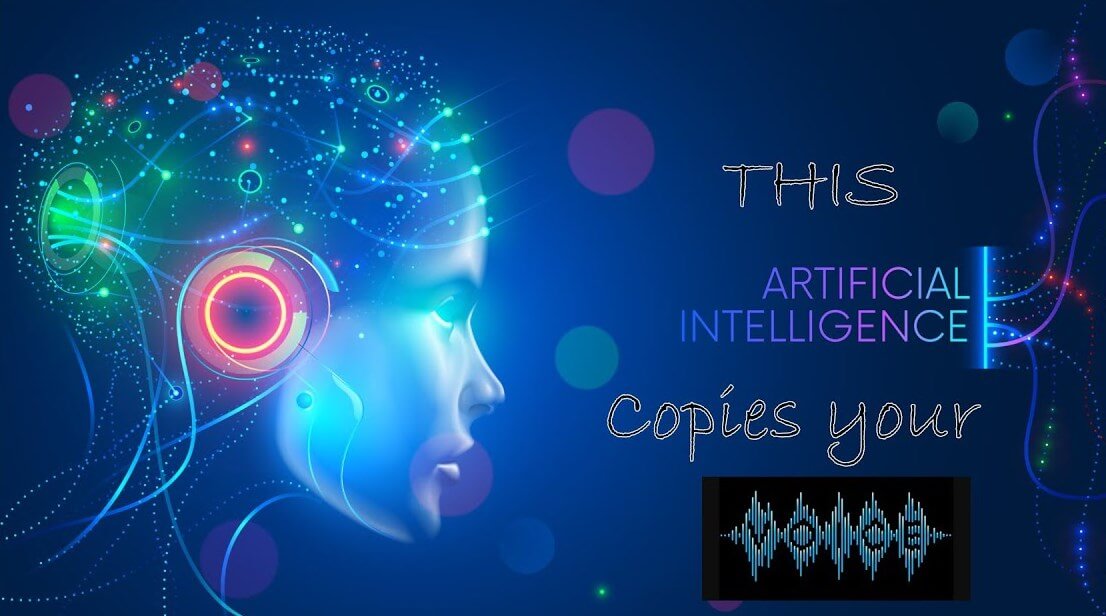 Moreover, voice AI is indispensable in sectors like healthcare, education, and customer service, enhancing efficiency and user experiences.
Part 2: Prime Voice AI: Revolutionizing Realistic Voice like Never Before
Discover the MagicMic Real Time Voice Changer and VoxBox: Your Gateway to Perfect Prime Voice AI.
Experience the power of MagicMic AI Voice Changer, a versatile tool that lets you effortlessly transform your voice into any desired sound. Unlock unlimited creative possibilities for games, dubbing, and more, whether you're recording or speaking in real-time.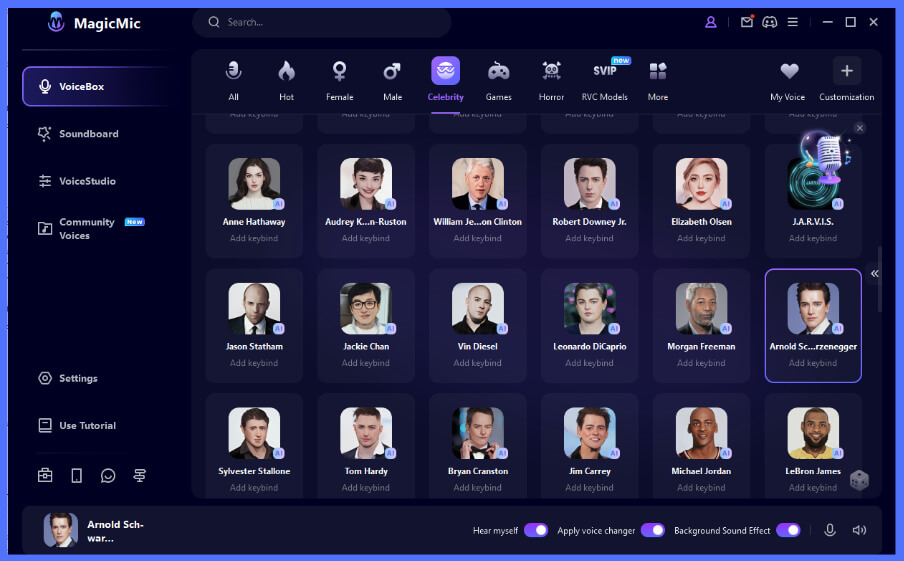 Key features of MagicMic
Prime Voice AI
Enhance your content with 600+ pre-set sound effects and choose from 225+ voice filters

Create custom voice filters with MagicMic's user-friendly interface, in addition to its pre-set options.

Experience seamless compatibility with MagicMic on both computer and mobile devices.

Make precise adjustments with built-in audio editing tools.

Capture modified voices easily with the voice recording function.

Enjoy clear, high-quality audio with integrated noise reduction technology.
Watch the Video Below To Know More About
Prime Voice AI
How To Use MagicMic Prime AI Voice Changer?
Follow our easy step-by-step guide to get started and unleash your inner rap genius.
Step 1: Download and Launch
Download and install MagicMic software, then open the app and log in with your email. Customize settings by selecting your microphone as input and enabling "Apply Voice Changer" and "Hear myself" options.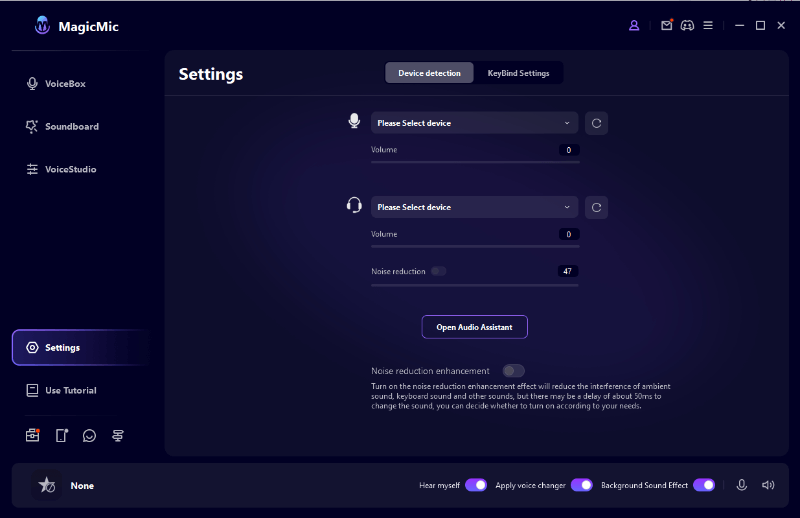 Step 2: Select Virtual Audio Device
In your voice modification application, choose "Microphone (Voice Changer Virtual Audio Device)" as the input option.
Step 3: Customize Voice and Effects
Explore voice effects in MagicMic. Assign them to keybinds for quick access if desired.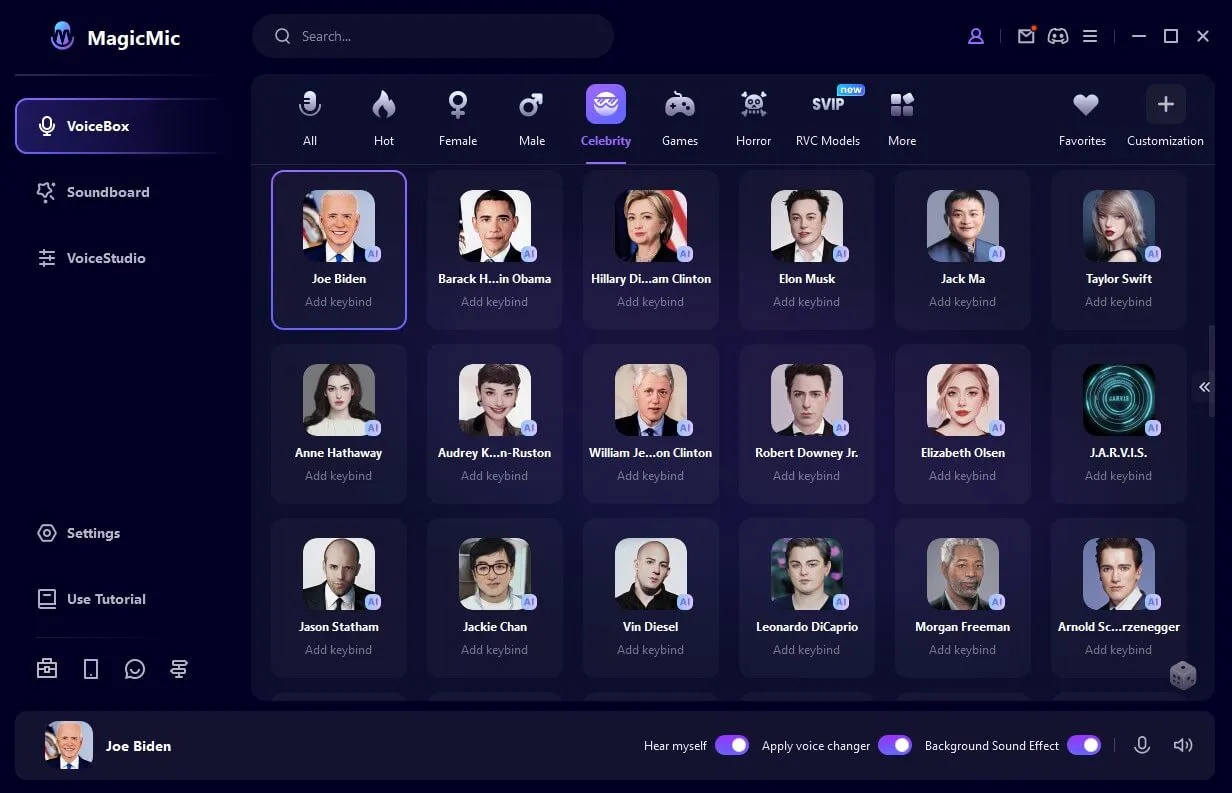 Using the authentic Prime voice AI with VoxBox, an advanced AI voice generator. With a vast selection of over 3200 voices in 77 languages, VoxBox accurately replicates the unique vocal characteristics of celebrities and athletes.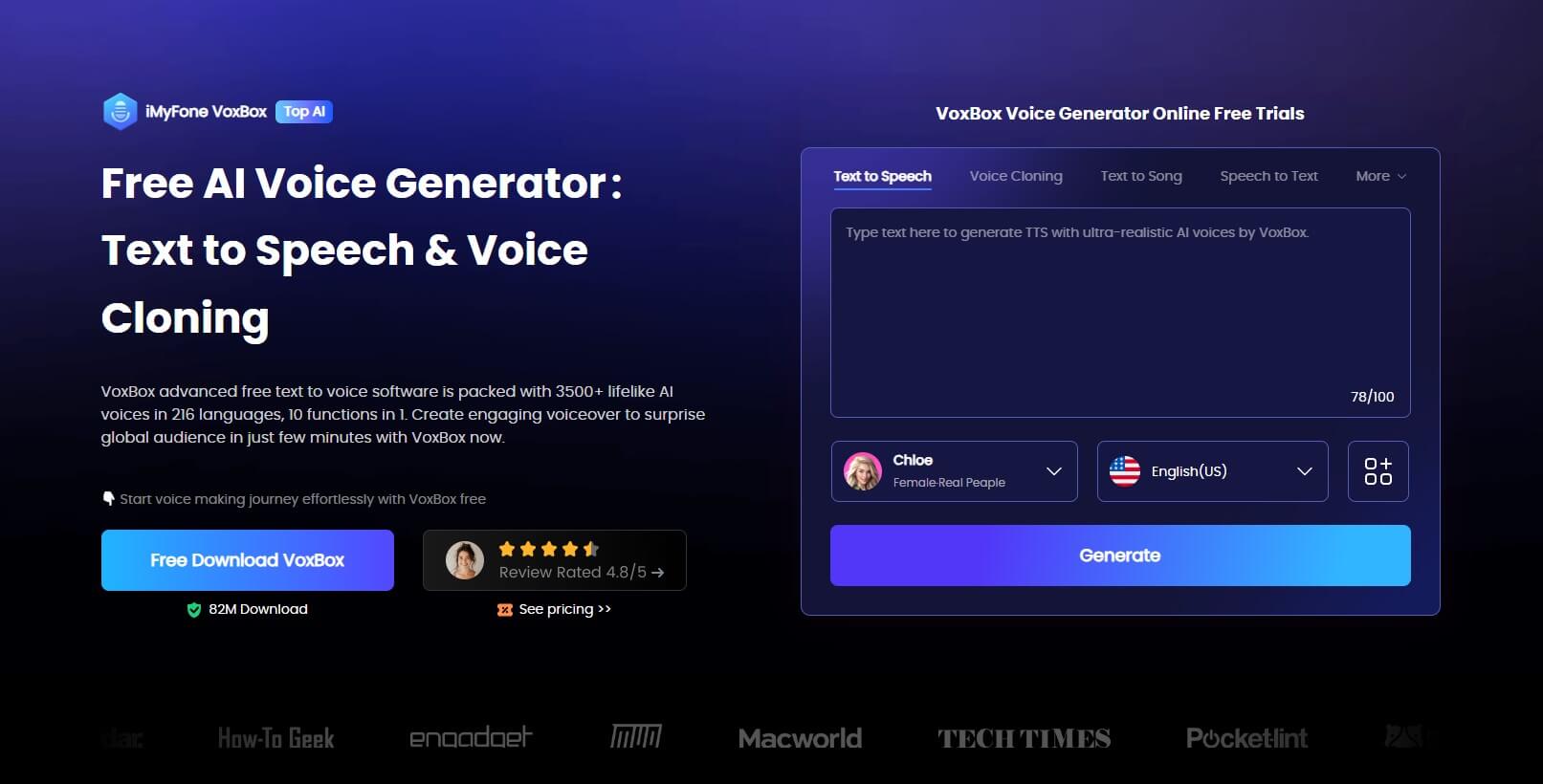 Steps of how to use VoxBox Prime Voice AI
Step 1: Download VoxBox and install it, click on "Voice Cloning" you can upload the relevant famous human voice to clone, and then wait a mins. you can get the AI voice you want.

Step 2: Select the "Text to Speech", Type the Cloned Voice to choose and then enter text to generate.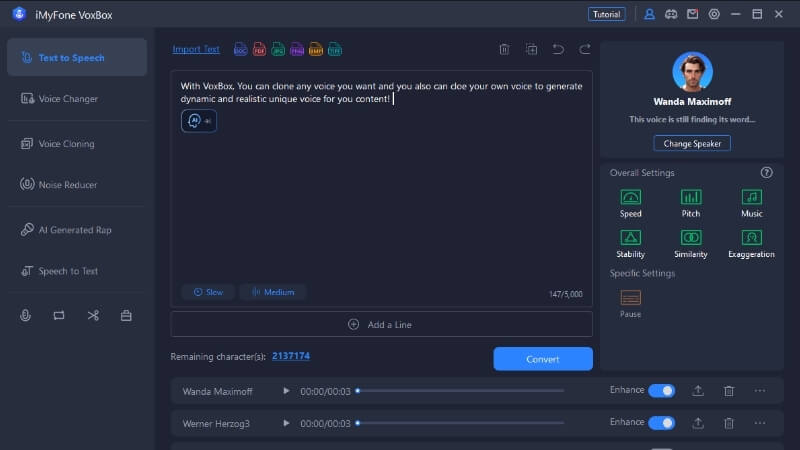 Step 3: Click the "Convert" button to export the realstic AI voice.
Experience the incredible capabilities of Elevenlabs with prime speech AI, an exceptional AI-powered tool for text-to-speech conversion and voice cloning. With its user-friendly interface, transforming text into speech for your audio projects is effortless. Unlock the power of Elevenlabs Prime Voice AI free, offering two robust tools in a single platform.

Part 3: FAQs about Prime AI Voice
Is Prime Voice AI free?
No, Prime Voice AI typically requires payment or a subscription to access its features and services.
Can Prime Voice AI be downloaded?
Yes, AI voice generators like MagicMic and VoxBox support downloading your modified voice.
What is Prime AI voice used for?
AI voice-over technology relies on machine learning algorithms to instantly transform text into speech. Whether you're producing marketing videos, e-learning modules, or any form of video content, AI voice-overs offer the capability to craft captivating and immersive experiences for your viewers.
Final words
Voice AI technology has revolutionized device interaction, and Filme Prime Voice AI (Text to Speech - VoxBox & Voice Changer - MagicMic) is at the forefront of this innovation. With advanced neural networks, Prime AI Voice generates highly realistic and customizable voices tailored to your preferences.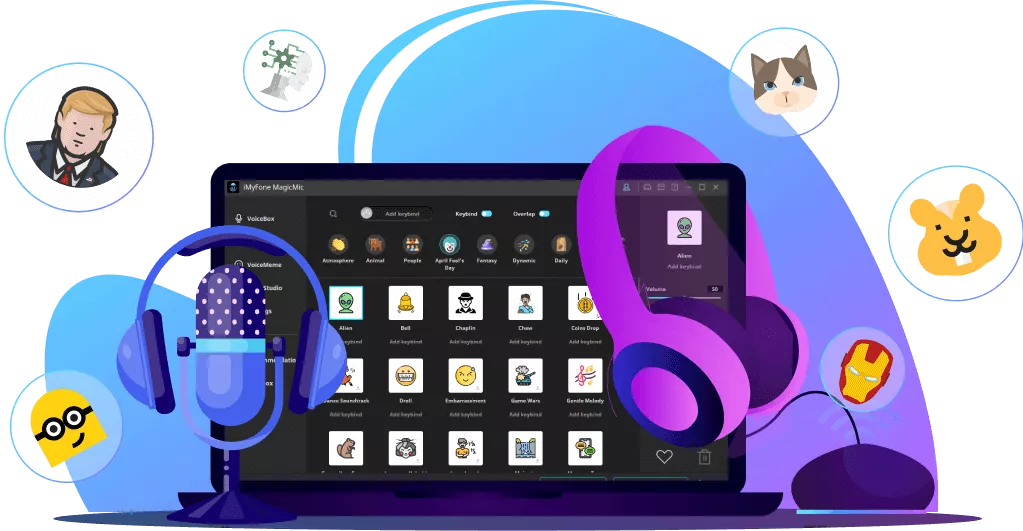 250+ Voice effects for one-click voice changing in real-time.
Huge library with 600+ Voice Effects and 200+ Voice Memes.
Sound emulator in games, live, chatting, online classes, and more.
Voice recording and audio voice changing is supported.
Voice studio lets you create any voice you like.