Do you want an AI singer voice changer to elevate or fresh up your song or your performance while streaming, music production, and more? If yes, you will get the best treat in this article.
AI singing voice changers are a revolutionary development that can study a singer's voice and replicate it, thereby allowing the production of entire new songs or entire albums featuring your favorite artist's singing voice.
But, which AI singing voice changer software is superior? In this article, we will delve into the 6 best AI singer voice changer on the market and give our opinion. Claim your spot in the world of AI singer with these AI voice changers!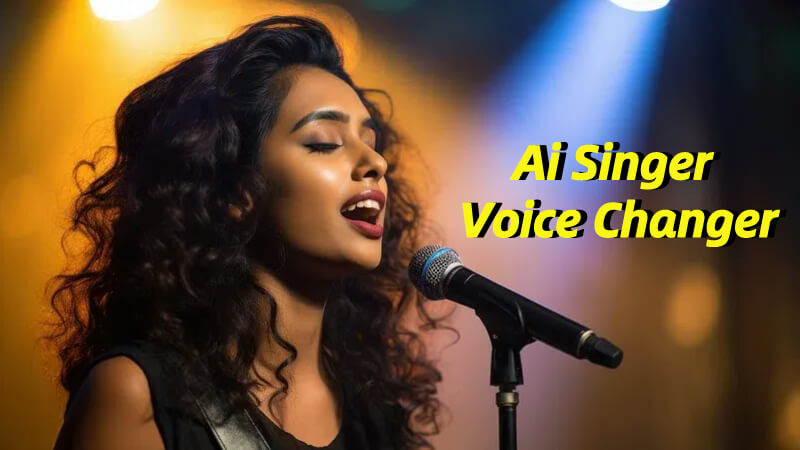 Tips
Change singer voice AI using MagicMic - best AI singing voice changer!
Change Voice
Part 1: What is AI Singer Voice Changer?
An AI singer voice changer is a type of software that modifies the pitch, tone, and other qualities of your voice and change into the voice of other singers that you prefer, simply speaking, it is the voice changer for songs. It can turn your voice into an AI voice and make you create unique, realistic AI singing featuring other artists' vocal style. It can also be used to imitate different characters, famous people, and even celebrities. With a voice changer, you can create amazing AI singing performances, make your favorite singer cover any song, and become an AI singer!
Part 2: 4 Powerful Voice Changers to Change Singer Voice AI
MagicMic, serving as a great option to change singer voice AI in real time or in the form of audio file, since it offers voices of celebrities, fictional characters, musicians, singers, and more, enabling users to change into their voice in real time.
MagicMic's leading AI technology is certainly a cherry on top, allowing you to sound like Females, Celebrities, Singers, Politicians, or Entrepreneurs with merely a click.
On account of its superior feature of changing voice in real time, it has become one of the best singer voice changers in the market, befitting for online chatting, gaming, streaming and more.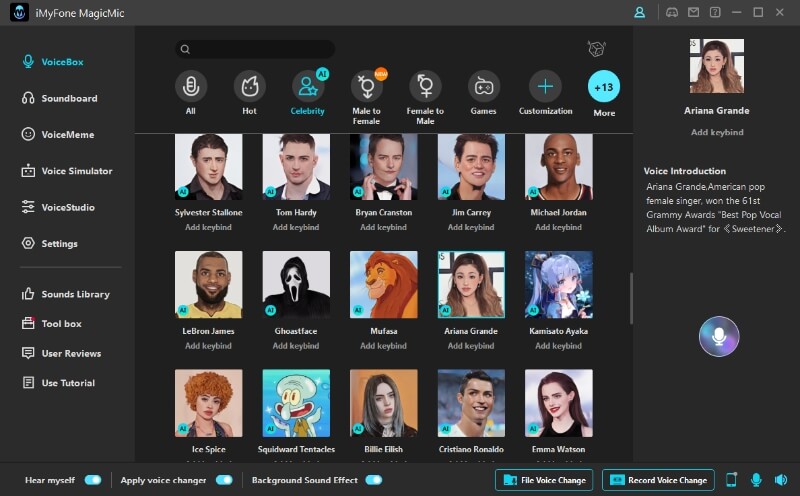 How to Change Singer Voice AI in MagicMic
Step 1: Install MagicMic software, and log in to your account.
Step 2: Select your microphone and headphone to make sure you can hear your own voice clearly.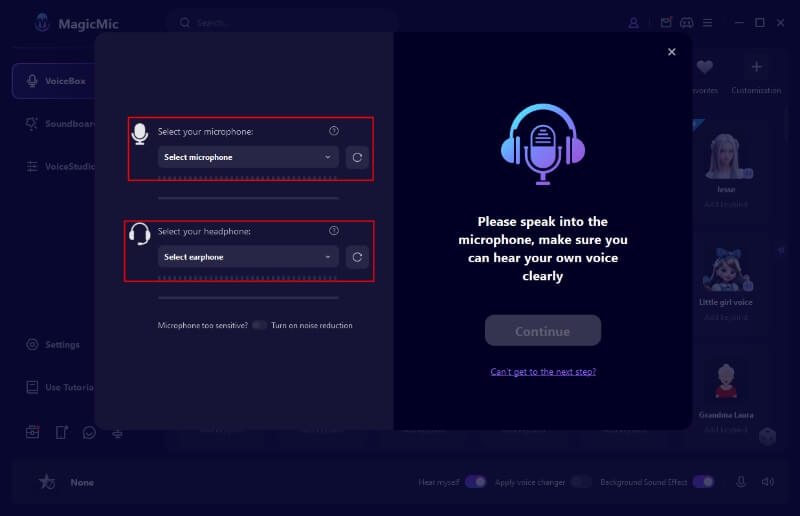 Step 3: Click "VoiceBox" - "Celebrity" to change your voice into any of the singers voice filters MagicMic provides.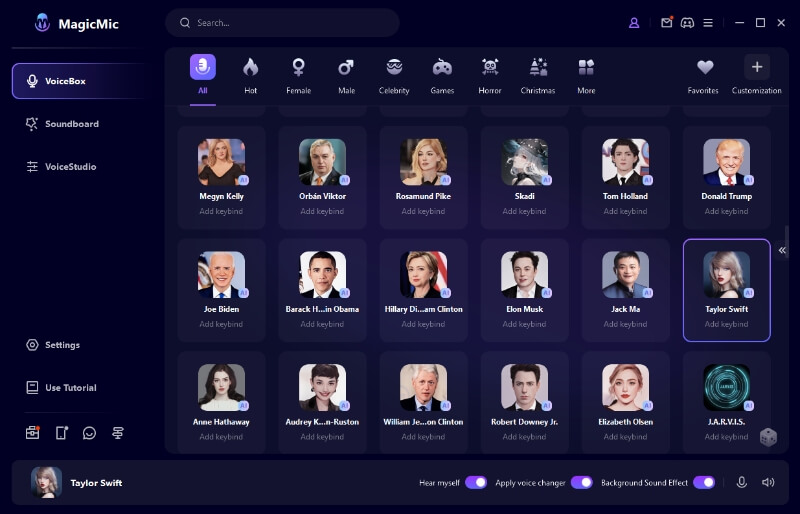 Features:
Change the voice with 300+ voice filters in real time, including free singers ai voice filters, including that of Taylor Swift, Ariana Grande, Kanye West, etc..

It works with various voice chat, games, and live streaming platforms. Like Discord, Valorant, GTA-V, Twitch and so on.

It comes with 200+ voice memes and 600+ voice effects for you to fresh up your streaming experience.

It blesses with noise reduction for high-quality sound output.

Keybinds control for voice filters and sound effects to decrease interruption.

It supports voice customization and adjustment.

Users can modify their voices in real-time using a range of AI-powered voice filters.
Here is another option to change your singing voice in real time. Voicemod stands out as a remarkable voice changer that enables to create distinct sounds or voices.
This innovative real-time AI singing voice changer offers user-friendly interfaces and the convenience of making voice modifications on the fly. Plus, it's regularly updated for enhanced performance every week!
What's best is its voice quality, with which many users are satisfied.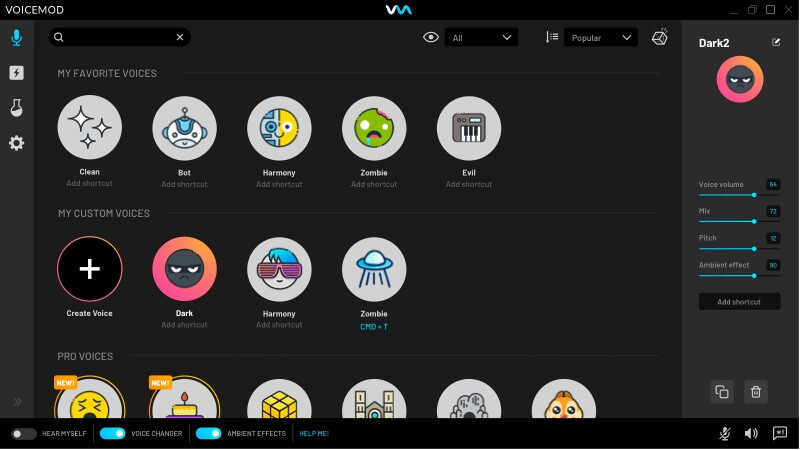 Features:
It supports real-time voice change and file voice change.

It doesn't possess a hectic user interface.

It offers a library of voice filters and voice memes.

The AI voices provided are relatively of high quality.
If you are seeking an AI singer voice changer online free, Voice AI maybe can serve as the best option.
This tool not only excels as an outstanding AI singer voice changer, since it enables you to change your singing voice to others' voice in real time or change the voice of audio file uploaded, but also serves as a voice cloning tool, transforming your voice into that of any character.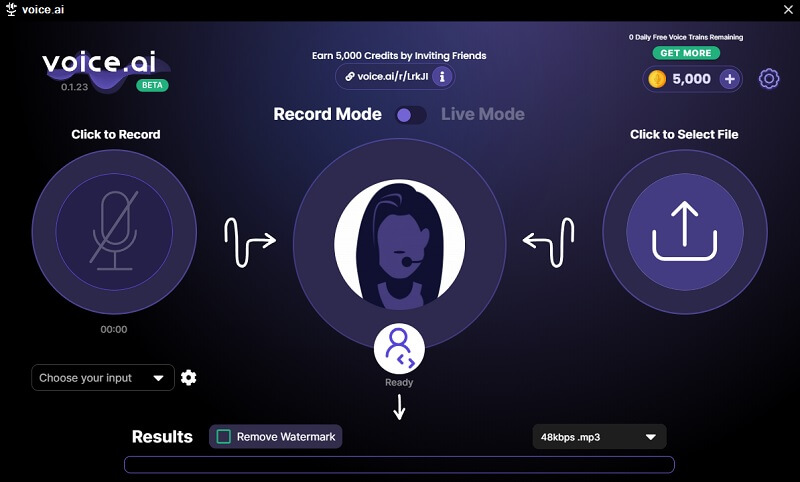 Features:
It offers various voice options to change into.

It blessess with three modes for voice change, real-time voice change, record mode and file change mode.

It yields rather high-quality results.
If you're looking to generate singing voice without using a microphone, you can depend on a text-to-speech tool like VoxBox.
It makes no difference if you lack a microphone, require subtitles, or need to sync pictures with sound. Voxbox is a fantastic text-to-speech generator that grants you the potential to convert text into AI singing in 46+ languages and 100+ characters or singers' voices. Equipped with features like TTS, audio edit and AI rap generation, flawless audio is now easily attainable.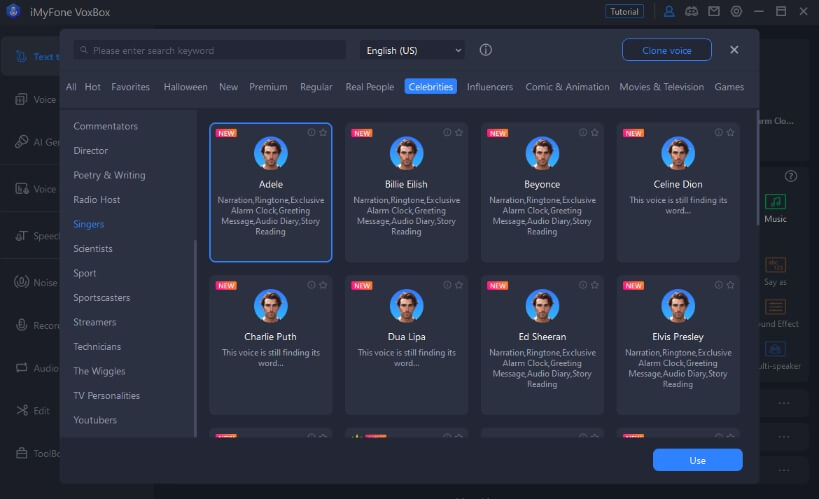 Key Features:
It enables AI singing generation from text, featuring 3200+ voices of singers, characters, and more.

It also supports yielding songs with 77+ languages.

It yields rather high-quality results.

After generating your AI song, you can use VoxBox to edit the audio to the perfection.

It supports to export different audio formats, including MP3, WAV, and AAC, etc.
If you're opting to change your singing voice using AI as a music producer, artist or song writer, Voice-Swap can make that come true with single click.
But the output generated using Voice-Swap cannot be publicly shared or used commercially. Users can purchase the license to use the artist's voice for your demo. All in all, Voice-Swap is more like a professional tool for voice changing, rather than a tool for entertaining.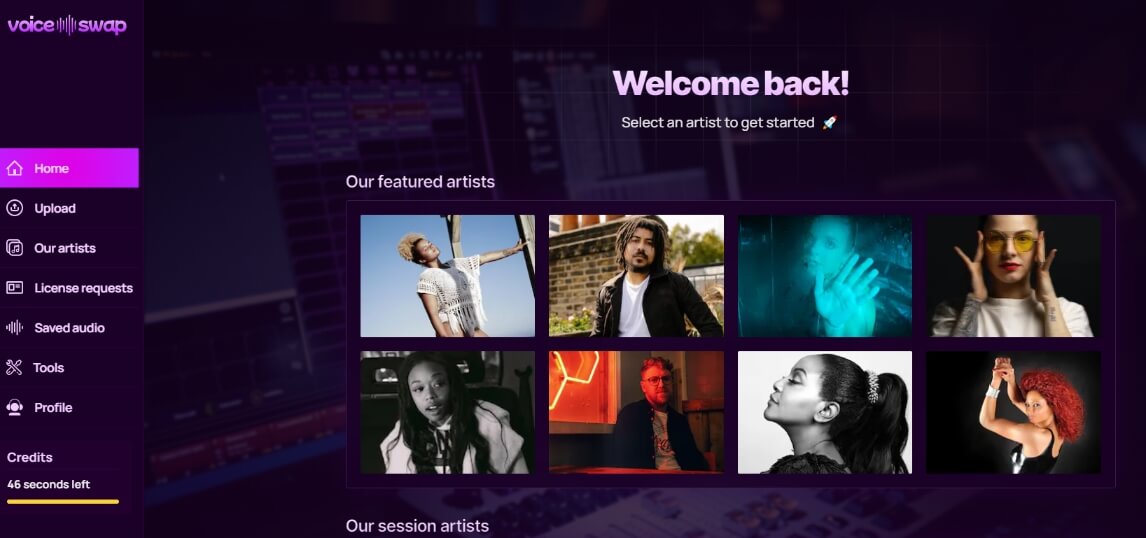 Key Features:
It offers a plethora of artists for users to choose from.

It allows users to try 60s songs/demos for free.

The artists it provides are experienced.

The audio output is of high quality.

Greatly save money and time in studio.
Here if you desire to change singer voice AI online for the purpose of entertainment like making videos to go viral on social media platforms and more, Lalas is your best choice.
There is no need to download any software, and all you need to do is to choose a singer voice, upload an audio of the song you love, and wait for a few seconds, you will get the best AI singing featuring the your favorite singer's voice.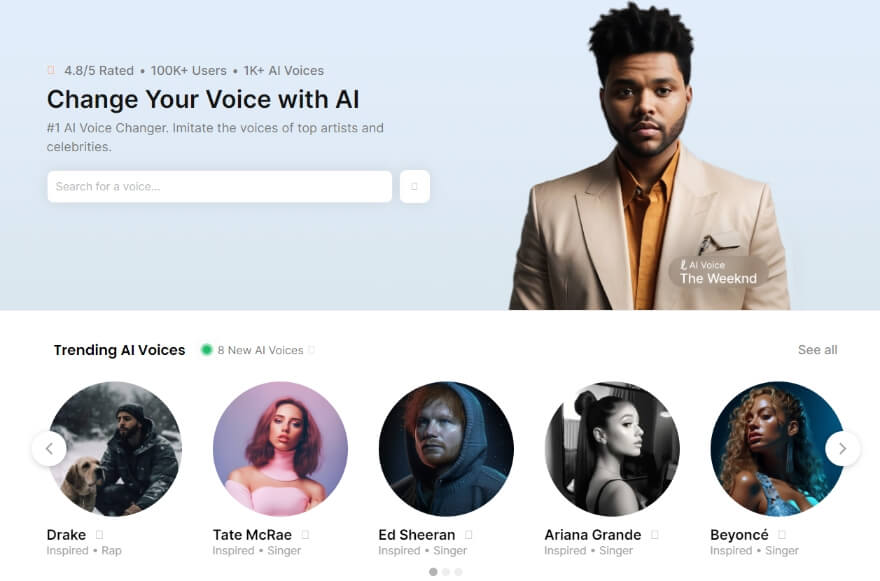 Key Features:
It supports audio file voice change and record your voice for voice transformation.

It comes with a number of famous artists AI voice for use.

The output is relatively of high quality.

Apart from singer voice, it provides with other voices like those of fictional characters, celebrities, and more.
Part 3: FAQs about AI Singer Voice Changer
1. What's AI singer voice changer?
AI voice changers have been gaining immense popularity, so is the AI singer voice changer, referring to the AI tool that enables users to change their singing voice either in real time, or in the forma of audio file.
2. How can I change my voice to a singer?
You can easily achieve that using an AI singing voice changer, with which you only need to upload your demo and the tool will yield the best AI singing featuring your favorite singer's voice.
3. What is the AI tool for changing the voice of a song?
MagicMic is the best AI voice changer to change voice of a song, since it offers a large number of voices and the powerful feature of voice changing in real time, which means that you can change your singing voice during streaming or online chatting platforms.
4. Popular AI Voice: Taylor Swift, Lady Gaga, Ice Spice AI Voices
AI generated voices have greeted the world with incredible success; Some of the most renowned are those of Lady Gaga, Ice Spice, and Taylor Swift.
Taylor Swift, a megastar boasting a multitude of awards and an immense fan base, has seen a surge in content producers using video programs like TiKTok, live streaming, and YouTube to replicate her iconic voice. Capturing her voice to create videos and live broadcasts is an immensely popular way to access her steadily growing fan base.
Lady Gaga, known for her theatrical and powerful voice, has risen to become one of the world's preeminent vocalists. AI enables admirers to replicate her signature sound and diverse vocal capabilities through voice changers and AI voice generators.
Ice Spice (born Isis Naija Gaston) is an American rapper from The Bronx, New York. After attending SUNY Purchase, she met record producer RiotUSA, leading to her 2021 debut with "Munch (Feelin' U)". She found success in 2022 with singles "Bikini Bottom" and "In Ha Mood", followed by the EP Like..? (2023) and the Lil Tjay collaboration "Gangsta Boo", a Billboard Hot 100 entry. Ice Spice, labeled a "breakout star" by Time, was acclaimed by The New York Times as "rap's new princess".
Conclusion
6 incredible AI Singer Voice Changers have been detailedly reviewed in the article, which can satisfy your professional and entertainment need, like music production and making, streaming, content creation and more.
Among these singing voice changers, the MagicMic AI singing voice changer stands out, offering 300+ AI voices, mind-blowing voice filters, sound effects, and the capacity to record voices in unparalleled sound quality, as well as change voices in real-time on multiple platforms. Highly recommended!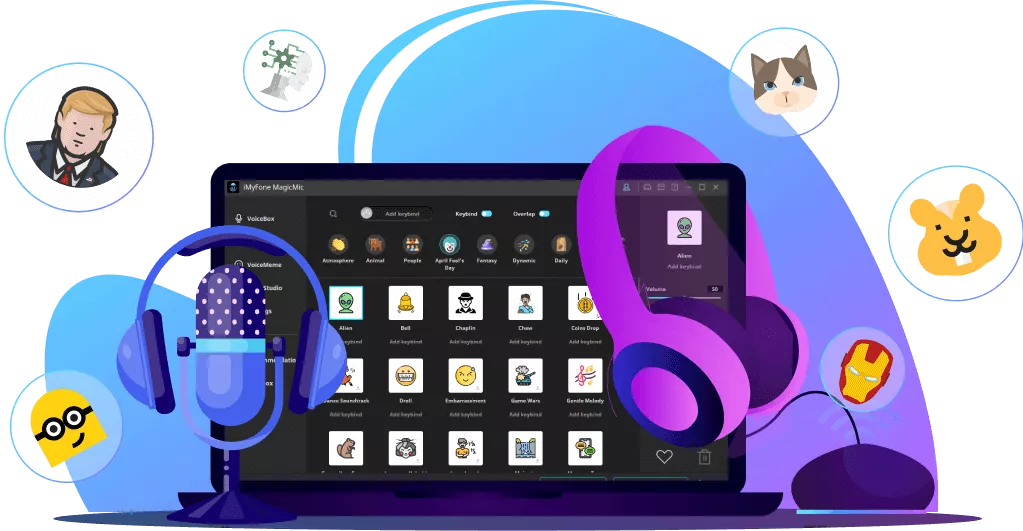 225+ Voice effects for one-click voice changing in real-time.
Huge library with 600+ Voice Effects and 200+ Voice Memes.
Sound emulator in games, live, chatting, online classes, and more.
Voice recording and audio voice changing is supported.
Voice studio lets you create any voice you like.