As the world becomes increasingly interconnected through digital platforms, harnessing the power of AI has unlocked a universe of creative possibilities. Imagine, if you will, lending your words the dulcet intonations that have made Jennifer Lawrence a cinematic sensation. With the innovative Jennifer Lawrence AI voice changer, you can do just that and more.
Whether you're an ardent admirer of her craft, a burgeoning social media influencer, or a dedicated gamer, these Jennifer Lawrence AI voice tools that we recommend in this article will elevate your auditory endeavors and captivate your listeners.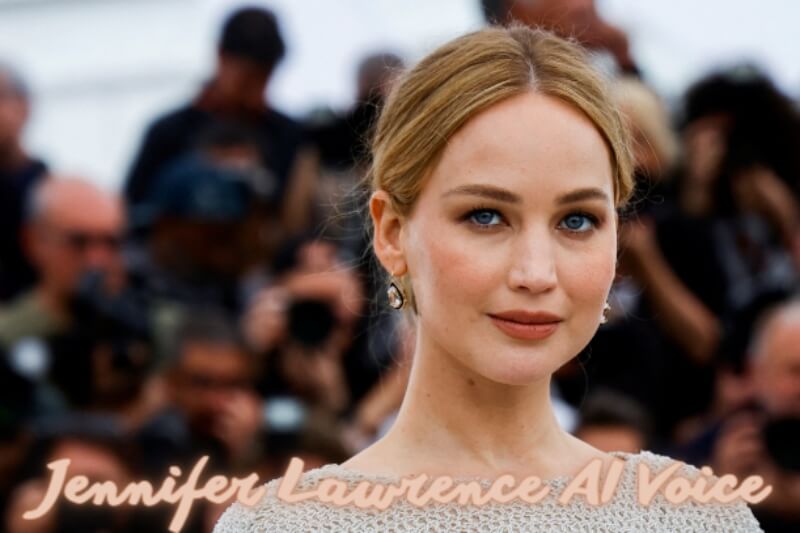 Part 1: Info about Jennifer Lawrence
Jennifer Lawrence, born on August 15, 1990, is a prominent American actress recognized for her diverse roles in action-packed franchises and independent dramas. With a cumulative worldwide film gross of over $6 billion, Lawrence became the highest-paid actress in 2015 and 2016.
Lawrence won an Academy Award for her role in Silver Linings Playbook and a BAFTA Award for American Hustle. Beyond acting, she is an advocate for feminism and women's rights, founding the Jennifer Lawrence Foundation in 2015 to support charitable causes.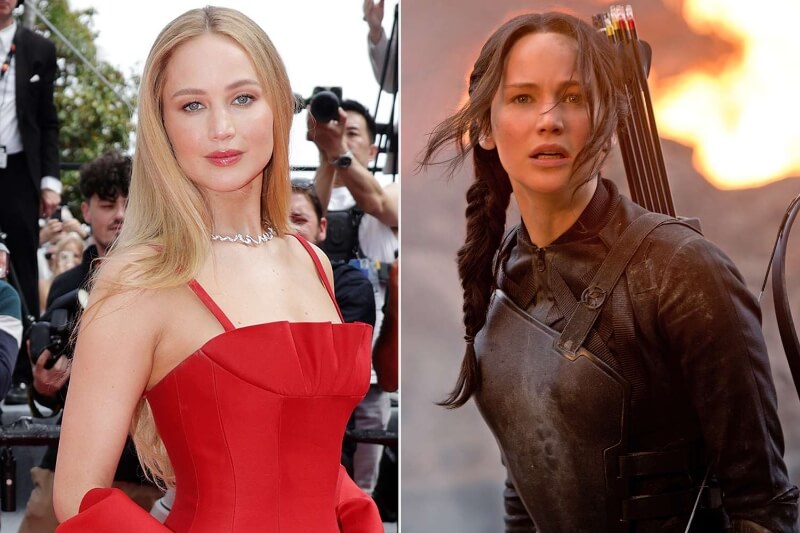 Part 2: Best Voice Changer to Get Jennifer Lawrence AI Voice
MagicMic real-time voice changer now featuring the distinctive AI Jennifer Lawrence voice. with the AI voice technology, it easily elevates your online gaming and chatting interactions with 250+ realistic voice filters. Additionally, MagicMic offers impeccable voice recording and filter application, enhancing its versatility beyond gaming and live streaming scenarios.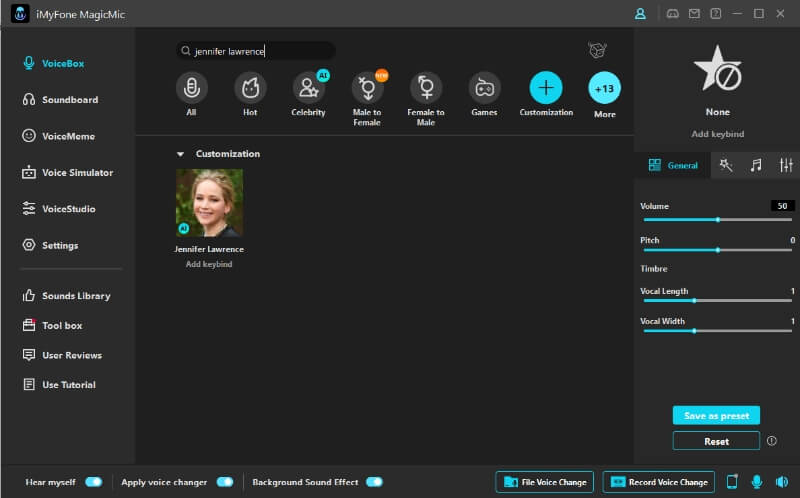 Tips
MagicMic is also a
soundboard
tool that offers 600+ sound effects. It allows users to play various sound effects in streaming, like laughter, music clips, or other audio effects, in voice chats with simple commands.
How to get Jennifer Lawrence AI voice?
Step 1: Download and Launch
Install the MagicMic software and log in.
Step 2: Configure Input and Program Settings
Set your main microphone as input, enable "Apply Voice Changer," and turn on "Hear Myself" for instant feedback.
Step 3: Select the MagicMic Virtual Audio Device
Select Virtual Audio Device as input in your chosen app for smooth voice alteration.
Step 4: Choose Voice or Create AI Voice
Experiment with effects, create custom AI voices (e.g., Jennifer Lawrence AI Voice) using keybinds.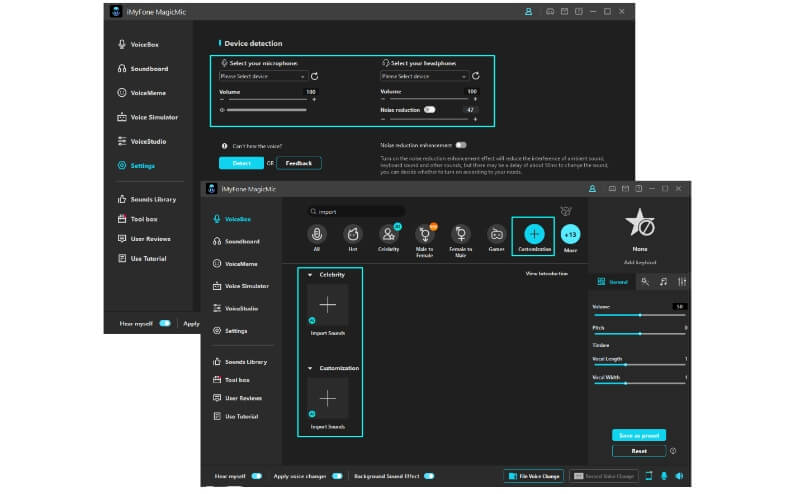 Key features of MagicMic
Jennifer Lawrence Voice Changer
It provides 250+ voice effects,600+ voice effects and 200+ voice memes.

Instant voice improvement through real-time AI effects.

Engaging audio involvement with an interactive soundboard.

Effortless access to preferred voice effects via customizable hotkeys.

Enhanced audio quality via background noise reduction.

Smooth compatibility with Discord and Twitch platforms.

Versatile virtual audio driver captures and transforms audio from any source.
Voicemod is an innovative voice changer and soundboard software that allows users to change their voices into the voice of Jennifer Lawrence's with AI in real-time during online chats, gaming, or content creation. Offering a wide range of voice effects and filters, Voicemod enhances entertainment by enabling users to adopt various personas and characters.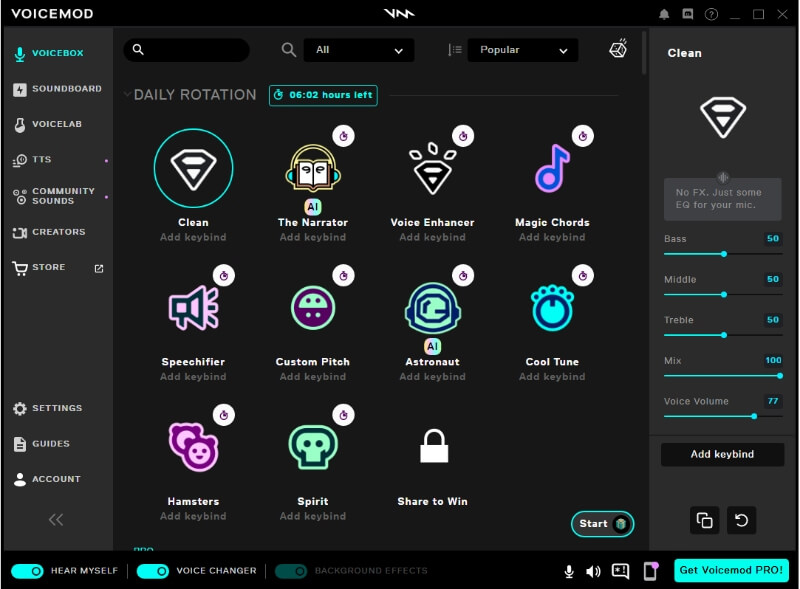 Key features
Real-Time Voice Modification: Voicemod offers instant voice changing and manipulation during live conversations and recordings.

Diverse Voice Effects: Users can choose from a vast selection of voice effects and filters, transforming their voices into various characters, accents, and tones.

Easy Integration: Voicemod seamlessly integrates with popular communication platforms like Discord, streaming services, and video editing software.

Customizable Soundboard: The software includes a customizable soundboard, enabling users to play sound effects and samples effortlessly during interactions.
The steps of using Voicemod
Step 1: Begin by downloading Voicemod and completing the installation process on your device.
Step 2: Close any ongoing communication programs to ensure smooth integration.
Step 3: If it's your first time using Voicemod, follow the initial setup instructions. For subsequent use, access the "Settings" option. Choose your microphone as the input device and select your headphones as the output device. Confirm your choices by clicking "Ok."
Part 3: How to Create Jennifer Lawrence AI Voice with Voice Generator & TTS
VoxBox stands as an advanced voice generator featuring the Jennifer Lawrence voice AI for video game characters. With over 3200 AI-generated voices spanning 77 languages and 100 accents, VoxBox shines in text-to-speech capabilities, voice cloning, and text transcription.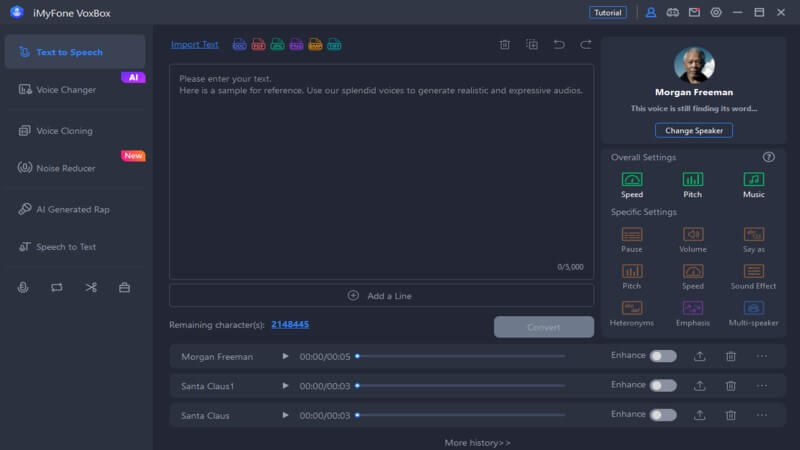 Key features of VoxBox Jennifer Lawrence Voice Generator
VoxBox offers 3200+ voices for diverse roles, from YouTubers to celebrities.

VoxBox covers 46+ languages, including Japanese and German.

Pick from 100+ accents like British, Indian, and Hindi.

VoxBox includes TTS, STT, recording, video conversion, and editing.
How to use VoxBox Jennifer Lawrence Voice Text to Speech ?
Step 1: Start by downloading and installing VoxBox software.
Step 2: Explore the "Text to Speech" lab to find your preferred voice, such as "Jennifer Lawrence."
Step 3: Input your text, click "Convert," and VoxBox will generate your voiceover.
Step 4: Save in high-quality formats (OGG, WAV, or MP3) for gaming, business, or social media purposes.
Murf.ai is a cutting-edge Jennifer Lawrence text to speech online that brings realistic AI-powered voices to the forefront of voiceovers. With a diverse selection of 100% natural-sounding AI voices available in 20 languages, Murf.ai empowers users to create professional-quality voiceovers for videos and presentations. Whether enhancing the impact of multimedia content or catering to a global audience, Murf.ai offers a seamless solution to elevate your audiovisual projects.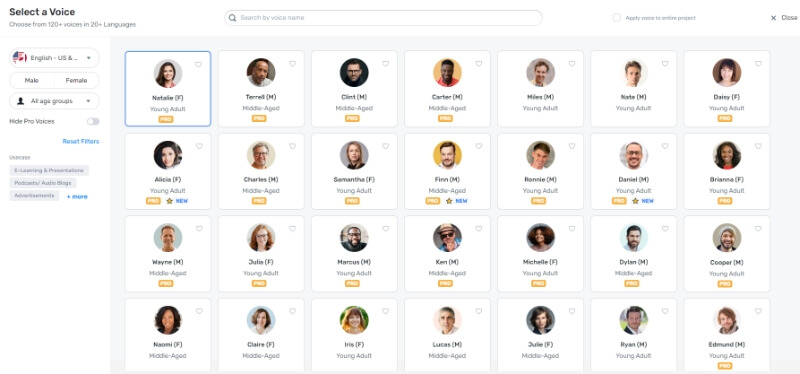 Key features of Murf.AI
Murf.ai delivers lifelike AI-generated voices for impeccable voiceovers.

With 100% natural sounding AI voices available in 20 languages, Murf offers versatility for professional video and presentation voiceovers.

Elevate the quality of your videos and presentations with Murf's authentic AI voices.

Murf.ai ensures effective communication by providing voiceover options in a wide range of languages, catering to global audiences.
How to use Murf.AI?
Step 1: Enter your script for the voiceover.
Step 2: Select voice and customization options.
Step 3: Click on the "Explore AI voices" tab to choose an AI voice for your video.
Part 4: Best Movies of Jennifer Lawrence that Ranked by Rotten Tomatoes
Jennifer Lawrence has flourished into a highly recognizable and respected contemporary actress, particularly during her prominence in the 2010s. With numerous Academy Award nominations and significant roles in blockbuster franchises, she has remained a consistent presence in the cultural forefront throughout her diverse career.
1. Winter's Bone (2011)
2. American Hustle (2013)
3. Silver Linings Playbook (2012)
4. The Hunger Games
5. X-Men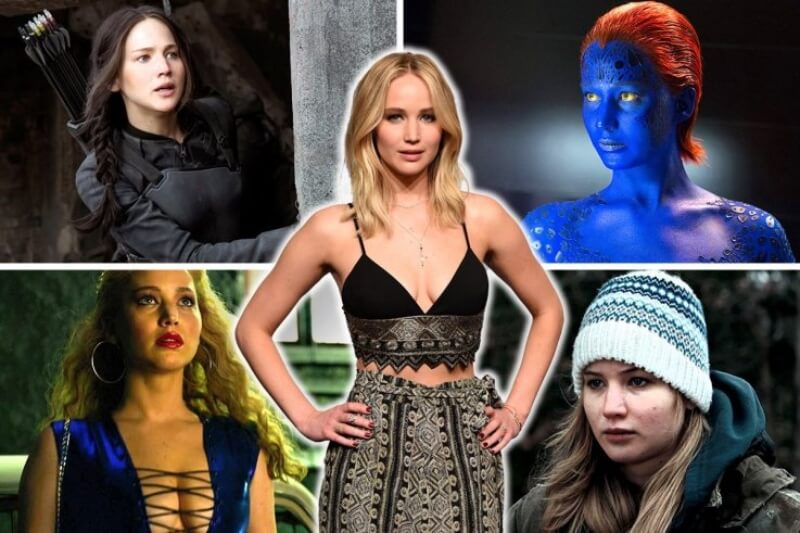 Part 5: FAQs about Jennifer Lawrence AI Voice
1.What is Jennifer Lawrence AI Voice?
Jennifer Lawrence AI Voice refers to an innovative technology that employs artificial intelligence to replicate the unique vocal qualities of Jennifer Lawrence, the renowned actress. This AI-generated voice can be used for various applications, such as voiceovers, content creation, and more.
2.Are there other celebrity AI voices available?
Yes, there are AI voice technologies that offer various celebrity voices. Some AI platforms offer an array of options, allowing users to choose from a selection of famous personalities for their voice synthesis needs.
3.Where can I find Jennifer Lawrence AI Voice technology?
You can typically find Jennifer Lawrence AI Voice technology on specialized AI voice generation platforms or software. Online searches and technology marketplaces are good starting points to discover and explore such offerings.
Final words
In the grand tapestry of Hollywood, Jennifer Lawrence's voice resonates as a captivating thread that weaves together emotion, authenticity, and charm. Thanks to the marvels of AI-driven voice synthesis like MagicMic, Voicemod and VoxBox, you can now entwine her vocal magic into your own audio projects.
Whether you're a dedicated fan, a content creator, or someone eager to infuse a touch of star-studded allure into your digital presence, the world of Jennifer Lawrence AI voice technology welcomes you.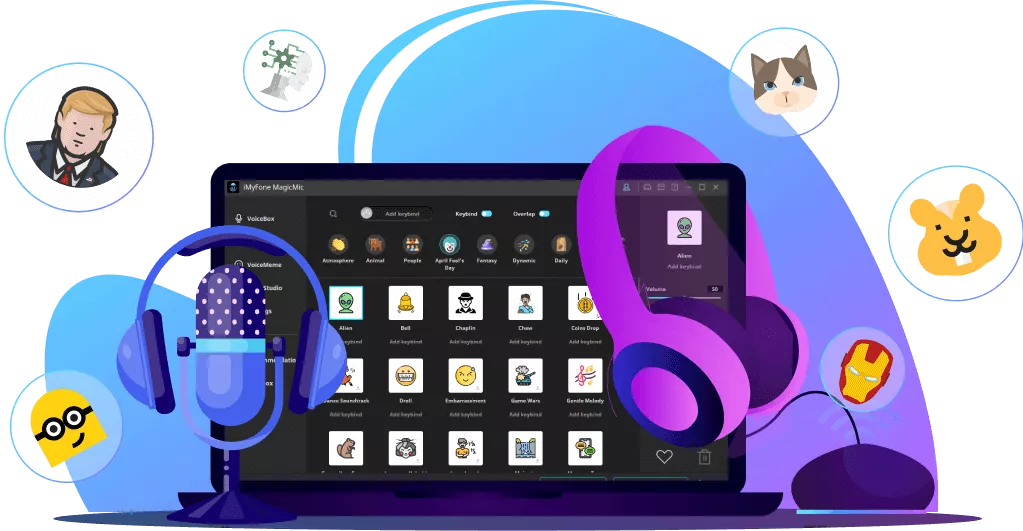 250+ Voice effects for one-click voice changing in real-time.
Huge library with 600+ Voice Effects and 200+ Voice Memes.
Sound emulator in games, live, chatting, online classes, and more.
Voice recording and audio voice changing is supported.
Voice studio lets you create any voice you like.