Technology advancements have made so many things easier for us than we thought impossible before, like a Fake You text to speech tool. Who would have thought deep faking voice could have been possible?
Now you can choose any celebrity or voice type on the FakeYou website, and it will read aloud anything you write. It can now do this in more than one language.
Let's investigate in a bit more detail what FakeYou is if there are any alternatives to it, and why we would need them for FakeYou text to speech purposes.
Part 1: Review and Facts about FakeYou Text to Speech
In this section, we discuss essential aspects of Fake You text to speech and why it is your default choice. After that, we discuss the pros and cons and what OS supports using FakeYou.
Fake You deepfake text to speech is an online-only tool that can generate voices you choose from input text. It boasts 2,400 voices that you can use to imitate different celebrities and characters for any text you input.
These voices also include regular people's voices to create a more realistic environment for your content. Suppose you are on the lookout for a more enhanced FakeYou. deep fake text to speech results, FakeYou website, is your answer.
Let's look at the web-based tool's core features and some pros and cons.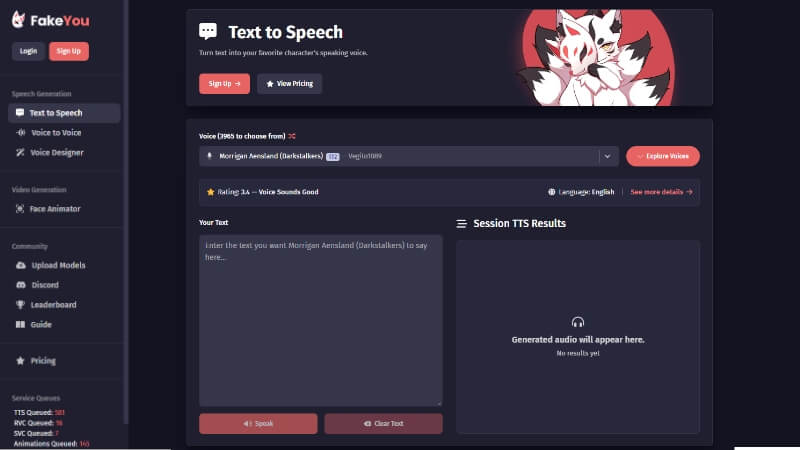 Features:
An easy-to-use UI because of the AI technology behind it.

The AI does its job to give you the best Fake You text to speech which is realistic.

Increasing the quality of voiceovers with each regular update.

An extensive library of quality voices of up to 2,400.

Take your time to edit and save in popular formats for later use.
Pros:

Use on any device with a web browser connected to the internet.

The web-based design makes it really easy to use from anywhere.

All the 2,630 voices can be tweaked and improved for better output.

FakeYou text to speech will always remain free because of funding from fans and users.

The number of voices is growing each day.
Cons:

No recording is available at the moment, and it supports only TTS.

The Fake You deepfake text to speech conversion may take longer depending on your internet connection speed.
Price:
Will always remain free.
Platform and OS:
No restrictions on platform and OS, as you can use it on any web browser.
User Comments and Reviews:
The user comments about FakeYou have been relatively positive.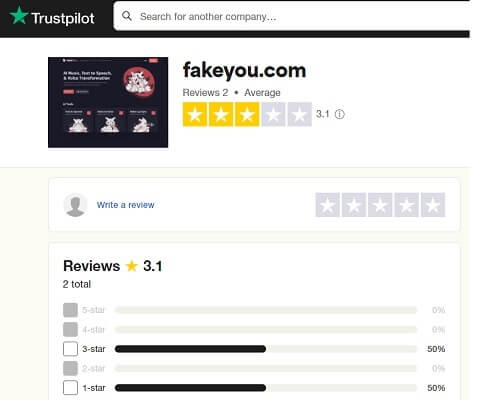 Tips
No voice artists are needed, and no recording equipment is needed. You can easily convert your text to speech and voice using
iMyFone VoxBox
, the best software
alternative to Fakeyou Text to Speech
! Download it and try it out for free now!
Part 2: Best Text to Speech Alternative to FakeYou Text to Speech
This section presents the best two alternatives to FakeYou text to speech purposes for more options.
iMyFone VoxBox is the latest AI software from iMyFone, which has many audio-processing-related tools in the past used by users for technology lovers.
The need for TTS by thousands of users made them make a dedicated app if people like yourself want to try Fake You deepfake text to speech for their content or communication.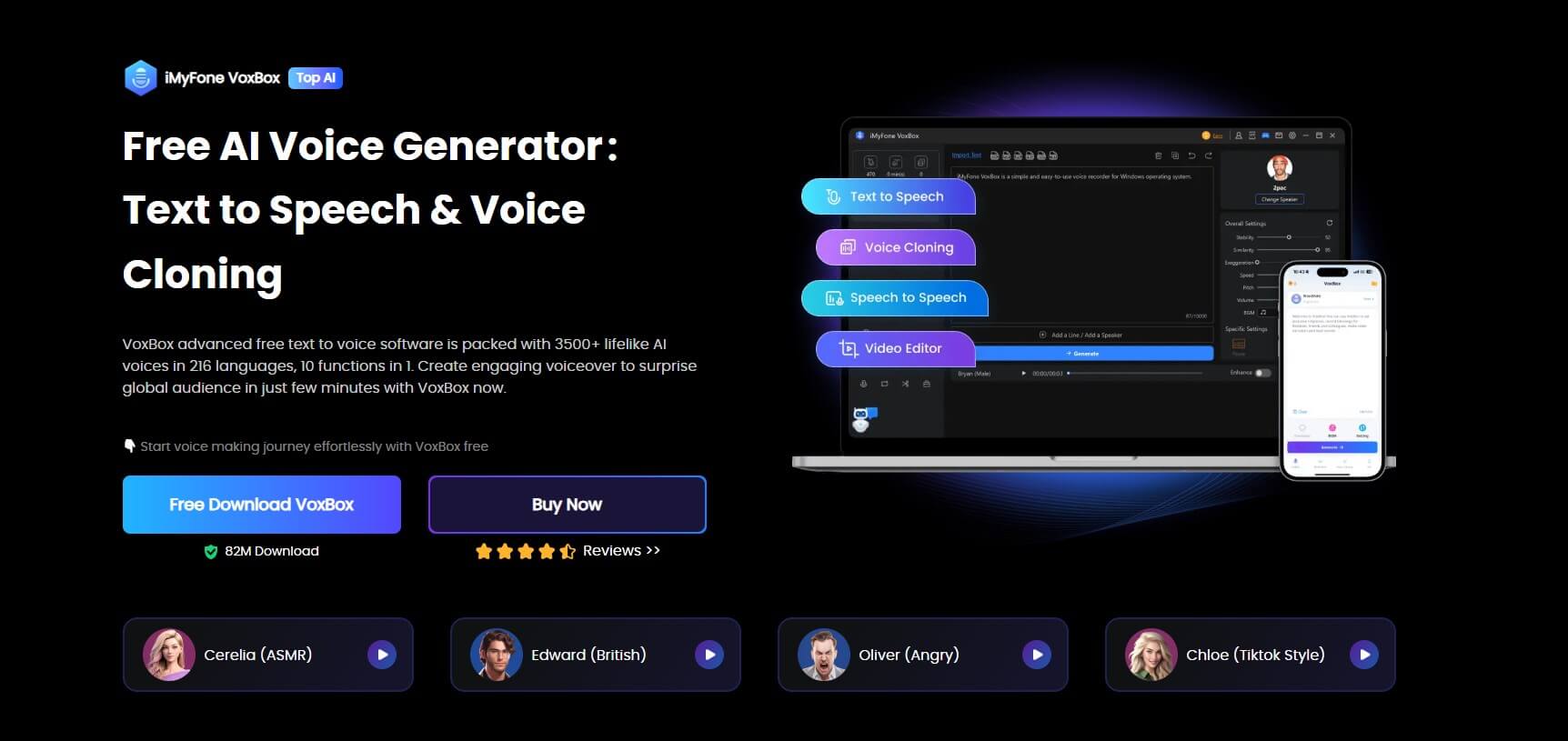 Key Features:
With more than 3,200+ AI voices and 77+ languages, you can generate TTS to Spongebob's voice,deep fake text to speech voice, and many more ai human voices.

Provide a wide range of voices used for more purposes like podcasts, storytelling apps, funny videos, etc.

Supported more output formats files and also supported conversion in any popular format for later use.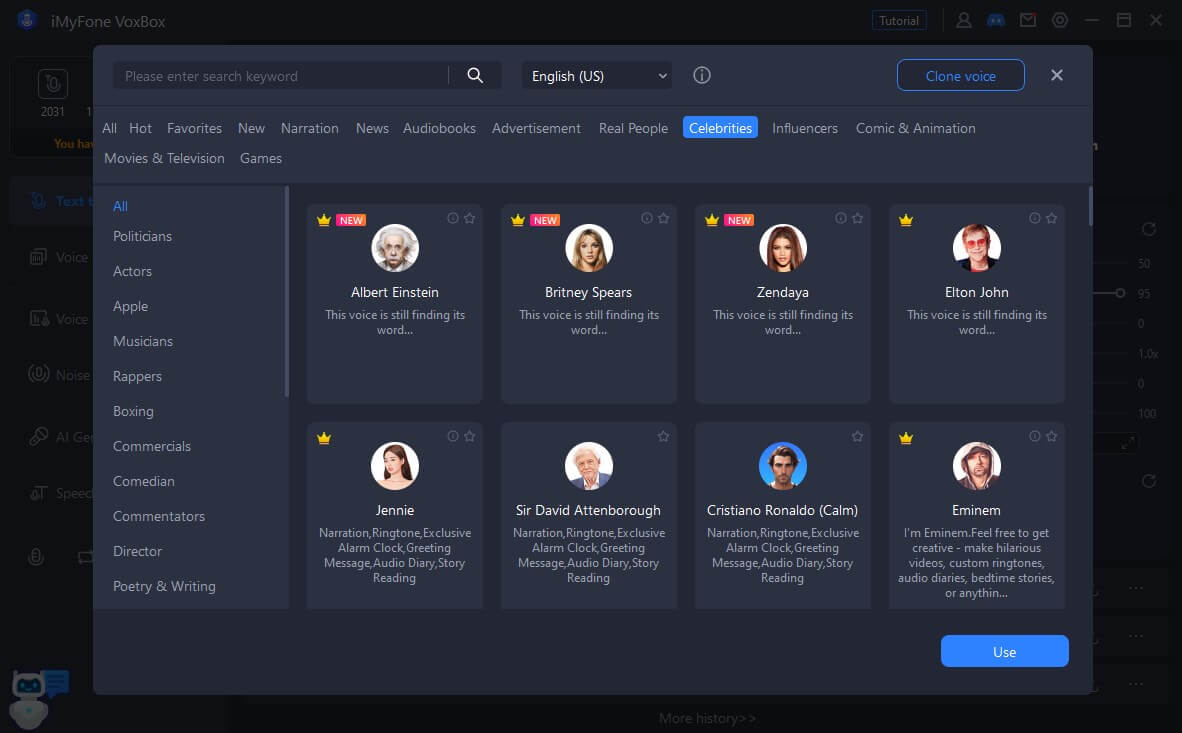 Pros:

One of the securest voices generated apps out there.

Other than text to speech, Voxbox has many more functions for free! For instance, speech to text, audio editting, and converting video to audio.

Can be used for a lot of different scenarios like conferences, classrooms, or online communication.
Cons:

Need to install.
User Comments:
The app never fails, says Mic Live, and considers results crystal clear.
MPerry1996 uses VoxBox to write songs wherever he is.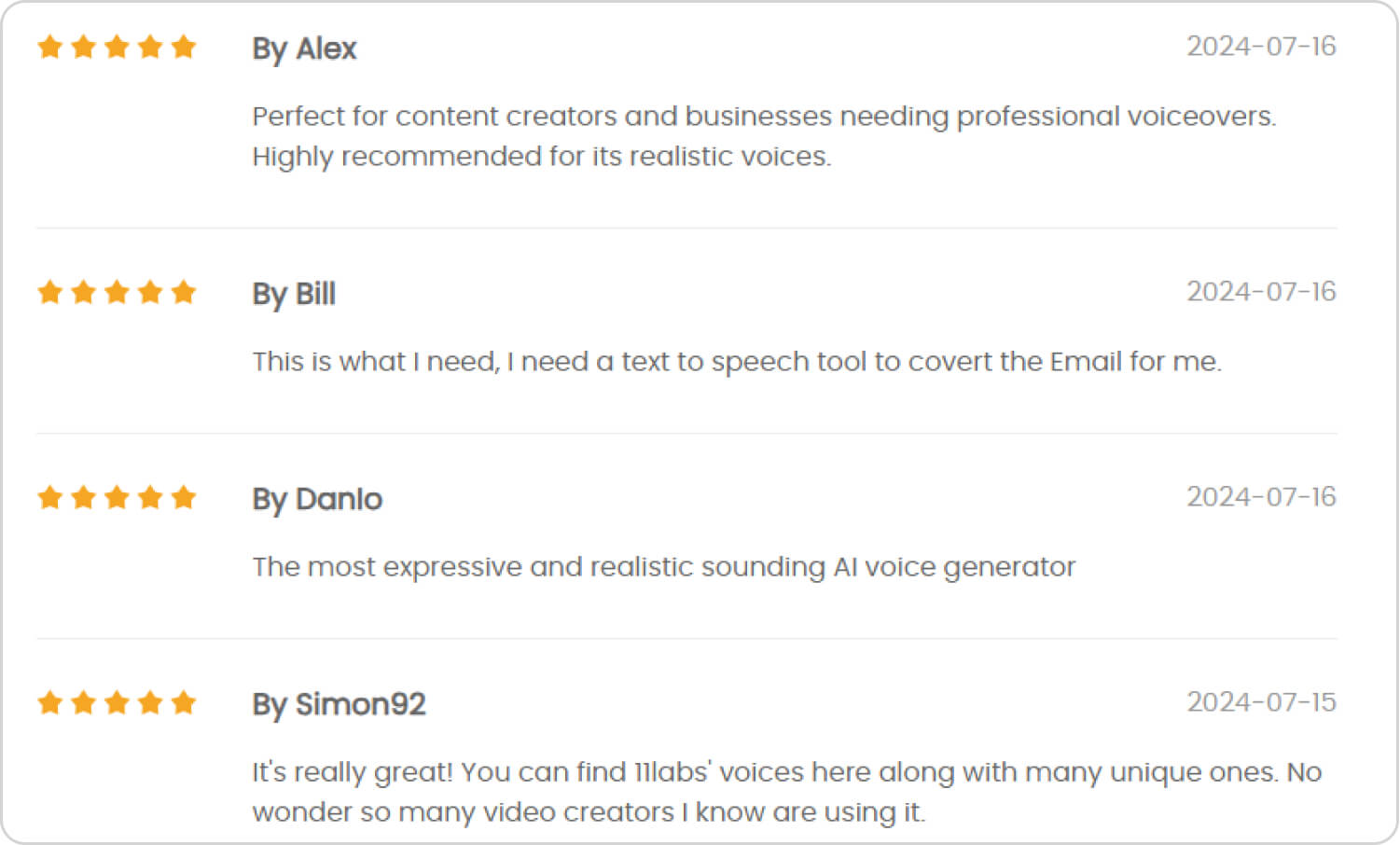 Watch this video to learn more about the Best Alternative to Fakeyou.com, iMyFone VoxBox:
Uberduck is a community-driven open-source Fake You text to speech generator that is beloved by thousands of daily users. The best part about Uberduck is that you can efficiently synthesize a completely new voice clone.

Key Features:
Use it to make FakeYou text to speech in 5,000-plus voices that are amazingly expressive and unique.

Their APIs allow you to make amazing audio apps in minutes.

You can become a part of the community and enhance their creation tools.

Many big companies are satisfied customers.

User access to Uberduck API documentation for making audio apps.

Unlimited access to tweaking voiceovers.

Studio feature is highly diverse with royalty-free usage of voiceovers.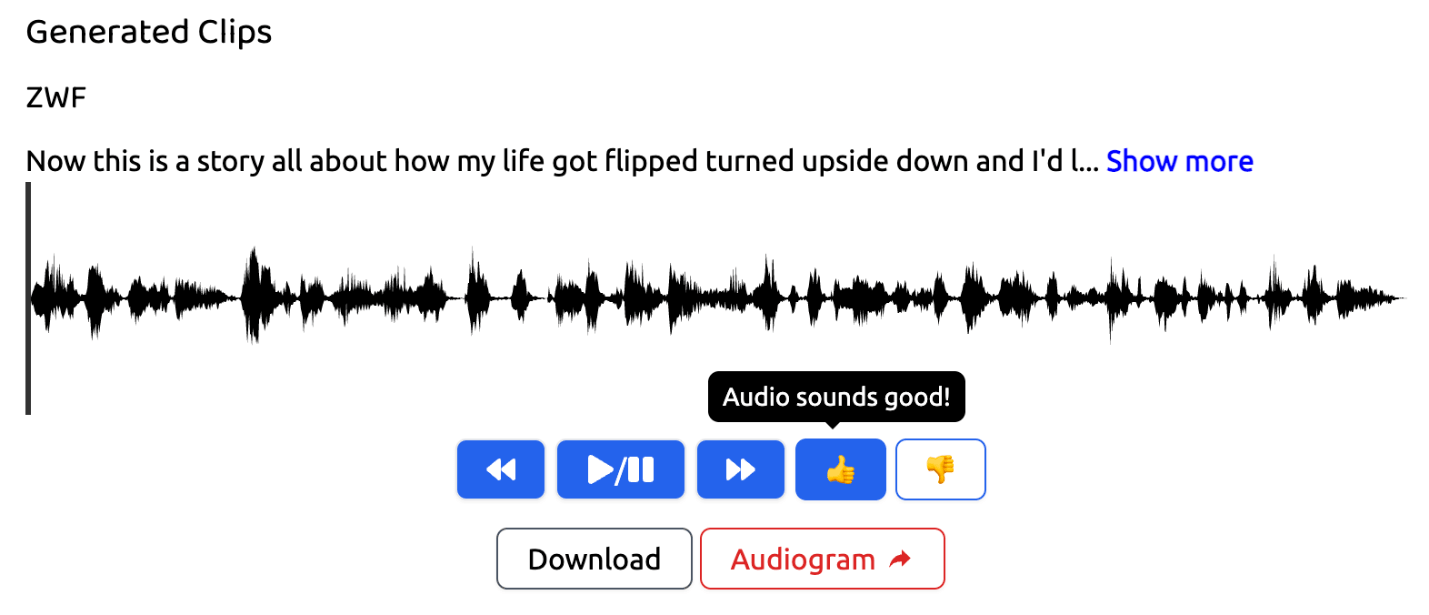 Pros:

Notable features which are also reliable in giving the best quality.

Enthusiasts can easily make their apps.

The APIs for new app creation are so powerful; anyone can make high-quality apps.

Cloud-based Fake You deepfake text to speech tool.

Customer support is top notch.
Cons:

Non-premium users don't have access to APIs.
User Comments:
Yotta CEO was happy that he got to enhance Yotta's year-end project it couldn't have been possible without Uberduck.
Part 3: FAQs about Fake You Text to Speech
1. Is FakeYou Text to Speech Safe?
FakeYou is entirely safe for use as it's used by thousands of users daily who support and fund the web-based tool.
f there were any safety concerns, a large chunk of the community wouldn't have been supporting and funding it.
2. Which is the Best Text-to-Speech Tool Online?
When it comes to online TTS, FakeYou. deep fake text to speech is one of the best online tools because it is supported by its fans and has a lot to offer that other apps don't.
3. Is there any alternative to Fakeyou Text to Speech?
Yes, for sure. There are multiple text to speech tools available on market for you to choose, for instance, speechify. Uberduck.ai, and Murf.ai and so forth. Among them, iMyFone VoxBox would be your best choice for it has over 3200 voices and 22+ languages to choose!
Conclusion
This article enhanced your knowledge about what FakeYou Text to Speech online tool is about and what you can achieve with it. Suppose you want to know, use more premium and advanced functions of Text to Speech Software.
In that case, we recommend iMyFone VoxBox as a best alternative to Fake You text to speech because of its incredible popular voices mentioned above. Have a free try now!