Are you looking for the most realistic Jschlatt AI voice generator to enhance your content creation and more? If so, you're in for a treat.
In this piece, we delve into the realm of Jschlatt AI voice and how it can be replicated or modified for making text to speech voiceovers,real-time voice change, or Jschlatt AI cover using various tools.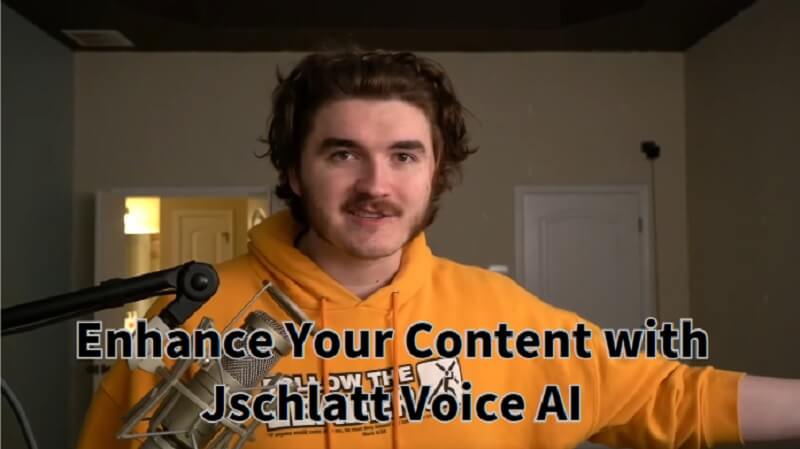 Part 1: Who is Jschlatt?
Jschlatt is an internet personality, Twitch streamer, and YouTuber known for his satirical Minecraft-related content and deadpan humor on platforms like "Minecraft Monday" and "SMP Live".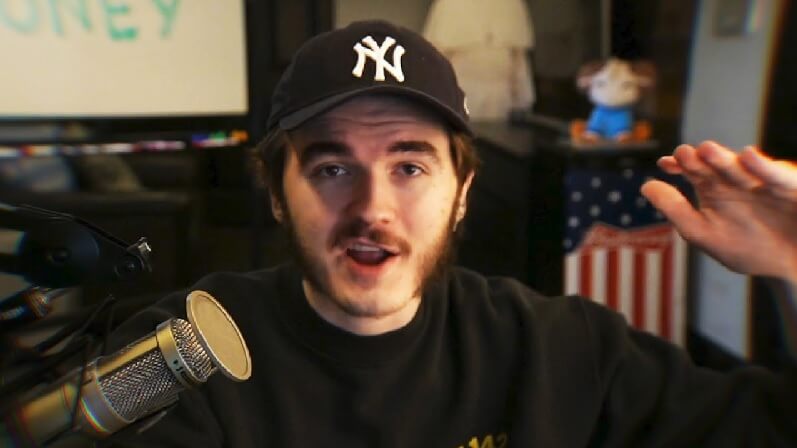 Jschlatt has a large online following and is involved in collaborative projects with other creators. He has his own merchandise brand, hosts "The Schlattcast" podcast, and his unique style has gained him a devoted fan base across multiple platforms.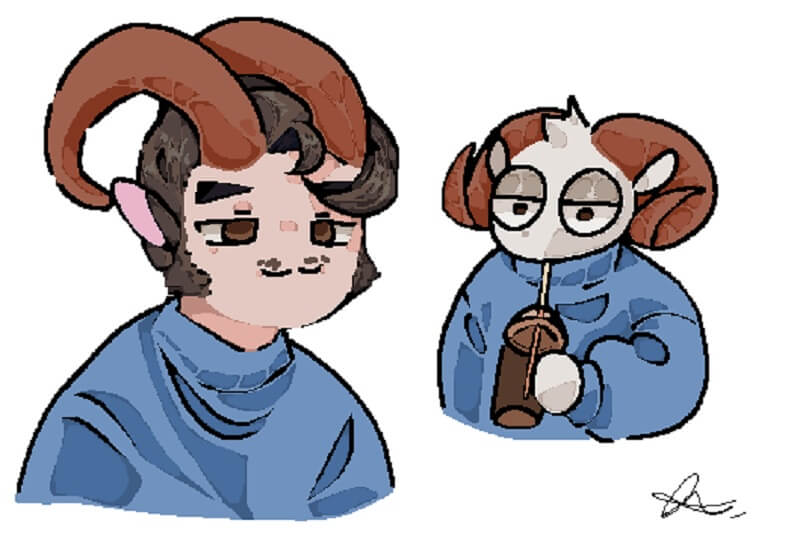 Part 2: Best Jschlatt AI Voice Generator for Voice Change and TTS
iMyFone MagicMic is the best Jschlatt AI voice generator for transforming your voice into Jschlatt voice or any other voices of popular YouTuber and Twitch streamer, adding humor and uniqueness to your content and creating an immersive and entertaining experience for your audience.
Compatible with both Mac and Windows, this versatile tool offers an extensive library of voices, including iconic characters from famous games and more, 225+ AI voice filters, 600+ voice effects and 200+ voice memes, improving your online gaming, streaming, and communication on platforms like Discord, Zoom, and Twitch, as well as your content creation.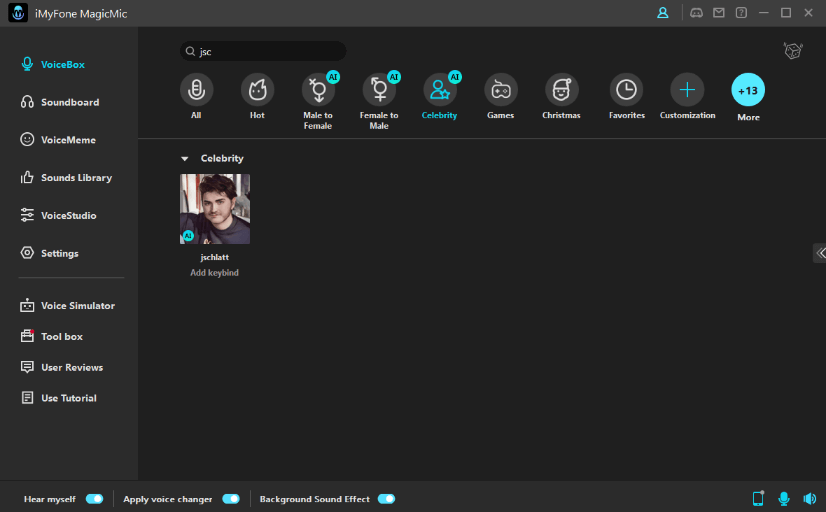 How To Get Jschlatt AI Voice in MagicMic
Step 1:Download and install the software, then sign in with your email to launch it.
Step 2:Customize input and program settings, select your primary microphone, and enable desired features.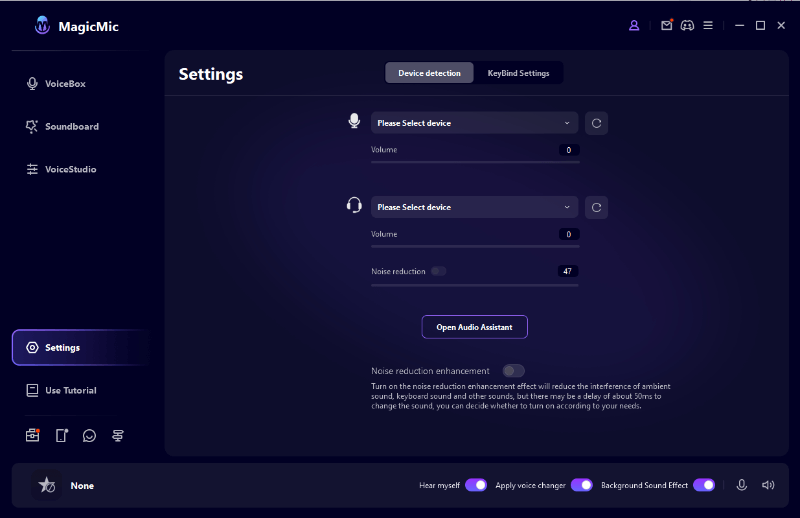 Step 3: Set MagicMic Virtual Audio Device as the input device in your preferred application to modify your voice.
Step 4: Explore the diverse voice effects library and search for "Jschlatt", assign keybinds, and enjoy a thrilling experience with personalized voice modifications.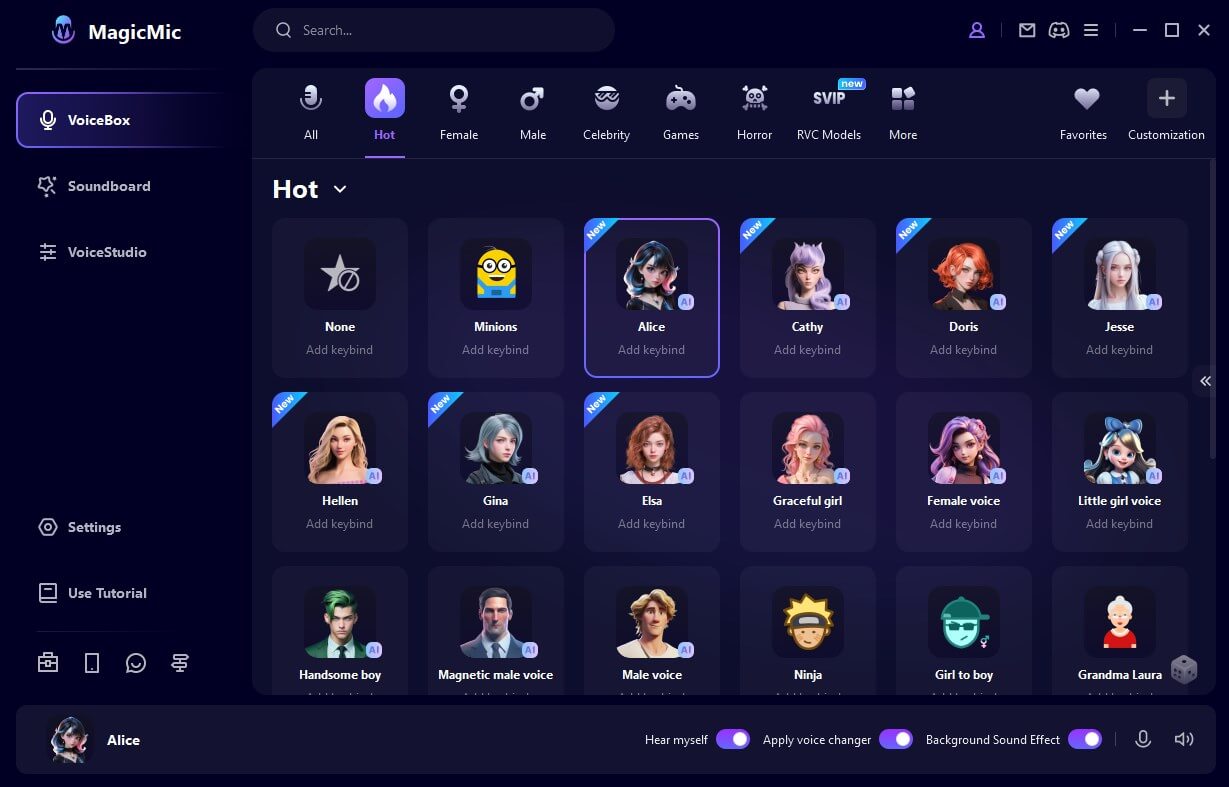 Special Offer: Get Official MagicMic with A Discount
35% off Coupon Code: MAGICMICYT
Key features of MagicMic
Jschlatt AI Voice Changer
Access 600+ pre-set sound effects to elevate content with a wide range of audio enhancements.

With 225+ voice filters available, including Jschlatt,Pokimane, TommyInnit, and xQc AI voice, Wilbur Soot AI voice, Ted Nivison and more, users can instantly transform their voices into captivating tones.

Powerful voice clone enables you to clone anyone's voice and sound like him/her to prank, stream, game, etc.

Personalize and fine-tune altered voices for a truly unique vocal style.

Convenient keybinds enable real-time voice modifications during live streams or recordings.

Enjoy clear, high-quality audio with integrated noise reduction technology.

Compatible with Zoom, Discord, and other chat apps for seamless integration.

Whether you're gaming, live streaming, chatting, or attending online classes, MagicMic's sound emulator has got you covered
Pros:

Extensive selection of 225+ voice filters, 600+ sound effects for captivating and immersive voice transformations.

Real-time voice changer.

Convenient keybinds control.

You can custom your own unique AI voice.

You can control your voice on the computer by using MagicMic controller
Cons:

It's a new product in market, not very famous
2. VoxBox - Jschlatt Text to Speech Voice Generator
If you want to use Jschlatt AI voice to make text to speech voiceovers for freshing up your digital content, VoxBox is the best Jschlatt text to speech voice generator, since it offers more than distinct voice of Jschlatt, but other famous Youtubers and streamers, including MrBeast, MoistCr1TiKaL, and more.
Except for the AI voices of real people, VoxBox enables you to use or clone any voices to satisfy all your needs, including fictional characters, singers, celebrities, and more.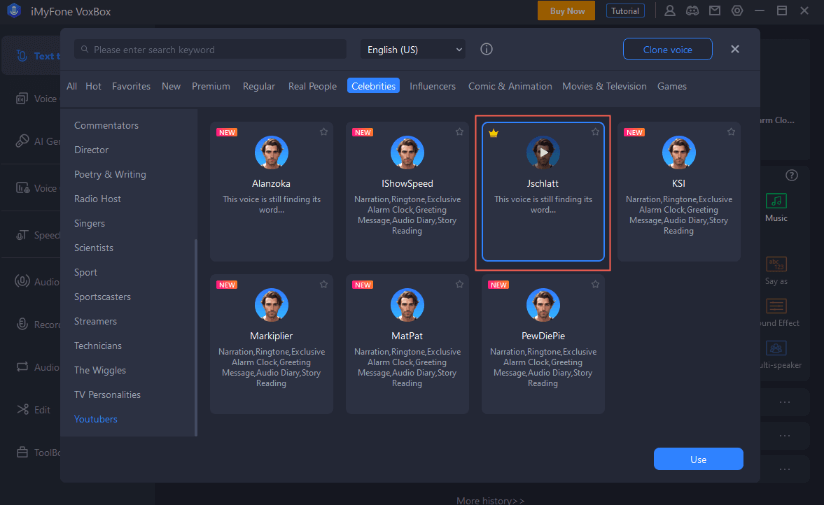 Key Features:
Apart from Jschlatt AI voice, VoxBox offers other 3200+ voices for you to make tts voiceovers, like Markiplier, KSI, etc.

Enables to clone any voices with single click, yielding high-quality results for audiobooks, podcasts, content creation, and gaming.

You are able to make voiceovers in over 77 languages to gain global engagement.

Enjoy text-to-speech, speech-to-text, recording, editing, and audio conversion, all-in-one.

Save your voiceovers in multiple formats like MP3, WAV, Ogg, etc.
Part 3: Try Jschlatt AI Cover for Fun!
MusicAI – Jschlatt AI Singing
Do you want to make popular Jschlatt AI cover songs to go viral on social media platform? If yes, MusicAI is the best treat.
This software allows users to create AI cover songs with single click using various voice models it offers, like Taylor Swift, and more. Moreover, it is more than an AI cover song generator, but enables to convert text to music, enhance audio quality, and make vocal separation, etc.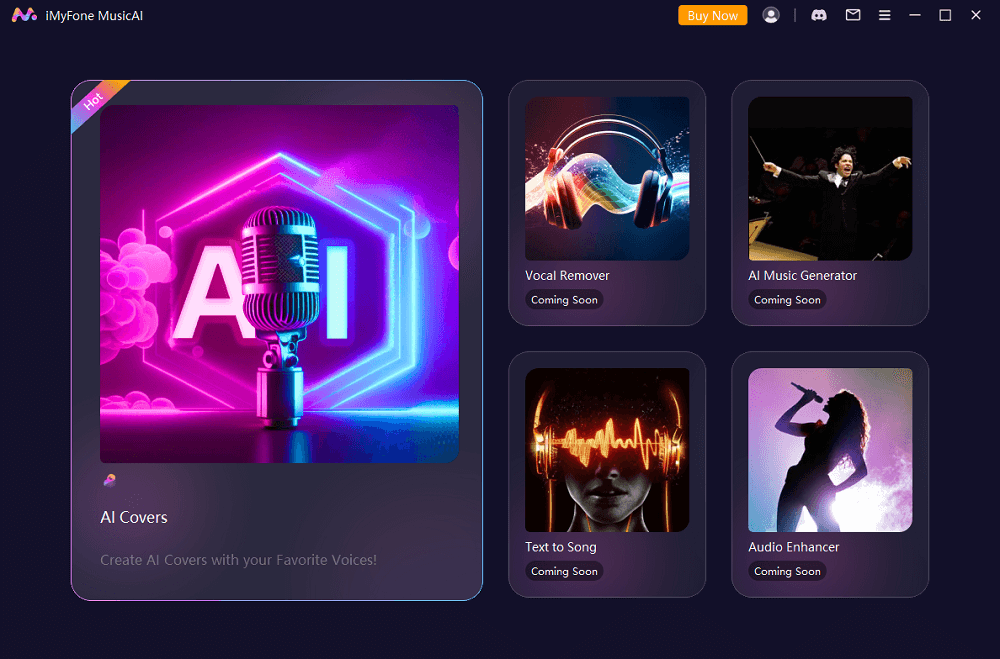 Key Features:
Allows to generate AI song covers using the voices you prefer.

Precise separation of vocals, music, and instruments with one click.

Effortlessly enhance any audio quality.

Export AI covers in various formats, including WAV, MP3, and OGG.

Will support text to music with single click.
2) Voicemod AI Cover Song
Voicemod's Text to song functionality provides an enjoyable and straightforward method to transform text into entertaining musical memes. By offering a wide range of vocalists and instrumentals, and with a user-friendly creation process, you can effortlessly convert your text into AI-generated cover songs. Whether it's for personal amusement or sharing them with the public, you can listen to these musical renditions and easily distribute them among others.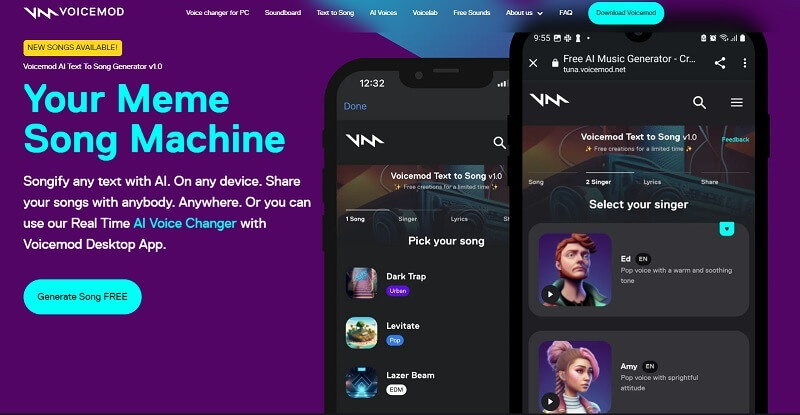 Part 4: FAQs about Jschlatt AI Voice Generator
What is Jschlatt AI voice?
Jschlatt AI voice is a voice emulation that replicates the distinct tone and humor of Jschlatt, a popular internet personality, in their own voice recordings.
Can I use Jschlatt AI voice for streaming or content creation?
Yes! Jschlatt AI voice can be a great addition to your streaming or content creation endeavors, adding a unique and recognizable touch to your audio content. Just make sure to comply with any relevant terms of use and licensing restrictions.
Can I use Jschlatt AI voice in real-time conversations or video calls?
Depending on the capabilities of the software or platform you are using, it may be possible to apply Jschlatt AI voice in real-time conversations or video calls. Check the features and compatibility of the specific software or platform for more information.
Can I use Jschlatt AI Cover for any song?
Jschlatt AI Cover supports a wide range of songs, but it may not be able to perfectly replicate Jschlatt's style for every single song. The effectiveness of the AI-generated cover will depend on factors such as the complexity and vocal characteristics of the original song.
What is the Jschlatt AI Voice Generator?
The Jschlatt AI Voice Generator is a software tool designed to replicate the voice of popular YouTuber and Twitch streamer Jschlatt. It allows users to mimic Jschlatt's voice for content creation, gaming, and other purposes.
Final words
In conclusion, Jschlatt AI voice generator - MagicMic offers fans and content creators an opportunity to engage with the unique vocal style of Jschlatt. Whether you want to make text to Jschlatt voice,real-time voice modification, or AI cover songs, users can replicate or modify their voices to resemble Jschlatts distinct tone and humor.
So why wait, download MagicMic now and make yourself sound like your favorite Youtuber while gaming or streaming, or dubbing for your digital content!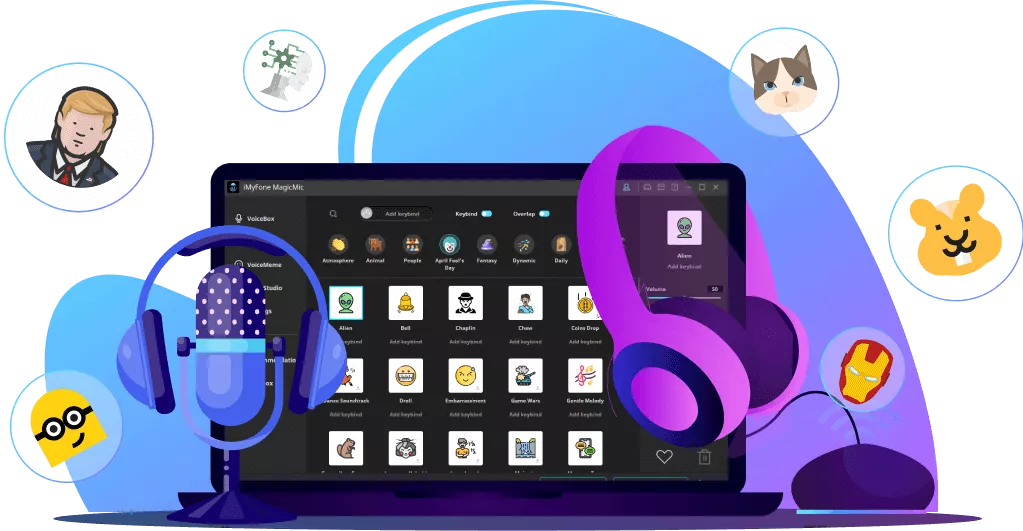 225+ Voice effects for one-click voice changing in real-time.
Huge library with 600+ Voice Effects and 200+ Voice Memes.
Sound emulator in games, live, chatting, online classes, and more.
Voice recording and audio voice changing is supported.
Voice studio lets you create any voice you like.