Are you a devoted fan of Chris McLean's captivating online presence and eager to elevate your content with a touch of innovation? Look no further! In this article, we're about to embark on an exploration of Chris McLean AI voice, and how you can use Chris McLean voice generator & changer to elevate your content creation, gaming and streaming experience.
Whether you're a gaming enthusiast, a content creator, or simply someone aiming to enhance your audio repertoire, Total Drama AI voice generator & changer can transform your auditory journey and engage your audience like never before.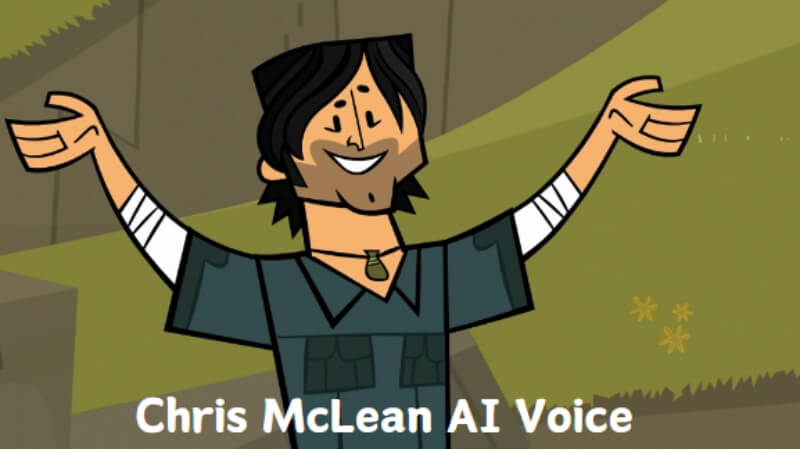 Part 1: Who is Chris McLean?
Chris McLean is the iconic host of "Total Drama," a reality TV show. He's known for his narcissistic personality and a lack of concern for the well-being of contestants, often delighting in their physical and emotional suffering.
His primary focus is on ratings, personal pleasure derived from others' pain, and manipulating contestant relationships for his own gain. Chris has a sadistic streak, as seen in increasingly dangerous challenges, and his actions often prioritize causing pain over boosting viewership. Despite his flaws, he remains the central figure in the "Total Drama" series.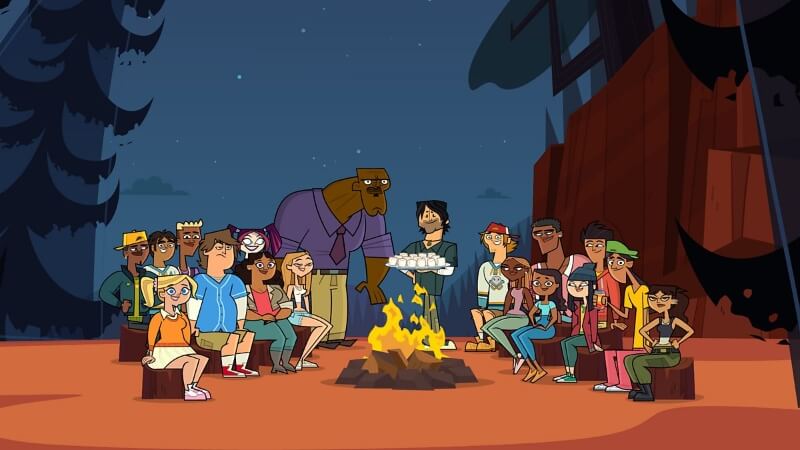 Part 2: How to Generate Chris McLean AI Voice with Total Drama AI Voice Generator?
VoxBox is a Total Drama AI voice generator that offers free voice text to speech services using Total Dram characters voices, like Chris McLean, Gwen, Courtney, Ezekiel, etc. With over 3200+ realistic text-to-speech voices available in 46+ languages, VoxBox provides instant, 99% accurate real human voices.
Moreover, VoxBox supports users to clone any characters or people voices with one click, producing studio-quality results, meeting all your needs for text to speech with any voices.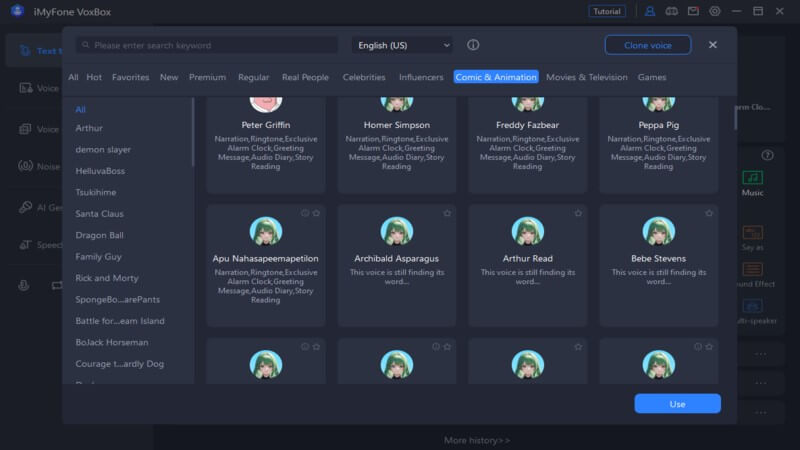 Tips
Listen to Chris McLean AI voice Generated using VoxBox!

Key features of VoxBox Total Drama AI Voice Generator
VoxBox boasts an extensive library of 3200+ lifelike text-to-speech voices spanning 46+ languages.

Its advanced voice cloning feature enables to create any Total Drama characters AI voice.

Tailor-made AI voices are available to content creators, ensuring a personalized touch to your projects.

VoxBox offers compatibility with a range of studio-quality audio formats, including MP3 and WAV.

Benefit from VoxBox's affordability, user-friendliness, lightning-fast performance, and top-notch security.
How to generate Chris McLean AI voice in VoxBox
Step 1: Download & launch VoxBox
Step 2: Head to "Voice Cloning", and upload video or audio files of the voice of Total Drama characters that you want to clone, like Chris McLean, Gwen, Ezekiel, Courtney, etc.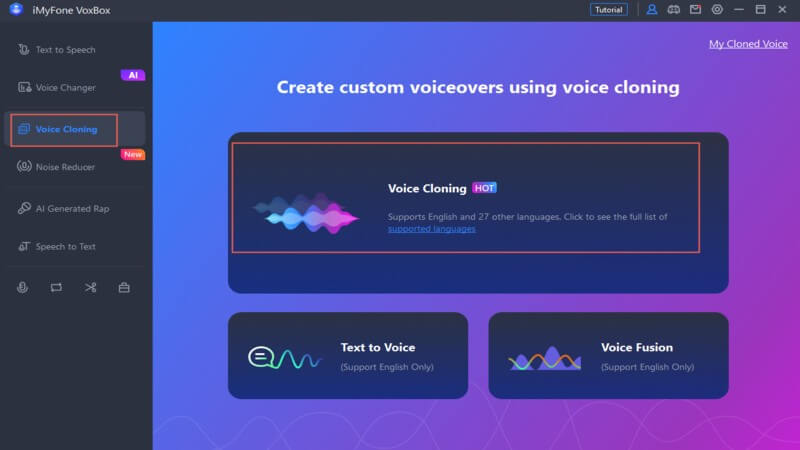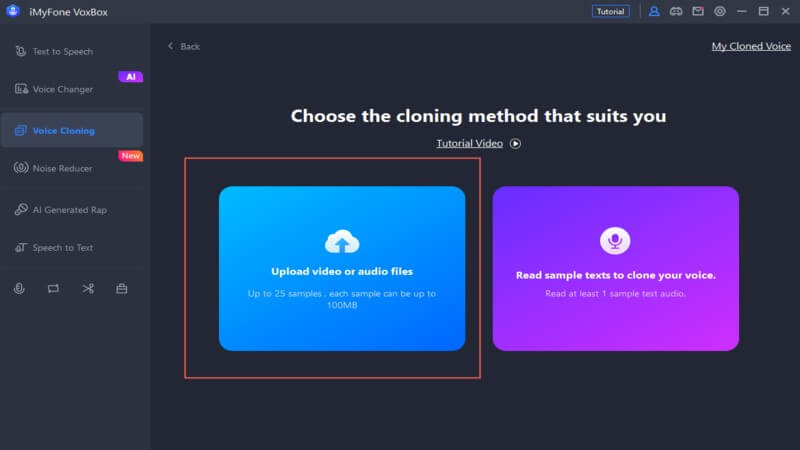 Step 3: Click "Use" to adopt the character AI voice you just cloned.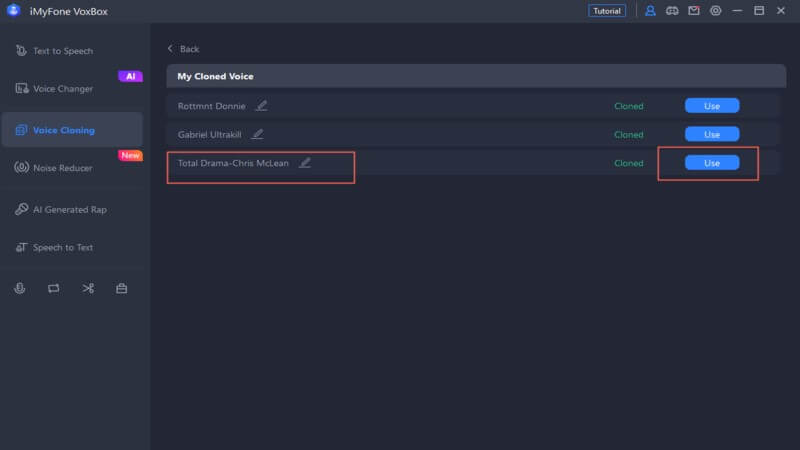 Step 4: Enter text, and click "Convert" to get the AI voiceovers.
Part 3: Bonus Tip: Change into Total Drama AI Voice On-the-fly?
MagicMic, specifically designed for Total Drama AI voice enthusiasts, is a revolutionary AI voice changer by iMyFone. It boasts an extensive collection of more than 300 AI voice filters, over 600 voice effects, and 200 voice memes. This versatile tool can be applied to a variety of programs and activities, making it perfect for gamers and content creators alike.
MagicMic offers real-time voice transformation and precise sound emulation, enhancing your audio experience. Moreover, it simplifies the process of recording and editing audio files with one-click voice customization, allowing you to effortlessly create unique voices and add a fresh dimension to your content and entertainment.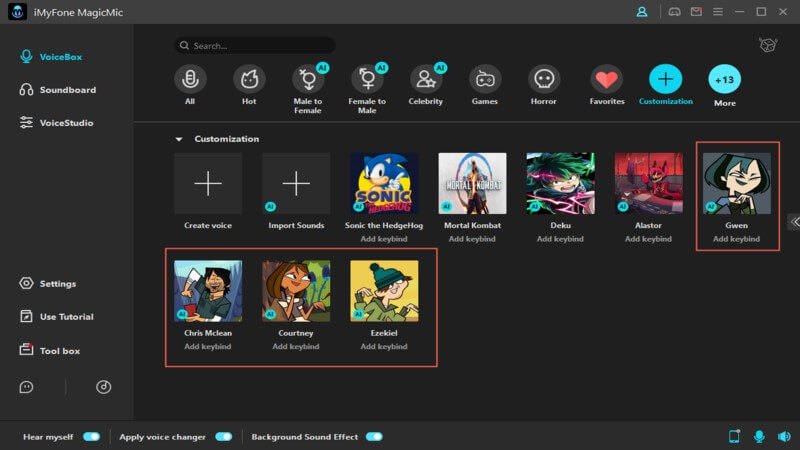 Tips
Change into Chris McLean AI voice using MagicMic UwU voice changer!
Change Voice
How to use MagicMic Total Drama AI Voice Changer?
Step 1: Get the MagicMic software from the official website or by clicking the provided button.
Step 2: After downloading, launch the software, select your microphone and headphones, and enable "Hear Myself" and "Apply voice changer" options at the bottom of the interface.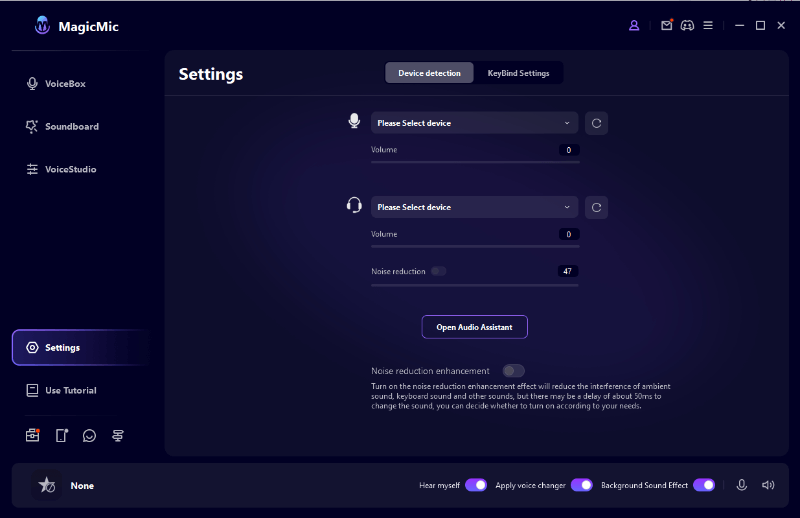 Step 3: Explore the vast Voice and Sound Effects library or create your own Chris McLean AI Voice. Click the "VoiceBox" for preset voices or customize keybinds for gaming. If your desired voice isn't there, upload your own audio clips with the "Customization" feature.

Step 4: Click to use the Total Drama characters AI voice you just imported, and speak to your microphone to sound like them in real time.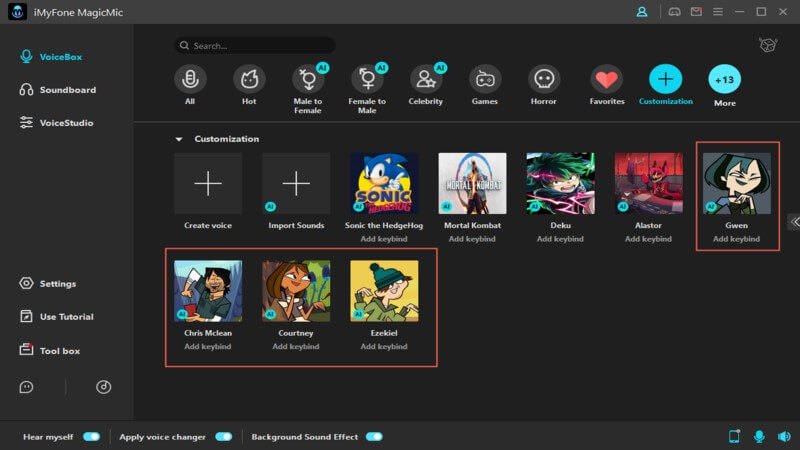 Key features of MagicMic Total Drama AI voice changer
Voice customization feature allows to import any Total Drama AI voice of its characters as you want for real-time voice change.

300+ voice effects, 600 soundboards, 200 voice memes to select from.

Real-time, high-quality voice alteration with low latency, works on Skype, Discord, Twitch, and others.

Simple hotkey customization for in-game sound adjustments.

Efficient noise reduction for clear communication in noisy places.

Capture and enhance audio from any source to boost content quality.

Cross-platform support: Works on Windows, Mac, Android, iOS for seamless use.
Part 4: Total Drama Island Reboot: Story, Cast & What We've Learned
The Total Drama franchise, a humorous take on Survivor, captivated both kids and adults during its 2000s Cartoon Network run. Now, a Total Drama Island Revival season is confirmed, stirring excitement.
As of now, no official release date is available for the Total Drama Island Revival, but HBO has ordered two seasons, hinting at potential releases in 2023 and 2024.
Total Drama's unique charm lies in its ever-changing settings, with past seasons set on islands, around the world, and in camps, always promising laughter, deception, and satire.
The show's extensive character roster, including Gwen, Duncan, and Heather, sparked fan debates. However, the revival introduces a fresh set of characters, adding a new layer of intrigue to the beloved franchise.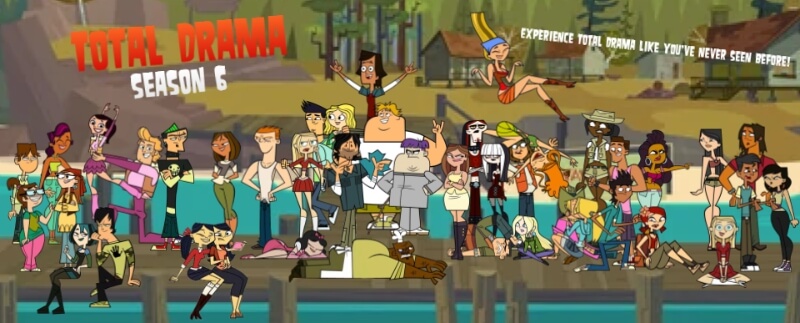 Part 5: FAQs about Chris McLean AI Voice
What happened to Chris McLean voice actor?
Christian Potenza, the iconic voice behind Chris McLean, faced serious allegations that led to his replacement. A Reddit post alleging assault, drugging, and manipulation of students gained widespread attention on social media. These accusations prompted the decision to replace Potenza as the voice actor for Chris McLean. The impact of these allegations on Potenza's career and reputation remains to be seen.
Who is Chris McLean based on?
Chris McLean, the host of Total Drama Island and subsequent seasons, is loosely based on the real-life Survivor host, Jeff Probst. However, it's worth noting that Chris McLean bears little physical resemblance to Jeff Probst, but the character draws inspiration from the hosting style and demeanor associated with the Survivor host.
What is Chris McLean AI Voice?
Chris McLean AI Voice is a text-to-speech (TTS) AI model designed to mimic the voice of Chris McLean, the iconic host from the Total Drama Island series.
Final words
In conclusion, for those seeking to immerse themselves in the captivating world of Total Drama AI voice transformation, MagicMic is the ultimate tool. With its extensive selection of AI voice filters, effects, and memes, it offers limitless possibilities to elevate your audio experience. Whether you're a gamer, content creator, or simply looking to explore new dimensions in voice customization, MagicMic simplifies the process with its user-friendly interface and real-time transformation capabilities.
Say goodbye to mundane audio and unlock a world of possibilities with MagicMic!