If you've ever wanted to recreate the bone-chilling voice of Jigsaw, the iconic character from the Saw movie franchise, you're in for a treat. With the Jigsaw voice changer, also known as the Jigsaw voice generator, you can now harness the power of artificial intelligence to transform your voice into that of the notorious mastermind behind the intricate and twisted games.
In this article, we'll delve into the fascinating capabilities of the Saw voice changer and explore how it can elevate your Halloween parties, pranks, voiceovers, and creative projects to a whole new level of terror.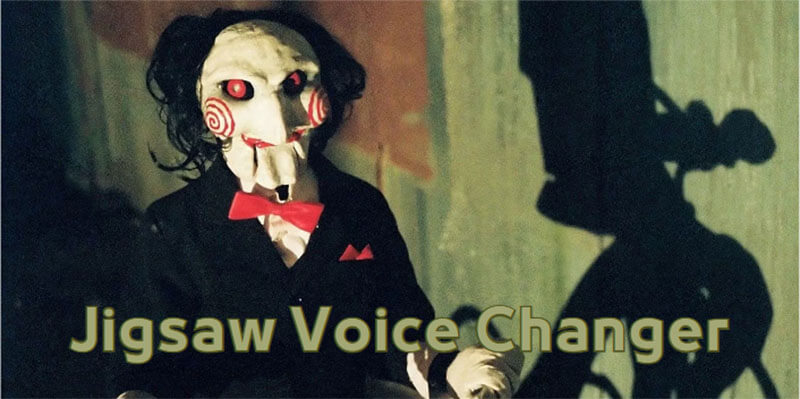 Part 1: Who is Jigsaw?
Jigsaw, also known as John Kramer, is a fictional character and the main antagonist in the Saw film series. Created by James Wan and Leigh Whannell, Jigsaw is a mastermind who orchestrates intricate and sadistic games that test the moral fiber of his victims.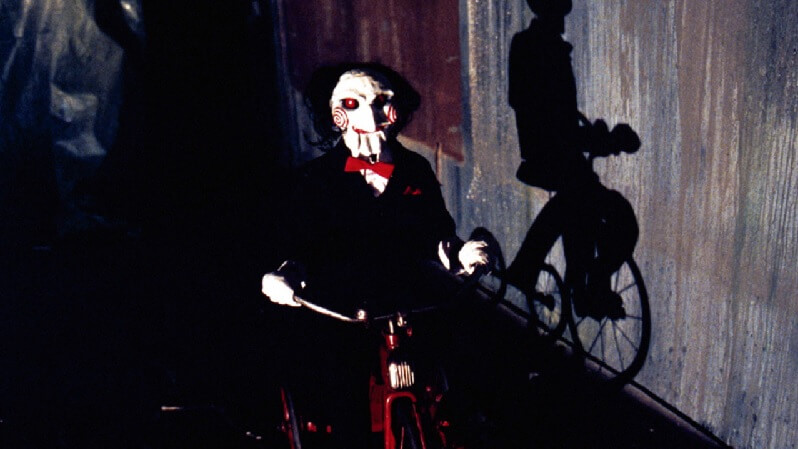 Jigsaw, the iconic antagonist of the Saw film series, tests victims' morality through deadly games, communicated via eerie recorded messages. His twisted philosophy, puppet messenger, and elaborate traps have cemented his status as a memorable and chilling character in horror cinema.
Part 2: Is there going to be a Saw X?
Yes, continuing the franchise's Halloween tradition, Saw X is set to hit theaters on October 27, 2023, delivering another dose of terror and suspense to eager audiences.
Is There a Trailer for Saw X?
While a trailer for Saw X is currently unavailable, Collider's Steve Weintraub obtained an exclusive glimpse at the official logo during CinemaCon 2023. Captured in a photo, the logo features the title written in bloody text on a gritty white background, maintaining the consistent and ominous design seen in previous Saw films.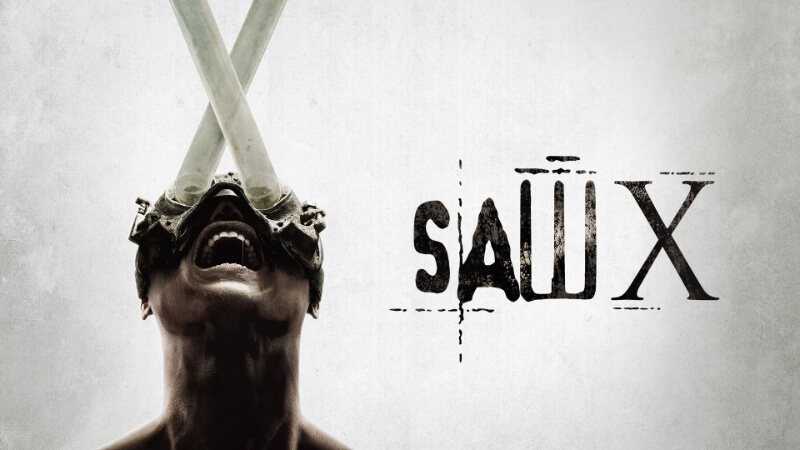 Part 3: Jigsaw Voice Changer: How to get Jigsaw Sound?
MagicMic is a versatile voice changer software that allows users to modify their voices in various ways. With a wide range of voice effects and filters, it enables users to transform their voices into different characters, including the iconic Jigsaw AI voice.
Whether for gaming, streaming, or pranks, MagicMic offers a seamless and immersive experience for users looking to recreate the chilling voice of Jigsaw and many other captivating characters.
How to get Jigsaw Voice by using MagicMic Jigsaw Voice Changer?
Step 1: Download and Launch
Download and install MagicMic software on your device, then open the application and log in with your email credentials to access the full range of features.
Step 2: Configure Input and Program Settings
Configure the program settings by choosing your primary microphone as the input device. Also, make sure to enable the "Apply Voice Changer" and "Hear myself" options located at the bottom of the interface.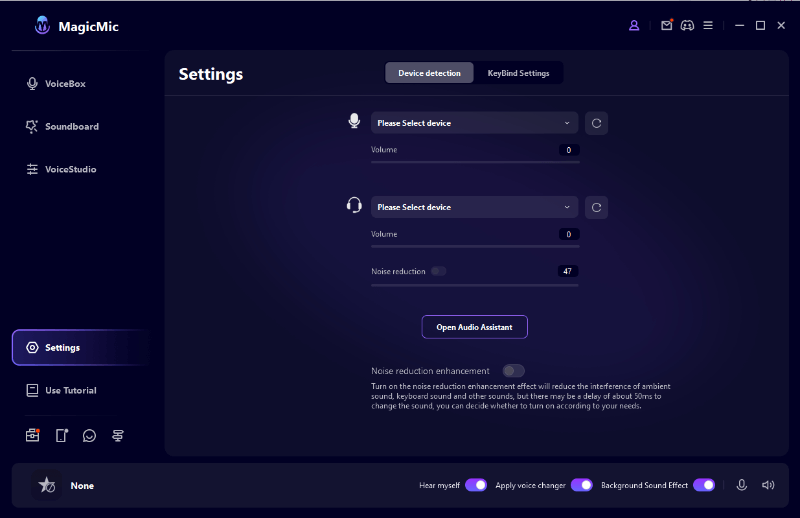 Step 3: Select the MagicMic Virtual Audio Device
Select the Voice Changer Virtual Audio Device as the input device in the desired application where you wish to modify your voice. This choice ensures that your transformed voice is accurately captured and transmitted.
Step 4: Choose Voice and Sound Effects
Discover the extensive collection of voice effects offered by MagicMic. Explore options like the Jigsaw voice effect or other effects that align with your preferences. If desired, you can assign these effects to keybinds for convenient and quick access.
Key features of MagicMic Jigsaw voice changer
With over 600+sound effects, 200+ voice memes, and 225+ voice filters

Terrifying Jigsaw Voice: Transform your voice into the bone-chilling sound of Jigsaw, Ghostface, Demon, Michael Myers, Jason Voorhees, Freddy Kruegar and more.

Real-Time Voice Changing: Alter your voice instantly during live conversations, gaming sessions, or streaming, adding an extra layer of suspense and immersion.

Customizable Settings: Fine-tune and personalize your voice modifications with adjustable parameters, allowing you to create the perfect Jigsaw-inspired voice.

Easy Integration: Effortlessly integrate the Jigsaw voice and other effects into your existing setup, enhancing your multimedia experience without complex configurations.

Simple Keybind Assignments: Assign your preferred Jigsaw voice or other effects to keyboard shortcuts for convenient and quick activation, ensuring seamless control in intense moments.
Video Guide Below About MagicMic Jigsaw Voice Changer:
Part 4: FAQs about Saw AI Voice Changer
How many "Saw" films are there?
There were a total of nine films in the "Saw" franchise: "Saw" (2004), "Saw II" (2005), "Saw III" (2006), "Saw IV" (2007), "Saw V" (2008), "Saw VI" (2009), "Saw 3D" (also known as "Saw: The Final Chapter") (2010), "Jigsaw" (2017), and "Spiral: From the Book of Saw" (2021).
How does Jigsaw select his victims in the "Saw" films?
Jigsaw typically targets individuals he perceives as morally flawed or unappreciative of their lives. He often chooses those involved in unethical or criminal activities and believes they have not taken responsibility for their actions. Jigsaw's victims are given a chance to escape their traps by completing tasks or sacrifices that challenge their physical and emotional endurance.
What can I use the Saw AI Voice Changer for?
The Saw voice changer can be used for various purposes, such as adding a spooky touch to Halloween parties, creating engaging voiceovers, enhancing gaming experiences, or simply having fun with friends through voice chat applications.
Final words
In conclusion, the Jigsaw voice changer, such as MagicMic, brings the spine-chilling voice of Jigsaw to life. With its advanced AI algorithms and real-time voice modification capabilities, users can transform their voices into the eerie and menacing sound of Jigsaw's iconic character.
Whether for Halloween parties, voiceovers, gaming, or simply having fun with friends, the Saw AI voice changer offers a wide range of customizable voice effects and filters. Unleash your inner Jigsaw and let the voice changer work its magic with MagicMic Saw voice changer.