As if the introduction of voice changers wasn't enough to amaze the world, artificial intelligence has been invented in the voice-changing tools.
With artificial intelligence, you can make your voice sound like any famous movie singer or character. Unlike some of the voice changers' robotic characters, you won't find any glitches in the AI voices. Many voice changers have added AI technology, and Voicemod is one of them. Voicemod has worked hard to come up with the Voicemod AI voices.
From an astronaut to a pilot to female and male voices, Voicemod has blessed you with brilliant creativity in voice modulation.
We'll talk about how good these Voicemod AI beta voices are and how to find better AI voices than Voicemod.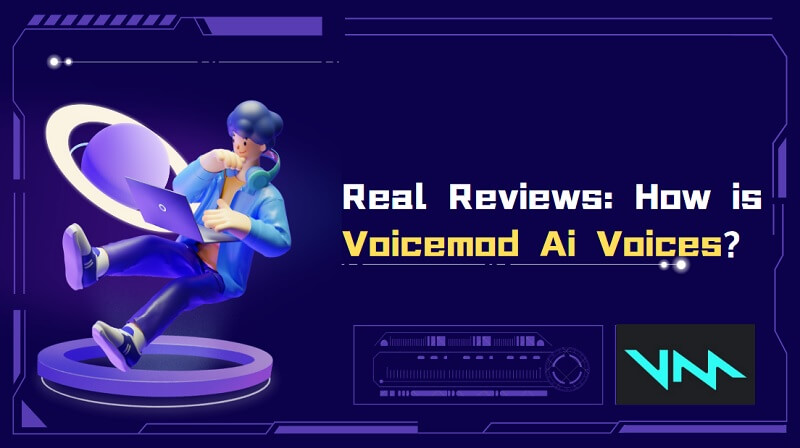 Part 1: Real Reviews of Voicemod Ai Voices
Voicemod has introduced AI voices, which has taken the world by storm. Voicemod AI voices help convert your voice into Morgan Freeman or other characters courtesy of artificial intelligence.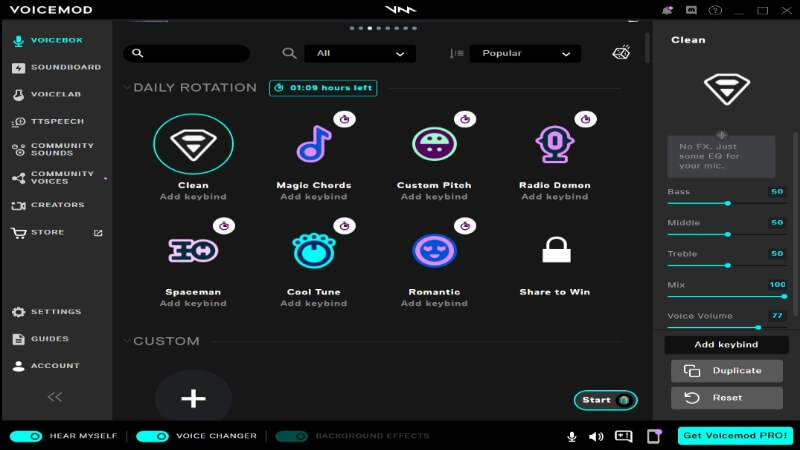 By using the Voicemod AI beta voices, you can make your voice sound like the movie actors, and trust us; no one would be able to differentiate you and the movie star you've used the voice of The change occurred over time as Voicemod has to work hard to put in to gather the voice AI voices.
Notably, the Voicemod AI voices you will use aren't cloning voices. Instead, Voicemod created the AI voices by working with professional voice actors and giving the needed scripts.And then it change your text into song.
Features:
Comes up with 8 brilliant AI voices, including The Narrator, Mothership, VME-049, Bob, Alice, Astronaut Pilot, and AI-9000

Use the AI voices in real-time on various platforms, including OBS, Roblox, Discord, VRchat, etc.

Allows you to apply the AI voice modifier that you various sounds, including a robot, man, woman, chipmunk, demon, etc

Create the voice avatars and voice skins for multiverse and meta verse platforms
Pros:

It comes up with AI voices and sound effects

Use the custom keybinds via Voicemod soundboard

Import the WAV or MP3 files
Cons:

Voicemod AI voices require more CPU power, as computers with low CPU power cannot play the Voice AI voice actors properly.
User Experience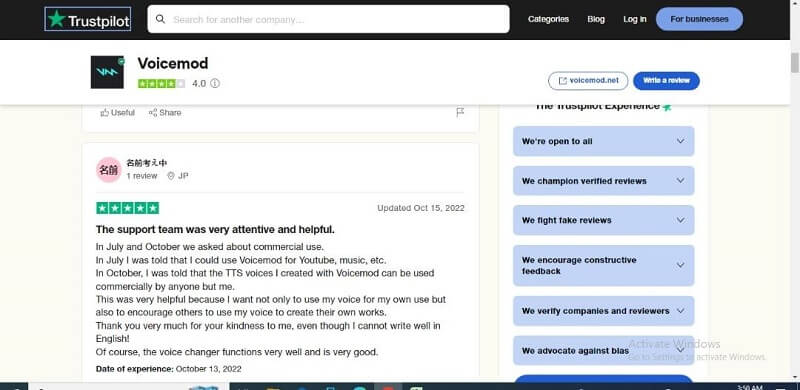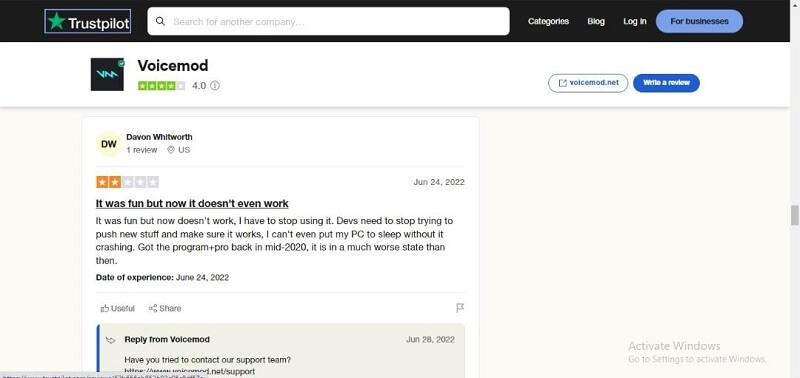 Tips to Choose Ai Voice App
Since hundreds of voice changers offer AI voices, it is essential to opt for the most reliable option.
Here are some tips you should remember when looking for AI voices.
1. Function
The first thing you need to check in a voice changer is whether the AI voice changer has the text-to-speech feature. Most people love to speak in a microphone before applying their favorite character's voice, so the presence of this feature is necessary.
Moreover, the tool you'll get the services of should be able to import the audio and then apply the AI voices to that audio.
2. Platforms
It would help if you didn't go for a voice changer that only supports one platform or device. For instance, you must go for an AI voice changer that supports Windows and Mac.
Opting for an online voice changer is also a good idea as it saves your computer's storage, but you check the credentials of that online voice changer in the first place.
3. Price
Pricing is the essential aspect you should consider when looking for an AI voice changer. The best option is to select a voice changer with brilliant AI-changing features and affordable pricing.
Best Alternative of Voice Ai Voices
Having brilliant alternatives to Voicemod AI voices will always be good, considering the options you'll have.
If a voice changer had the credentials to beat the immaculate invention of Voicemod AI voices would not have looked different from MagicMic AI Voice Changer. From helping you to change the voice in real-time on multiple platforms to recording the voice and applying the AI voices to that recording, the users of MagicMic have gone through pretty exciting times.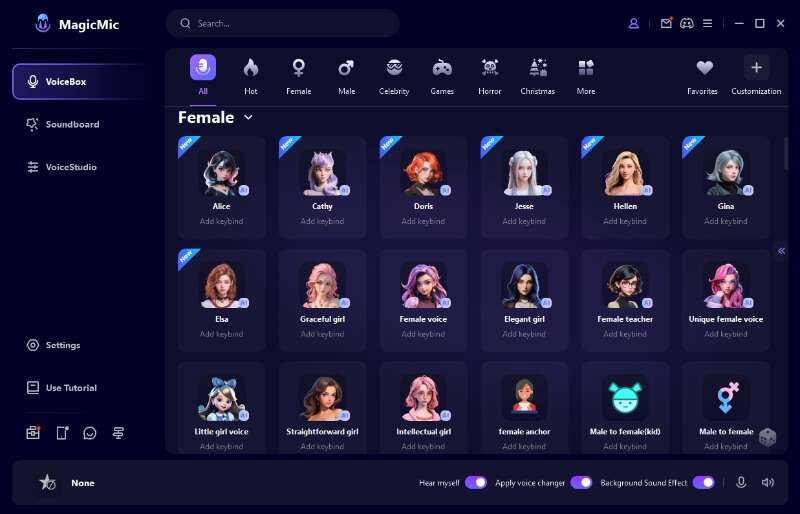 Pranking your friends on a special event or altering the voice in real-time has become effortless, and credit must be given to the fantastic voice-changing features of MagicMic. You can use the brilliant tool to change the different voices, including Male to Female, anime, deep voice, Ghostface, etc.
Features:
It helps you explore various AI voices, including Santa Claus, Weird Robot, CD CT, Astronaut, and more.

Allows you to change the voice in real-time on multiple streaming and gaming platforms

Supports the audio voice change and voice recording

Customize your soundboard with a few clicks
Watch Video Guide About MagicMic AI Voice Generator
Pros:

Comes up with the flawless AI voices

It doesn't take too much storage on a PC

Supports Mac and Windows
Cons:

It is not so famous since it pay less effort on advertise.
Another Voicemod AI voices' alternative you can look at is the FakeYou Online AI voice generator. To access all the AI voices, you need to visit the official website of the FakeYou online tool.
It generates 2400 voices that can imitate multiple characters and celebrities. The interface of this online tool is relatively simple, as you can import the recorded audio or type in the text you'd like to turn into speech.
Since the FakeYou AI voice changer tends to use the voices of original characters, you won't find any issues with the pitch of the voices.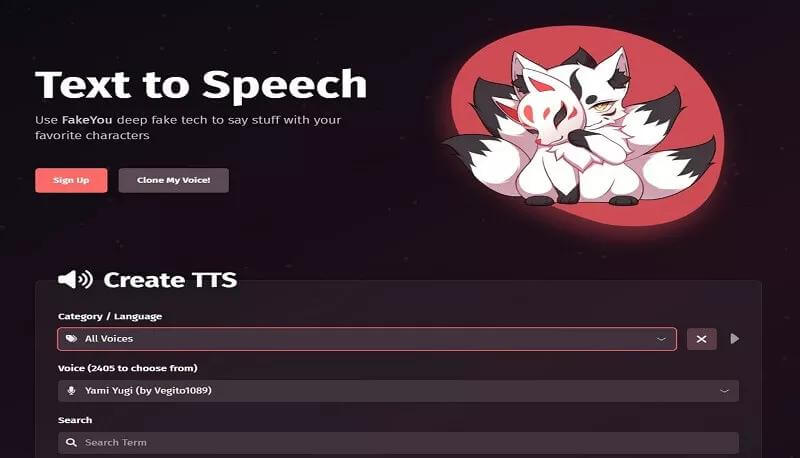 Features:
Comes up with a simple user interface

AI-powered voice generator

An Extensive library of over 2400 voices

It allows you to edit the audio appropriately
Pros:

Supports all the operating systems

It does good on text to speech ai voice generation
Cons:

It is a text to speech voice generator, the ai voice would be unnatural.
Conclusion:
The craze for Voicemod AI voice is immense; even adults use the brilliant Voice AI beta voices. However, Voicemod might be too heavy for low-CPU computers, so looking for alternatives was going to be an option.
Looking at an online AI voice generator is good, but you will need more than just the quality you've been looking for. Thus, MagicMic real-time AI voice changer for PC is the most recommended AI voice changer that, apart from offering professional AI voice filters, doesn't pressure your PC.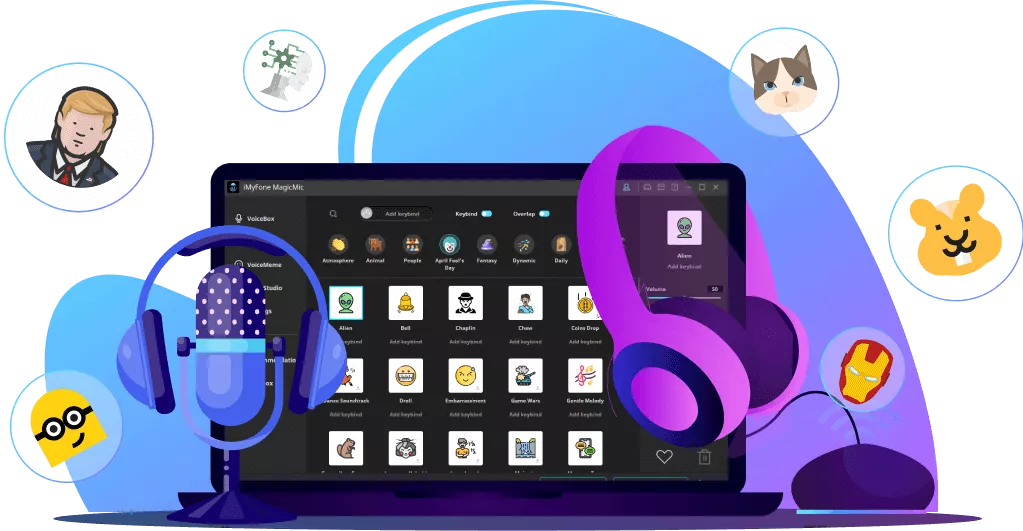 125+ Voice effects for one-click voice changing in real-time.
Huge library with 400+ Voice Effects and 150+ Voice Memes.
Sound emulator in games, live, chatting, online classes, and more.
Voice recording and audio voice changing is supported.
Voice studio lets you create any voice you like.