There is a lot of mystery behind Bane's mask and why Bane wear a mask. Some say it's to hide his disfigured face, while others believe there is a more sinister reason. Many fans have been trying to figure out the secret behind Bane's mask to understand the character better.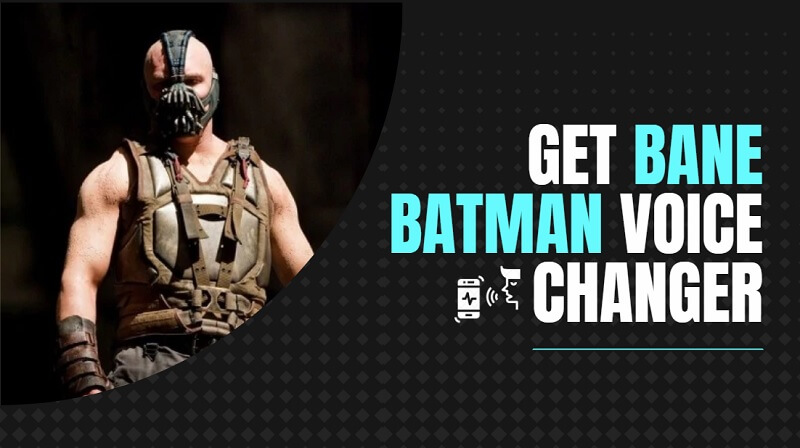 This article will explore the secret of the voice of batman and how you can apply Bane voice changer to your own. Keep on reading to find out more!
Bane Mask Secret: Why Dose Bane Wear a Mask?
Bane is one of the most iconic villains in the fiction universe. His mask has been a topic of discussion for many fans. Some say that Bane wears the mask to protect himself from the gas his enemies use, while others believe that the mask helps Bane focus on his missions.
Many people don't know that Bane's mask has a secret function. Bane is a tortured man who has been suffering from terrible pain since long before. The mask also administers an anesthetic that keeps his agony just at bay.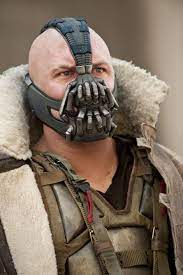 Bane mask is a crucial part of his life, and it helps him focus on his missions while keeping the pain at bay.
So, the next time you see Bane on the big screen, remember that his mask is more than just a fashion statement. It's a symbol of his strength and determination.
Real Reviews of Wearing a Bane Mask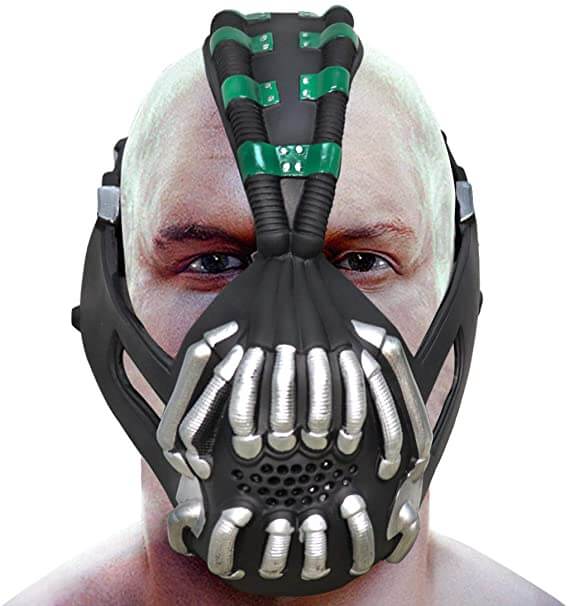 The Bane mask is one of those "love it or hate it" types of products. Some people find it comfortable, and others find it uncomfortable.
Some say the Bane mask helps them breathe better, and others say it makes them feel claustrophobic. Overall, there doesn't seem to be a consensus on the mask.
So, if you're thinking about buying one, you'll have to try it out for yourself and see how you like it! However, we have discussed some pros and cons of the Bane voice changer below. You can use this information to help you make your decision.
Pros:

The mask is a great way to get into character.

It looks intimidating and badass.
Cons:

The mask can be uncomfortable for some people.

It can make you feel claustrophobic.
Best Bane Voice Changer for Games and Voice Chats
Now that you know the secret behind Bane's mask, you may be wondering how you can apply his voice to your own. Well, we have good news for you! A great Bane voice changer on the internet can help you do just that.
The voice changer is called MagicMic, and it has several great features that will help you apply Bane's voice to your own. You'll be able to adjust the pitch, volume, and speed of your voice. You can also add effects like echo and reverb.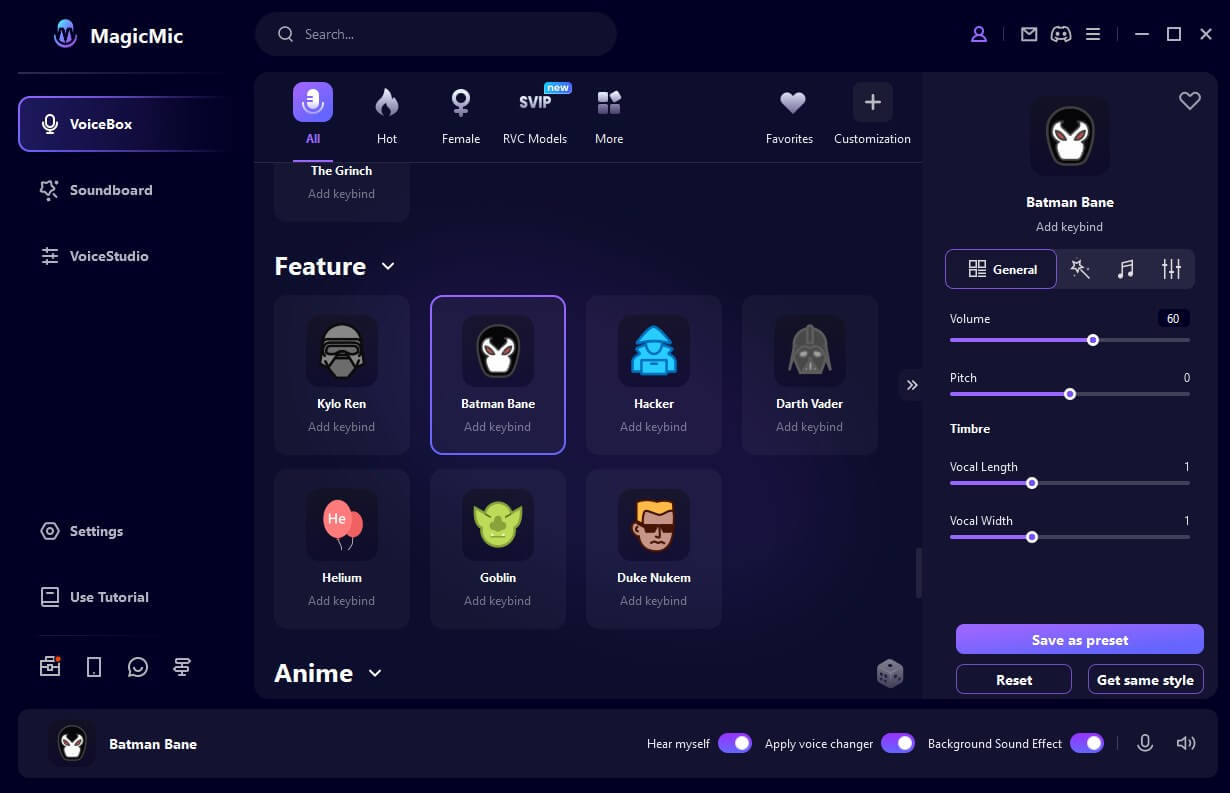 Features of MagicMic
Various voice filters, about 125+, in real-time, including pre-made batman voice effect.

600+ sound effects and voice memes to use on your favorite programs.

You can control voice changing and sound effect with keybinds hotkeys.

The Voice studio function helps you to create a unique voice.

It comes with noise reduction technology to decrease noise and echo.
Support System: Windows and Mac
Hot Voice Filters and Sound Effects on MagicMic
MagicMic offers a wide range of voice filters and sound effects that you can use on your favorite programs. You can use these filters to change your voice to any sound you like.
You can also use the voice emulator to change your voice in games or other applications. The voice changer is also very easy to use.
Below, we've listed some of the hot voice filters and sound effects that you can find on MagicMic.
Male to female voice changer
Top 12 Female Voice Changer Ranking>>
Deep Voice Changer | How to Make Your Voice Deeper>>
How to Do Ghostface Voice Change with App>>
Best 6 Free Fart Soundboard Softwares>>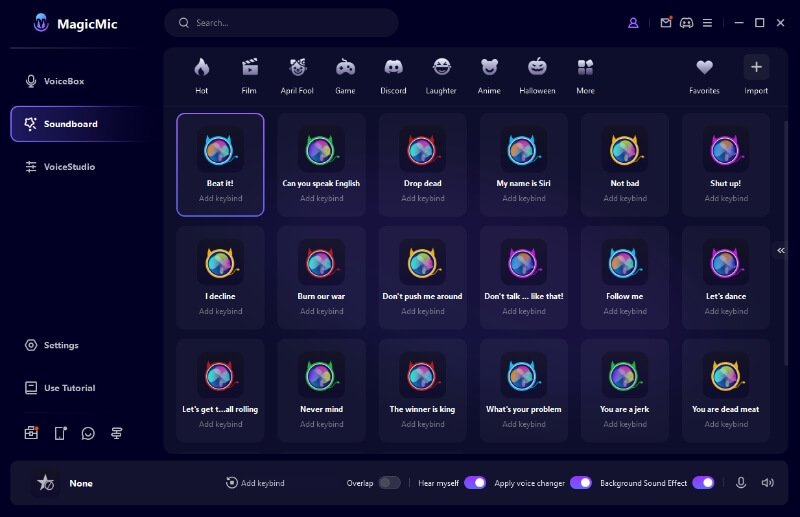 Top 5 Siri Voice Generators for Siri Memes on 2022>>
Final Words:
We hope you've enjoyed this article on Bane mask and how you can apply Bane Voice Changer to your own. Remember, the MagicMic batman voice changer is a great way to do just that.
It has a wide range of
voice filters and sound effects
that you can use to change your voice to any sound you like. So, don't hesitate to try it out today!
Watch Video Guide About batman Voice Changer