Looking for a way to spice up your phone conversations? A voice changer app during call can be the solution! Nowadays, people want unique voices during calls, and changing your voice can make conversations more fun. This article provides tricks on how to change your voice while talking on a call and highlights the best applications to use for this purpose.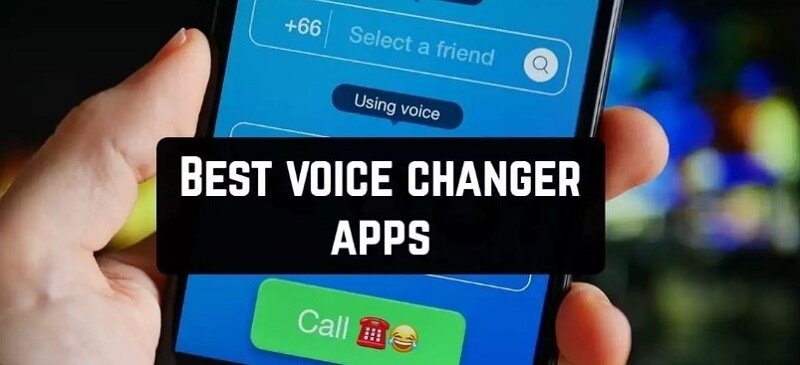 Part1:Top 3 Best Voice Changer App During Call
Most of us have used a voice changer app during call at some point. It's a fun way to prank your friends, but most people don't realize that the technology behind voice changers is quite advanced.
Voice changer apps are a fun and popular way to change your voice during calls. Today, we'll look at the top 3 best voice changers during call in 2023.
1. MagicMic Real-time Voice Changer [Mac/Windows, Android and iOS]
MagicMic is a voice changer that allows you to modify your voice in real-time, it is one of the best voice changer apps on android.
There are many reasons that you may want to change your voice with this application. You can use them for fun, to prank your friends or family members, or even to have a secret conversation without being detected.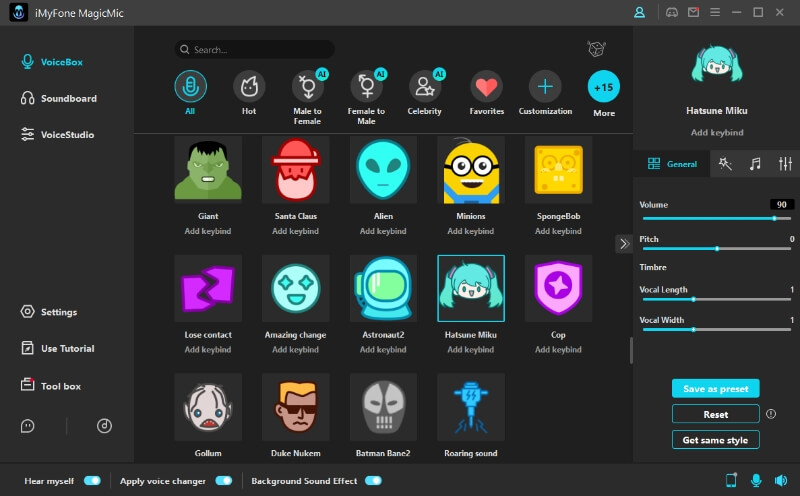 Key features of MagicMic call voice changer app
This app not only can change the gender of your voice, but also has more than 600+ sound effects, 200+ voice memes, and 225+ voice filters, which you can use to troll others.

Here, you can either record your audio or upload a file and start adding effects.

The sound customization keyboard in MagicMic is really simple to use.

This voice-changing app can be connected with almost every popular online game within seconds and change your voice during call.

Before choosing any voice or effect, you can demo it.
Pros:

Simple to use

Has lots of sound effects and filters

Audio editing is possible

You can try it for free. For premium purchases, a 30-day money refund policy is offered.

It is a real-time voice changer, the voice-changing effect has no delay, using AI technology to create human-like sound effects.
Cons:

New product in the market.
2.Voicemod Call Voice Changer
Voicemod is a free voice changer for online games, social apps, and video chats. It allows you to modify your voice in real time and have fun while talking to friends. It has a wide range of effects that you can use to sound like an alien, chipmunk, or even a rooster!
It has many different effects that you can apply to your voice. You can change the pitch, speed, and gender and even add effects like echo and reverb to your voice.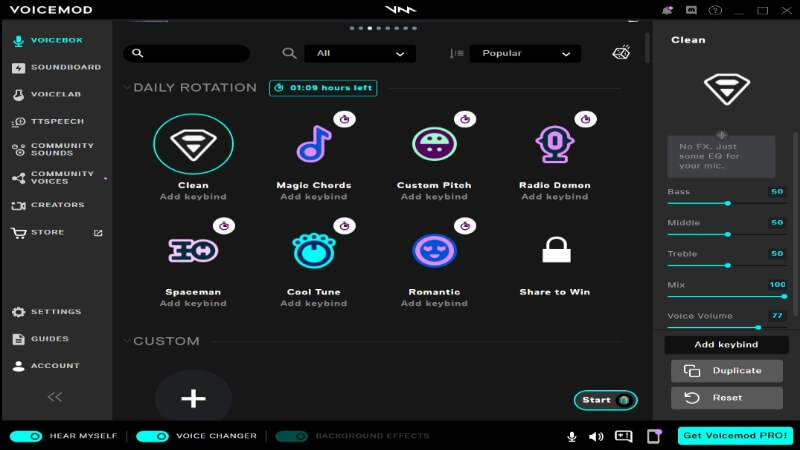 Key features of Voicemod call voice changer
Funny voice changer

Advanced voice-changing technology

Wide variety of popular voices

Real-time pitch shifting (changing the pitch)
Pros:

Easy-to-use interface

A wide range of effects

Excellent sound quality
Cons:

Requires a stable internet connection

The system is prone to crash during the voice change process
3.Morphvox Call Voice Changer
Morphvox Voice Changer is a simple application that allows you to change your voice while you are on a call with someone. The app has an easy-to-use interface and a few settings that allow you to adjust the pitch and speed of your voice.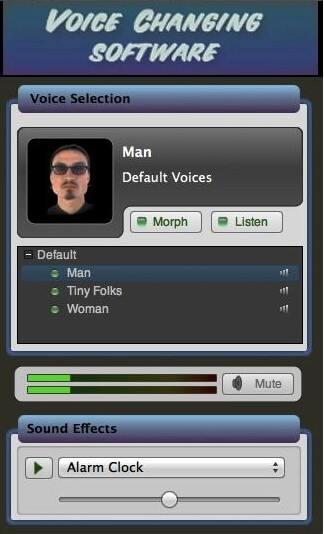 Key features of Morphvox Call Voice Changer
Record and playback your own audio clips.

Change the pitch of the recorded audio clip.

Changer your voice in real-time during the call.

Apply effects, and modify pitch.
Pros:

No background noise or echo.

Real-time voice modification during calls. A wide range of effects

Supports over 100 voices in different languages.
Cons:

The sound change effect will be delayed

Subscription-based
Part2:FAQs about Magicmic Voice Changer during call
1. What is a Call Voice Changer?
A Call Voice Changer is a software application that allows users to alter their voice during phone calls. It uses various voice effects and filters to modify the user's voice in real-time, giving them the ability to sound like different characters, celebrities, or even fictional creatures.
2. How to use MagicMic voice changer app during call?
The first step is to download and launch. The second step is to input and set up the program. The third step is to select the MagicMic Virtual Audio Device. In Step 4, you must select the voice and sound effects that you would like to use.
3. Is MagicMic free?
Yes! MagicMic is a free app. You can download it on your Apple or Android device and start using it right away.
4. Can MagicMic be trusted?
Yes, MagicMic is 100% safe and secure. It's easy to use and enjoyable!
Conclusion
We hope the article about the best voice changer app during call helps you in finding a suitable application to fulfill your requirements.
To simplify your search and cater to your specific needs, we have compiled a list of the best call voice changer app for you. Each app comes with its unique features and effects to enhance your calling experience. Below, you'll find the downloading options, making it convenient for you to access and download your preferred app effortlessly. We hope this article assists you in finding the ideal voice changer app for your calls.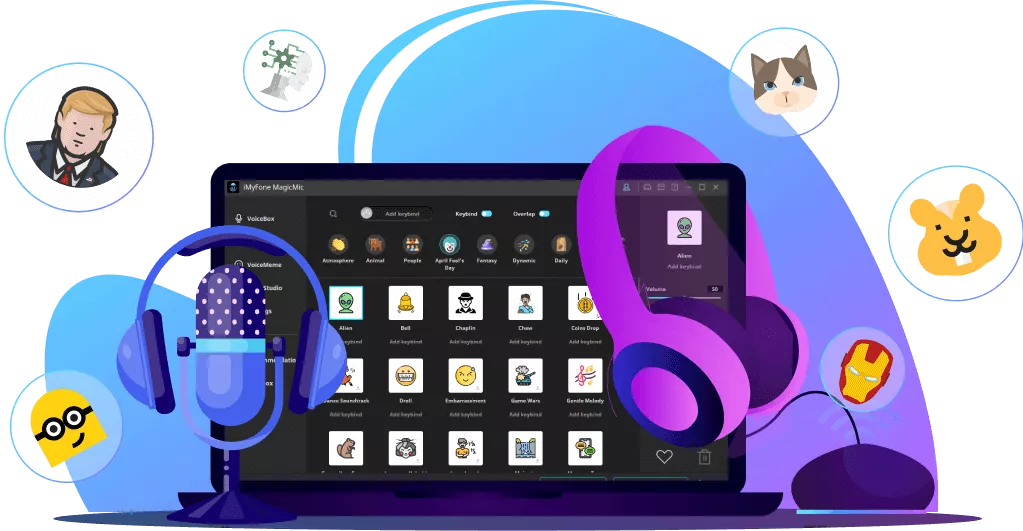 225+ Voice effects for one-click voice changing in real-time.
Huge library with 600+ Voice Effects and 200+ Voice Memes.
Sound emulator in games, live, chatting, online classes, and more.
Voice recording and audio voice changing is supported.
Voice studio lets you create any voice you like.