Do you have the same question as above? Turn your sound into something like a Lich Lord, Goblin, or Ghost, among other creatures with deep scary voice changers. These voice packages can modify your sound in unusual ways, either you prefer to role-play on the negative path or maybe just sound terrifying.
In this article, we have discussed the best scary voice changers for different devices and how to change your original voice with the best video editor.
Part 1. Best Scary Voice Changers for You
1. iMyFone MagicMic-Best Scary Voice Changer[Windows and Mac]
iMyFone MagicMic is one of the best voice changer for changing your voice into scary voice in real-time.
What lies underneath the facade of this application is an extremely user-friendly interface that eliminates much of the effort out of voice changing. The great thing is that you'll be ready to move straight into the bottom area of the water whether you're a beginner or an ambitious expert. Scary voice has been among the trending elements for Halloween, especially for people who make scary Halloween video.
Watch this video to learn more about this voice changer:
Features of Changing Voice from iMyFone MagicMic:
Various scary voice effects
It includes a wide range of scary voices, that can make your voice look horrifying.
Change your voice in real-time
It also enables you to change your voice in real-time.
Get setup with simple clicks
You can get set up and transform your voice into horror sound in just simple clicks.
Offers 300+ voice effects
iMyFone MagicMic allows you to add multiple scary voice effects.
Stable sound quality of changed voice
This tool also provides you stable sound quality after changing the voice.
Compatible with the latest Windows and Macversion
MagicMic is supported to use on Windows 7/8.1/10 (64 bit OS)/11.
MagicMic is supported to use on macOS v12.1 , macOS v11.6 , macOS v10.15 , macOS v10.14 , macOS v10.13 , macOS v10.12 ,OS X 10.11 , OS X 10.10.
Price
It offers a free trial for you to try it out, and
you can use 5 voice effects to change your voice for free
. The price of the paid version is also low compared to other similar voice changers. Only $3.33 for a month!
This simple scary voice changer is a free PC voice changer that would also work with any subscription service or conversation app, allowing you to modify your voice using a variety of noise enhancements. Even inexperienced users will find it simple to configure.
It supports a wide range of messaging applications including Wire, Vivox, Viber, Ekiga, Paltalk, Hangouts, and Mumble. This deep scary voice changer can turn your speech into something like a computer, woman, or girl. It is also a nice Pennywise voice changer that can change your voice to Pennywise easily and in real time. Furthermore, it's an excellent voice changer for video games like PUBG, League of Legends, Apex Legends, Minecraft, and Fortnite.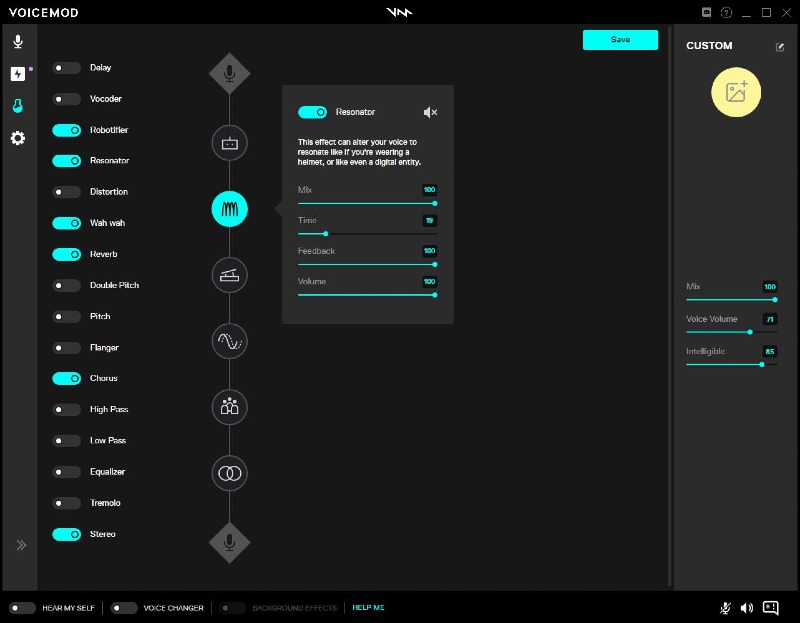 Features
It integrates messaging services such as Discord, Skype, VRChat, and Second Life
It offers a variety of incredible sound effects such as high voice, clown, tone effect, and many more.
It is compatible with Windows 7/8/8.1/10. (64bit).
The Meme Sound Generator of this tool acts similarly to a Soundboard program and is compatible with web services and applications.
Voicemod provides some sound converter applications for both iOS and Android.
3. Scary Voice Changer [Android]
Try not to be afraid while making the freakiest music compilation possible using the best Ghostface voice changer as seen in the movie scream. Scary Voice Changer can offer anyone a powerful sound that will frighten all to the soul.
This audio editing application can leave you feeling like a demon from a thriller film. Stop using the cheap and spooky voice changer applications and record yourself for free with a scary voice changer. Get your ghost by downloading the best quality sound recorder software with frightening noises and spooky screams right now!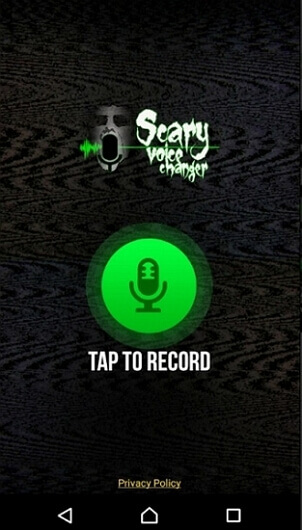 Features
Horror devil sound changer featuring monstrous cellphone tunes.
A fantastic audio generator with terrifying alarms and effects.
A wonderful voice disguiser containing terrible noises.
Program for converting men to women voice and making zombie ringtones.
Amazing alert and alarms audio generator.
Immediately play a customized sound.
The best software for various audio effects.
The best audio facility with a microphone sound converter.
Save and enjoy your newfound haunting noises among your friends.
It is the best iPhone voice changer tool that is exclusively committed to assisting users in creating the finest sound recordings. You may create great sounds with this scary voice changer app. You may modify your sound using a variety of built-in filters, including a woman voice transformer, man's voice enhancements, and wildlife including a snail or rabbit, among others. This tool allows you to apply background audio effects.
Elements like echo noises, compressor noises, pouring noises, folk tunes, phone noises, monster noises, wuthering breezes, and spooky impacts can all be incorporated. This application's most famous effects are Chipmunk and Darth Vader.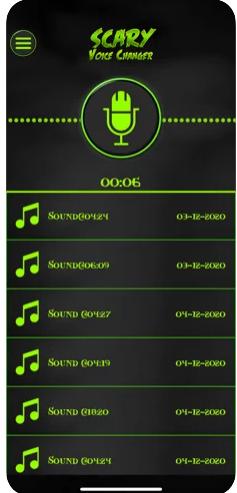 Features of this app
Includes a vast range of built-in noise effects.
Allows you to edit your audio content with a few taps.
It is a simple and easy-to-use Pennywise clown voice changer app.
Allows the real-time recording of your content.
Includes a feature of sharing your content with your friends instantly.
Price
It is free to use the tool but also contains in-app purchases.
This is among the best Ghostface voice changer online applications that allow you to change your voice in real-time. The free version of this tool is simple and easy to use that provides some basic voice editing features. MorphVOX Echo is the paid version of this tool that is perfectly designed for the professional and experts.
You may transform your sound into some kind of monster, an elder female, a machine, or the renowned flying squirrels. You can even add a funny visual track to the Youtube clip. This free voice changer for Mac can edit your voice for several games. It is also a great tool for prank-calling friends through different applications.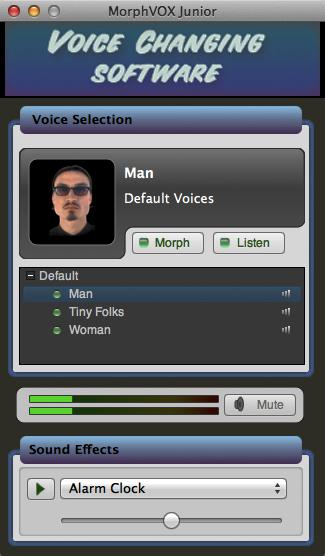 Features
Excellent sound altering techniques
Designed for internet gaming
Several Free Audio Bundles
Introduce music in the Backgrounds of your content
Price
It is a free-to-use tool that also contains a paid version.
Frightening noises aren't only for spreading fear! Horrible voices, rather than being terrifying, can often be employed for comical purposes. LingoJam is a scary voice changer that can utilize noises to generate sensations of general discomfort, mild anxiety, or the exhilaration of realizing you're in a safe environment while also giving you a nice shock.
This scary voice-changing application also enables you to create your own spooky noises. It contains a wide range of effects and filters to change the frequency and pitch of your sound.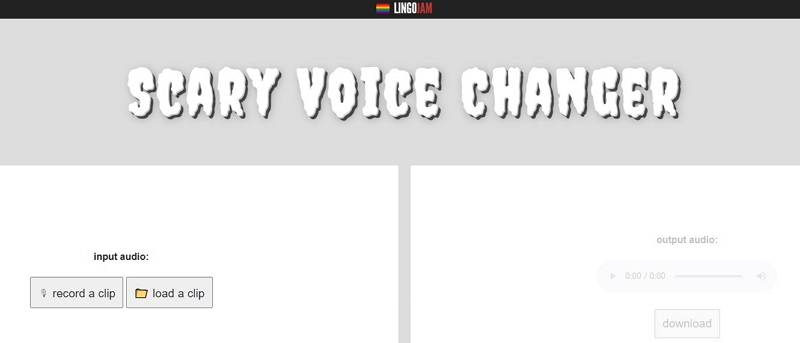 Features
Anyone can download and use this application.
It has a simple and realistic design.
Allows you to edit or change the background sound.
Price
It is a free-to-use scary voice changer
Part 2. Hot FAQs about voice changers
Q1. Are voice changers illegal?
Sound mixers or changes that are used to apply effects to change the quality and structure of sound are legal and permitted. These can be used almost anywhere. Using a voice changer to break laws or participate in other detrimental activity, on the other hand, is not permitted.
Q2. Is Voicemod malware?
No, it is not malware. This is a legit program that doesn't contain any viruses. Users have the complete authority to completely remove this app from their devices.
Q3. How do you make your voice sound creepy?
A scary voice can be made by having some favorite villains with ambition and purpose. You also need some strategies and techniques. In the end, you need chaos and disorder.
Q4. Can you reverse a voice changer?
The best answer to this question is a No. Once manipulated, the sound is extremely impossible to reconfigure.
Conclusion
A scary voice changer is used for making a prank phone call to your friends and family member. The app store is overflowing with hundreds of voice changer apps, and picking one over another is a matter of personal choice. If you wanna make a scary video for Halloween memory, do not miss those spooky classic Halloween songs for film-like result.
However, while searching for the best voice changer applications, search for ones that provide a variety of sound effects as well as the ability to adjust your sound in real-time. iMyFone MagicMic is one of the best voice changers that includes several multiple voices for changing original voice.