The demand for voice changers has been increasing unbelievably. Almost everyone wants to use the voice changer to change voice and add some effects to it.
Most people opt to use the software to have fun with their friends and mock them with their change voice. However, it is pretty tricky to find a voice changer that serves your purpose, which you would have hoped for.
Looking onto that aspect, we have reviewed the top 7 Voice changer software which you can use during a call on PC.
7 Best Voice Changer for PC Calling
Comparison Chart of all Voice Changers
| | Rating | Free/Paid | While calling | Features | Effects |
| --- | --- | --- | --- | --- | --- |
| MaigicMic | 5 | Free and Pro version | | | |
| MorphVox | 4 | Paid but has trial | | | |
| Voxal Voice Changer | 4.5 | Free | | | |
| Fake Voice | 3.5 | Paid but has trial | | | |
| All in One Voice Changer | 3 | Free | | | |
| Clown Fish | 3 | Free | | | |
| VoiceMod | 3.2 | Free | | | |
MagicMic is a dedicated voice changer and editor tool by iMyFone, giving you more than 24 different voices, including the ones related to the scariest festival on the planet.

Besides helping you change the voice and add sound effects to the video, MagicMic's real-time voice changing system lets you change your voice while playing games like PUBG or Fortnite.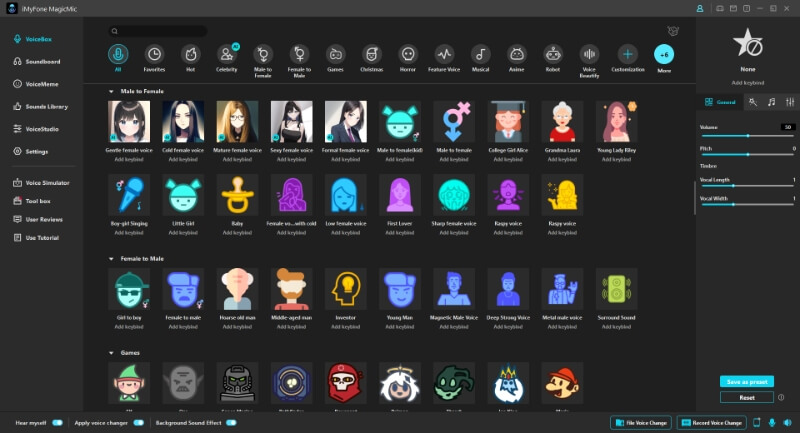 Key Features of MagicMic
Change your voice in real-time, you can also set the keybind and switch your voice with 1 click.

Can be used on Discord, Skype, Zoom,PUBG, LOL, CF, WOW, Second Life, Fortnite, CSGO, Overwatch,Twitch, Xsplit, Streamlabs and many other platforms.

A huge collection of voice-changing effects, such as: Woman to Man, Monster, Minions, Devil, Chipmunks,Robot, Alien, etc.

Hundreds of sound effects imitating people, animals, the environment, and so on.

Affordable price: This application is available for free! Pro version: $4.95/1 Month;$19.9/1 Year; $39.95/Life Time
Pros:

Low CPU Storage.

MagicMic offers you extensive support for troubleshooting the software.

It has support for a wide range of third-party applications giving you complete control over your voice and sound effects.
Cons:

At present, MagicMic is only available on Windows operating system.
How to use it?
Step 1: Run iMyFone MagicMic voice changer
Download the application for free and Launch it. Later on, access the voice effect options present in that tool.
Step 2: Set the microphone
Now, you can check the microphone settings.
Step 3: Apply effects
Now you will see a microphone appear your way. You can record your voice in that microphone and can add effects to it.
If your microphone works well, you will see a change in your voice while speaking. What's you need to do is to change your voice while speaking.
VoiceMod is a prolific voice changer that helps you modify your voice during a live call. It offers courageous effects and mind-blowing features that can make your experience nothing less than fascinating.
If you want to convert user voices into female, male, or reboot voice, VoiceMod is ideal for you in that scenario.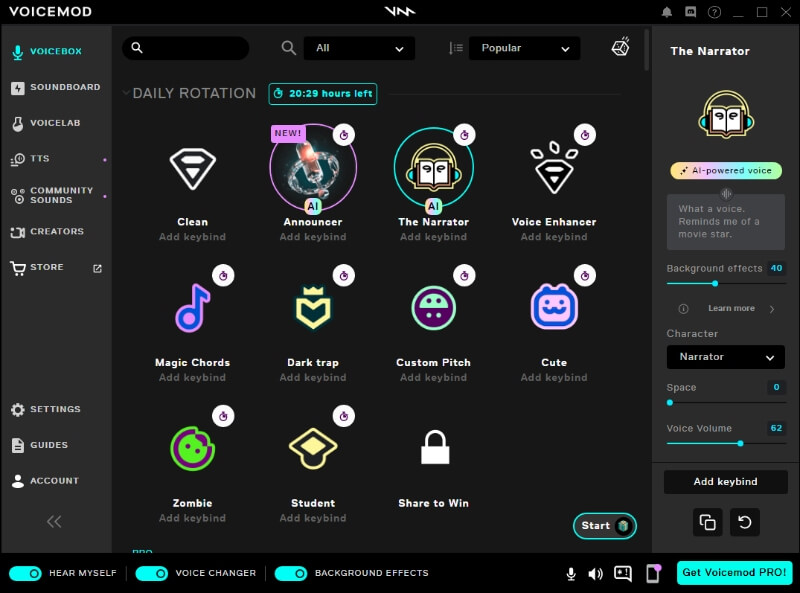 Features
It has an up-to-date and easy-to-use interface.

VoiceMod is compatible with different chat servicing software tools such as Hangouts, Paltalk, Viber, and many more.

It provides you with a facility to change your voice pitch with an SDK in real-time.
Manufacturer: Voicemod S. L
Version: 2.13.0.1
Downloads: 72K
Size: 65.4MB
How to use it?
Let's find out how to change voice using Voicemod.
Step 1: Install the application
Download and then install the Voicemod app on your PC or windows. After doing so, open the app to change your voice.
Step 2: Speak on Microphone
To make the program up and run, you'll need to change the program's input to the Voicemod program. Now, you'll see a microphone on your left side. You can speak on that microphone and add effects, whichever you want.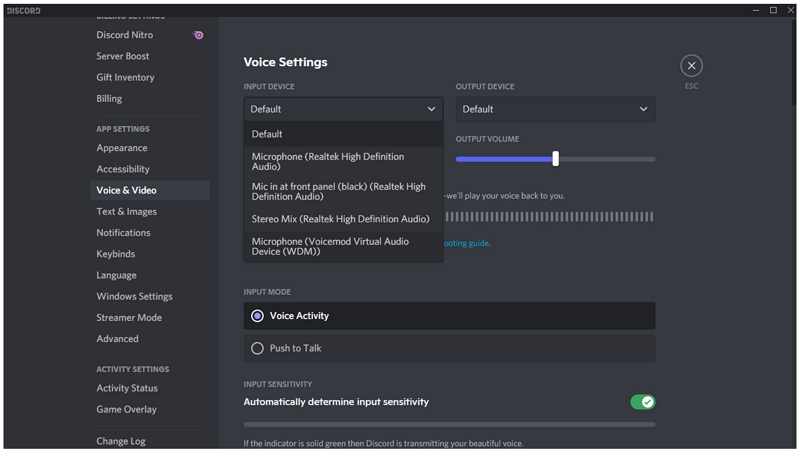 If you are looking for a dynamic and worthy voice changer during a call, Clownfish voice changer can serve your purpose magnificently.
It is applicable for both Mac or PCs and can change your audio's voice in the flesh. It has some of the best sound effects features to offer for its users.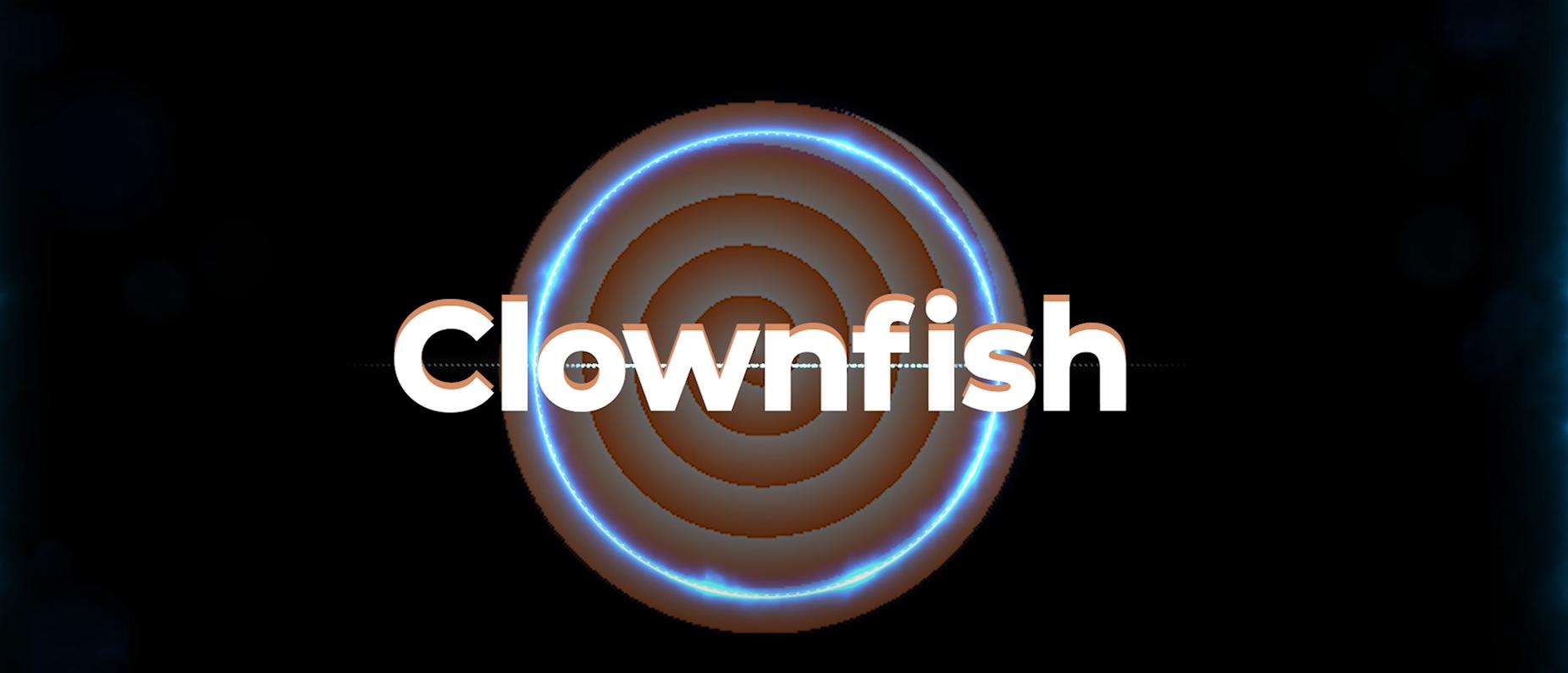 Features
Clownfish is a great way to change your audio's voice with a great effect with a dynamic sound player.

Besides changing your audio's voice, it is pretty good at controlling the microphone's background music.

You can install it in almost every kind of window version.
Manufacturer: Shark Labs
Version: 5.06
Downloads: 61K
Size: 1.05 MB
How to use it?
Let's talk about how to alter the voice with Clownfish voice changer on Discord.
Step 1: Open the application
After you download the Clownfish application, open it by double-clicking the shortcut.
In addition, you also have to open the Discord as well by double-clicking its icon on the Desktop.
Step 2: Set Voice Changer
After right-clicking the Clownfish voice changer icon in the tray, select Set Voice Changer.
Step 3: Adjust Pitch
Now you can add any voice you want, just right-clicking on the icon. In addition, you may change your voice's pitch by clicking on Custom Pitch.
Step 4: Talk on Discord
Now you can talk, and you'll see your voice will be changed.
Morphvox Voice changer has proven to be a game-changer tool in the present era with its outrageous features and dynamic voice-changing effects.
You can grab it either free of cost or by purchasing its pro version that contains high-level features to work with. Due to its track record, Morphox has impressed almost everyone since the ever been.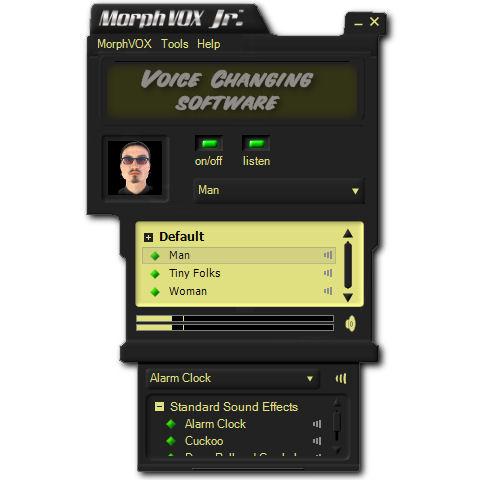 Features
It offers high-quality and modern audio effects.

A facility to dispatch sound effects with preferred quick keys makes it an even worthier software.

You can use the Ultra-quiet version for background cancellation by acquiring its pro version.

It uses little bandwidth and CPU power.

Its interface is easily accessible and doesn't contain any hard work to do in its work.
Manufacturer: Screaming Bee
Version: 5.0.10
Downloads: 712K
Size: 7.9 MB
How to use it?
Let's try to figure how to change voice on Discord using Morpvhox
Step 1: Run Morpvhox and Open Discord
Run the application and look for opening the Discord.
Step 2: Click on Voice Tab
Click on the voice tab present in the user setting just below notifications.
Step 3: Select Screaming Bee Audio and Uncheck input sensitivity
Select Screaming audio for the input device and uncheck the input sensitivity to make things smoother.
Step 4: Adjust sensitivity setting
Speak on the microphone to adjust the sensitivity setting and click on Escape after doing it. Now you are ready to make the changes in your voice.
It is also remembered as a Skype Voice changer. Using this tool, you can make prank calls and send pranked text messages to your relatives and friends.
It is a perfect option with some splendid features if you want a worthy voice changer for your PC.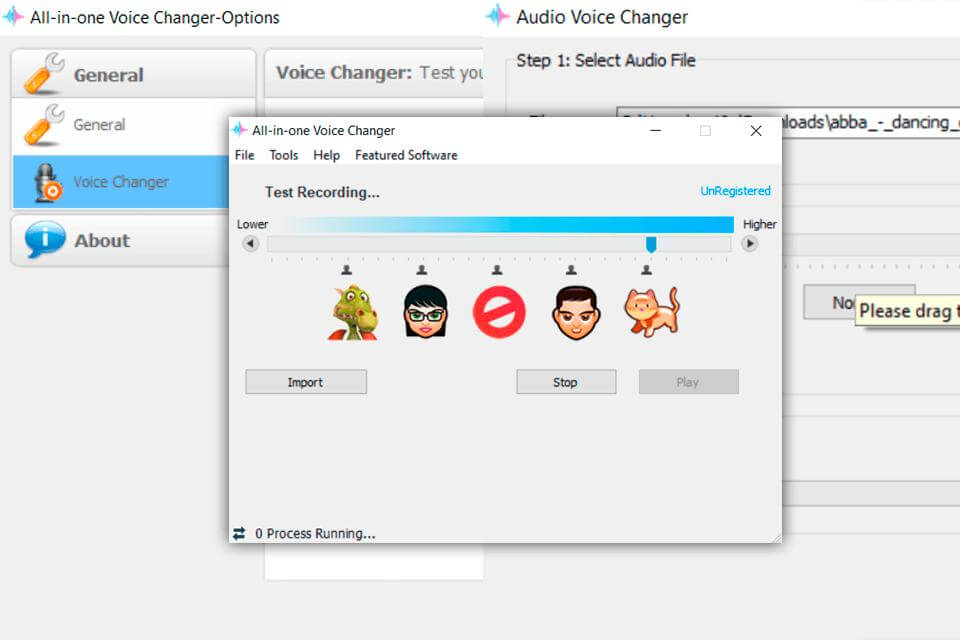 Features
It possesses a slide that you can move either to the left or right while changing the pitch of your voice.

You can preview each change that you make before exporting your file.

It also provides you with the luxury to import a .wav audio.
Manufacturer: AthTek Software
Version: 1.5
Downloads: 129K
Size: 2.9 MB
How to use it?
Let's see how to use All in one Voice Changer.
Step 1: Open the app and set the pitch.
After opening it, you can test its working by adding the effects of your preference. Click on the test button and say something. After it, you must stop click on the stop. Your voice will be recorded.
Step 2: connect a call to your friend
After selecting your favorite voice pitch, you can start a call with your friend by starting the IM tool. Your call will start afterward.
That particular voice changer has been winning the hearts of many users due to its easy-to-use program and basic features that work unbelievably.
With this tool, you can make changes to your voice even during a video call. It is quite q unique tool that offers many interesting effects for making a prank call to your beloved ones.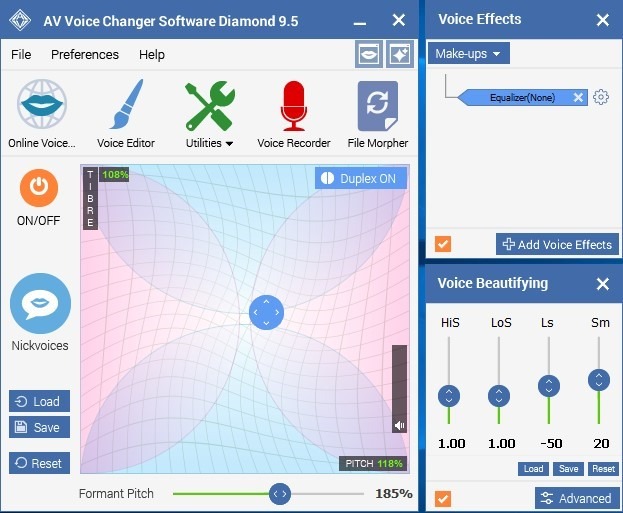 Features
Let's talk about its features
Display Adjustments.

You can record and then export your file without glitches.

It possesses a pause button that enables you to take a break during recording.
Manufacturer: AVSoft Corp
Version: 9.5
Downloads: 180
Size: 36.6 MB
How to use it?
Let's find out how to change voice using AV Voice Changer Software Diamond.
Step 1: Launch the Voice Changer
Launch the AV voice changer on your PC and click preferences after going into the main panel.
Step 2: Check on VadMode
Go into the preferences dialog box and check on Vadmode. After doing so, click on OK and apply the dialog nix and then close it.
Step 3 Record your voice
Now you can record your voice with effects.
Those who often look for a simple yet effective voice changer, Fake Voice changer perfectly lives up to their expectations. It is a pretty simple and easy-to-use tool that works brilliantly.
Although you can't use it during a call, it allows you to make changes in recordings. Fake voice possesses flawless features that have impressed many prank lovers.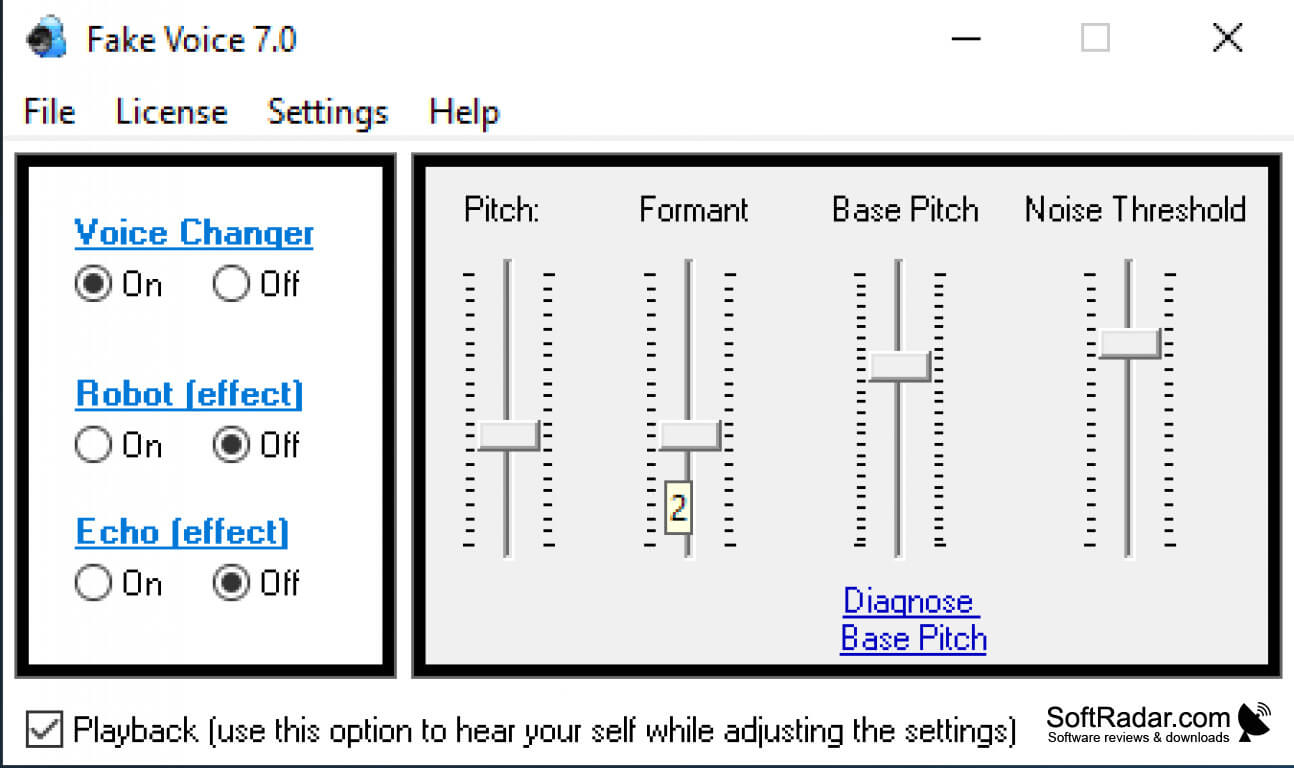 Manufacturer: Web Solution Mart
Version: 1.0
Downloads: 44K
Size: 4.3 MB
How to use it?
Let's discuss the process of changing voice with a Fake Voice changer
Step 1: Install Microsoft Visual
To use the fake voice on your PC, you'll need to install Microsoft C++ visual.
Step 2: Install the fake voice
Now, please install the application and register it with your email address.
Step 3: Select the Voice recording device.
Now you'll see a microphone option from where you can select a preferred voice.
Step 4: Select an operating mode
Select an operating mode from their modes. Later on, record your voice by adding effects.