Halloween is near, and you must be preparing to put your friends and family through some scary pranks or make Halloween-themed videos for your YouTube channel.
Well, you should. Modifying your voice with a Halloween-appropriate character's voice adds more excitement and makes the outcome look original. To add the right voice, you will need a Halloween voice changer.To make the process easier for you, here are the top five Halloween voice changer solutions you will need.
5 Best Halloween Voice Changer for You
Choosing the right software as your Halloween voice changer is important to get the best results. If not for using the right solution, you risk obtaining a bad quality output, which won't sound good, thus hurting your viewership.
Here are the five best software for Halloween scary voice changer;
1. iMyFone MagicMic:
The best Halloween voice changer is MagicMic, and it's compatible with Windows. MagicMic is a dedicated voice changer and editor tool by iMyFone, giving you more than 24 different voices, including the ones related to the scariest festival on the planet.
Key Features of MagicMic
A huge collection of funny and scream voice-changing effects for Halloween, such as: Monster, Devil, Dragon, Chipmunks, Alien,Woman to Man, etc.

Change your voice in real-rime, you can also set the keybind and switch your voice with 1 click.

Can be used on Discord, Skype, Zoom, PUBG, LOL, CF, WOW, Second Life, Fortnite, CSGO, Overwatch,Twitch, Xsplit, Streamlabs and many other platforms.

Hundreds of sound effects imitating people, animals, the environment, and so on.
Pros:

Low CPU Storage.

MagicMic offers you extensive support for troubleshooting the software.

It has support for a wide range of third-party applications giving you complete control over your voice and sound effects.
Cons:

At present, MagicMic is only available on Windows operating system.
Also Read:
Change Your Voice on Discord >>
2. Halloween Voice Changer:
This voice changer is an iOS application developed specifically to help you change your voice into one of Halloween characters.
Changing your voice is fun, but only if you are using the right solution to do the same. While selecting the Halloween voice changer, you must look at the range and number of voices accessible along with the editing process.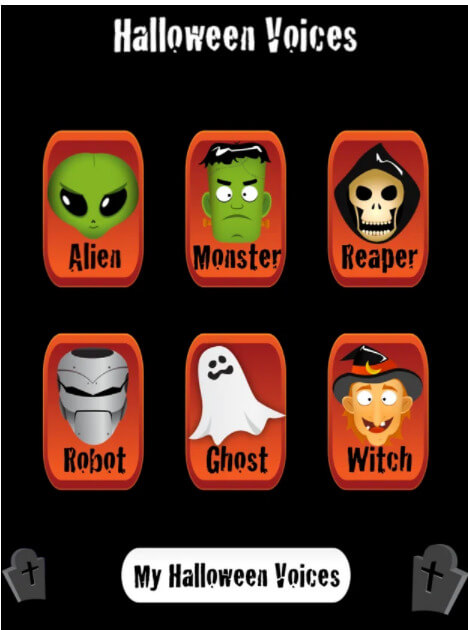 Features:

You can first record your voice and select the required effect to morph the voice.
Save the changed voice output and add the same to any video using a video editor or just use the audio to scare your friends and family.
Pros and Cons of Halloween Voice Changer
Pros:

It's a mobile app, which makes changing voices convenient.

You will get pre-made halloween character voices.
Cons:

Since its only based on the halloween theme, you will have limited choices for voiceovers and morphing.
3. iMyFone Filme:
iMyFone Filme is a video editing software with extensive options to customize and modify your videos according to the requirements.
The best part about using Filme is that you can change the voice in real-time, which means that your voice will be transformed into the selected character as you speak.
Besides being one of the best Halloween voice changer solutions, Filme houses a wide range of video editing features. You can add graphics, text, transitions, music, audio, etc., to the video. You will get to use the basic video editing tools.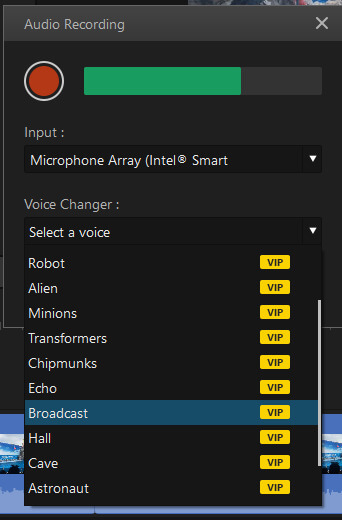 Features:

Besides tweaking the video settings, you can also edit the audio and voice of the recorded or streamable videos with iMyFone Filme.
Working with Filme is a breeze as you can access all the tools and functions easily.
Filme works with Windows and Mac operating system devices and streamlines the process to edit videos and audio.
There is a timeline available to help you add and edit the video precisely. There are options to tweak the audio options, and you can also change the voice input and output.
Pros:

With Filme, you can change the voice in real-time, which means that your voice will be transformed into the selected character as you speak.

Filme houses a wide range of video editing features.

You can add graphics, text, transitions, music, audio, etc., to the video.
Cons:

Filme might be a great video voice changer and editing tool, but it can't access the third-party platform.
Also Read:
4. VoiceMod:
VoiceMod is one of the most popular tools to edit and customize your voice with free software.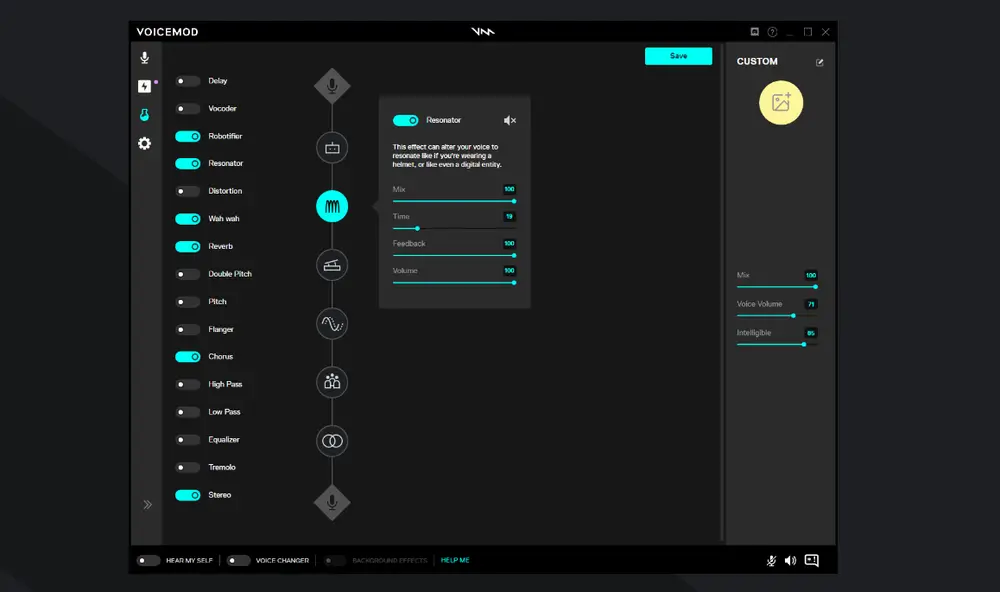 Features:

There is a paid subscription version that gives you better editing options for audio and video.
One of the best things about this Halloween scary voice changer is its ease of configuration.
VoiceMod is compatible with several tools and games like Hangout, Discord, PUBG, Minecraft, etc.
You can change your voice into a scary monster or an alien or a scared girl who is about to grab you by the neck, etc.
Adding the voices and working with them depends on your customization abilities.
Voicemod Pros and Cons
Pros:

It's a fun product to use and modify the voice output.

Contrary to what some people might claim, VoiceMod is safe and legal to use.

Even there is a paid version for better functionality, you will get several options with the free version too.
Cons:

The customer support team of VoiceMod is not that good. There are delays in response.

Some users have faced issues with using the paid version and faced hidden charges.
5. MorphVox:
MorphVox is only compatible with macOS. If you want to add the Ghostface voice to your character in the video or while playing a game online, use MorphVox.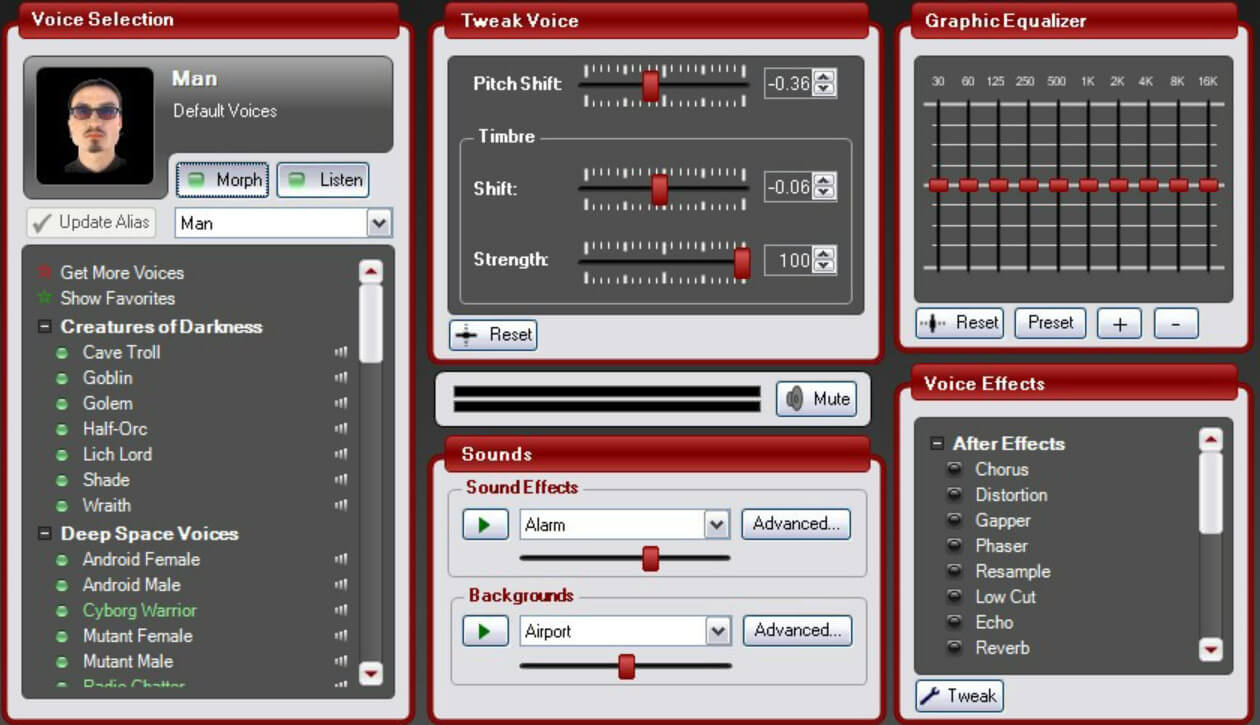 Features:

The free version gives you basic voice editing and changing options, but they are enough to make an impressive Halloween video.
Some of the voices available to choose from in MorphVox include elder females, computers, machines, aliens, kids, etc.
MorphVox Pros and Cons:
Pros:

The background cancelation feature of MorphVox is remarkably good.

Relative to other solutions, MorphVox has more voices in the free version.

You will see regular updates with this software, which gives better scope of editing the voices.
Cons:

The interface of MorphVox is not something to be proud of.

It takes some time to understand how it works before you can start transforming your voice and audio.
FAQs About Halloween Voice Changer
1. Will I face any legal issues for using a voice changer while talking to people online?
No, using Halloween voice changer software to edit your audio and video is legal. However, you can face trouble by scaring another person if they wish to report you.
2. How much time will it take to change my voice?
It depends on the software you are using and on the extent of modifications you need. Editing and adding voice-changing effects to a short video will be over quickly, but mixing a few videos and making changes to every frame will take more time.
3. Do I need a premium version of the software?
It's not mandatory to buy the premium version, but if you want a high-quality output, you need a solution that gives you more editing and voice-changing options.
Final Words
Halloween is that time of the year when you are free to express your emotions and feelings by becoming your favorite characters. But it won't be fun if you are dressed up good but do not have the voice of your character.
To get everything right, you need the Halloween voice changer to transform and morph the sounds giving them the intended outcome. While you are searching for the best Halloween voice changer software, we have a list of the top five above. Out of them, you can start using MagicMicand iMyFone Filme with ease as they are free.
Using these solutions, you will get multiple voice changing options and access to a wide variety of audio editing features for best results.