The use of images combines into a single video has increased in the past to a large extent. Such videos are known as slideshows, and their popularity has undeniably surmounted another level. These slideshow videos are popular on various platforms, including Instagram, Facebook, and YouTube. There are a ton of accounts on YouTube that have gained followers by slideshow videos and increased their followers. In this article, we will tell you how to make a slideshow on windows and leave your audience stunned with your slideshow masterpieces.
5 Best Photo Slideshow Maker Software for Windows 10
There are many software's that allow you to make slideshow videos from simple pictures. Here we have chosen the top five applications that allow you to easily make slideshow videos. Let's review the best slideshow makes for windows 10 among all:
1. iMyFone Filme- Best Overall Easy-to-use Slideshow Maker
Whenever you need to make a slideshow video, the top software that you need to look for is iMyFone Filme. This application comes equipped with all the functions and templates that you may require to make a slideshow video. It has an easy to use interface that allows simple functions in a few clicks and guides you through the entire process. You can make amazing slideshows in a matter of minutes using this software. Not only this, this application allows you entire control of the editing of the video.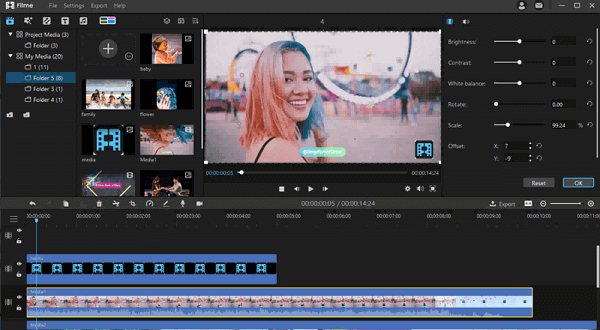 Key Features
Easy to Use– The simple interface of this product allows you to easily manage your images in a slide show and perform editing tasks in no time.

Time Saving– You can make slideshows with this application in a matter of minutes.

Free Templates– This software has countless templates that you can use in your slideshow videos with a whole library of music.

Effects & Transitions– Numerous effects and transitions are in-built in this software for your use.

iMyFone Filme
20+ Fast Video Templates/110+ Transitions for Slideshow
Download Now
2. iMovie (Mac) -Free video editing software with a simple interface
For a Mac user, simplicity to perform even the tiniest operations can become a problem if the correct application is not used. This problem can be easily overcome by iMovie software. With the help of this software, you can easily make and share slideshow videos from your Mac to different platforms, including YouTube. The most prized feature of this software is the ease of understanding and use of its functions that most of the other iOS software's lack.
Key Features
User-Friendly Interface– This software has a user-friendly interface that makes it easier to understand and use.

Time-Saving– The quick functions save a lot of time through the process.

Free Video Editing– This software allows editing videos and allows different premium functions for free.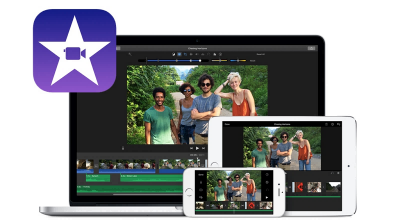 3. Adobe Premiere Pro -Intermediate editors' Favorite
If you have acquired some editing skills over time and feel the need to upgrade your editing try Adobe Premiere Pro and check out the results. This software has been designed especially for people who already have some knowledge about basic editing and want to increase their skills. This software has a ton of functions that can be used by intermediate to pro editors to create a perfect slideshow. If you know your way around, you won't find it hard to use this software.
Key Features
Easy to Use– This software has an easy to use interface designed for intermediate to pro editors.

Pro Functions– It has a lot of advanced features and functions with a wide range of template and customization menu for pro users.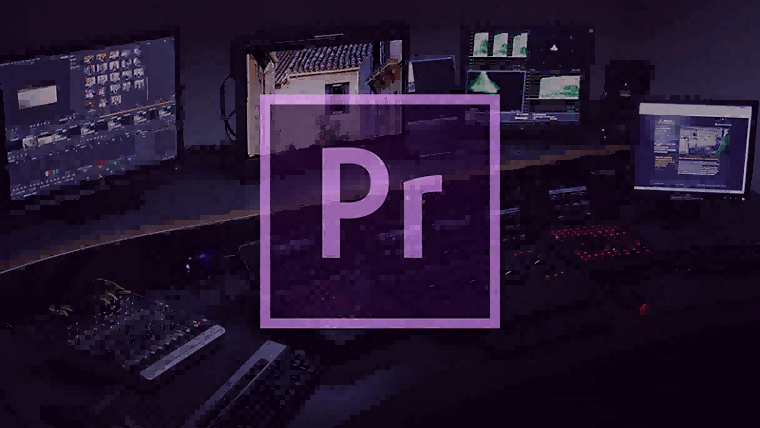 4. SmartSHOW 3D -Countless professional templates
While making a list of software's that provide their users with a professional and easy to use interface SmartShow 3D is sure to make a list. This software comes with countless professional templates that you can use to make slideshow videos. The use of templates in making slideshow videos saves a lot of time and also helps you explore the various functions that are available in the editing menu. Play around with limitless templates and come up with a masterpiece yourself.
Key Features
Professional templates– There are numerous professional templates that are available in this software. These templates can be used with your own pictures in no time to get amazing slideshow videos.

Time Saving– Instead of creating your own template that requires a lot of time, you can use the templates provided in this application to makes things faster and smoother.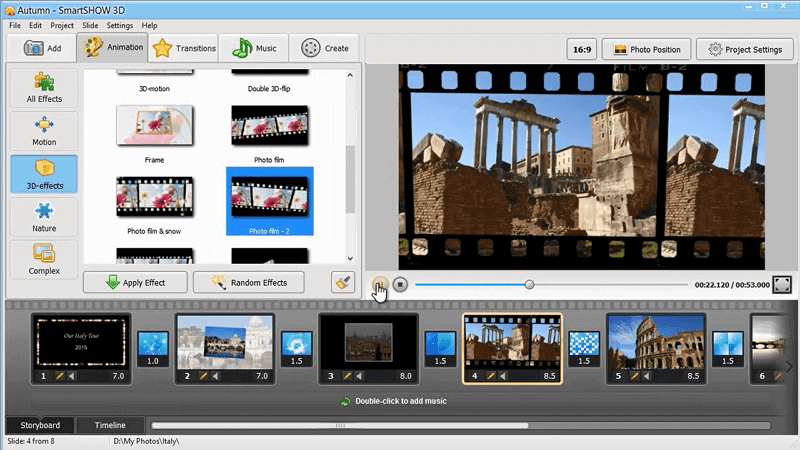 5. Icecream Slideshow Maker - For both professionals and newbies
This application is known for its unique, fun features and easy to use user-interface that provides all the functionalities and options in just a few clicks. This application is suitable for newbies as well as seasoned editors and slideshow video creators, thanks to the easy to understand module and the availability of all the functions and templates that are used in the editing process. Many professionals use this software and have gained a large number of followers by developing their skills on this application.
Key Features
Easy to Use– This application can be used by professionals as well as newbies alike and provides all the functionalities with an easy to understand interface.

Effects & Transitions– Several effects and transitions are available in this software that allows fast editing of the videos and gives them a professional look.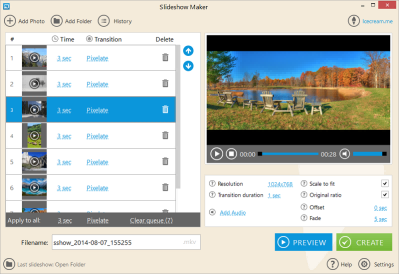 The Easiest Way to Create a Wonderful Slideshow in Windows 10
If you're a new user or a content creator and need to find an easy and suitable way to create slideshow videos, make sure you try iMyFone Filme. This software has been specially designed to let its user's access all the top-rated editing tools and provide them easy functions in just a few clicks. It has various effects and transitions that can be applied to every single image in the slideshow. Just follow some simple steps that are mentioned below to easily make a slideshow video using iMyFone Filme.
How to Create a Slideshow Using iMyFone Filme
Making a slideshow video using iMyFone Filme is as simple as riding a bike. Here are some simple steps you need to follow while making a slideshow using this application.
Step 1: Use One of the Pre-designed Templates
After you select the images and import the images into the application for editing and making a slideshow video go to the templates menu, and a lot of templates will open it from of you. Select a template that you wish to apply to your images.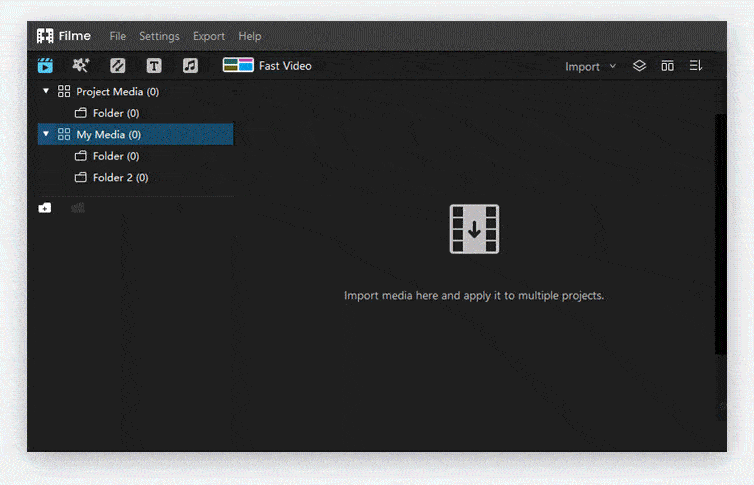 Step 2: Customize Your Slideshow the Way You Want
After selecting the template, you are free to make any changes to the template or the slideshow video. You can add effects, transitions & music files to the video and arrange the numbering in which the images appear in the slideshow video. Always look for the best suited music to add on your slideshow, for instance, find songs for kids growing up slideshow when you want to relive the pace for your kids' growth, and find songs for retirement slideshow the you want to celebrate the senior's retirement.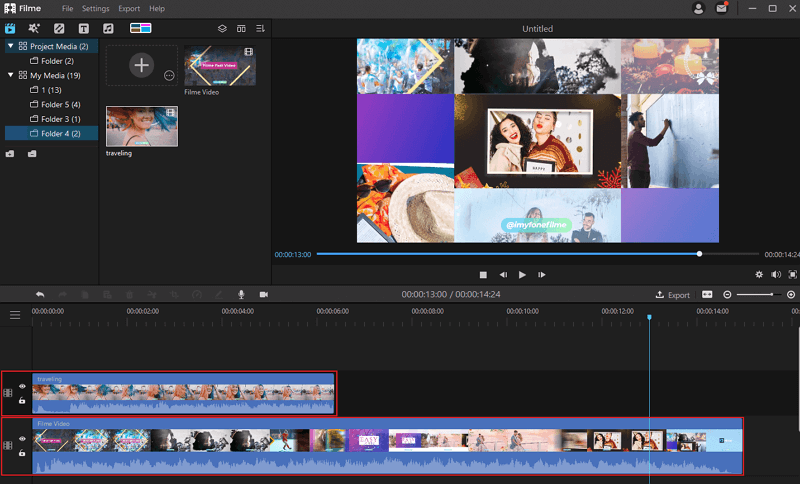 Step 3: Export and Share Your Slideshow.
Once you have completed the above two steps, you will have a complete edited version of the images in the form of a slideshow. Look for any finalizing changes or some small touch-ups that you desire for your video, and after that, you can export the video to your local storage. You can also directly upload the video to YouTube by changing the export media settings during this step.
7 Tips to Create Amazing Slideshows and Stun Your Audience
Slideshow videos are easy to make and gather a lot of views in a small time span. They are immensely popular with the general public, and many creators use them to stun their audience by providing marvelous videos. Although creating such videos is easy, but there are small details that add to the overall big-picture of the video. Here are seven such tips that will surely help you along the way.
Sync the Ending
Be sure to keep the ending of the video in your mind when you start a video. Think your idea through before working on it and make a proper layout for the video.
Picture Resolution
The quality or resolution of the images used in the slideshow has a drastic effect on the audience. You are likely to get a better reaction from your audience if you use high-resolution images in the slideshow.
Numbering
The images must in an order that portrays a pattern and lights up curiosity in the viewers to view the ending of the video. With each image, the curiosity of the audience rises in a good video until the final images where the video ends.
Audio Pitch
Try to sync the audio with the images. Begin with low notes and a shallow pitch sound which will increase towards the climax of the video.
Use of Text
You can use text to further enhance the tone of the story and explain it to your viewers.
Hot Topics
If you are making a slideshow to upload on social media, be sure to add some twist related to the hot topics at that time to gain a ton of views.
Final Words
As the video progresses, the viewers are more and more curious about the ending of the video, so make sure that the ending is worth their while. Add a twist and amaze your viewers with the ending of the video. And this how to make a slideshow on computer perfectly!