It's on Christmas that we get to celebrate exclusive time with each other and create cheerful memories. These memories are precious and deserve to be captured and saved to relive later in life. And what's the best way to protect our memories than to digitalize them through a slideshow.
Now, you might need some Christmas slideshow ideas. No worries, after reading this post, you will become a pro at making brilliant Christmas slideshows. And we recommend a comprehensive video editor called iMyFone Filme for you to make Christmas slideshow videos. You can try it out for free first.
Awesome Christmas Slideshow Ideas to Spread the Joy This Holiday Season
Anyone can create a Christmas Slideshow. However, to create a unique and fantastic slideshow, you have to bring your inner artist out and let it get creative.
Oh! Can't find that creative groove. No worries, we have you covered. Here are five awesome Christmas picture slideshow ideas, explore them and find the one that looks more appealing to you.
1. Digitalize Your Christmas Greeting Card
Who doesn't love postcards but how about making them in a different style? This year, greet your family and friends through a Christmas slideshow greeting card. You can make many digitalized cards such as personalized Christmas cards, designer Christmas cards, DIY photo collage cards, and many others.
2. Photo Slideshow with Music
A slideshow that consists of your family pictures and your favorite Christmas music will surely win many hearts. There are many slideshow makers available online. Download the one that is free and easy to use. Look for a dazzling template. Add pictures of your family and friend, apply some 3D effects, and fill the entire slideshow with 'jingle bells' music, and voila! Your first Christmas slideshow is ready.
3. Family Chronicle Slideshow
Make a slideshow that could be considered as a family heirloom. The photos and video clips you have made throughout the year are your happy memories. Combine these pictures and clips to create a stunning slideshow and watch it every year on Christmas Eve with family and friends. Thus, introduce a new tradition in the family by making a family chronicle slideshow at the end of each year.
What else!
4. Karaoke Christmas Video
Still, if you do not have any great idea for your Christmas slideshow, then turn to karaoke. It's simple! Ask your guests to sing classic Christmas songs, and record a Christmas carol video. Choose songs from the best Christmas music or songs for family slideshow. Pick a merry tune, type the lyrics on the bottom of each slide, and have a cheerful sing-along.
5. Christmas Story Slideshow
Here comes another brilliant idea. On this Christmas, tell a story or a journey of your loved one through a slideshow. For example, if you have a kid that has turned one this year, add their photos to the slides in chronological order from birth until his 1st birthday. Add birthday music, put some filters and surprise your family with this customized story slideshow.
Best Christmas Slideshow Maker-iMyFone Filme
Now, let us present you with the multi-functioning video editing software. It's none other than "iMyFone Filme." It's a gem among all the other online software because it is beginner-friendly; and it has all the in-demand, high-graded/easy-to-use options for quenching your thirst for creative expression. Moreover, it works for windows and Mac operating systems.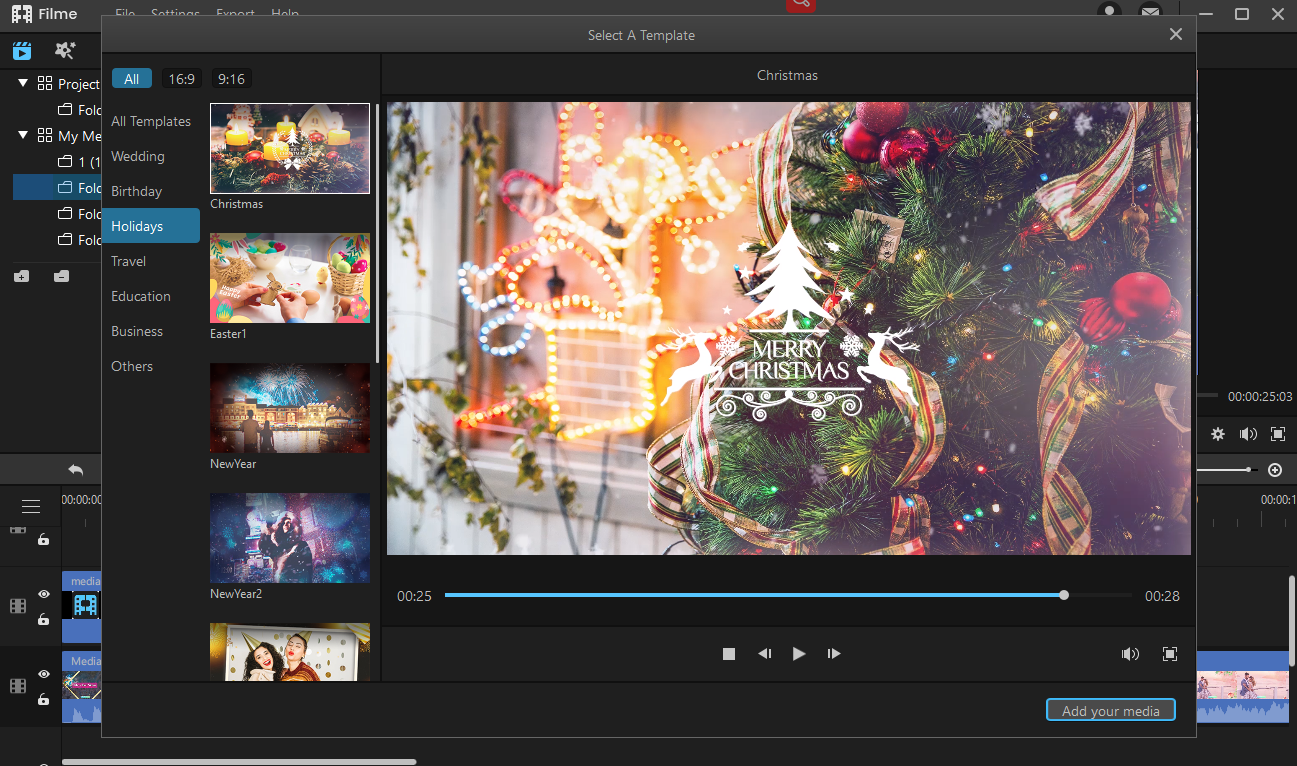 Key Features
Filme has 170+ built-in effects, hundreds of animations and transitions as well as in-built 50+ music tracks.

Furthermore, to cut, create, crop, edit, trim or adjust anything on this software, no prior editing knowledge is required. iMyFone Filme is a one-click software for video editing and creating slideshows.

The online tool comes with a media library full of professionally designed slideshow templates.

It has startling templates for every festivities and occasion. For instance, it has templates for Christmas, Homecoming, New Year, etc.

Aside from effects and animations, it contains 20+ instant modes, filters, elements, and stickers that will allow you to turn dull and boring slideshows into awesome Christmas slideshows.

Lastly, it allows you to save your file in any format. A simple click on the 'Export' button will allow you to save your file easily on your desired location.
How to Make a Christmas Slideshow Using iMyFone Filme
We are still not done with you. Let us walk you through the steps of creating a Christmas slideshow using two different methods,
Method 1: Using Fast Video Templates in One Click
The Fast Video Mode in Filme will enable you to make a hats-off slideshow in one click. Let me tell you how to apply a template to create your Fast Video.
Step 1. Go to Media Library, click on the "Fast Video" tab, available on the top bar. It will bring you to the Fast Video mode.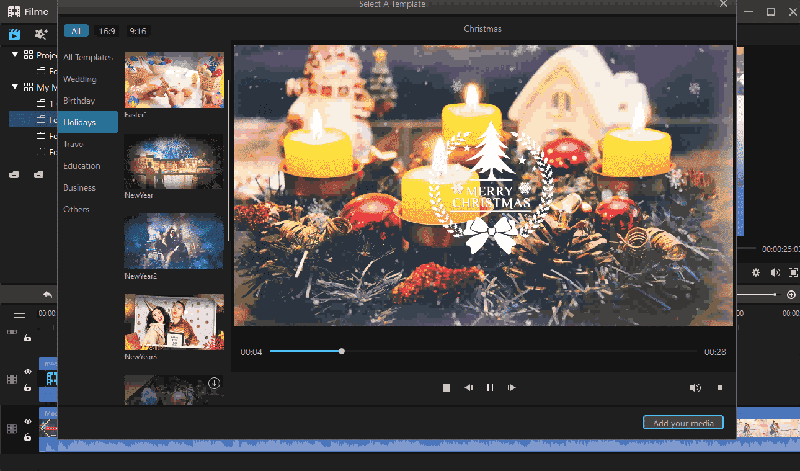 Step 2. There are mainly 25+ templates available for occasions. Select the Christmas template you like the most. Then click on the "Add your media" tab, which is at the bottom of the page.
Step 3. Finally, your file is ready for import. You can import your media files by clicking anywhere on the large window and select the "Import" option to import files.
Step 4. Now, you can see the file on the interface. To change the order of files, simply drag and drop the files.
Step 5. Your slideshow is ready; you can export it by clicking the "Export" button, which is located on the top bar.
Method 2: Personalize Your Christmas Slideshow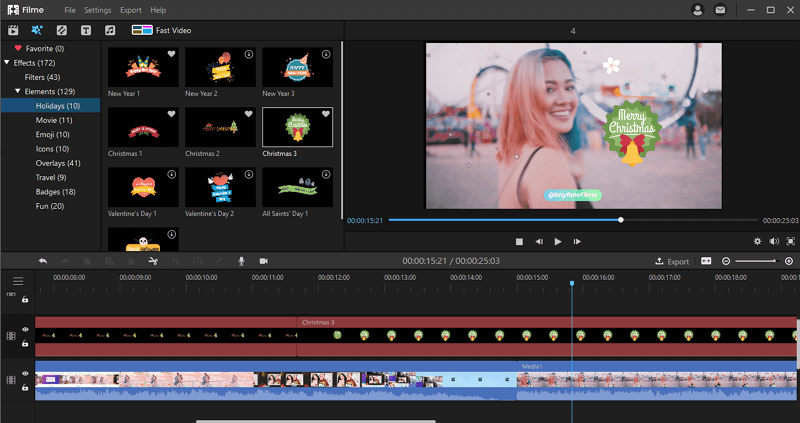 1. Add Christmas Photos or Stickers and Christmas Songs
Add the photos and music you have decided to use for your slides. And adjust the images on the slides according to your need.
2. Customize your slideshow the way you want
Now, you can add stickers, text, hashtags, or captions to customize your slides. Furthermore, put filters and effects to get the wow appeal.
3. Export and Share your Christmas slideshow
In the end, export your file and save it on your computer. You can burn it to DVD, wrap it up in a shiny paper and present it to your loved ones.
6 Pro Tips to Create an Stunning Christmas Slideshow
Indeed, by now, you must have decided on the type of Christmas slideshow you will create. However, the idea will not work until you learn some tips to make the slideshow outstanding. Therefore, here we will discuss 6 pro tips that will help you make a knockout slideshow.
Tip#1: Select Pictures That Say It All.
Pictures will be the essence of your slideshow. Therefore, take a moment and consider which pictures are more likely to get your desired reaction from the audience. For instantly, select pictures sequentially and create a year-in-review slideshow. You can also go for random everyday clicks that will paint a picture of how lovely your family is in real life.
Tip#2: Choose a Cheerful Template.
There are hundreds of spectacular templates available on the internet. You have to select the one that you find most astounding and relevant with the Christmas theme. However, if you cannot find a template that can put glitter in your eye, then go for the software with templates produced by pro-level designers.
Tip#3: Select a Contemporary Magical Tune.
Take a chance, and instead of using the classical Christmas jingles for your slideshow, scout for this year's iconic holiday jams. It will make your slideshow contemporary and different from others.
Tip#4: Don't Oversaturate with Effects.
Although everything becomes colorful and shiny at Christmas but trust me, stop the urge to overdo with decoration. A random color bust can turn a perfect slideshow into a circus party. Therefore, do not overdo your slideshow with Christmas lights or bokeh effect. Do not ruin the splendor of actual pictures with artificial filters and stickers.
Tip#5: Let Warm Up The Slideshow A Bit.
Make it more personalized by adding your favorite verses and quotes. Do not just fill your slideshow with images and soundtracks. Warm up the slides with Bible verses, heartfelt wishes, and add words of wisdom and inspiration. Make the slideshow productive; say a 'thank you to everyone who has made you happy and a 'sorry' if you have hurt someone.
Tip#6: Choose The Right Software For Editing.
Suppose you wish to create a highly artistic and profoundly personal slideshow. In that case, we recommend you to use "iMyFone Filme," an online software. It is beginner-friendly and has all the right features to make strong video content.
Conclusion
Indeed, by now, we would have inspired you enough to make you grab your laptop and start creating a lovely Christmas slideshow. Remember to use our amazing slideshow ideas, tips, and specifically the iMyFone software while making the slideshow to get a remarkable result and spread the joy by sharing it with your loved ones.