This article will talk specifically about movavi screen recorder review. After reading this article, you will know about to get the Movavi Screen Recorder, how to use it, and also the pros and cons that you should look for in this screen recorder. You will also learn about alternative screen recorders that you can use and what features they have that lack in the Movavi Screen Recorder. If you are new to this, you will gain a lot of information on how the Movavi Screen Recorder works and if you should explore any other screen recorder that would better suit your needs.
Part 1. What is Movavi Screen Recorder
Movavi Screen Recorder is software for recording videos and audio from your screen. You can also use this screen recorder to take screenshots and screen recordings and that too using a single click! You can use the Movavi Screen Recorder to record different videos from TikTok as well as Instagram. The Movavi Screen Recorder is an easy-to-use software for Mac as well as Windows, which can help you capture videos and activities on your screen. Once you have done recording your desired video, you can edit and save the videos in different formats.
Key Features:
Here are some of the key features that make Movavi Screen Recorder an excellent choice for screen recording software.
1. Capture Area
The Movavi Screen Recorder allows you to select the precise area on the screen that you want to record. You may record the entire screen or a portion of it; this selection is made easy in this particular software.
2. Audio Quality
The software allows you to choose between two different audio modes; mono or stereo. It also gives separate audio streams for separate sources of audio.
3. Frame Rate
The Movavi Screen Recorder allows you to record videos within a wide range, ranging from 5 to 60 frames per second. The highest frame rate will naturally produce the greatest quality of the video.
4. Effects
You can also add cursor movements with different colors to track movements on the screen. This will help you keep track of all the strokes made on the screen recorded video.
5. Export and Sharing Options
The Movavi Screen Recorder allows you to save your screen recorded video in many formats, which include MP4, AVI, MOV, or MKV. You can even turn your video into a GIF! On the other hand, you can save your screenshot images in various formats too, which include PNG, BMP, or JPG. You also have the option to extract the audio files from a screen recorded video and convert it into an MP3 format. Once you have saved your recordings in your desired formats, you have the option to directly share them on YouTube or Google Drive as well as many different social media platforms such as WhatsApp and Telegram.
Pricing
The software offers an unlimited trial version which is free but has limited features.

Bundle 1: Screen Recorder priced at $34.95, one-year subscription for one PC.

Bundle 2: Screen Recorder priced at $49.95, a Lifetime subscription for one PC.

Bundle 3: Video Suite priced at $79.95, one-year subscription for one PC.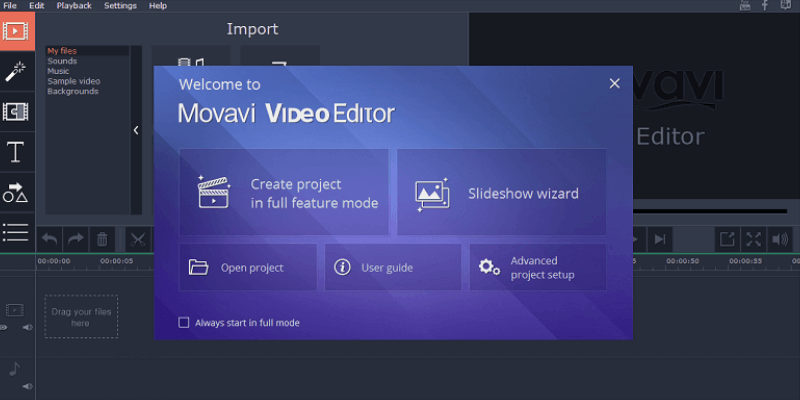 Part 2. Movavi Screen Recorder Review(Pros and cons)
Before choosing this particular software for screen recording, it is always a good idea to see the pros and cons of it. There are limitations to every software, so it is best to compare the benefits to the disadvantages before taking the plunge and choosing the screen recorder that is right for you. This section compares the advantages and disadvantages of the software so you can make an informed decision.
Pros
Cons
It is an easy-to-use software for home or official needs. It is a quick and easy option when you need to record something
The trial version has limited features. You will have to purchase the full version if you want to use all the features
It has many features that allow you to edit your screenshots
It is not possible to access previously recorded videos through the software
You have many options when it comes to exporting your recorded content. You can share it on many social media platforms
There are limited video editing tools. If you want advanced editing, you may need to resort to another editing software
You can edit and crop videos as per your desire. If you want to remove some part, you can easily cut it out
This software is not available for Linux. It is only available for Mac and Windows
You can use multiple sources of audio, as they appear as separate streams on the software.
This software is cheaper than other screen recorders
You can schedule the recordings and plan accordingly
The user interface is clean and simple to use
Part 3. 3 Alternatives to Movavi Screen Recorder
This section talks about three other software that you can choose from for your screen recording needs.
Another method for screen recording your video is using the iMyFone Filme application. It is one of the best screen recording software out there.  The iMyFone Filme Screen Recorder is preferred by new users because of its simplicity and ease of usage. You can do all kinds of editing, be it basic or advanced level, with a wide range of editing features, including animations, resizing, speed adjustment, etc. The software allows you to use it on various social media platforms. Here is why you should choose this screen recorder:
Easy-to-use user interface that makes editing easy and fun.

You get a free month's trial to decide whether this software is for you or not.

The software has many cool editing features that allow you to enhance your videos

Produces high-quality outputs
OBS Studio is an open-source program that is used for screen recording. It is mainly used for recording games, and broadcasting live streams of gameplay on various social media platforms such as Twitch and YouTube. OBS Studio is designed for professionals and experts and not meant for beginners. It has a lot of advanced editing features if you are willing to put the time and effort into learning it. The software offers great flexibility to users. However, it would not be ideal for someone who is looking for quick and easy screen capture. The OBS Studio is ideal because of the following reasons:
The software has a wizard which helps you to optimize the setup for screen recording and video streaming.

It is best for a multi-screen step up in which you can use the software on one display and continue to play your video/game on the other one.

The software allows you in-game overlay without you having to close or leave the game.

You can add a number of different features to your recording, which includes picture-in-picture webcam shot and personalized watermarks.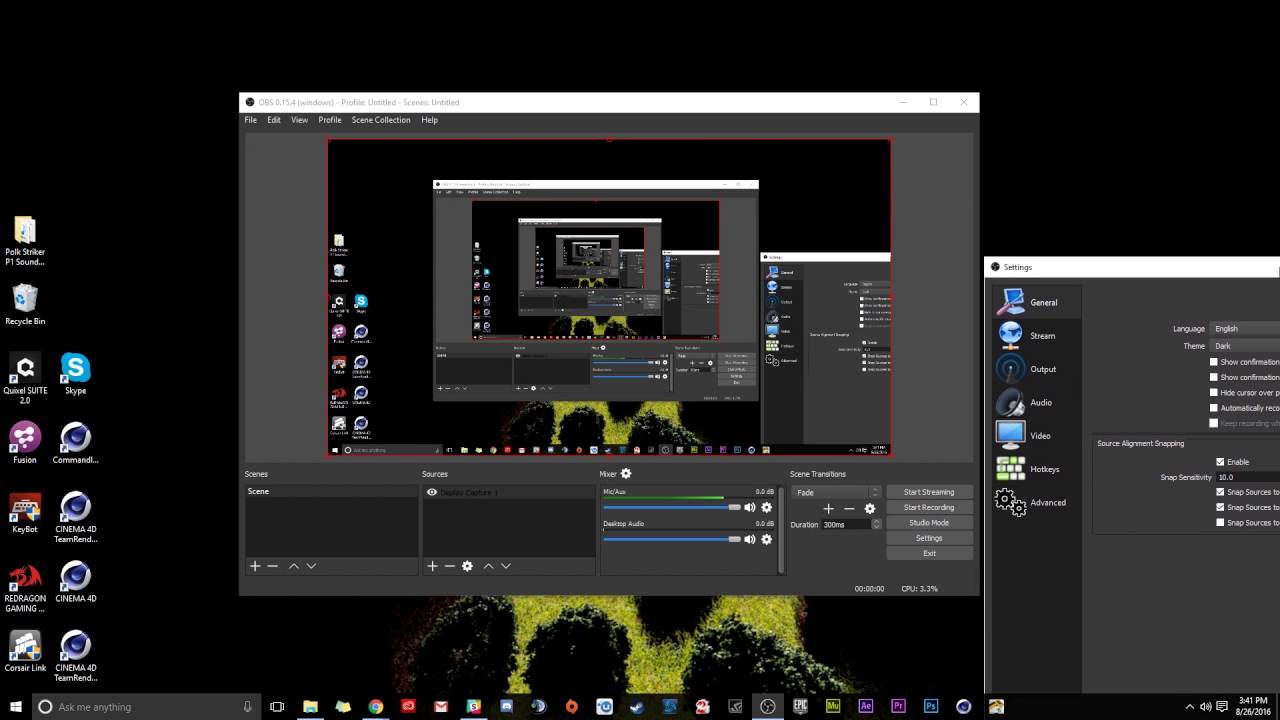 Flashback Express is a screen recording software that is great for recording videos from your desktop, producing output that is ready to be shared on various online platforms. It is a free screen recorder, and the best thing about it is that it does not leave unwanted watermarks on your recorded videos. Also, it does not have any time limit on your recordings, unlike other free screen recording software. Why should you choose this screen recorder? Let's find out.
Flashback Express allows you to record audio from your desktop, webcam, and microphone. This means this is an excellent software for vlogs, tutorials, and demonstrations.

The user interface is less complicated as compared to other screen recorders, such as the OBS Studio.

Probably a really big plus for the Flashback Express is the feature of scheduled recordings, which allows the user to fix a time and date for the recording.
While this software may not be the first choice for you if you want advanced editing tools, it is a pretty good recorder on a basic level, with the complexity involved in its operation.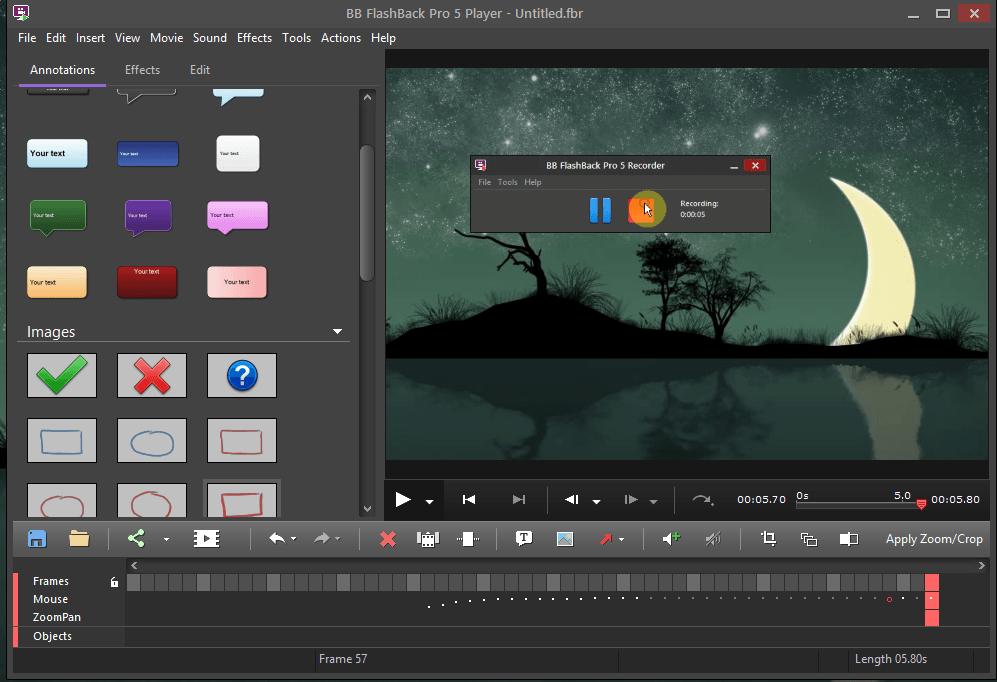 Final Words
At the conclusion of this article, you now know all about the Movavi Screen Recorder, including its salient features and the pros and cons of using this software. You also know alternative software for screen recording and why they are ideal choices, such as Filme, which is a beginner-friendly video editor yet with professional features. Some software is better suited for experts, while others can be used by everyone, be it a newbie or professional. It is always important to analyze the software before going for the plunge and purchasing the full versions. All of these software programs offer free trials so you can get a taste of what the software entails.