Are you looking for the best way to share your photos with friends and family? So, how to make an incredible slideshow? There are many free slideshow makers that can help you with it. Let's check it out in this article to find the best way to make a free slideshow with music!
Instead of the slideshow, video is better to present. If you are worried about the complex edit step, iMyFone Filme should be your top choice tool when making your slideshow videos
Table of content:
Part 1: How to Add Music to the Slideshow for Free
There are different ways to add music to the slideshow on a PC or Android phone and iPhone. The steps to insert music into the slideshow on different devices or software may be slightly different, but basically, they are relatively similar. We can divide it into 2 methods, manual and using template.
Method 1: Creating Slideshow with Templates for Free with iMyFone Filme
Filme is iMyFone's most recent video editing software. It's a user-friendly video editor that lets you do everything from basic to advanced video editing. It's one of the best free slideshow apps with music. Making a video or a slideshow with music will become easier than ever with iMyFone Filme.
The Fast Video Creation features and its template will allow you to make an attractive slideshow on Windows in a very short time. Let's check out how to create a slideshow with a template with iMyPhone Filme - A free photo slideshow maker with music.
Step 1: Click on the Fast Video to open Fast Video Creation mode.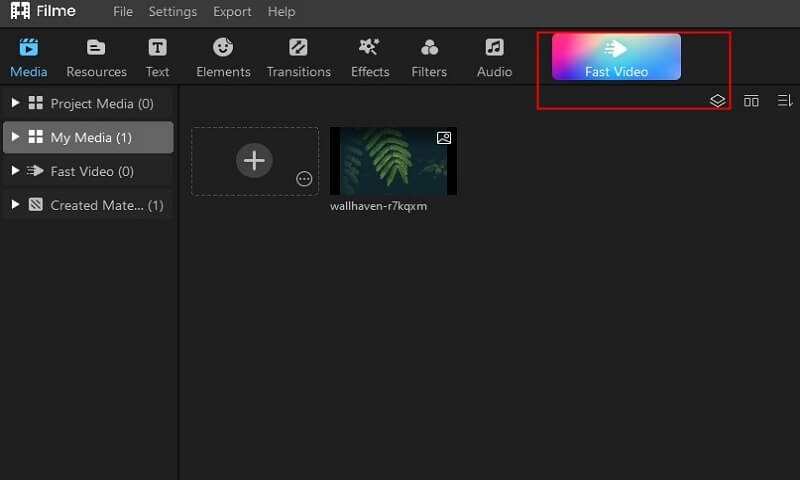 Step 2: Choose the Template.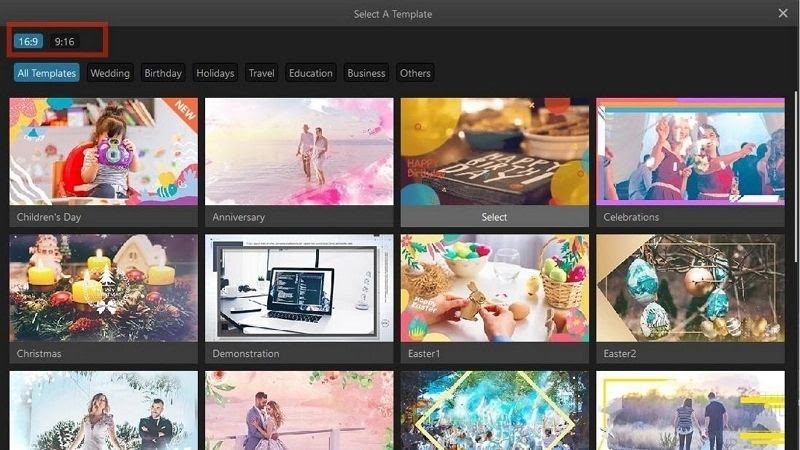 You may select from a variety of template categories, including weddings, birthdays, holidays, education, business, and more.

To see a preview of a template, click on it.

You may pick between 16:9 and 9:16 aspect ratios for your video.

When you're through with the template, click Add your media.
Step 3: Import your picture, music, and preview.
To import your media files, you can right-click on the screen, then choose Import to import images, and music from your PC.

Click the Previewbutton in the lower right corner to see a preview of your slideshow created with this template.
Step 4: Change the sound and text. With iMyPhone Filme, you can adjust images, sound, and text just by dragging and dropping on the interface. Change images and text and adjust the duration of music until you feel satisfied with the slideshow.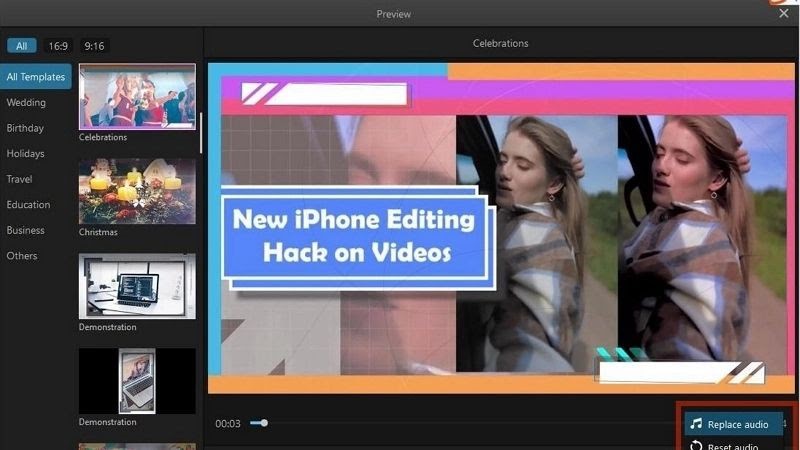 Step 5: Preview & Export. Preview all and click on Export to export your final product.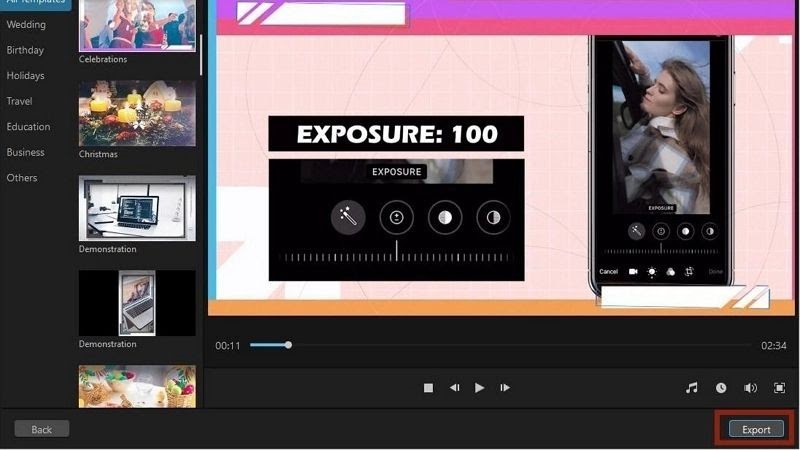 Method 2: Adding Music into Slideshow Manually
The easiest way to manually create slideshows with music right after retouching photos is to use Windows Movie Maker to create slideshows with music and photos. Movie Maker is completely free software that supports a lot of features such as cutting videos, merging, and editing videos and one of those features is creating a slideshow from your images.
You can create videos from many images and available music, with effects for images and transition effects between images to make the slideshow more beautiful and vivid. Other software may also use the same basic steps to add music to slideshows.
Step 1: Download and install Windows Movie Maker on your computer.
Step 2: After the installation is complete, open Windows Movie Maker.
Step 3: To add photos, click the Import pictures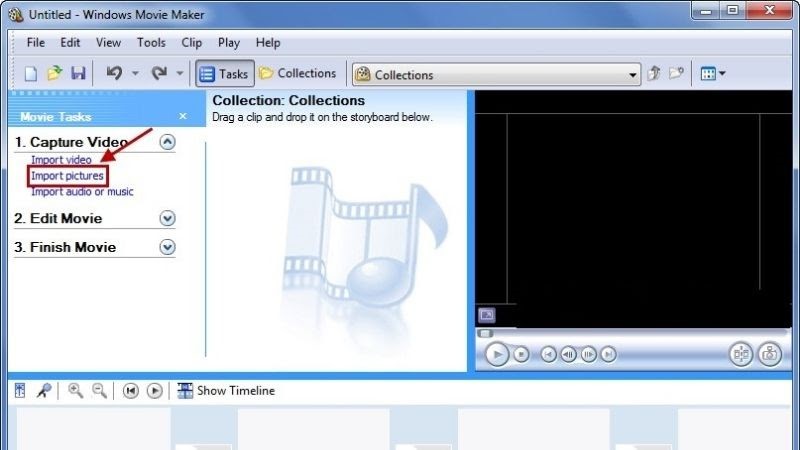 Step 4: In the Import File window, select the photos you want to insert and then click Import.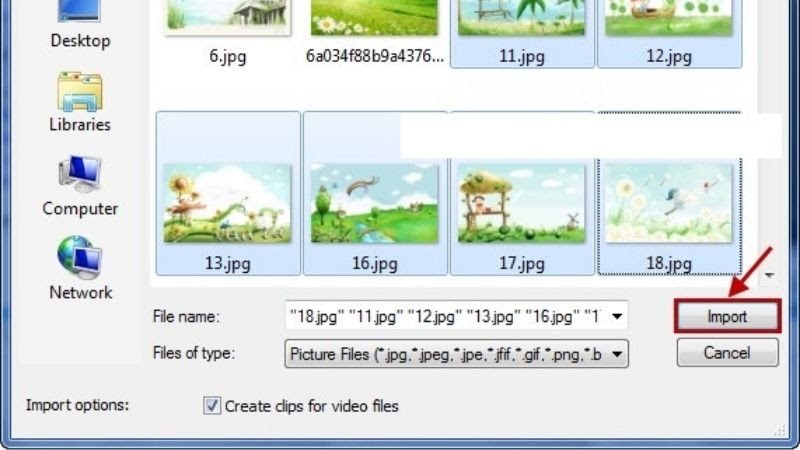 Step 5: The selected images will be displayed in the Collections To add a photo as a video, click on the photo, then drag and drop the images into the Storyboard section below.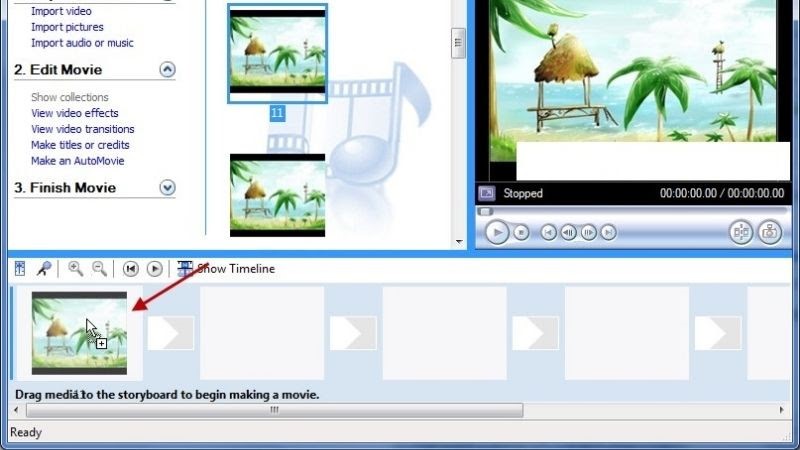 Step 6: Click on Import audio or music to insert music into the slideshow.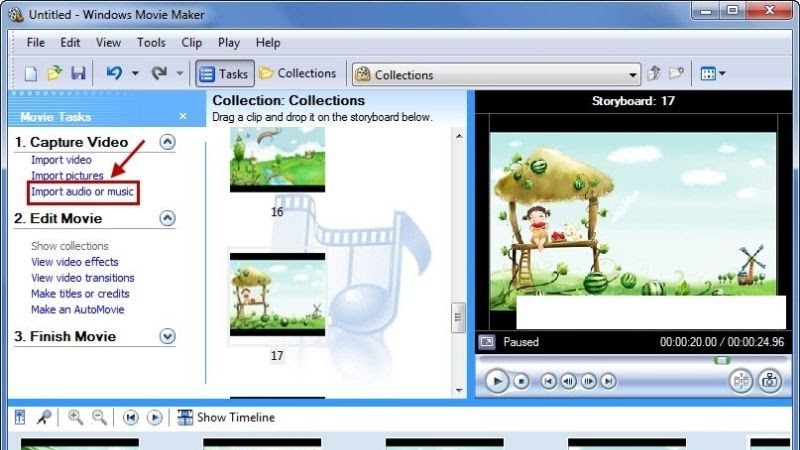 Step 7: Click on Show Timeline to display a detailed adjustment frame.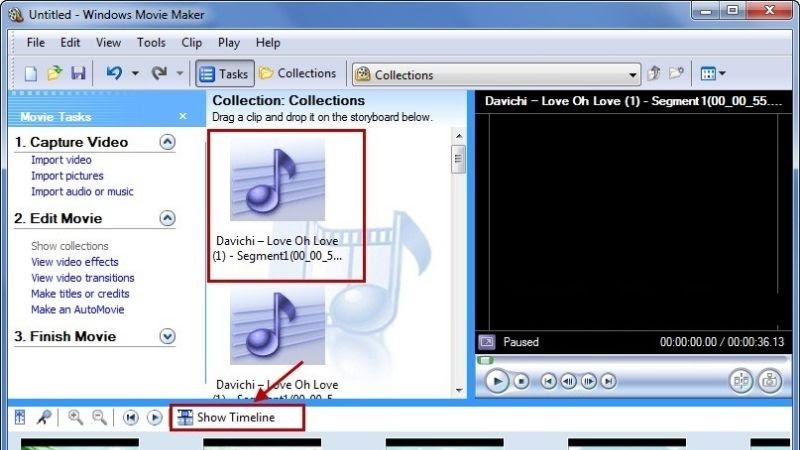 Step 8: Click on the track, then drag and drop it into the Audio/Music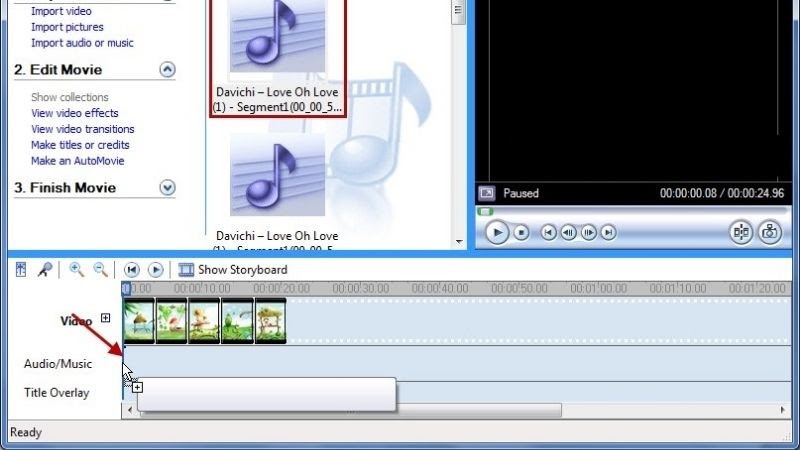 Step 9: Then, click on Show Storyboard at the bottom to return to the main editing interface.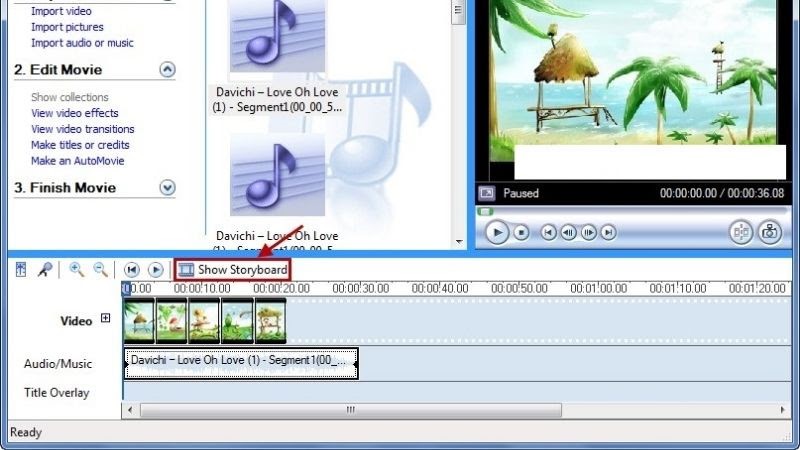 Step 10: To export the video, select File and then select Save Movie File, or you can use the keyboard shortcut Ctrl + Pon the computer keyboard. Then, choose the save location and save the slideshow.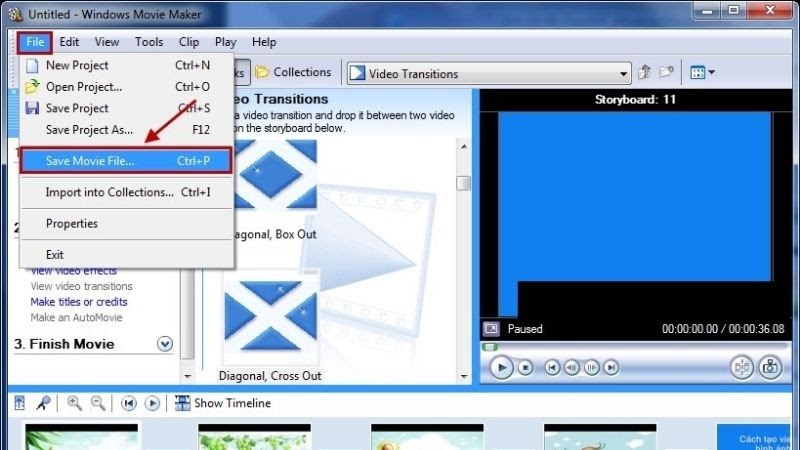 Window Movie Maker is old software. Thus, although it is easy to use, there are many disadvantages when making a slideshow with it. Old interface, unclear observe; Less beautiful, eye-catching effects; Video quality may not be as good as current other software; Rarely updated version. Therefore, let's move to the second method with convenient, and fast software to add music to the slideshow, allowing the use of templates.
Part 2: 5 Best Free Online Slideshow Maker Software
You may not want to install additional software on your device as it may slow down your device or fill up your PC's storage. No problem, you can find help from online software.If you want to make a shinning slideshow, the one-stop information for making slideshow is needed. Here are the 5 best free online slideshow makers with music and effects that you can refer to.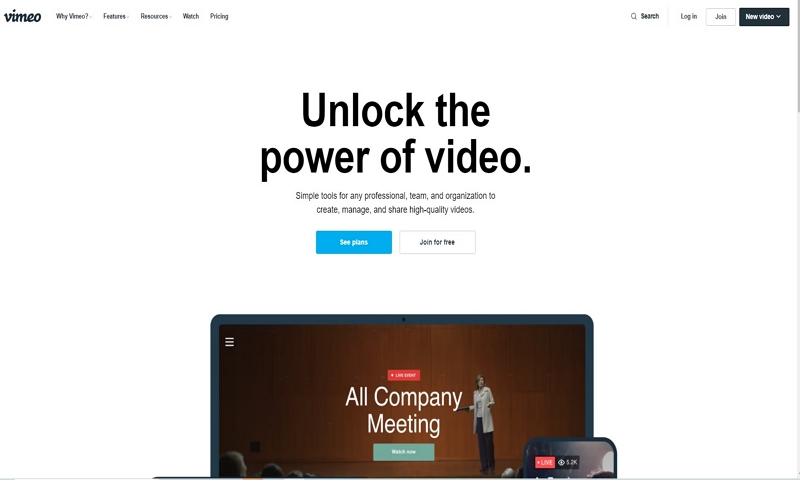 Vimeo is a video-sharing website that works similarly to YouTube in that users may watch, post, and share videos. Vimeo members have the option of using the free service or paying for a variety of premium services geared at assisting companies in controlling how their films appear on the Internet. Vimeo also can embed the video in different version. Vimeo's free service lets users use a variety of creative tools to improve videos, add music to their slideshows, and extract content from Creative Commons-licensed videos.
Pros:

No hassle of advertising

Works with Google Analytics

Access to a video production team

Suggested videos at the end of each video

Customizable privacy settings
Cons:

Less traffic available

Not free

Google search results
Since 2006, Animoto has been a cloud-based video production service that has assisted users in creating movies for social networking. Animoto is a paid web software that can turn numerous pictures, movies, and sound recordings into professional-looking slideshows and marketing videos.
Pros:

Extremely user-friendly.

Clean and polished videos for commercial use.

Ability to create a video without much hassle.

Access to premium video-making features.

Free plan option.

Music and images library.

The vast amount of templates.
Cons:

Individual clips are not editable in this tool.

There are restrictions on the creative front, which make the tool limited.
3. Adobe Spark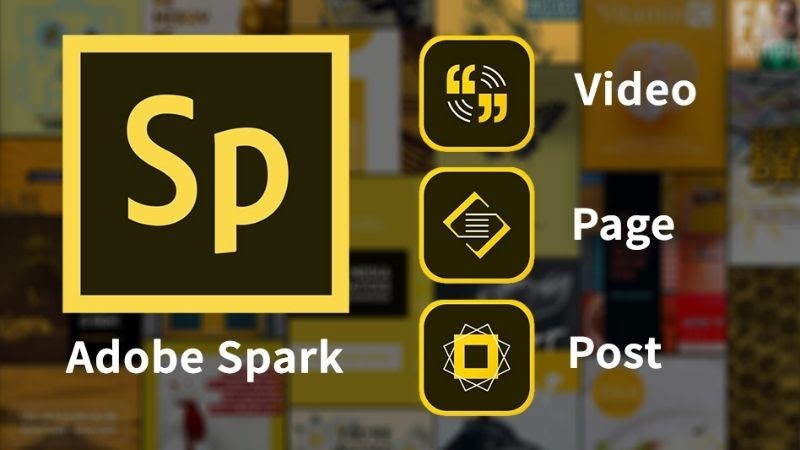 Spark is presented by Adobe as an application that allows users to create visually stunning graphics stories in a matter of minutes: little time, little effort, and a big impact, qualities that are difficult to overcome and that allow users to create high-quality content with as many likes as possible without any design knowledge. With this application, you can make a video from slides, which means you can do everything from slideshows and presentations.
Pros:

Free: there is no premium subscription to pay for.

Spectacular finish for the videos.

Easy to use: just 5 minutes to dominate it.

3 in 1: you can make videos, images, and slideshows.

It helps you by providing royalty-free images and music.
Cons:

You are only allowed to share directly with Facebook and Twitter.

Transitions are focused on telling stories.

It doesn't allow you to enlarge text or photos.

Scarce options to place the text.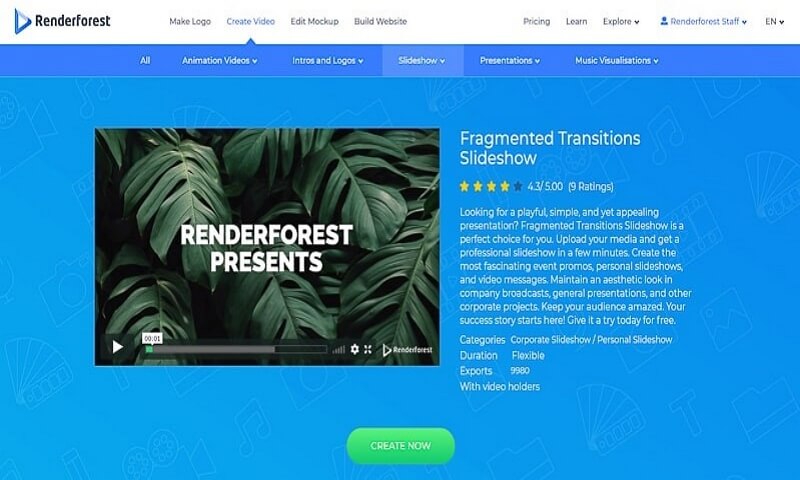 Renderforest is a cloud-based platform that gives you the greatest online branding tools for making professional movies, slideshows, logos, mockups, and social media graphics with Renderforest's premade templates.
Pros:

It is simple and easy to use. In a matter of minutes, you'll have a basic yet high-quality product.

You can import your own images.

Once you're in the editor, select a template and add the images you want, and the program will take care of the rest
Cons:

It does not allow for the incorporation and animation of characters.

The edition is simple; it provides a fixed area in which to place the image and does not allow you to alter it in order to tailor the audiovisual output to our demands.

The library of templates and elements is limited.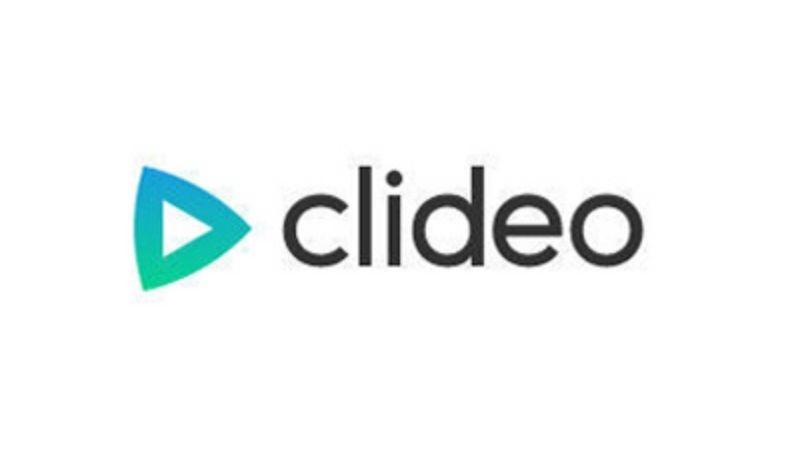 Clideo is a free online movie creator that allows you to combine videos, pictures, GIFs, and music to create a video or slideshow. You won't need to go for a separate program to resize the video because this video maker includes preset resolutions for social media sites including Instagram, Stories, YouTube, and Facebook.
Pros:

Easy-to-use interface

No need to sign up at first

Work with any video, photos, and audio format

Works on any device, such as Mac, Windows computer, iPhone, or Android phone
Cons:

Free video uploads are limited to 500MB.
Part 3: Tips to Make a Shinning Slideshow
After knowing the basic steps to create slideshows with music using both software and online tools, you should know more about tips to make a shining slideshow. Follow these rules, and find out your own way to make your best slideshow.
1. Right theme
Choosing the right theme for your slideshow is the first thing you should do. The topic will partially represent all the content you want to convey to your audience.
2. Right media files and data
The photos and music you choose in your slideshow are almost as essential as the message itself. You want pictures that not only support but also enhance your message. But what are the appropriate photos and data? There is no one-size-fits-all solution to this enigmatic, almost mystical topic, but we can break down several approaches to picture selection that can help you enhance your next slideshow.
The ideal images are:
Relatable

Authentic

Inspirational
3. Pay attention to the layout
The layout is one of the hardest slideshow design concepts to master. If you do not have much experience, you can find help from slideshow templates and use them as a jumping-off point for your own slideshow making, or use them wholesale!
Part 4: The Best Template Video Maker - iMyFone Filme (Window&Mac)
If you are a new designer and looking for a simple and free slideshow maker with music and effects, iMyFone Filme will be your best choice. Developed to minimize design manipulation, iMyFone Filme provides users with tons of beautiful, vivid templates to create stunning slideshows.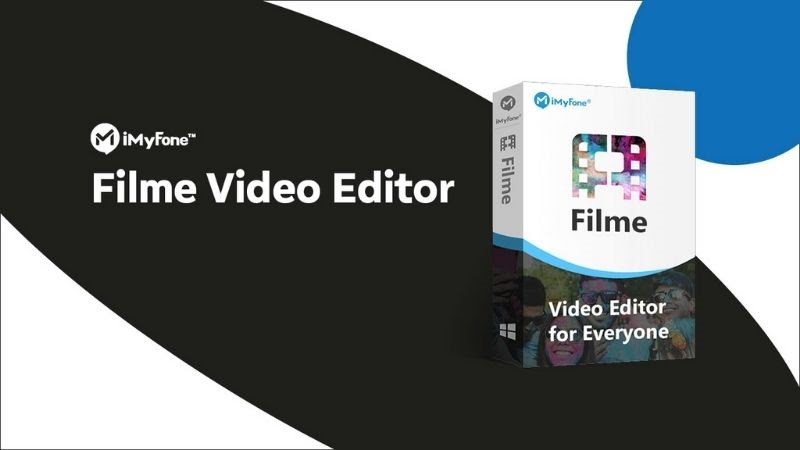 With the support of iMyFone Filme, you can:
Make stunning slideshows with graceful templates within seconds.

Don't need too much design experience because there are many available templates for users to choose from.

Easy to add, adjust music, soundtracks to your slideshow with simple steps.

Tons of design materials to choose from.
Conclusion
Are you ready to make your own incredible free slideshow with music, prepare your photos, soundtracks, and take a proper slideshow maker? iMyFone Filme would be recommended as the fastest and the most convenient software for making a free slideshow with music. Hope through this sharing, you can have all knowledge to make a slideshow to share your moments with your friends and family.