Creating a slideshow with music can make your presentations more attractive. Most importantly, adding music to your slideshows can help catch the attention of your audience. Remember, music can grab the audience's attention in a way even powerful images can't.
Wondering how to create a slideshow with music?
This article provides a step-by-step guide on how you can make slideshows with music. Let's delve right into the article to know more about the steps of creating a slideshow to better hold your audience's attention.
Part 1: Two Methods to Create Slideshow with Music
Method 1: Create with the Slideshow Template – iMyFone Filme
Looking for the best editor to create your slideshows? The choice of editor matters the most when it comes to creating a slideshow with music. All you need is to choose software that works perfectly for your system. In addition, it should offer a range of templates and built-in features to create stunning slideshows with amazing vdieo slideshow ideas.
One such amazing video editor is iMyFone Filme. It offers a range of features to help create informative slideshows. By offering unparalleled functionalities, it refines the slideshow-making process. Furthermore, it allows you to create slideshow with music in easy and simple steps. Whether you're an expert or a newbie, iMyFone Filme is the best software to fulfill your slideshow-making needs.
All-sided Steps to Create Slideshow with Music
Here's how you can create beautiful slideshows with iMyFone Filme.
Step # 1 – Click on the Fast Video
Want to create a fast slideshow with music on instagram? You can take advantage of Filme's Fast Video Mode option to create eye-catching slideshows. On the top toolbar, you need to click on the Fast Video logo.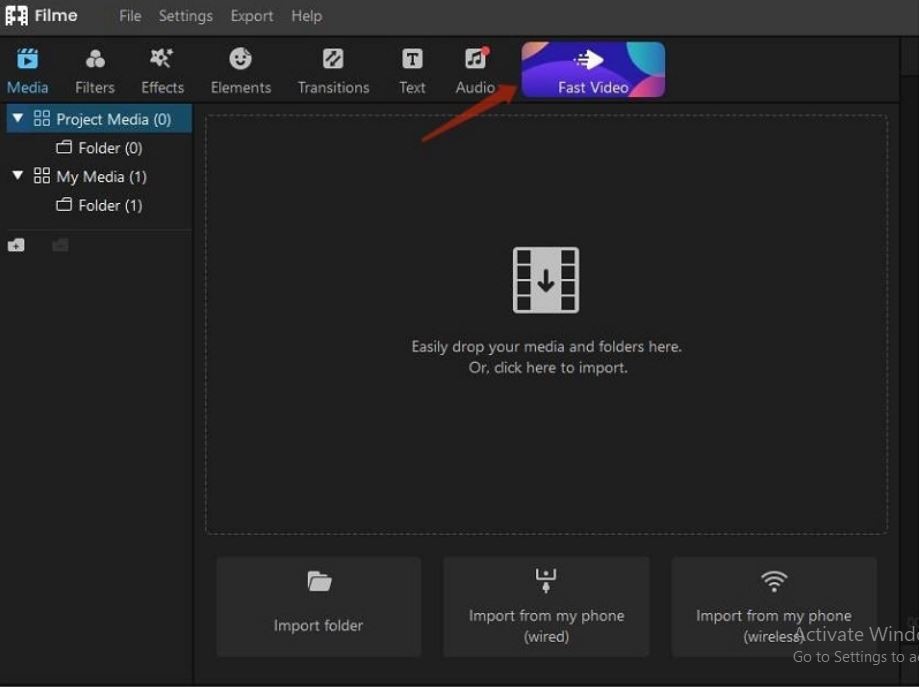 Step # 2 – Choose the Template
A new window will pop up where you have to select the right template. Make sure the template you choose suits your subject.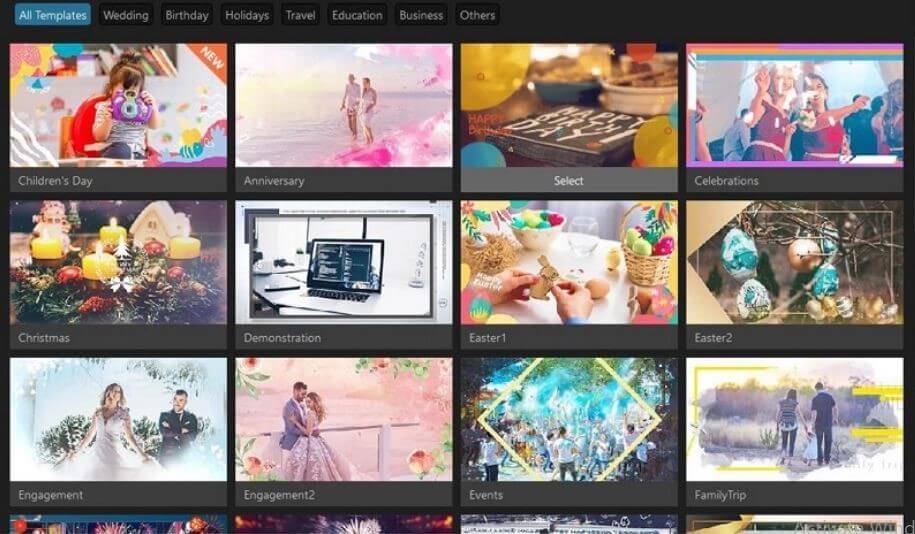 Step # 3 – Import Your Picture and Preview
Once you have selected the template, it is the right time to import your media files. Go to Add Your Media and tap on the import folder. Your images and videos will appear in the library. After that, all you need is to press the "+" button to add your media files. Filme allows you to place your images and videos in the grid.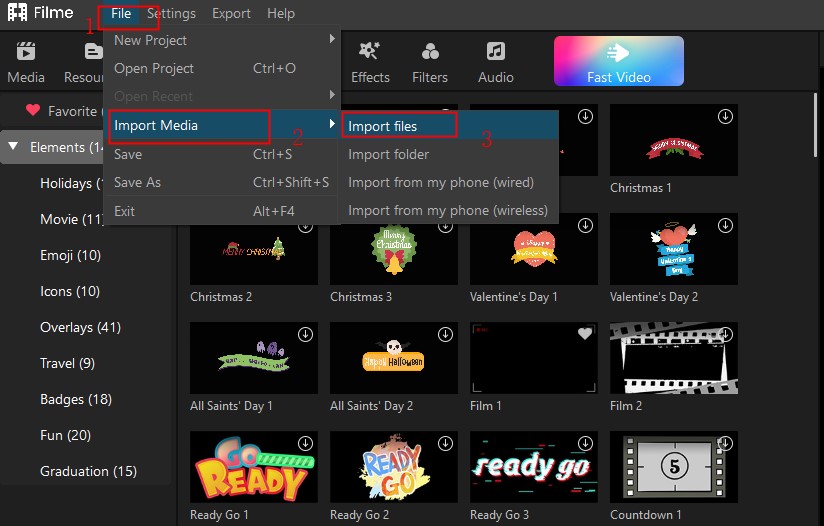 Step # 4 – Change the Sound and Text
After importing your media files, you can add music to your slideshow. Filme lets you create slideshow with music free. Press the music option on the top toolbar. As a result, you can choose your favorite music track. Most importantly, the software lets you adjust the timing of your track according to your slideshow needs.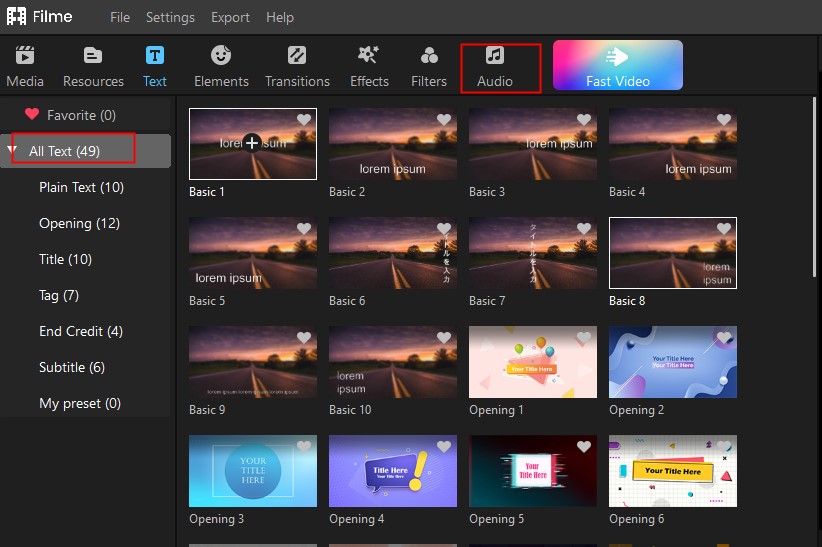 Step # 5 – Preview and Export
Till this point, you have already created a slideshow and added your favorite music. Now, all you have is to preview your slideshow and export it. Click on the Preview button at the bottom toolbar. After that, you can export your video by clicking on the Export button.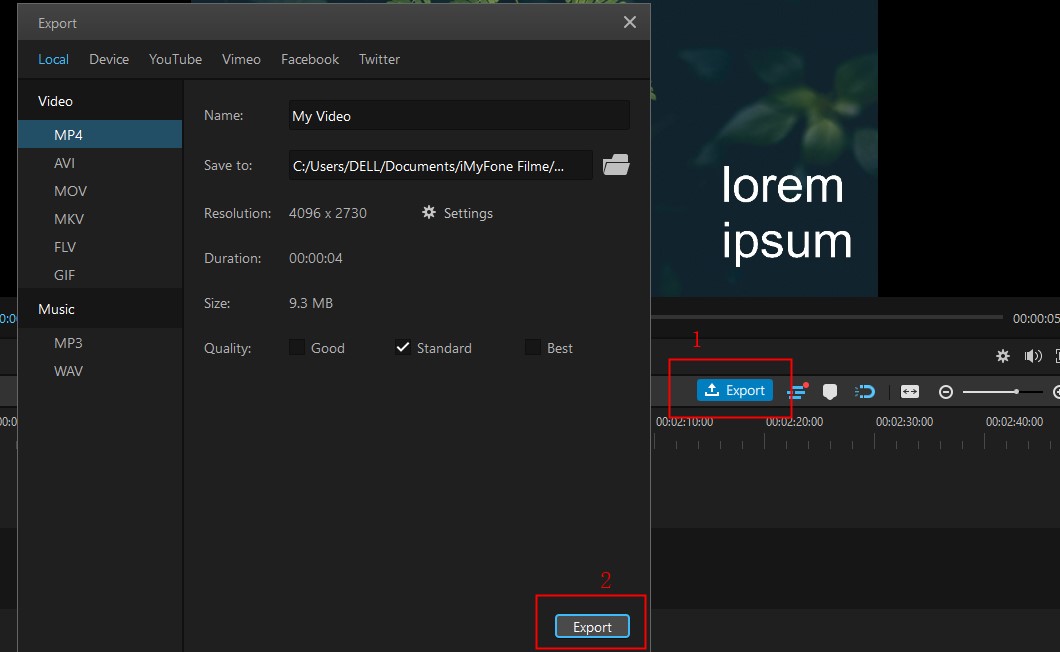 Key Features
What makes Filme the best editor out there? It comes up with some amazing features to make your slideshows eye-catching. There are lots of built-in features that can help customize your videos. Let's take a look at some of those features.
Stunning Templates: Filme offers a huge collection of beautiful templates to create slideshows. You can choose a template that suits your presentation needs.

Fast Video Mode: Here comes another key feature of Filme. With Fast Video Mode, you can make slideshows to captivate your audience.

Abundant Resources: Lots of resources are out there to make beautiful slideshows, such as transitions, animations, filters, effects, and much more.
Method 2: Create with Slideshow Maker
Follow a step-by-step guide on how to create an informative presentation with a slideshow maker.
1. Create a New Project with Slideshow Maker
In the first step, you need to click on the "+" button to create a new project. You can either select a preloaded story structure or create a new one.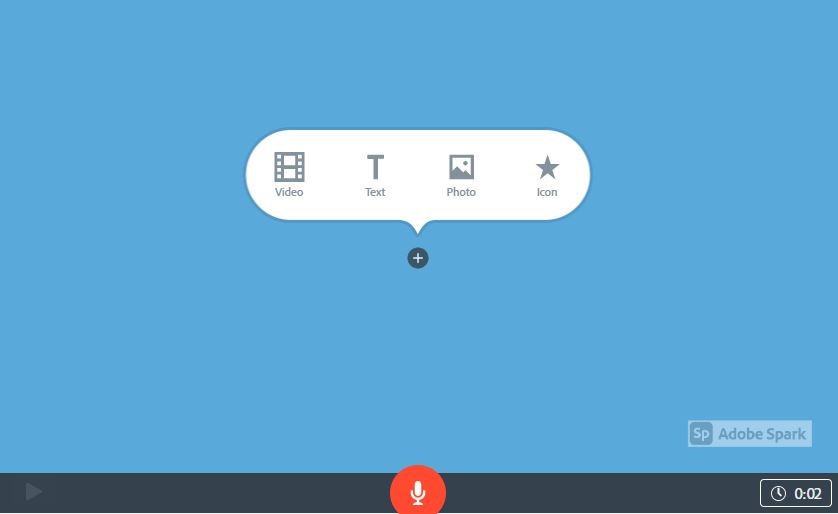 2. Add Media to the Slides
Make sure to add your media files, such as images and videos. The slideshow maker offers free photos within the software. So, you can use those photos or import your own. Most importantly, use short video clips to make your slideshows appealing.
3. Select Pre-designed Layouts
From the Layouts tab, you can choose your favorite pre-designed layout for your media files.
4. Use Text to Communicate Effectively
Undoubtedly, on-screen texts carry your message in a more professional way. For this reason, you need to use text to convey your message or key information. Apart from that, click on the red button to add your voiceover.
5. Publish and Share
Once you have created your slideshow, now is the time to publish or share it. In addition, you can save your slideshow to your device without any hassle. Also, the slideshow maker allows you to share your videos on your social media platforms.
Part 2: Practical Skills to Create your Slideshow with Music More Attractive
Want to create photo slideshow with music? Here's how you can make your slideshows more attractive:
1. Control the Number of Words (Add visuals)
There's nothing wrong with adding a few words on your slideshows. But, the major part of your slideshow should comprise visuals. With visuals, you can make your slideshows more appealing. If you want to add text to your videos, select the "All Texts" option to select the most suitable word format.

2. Basic Edit on Your Videos
Basic editing on the videos is one of the most vital practical skills to create slideshows. Therefore, make sure to crop, split, or resize your media files using iMyFone Filme. Go to the Timeline and select your media files to do basic editing on your videos.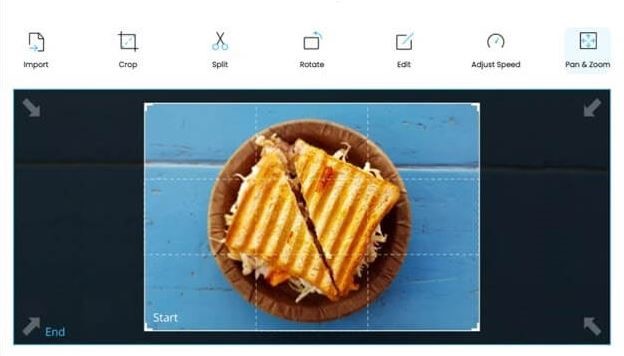 3. Add Filters
Want to apply filter effects on your slideshows? Start by uploading your media files on the timeline. After that, click on the Filters option to choose your favorite one. It will automatically apply to your media files.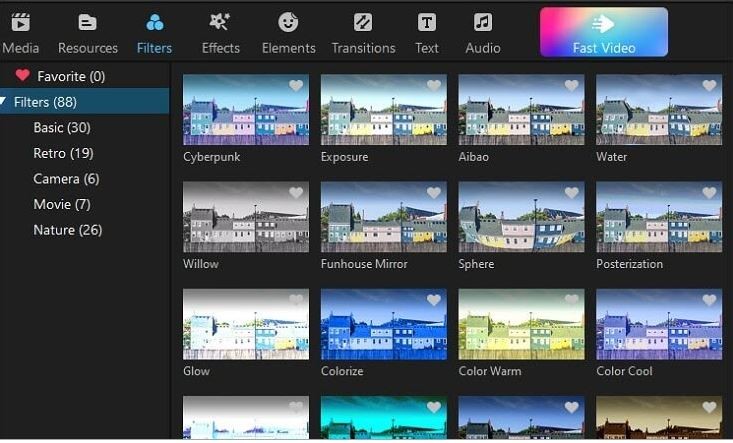 4. Add Transition and Animation
Adding transitions and animations is a great way to beautify your slideshows. After importing your media files, you can apply transition effects between them. You can find the Transition option at the left panel of your screen. Likewise, iMyFone Filme comes up with a huge collection of animations.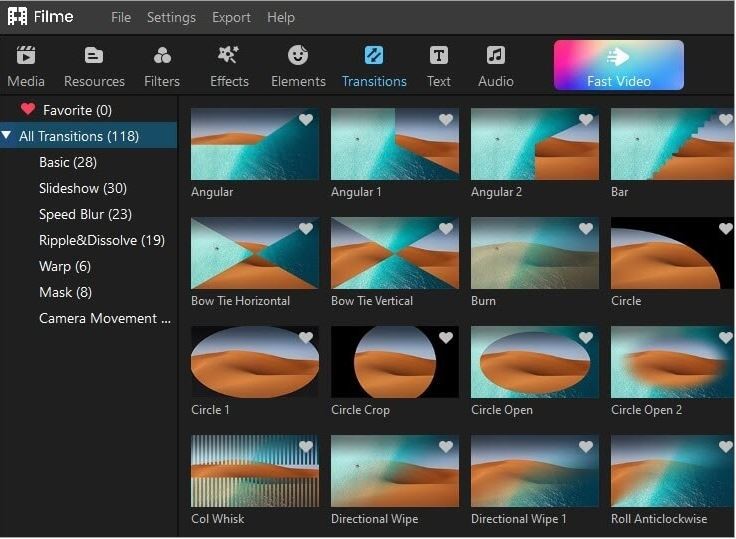 Part 3: Indispensable Tips to Optimize your Presentation with Slideshow
Many people often ask, "How to create a picture slideshow with music?"
In this section, we present to you some vital tips to create a beautiful slideshow and optimize your presentation.
Tip # 1 – Decide on the Objective of Your Presentation
Firstly, you must clear the objective of your presentation. Determine if you want to create an informative or persuasive presentation. Business presentations tend to inform the audience or persuade them to take some action. Therefore, you should keep your audience in mind while creating a slideshow.
Tip # 2 – Know Your Audience
Knowing your audience is as important as deciding on the goal of your presentation. Consider who your audience really is? What do you expect your audience to do at the end of the presentation? Answering these questions can help create beautiful, engaging slideshows.
Tip # 3 – Storytelling to Keep Audience Attention
Most importantly, you should grab your audience's attention. It is only possible when you create slideshow with music in a way as it tells a story to your audience. Therefore, it's better to conduct thorough research about your audience. Know where your audience stands now and how can you move them to the desired point at the end of your presentation.
Make sure to have a well-structured presentation. Start with creating an outline for your presentation. It will help ensure the content of your presentation matches your audience's needs and preferences.
Tip # 4 – Use Bullet Points
Bullet points can help deliver your key idea effectively. Most importantly, it is a good practice to use bullet points instead of cluttered paragraphs. In addition, avoid putting too much information on your slides when using bullet points. Add simple and shorter sentences that are easy to understand. Follow the 6 by 6 guidelines – each bullet should not have more than 6 words and each slide doesn't exceed more than 6 bullet points.
Tip # 5 – Practice, Practice, and Practice
The last but not least, you should be well prepared before appearing in front of your audience. Do you know what it takes to deliver an effective presentation? All it takes is practice. For this reason, make sure to rehearse your presentation so you will feel comfortable when speaking in front of your audience. All you need is to practice your presentation instead of memorizing it.
Conclusion
Hopefully, this article is a perfect match to your question, "how to create a slideshow with music?" The best video editor like Filme can help you create eye-catching yet informative slideshows to keep your audience engaged. It has a huge collection of beautiful templates. Also, there are some key features that can help make the slideshow-making process a breeze.