Technology has indeed made things more accessible and more exciting than before. Take making a slideshow, for example. Can you imagine working with Microsoft Powerpoint today to create slideshows with those 10-15 transitions and not-so-amazing sounds? The good thing is that you won't have to compromise with the quality and diversity of making a slideshow.
Today we have access to some of the best slideshow apps with music. That's not it; these mobile applications are super easy to use. They have an intuitive interface and bring life to the images and content added to the slideshow. If you are also undecided about which is the best free slideshow app with music, this article is for you.
Part 1: Best Slideshow Makers for Beginners on Mac and Windows
Before moving to knowing the best free app to make a slideshow, let's check out a desktop-based software meant for making slideshows in Windows and Mac software. iMyfone Filme is a professional yet easy-to-use video editor and slideshow maker giving you access to basic and advanced editing tools along with pre-built slideshow templates.
Filme has hundreds of transitions, effects, texts, and graphic options to create bespoke slideshows suitable for all purposes and objectives. There are inbuilt image editing options and the option to add audio files to the slideshow background. If that's not all, you can also add images and audio files from your disk drive and mobile.
Storytelling has changed in the modern world. We have transitioned to a world where digital storytelling is the new normal. Creating such stories with Filme is super easy. With the desktop version of the software, you can work on the minute image details to make it look even better.
The software gives access to a pro-level timeline to make adjustments to the transitions, effects, audio, and other graphics, ensuring that they hit the right spot. Before we forget, all of these features are accessible for free. Eager to explore all the amazing slideshow making features with Filme, check out this YouTube video.
Also read:
2 Ways to Create a Photo Slideshow on iPhone
Best Ways to Create Photo Slideshow Video for Anniversary Party
Part 2: Best 10 Slideshow Apps with Music for iOS and Android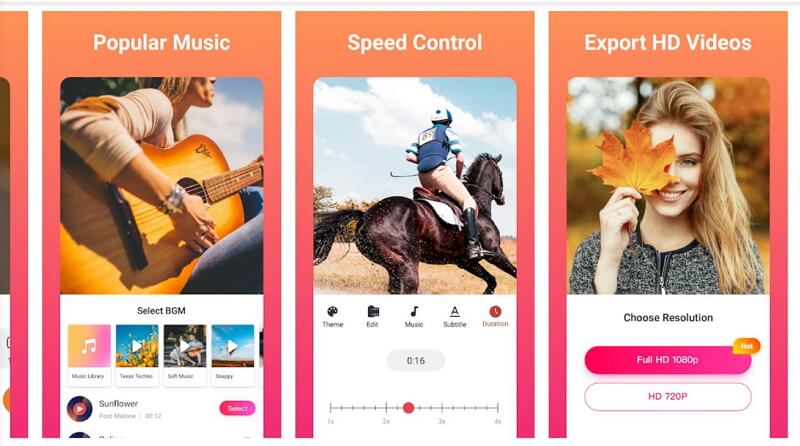 The best thing about SlidePlus is its ease of use. You don't need to learn any sort of editing skills and can create high-quality slideshows quickly. Not only for creating, but SlidePlus also has different sharing options to ensure rapid sharing with friends and family.
Another reason why SlidePlus is the best slideshow maker free app is the availability of the themes. There are over 100 themes that you can use to create slideshows, and these are added with relevant music. So, all you have to do is add images.
Pros:

100+ themes

Add images from social media

Automatic editing tools
Cons:

3-days free trial

Can only add 25 images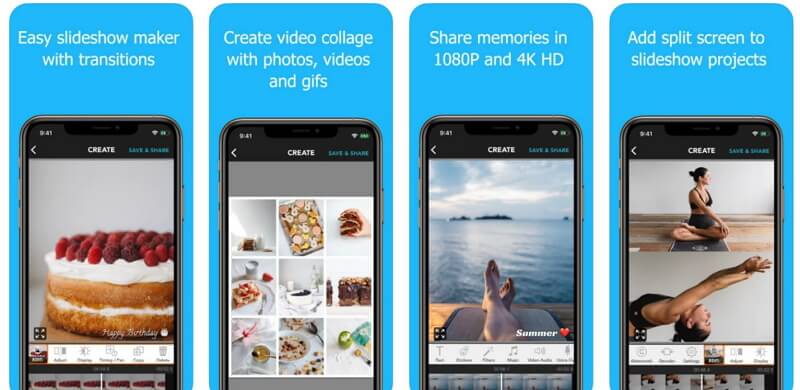 Who would say that putting together pictures, adding music, and effects is not fun, especially after using PicPlayPost? Nobody! As one of the best slideshow app with music, PicPlayPost is a user-friendly portal built to help you make stunning slideshows.
Unlike other applications that you might be using, PicPlayPost offers high-resolution output for slideshows. This makes it a better choice for making professional slideshows and business presentations.
Pros:

Easy to use

Wide gamut of effects

Project-based output
Cons:

Output files have a watermark

Less choice of music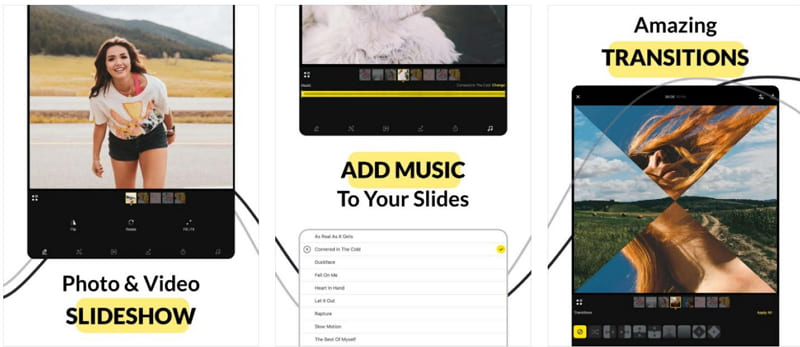 If you want to create an Instagram-worthy slideshow and get the most likes, SlideLab is the answer. Even though you will get limited abilities with the free version, it is more than enough to create incredible slideshows. That is why we have listed it on the best slideshow with music app.
SlideLab gives several editing features that include rearranging the images, and it also supports different formats for images. As for the sharing part is concerned, you can upload the slideshow directly to YouTube, Instagram, or Facebook.
Pros:

Editor with professional abilities

Different upload options

Comes with preset music
Cons:

Each image can run only for 3 seconds

High cost to remove watermarks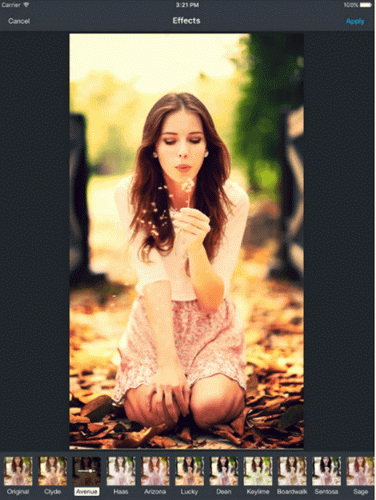 PicFlow offers what most of the best free app to make a slideshow do not have, the ability to edit the image timings. Apart from this, you can also rearrange the pictures to ensure a proper flow and create stunning slideshows with only a few clicks.
When it comes to adding music, PicFlow has a good library of tracks for the slideshow background. Apart from this, you can also import the music files from iPod to play in the background.
Pros:

Drag photos and adjust the timing

Up to 18 transitions

Export to drive or share on Facebook
Cons:

Limited options with the free version

Low video quality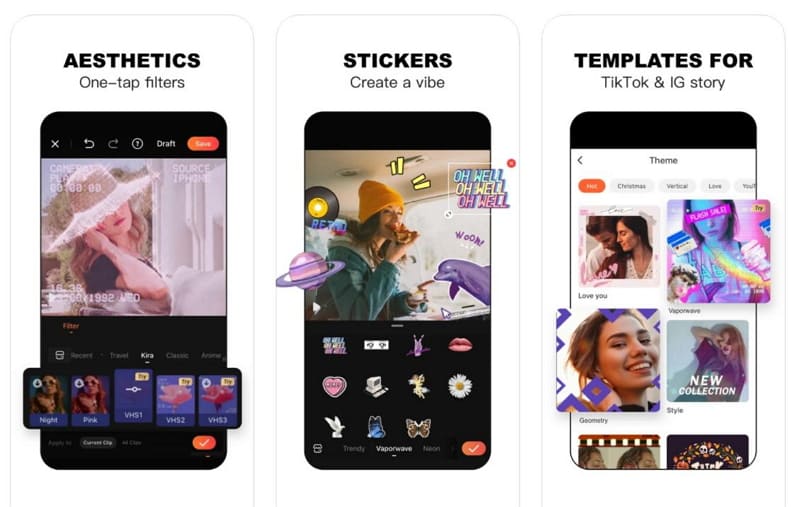 If you are looking for a mobile application to make a slideshow with beautiful visual effects, this is the one. VivaVideo has quickly become one of the most popular mobile apps to make free slideshows.
The application has a Pro mode and a Quick mode on top of the transitions and sound effects. Depending on your requirements, you can choose the quick mode for add-select-create slideshow or use the pro mode to edit the images and transitions for better results.
Pros:

Automates the slideshow making

Gives more flexibility with pro mode

Auto-save edits
Cons:

Watermark with free version

In-app ads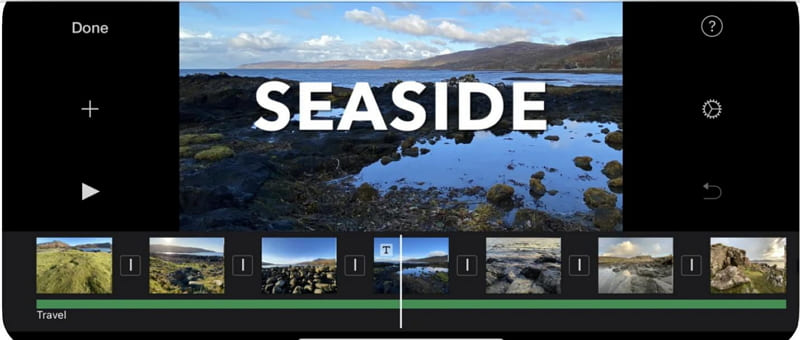 Well, as the name suggests, this is another one of the best slideshow apps with music free compatible with iOS devices. If and when you will use the app, one thing that will stand out is the number of features available for making a slideshow and bespoke videos.
However, the Android users may not have access to the app, which is a demerit too, but the iPhone users will feel elated to use the iMovie application. It offers a ton of themes, transitions, and background music for making the perfect slideshow.
Pros:

Changeable audio for every picture

Wide range of effects and transitions

Movie-based themes
Cons:

Editing tools are a bit rigid

Not beginner-friendly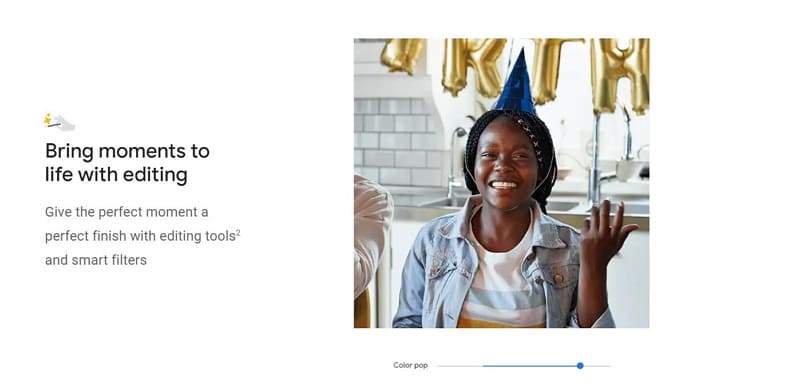 Wondering why Google is even on the list? Well, combined with Google Photos, you can make high-quality slideshows with Google too. The slideshow feature is accessible within the Google Photos interface, and yes, it is indeed the best slideshow maker free app for both Android and iOS devices.
Apart from this, with Google Photos Slideshow maker, you can also set the time for every image and also rearrange them as required. Added to this, there is a long list of music to choose from that will run in the slideshow background.
Pros:

Great features for zero cost

Wide variety of music files

Easy to use
Cons:

There are no special effects

Selecting and adding photos becomes a challenge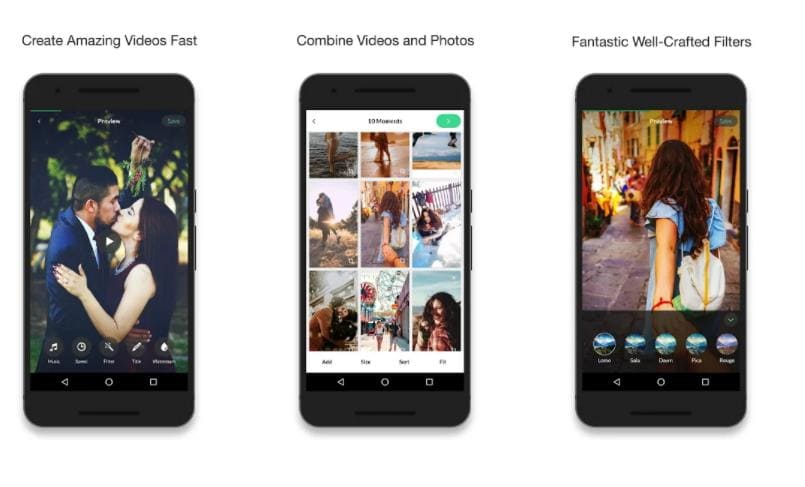 If you are looking for a quick and efficient slideshow maker application for Android phones, PIXGRAM should be on the top. The application is quite easy to use, making it one of the best slideshow app for Android, free for beginners.
You can add images directly from the device, add music, filters, and the required effects to create a slideshow video. The slideshow is also easy to share with friends, family, and everyone in the world.
Pros:

Ability to save the slideshow in different sizes

Several image and video filters

Beginner-friendly
Cons:

No internal music files

Built for simple slideshow, no pro editing tools.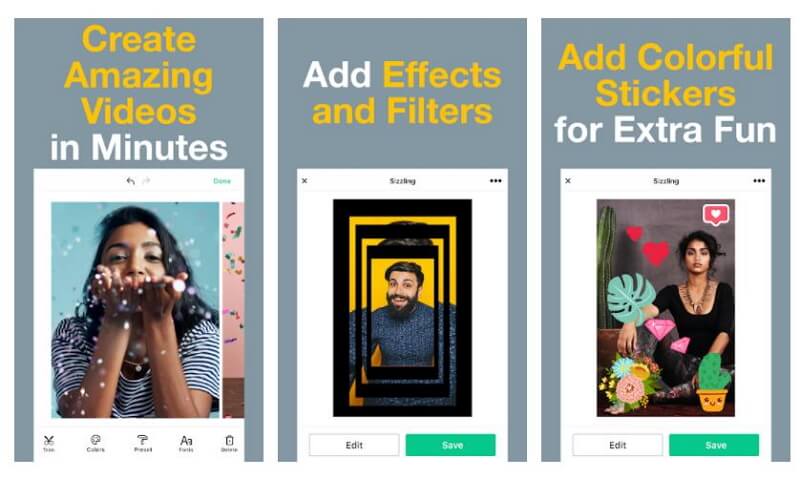 Another one of the best free slideshow app with music, Magisto is available for Android and iPhone devices. Using it is as simple as selecting the right music, add themes, images, and finalize the slideshow.
Another great thing about Magisto is that you can choose from a great volume of licensed songs and music tracks to play in the background. Also, Magisto's editing and effect adding tools are powered by artificial intelligence, enhancing the entire experience.
Pros:

Automatic slideshow making

More than 100 templates

Easy to add effects, texts, and graphics
Cons:

Better features are with paid version

Watermarked output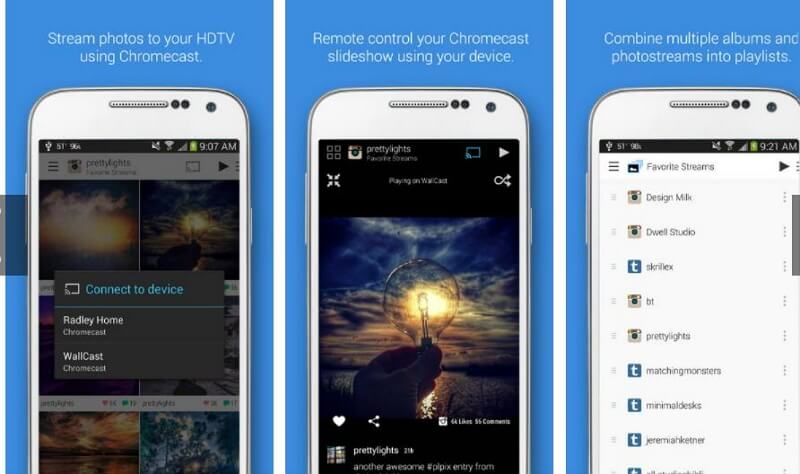 Dayframe is the right choice for the best slideshow app for Android free. It is built for the more advanced users who want to bring life into the slideshows with their editing skills. Because it is built for pro users, there are a ton of features available for use that can help create bespoke outcomes.
Apart from the editing features, Dayframe is also known for its intuitive interface. So, if you want to use it as a beginner, you won't find much difficulty in working with the application.
Pros:

Offline usage

Incredible slideshow maker

It's easy to share the slideshows
Cons:

The interface is a bit dull

Music choice is standard
Conclusion
Making slideshows is all about creating magic with simple images and making them look more attractive as well as interactive. The best slideshow apps with music that you have seen above will help you create bespoke media files replete with transitions, effects, and graphics.
If you want your imagination to flow smoothly and create amazing slideshows, you should use Filme. With its features and functions, Filme lets you create beautiful slideshows covering every sort of purpose or requirement. We have made your choice easier when choosing the best slideshow maker free app, now get on with it and create some stunning slideshows quickly.