Most people are spending much of their time on YouTube and Facebook, signifying that the two platforms are great for products marketing. If you would want to market your business on the platforms too, slideshow videos might be the right choice.Slideshow videos allow your target audience to view curated photo galleries without scrolling through thumbnails or clicking on individual images.
They also allow the placement of music or narration over the photos to enhance the experience. To make the slideshows, you will need the best free slideshow maker with music tools. Follows are the tools you need.
Part 1: How to Make a Slideshow with Music and Pictures (Window & Mac)
Instead of the slideshow, video is better to present. If you are worried to the complexed edit step, iMyFone Filme should be your top choice tool when making your slideshow videos. iMyFone Filme is a user-friendly software tool designed to help you make beautiful slideshow videos for business or school projects. When creating the slideshows, you can fade, cut, crop, add music, and add many other effects. Even though most of the edits may seem unnecessary, they will make your presentations catch and also retain the attention of your audience.
Key Features
Offers many templates to allow the making of slideshow videos in different styles

Offers a Fast Video mode to help you create your slideshow presentation videos in a faster way

Abundant effects and resources for editing, such as animations, transitions, filters, and titles

Add texts of various styles to make your slide show attractive

Allows mixing of photos, videos, and music in one slideshow video
Steps to Make Slideshow with Filme
Making a slideshow video with iMyFone Filme is easy, particularly when using the offered templates. Here are the simple steps you should follow to complete the process smoothly.
Step 1: Click on the "Fast Video"
This is the quickest method of creating a slideshow video with the iMyFone Filme tool. To make your slideshow video with music, click on the "Fast Video" logo situated on the top toolbar.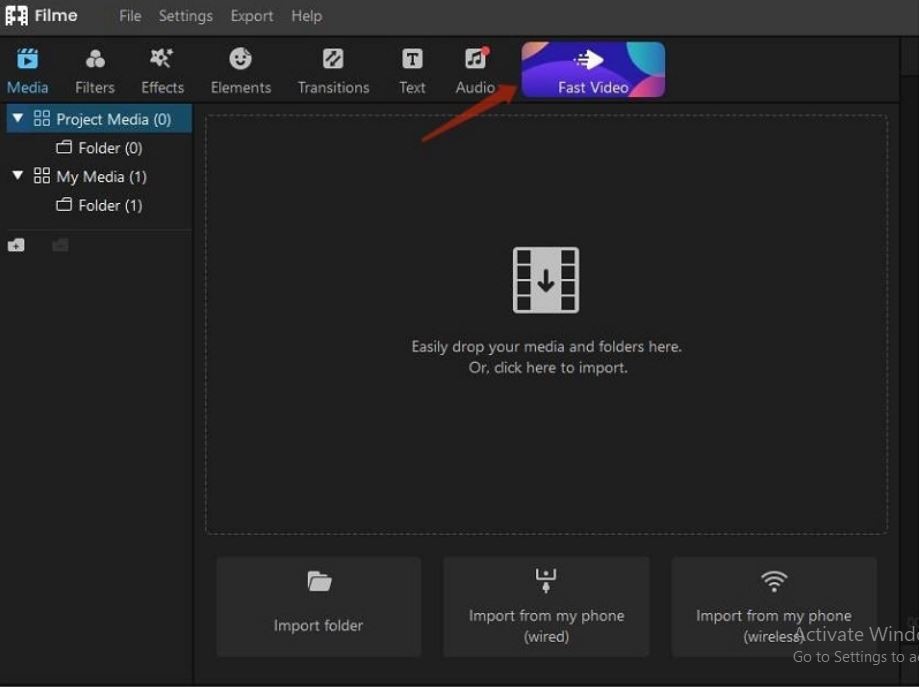 Step 2: Choose the Template
On the menu that pops up, choose a template and click the "Add Your Media" button. That will display the option to import your media into the system.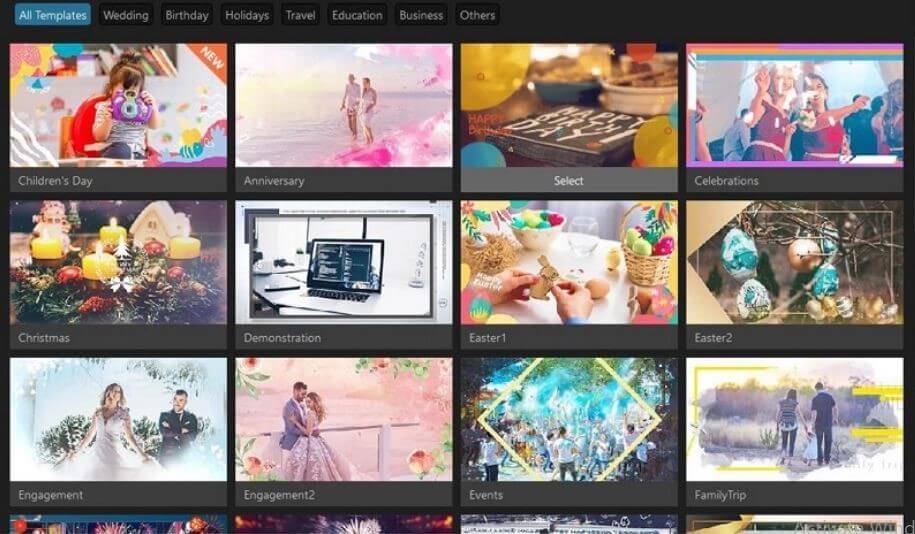 Step 3: Import Your Picture and Preview
After choosing the media and importing it onto the iMyFone Filme successfully, click on the "Preview" button situated near the right bottom corner to preview your slideshow.
Step 4: Add Music to the Slideshow
To add the music, click on the "Music" sign situated on the top toolbar. Choose the music track you want to add and click to add it. You can extend it or move it around as much as you want.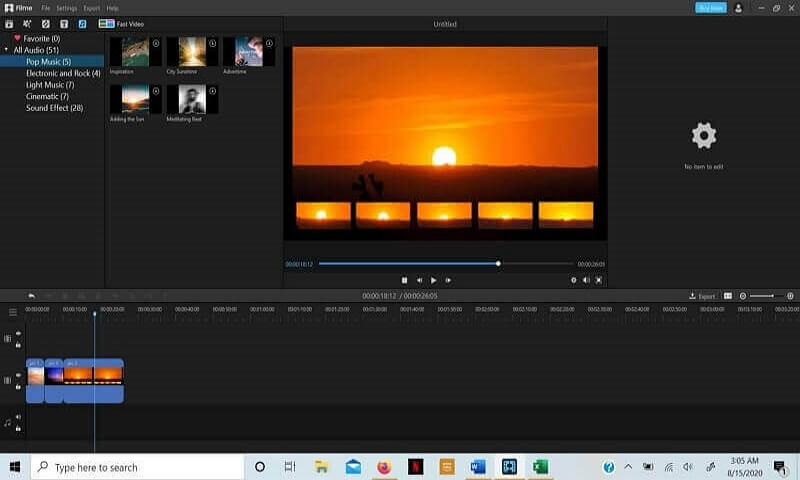 Step 5: Preview and Export
At this stage, your slideshow video should be ready. Click on the "Preview" button near the bottom right and ensure it is how you want it. You can share it or save it on your desktop computer by clicking on the "Export" button and choosing where you would want to store it.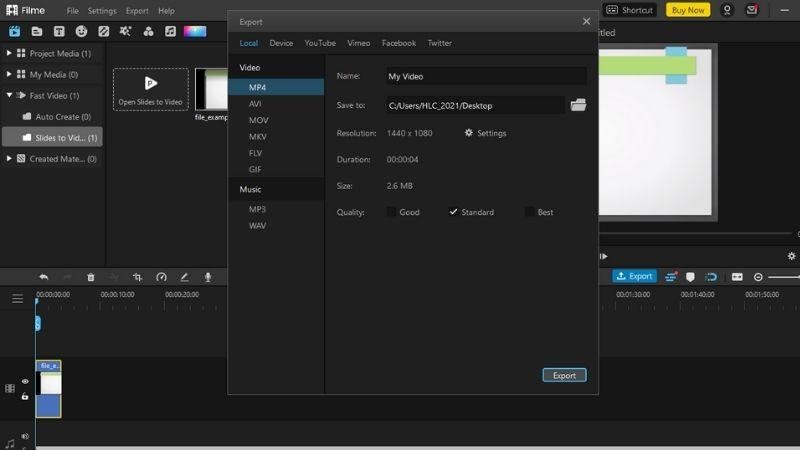 Part 2: Top 5 Free Slideshow APPs with Music for iPhone
The internet offers many free slideshow with music apps for iPhone to help you create the best slideshow videos for your marketing campaigns, school projects, or sharing with your relatives and friends. With the apps, you can create great slideshows that include transition effects, texts, music, and sounds without the need for any design skills. Here are some of the best tools to try.
FilmoraGo is among the slideshow maker apps with music for iPhone that offer a customizable platform with a friendly user interface. It allows easier cutting of videos and the users can apply filters over their content with many ready-made themes. The free slideshow app with music has received high attention from users recently because of its development tools and professional setup.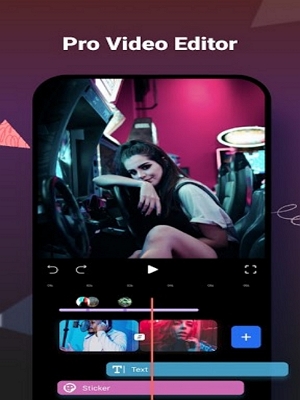 Pros:

-Offers a large collection of themes

-Offers many cool effects such as slow-motion, reverse, and fast motion

-Allows easier sharing of slideshow videos on social media platforms
Cons:

-Can be unstable at times
This is another great app that will help you make as many slideshow videos with music as you would want. SlideLab can transform your pictures into beautiful videos within minutes. After that, you can save the videos on your mobile phone or share them on social media platforms. Its many unique features have made it popular.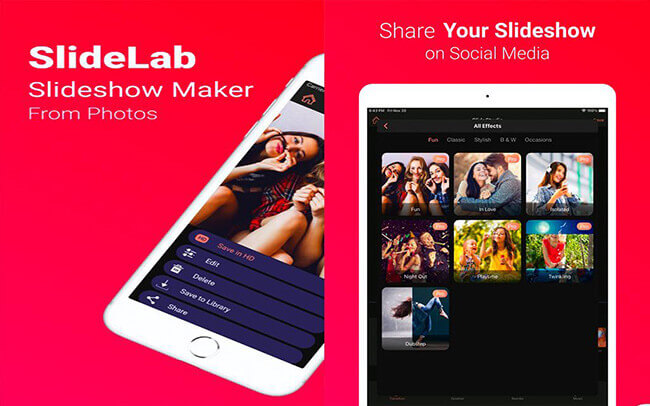 Pros:

-Allows you to use the music from your device or that on the app

-Allows you to use photos without changing the original size

-It adjusts Instagram and Vine automatically
Cons:

-You cannot use the music from iTunes when sharing your videos on Instagram or Facebook
3. Pic Music
Pic Music offers many great options for slideshow video creators. First, it does not take much space on your device because it only weighs 28.5 MB. Secondly, it runs perfectly, and the navigation is convenient. Thirdly, the free slideshow app with music comes with a built-in editor so that you can control the duration of every photo and add the music to video. You will also love its stylish design.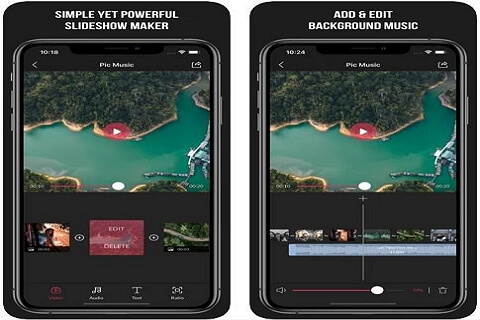 Pros:

-It has a beautiful design

-The navigation is smooth

-It does not take much space on the mobile device.
Cons:

-It puts a watermark on the slideshow video
Even though it might not be as popular as the other slideshow video makers, Slideshow Video Maker provides many templates to allow customizing of photos and create interesting slideshows out of them. It also allows you to upload and store your photos easily and later browse them. You can toggle shuffle them to find what you want. Furthermore, the auto-update photo widget will add new photos automatically.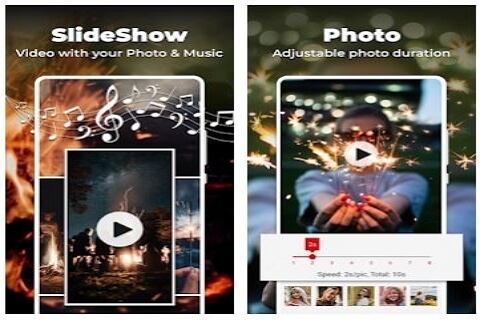 Pros:

-Intuitive user-interface

Easier uploading and searching for photos

-Fast editing features
Cons:

-It allows you to include 8 photos per slide

-Only supports JPG and PNG photo input
This slideshow maker auto-generates slideshows from photos in minutes. It offers many customization options that come in the form of colors, audio, and layout to help people create personal and marketing slideshow videos easily. Furthermore, it is ideal for both experienced and amateur video makers.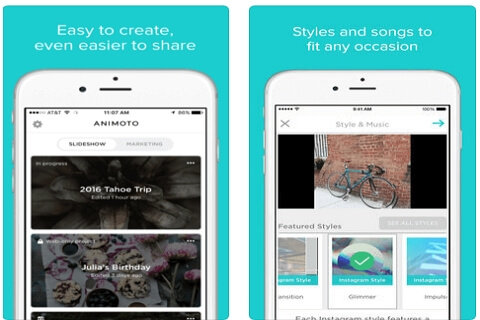 Pros:

-It is ideal for both experienced and newbie slideshow video creators

-It is affordable and comes with a free trial

-You can use it on both Android and iPhone devices
Cons:

-All videos come with a watermark
Part 3: 5 Best Free Photo Slideshow Makers
The creation of slideshow videos on a desktop computer is easy but you have to use the right tools. Here are the best free photo slideshow makers to use on your computer device.
MiniTool MovieMaker was released recently and it is a good choice for Windows 10/8/7 users. It will help you create photo slideshows fast and easily without worrying about watermarks. It comes free on Windows PCs but only offers basic features, signifying that it is a good choice for the newbie editors. Each of the offered templates is pre-designed with ready-made titles and effects along with a series of placeholders.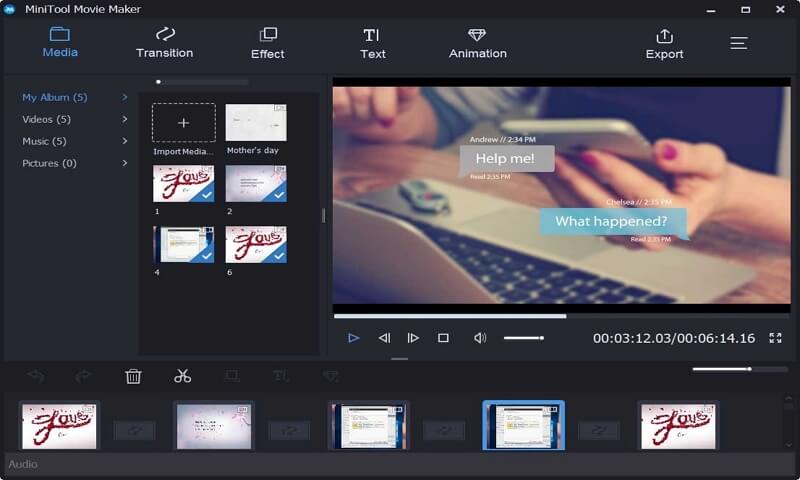 Pros:

The free slideshow with musiccreator is free and easy to use

It provides many transition choices

It offers movie templates to facilitate easier creation of beautiful slideshows
Cons:

It does not support screen recording
Windows MovieMaker is among the tools that Microsoft has discontinued. This video editing software can create and edit photo slideshows and publish them on Facebook, OneDrive, YouTube, Vimeo, Flickr, and other platforms. Even more, the free slideshow maker with music allows users to convert their clips with digital movies with transitions, titles, effects, and background music. It has a simple user interface, something that makes it a good choice for beginners.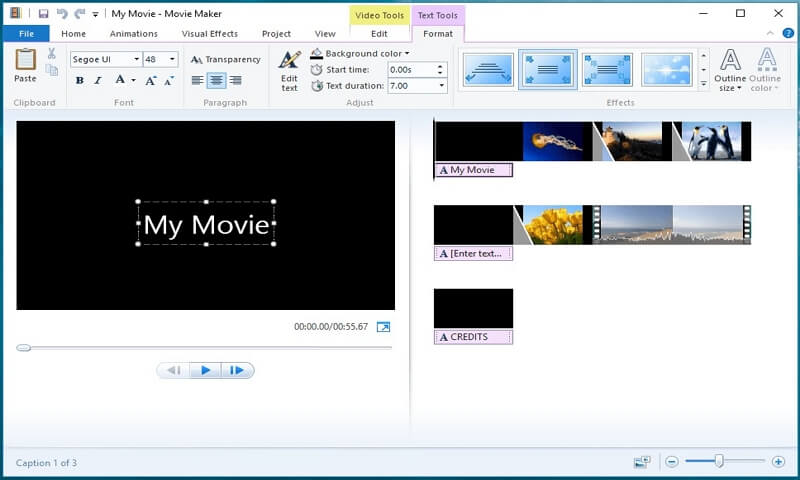 Pros:

Provides voiceovers and many other audio features

The interface has simple video editor timeline versions

You can preview the transitions, effects, and themes automatically
Cons:

It was discontinued in 2017

It cannot change saturation, contrast, and effects
Movavi Slideshow Maker allows people to create slideshow videos on their Mac and Windows computers. The free slideshow maker with music and effects comes with many tools that allow polishing of the photos and the addition of enhancements to the projects. You will have 105 professional-looking and classy transition effects to use. However, it does not provide any themes or backgrounds.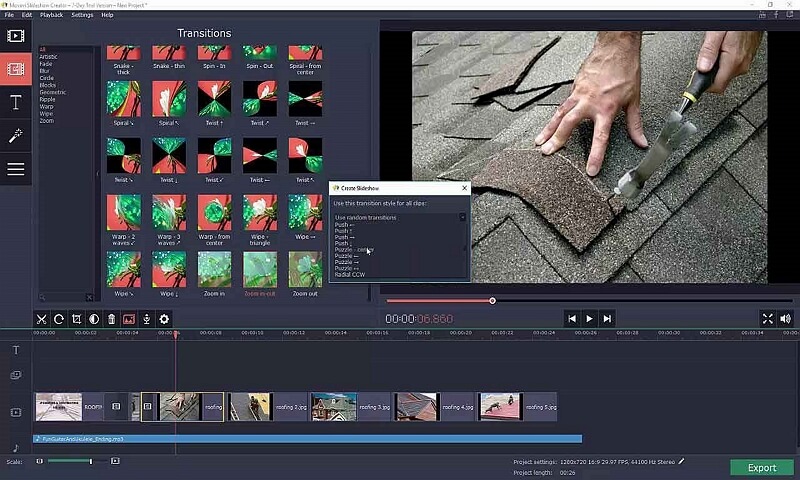 Pros:

It is compatible with Mac devices

Allows capturing of the screen
Cons:

It does not allow posting of projects directly to Facebook, Twitter, or Email
Icecream Slideshow Maker is among the easy-to-use photo slideshow makers that allow users to add multiple audio files in one slideshow. It also allows the addition of text for every slide and you can preview the slideshow before sharing. By using it, you can save a slideshow and resume the created files from the offered History panel. After creating a slideshow, you can upload it to Google Drive, YouTube, and Dropbox immediately.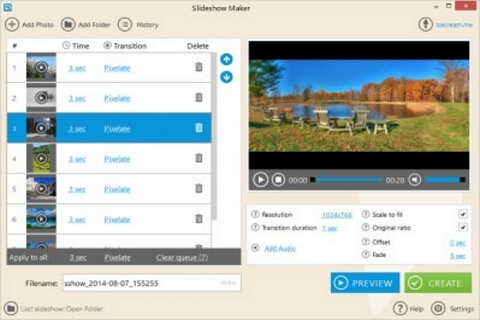 Pros:

It provides online support

Allows saving of video projects

You can get back to a project and edit it if a need to improve it arises
Cons:

It limits the output formats to MOV, AVI, MP4, and AVI

The trial edition allows the addition of 20 photos per slideshow and the output format is WEBM
5. Proshow Gold
Proshow Gold is a good choice for both inexperienced and professional photographers. The free slideshow video maker with music and effects provides a sizeable library of t transitions, effects, and backgrounds to help photographers showcase their videos and images in a better way. It will pop up a ProShow Wizard after opening it to help you make your first slideshow.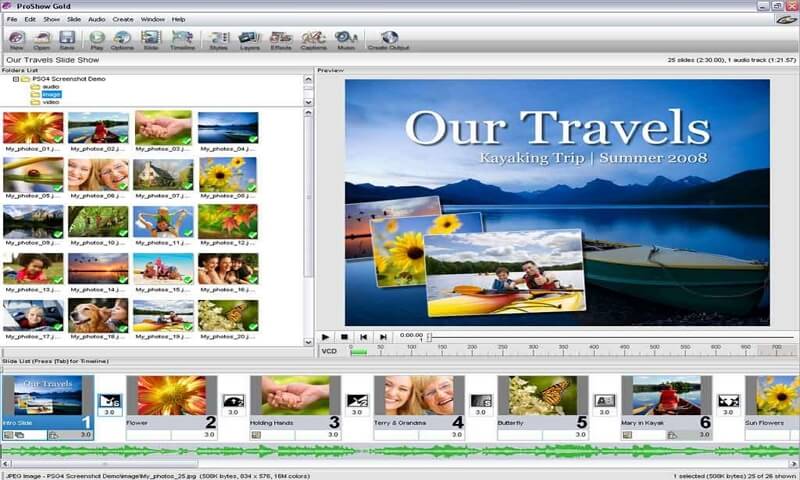 Pros:

Options many options for video creation

Works as a video editing platform
Cons:

Has no music generator
Part 4: Top 5 Slideshow Templates Makers
Nothing is as simple as creating an impressive slideshow video after choosing the best slideshow maker with templates. Most of the tools are designed to simplify the work and help you create the slideshows fast. Here are the top five tools to try.
This free slideshow maker with a music tool is designed to help you create online slideshows that are no different from professional ones. It offers a large collection of assets and templates that you can use in your various design projects. Besides, you do not need any special skills to use it. All you need to do is choose the design size, the template, and add your media files from the Canva library or upload them, and set the colors.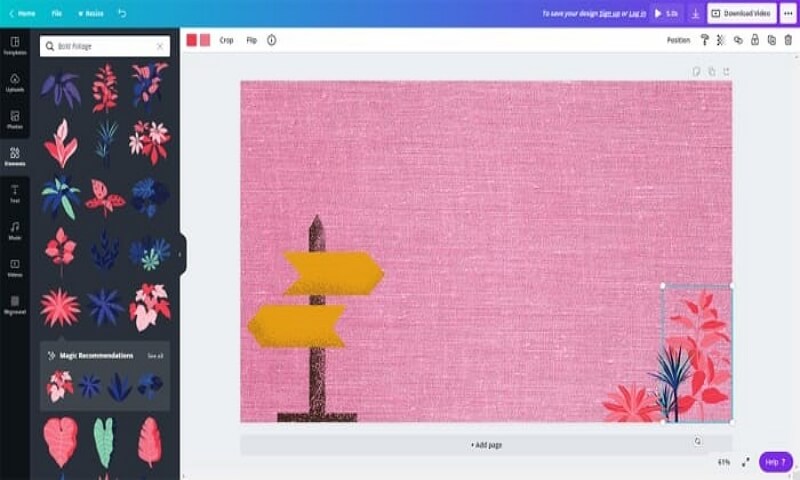 Pros:

Numerous free graphics

Easy user interface

No watermarks

Audio/video and embed media support
Cons:

Resizing is paid

Transparent background is paid
Renderforest is another great online free slideshow with music makers ideal for Instagram bloggers. It allows you to create impressive insta stories with help of the offered templates. After opening the slideshow video maker, you will have to choose a template and customize it with the uploaded assets or choose something from the Renderforest's library. Renderforest allows you to add voice records, 3D graphics and set up transitions.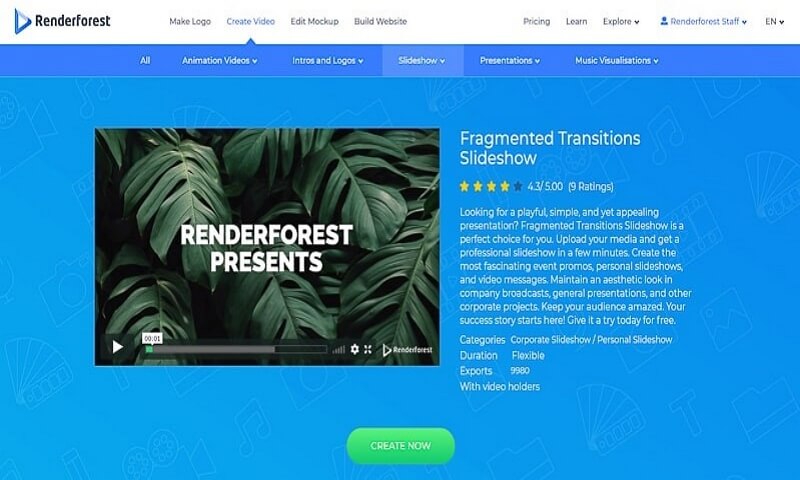 Pros:

Offers many templates

Whiteboard/3D explainer/Explainer

Quick and easy slideshow creation
Cons:

Watermarks for the free version

Limited soundtracks on the free version
Visme is among the best online services for creating slideshow videos for personal and professional use. It allows the users to apply various styles, assets, and effects in a few clicks. Unlike many free slideshow makers with music and effects tools, it allows you to register, create a project, and ask your friends or team members to share their ideas or comment. They can annotate, view, and edit the files after you give them the access rights. You will have all the templates you need to build professional-looking slideshows.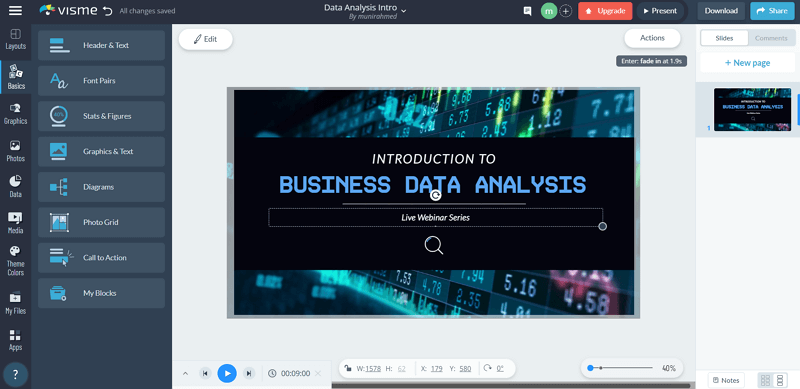 Pros:

Offers many slideshow templates

It is easy to master

Allows fast creation of slideshows
Cons:

The budget plans are limited
Pictochart is among the popular presentation-building apps suitable for visualizing digital information and data. It allows users to make anything from posters, brochures, infographics, and online presentations. The team behind this tool operates on the principle of communicative images if they are designed and delivered properly. It offers over 750 professionally designed templates for education, business, and other fields to help you get started.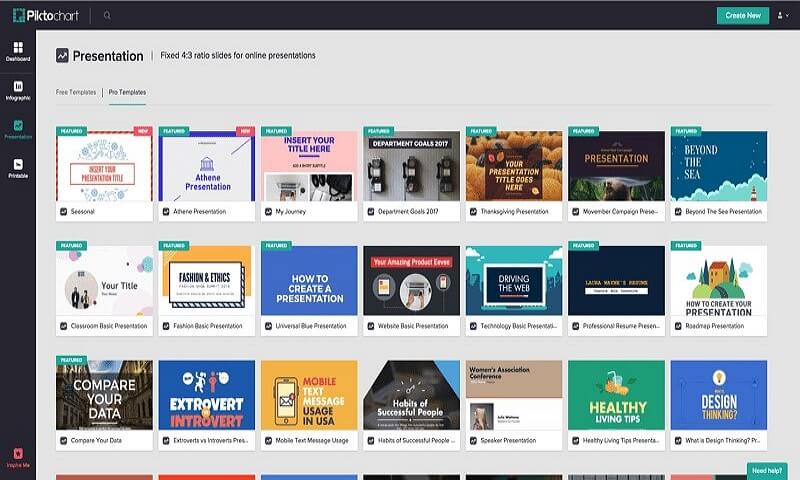 Pros:

Very easy to use

Offers a generous media library

Offers a wide range of templates

Reasonable subscription pricing
Cons:

The free version is limited

Does
Adobe Spark is the best free slideshow maker with a music and effects tool for newbies. Even more, it offers numerous materials along with many features like free templates, adding music, and slideshows capture. After choosing this tool, you will manage to make eight types of slideshow videos. Its storyboard allows structuring of online slideshows and you can add images, video clips, and several slides. To make your work easier, it offers 30 background themes as well as color effects. If you need to create slideshows with music, the music library will be more helpful.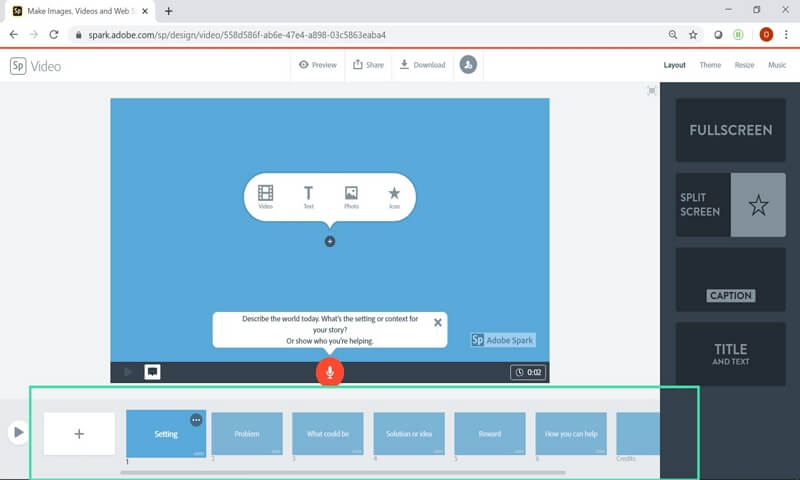 Pros:

Free images, templates, and audio files

Visual slideboard

Customized colors, fonts, and labels
Cons:

Attaches a watermark on the video
Part 5: Best Free Apps to Download the Music
Today, the internet offers very many music download and streaming apps. That means finding music for your slideshow videos is easy. Here are some of the best free apps for music download.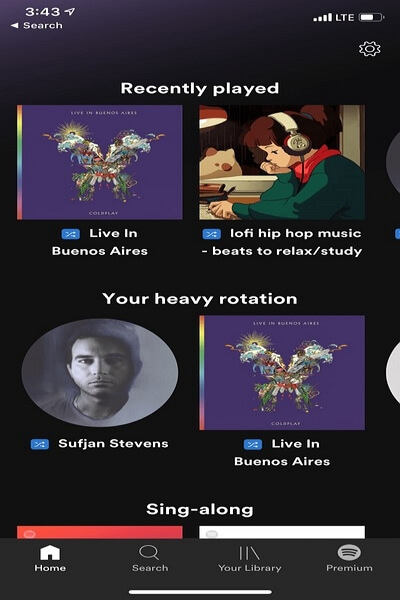 Spotify stands as the most popular streaming service. So, if you are looking for the best place to discover new music for your slideshow videos, it is the best choice. The app offers a great discovery engine that allows people to find many new tracks and listen to them. You can create, share and also embed playlists. Furthermore, you can download songs, albums, and playlists for offline listening.
Pros:

Offers a robust free version

Spotify Connect allows smooth connection to AV receivers and wireless speakers

Allows faster building of a playlist and synching for offline listening

Allows the users to follow artists
Cons:

Has many advertisements that can be intrusive
Amazon Prime Music is possibly one of the services you have access to. The service is available for Amazon Prime subscribers. All Prime members can use it free of charge and download songs to their Android and iPhone devices. So, if you do not want to subscribe to any streaming service but you need offline music, it is a good choice.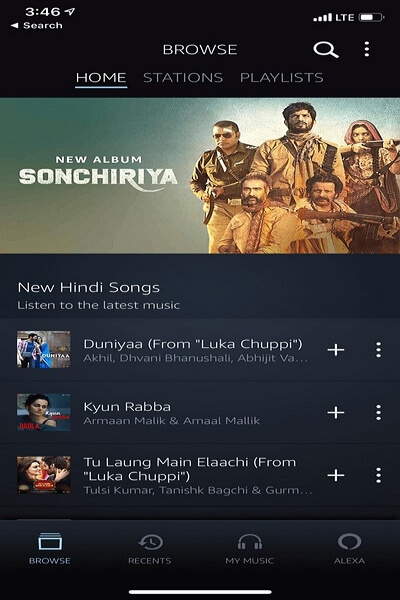 Pros:

Cheap for the Amazon Prime subscribers

Lyrics pop up automatically on the "now playing" screen

Offers free music stations
Cons:

The artist profiles do not have biographies
Deezer has been operating in the United States since 2016 and it offers many features, such as 56 million tracks and free tier tracks. It has many subscribers compared to the other platforms, thanks to its huge library of music tracks and its previous affiliation with Cricket Wireless. The main plan comes at $10 per month but the users can upgrade to the lossless version which comes at $15 per month.
Pros:

Offers a free version for mobile users

A good crop of the original content

Offered video content
Cons:

The free version only offers 30-second song snippets
YouTube Music is a new app but it offers a large number of music tracks that you will not find in other apps. It has a huge collection of music, live concerts, and even alternative versions of songs. While it allows people to listen to the music at no cost, you will have to pay $99.99 per month to listen to download the music or listen to it in the background.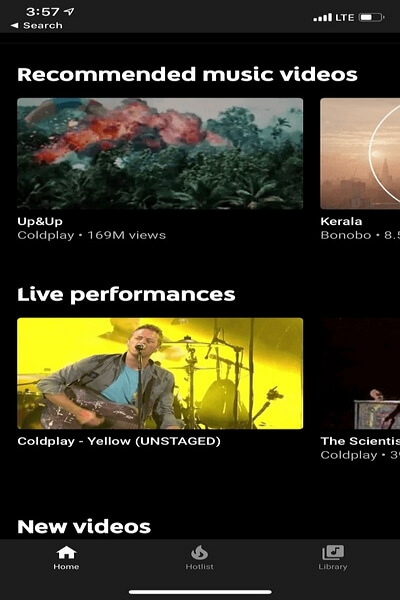 Pros:

Offers over 40 million music tracks

Retains the music locker system of Google Play Music

The monthly fee includes a subscription to commercial-free streaming on YouTube Music and YouTube
Cons:

The continued presence of Google Play Music has been confusing for most users
Final Thoughts
The internet offers many free mobile apps and computer tools to help you create slideshow videos. When creating a slideshow video with music, keep in mind that the overall order is very important. Your audience will not follow the presentation if the photos are not arranged properly. Besides, you have to avoid overusing funky effects because they are not good for formal presentations. Ensure that the music matches the context to avoid offending your audience.