There are different kinds of slideshows, such as family slideshow, growing slideshow, and many more. There are also many kinds of software and apps to create slideshows according to your need. For this purpose, Adobe Spark is one of the best software to create slideshows smoothly and perfectly. You can make an adobe spark slideshow for different events to add some spark and beauty. Now the next question is how to create a slideshow in adobe spark. To make a slideshow, you have to follow some very simple steps. Every step is very smooth to follow. You can also add different kinds of effects, templates, and texts to make your slideshow impressive.
Part 1: How to Make a Slideshow in Adobe Spark with Music and Pictures for Free
You can get rid of this question of how to create a slideshow in adobe spark by just opening it as it is very useful and super easy. Using Adobe Spark, you can edit your videos in a slideshow in just a few minutes by following some steps mentioned below.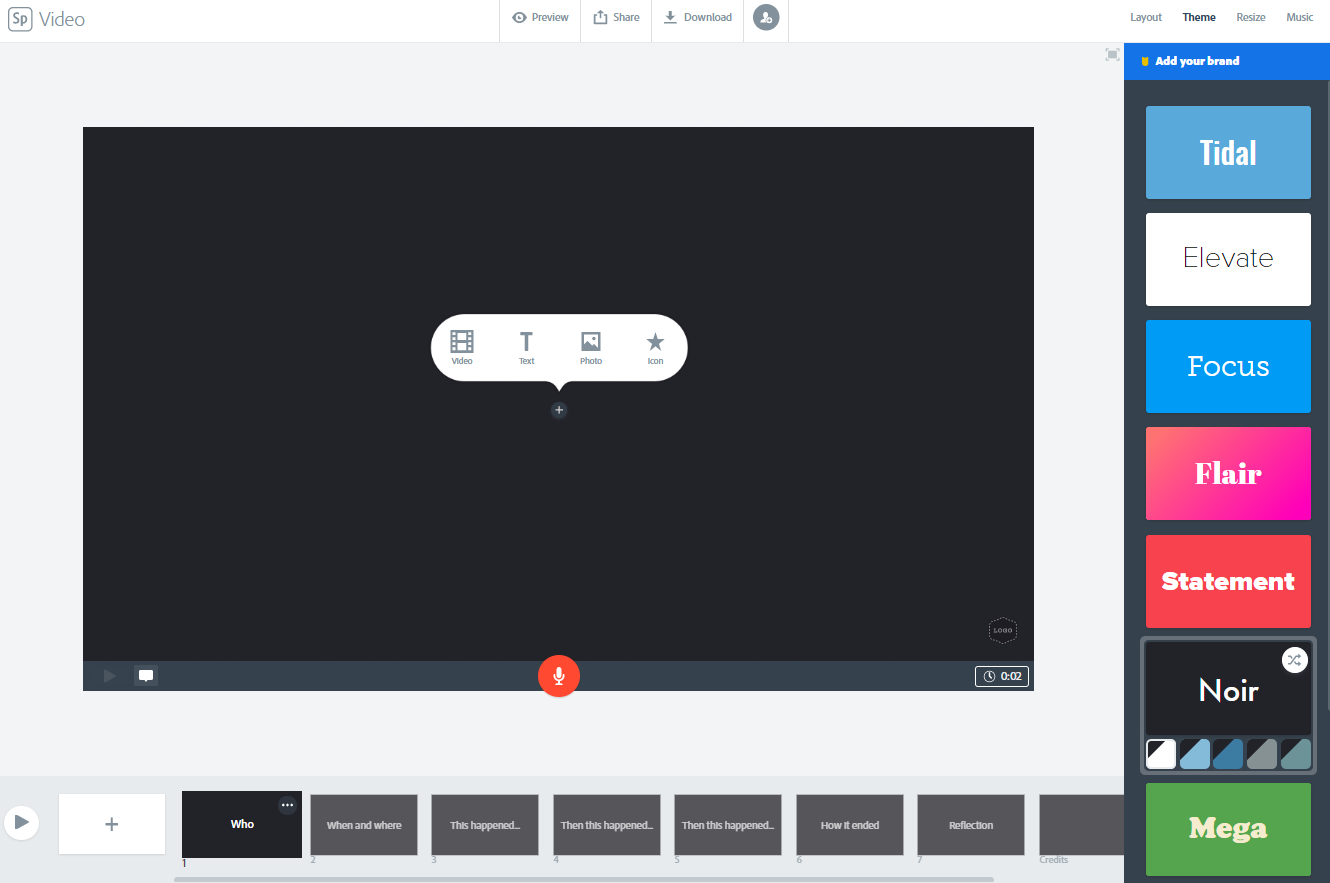 1. Trim your Video
By using the Adobe Spark tool of trimming, you can use the good stuff for your slideshow. After uploading your content on the workplace of adobe spark, which you want to trim, the trimming screen will appear. You can trim a video from the start or the last part, and after your trim is done, you can insert it. To show your star part of the video, you can use the trimming tool of adobe spark. You can easily and freely go back and use more of the trimming tool to make your video perfect.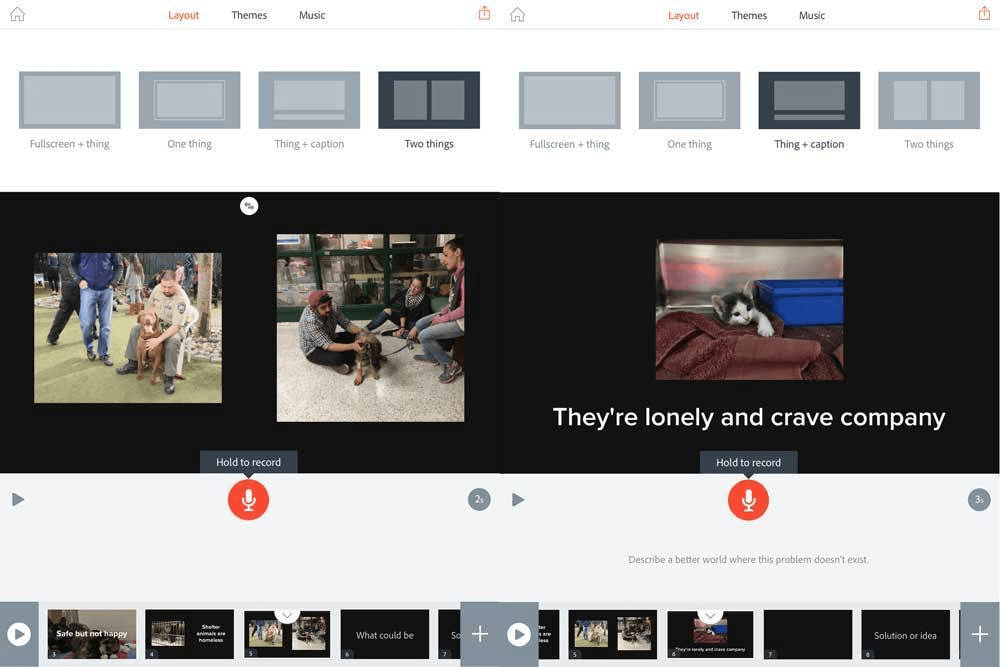 2. Resize your video
Now you have to resize your slideshow according to the mood and events to make the perfect adobe spark photo slideshow.
3. Add music as background in your video.
Choosing the best music for your slideshow is very important as it adds a very good impression in your slideshows which can give you many beautiful emotions. You can add perfect and beautiful music in your videos just by hitting the MUSIC icon on it as adobe spark is made for this purpose. 
You can easily select your favorite melody from your library and iTunes or from the music that is already present in adobe spark. Choose suitable music for your audience to create a better atmosphere. For example, always search for the best songs for birthday slideshow and check the list of the best songs for kids growing up slideshow to suit your audience' taste.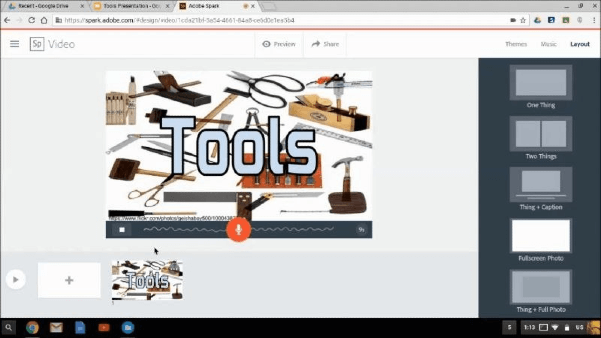 4. Create Video slideshow
By using Adobe Spark, you can make your slideshow online with different transitions, layouts, and melodies. Using different kinds of photos, videos, and voices in the adobe spark, you can create a perfect and impressive slideshow. To make something new that people have never seen, you just have to give it a go and play with its different options. After using some templates and fonts of different varieties, you will see your slideshow to meet the level of perfection and beauty.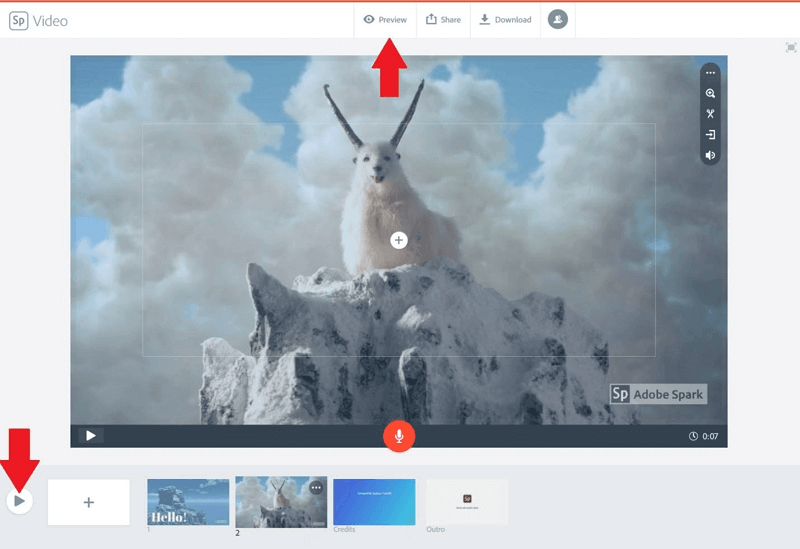 In just these few steps, you can make your slideshow in just a few minutes, and your audience is going to love it with all their heart. You will also come back to Adobe Spark to edit your videos and make your slideshows because of its unique features and simple steps. 
You can not only make slideshows but can also create stories for your social media purposes. Using its simple features, your video will become impressive, and your followers will think that you have a proper staff for this purpose. You can easily edit any kind of video by using this, and everybody is going to love your video, whether it is a story, slideshow, or teaser.
Pros:

Easy to be used by anyone, e newbie or a professional.

Gives your work a professionals' taste as if it was done by a professional itself.

Auto-saves the audio and pictures added by the user.

Lets you share your work with your colleagues or friends via email, link, etc.
Cons:

Has a limited selection of texts you can put in the picture.

Also has a limited amount of audio selection that the user can use.

Can only be used to make short videos. Longer videos cannot be made in Adobe.

A slide in Adobe only stays for 2 seconds, no more than that.
Now the answer to how to create a slideshow in adobe spark is not difficult. You can find some examples to see the perfection and smoothness of the videos created by the adobe spark editing online platform. Some of the adobe spark slideshow examples is as follows.
Part 2 : Adobe Spark Slideshow Examples
#1
This video is made by Mark Anderson using adobe spark. You can see different kinds of photos of different beautiful cities as this video is made by a traveler. Not only that, you can feel its voice over deep into your soul with the smoothest melody.
#2
This  depicts the simplicity of your message, which you want to convey through your video. It's a simple melody which, according to the video, helps to keep your focus on it.
#3
This video is also an  of adobe spark editing. It also gives you guidance on how to make your videos more impactful by just adding some little details. You can follow the steps and add more details to your slideshow.
#4
This video is also an  of adobe spark editing. It also gives you guidance on how to make your videos more impactful by just adding some little details. You can follow the steps and add more details to your slideshow.
#5
This video can give you a lot of help in making videos related to your brand, product, or short film. You will get to know some more details which can make your video awesome, and no one will be able to ignore it.
Part 3 : 7 Tips to Create Stunning Slideshows
Looking for ways to create a stunning slideshow that will amaze your audience? Lucky you then, because today I am going to show you some amazing tips that will make your audience will your slideshow.
If you want to have the best slideshow, you need to learn from the best. Ever heard of Aaron Weyenberg? You might have! He is known to be the best slide deck, maker. He exposed the reason as to why his slideshows are better than anyone else's. He said that if you want to make the audience love your work, you need to think about the following things:
Keep Ending in Mind for Starters
When preparing for a speech with a slideshow, always think about the slides at the end. This is because, firstly, you need to think about what you are going to say, how you are going to deliver your message, and what will be the main lesson learned by it for the audience.
Give Consistency to Slide Deck
When making a slide deck, always give it a consistent look and feel, which means that when you are making a slide deck, all the slides should show the same genre, typography, and especially colors. Giving them the same touch will show that they are a part of the chapter, not starting another.
Related but Different Transitions
When you are done with a topic and want to start the other, always think about the transition. Your slides transition should show the audience that you are starting another topic in order to gain their attention. The transition should be related to the previous ones but different at the same time. Meaning, if your previous slide was of dark colors with light typography, then this transitioning slide should be of light colors with dark typography.
Less But Powerful Text
Another important tip given by Aaron was that you should never use a lot of texts in your slideshow. This will gain the audience's attention, and they won't be paying attention to what you are saying. Always use about 5-8 words in a slide, or you could even use bullets.
Meaningful Picturesque References
You should also use pictures with meaning. Meaningless pictures can make the audience loss their interest in what you are saying or showing.
Short and Simple but Highly Informative Video
When making a slideshow video, always try to keep it short and as simple as possible. It is better to make a video of 3-4 minutes with about maximum of 50-60 slides. Each slide should take about 3 seconds before the next comes. 
Power Ending with Quotes
Always add a quote at the ending. Your videos will become more meaningful if you add a quote in the end. This is because starting and ending always catch the audience's attention the most.
Part 4: Best Alternative to Adobe Spark for Slideshow Making
Wondering what the best alternative to Adobe Spark is? We all know that adobe spark slideshow makeris the best for making slideshows, but there is the software that is just as great as Adobe spark slideshow. This software is known as iMyFone Filme.
IMyFone Filme is known worldwide for its video editing. IMyFone Filme is the software that does not require much knowledge just so that you can use it. It can be easily used by a newbie, etc. It also has pre-designed templates like adobe spark slideshow templates.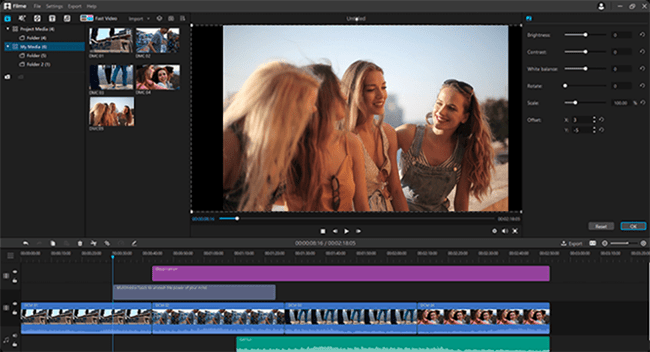 Key Features
Allows a user to make simple slideshow videos.

Add music or background sounds to their slideshow videos as there are up to 50 audios already present in this software.

170+ effects for users to add into their videos.

Users can also edit their slideshow videos however they want.
How to Create a Slideshow using iMyFone Filme
Looking for the steps to create a slideshow video using iMyFone Filme? Then, you need to read it till the end to find out the steps to create a slideshow video using iMyFone Filme.
The steps to make a slideshow video in iMyFone Filme are:
1. Use one of the Pre-Designed templates
When making a slideshow video, always use one of the pre-designed templates. Pre-design templates are customized in such a way that they match the user's taste. So, if you want to make a simple and easy slideshow video without much effort, using one of the pre-designed templates is much better.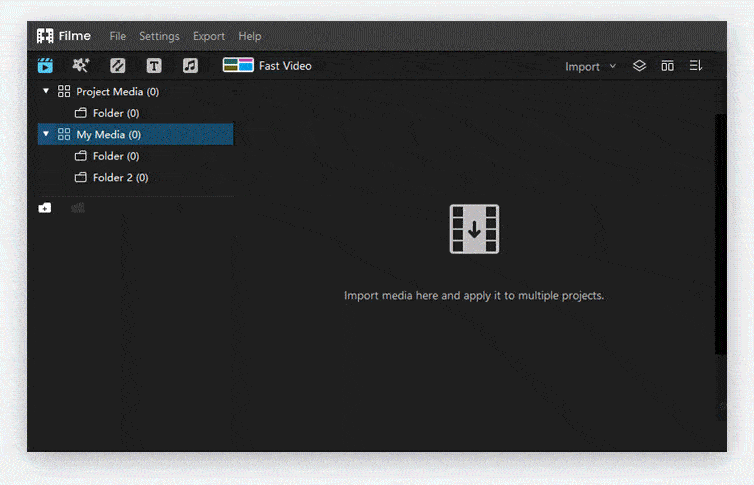 2. Customize your slideshow the way you want
You can customize the pre-designed templates however you want. You can add text to them, add some background music or even crop the video to your taste. IMyFone Filme also allows you to add filters to your video in addition to sounds and editing. After using all the given features of iMyFone Filme, you will see how professional-looking your slideshow video is. It won't even take too long, and your efforts will not go to waste.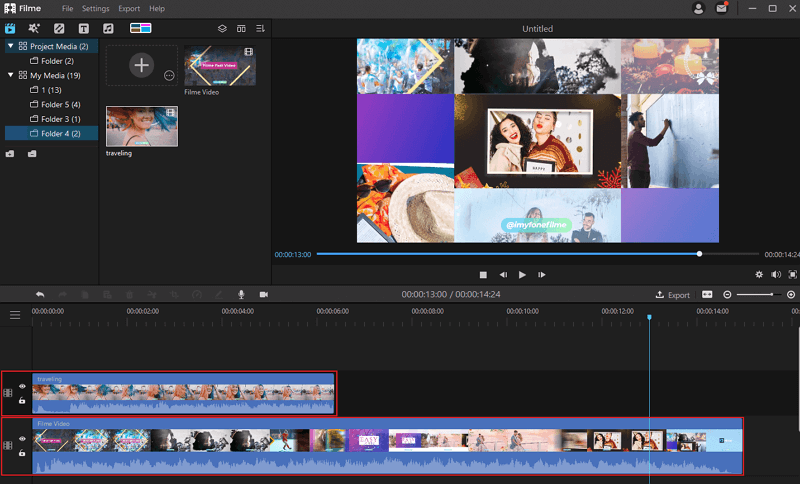 3. Export and Share your slideshow
Lastly, you can save your slideshow video with or without music. After saving, you can also send this video to whoever you want via email, WhatsApp, or other options that are available there.
The end result will be so epic that it gives a professional look! This way, you can make as many changes as you want and the way you want!