Since your loved one's birthday comes once per year, so why not make the most of it by giving them a unique gift like making a stunning birthday slideshow? You can make the celebrant's favourite memories reflect as brightly as candles on a birthday slideshow with happy birthday slideshow maker software. The article is whole about giving you an idea of how to make happy birthday slideshow.
Collect your favourite images and videos, select a ready-made template, add a catchy melody, and spice up your production. There are themes for mothers and fathers, girls and boys, wives and children, and birthday anniversaries of all sorts. Making a festive video may be difficult initially, but once you've come up with some happy birthday slideshow ideas, all you need is a little creativity and versatile software.
Part 1. How to make a happy birthday slideshow video fast with music
iMyFone Filme Video Editor is one of the best slideshow makers for you to create birthday slideshow videos fast and easily. With Filme, you can capture those happy moments in your birthday and turn them easily into videos so that you can enjoy the playback. Filme allows you to put the birthday photos together and make them as a video with music. All you need to do with Filme is import all the photos into Filme and with 1 click, the birthday slideshow video comes up in front of you that easily.
Features
Create slideshow video with music in 1 click with Fast Video mode.

Equipped with both full basic video editing features and professional editing functions.

The resources for text, effects and transitions are rich.

It has a user-friendly interface that will make it simple to use.

The video preview feature that allows you to see how the finished video would look before you complete it.
Steps to create slideshow using Filme via Fast Video mode
Step 1. Click the "Fast Video" option in the Media Library, which will take you to the Fast Video mode. You can choose from seven different template categories, including weddings, birthdays, vacations, schooling, industry, and much more.
Step 2. To see a sample of a design, select it from the drop-down menu. Click the "Add your media" button when you're finished with the prototype.
Step 3. Pick the file you want to remove from this window and press "Delete selected file. Choose the "Back" choice in the bottom left corner to return to the previous window and pick another template. Click the "Preview" button in the bottom right corner to see your video/slide in this template.
Step 4. By pressing the clock button, you can change your video's length when previewing it with the selected template. To make it longer or shorter, click the upward or downward triangle, or type the length directly into the box. For the best effect, the original length is strongly advised. You can also control the level and display it in full-screen mode.
Step 5. You can export the clip if you are happy with the finalize slideshow by clicking the "Export" button.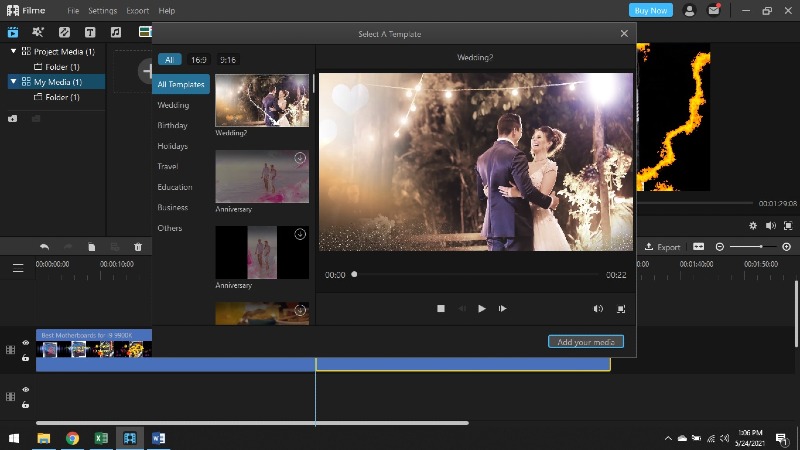 ---
Flexclip is a beginner-friendly online video editor. This video editing software allows you to make amazing videos quickly. Flexclip editor is all about uncomplicated imagination, with thousands of video models, motion plugins, and an extensive stock footage collection. To make slideshows, video essays, invites, vlogs, commercials, or promo videos, you do not need to be a pro. You are ready to go with Flex Clip's capabilities.
The video editing with Flexclip is short and straightforward. Using easy drag-and-drop and one-click controls, you can add post-production features such as text, shapes, transitions, and other special effects.
Features
You can choose a video template to start your video on the template page.

Insert Media Files on the left side of the canvas; click the Media button to access the options for adding various files from the internet: Recording, Stock Media, and Local Files (record screen & record webcam).

You can add files by dragging and dropping them from your computer or by clicking the icon.

After clicking the Stock Media button, you can scan our library for various videos and images. Find appropriate videos/photos and press the + icon to link them to the media library.

You can drag or click the + icon to connect the file to the storyboard after adding sufficient files to the media.
Steps to create birthday slideshow using Flexclip
Step 1. Add Local Media: From your phone, upload local videos or images.

Step 2. Add Stock Media: Browse the stock media archive for millions of pictures and videos.

Step 3. Add Background: Create a storyboard with black background (default).

Step 4. Music can be included. Select "Add Stock Music" to scan for an extensive selection of audio files from the music library or "Browse Your Music" to select your local music from the device by clicking the music icon on the left side of the screen.

Step 5. Watermarks can be added and edited.You can add a text or picture watermark to declare your video's copyright by clicking the watermark button.

Step 6. Video Preview & Export. When you are finished editing your video, go to the top of the screen and press the "Preview" button to see it in real-time. Disable the preview window if you would like to make further improvements, then return to fine-tune it, when you have finished your video.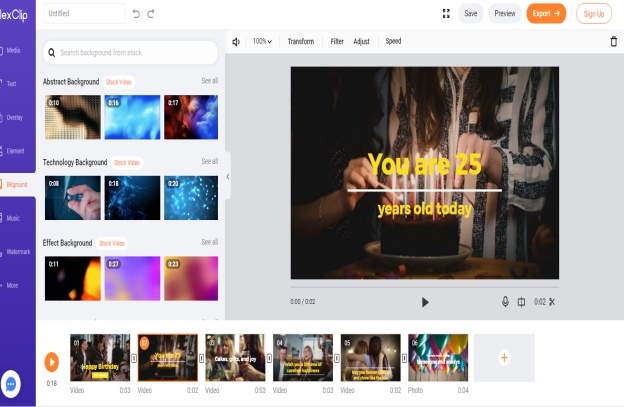 ---
If you don't have the expertise to edit images or make videos, that shouldn't stop you from making anything fun. SlidePlus can assist you in creating a one of a the best birthday slideshow maker as well as a full-fledged mini-movie creator.
Features
SlidePlus' key feature is its ease of use, which is a top priority for developers. All of the built-in effects and themes with fun transitions and built-in effects are already included in the app. All that is required of the user is to select the content from which the video will be produced.

When you trim frames, your face will not be cut off, or part of your head will not be missing. SlidePlus has an innovative facial recognition algorithm that prevents the software from cropping the image incorrectly.

You can save the original sound in the video and leave images without effects whenever you want. It will not be a problem if your images are in social media albums; add SlidePlus to your account and use the photos directly after this.

There are over a hundred topics in the collection, some of which are specifically designed for specific occasions, such as weddings or birthdays. This list is refreshed regularly, so you can still find something new to enjoy.
When it comes to creating slideshow videos, the SlidePlus picture slideshow creator still prioritizes ease. All of the transitions and effects are already integrated into the SlidePlus themes, so all you have to do now is add the media. You choose graphics/short clips, a theme, photos, and a song, and then you have something that used to take hours to create.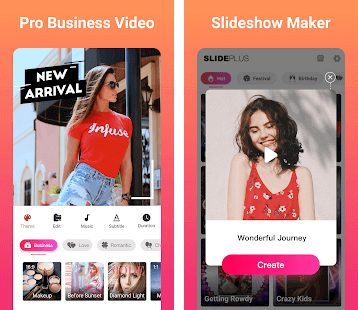 Part 2. Best ideas for creating unforgettable birthday slideshow video
Happy Birthday to You
People nowadays sometimes request that others keep a placard with each letter of the alphabet spelling out HAPPY BIRTHDAY. Everyone can make a video showing the letters one by one, then have each person share their message for the birthday person. You may also have people sing happy birthday to you or put music on the slideshow video.
Make a video for a party slide show.
People will like to see the photos from a birthday party afterward. The majority of the time, people would rather watch a video than scroll through hundreds of pictures. Make a slideshow video out of all of the images. This video can also be shared on different social media sites. Making a blooper video allows you to reflect on the day while still having fun recalling it.
Incorporation of pets pictures into your birthday video slide show.
Animal owners adore their animals with all their hearts. One aims to include their pets in everything they do, as well as filming and photographing them. Many people tie a placard around their pet's neck or force them to wear it while photographing it. This is a fantastic way to demonstrate the love for pets.
Create a romantic video for your partner's birthday.
With an expertly composed slideshow, you can give your loved one the greatest birthday present she or he has ever got! Choose a romantic song, find a good photo backdrop, and add some romance with special effects: Heart-shaped fade-ins and outs, beautiful flowers, or snowflakes can be used to set the tone. Create a slideshow with the aim of exposing what is at the heart of your soul, and make use of the slideshow maker's vast capabilities to do so.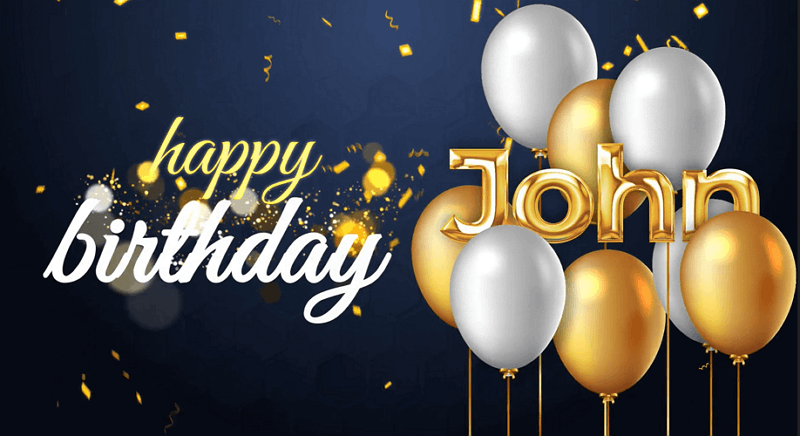 Final thoughts
A birthday slideshow is an excellent way to create special memories in a matter of minutes. It is more of an acknowledgement of how important someone is to you than a gift. Consider a birthday slideshow as a web-based way to honor the gift of life. Taking the time to appreciate our loved ones is vital, but it is not always easy. It is more of an acknowledgement of how important someone is to you than a gift. Consider a birthday slideshow as a web-based way to honors the gift of life.
Slideplus, Flexclip, and Filme are amazing birthday slideshow creators that allow you to create unique and unforgettable slideshows. Furthermore, nothing is more important than knowledge to create a special video for the people who mean the most to you, without spending hours trying to make it work.