Google Photos is a commonly used application or service for saving photos. It keeps your photos safe and sound, and you can use them to create a slideshow. In this article, we will tell you how to make a Google Photos slideshow. We will take you through every step.Instead of the slideshow, video is better to present. If you are worried to the complex edit step, iMyFone Filme should be your top choice tool when making your slideshow videos. We will also share a better alternative if you are looking for extraordinary slideshows. Let's begin.
Part 1: The Key Part of the Google Photos Slideshow: Create Google Photos Album
Before we learn how to make a slideshow from Google Photos, it is important to know how you can create a new album in Google Photos. You cannot create a slideshow without an album, and it is better to organize all your photos in a new album so that you can easily select them while creating a slideshow. So, let's see how you can create a new album in Google Photos.
(1) Create an Album for Slideshow Using Computer
You can create a new album from your computer. Just follow the steps below.
Step 1: Open any internet browser on your computer. Go to Google and type Google Photos. Go to its website. You can also follow this link.
Step 2: After opening Google Photos, you need to sign in to your Google account. Enter the credentials and sign in. You will see your albums and photos there if you have ever used Google Photos; otherwise, it will be empty. 3 concrete steps need to do in follows.
1. Click the Explore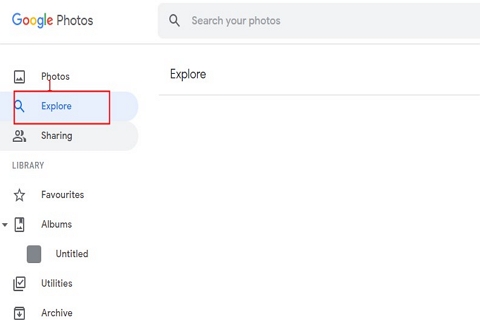 2. Choose the Upload File
3. Choose the Upload Size
Step 3: On the left, you will see Albums; click on it. You might see your old albums if you have any. Otherwise, it will be blank. Now, click on the Create Album on the right.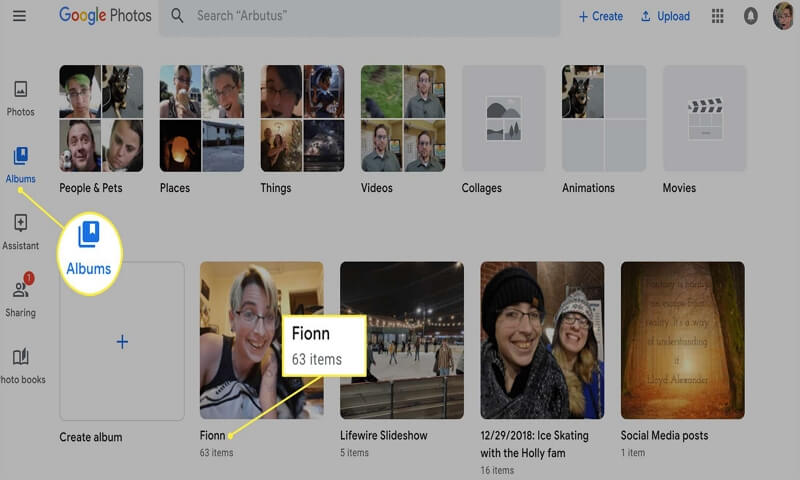 Step 4: Add a title for your album and click on Add Photos.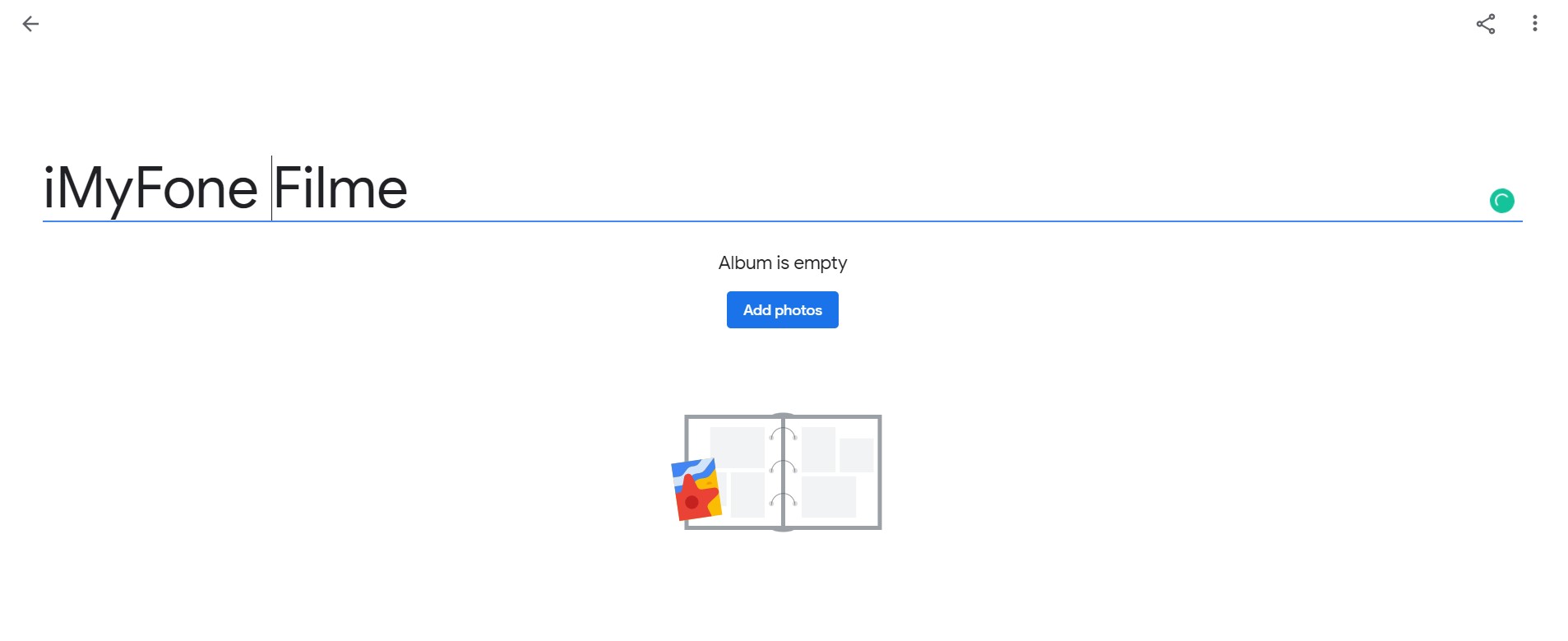 Step 5: You can either select your photos from old albums or upload them from your computer. You will see a list of photos from previous albums, and you can select from them. You can also search for photos. On the right, click on Select from Computer to upload from your computer. Select images from your computer and open them. It will take a few moments to upload the photos.
Step 6: You will see the photos in your album. If you want to upload more, you can click on the upload button on the right.
(2) Create an Album for Slideshow Using Mobile
If you don't want to use your computer, you can use your mobile. There is a default application for Androids; you will definitely see it on your device. iOS users can download it from the App Store.
Step 1: Open the Google Photos App on your mobile. Sign in to your account.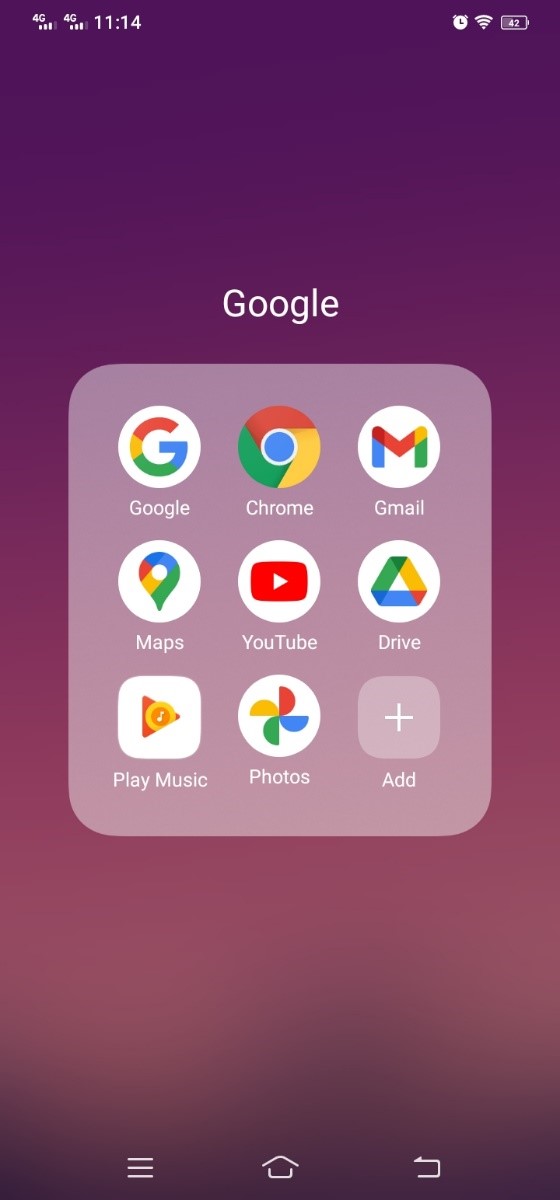 Step 2: At the bottom, you will have four options. Tap on Library.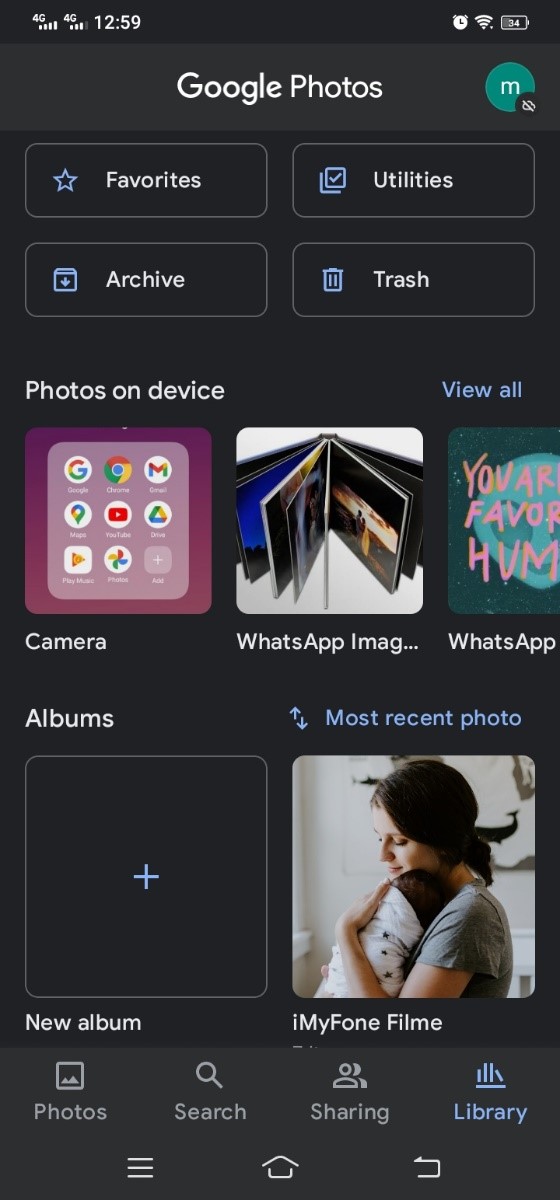 Step 3: Tap on New Album. Add a title and tap on Select Photos.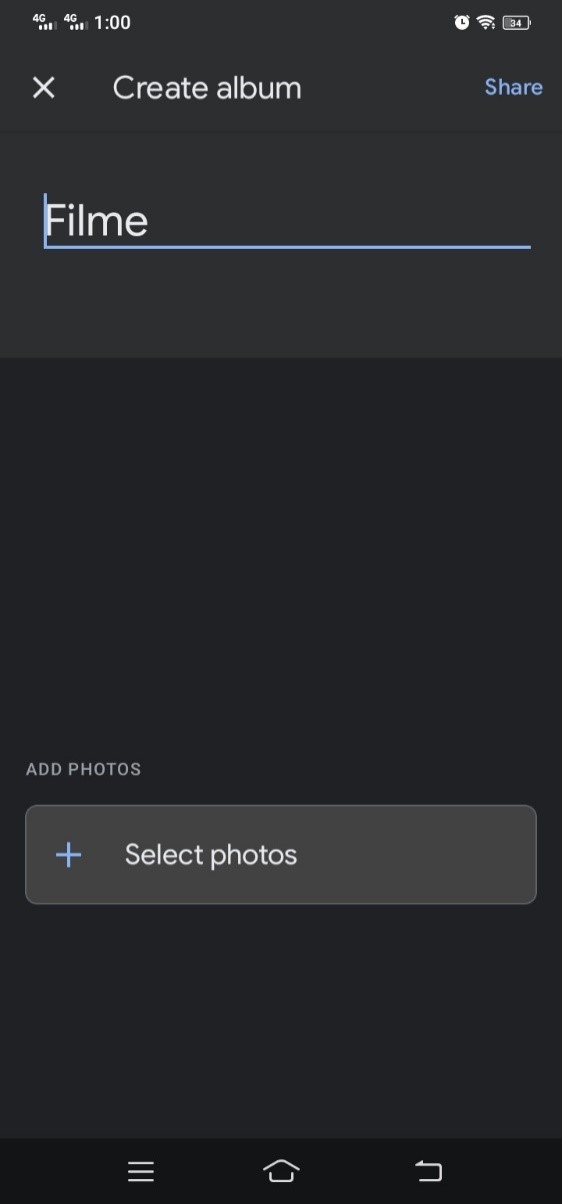 Step 4: Select photos and tap on Add. The images will be added to your new album. You can add more or share the album with others.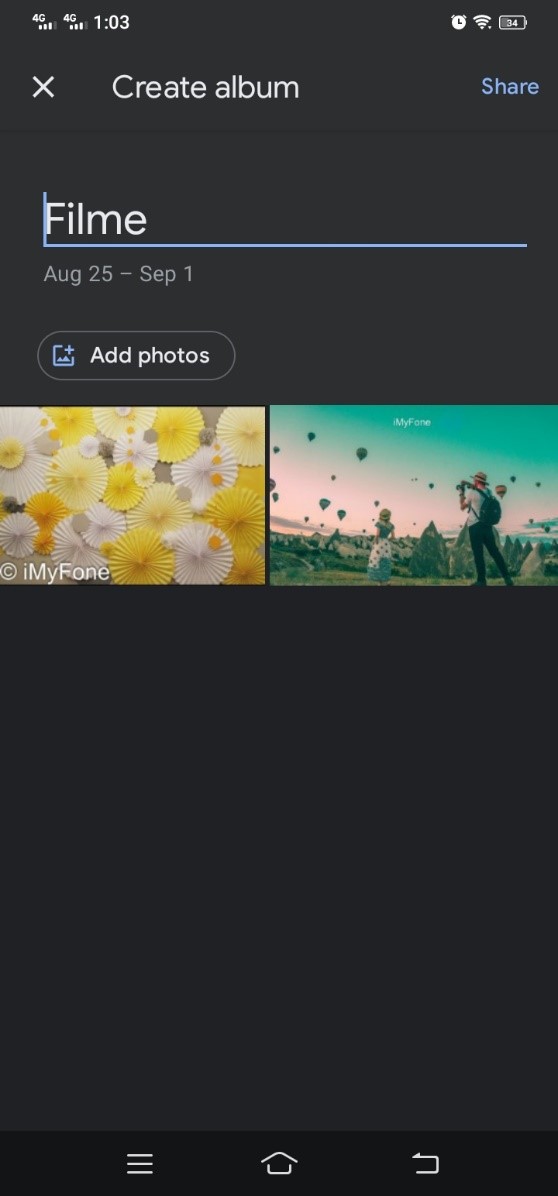 Part 2: The Easiest Way to Make Google Photos Slideshow
1) Sign Up for Google Photos
First, you need to sign up for Google Photos if you have never used it. There is no special way of signing up for Google Photos; you just need a Gmail account. If you already have a Gmail account, you are good to go; otherwise, sign up for a Gmail account.
Once you sign in to Google Photos, you are ready to create a slideshow. Before creating a slideshow, you should create an album using the methods we have discussed in Part 2.
2) Go to Albums
You can go to the Albums from the left panel. Click on Albums. You will have all your albums on the screen; you can open any album.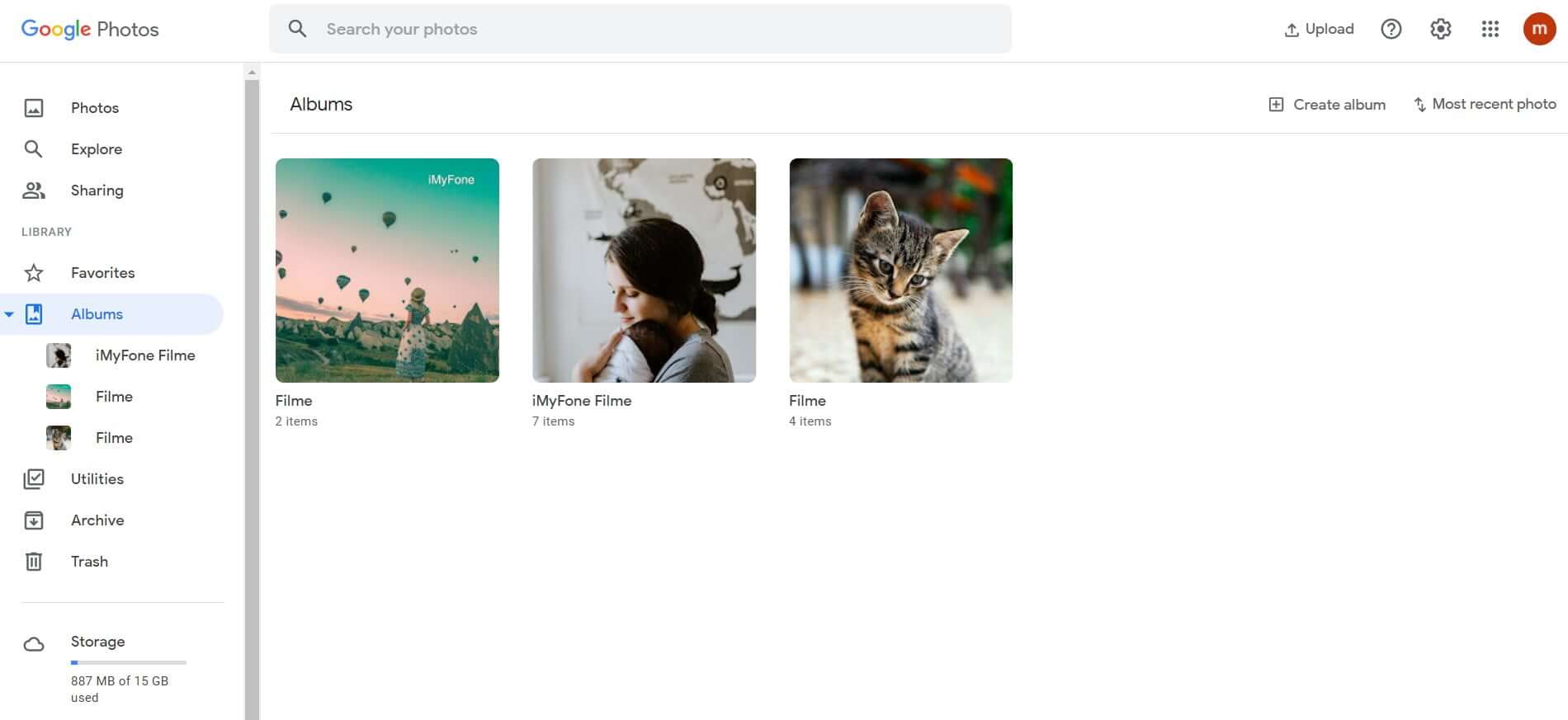 3) Select the Photo
Google Slideshows create a slideshow from the entire album. It does not leave an image. If you do not want any images, you can delete them. You can also copy it to another album before deleting it from here.
4) Add Pictures to the Album
You can also add images to the album at this stage. On the top right corner, you will see the Add Photos button. Click on the button and add images you like.
5) Organize Your Photos
The photos in the slideshow will be in the same arrangement as in the album. So, if you want to rearrange them and change their position, you can easily do that. Click on the three dots icon and click on Edit Album. Now, you can drag and drop the images as you like. You can also delete images if you want.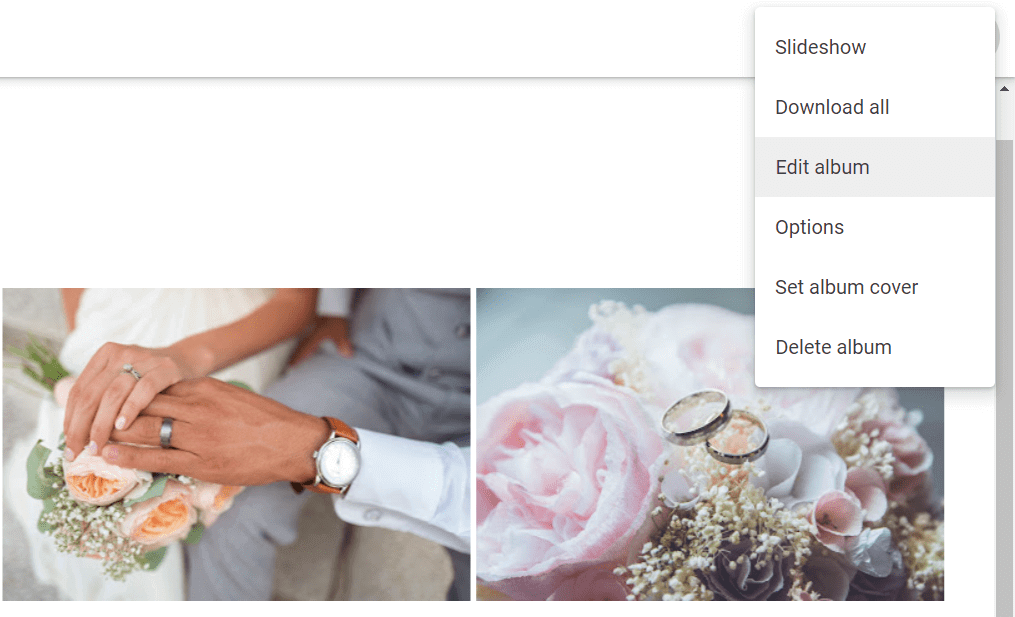 6) Create the Slideshow
Click on the three dots icon again and click on Slideshow. Google Photos will show all images of the album in a slideshow.
7) Tips to Play It
The duration of each slide is five seconds. If you want to slow it down, you need to pause the slideshow. You can use Spacebar to pause the slideshow. If this does not work, use the Tab key to navigate on the control buttons on the screen, and when it is over the play/pause button, press Enter.
You can use the right and left arrow keys to change slides. Moreover, you can also zoom in/out using the "+" and "-" button.
Part 3: The Best Slideshow Video Maker - iMyFone Filme (Window & Mac)
Google Photos can help you create a slideshow, but it will be quite simple, and you need to use other tools to make it more attractive. It is not a complete tool for creating perfect slideshows; it is only for displaying your stored images in a slideshow. Thus, if you want an outstanding, engaging, and mesmerizing slideshow, you need to choose a better tool.
It is recommended to use a desktop tool to create a perfect slideshow. You can use iMyFone Filme and create a mesmerizing slideshow without any hassle. It is an all-in-one tool, so you can do everything you like with this one tool.
Features:
Slideshow Templates
The prominent feature of Filme is animated templates that have stunning animations and visual effects. Everything is ready; you just need to insert images and choose suitable music if you want.
There are dozens of templates available for different occasions and purposes, including parties, presentations, events, weddings, resumes, and education. There are landscape and portrait templates for different platforms.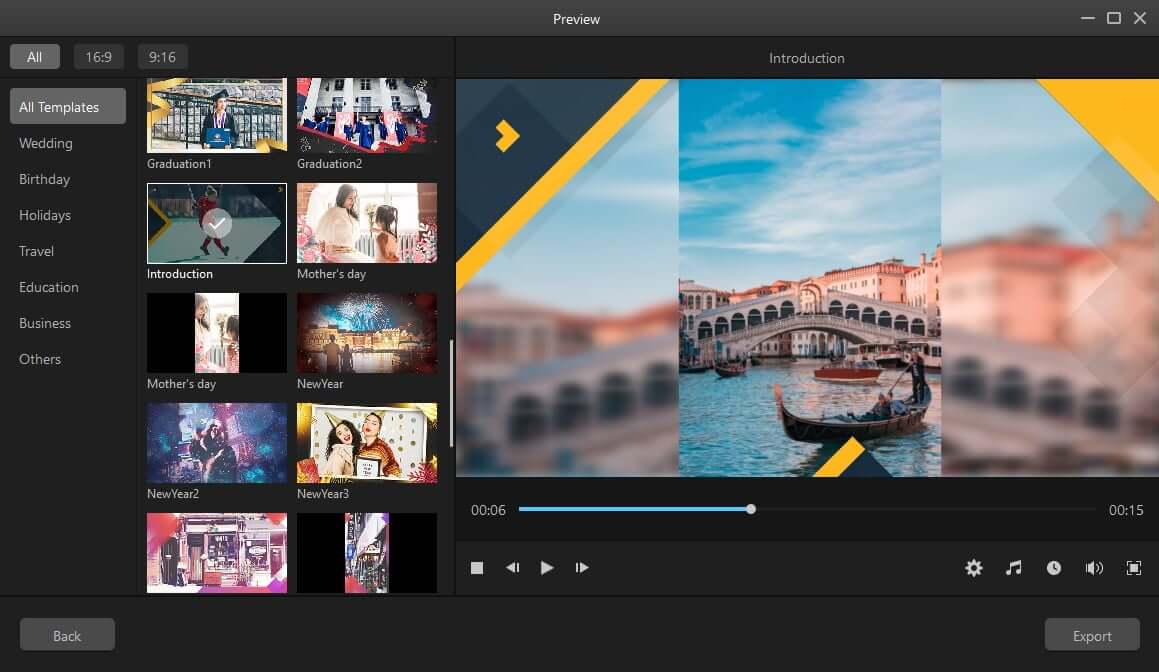 Slideshow Editing
You can edit your slideshows as you like. After creating a slideshow using any template, you can edit it to make it perfect. If you don't want to use a slideshow, you can also create it from scratch.
Filme has a wide range of editing tools, from basic to advanced. You can trim, cut, crop, adjust speed, adjust color, and make other changes. It is just a matter of a few clicks. Filme also has cool transitions, effects, filters, stickers, and images. You can add text, images, videos, or anything else to your video. If you are using Filme, you don't need another tool.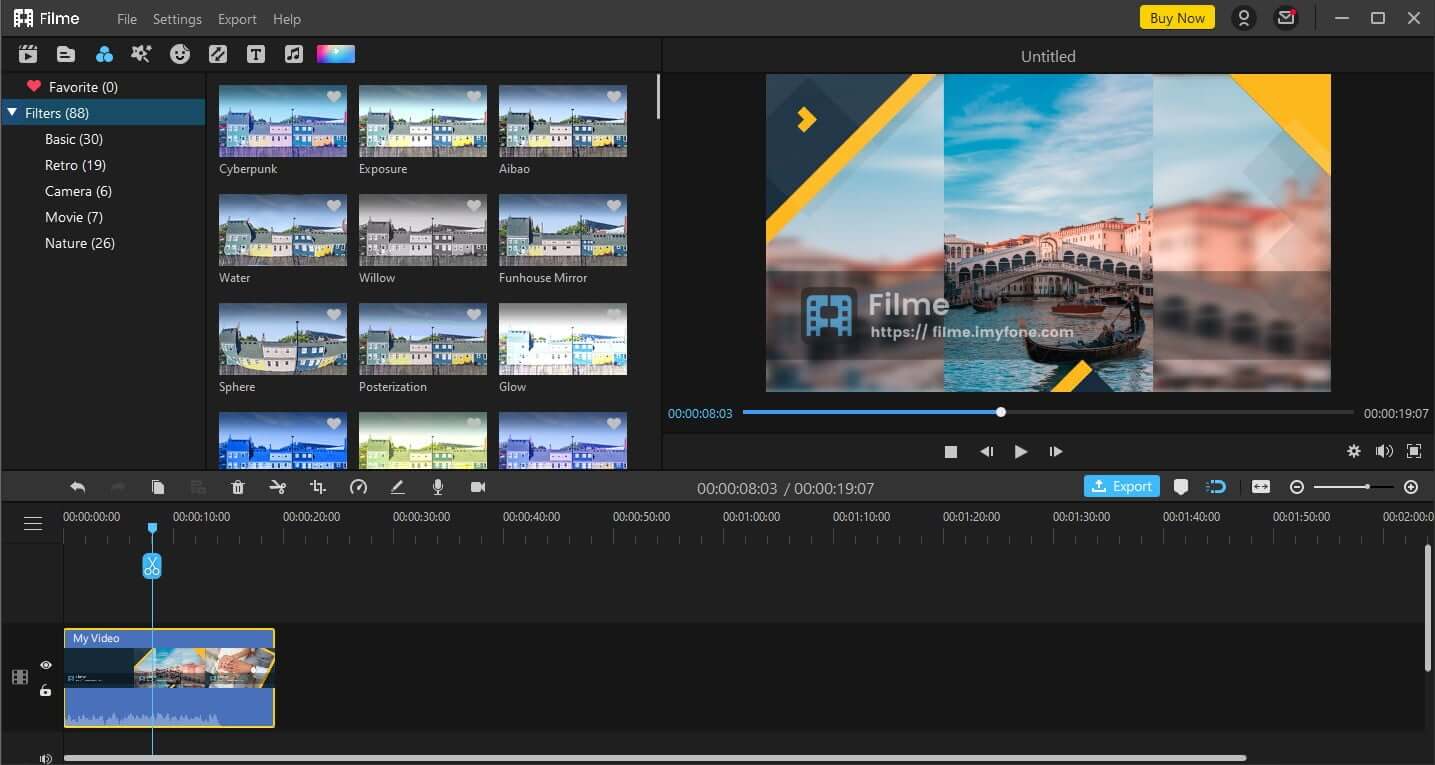 Audio Editing
You can also edit audio with perfection. You can cut, trim, adjust speed, add effects, and do various other changes. Filme also has a voice changer to change the voice tone. The library of Filme contains a wide range of sound effects and images.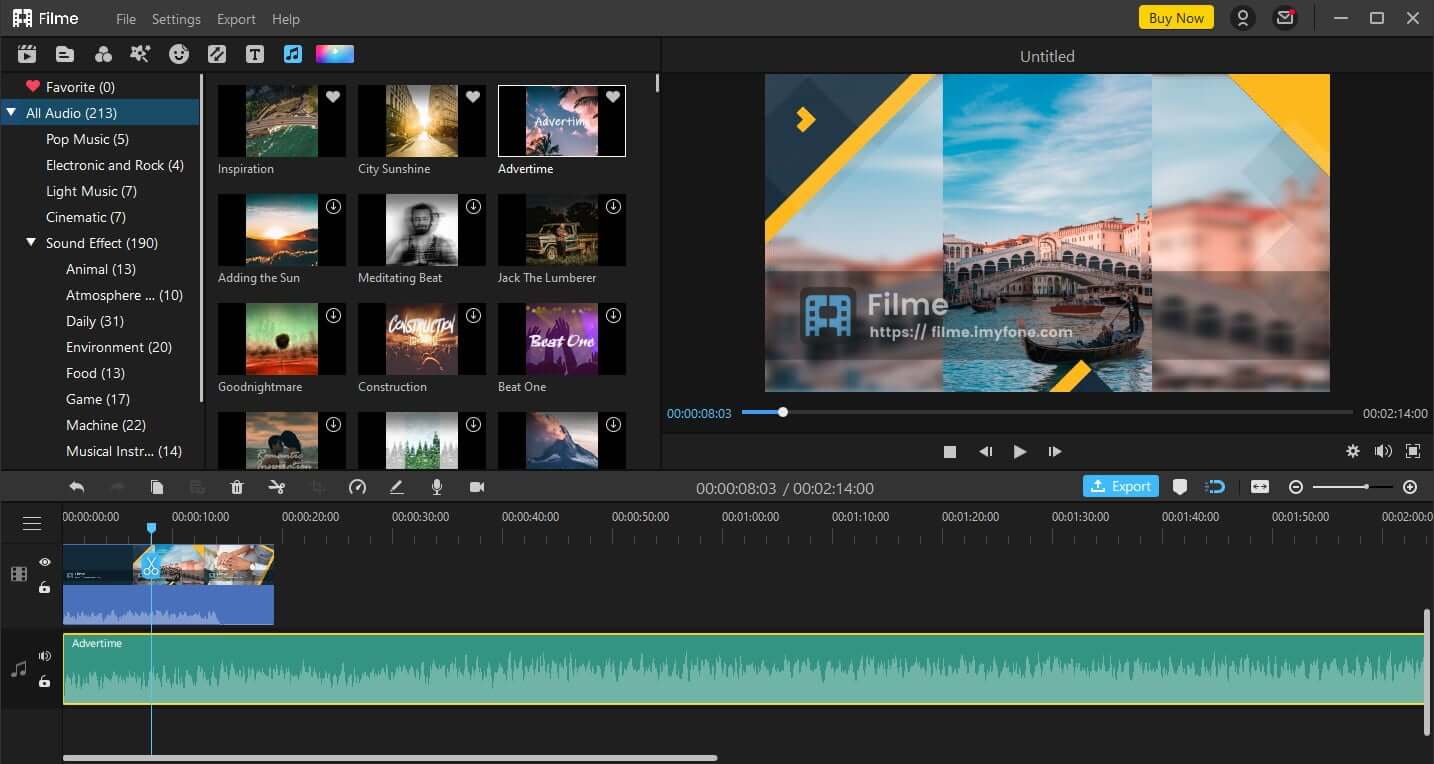 Part 4: How to Prepare the Presentation in Short Time with Google Photos Slideshow
Google Photos slideshow can also be used to create your office presentations. If you have the images ready, you just need to put them in an album and play the slideshow. Your slideshow will be ready in no time. If you want to start from scratch, you can follow the given steps to make a slideshow from Google Photos
1) Select a Theme
The first thing you need to do is select a suitable theme according to your presentation. You will be making all your slides on the same theme; therefore, it is very important to select a theme first. You just need to create a blank slide with borders, a background image, a color theme, or anything you like.
You need to use a third-party graphics tool to create a blank slide. Once your blank side is ready, you are ready to go to the next step.
2) Edit the Blank Slide
It is time to edit the blank slide and create all slides for the slideshow. You need to add text to the slides and populate them with everything you need. You need to add images, graphs, statistics, and other necessities. You need to create each slide separately.
You can't do this using Google Photos; therefore, you need to use a graphics editing application/tool to create slides according to your needs.
Google Photos only offers limited editing features. You can only apply effects to the slides or crop the image. You can also adjust the light and color. That is all you can do, so you need a graphics editor.
3) Charming Start and Ending
The intro and end of the video create a massive impact on the viewer. So you can choose the free video intro maker to deaign a interesting intro. If these are perfect, the viewers will remember everything they have seen.
You can start with something attractive and special. It should show something that could attract or engage the viewer. For instance, you can start with a question that will compel the viewers to think about it. They will ponder over it, so they will be more excited to know the correct answer in the end. You can also start with a quote that will motivate the viewers. There can be dozens of ways to create a charming start, but you need to brainstorm ideas according to your slideshow.
The ending can also be memorable. The best way to end a presentation slideshow is by summarizing everything that you have conveyed. Try to summarize it in an engaging way. Moreover, you can also end with quotes and popular sayings. Some presenters also end the presentation by asking a question. This will also engage the viewers and compel them to think.
4) Storytelling
Storytelling is one of the effective ways to keep the viewers engaged. It makes the presentation more interesting. You can try to explain your topics through a fictional story; you can create a fictional story on your own. However, it is better to explain with real-life experiences and examples. You can share your experience or someone else's.
Conclusion
Google Photos is suitable to turn your ready images into a simple slideshow. It just creates a loop of your images, nothing more. You cannot edit your images and add animations and graphics. If you are looking for an extraordinary tool to create awesome slideshows, you can try Filme. It is a beginner-friendly tool with tons of features to make your video engaging and mesmerizing. You can do everything using this one tool. From editing slides to creating an animated slideshow, it can do everything.