Have you been looking to make the most of your friend or loved one's birthday? If this is the case for your needs, then you must consider how you could make the big day extra special - perhaps a unique happy birthday video is what you need. So, without further ado, let's take a look at how you could create a happy birthday video for your loved one's birthday!
Part 1: A Fabulous Video Editor for Happy Birthday Video
Filme is a highly recommended software to create a stunning birthday video for your friend or loved one. We'll cover momentarily how you can create the best happy birthday videos for your friends or loved ones using the Filme tool.
What Makes Filme Great for Making a Happy Birthday Video?
What is it that makes Filme so great for making the best videos for your loved one's birthday? To answer this question, we need to consider the benefits that Filme offers for individuals looking to create their content, including the following points:
●A straightforward user interface, ideal for novices and experienced video editors alike
●Numerous features, transitions, and tools make professional style video editing easy
●Royalty-free music is available to use as part of your happy birthday video
●Numerous template options ready to go, including a ready-made birthday video template
●You can export video content in high definition up to 4K format
●Rapidly export videos to your device or other platforms
●Screen recording features implemented in the app
●Filme is completely free to use with the free trial option
These are just a few of the benefits that make Filme such an excellent choice for your video editing needs. As such, if you think that creating a video for your loved one or friend's birthday could be a meaningful option for you, then choosing Filme could be a great way for you to simplify the process.

iMyFone Filme
Part 2: How to Use Filme to Make A Happy Birthday Video
1. Click on "Media" in the upper ribbon menu.
2. Click on the film strip with the down arrow to import photos, videos, and sound files.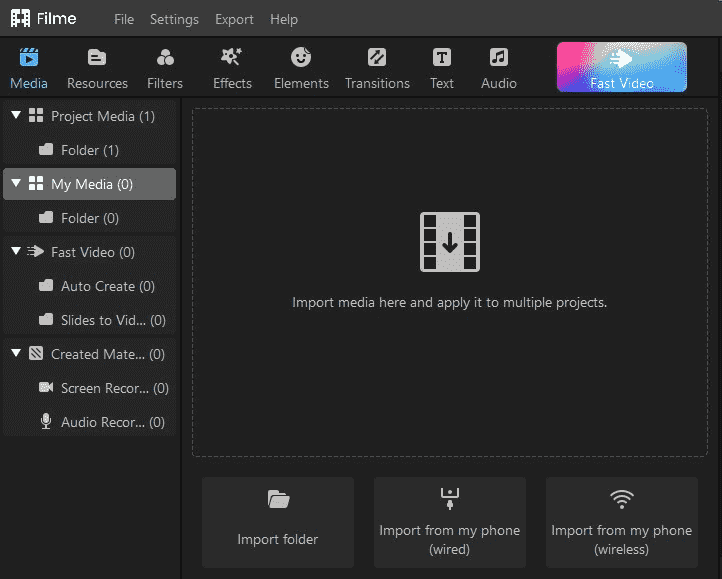 3. When you have imported your files, the My Media panel should look like this: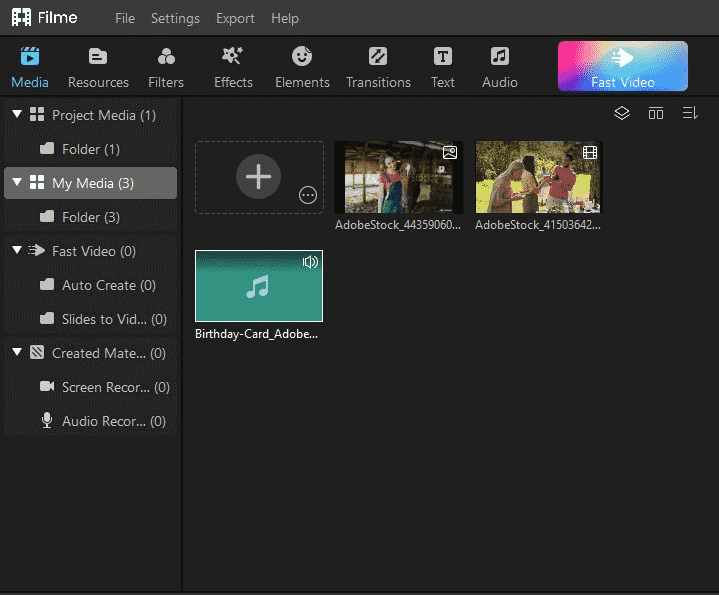 4. When you hold your mouse over the file thumbnail, a plus sign appears in the middle of the thumbnail. Click the plus to add the file to the timeline. Photos and videos will automatically be added to the video timeline; sound files will be added to the audio timeline.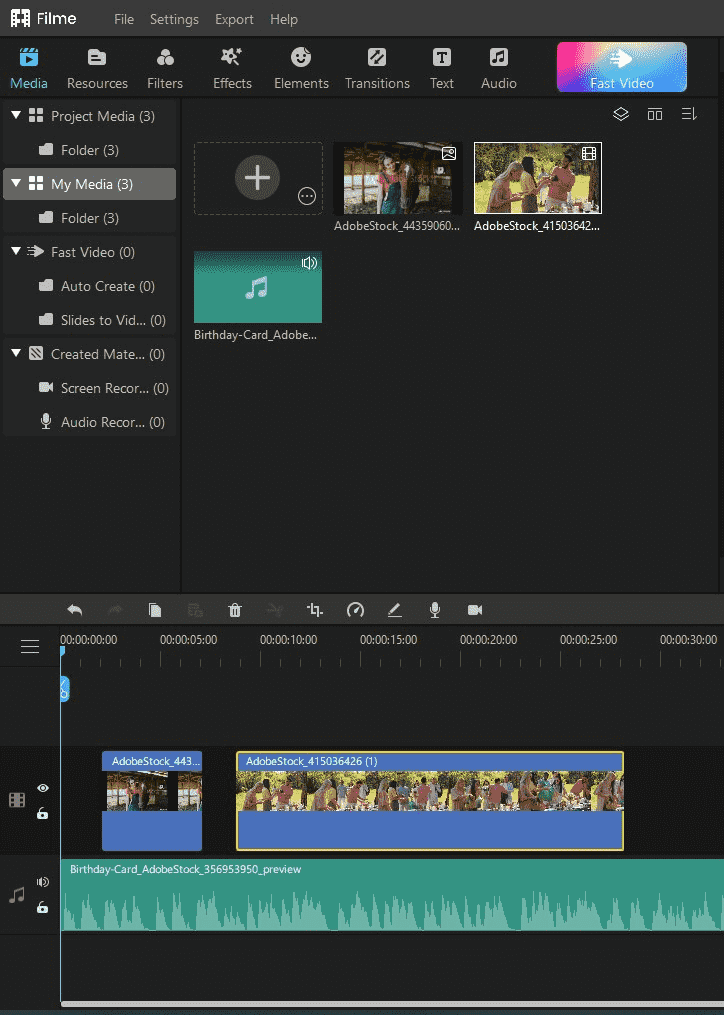 5. Filme comes with many transition . These are used to move from one video element to another. They can also be used at the very beginning and the very end of the video. To add a transition, click on Transitions in the top banner menu, select the video clip you want to add the transition to, select the transition you would like to add, and click on the plus sign in the thumbnail.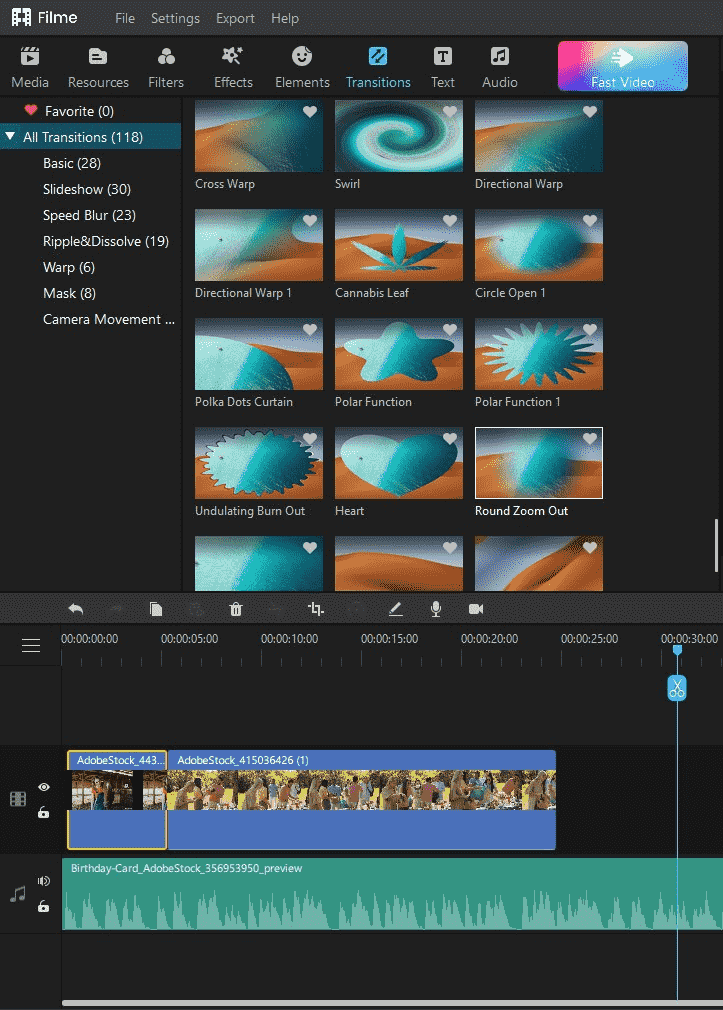 6. To add text anywhere in the timeline, click on Text in the banner menu. Select the style of the text you would like to add, and click on the plus to add it to the timeline.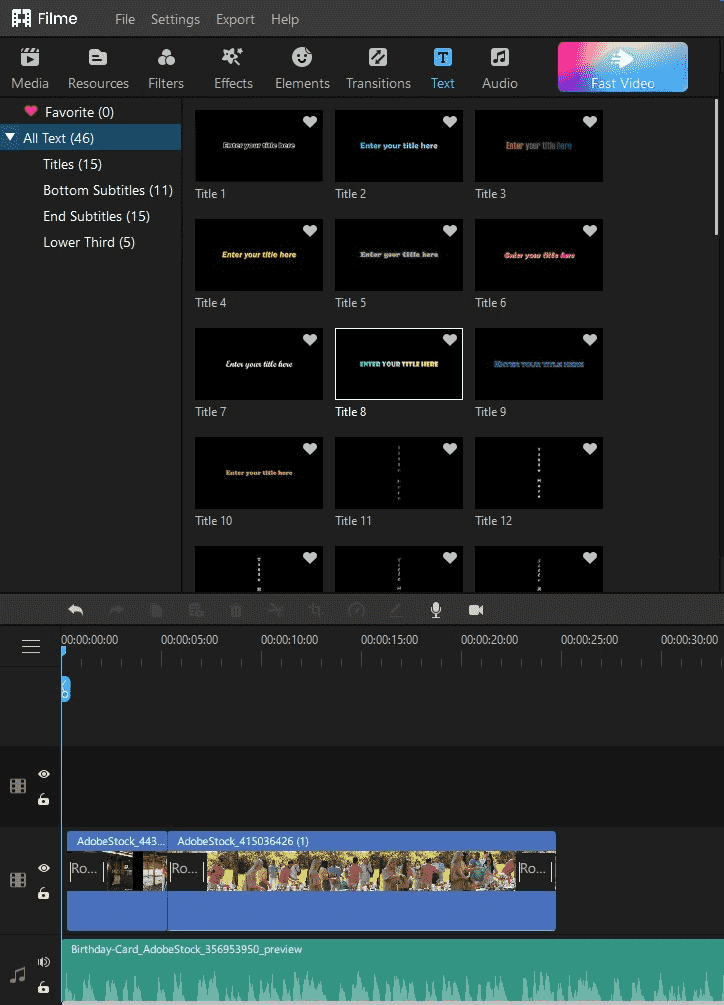 7. To edit the text, hold your mouse over the text block in the timeline, and right click. An editor will be displayed in the upper right area of the screen.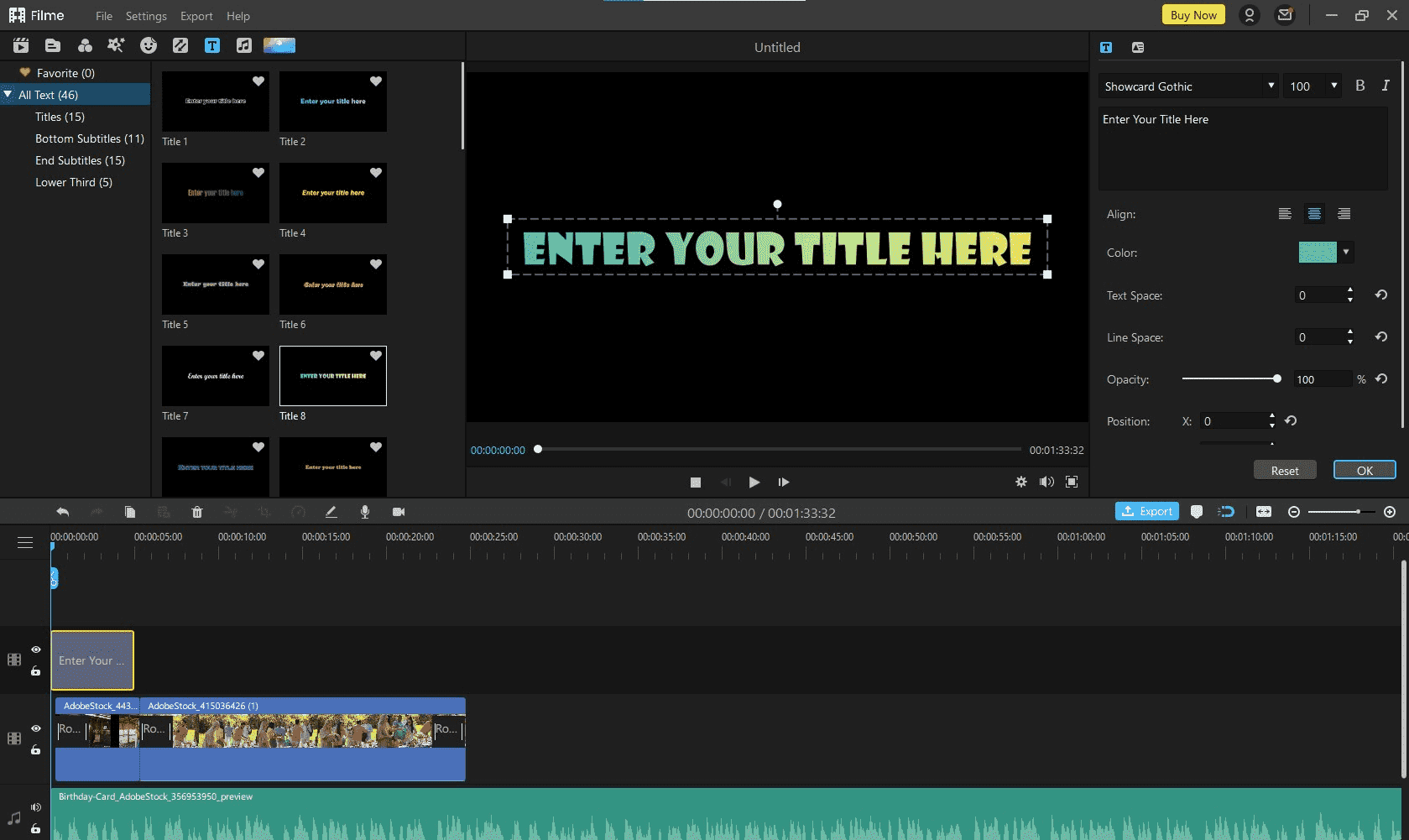 8. To export your video, click on the export button just above the timeline. You can adjust the export settings before the file is saved. When you export, the result will be better if the video is exported at the same resolution the segments were imported, for example, 1080p.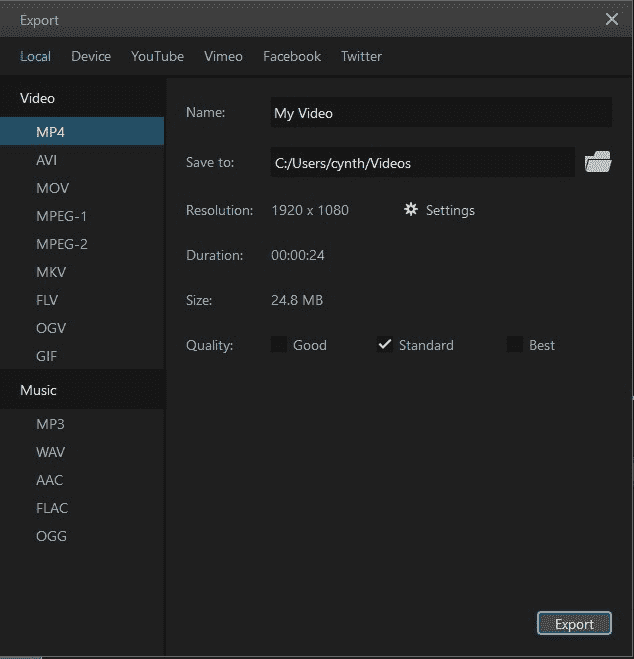 Part 3: Happy Birthday Video Ideas
So, you're ready to make a happy birthday video for your friend or loved one. Before you do so, make sure you're using Filme's birthday template before getting started. This is specifically designed for making the best happy birthday videos, so it's a good way to take that tricky first step.
Some key ideas you could include for your happy birthday video to make it memorable include the following:
●Take your friend on a video trip down memory lane, outlining the time you have known that person for
●Share one of your favourite memories about your time with the individual
●Make the best happy birthday funny video by outlining some funny anecdotes from your time as friends/loved ones/work colleagues
●Include birthday wishes and hopes for the future
●"How well do you know (person's name here)" section – this can be innocent or funny, depending on the tone you're going for, and can be great for a group birthday video
●Film the video in their favourite location if you really want to make it extra special – this shows how well you know them and that you've gone above and beyond!
●Finish the video with a surprise gift reveal for the biggest impact