A few decades back, no one knew that there would be as many free video templates as there are now. Who would have imagined the possibility of producing a 2-hour video in just 5 minutes? But today, we can do even more for far less. The best part is that you can use some of this software and online tools for free with no hidden charges. Though there are still paid video template software, I will be sharing the top 10 free video templates for your personal movie on either your phone or on the PC in this article. So sit back as I take you on this ride!
Part 1: 5 Free Video Templates for PC
I have carefully selected five amazing free video template software and online tools I use for video editing and personal movie creation on my PC, as well as some great features to expect and how to use them to your advantage efficiently. So ever thought of creating an amazing personal video but with no tools to help? These free video templates for PC could be your best shot at getting an amazing copy today.
This is surely one of the best free video templates for beginners because of the user-friendly interface and comes with a highly efficient design for quick editing. Filme isn't just software for free video templates and a masterpiece for excellent video editing services. Although you might not perform certain actions like change title texts or do Pan-n-zooming, it comes with other amazing features like an excellent layout design, fast video export to different platforms and into your PC. You can use up to 10 customizable built-in free video templates known as "the Fast Mode Templates." These categories include holiday, education, travel, business, wedding, and many more. You, too, can join their network of over 30 million satisfied users in around 190 countries globally today! You can share your edited videos directly from the interface to social media platforms like Instagram, Facebook, and even Youtube on the go.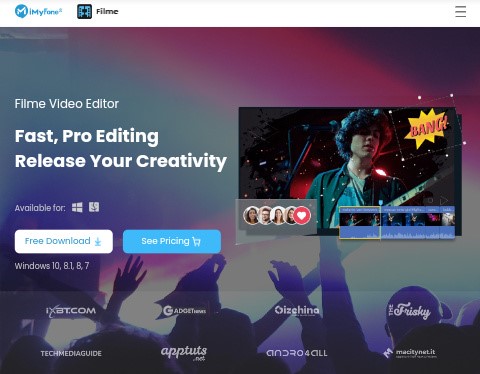 2

Canva
Canva is a simple free video template tool and one of the best online-based graphics design tools available. It features video templates and photo editing templates, flyers and other relevant documents, and a wide collection of about 75 million free video and photo templates and up to 400,000 templates, especially for paid members. The amazing part is that with simple drag and drop features, you can surely make an amazing and highly engaging personal video in less than 10 minutes. How to access the templates: You can search for any video templates on the Search panel or by clicking the Templates tab as an editor, which can help you locate your preferred option based on what design you chose. Then you can scroll down, choose and modify to your taste on your PC.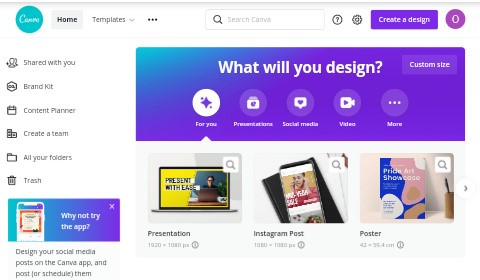 3

Vimeo
Vimeo is a simple-to-use video creation tool for PC, suited for personal and commercial use. If you want to create amazing stories in just a few minutes, then you should try Vimeo. It has a user database of 90 million customers and more than 200 thousand built-in free video templates to use. It offers fascinating features for creating, editing, sharing, and selling videos. For basic users who are on free plan mode, the system offers a free storage space of up to 500 Mb weekly for upload and a total of 5GB. Vimeo has a very fluid user interface with excellent features like customizable branding, customizable CTA, branding overlay, direct social sharing, and a media library for saving and uploading.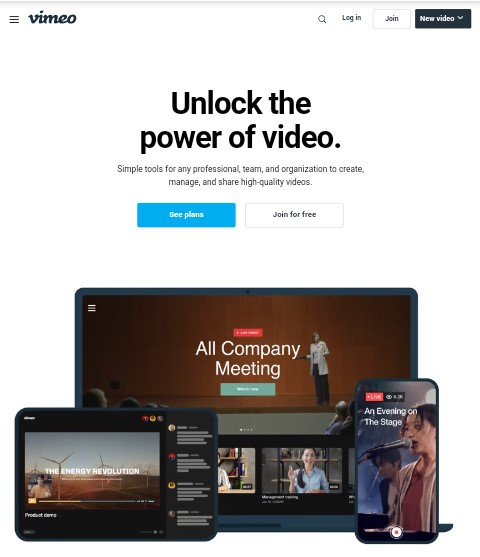 4

Mixkit
Do you need an all-in-1 combo tool with free music, free videos, free templates, and free sound effects for your PC? Then you should try Mixkit. Comes with a very easy-to-use interface where you can completely modify your videos in very simple steps. The amazing part is that you can add effects to your video to give it a realistic feel. You don't need to sign up. Just start using and complete your video creation in simple steps. Amazing right! Let me cut the chase and give you the big thing. Mixkit allows you the option to know if you can use a template for personal use alone or both commercial and personal use so that you can use this tool without copyright infringement of any kind. The videos are mostly in FHD, and it has three main categories on the free version, SFX, Music, and Video clip categories.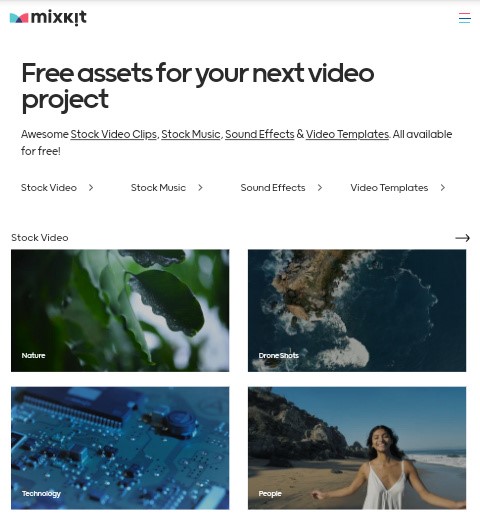 5

Videezy
Though not everyone will agree to like Videezy, which I do because I feel everyone has to be recognized for their work anyway. So here is the thing, the website allows you to use the custom video templates only if you can give credit to the creator or use the buy option. Though it might not be cool for external use, I feel this isn't an issue at all if you are using it for a personal movie or Youtube video creation. You can choose your free video template by searching for your preferred keyword on the Search panel or using the filter.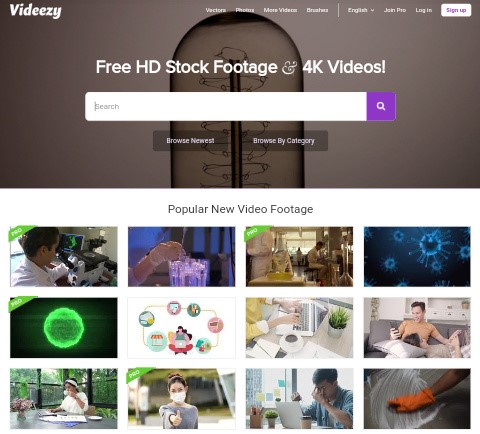 Part 2: 5 Free Video Templates mobile Apps
1

Filme Lite
Filme Lite is the app version of the iMyFone Filme desktop version. This means that you can get almost all the Filme software features right there on your phone. Presently, it is officially available for iPhone and iOS users on the Appstore, and hopefully, it will welcome an android version very soon. It comes with a collection of amazing free video and image templates that you can edit to your taste at any time with just a click. So this implies that you can tell your personal stories in just a few clicks by just selecting and dropping some cool features. Filme Lite is also a great app for editing since you can easily trim, reverse and speed videos as you modify your movie. You can also share your video directly from the app to Youtube, Facebook, and Instagram, with an option to compress video size on upload to the platforms.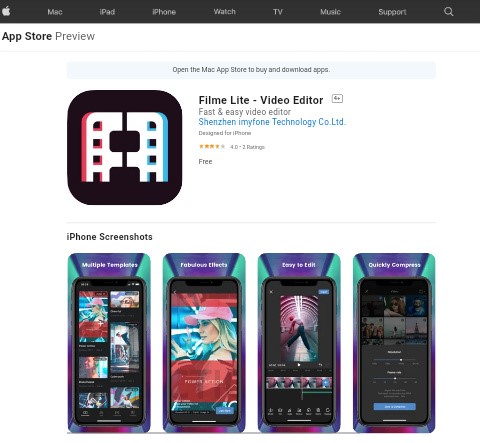 2

Quik
Quik is a highly detailed video editing app that houses many free stock video templates you can use to add spice to create your personal video. It handles all processes of personal video creation, from capture to creation and editing. It also gives you the option of posting directly from the platform. Also, you can easily locate your choice of footage in just a few seconds, add effects and transitions, as well as add images to your video. Quik allows you to automatically or manually edit your videos if you so wish. Other features to expect include: Over 100 free stock music, time-lapse sequence, auto video, and music synchronization, text, and emojis.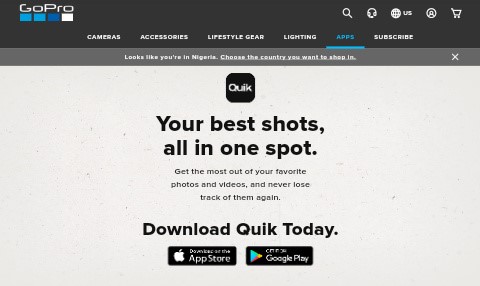 3

Magisto
Magisto is a simple app that turns videos and photographs into polished short films using AI (artificial intelligence). It facilitates the creation of photomontages in quick and easy steps. Some of the amazing features of this app include configurable branding, privacy choices, text to video, media library, and, finally, stunning free video templates. It also has a highly efficient auto-editing feature that edits off unwanted clips for you with the help of AI enhancement. You can also share your video directly to social media platforms like Facebook and Instagram. So if you want to make a quick Instagram or Youtube video, then you should try Magisto. It's incredible how simple it is in creating high-quality videos. It's an easy-to-use, hassle-free tool for video editing that saves you much time. However, your editing might not be so accurate.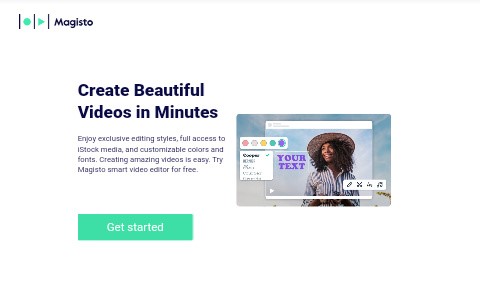 4

iMovie
This app is only for iOS device users alone. So if you don't have either an iPhone or iPad, I'm sorry you might not be able to use it. However, iMovie is free software that allows you access to amazing movie-style free video templates. The amazing part is that it is one of the best video editing software on the app store, and you can trust its ability while creating a stunning personal video. You can use iMovies to trim videos, add music and as well record cool voiceovers. The best part is that it is built-in on your iPhone, so if you haven't tried it already, then this could be the best time.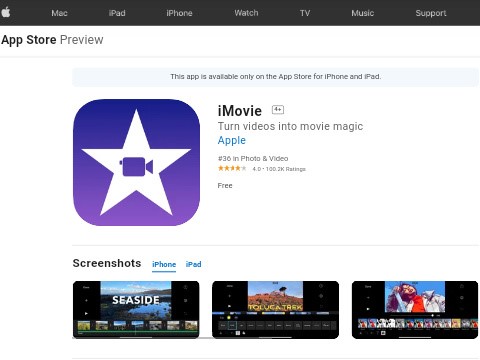 5

Adobe Premiere Rush
Over the years, Adobe has become a very popular household name due to the company's great reputation in creating high-end virtual software. Hence, Adobe Premiere Rush is a free mobile editing app that allows you to create and share videos on the go. You can easily navigate this app since it has a wide collection of free motion graphics that helps in making fascinating personal videos. Users can also access the Adobe creative cloud and adobe stock library and the ability to change clip-sequence, filter colors, record voiceovers, and add text overlays in seconds. So with Rush, you can put together a simple yet classy instructional video in a few minutes with no hassle. It comes with so many video animation templates, but you have access to just three transition effects.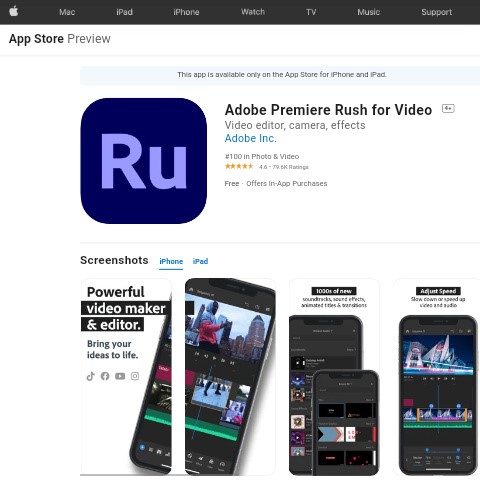 Conclusion
Video templates make the video creating process fun, easy, and hassle-free. Just pick the suitable video template and the video template tool, and that's about it. Ensure to choose a reliable video template maker that will make the customization process easy. Out of all the video template tools, one that truly stands out is Filme. It offers multiple video templates, and the editing process is easy.