Lots of people, these days, are desperately searching to know how to make a birthday video for a special person? And most of the existing users are trying to get rid of old, typical video makers with boring transitions and limited tools. It is a challenging problem to choose a strong yet convenient video editor that suits both beginners and professionals, particularly when a large number of programs are accessible on the internet. Following are the ten best selections of free birthday video maker with lots of creative tools to enhance the overall video making experience of the users.
Part 1. Top 10 Selections of Birthday Video Maker
1

Adobe Spark
Adobe Spark Film is ready to allow customers to build the perfect video for this important day, regardless of whether they're celebrating their own birthday or organizing a function for a friend, loved one, or colleague. To produce a photo slide show of collages and festival graphics, Adobe Spark Video is one of the most recommended birthday video makers. Fun typefaces and favorite track are a cherry on top for this birthday video maker. Experience this professional editing application without the requisite video editing skills. It's just as easy for everyone to upload content, organize orders, add a personal touch, and share birthday films.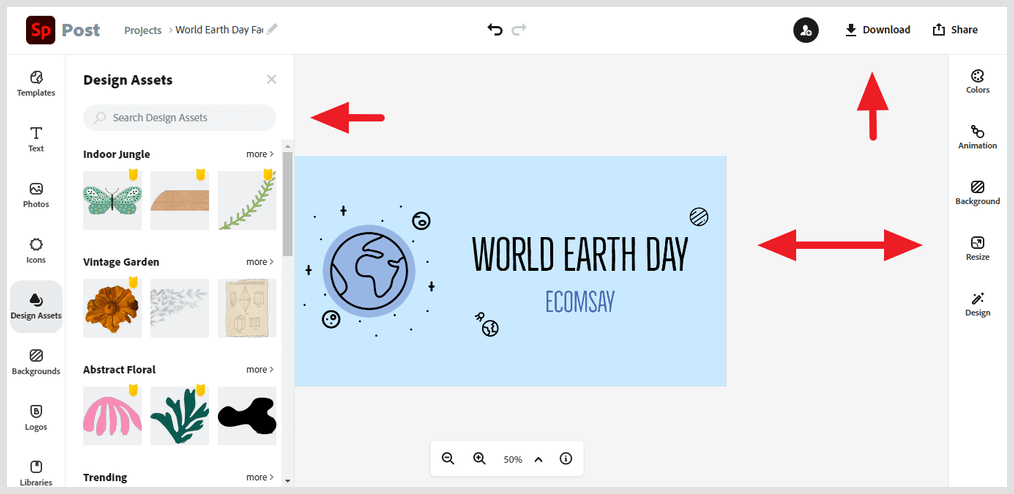 2

Filme
Filme offers a huge number of features that make it a smart and efficient video maker. With features like Auto-Create and Multi-Layering, Filme becomes a full-packed option to produce videos and clips. Filme also offers various built-in effects, transitions, text options, voice changers, picture-in-picture features, and screen recording.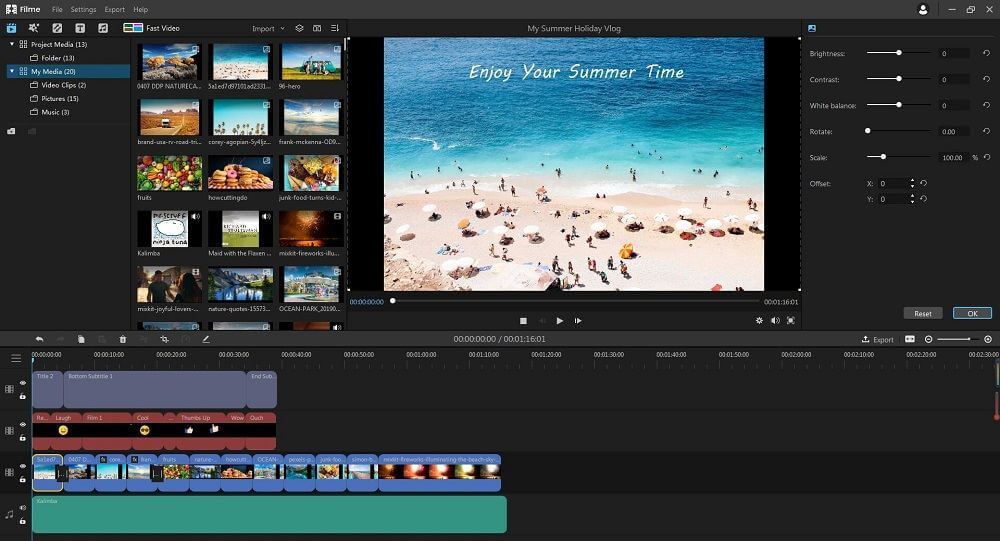 iMyFone Filme
3

Animoto
Another online application offering video presentation templates for birthdays is Animoto. Its drag and drop feature make it easy for images and movies to be added. With the video template Birthday Card, a user may create a digital birthday slideshow. The Animoto software is probably one of the finest options for customers who want to produce a fun movie for their birthday. The application offers many video layouts and a selection of music. The software also has a voiceover tool in addition to dozens of online music that lets users add a happy birthday greeting and make their video even more exciting.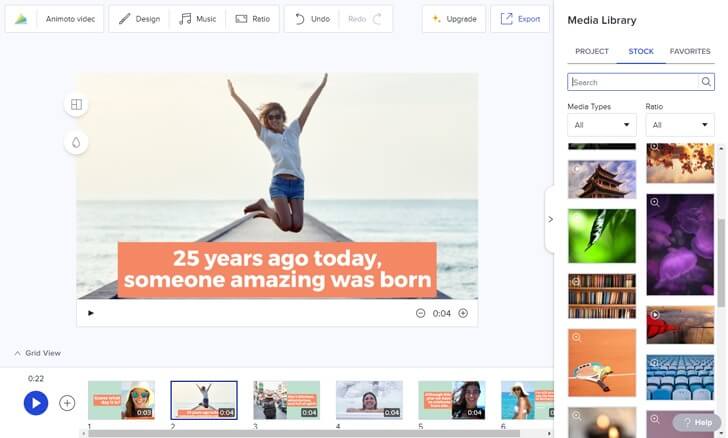 4

Vidday
An unforgettable birthday present for a particular individual can be created with the help of this super fun birthday video maker. Users may produce a happy birthday movie this year using the Vidday movie creator and can arrange a special group video greeting. One of the best features of Vidday is that it offers different video styles for different occasions like birthdays, weddings, anniversaries, or any other special occasion. In the birthday section, Vidday asks for the age of the person whose birthday video is to be created and offers custom templates according to the mentioned age.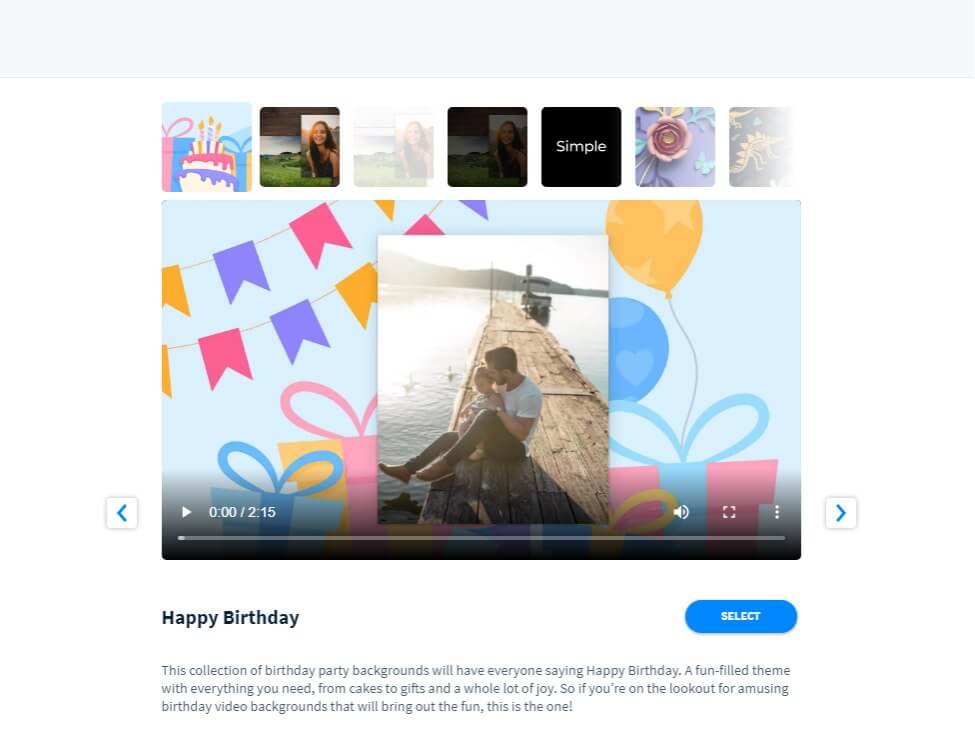 5

Render forest
Render forest is an online birthday video maker which has several birthday designs that users can utilize to design greeting cards, photos, and slideshows for friends and family with music. In addition to a broad video portfolio and animation models, Renderforest offers copyright-free stock footage. The program is easy to use and provides a wide selection of genres to accompany films.
However, this video maker has a few drawbacks. One of them is that users need to sign up and buy a premium version in order to get watermark free footage and export videos in a resolution of more than 360p.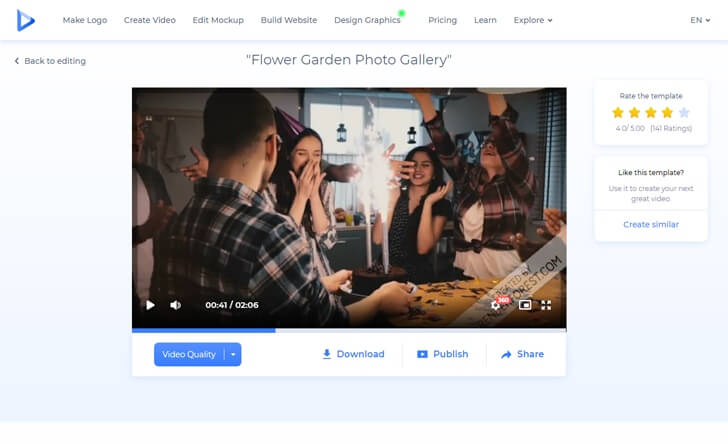 6

Animaker
Animaker is among the easiest online happy birthday video makers. The best feature of this video maker is that it offers a huge range of birthday templates, and users only need to choose one of them. The provided templates are loaded with beautiful transitions and animations to enhance the quality of videos. Furthermore, adding objects and texts is convenient, too, due to its drag and drop feature. Users can download the produced videos or even can upload their videos to YouTube directly. Another cool feature of this birthday video maker is that users can add voiceover to their videos. This video maker has free and paid plans with different features available.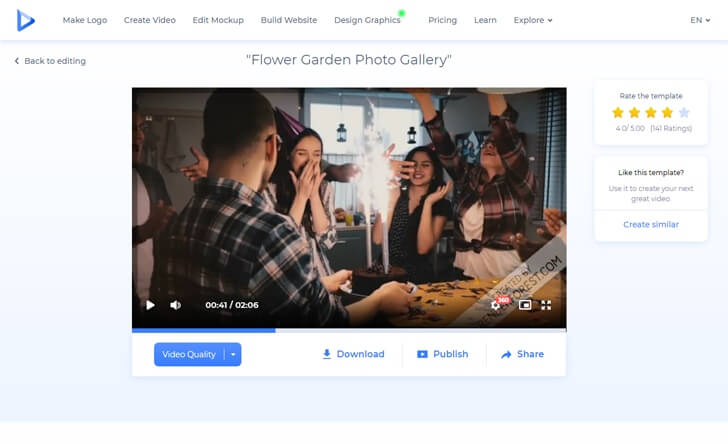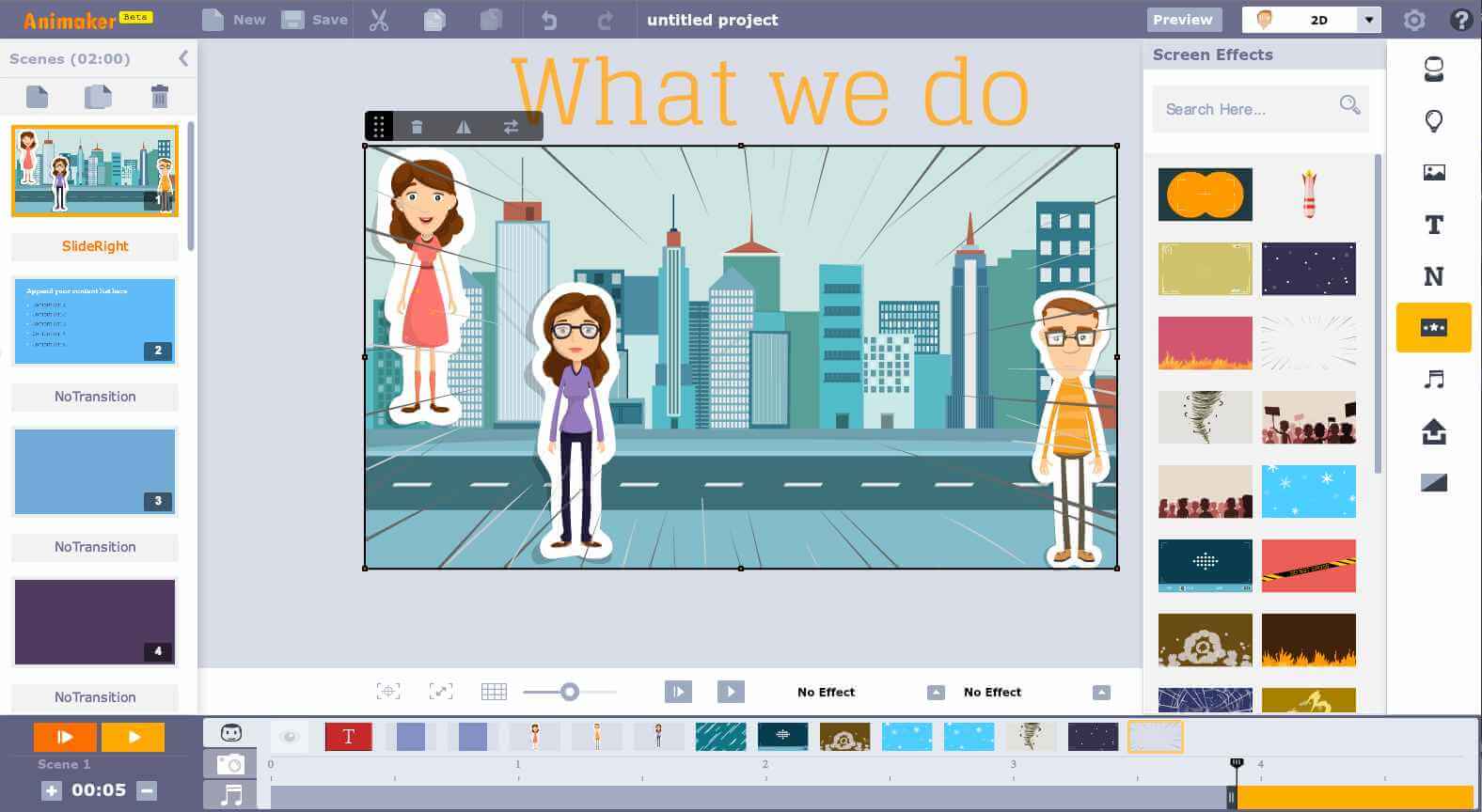 7

Smilebox
SmileBox is another online birthday video maker that allows users to produce amazing birthday movies and share them in a few minutes. As the name suggests, SmileBox offers a hassle-free experience for beginners, which can bring joy to their lives by creating videos conveniently. Users may choose from a wide selection of slideshow designs here. All one needs to do is add movies, photographs, and music to provide a unique touch. It is never a problem to share films using SmileBox because users may easily post them to Facebook or other social platforms.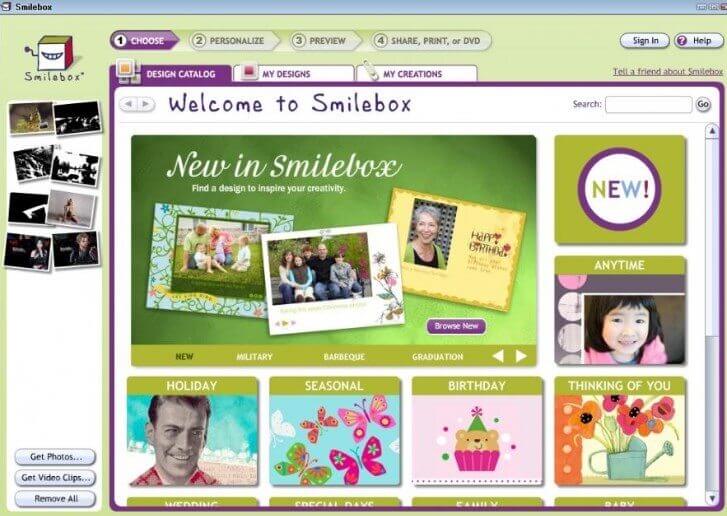 8

FlexClip
FlexClip video maker is one of its kind to provide already designed templates or start from scratch depending upon the need of the user. FlexClip video creator makes the procedure easy to use and versatile. It converts the imagination of users into wonderful videos, regardless of their degree of competency. FlexClip is offering features that can be helpful for both beginners and professionals. Features like trim video, add music & text, add voiceover, video merger, video watermark, split video, zoom video, video transitions, photo animation, and many more make FlexClip a perfect flexible video maker.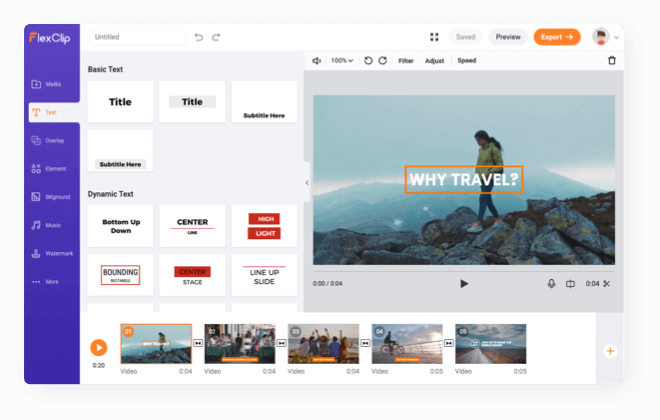 9

Magisto
Users will be able to make children's birthday cards and share creative films with co-workers and friends using Magisto. The software offers users dozens of built-in music, video effects, and images. Before producing their masterpiece, users may select the video orientation: square, portrait, or landscape. The size may also be changed at any moment. This feature is very useful when uploading the produced content to different social platforms as different social platforms are compatible with different orientations. The Birthday video creation app features both an online edition and free iOS and Android video editing software. After the project is completed, users can save the video into the cloud or share it among their social networks.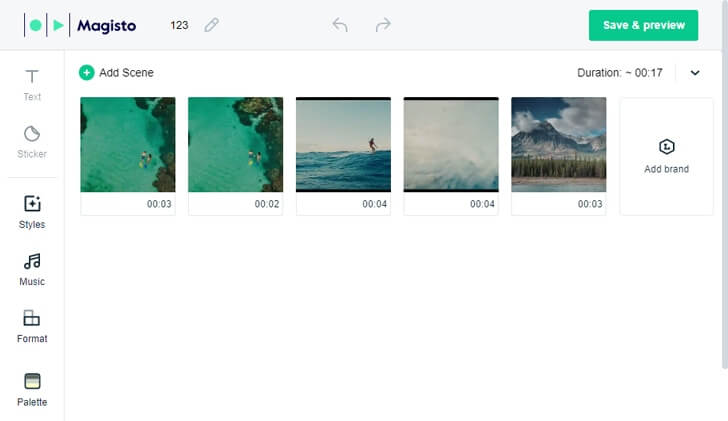 10

Veed
Last but not least is Veed. It is one of the best video makers to produce a stunning happy birthday video. Veed offers some unique features which enhance its functionality and add a professional touch to the videos. It allows users to choose different filters to change the mood and vibe of their videos. Additionally, it has a very simple tool to add subtitles to the videos. Users can insert sound waves into their videos, promotions, or video publications. Users can create a unique graphic element with several waveforms to pick from. The interface is quite minimalistic and provides a modern look.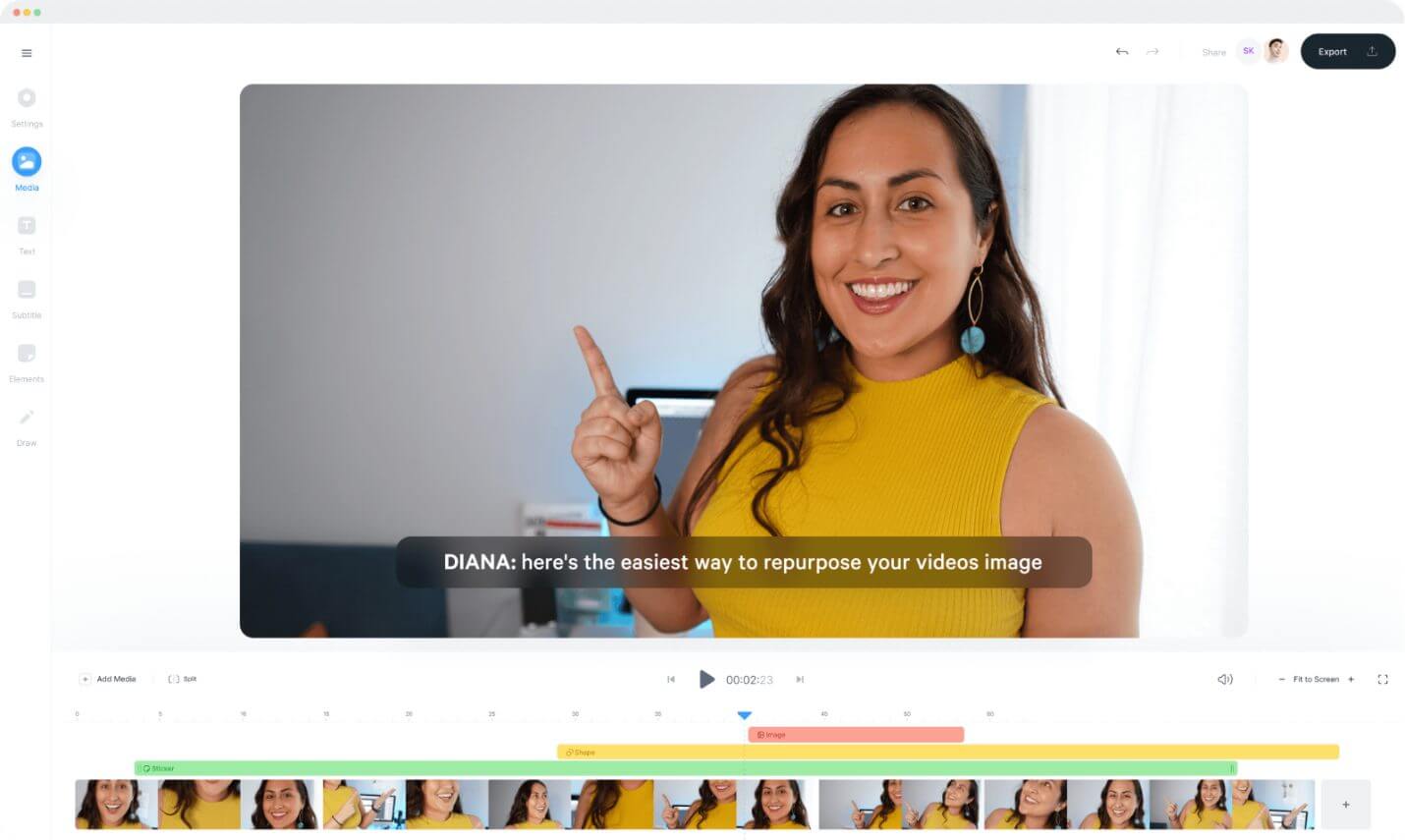 Final Words
With lots of the above-mentioned options, users can choose a video maker according to their requirements and skill level. When it comes to selecting a perfect video maker, the budget of the user also plays an important role as most professional features are usually available for premium members only. However, for beginners using the free version is suitable until they are skilled enough to make full use of premium features. Or else users can wait until their favourite video maker puts a discount on a purchase.