There is nothing better than a birthday video if you want to give warm wishes to the celebrant. You can express your feelings in the video, and the celebrant will be overwhelmed with your love and wishes.
Nowadays, people look for an eye-catching birthday wishes video that has animations, effects, transitions, and songs. Fortunately, this kind of video is possible even if you don't know video editing. You can easily make a birthday video with songs and photos. But you need a simple video editor, such as Filme.
Stay with us, and we will tell you how you can make birthday video with song and photos. We will take you through every step. Let's begin.
Part 1: How to Make Birthday Wishes Video with Song and Photos
You can use Filme to create an awesome birthday wishes video without any hassle. It is a user-friendly video editor and does not need any experience or knowledge. You can create a video using photos and songs.
There are two methods to create a video in Filme. Let's see them one by one.
Bonus Tips:
Create a Birthday Wishes Video

with Faster Tools

Special offer that can free try the resoureces for paid. Download it for trying it out!
Method 1: Create from the Birthday Template
is pretty simple and a matter of a few clicks. You just need a few photos; a birthday video will be ready in no time.
Step 1: Launch Filme
Open Filme on your computer. For a slideshow, you need to click on Auto Create
Step 2: Add Media
Now, you need to add media to the video. You can select videos and images from your computer. After adding media, you can arrange them in the order you like. Click on Next.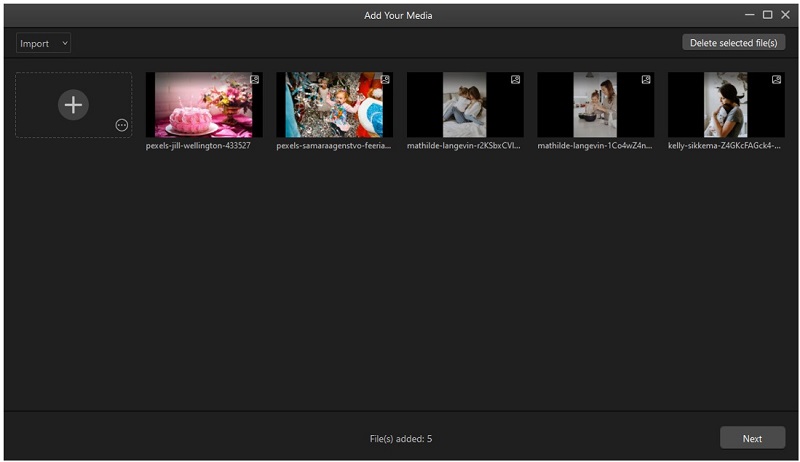 Step 3: Select a Template
Filme has a wide range of templates. You can select a template for your birthday video. Click on the template you like, and it will be downloaded automatically. See the preview of the video. You can adjust the duration of each slide and add your own music. Click on Export.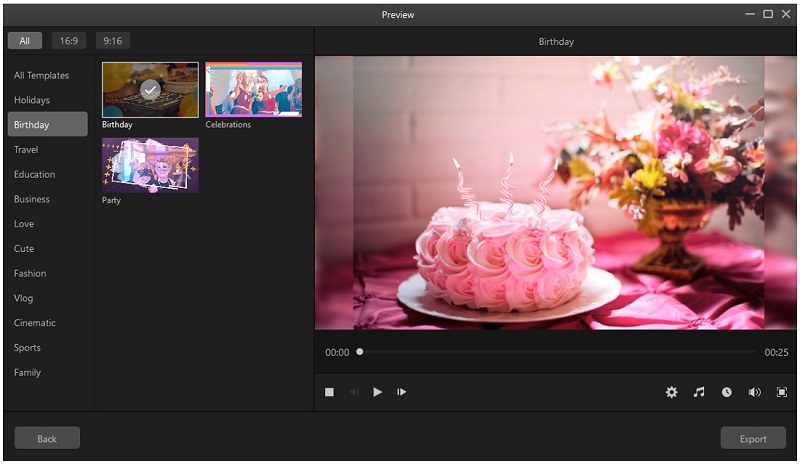 Step 4: Edit and Export the File
The video will be exported to the video editor. You can now edit the video as you like. You can add text, effect, filters, transitions, or anything you like. After all, click the Export button to export the video.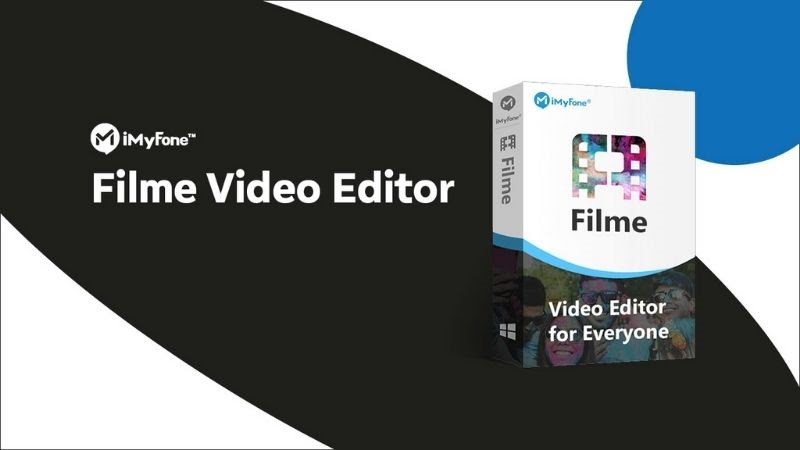 Method 2: Create with Text and Picture
Filme can also convert your text and pictures to a video. This amazing feature can create your birthday video without any hassle.
Step 1: Open Filme
Open Filme on your computer. You will see a few options. Click on Text to Video.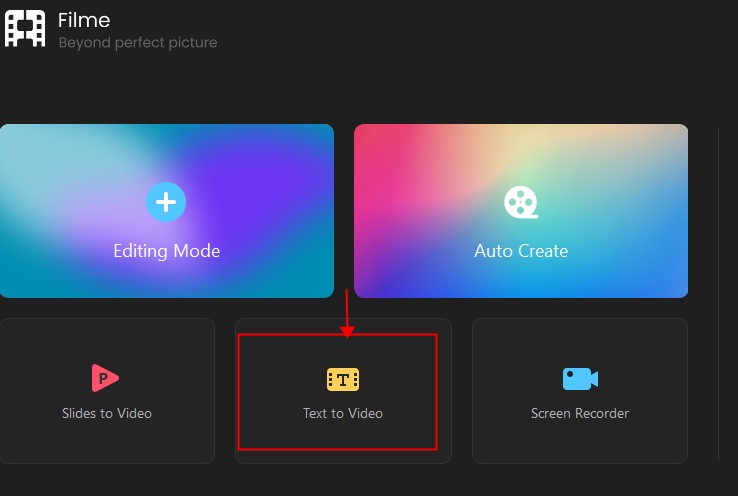 Step 2: Write Text
Now, you need to enter subtitles that will be displayed on the video. You can enter subtitles manually, but iMyFone Filme can smartly split them.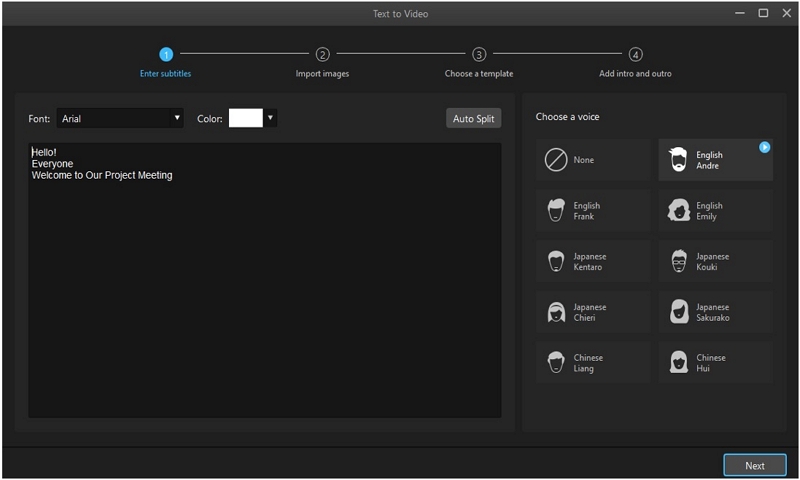 Step 3: Add Media
You need to add images and videos to your video. Click on the "+" and import the media. Arrange the images as you like. Click on Next.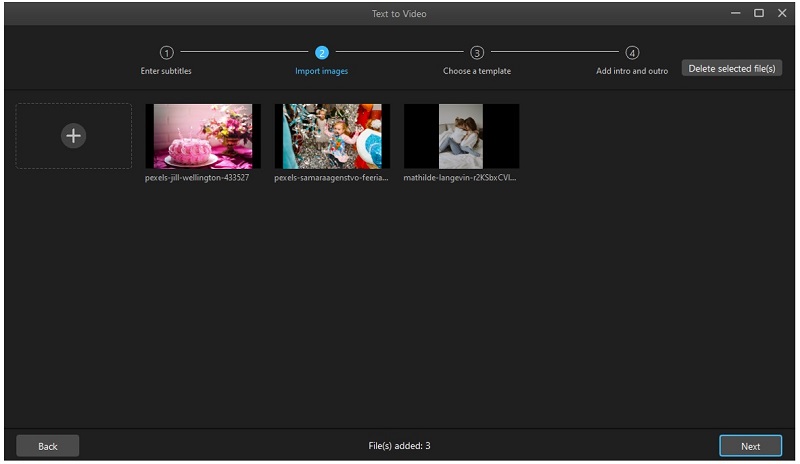 Step 4: Select a Template
You can select a template for the video. You can customize the character, background, and frame. Click on Next.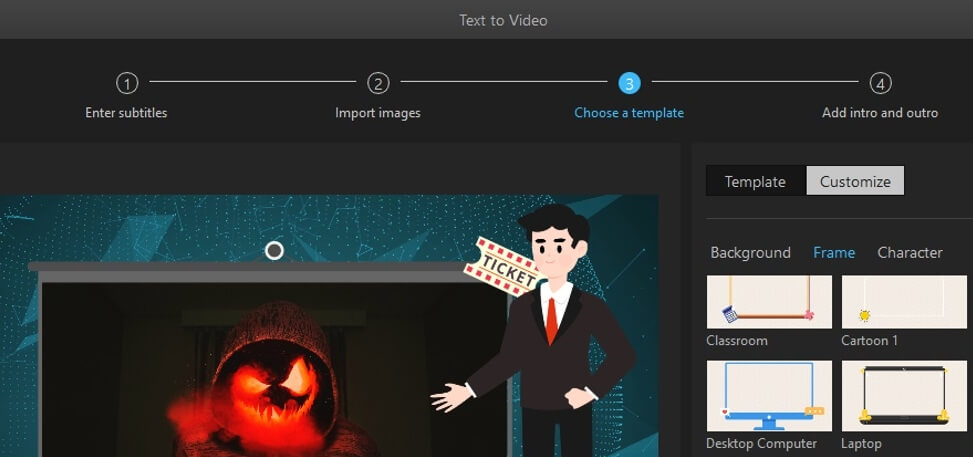 Step 5: Add Intro and Outro
Select the intro and outro. There are many options in Filme. You can also choose None at this stage if you want to add your own intro later. Click on Done.

Step 6: Edit and Export the Video
Your video will be on the timeline. You can edit it as you like. After that, click on the Export button to export the video.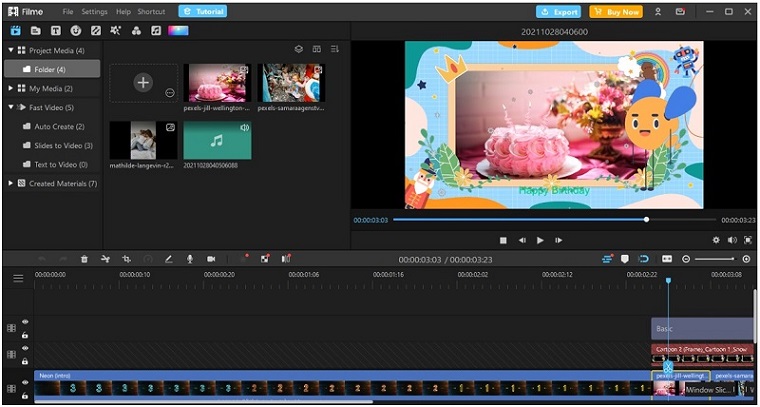 Part 2: Top 5 Birthday Photo Video Maker with Music Online
1) Smilebox
Smilebox offers some attractive and amazing birthday video templates that are just ready to create a fantastic video. You can surprise anyone with these eye-catching videos. Just select a suitable template and add images to it. The animations of the videos are more than exceptional. If you are in a hurry, use this video maker and make an happy birthday video
.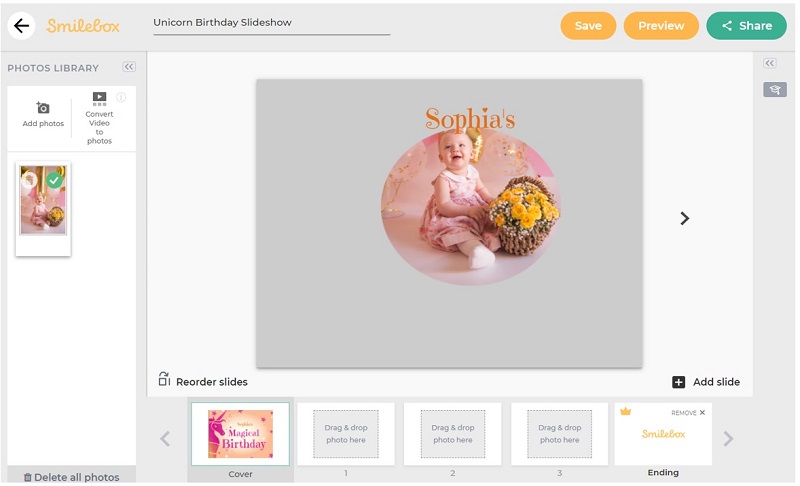 Pros:

The templates are eye-catching.

You can add music, edit text, and change the background.

You can also use the schedule send feature to surprise the celebrant on time.
Cons:

The videos are short.

You can only customize a few things.
2) Renderforest
Renderforest's birthday video maker is an amazing tool to create 3D and animated videos without any hassle. There are over a dozen video templates available, and you can select anyone to create a video for free. Even if you do not have any experience in video editing, you can make eye-catching videos with a few clicks. The video or template is almost ready, and you just need to place your images.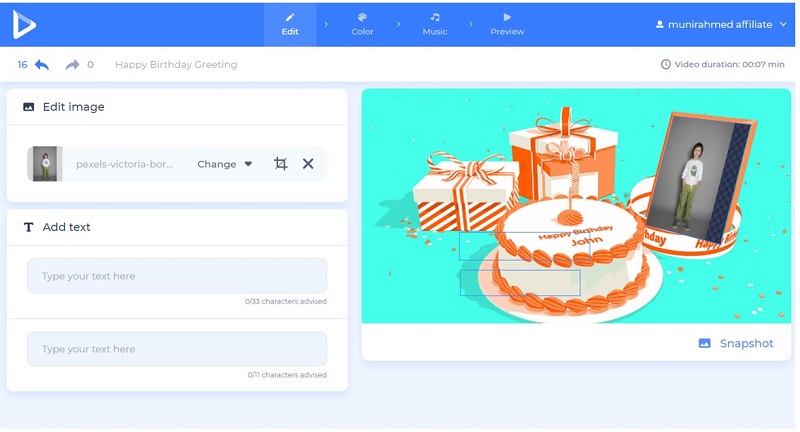 Pros:

Perfect for beginners

12+ templates available

You can also add the desired music track from the library.
Cons:

The customization is limited.

You might not like the templates.
3) Veed.io
Veed is a popular online video maker that can help you create amazing videos effortlessly. The best part is that it is a video editor, and you have complete control over your video. If you know some basics of video editing, you can use this tool and create a video of your choice.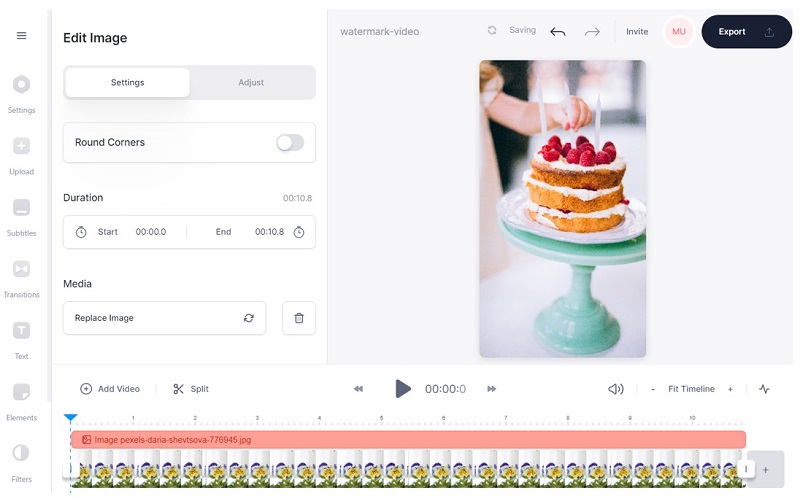 Pros:

You can create a video of your choice.

You can add images, add text, apply filters, and use other tools to make your video catchy.

It is perfect for those who want to express their creativity.
Cons:

No templates are available.

You need to spend time creating a video.
4) Animoto
Animoto can help you create animated videos, and you can create a simple birthday video with it. You can add images to the template and create a slideshow video. The video will be simple, so if you are looking for something exceptional, this is not the tool for you.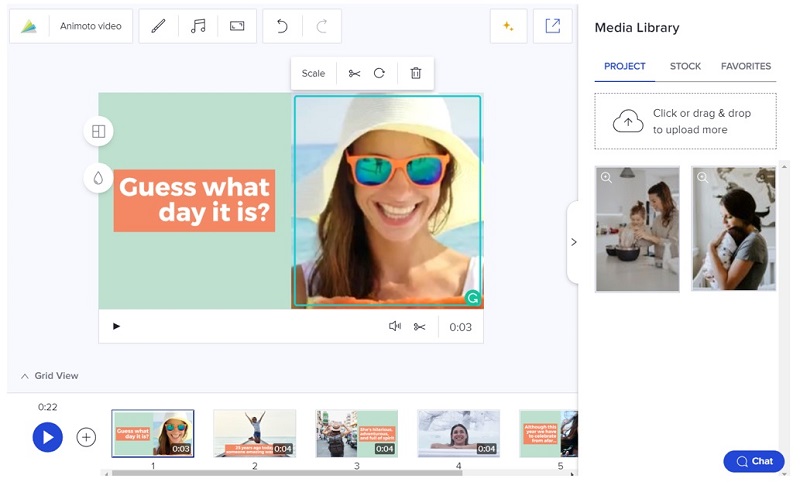 Pros:

You can use the stock images and videos.

Creating a video is pretty simple and a matter of a few minutes.

You can select music from its library.
Cons:

There are only a few templates.

Simple birthday videos.
5) Vimeo Birthday Video Maker
This is the simple and easiest tool to make a catchy birthday video. The best thing about this tool is that it has a wide range of birthday templates that you will not find in other online tools. Moreover, the templates are more than impressive.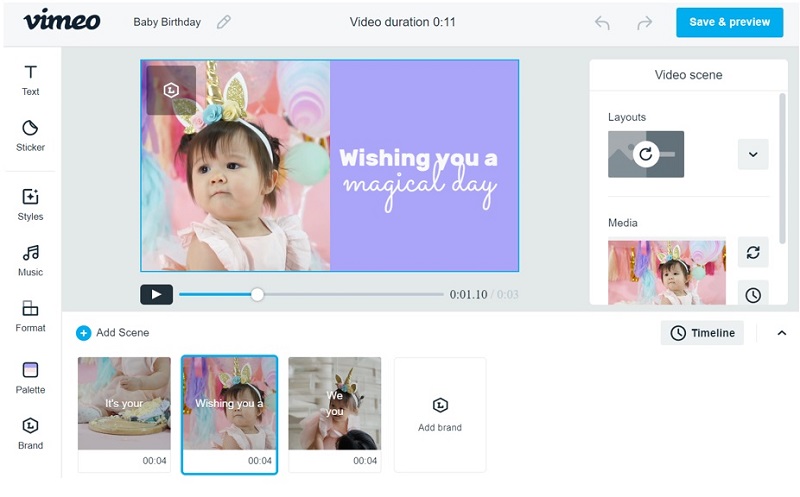 Pros:

Many templates available

Simple and easy tool

The templates are professionally created.

You add music, stickers, text, and styles to the video.
Cons:

The customization is limited.
Part 3: Best and Happy Birthday Songs for Birthday Video
A birthday video without a song is incomplete. A special song makes the video more engaging and appealing. We have collected some evergreen and best songs for a birthday wishes video; let's have a look.
1) "Birthday" by The Beatles
This is an iconic and popular birthday song that has been the first choice of people for more than fifty years. Whenever you hear the phrase "birthday song", this is the first song that comes to everyone's mind. If the celebrant loves pop music, then this song is a perfect choice. The lyrics are quite simple, but they are evergreen.
2) "Today is Your Birthday" by Solomon Burke
This is another popular birthday song from the '90s. The energetic and soulful voice in this song takes everyone along with the tune. It is perfect for birthday parties and videos. You can dedicate it to someone.
3) "Birthday" by Katy Perry
If you are looking for the latest song or something for Millennials and Generation Z, then this could be the perfect song. The song has the touch of the new era. The celebrant would love to hear this song in the video.
4) "Happy Birthday" by Stevie Wonder
This is another vintage song that was quite popular in the '80s and '90s, and people still love to use it at their birthday parties. The reason for its popularity is the powerful voice of the singer and the words "Happy Birthday to You". This could be a good choice, especially for older people.
5) "Happy Birthday Sweet Sixteen" by Neil Sedaka
This '60s song is evergreen and among one of the most famous birthday songs of all time. The lyrics of this song are praiseworthy. It is perfect for almost everyone, even if you are not old. For Boomers and Generation X, this song is a gem.
Final Words
We have seen how you can create a fantastic birthday wishes video effortlessly. With Filme, you can make an awesome video with photos and songs. It is the simplest video editor that anyone can use. Moreover, we have shared some online tools that you can use and a few songs that you can add to your videos. Now, you are ready to test your creativity.