Birthday is such a joyous and beautiful day for anyone, and to make it more special for your friends and colleagues, try something new this year! There are many ways one can think of surprising their friends on their birthdays with some special videos. Here are some of my most favorite video message ideas for a beloved one's birthday.
5 Ways to Make a Great Video Message for a Friend's Birthday
You can make a video of everyone wishing birthday to that person and send it to them with great editing. For example, It's your brother's birthday; try to include everyone from your family wishing him birthday one by one in a video and send it to him. This will be a great surprise. You can also add a few texts on the video, like using some cheesy or funny quotes. This can be both funny and cringy at the same time, and it will surely light up the moment. They can be like:
"Happy birthday to the guy who still isn't showing this age or acting it!" -by funny birthday wishes
Make a video in an unexpected place:
If you want to make a memorable birthday wish video, then try going to weird and unexpected places like underwater or even sitting inside dug-up soil to make you look dead. Imagine you sitting in soil and pretending to be dead, then suddenly open your eyes, say "wishes from the grave," and be out cold, would that be funny. This will make your video stand out the most. Try to make it funny so that you would use a laugh or two. You would use quotes like:
"May you grow so old that you unintentionally frighten small children" -by happy birthday quotes
Compliment them:
It is a must to do when making a birthday wish video. Try to make the atmosphere light and funny, but still don't ever forget to compliment them so that they know you appreciate them being in your life. You could be laughing and all in the video, then suddenly say, "all jokes aside, I appreciate you being in my life and making it worse to stay serious in grave situations". This will not only be meaningful but at the same time, funny and will make your connection stronger. Use a quote like:
"I almost sent you a real birthday card, but thankfully my internet connection came back" -by some card.
Tell a Funny Story or Anecdote
We all have some memories that we cherish with all our hearts and would also like to share with many people to make it even merrier. So try to gather as many of the friends you share that memory with and make a group video remembering the old times and basking in the happiness of the moment.
"Forget about the past, you can't change it. Forget about the future, you can't predict it. And forget about the present, I didn't get you one. Happy birthday!" by unknown.
Your First Meet-up
We all know how everyone is curious as to how two people ended up being together. So why not indulge in their curiosity and try to make a fun video regarding how you both first met and first impression, memory, etc. It will be eye-catching and keep the people on their toes to know more. This will also serve as a great conversation starter for everyone.
"On your birthday we wish for you that whatever you want most in life it comes to you just the way you imagined it or better. Happy birthday!" by Unknown
Try to sing:
Doesn't matter if your singing is bad or not, just sing. I think that singing for the people you love will make them like you even more. So why don't you try and impress them with their favorite song, or you can just use the tune and make lyrics on your own that fit perfectly according to their personality. This will make it even more entertaining to watch and make. You can also dance a little, just on the beats.
"Happy birthday! Your life is just about to pick up speed and blast off into the stratosphere. Wear a seat belt and be sure to enjoy the journey. Happy birthday!" by unknown.
5 Birthday Video Message for that Special Someone
Talk about Achievements
There is a lot of talk about when you have someone special you share many memories with. For starters, you can talk about all the achievements you made together, plans, goals, hobbies, and even life routines. Make a birthday wish video remembering all the things you did together, your awards, and punishments you got together in school days, etc., but the most important thing is that you tell them that you are proud to have someone special like them.
"Today is your day, live it like you are the king of the world and don't mind what others say, this day is just for you! Happy birthday." by unknown
Their meaning in your life
You might think that it is cringy and all, but this is the topic we all avoid for obvious reasons. You must tell them that they are important to you, they hold a precious position in your heart, and how they color up your otherwise black and white life. We all take people for granted, and when we lose them, we know their worth. So why not just do it now, and show them their worth. This will get awkward, but still, you never know what the heart says, right? After all, who minds getting a compliment or two, right?
"I am blessed to have a buddy like you. Happy birthday, dear friend. May your special day be loaded with happiness and love." by unknown
Sending Outtakes
Bloopers are the best and the unexpected part of the video. You should include them if you would no one would mind and it will enhance the fun. Like, give outtakes of them you are recording the video, and someone just keeps on messing up and others reactions to that. This is seriously worth it, and everyone will enjoy it.
"Happy Birthday to a great guy! You do so much for others. I hope you can take some time for yourself on your big day. You deserve it as much as anyone, and more than most." by unknown.
Perform a Sketch
It is always the fun part if some videos do include them. Like how everyone is sitting together and discussing what to do, what to include in the video, how everyone should react, and all the fun parts. They show what the other thinks of that person and hence have a deep meaning.
"Sending some love to the most charming man in my life. You always bring the best out of me. I do not know how you do it, but I love you for that. Happy Birthday." by unknown
First Meet-up
We all know how everyone is curious as to how two people ended up being together. So why not indulge in their curiosity and try to make a fun video regarding how you both first met and first impression, memory, etc. What people mostly like to know is who made the most effective to know the other, and who was awkward at first! It will be eye-catching and keep the people on their toes to know more. This will also serve as a great conversation starter for everyone.
"Hey, Birthday Boy! I'm sending you this ironic birthday wish because I know you're way too cool for ordinary human sentiments." by unknown
5 Birthday Video Message Ideas for the Office
Motivating them for their goals
Office birthday wishing videos are a little bit different than the others. You can't be all lovey-dovey with them, but still, you have to be friendly on a limit. So, try making a birthday wishing video where you wish them and also motivate them for future hard work and how it might get tough sometimes, but don't give up, and you'll be there for them.
"On behalf of the entire company, I wish you a very happy birthday and send you my best wishes for much happiness in your life." by unknown.
Appreciating them for their hard work
If you are making a video for a colleague, always mention how you appreciate their presence and their hard work or working manners. Do this because you never know if they are on the edge of the cliff and giving up, as not everyone gets complimented. Anyways, even if they are doing it, it doesn't hurt to appreciate someone, right?
"No one could do a better job than the job you do. We thank you for sticking with us! Enjoy your birthday!" by unknown.
Share their hardworking moments.
If you have run out of ideas, you should make a group video wishing the person a birthday and also giving a few compliments. It will take the attention off of you and will balance everything if done in a group.
"We wish you an amazing year that ends with accomplishing all the great goals that you have set!" by unknown.
Share how they helped you.
If you are friends with a colleague, you can make a little light atmosphere of the video, share how you had fun working with them, and share your experience working together. It will enhance their meaning in your life and also help to make the bond stronger.
"Happy birthday to a wonderful person who means so many different things to our company!" by unknown
Share your first impression.
This is a great birthday idea to start and hold a conversation in a video. Just because you're friends with them doesn't mean it was like that since the start. Maybe you both started as bad and then got to know each other. So, share their first impression of you, and see how meaningful this gets.
"With warm wishes for a very happy birthday and sincere thanks for your hard work throughout the year." by unknown
5 Video Message Ideas for Milestone Birthdays
Review
Birthdays are the moments where everyone gathers around or is contacting each other. You can make a video showing or telling how you went somewhere, and that place reminded you of old times, telling you about your plans for the future, what you are currently doing or have done in the past.
"Our age is merely the number of years the world has been enjoying us!" by unknown.
Narration
You can make a video on how you have many stories you both share, the best and worst experiences, sad and happy moments, etc. you can make mini-biography-like memories from your childhood to present you both shared. Your hardships and moments where you were low in life, and how you overcame them. I'm sure you have many stories to share, so why not start one by one.
"I hope your celebration gives you many happy memories!" by unknown
Old Pictures
This is a touchy topic if you are still with someone who is your childhood friend. If so, then you might have a lot of pictures together, so why not grab some tissues and the old album and start recording, reminiscing the old memories while looking at the pictures, and laughing or crying tears of joy.
"Wishing you the biggest slice of happiness today." by unknown
Share a memory
You can make a video sharing a memory you both had together. Like how you were kids and bunked from school and went to the nearby coffee shop and had a blast there. It will surely be an emotional roller coaster ride, remembering the old times, and silly little pranks on neighbors, etc. But try only remembering the good times, not the sad, heartbreaking crushes or something.
"It's your special day — get out there and celebrate!" -unknown
Interview
This is a little unexpected because you never know what the other is going to say, but it will be worth it. Try interviewing your friends that came and asking silly little questions, like what do you think another person says if I ask them a particular question or their reaction, and then actually see if it's true or not.
"Hope all your birthday wishes come true!" -unknown
5 Birthday Invitation Video Message
Funny Birthday Invitation
Try to make a party invite, where all your friends are invited. How about you select a fun theme like whenever someone enters, you ask them silly questions or memories they shared with the birthday person, record them and make a video from different short clips and send them to the birthday person asking them to join in that wonderful moment.
"Birthday party will not be complete until my friends get full. Come for the party at Venue Time. The Bar Will Remain Open Until You Close It." -unknown
Formal Birthday Invitation
If you have a birthday party planned for a colleague, then you should make a formal invite in the form of a video, telling them that they are invited here and this and that, and when they do come, give them gifts and well wishes. This is so that they can fulfill the meaning of the party and celebrate it with everyone else.
"From the depth of my heart, I am inviting you to my daughter's birthday celebration. Your gracious presence will exhilarate the occasion." -unknown
50th Birthday Invitation
If you are having a birthday party for someone of age 50, try to make a fun theme like 50 is half a century, so how about you put everything half, like half cake, half gifts wrapped, half costumes, etc. to balance everything funnily and make a video inviting them. Make sure that the video and everything are as perfect as you would like the party to go.
"A birthday party is incomplete without two things, the cake and friends. The cake has been ordered and an invitation has been sent. Now, join us in the celebration on a date, time, venue." -unknown.
Child's Birthday Invitation
You can make a birthday invitation to your family for your child's birthday party by making a video showing how everyone is excited to have them over and all the things that should be included in a birthday party video.
"Let's go on an adventure, shake hands with the moon, hug the stars and make some noise. It's the birthday party of ----- who has turned seven today and wants his friends to join."
1st Birthday Invitation
If you are having the first birthday party for someone and inviting them via a video, don't ever forget to add some emotional things to punch an enhancement in the invite. You should show them how everyone is waiting for them and how things are going without them.
"I am cheerful, I am pretty, I am cute and naughty. To see my different shades at my first birthday party. Join me in my celebration time, venue, date." -unknown
5 Funny Birthday Video Ideas
Carpool Karaoke
It is very entertaining and funny to mime a song while you start your journey! These carpool karaoke are so fun to watch! Not only to watch but also to sing! You can choose a song that the birthday person enjoys and then mime to it! You can add messages too!
"Don't get all weird about getting older! Our age is merely the number of years the world has been enjoying us!"
Put on a Performance!
You can put a performance in your birthday video! Like, you can imitate your loved ones, or you can tell a joke if you have any! This is a good way to keep the video going and to give a laugh to the birthday person! You can make a TikTok by recording in the landscape. You can add music, too, along with some text!
"Happy birthday to someone smart, gorgeous, funny, and reminds me a lot of myself… from one fabulous chick to another!"
Share a Funny Moment
There are so many things that we find weird about our friends and family, but just to keep them confident, we don't talk about them or make fun of them. But, in these wish videos, you can add these weird habits of your friends and family and talk about them to make them remember the moments. This will be cringy for them, but it will also be fun for the birthday person to know how you all have gotten out of that funny stage of your lives! You can add some text too in the video. Text like:
"Happy birthday to one of the few people whose birthday I can remember without a Facebook reminder."
Share a Funny Memory
Everyone has a story to tell about their loved ones. In this birthday video, why don't we share a funny moment to recount it! You may not have any picture or video of that moment, and it may even be only in your memories! So, it is the best time to share it and remember it once again!
"Cheers on your birthday. One step closer to adult underpants." By Unknown.
Upload your Funny Pictures
Everyone got fun pictures and videos to remember the fun times! The pictures could be of doing something dumb or doing a dare! Or just plain candid! Let's share these pictures and share the story behind them in your birthday wish video! You can also add some text like:
"Happy birthday! May your Facebook wall be filled with messages from people you never talk to." By Unknown.
Tips for Making a Highly Watchable Birthday Video
Belated birthday.
It happens all the time! We all have forgotten our loved ones' birthday at least once in our lives! But, it's not a problem if you give them a belated birthday wish video to lift their mood and apologize for your mistake. You can also add text like:
"Hope your special day brings you all that your heart desires! Here's wishing you a day full of pleasant surprises! Happy birthday!" by Unknown
Birthday party recap.
Let's make this years' birthday wish video with the past year's birthday memories! It will be fun to see how everything is still the same but, at the same time, different. Share fun pictures of your last birthday and discuss them to get some fun in your birthday wish. Here is a quote you may use in the video:
"On your birthday we wish for you that whatever you want most in life it comes to you just the way you imagined it or better. Happy birthday!" by Unknown.
Gift video.
Let's make it more fun by making a gift video. In this birthday wish video, you can add instructions about a gift, and then just to make it funny, tell the birthday person to get the gift himself. This will be much more fun for the person, and it will also be an activity that both of you can share to make it memorable.
"Sending your way a bouquet of happiness…To wish you a very happy birthday!" by Unknown.
A trip down the memory lane
There are so many things that change over a year. People face so many hardships and so many milestones. They go through many ups and downs. So many happy moments and so many sad moments! All of them are a part of life, and everyone has to go through them. So, to make your loved one's birthday special, why not go through all the moments that your loved one has to go through. Talk about all the joyous moments and sad moments, and remind them how it was such a roller coaster ride and how they are still strong and going forward. Create a birthday video and remind them of these memories! Other than just talking, you can use software to insert pictures of those moments if you have any, and you can add text and also insert music to make your video more appealing. You can add quotes too, like:
"Wishing you a beautiful day with good health and happiness forever. Happy birthday!" by Unknown.
Birthday stories for Instagram, Facebook & Snapchat
To make your birthday wish special and stand out, why don't try a new method instead of that old method of hunting down a picture and just writing "happy birthday"! Let's try a new thing this year and make it special for your loved ones. There are many templates available to make birthday messages in a minute to make your wish look more sincere. These video messages have been taking over the internet for some time now! You can also make one and post it on your Social media like Instagram, Snapchat, and Facebook. Insert some beautiful quotes. For example:
"It's a smile from me… To wish you a day that brings the same kind of happiness and joy that you bring to me. Happy birthday!" by Unknown.
How to Record a Birthday Wishes Video for a Friend or Your Loved One?
Want to record birthday wishes videos for someone special? Well then, I got the best software for you. You can do whatever you want on this software, from editing to adding effects, texts, audios, etc. this software is known as iMyFone Filme.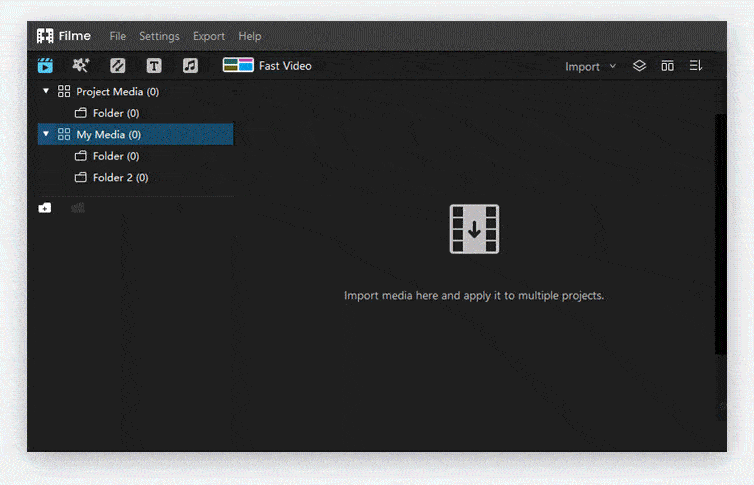 Filme is the best editing software. You can edit videos with whatever effect you desire or also make slideshows for whatever purpose. By using Filme, you can easily make video edits within a few minutes, with high quality. You can add transitions, effects, audio, or even texts, in it and then send it to whoever you want.
Key Features
The main features of Filme are detailed below:
Filme is easy to attain access to.

Filme makes great video editing within a few minutes.

Edits made by Filme are of high quality, giving them a professional's touch

There are about 50+ audios pre-present in Filme

There are also about 170+ filters a user can choose from.

Filme allows users to use fast video mode from its 20+ fast video mode

A user can use transition from the 110+ transitions already present in Filme

A lot of Instagrammers and professionals sing with millennials, and Gen Z uses Filme for video editing.
How to Edit your videos using iMyFone Filme.
The steps to make a video edit using Filme are given below. Just keep in mind that they start after opening Filme.
1

Import media
The first thing you need to do is select the media you want to add in Filme and then import them. That can be done by clicking on the button present on the left of the screen in black and white.
2

Add Audio
Select one of the audios from the Filme or even choose from your library, and apply them to your video. There is an audio option present in the top toolbar in Filme.
3

Add Effects
If you want, you can add whatever effect you desire by simply clicking on the magical wand present in the top toolbar of Filme. In effects, you can add filters, transitions, fast video mode, and even texts.
4

Cut/Crop
If you want, you can cut the video from wherever you want. You just need to drag the video and drop it to where you want.
5

Add Text
You can add a message or text in your video for the audience if you want.
6

Save
you can save your video editing by clicking on the save option present in the top toolbar or clicking shift+s. It will automatically save your video in your library or gallery.

iMyFone Filme
Make Digital Storytelling on IGTV Easy with iMyFone Filme!
Download Now