If you're in the mood for some lighthearted fun, why not try Squidward AI voice generator, which makes you experience the joy of transforming text into unique Squidward AI voice, best for content creation, fan project, audio books, for fun and more.
We've curated a list of the top 6 AI Squidward Voice Generators for you to enjoy! Give them a try and let us know which one you find most enjoyable!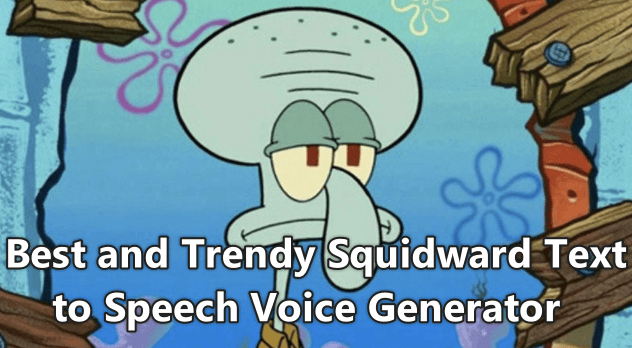 Listen to Squidward AI voice for free using iMyFone Voxbox down below!

Part 1: 3 Best Squidward AI Voice Generator for Text to Speech
iMyFone VoxBox is an AI Squidward voice generator capable of generating distinctive Squidward AI voice for text to speech conversion. With its extensive range of features and settings, you can personalize the voice message to suit your preferences. Additionally, VoxBox offers 3200+ voices and supports 77+ languages, enabling you to generate Squidward and any other characters' voice messages in any language of your choice. Enjoy the flexibility and creativity that iMyFone VoxBox offers in bringing Squidward's voice to life.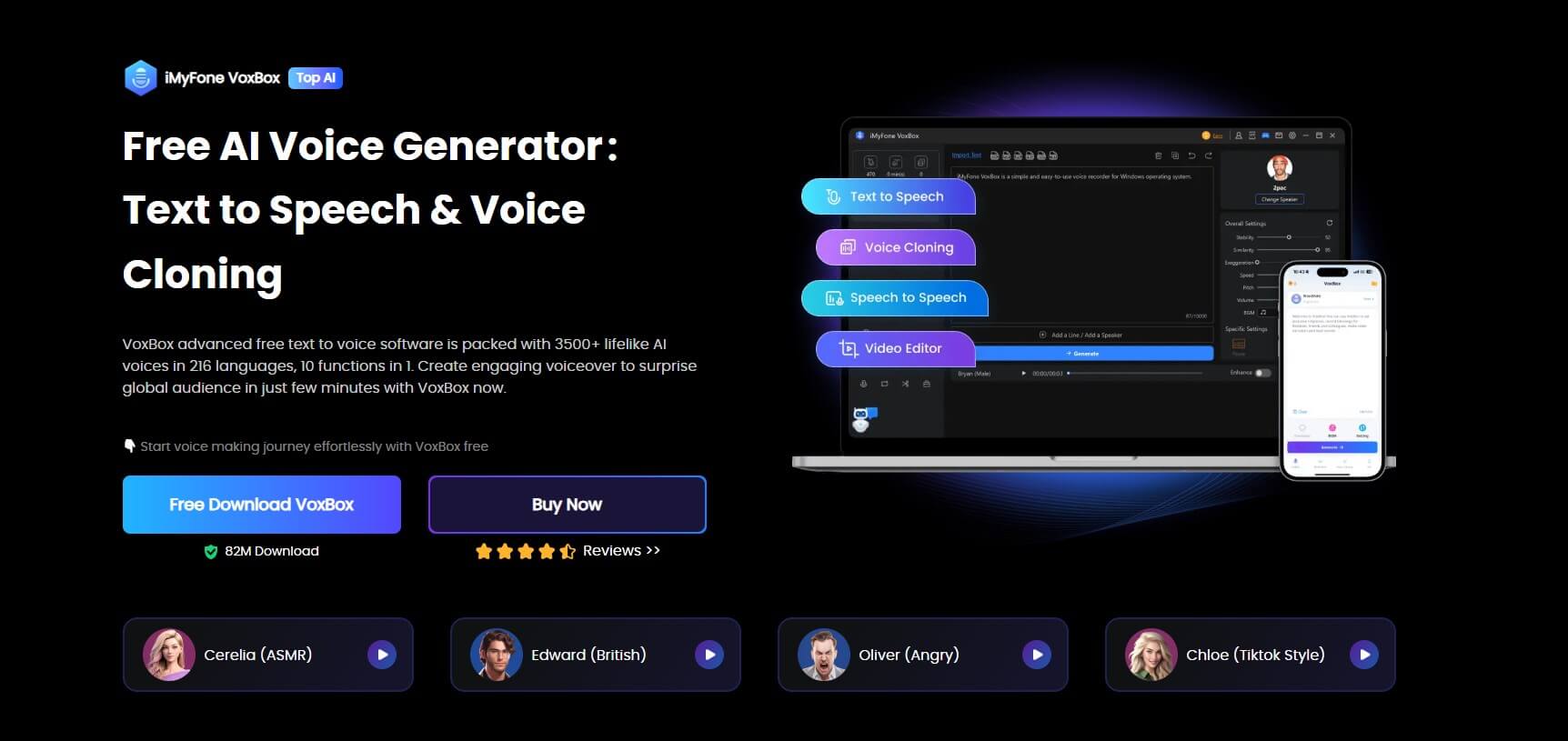 Free Get Squidward AI voice for TTS:
Step #1: Download and install VoxBox from their official website and enter Text to Speech on the leaft side.
Step #2: Click "Change voice" to choose Squidward AI voice.
Step #3: Enter your text, and click on "convert" to make the voiceovers.
Step #4: You can always check any voiceover options and see how they sound and which one is more fun.
Below are the key features of iMyFone VoxBox as a squidward text to speech generator:
Key Features:
iMyFone VoxBox is an easy to use text to speech voice generator that can create high quality voices.

iMyFone VoxBox supports around 77+ languages, so you can create voiceovers in different languages.

Uses 3200 plus voices as input.

VoxBox is extremely fast, so you can create voices very quickly.

VoxBox Supports all the commonly used formats such as MP3, AAC, and WAV.

It allows you to export different audio files in multiple formats all at once.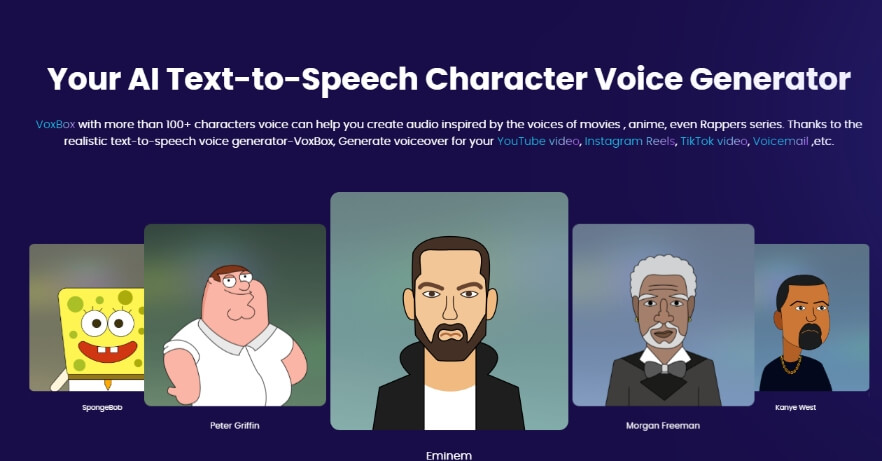 When it comes to finding the best text to speech voice generator, iMyFone VoxBox is definitely a tool that you should consider. Here are some pros and cons of using this tool:
Tips
No voice artists are needed, and no recording equipment is needed. You can easily convert your text to speech and voice using the best
Squidward Text to Speech
TTS
iMyFone VoxBox
! Download it and try it out for free now!
Pros:

iMyFone VoxBox gives a free trial to its users. So, you won't have to pay for it unless you like the product.

It is totally safe to use; it keeps your privacy intact.

VoxBox does not run ads thereby saving you time.
Cons:

More premium features, like voice clone, need purchase to use.
Watch this video to learn more about the best Squidward Voice Generator VoxBox:
Narakeet is a top-notch text-to-voice converter providing AI Squidward voiceto produce realistic-sounding speech from written text. By simply inputting your written text, Narakeet's software will seamlessly transform it into an audio file that closely resembles natural human speech. Experience the power of Narakeet in creating lifelike voice recordings that bring your written words to life.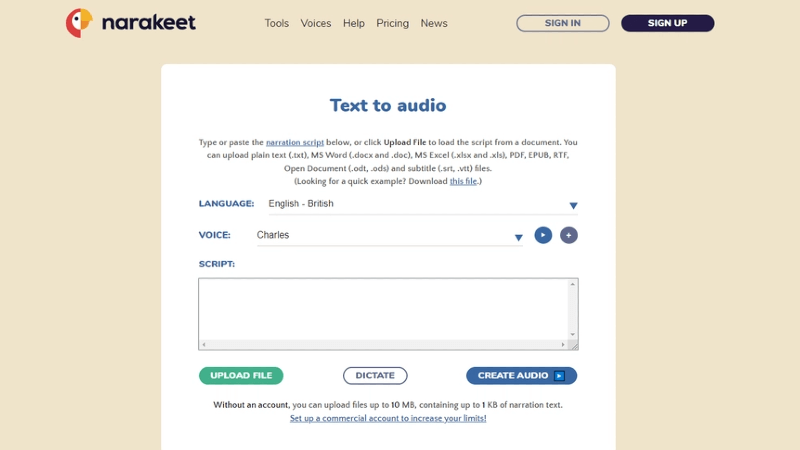 Below is the list of the key Features of Narakeet:
Key Features:
500 plus text to voice vocals.

Bring over 80 languages into use while creating audio.

Easily converts docx to WAV, M4A, or MP3.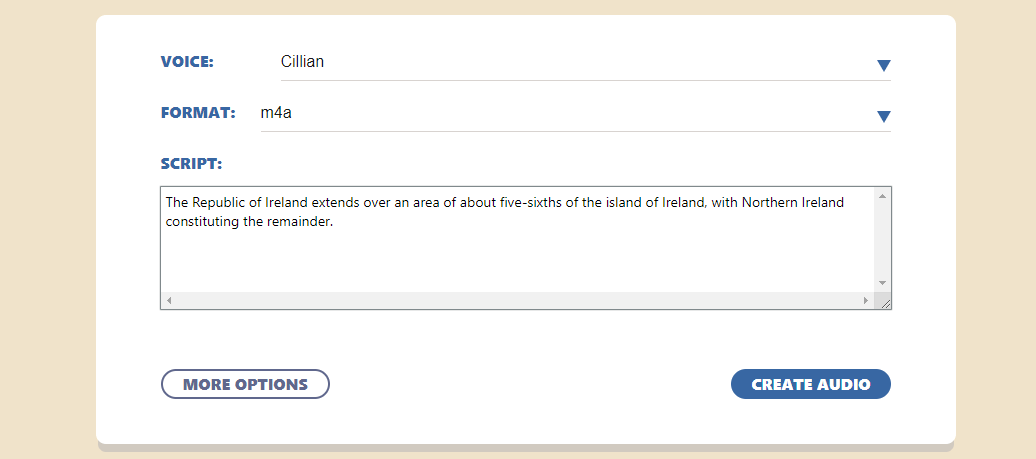 Pros:

You are not required to make any kind of registration.

It's completely free to use.

It provides a facility of 'Quick Lessons for beginners to navigate the platform effectively.
Cons:

The tool does not offer as many customization options as some of the other tools in this category.

Some users have reported that the voices sound a bit robotic and artificial.
Balabolka is a versatile text reader that provides various options to customize the way it reads text, allowing you to achieve a Squidward-like voice. You can fine-tune the voice's pitch, rate, and volume, and even add effects such as echo and chorus to enhance the output. Additionally, Balabolka enables you to save the generated speech as an audio file in popular formats like MP3, OGG, or WAV, ensuring you can listen to it at your convenience. Explore the extensive capabilities of Balabolka and enjoy creating Squidward-like voice renditions from your written text.

Key Features:
Works on Windows XP, Windows Vista, Windows 7 and 8.

Easily navigable.

Ability to read text from multiple sources such as Doc, HTML and ODT file types.
Pros:

Balabolka has a to the point interface making it easier for people to understand and use.

Offers multiple voice options.
Cons:

You will be required to update the Balabolka for new languages.
Part 2: Get Realistic Squidward AI Voice Online for Text to Speech
ReadSpeaker is an online Squidward text to speech converting website to gain realistic Squidward AI voice, either for fun or for voiceovers. It is a popular software with 10,000 customers throughout the world.
It offers a natural sounding voice and converts any written text into spoken words. You can also use ReadSpeaker to listen to articles, webpages, documents, and eBooks.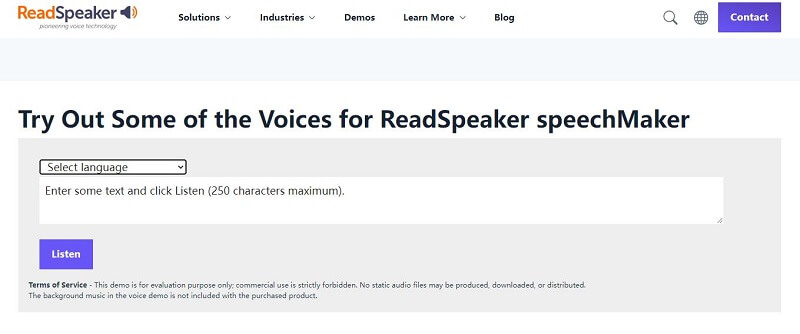 Key Features:
Customizable dictionaries as well as pronunciations are available for use.

Available in 35 plus languages.
Pros:

Easy to use.

Fast and dependable.

Experienced player with 20 plus years of experience on its back.
Cons:

Sometimes, this online resource leads to bad pronunciation of words.
15.ai is a text-to-speech site that enables you to generate accurately, realistic-sounding AI Squidward voice from written text. It offers a wide range of options for customizing your voice, including rate, pitch, and volume.
15.ai offers a wide range of features that make it the perfect Squidward text to speech site. Some of these key features include:
Key Features:
15.ai offers a wide range of voices to choose from, so you can find the perfect one for your needs.

15.ai offers flexible settings that allow you to customize the text to speech experience to your liking.
Pros:

15.ai produces high quality audio that sounds natural and realistic.

15.ai is easy to use, so you can start using it right away without any hassle.
Cons:

Sometimes, it takes more time than usual which can be irritating at times.
Natural readers is a text to speech website tool that can be a good choice for people looking to squidward text to speech voice generator for fun.
It can also help with studying by allowing you to listen to texts at a slower speed, or have them read aloud.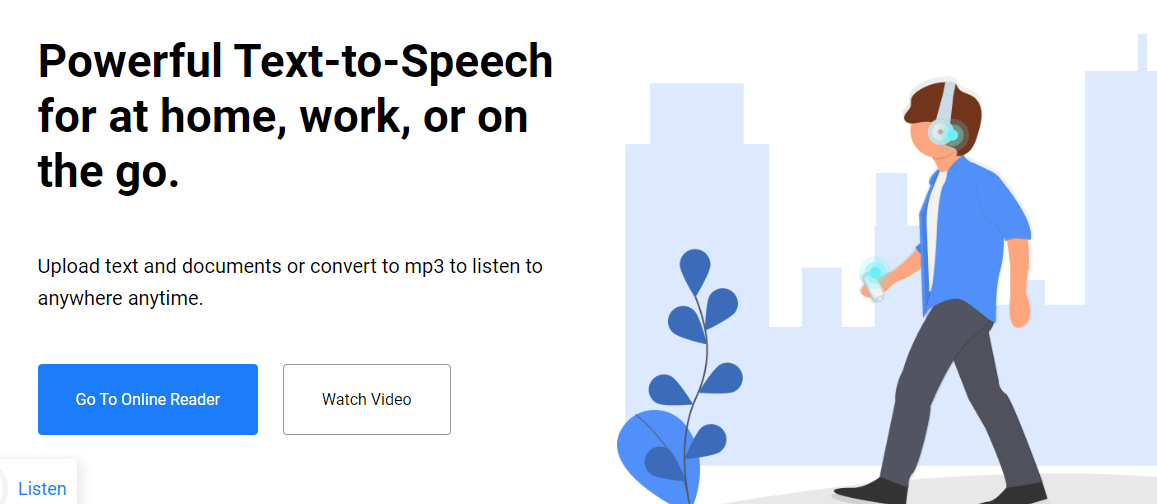 This can be helpful for those who struggle with reading, or for those who want to improve their understanding of a text.
Natural readers can also help with language learning, as it can provide translations for words and phrases. Overall, natural readers is a very useful tool that can help with reading and studying
Key Features:
OCR Technology allows naturalreaders to convert text to voice even from the scanned copies.

Intelligent AI voices.
Pros:

Provides equally good experience on mobile phone as online on the website.

No experience is needed to run this software tool.
Cons:

You cannot add voice overs to videos using this tool.
Part 3: FAQs about Squidward AI Voice 2023
1. How can I make Squidward Text to Speech?
There is no single answer to this question since there are a variety of ways to create text-to-speech output with Squidward. Some common methods include using online tools or services, downloading and installing third-party software, or using built-in text-to-speech features.
Ultimately, the best way to create text-to-speech output with Squidward will depend on your specific needs and preferences.
2. Can I use Squidward AI voice for commercial purposes?
The usage of Squidward AI voice for commercial purposes may have restrictions based on licensing agreements and copyright considerations. Review the terms and conditions of the specific AI voice generator or platform for permitted usage.
3. How accurate is the Squidward AI voice in replicating the original character's voice?
The accuracy of the Squidward AI voice varies depending on the AI voice generator. Achieving a perfect replication of the character's voice can be challenging, and some nuances may not be captured.
4. Are there any legal implications when using Squidward AI voice?
Consider copyright and intellectual property rights when using Squidward AI voice. Using the AI voice without proper permissions or licenses could infringe on intellectual property rights. Ensure compliance with copyright laws and obtain necessary permissions.
Conclusion:
All of the 6 squidward text to speech voice generators discussed in this article have some benefits, but iMyFone VoxBox is the best tool because it is easy to use, fast and effective 100 percent of the time.

If you are looking for a reliable squidward AI voice generator, then choose VoxBox. Try it for free from now!