Quandale Dingle's voice is popular on TikTok in a short time, which also causes many people to want to simulate it.
Meanwhile, Text-to-speech Voice generators and websites started creating Quandale Dingle TTS feature which could help the user successfully create the voice. These effective and interesting voice generators and also can be used in different places; in this article let us discuss the top 4 Quandale Dingle Text-to-speech voice generators with their features, pros, and cons.
Bonus Tips
Watch this video to learn more about using
AI Text-to-Speech voice generators
to make Quandale Dingle's voice.
Part 1:Why Quandale Dingle's Voice is So Popular in a Short Time?
Quandale Dingle's voice is so popular because It all started with a Twitter post that went viral. People liked it and started using it as a meme and in other places. From there, it took off a little as many people reposted it.
One of the reports was seen by a famous YouTuber, and then he made a proper review on it, which went viral on YouTube, and Quandale Dingle Voice became so popular in a short period. Moreover, TikTok also posted a video about the Quandale Dingle parody, and it had more than 20 thousand views in just a month.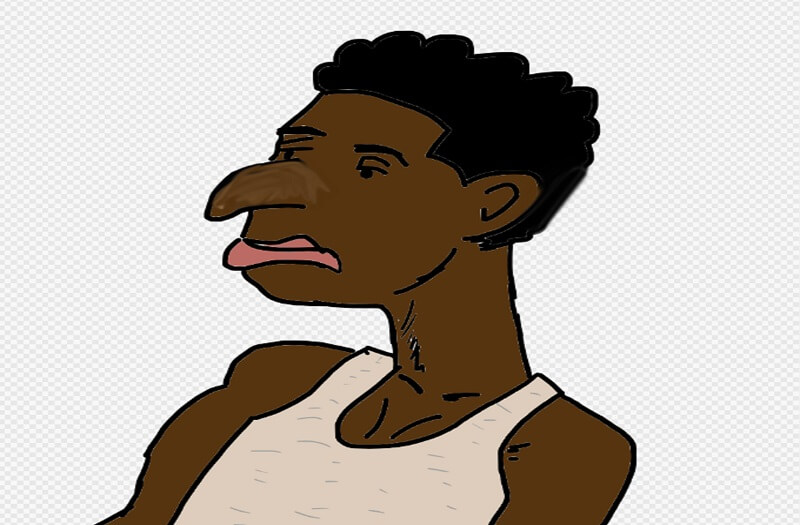 You can listen to Quandale Dingle's AI-generated voice created by iMyFone VoxBox, and it's also possible to easily clone Quandale Dingle's voice using voice cloning techniques.

Part 2:Who is the Quandale Dingle's voice ?
If you don't know who Quandale Dingle is, then he is a famous footballer in Pennsauken high school that has gone viral for his series of "goofy ahh" memes, including the popular "goofy ahh uncle." based on a screenshot of a person's computer screen.
The first screenshot was shared on Twitter that was reposted by people. He became famous, and then a YouTuber reviewed his meme on his channel. In 2021 and 2022, people started utilizing his photos to create distorted memes, including black men. The name Quandal then became a trend and is being used everywhere.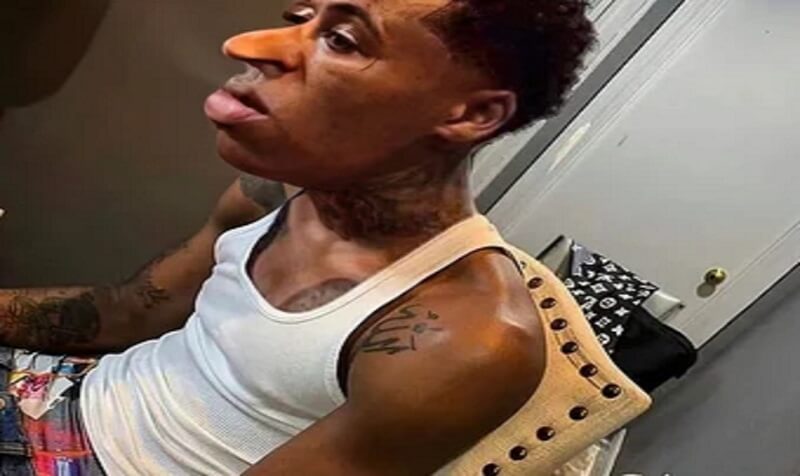 Part 3: Top 4 Quandale Dingle Text-to-Speech AI Voice Generator
VoxBox is the latest all-in-one stop TTS voice generator, allows the user to create voiceover what they want and also suppoted clone any voice. It is also has other built-in functions like speech-to-text, audio file change, etc.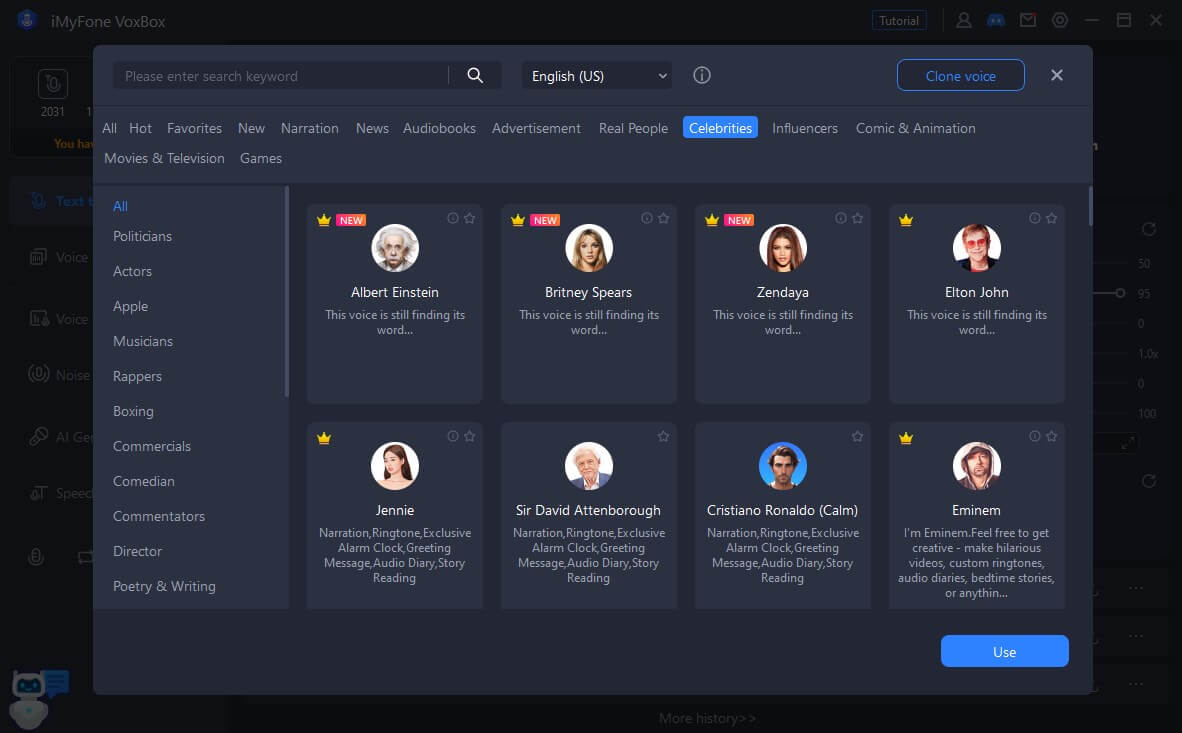 Therefore, you can use it to make Quandale Dingle's Voice. of course, you can use it to make other character's voices like celebrities and cartoon.
Features:
VoxBox supporetd not only generate Voice, but also suppoted clone Quandale dingle's voice.

46+ global languages like Spanish, Japanese, french.

3200+ voices like rappers, YouTubers, cartoons, celebrities, etc.

100+ accents like a British accent and a Hindin accent, etc.

Supported Pitch, Pause, Emaphsis & Speed.

More bulit-in functions are choose from like TTS,STT,Voice record, Video convert, Audio edit.

Supported select, cut, trim.

Easy-to-use.

User-friendly interface.

It allows the user to export recordings in batches.

Privacy and security are guaranteed.
Pros:

Safe and reliable to use..

Quicly get High-quality voiceover.

Compatible with PC & Mobile.
Cons:

Voice clone not Free trial.
Animaker Voice is a text-to-speech app that allows users creation of the perfect voice-over for all their videos in just four steps. which have over 200 human-like voices in 50 + languages! you can make Quandale Dingle's voice via it also.
Features:
50+ Global Languages.

200+ New voices.

Support Control the pitch of the voice.

Control how fast the voice pronounces the text.

Support pauses in words.

Has SSL encryption to keep your information safe.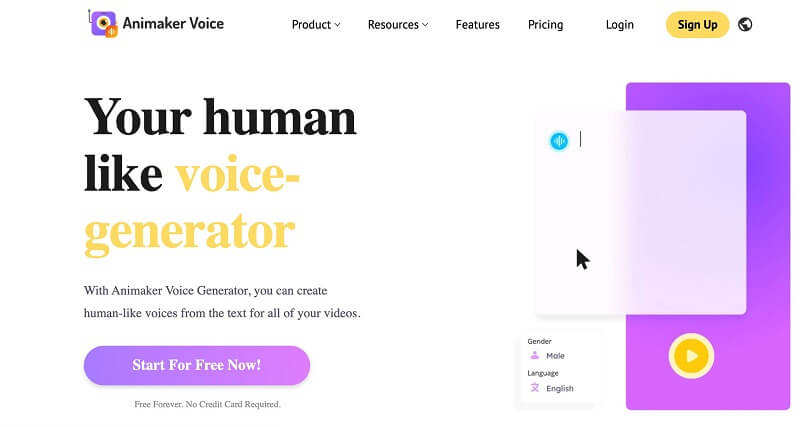 Pros:

Easy-to-use.

Safe and no ads.

Animaker can create human-like voices.

Allows the user to export to social media websites.
Cons:

This price is so expensive.

The auto lip-sync function may not work in every video.
UberDuck.ai is an online professional text-to-speech website. which also is the earliest push Quandale Dingle text-to-speech voice generator. It is one of the easiest tools to use and provides customization to the user. There are different character voices to choose.
Features:
It allows the user to make 5000+ voiceovers.

Also enables the user to customize the voice.

Provides a community platform where users can convert their AI research to creator tools.

With the help of UberDuck.ai API, the user can make fantastic audio apps.

Text-to-speech and reference audio feature.

The user can also use this website for API documentation.

It also has a video editor.

Pros:

An online tool that doesn't require downloading and installation.

Has millions of people using it, so it is quite reliable and safe.

Provides an opportunity to learn machine learning.
Cons:

API access is available to premium users only.
Voice Tooner is a voice changer with effects, It's very easy to use: just record your voice, then touch any character, and they will repeat what you said. you can use it to custom-own Quandale Dingle's Voice too.
Features:
The user gets to modify the voice with different effects.

Allows the user to share it with friends and family.

Due to its simplicity, children love to use this app.

Reliable and safe to use.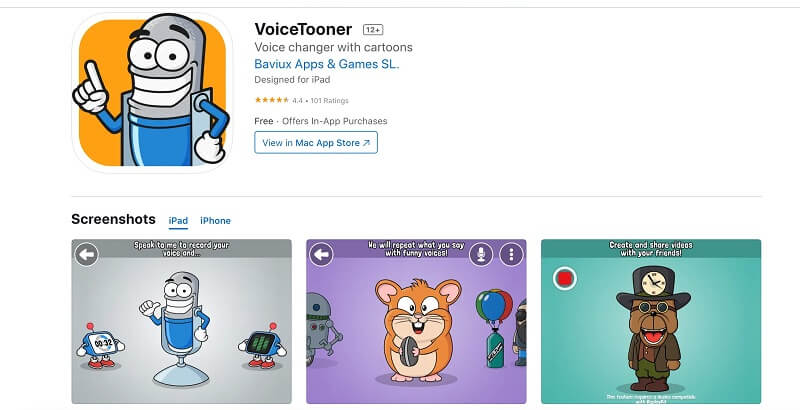 Pros:

It has a very interactive user interface.

Easy to use.

Gives the user freedom to record easily and choose any character to repeat the voice.
Cons:

Only available for Android and iOS users.

Has in-app purchases.

Only several voice type.
Part 4: Comparison of Top 4 Quandale Dingle Text to Speech
| Product Name | Platforms & OS | Languages | Voices | Price | User Rating |
| --- | --- | --- | --- | --- | --- |
| iMyFone VoxBox | Windows & MAC, iOS & Android | 46+ | 3200+ | $39.95 /yearly | 4.9 |
| Animaker | Online | 50 | 200+ | $228 /yearly | 4.8 |
| UberDuck.ai | Online | / | 4000 | $25 /month | 4.8 |
| Voice Tooner | Android &iOS | / | 24 | Free | 4.5 |
Part 5: Hot FAQs about Quandale Dingle Text to Speech
1. What app does Quandale Dingle use?
Quandale Dingle uses the Rapchat app. It is because it allows the user to pick any beat from the library and then rap over this sound. It can be easily shared on the internet. Rapchar is just like any social media website where people can like and comment on the content that you upload. However, if your rap is good, then it can also make it to the trending charts, from which it can become popular easily.
2. Does Quandale Dingle exist?
Yes, Quandale Dingle exists. He is a real person, and the story that we discussed in Part 1 and Part 2 of this article is true. He became trending and famous due to the reposting and sharing of memes by people over the internet.
3. How can I make Quandale Dingle voice?
Here, you can use Voxbox to make Quandale Dingle voice with ease as a Quandale Dingle Text to Speech Voice Generator.
Conclusion
In this article, we have discussed everything related to Quandale Dingle. We have answered who Quandale Dingle is and how Quandale Dingle's voice became famous in a short period. Moreover, we have listed several Quandale Dingle text to speech voice generators that users can customise and create different voices.

Among these tools, iMyFone VoxBox is the most effective one because it is safe and easy to use. The users can download the trial version of VoxBox for free.
Watch this video to learn more about the one-stop Text-to-Speech voice generator: