If you are a 90s kid, Sonic the Hedgehog is one of the nostalgic characters you might want to replicate when gaming with your friends or just to have fun. We have listed the best platforms and apps you can download and take advantage of if you are looking for a sonic text to speech voice generator.
Listen to Sonic AI Voice for free using iMyFone Voxbox down below!

Part 1: What is Sonic The Hedgehog & Sonic Text to Speech?
Sonic the Hedgehog is a popular character from Sega's video games series. The character, born in 1991, immediately became viral and had been appearing in animations, comics, and movies. The special power of the Hedgehog is to run at supersonic speeds, curl into a ball, and attack enemies. Sonic ai voice is hard to ignore when thinking of the character.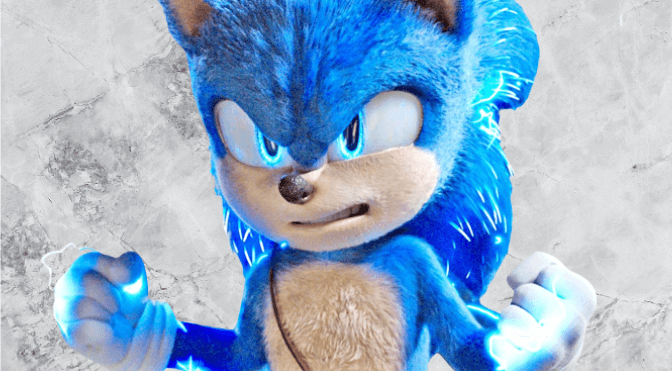 Tips
No voice artists are needed, and no recording equipment is needed. You can easily convert your text to speech and voice using the best
Sonic TTS
Voice Generator
iMyFone VoxBox
! Download it and try it out for free now!
Many people love sonic's voice. It is one of the reasons it is often used by gamers when playing online games. However, not everyone knows how to leverage technology for sonic voice text to speech generation. Many apps and voiceover platforms let you do sonic text to speech or speech-to-text.
Part 2: Best Sonic Text to Speech Solutions
1. iMyFone VoxBox - Best Choice for Sonic Text to Speech
iMyFone VoxBox is an AI-powered software that is free to download on your macOS and Windows devices. Unlike other sonic text-to-speech generators, VoxBox has more features, capabilities, and convenience to use software without internet connectivity.
The tool is easy to use, has a user-friendly interface, and comes with many features.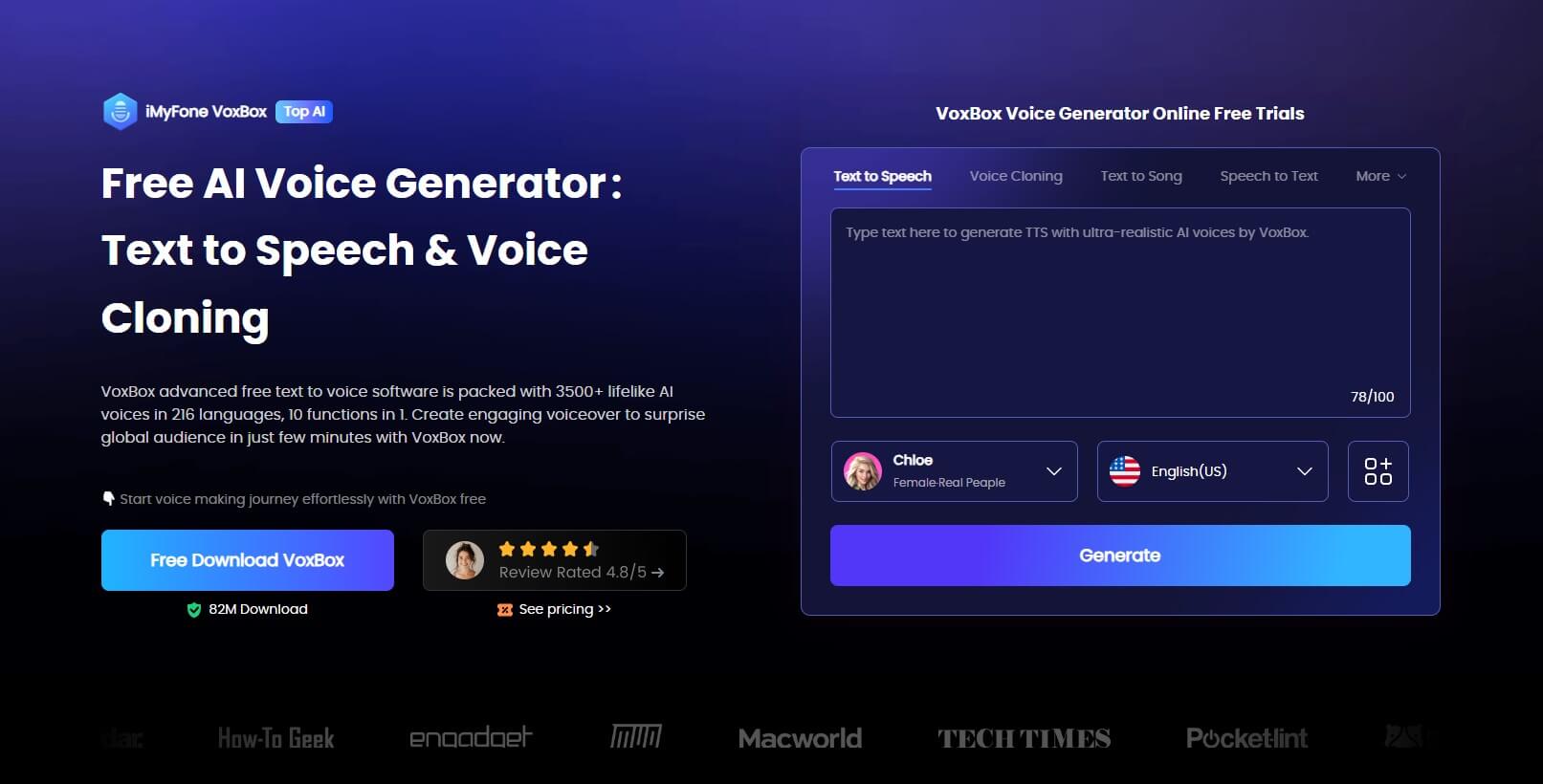 iMyFone VoxBox is a go-to solution for professionals who want to create several voiceovers with the most realistic human-like voice. Besides, you can also add pleasant effects like sonic voice to text, Darth Vader, robotic voices, cartoon characters, etc.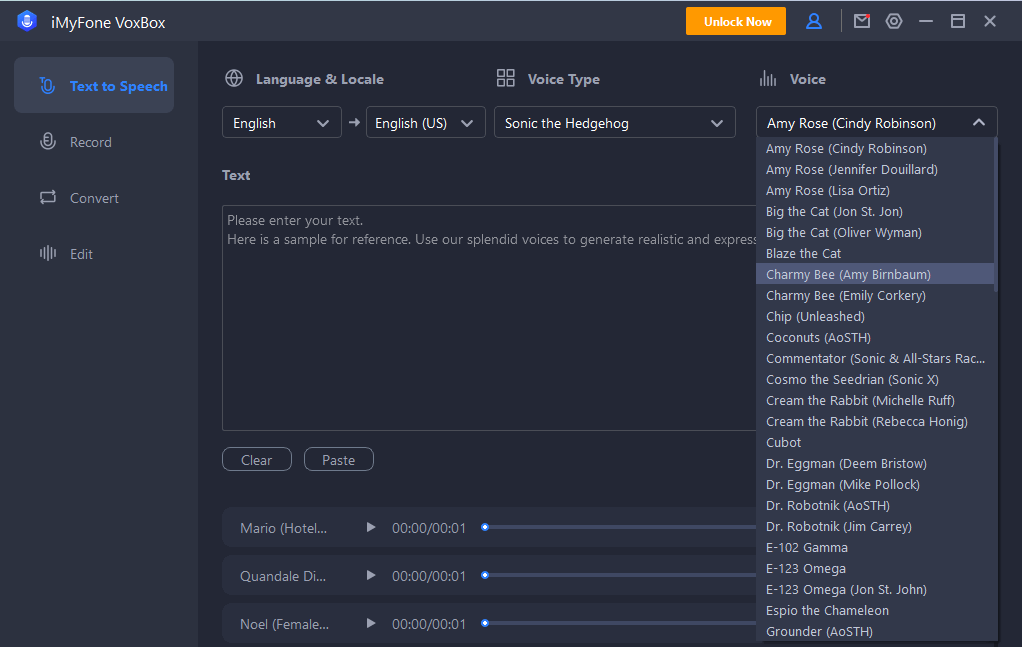 The main features of VoxBox are as follows:
Key Features:
Most realistic sonic text to speech generator.

3200+ voice filters & voice effects with 46+ languages, support.

Supported Voice generate, voice record, video convert, audio edit.

Supported adjust Speed, Pauce, Pitch, Emphasic and Volume.

Editing and downloading of converted audio are available.

Multiple output formats supported, including wav file.
Watch this video to learn more about the Best Sonic TTS Voice Generator VoxBox:
Pros:

Many voice filters to choose from, including sonic the Hedgehog.

Available for personal and professional users.

Multiple language support.

Doesn't need internet for text-to-speech conversion.
Cons:

Not all languages are supported.

Must get a premium subscription to unlock all features.

Not available for Android or iOS.
Last but not least, Murf.ai is also one of the popular text to speech sonic generators. The software is often considered the best tool for professionals and businesses as a replacement for expensive voiceover artists.
The best capability of Murf.Ai is the generation of super-realistic voices. The app version is available for both Android and iOS.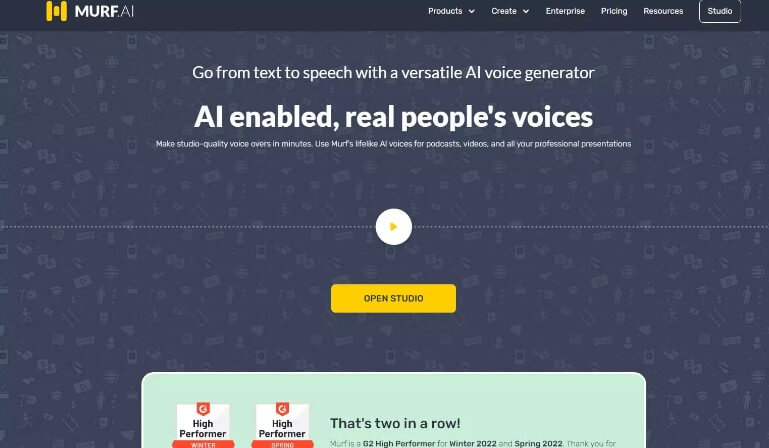 The main features of Murf.ai are as follows:
Key Features:
Generate voiceovers from text and choose from a wide range of voice filters and effects.

Polish your script with grammar and editing tools.

19 languages supported.

Sync the time of voiceovers with visuals.

Manage the audio quality by adding effects like flanging, chorusing, phasing, reverberation, etc.
Pros:

Most realistic voice with a human-like pitch, speed, and tone.

Voice effects and filters are amazing.

Integration with tools like Google Slides.

Data security and privacy.
Cons:

Not an affordable solution for individual users.

No PC version is available; only the web version for PC.
Part 3: 2 Sonic Voice Generator Online Tool For Free
Let's start with the open-source online platforms that will cost nothing to create Sonic text to speech voiceovers.
Let's start with Fakeyou.com, an AI-based deep fake sonic text to speech generator. You can choose from several dialects and languages and convert any text within a few seconds.
You don't need any login or sign up for text-to-speech conversion. You can also do the voice-to-voice conversion by speaking in real-time on the Fakeyou.com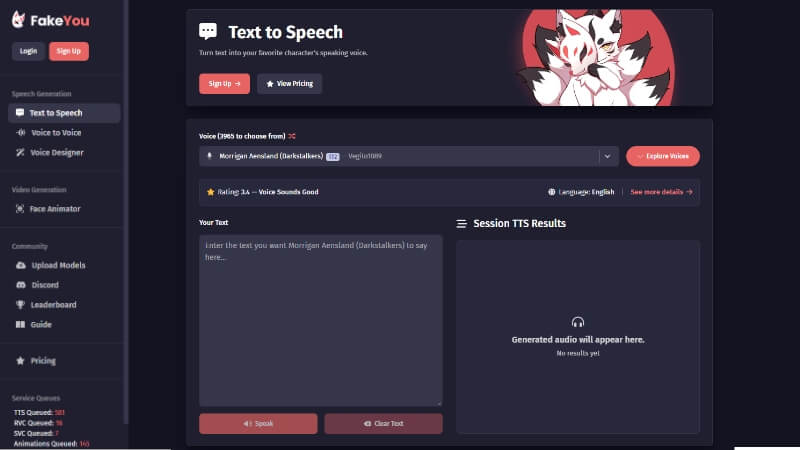 Here are the main features of Fakeyou.com:
Key Features:
Many languages, dialects, and voices to choose from.

Leverage the free online platform for sonic text to speech as well real-time voice-to-voice conversion.

Various voice filters ranging from robotic to games, cartoons to anime characters.

Voice cloning with deep fake technology to get sonic the Hedgehog's voice.
Pros:

The online platform doesn't need any download or installation.

Real-time sonic text-to-speech and voice-to-voice generation.

Open-source platform with meaningful tools.

Realistic voiceover.

Support several languages, dialects, formats, etc.
Cons:

Not available in all regions of the world.

The output might not be consistent every time.

Sign-in required for conversions.
The second tool that does sonic text-to-speech conversion is Uberduck.ai. It is also an AI-powered tool that has several voice filters and dialects to choose from.
Uberduck is more than just a text-to-speech convertor. The open-source platform is known for the realistic voice of the converted audio.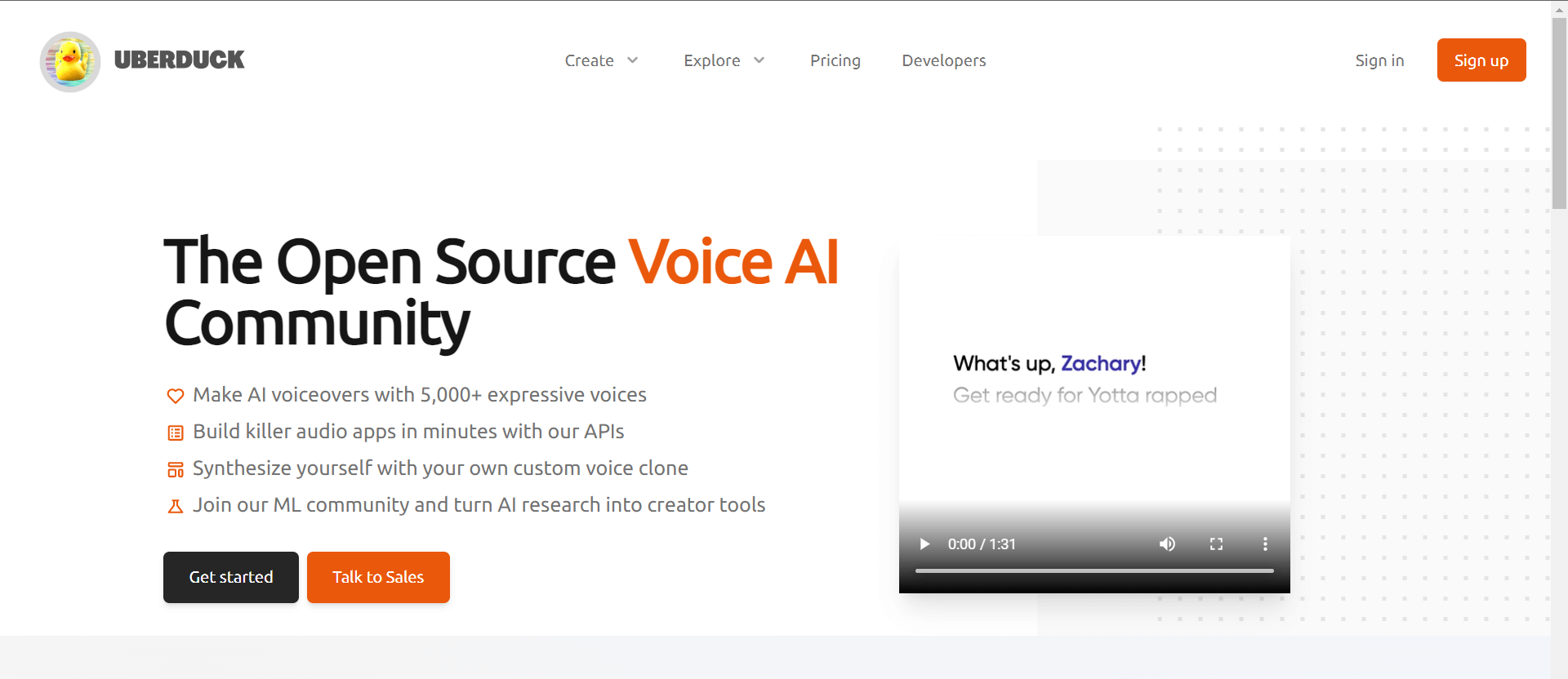 You can utilize several features on the online website, like voice cloning, text-to-image, voice generation, and text-to-speech. Sign up on the website, get started with the amazing features, and generate sonic text-to-speech.
Above all, you can integrate Uberduck.ai APIs with popular audio apps to make text-to-speech files on the go.
The main features of UberDuck.ai are:
Key Features:
Open-source online tool for sonic text-to-voice generation.

Over 5000+ voice expressions from different dialects, characters, voice filters, etc.

Unpaid and paid subscriptions according to usage.

Customized voice cloning to generate Sonic's voice.
Pros:

Over 5000+ voice expressions and dialects.

The open-source platform doesn't require any download.

User-friendly interface and additional features.
Cons:

Paid subscriptions can be complicated to choose from.

It is a new platform and might have glitches and generic voice conversion.
Part 4: Apps for Sonic Text to Speech Voice Generator
Animaker is a solution provider with several products, including video editors, steve.ai, picmaker, vmaker, etc. Animaker voice is also one of the products by Animaker, and it is powered by artificial intelligence. You can rely on the platform for the most realistic voices.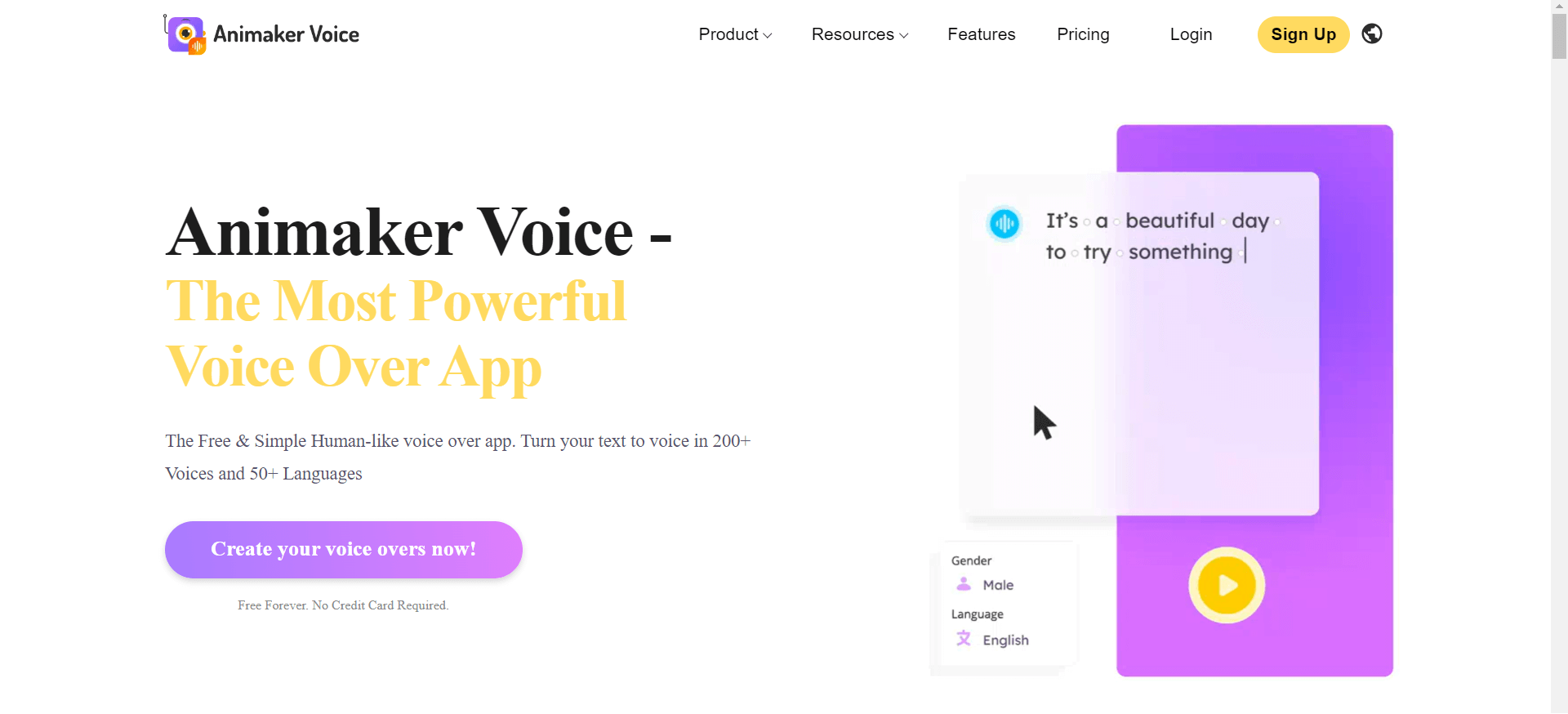 The main features of Animaker are as follows:
Key Features:
Over 200+ voices and 50+ languages.

Editing features like speed control pauses between words, breath management, etc.

Sonic text to speech and many other voice filters.

AI-powered voiceover platform doesn't require installation.
Pros:

Over 50+ voices, 200+ filters, and 2 million users.

No download or installation required for PC users.

Editing tools available to make realistic sonic text to speech.
Cons:

Internet connectivity is necessary.

The free version is for occasional users only; expensive subscriptions.

Only the web version available for PC users.
Speechify is a sonic text-to-speech app you can install on your computer. It is also an AI-powered tool that can be installed on Android and iOS.
PC users can rely on the web version workspace having all the capabilities. You can use it for personal as well as business purposes.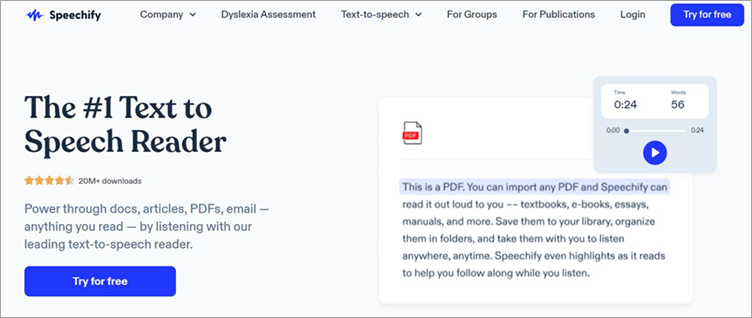 The main features of Speechify are as follows:
Key Features:
30+ realistic voices with the support of 15 languages.

OCR technology-enabled to read scanned documents.

Adjust the speed up to 5x faster.

Save the sonic text-to-speech generated output.

Realistic voices with high-quality AI capabilities.
Pros:

Advanced reading tools like speed management and OCR.

The free version has many features.

Available for multiple operating systems.
Cons:

A converted voice might lack natural pitch and tone.

Premium subscriptions are expensive.

Regular updates are necessary to keep the app working.
Part 5: FAQs about Sonic Text to Speech Voice Generator
1. How to make Sonic Text to Speech?
You can make sonic text-to-speech using any open-source platform, PC apps, or Android/iOS applications.
In the case of most open-source platforms, you must go to the website > paste the script in the text box > Choose Sonic the hedgehog voice effect > Convert > Save.
2. How do you get Spongebob ai voice generator?
We have mentioned different tools and open-source platforms with multiple voice effects and filters besides sonic text-to-speech. However, if you want Spongebob ai voice generator, you can consider iMyFone VoxBox, as it has over 3200+ voice expressions, including Spongebob.
Conclusion
We have shared different apps and tools for sonic voice changer. Some might be good for creating realistic voices , while others might be more affordable options.
However, when it comes to affordability and functionality in one software, iMyFone VoxBox is what you need to consider. You can download the free version on your PC below for now!