Do you want to generate memes in the trending style? Are you looking for a Text-to-Speech meme voice changer or recorder? If yes, then this article is for you.
This article is all about the four effective Text-to-Speech voice changers applications/software with their introduction. We will also make it easy for you to analyze all four tools by listing the main features of every tool. Through this article, you will also come to know about the history of memes. Without waiting for our time, let's start!
Part 1: History of Text-to-Speech Memes
A meme is an image or video taken from the internet and used to express different scenarios or situations through captions. Nowadays, generating memes is becoming very popular and common. People love to use memes while using social media, but have you ever thought about who created them for the first time?
Well, it is not exactly known who created the first ever meme on the internet, but people say that the first ever meme got viral on the internet in the 19th century. For instance, a meme of a dancing baby got viral on the internet in 1996. The image was taken from the original video of Kinetex Character Studio and then used for various situations as a meme.
Like this, many other memes were also spotted viral on the internet in the 19th century. Generation, popularity, and use of memes began when the internet was becoming popular.
Part 3: 4 Effective Text-to-Speech Meme Voice
iMyFone Voxbox is desktop-based software designed to play with audio tracks. This software has voice editing and recording features with an easy and simple user interface.
VoxBox can work efficiently to perform Text-to-Speech tasks for generating memes in different voices. It offers different voices and sounds to choose from. Different voices and sounds can be used to create audio files just by providing text to VoxBox.
The software is designed in such a way that a first-time user can use it without any hassle. Other than Text-to-Speech, VoxBox offers many other features. Let's have a look at them.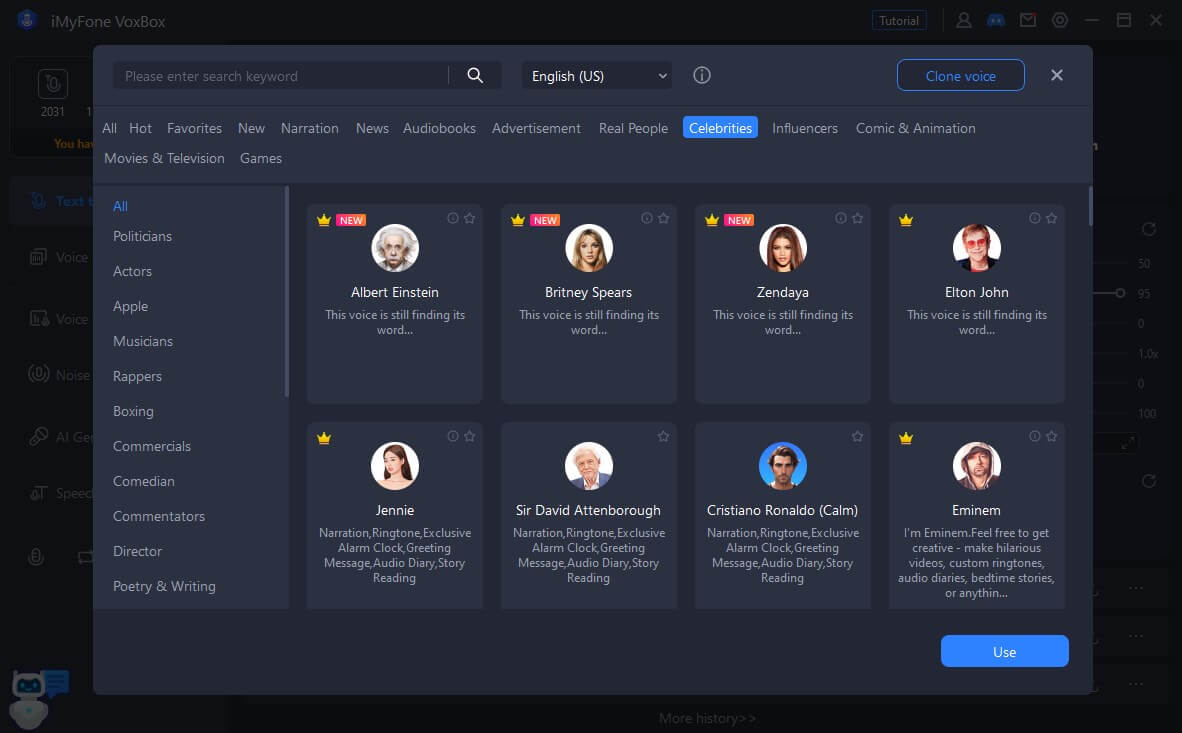 Features:
Three-in-one tool (Audio recorder, Audio Editor, and Text-to-Speech).

9 global languages like Spanish, Japanese,etc.

3000+ voices like rappers, YouTubers, cartoons, celebrities, etc.

Offers audio trim, cut, delete, combine, and trim functions.

Safe and reliable tool.

User-friendly interface
If you want to generate an audio clip in any famous celebrity's voice instantly, then Speechify is the best tool you can choose.
Speechify is a splendid Text-to-Speech software for iOS, Android, and Chrome. There are apps for mobile and an extension for desktop users. You can manage your time, remember what you read, have a better understanding, and enhance your focusing power. You can listen to any Text-to-speech changed audio at a faster speed up to 9x.
Its AI software generates audio in more realistic and natural reading voices so that listeners find everything clear and smooth. This software generates speech with text provided in both input written form and in the form of pictures. Overall, it is an easy, simple, and versatile tool for generating different Text-to-Speech memes.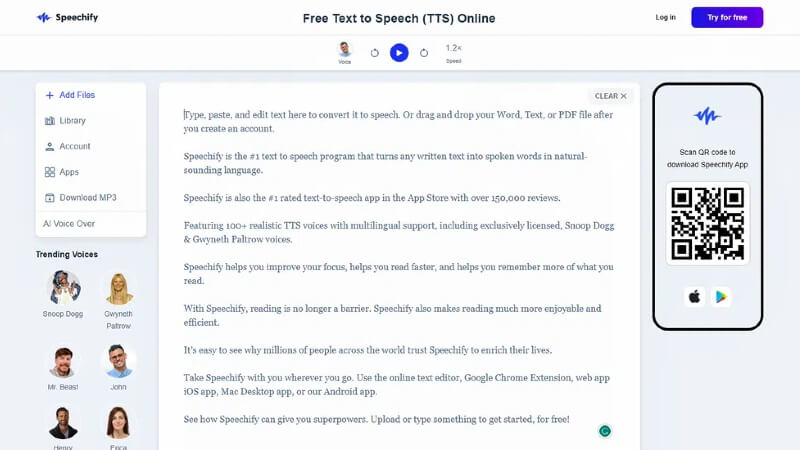 Features:
Available for mobile and desktop users

Offers Syncing feature.

It can be used at any place and at any time.

Accept text in the form of images.

Huge collection of voices and sounds.

It can be used to read Docs, PDFs, emails, and many more.
If you don't want to download and install any software, then TTS is best for you. It is a very simple and straightforward tool for converting text into speech.
This tool has a very clean, uncomplicated, and simple user interface with all the available features displayed on a single screen in a manageable way. There is a box where you can write the text while the voice options are above this box.
Moreover, TTS also allows customization of volume, rate, and pitch with many built-in options. You can play the audio clip before downloading it so that any changes can be made.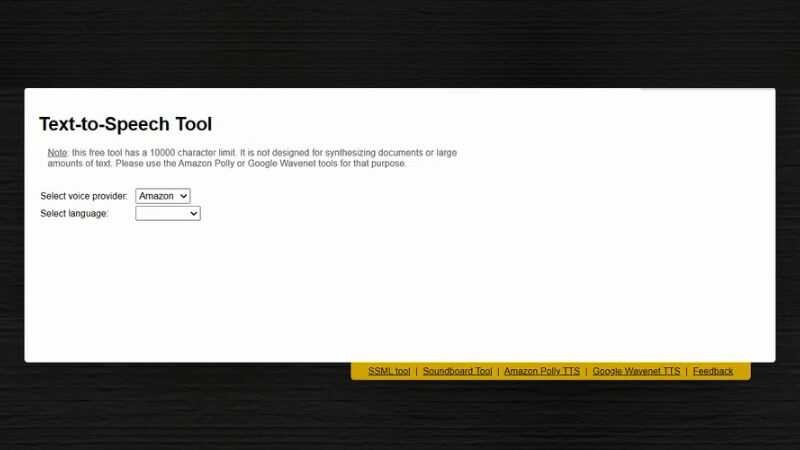 Features:
Very simple and clean tool.

Different voices are available.

Customization features/options are available.

Online tool.

Fast conversion and downloading speed.

Allows setting pause numbers in speech.

Allows multiple Text-to-Speech conversions.
iMyFone MagicMic is an all-in-one voice editing software for desktop users. This allows users to change their voice in real-time using a huge collection of different sounds and music.
MagicMic offers 100+ Voice Filters, 300 Voice Effects, and 150+ Voice memes that users can use on different platforms according to their choice. With MagicMic, you can create and edit previously recorded voices, as well as recording, which can be started from scratch too.
Due to this, it is very popular for use in real-time games and conversation. MajicMic assigns key bindings to all voices so that it becomes easy to change the voice while being live on any platform or application. With all these options, you can also use it to generate captivating and funny memes through Text-to-Speech. You can find various built-in voices for this purpose. Let's see its other exciting features.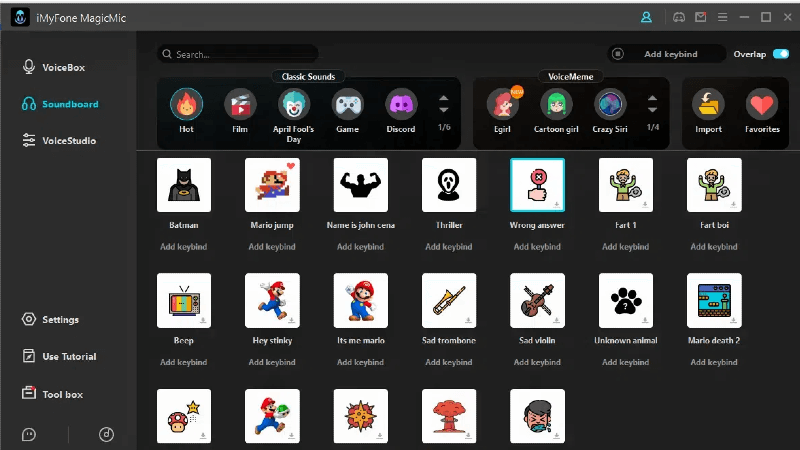 Features:
Allow importing MP3 and WAV files.

Multiple recycle, reply, and overlaps.

Versatile sound collection.

Real-time voice changer.

Available in PC and mobile versions.

Free version is available.
Conclusion
Memes have become a popular trend nowadays. With the advancement in other fields, audio editing tools and software are also becoming more advanced day by day. Now, people do not need to pay to native speakers for voiceover tasks.
Text-to-Speech technology has made it very easy to use the voices of different artists, characters, and celebrities in a very easy way. We have shared four effective Text-to-Speech meme voice changer tools for mobile and desktop users. Text-to-Speech feature requires only text as an input file. After this, the text converts to the speech by selecting different sounds, volume, and other settings options.
All the above-mentioned tools/ software are worth trying for generating creative and enchanting Text-to-Speech memes. iMyFone MagicMic and VoxBox are trustworthy due to the bundle of effective features and functions. These tools can create your memes easily with perfection.
Watch this video to learn more about the Best TTS Tool iMyFone VoxBox: