Are you interested in utilizing the distinctive politician Bill Clinton AI voice to craft compelling voiceovers for political content or convey a message with authority? In this article, we'll present the top Bill Clinton text-to-speech (TTS) generators and guide you through the step-by-step process of using a Bill Clinton voice generator.
Listen to the Bill Clinton's Voice generated by VoxBox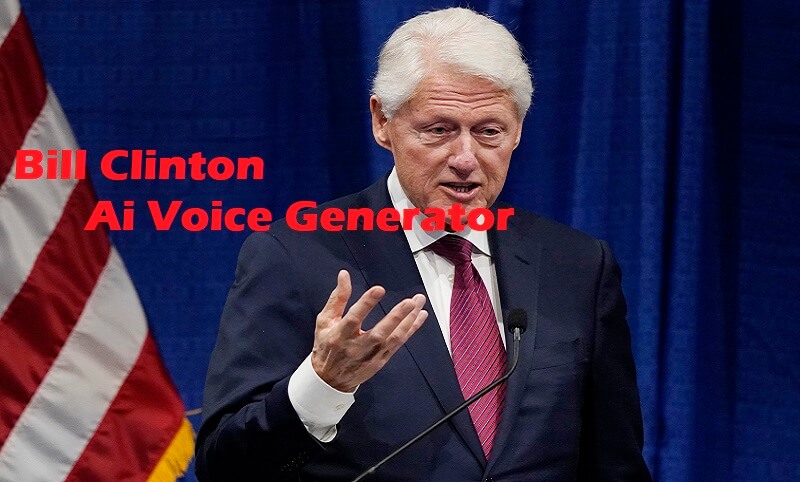 Part 1: How about Bill Clinton's Voice
Bill Clinton, the 42nd President of the United States, His Arkansas roots are reflected in his accent, which features some Southern twang and drawl. and he tends to use varied intonation and pacing to keep his audience's attention and emphasize key points.

Clinton is also known for his ability to convey a wide range of emotions through his voice, including warmth, empathy, humor, and passion. He can adjust his tone and inflection to match the mood of his message and connect with his listeners.
Part 2: How to Generate Bill Clinton AI Voice with Text to Speech
VoxBox is famous for its wide of more than 3200 voices & 77+ languages, including Bill Clinton, Morgan Freeman, Garfield, Mickey Mouse, etc.
VoxBox is the most popular voice generator that can produce natural-sounding Bill Clinton AI voice for videos, podcasts, and online courses, etc. It provides you with 2,000 free characters for text-to-speech and noise reduction functions, allowing you to easily generate different audios with celebrity voices.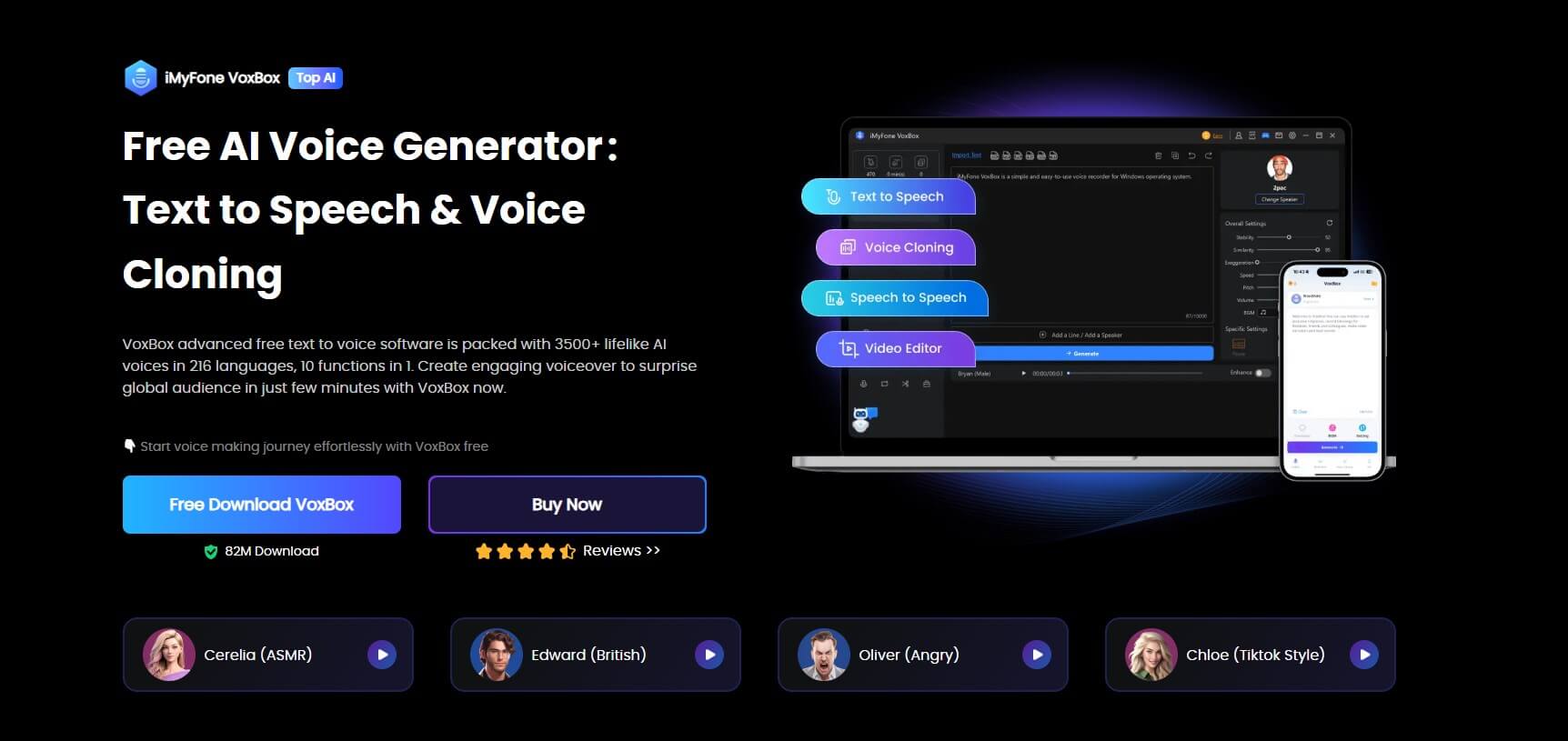 How To Get Bill Clinton AI Voice For Free:
Step 1: Go to the website and Download ,install the iMyFone VoxBox
Step 2: Open it and select "Change Speaker" option. then choose voice with "Bill Clinton"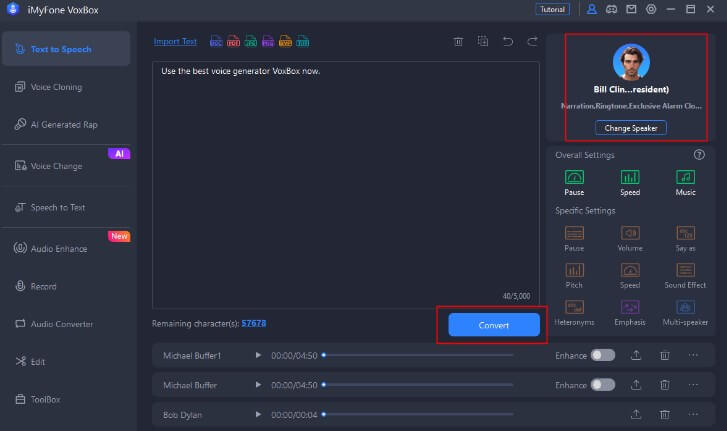 Step 3: Type your content or import the document, (you also could adjust parameters) and then convert, you also can reduce noise to hit "Enhance".
Features:
Numerous voices of famous Politians, like Trump, Biden, etc.

3200+ voices & 77+ languages & 100 accents.

Free to use realistic Bill Clinton voice for voice over.

Custom all renowned people voices with voice cloning.

More multiple functions like voice editing, recording, conversion, speech-to-text, etc.

Flexible formats to export the Bill Clinton dubbing.
Pros:

Apply to audiobooks, anounncement publishing, and more.

Fast TTS and voice cloning process.
Cons:

Need installation.
Part 3: Other Bill Clinton AI Voice Generators To Make Voiceover
There are also 2 Text-to-Speech generators worthy recommend to make Bill Clinton AI voice for your content, let's going on.
1) IBM Watson Text-to-Speech
IBM Watson Text-to-Speech is another powerful tool that can create voices similar to Bill Clinton AI voice. It will convert written text into natural-sounding speech effortlessly operate on the website.

Features:
Offers a wide range of high-quality voices in different languages and dialects, including male and female voices.

Provides a variety of customization options that allow users to adjust the speed, pitch, and volume of the synthesized speech

IBM Text-to-Speech supports more than 25 languages
2) Murf.Ai
Murf.ai is an online Bill clinton AI voice generator that provides text-to-speech and voice cloning services.which you also could choose a simlar voice of Bill clinton to generate, or clone his voice.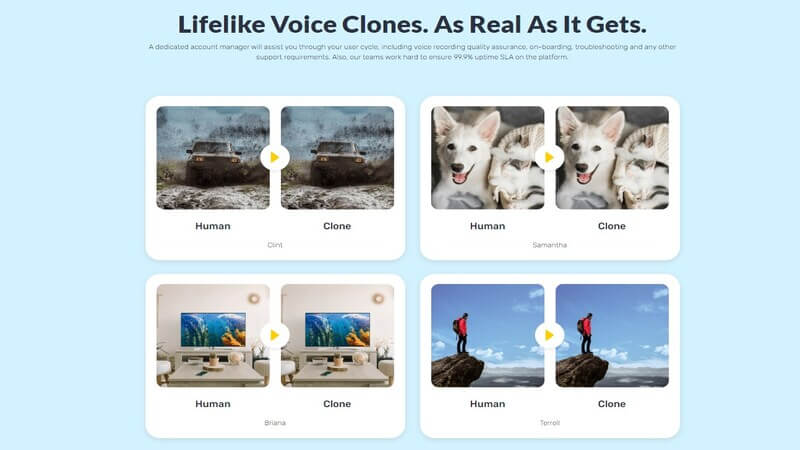 Features:
Supported more than 200+ voices inclduing female and male.

Allows users to create custom voices that sound like real people.

Supports more than 15 languages.

Sync the time of voiceovers with visuals.

Voice editing features like phasing, chorusing, reverberation, etc.
Part 4: Hot FAQs About Bill Clindon AI Voice 2023
Can I use the Bill Clinton AI voice for my projects?
Yes, you can use the Bill Clinton AI voice for various projects, including voiceovers, videos, and audio content, depending on the terms and conditions of the AI voice provider.
Is the Bill Clinton AI voice available in multiple languages?
AI voice platforms often support multiple languages, so it's possible to find the Bill Clinton AI voice in various languages depending on the platform's offerings.
What political party does Bill Clinton belong to?
Bill Clinton is a member of the Democratic Party.
What is Bill Clinton's educational background?
Bill Clinton attended Georgetown University, where he earned a Bachelor of Science in Foreign Service. He went on to study at the University of Oxford as a Rhodes Scholar and later earned a law degree from Yale Law School.
Conclusion
In summary, AI voice generators enables us to mimic the confident and dignified tones of Bill Clinton. For those keen on employing this impressive tool, VoxBox stands as a top-notch option. Offering advanced functionalities like voice cloning and text-to-speech, VoxBox provides the means to adopt the Bill Clinton AI voice for enhancing your communication.