Are you captivated by the musical prowess of emerging rap sensation Lil Tjay? Perhaps you've dreamt of weaving Lil Tjay AI voice into your creative projects? Now, AI technology allows you to do just that. Imagine infusing your social media interactions with Lil Tjay's voice, crafting rap songs that resonate with his style, and accessing top-tier sound generators for an authentic Lil Tjay voice experience.
In this article, we will introduce the best voice generator with TTS and voice cloning to let you gain and custom realistic Lil Tjay voice. Let's start now!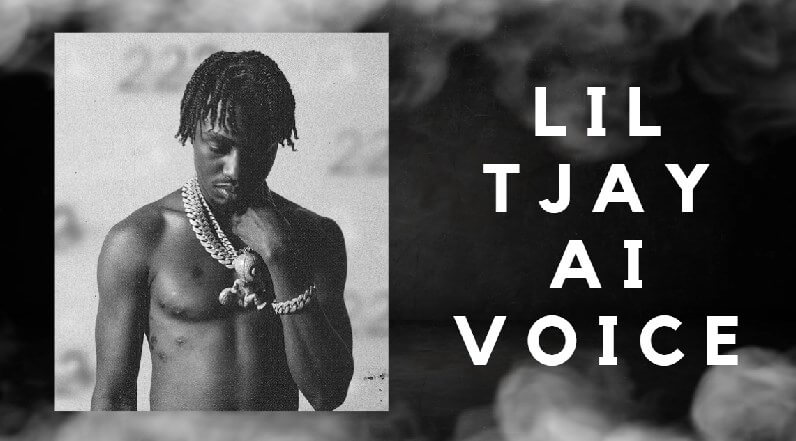 Free listen to Lil Tjay AI voice generated by VoxBox below.

Part 1: Lil Tjay: A Rising Star of Rap
Lil Tjay, whose real name is Tione Jayden Merritt, is an American rapper, singer, and songwriter. Born on April 30, 2001, in The Bronx, New York City, Lil Tjay rose to prominence in the early 2010s and has since become a prominent figure in the hip-hop scene.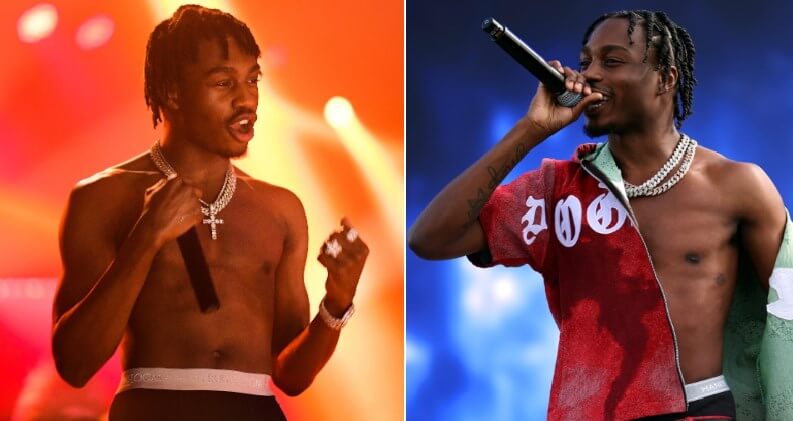 With a background in music from a young age, Lil Tjay's journey to fame began when he released his debut single "Resume" in 2017. Lil Tjay's breakout moment came with his hit single "Brothers" in 2018. The song's relatable themes of friendship, loyalty, and personal struggles struck a chord with listeners, propelling him further into the spotlight. His debut studio album, "True 2 Myself," was released in 2019 and received positive reviews for its authenticity and emotional depth.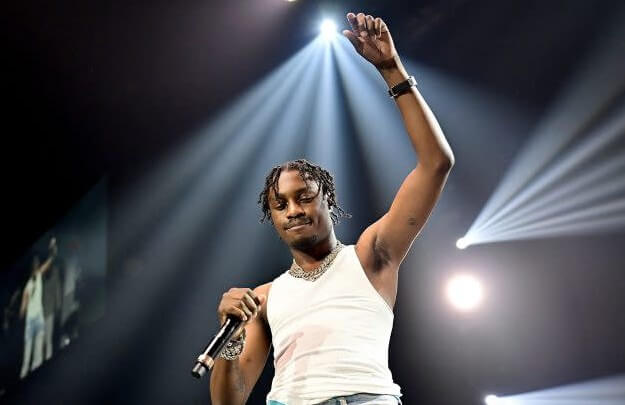 Lil Tjay's second studio album, "Destined 2 Win," debuted in 2021, featuring standout tracks that continued to captivate his audience. Notably, the album introduced the hit single "Calling My Phone," a collaboration with 6lack, which became his highest-charting song up to that point. In 2023, he teamed up with fellow New York artist Ice Spice to release the song "Gangsta Boo." Continuing to push boundaries and explore new creative avenues, Lil Tjay unveiled his third studio album, "222," in July of the same year.
Part 3: Ways to Get Lil Tjay AI Voice with Voice Generator
VoxBox is an all-in-one text-to-speech voice generator that gives you easy access to the unique Lil Tjay AI voice. With VoxBox, you can not only replicate his signature sound, but also find more natural rapper voices such as Dake, 21 Savage, Kanye, etc., and even gain insight into the new features of rap songwriting, enabling you to create your own rapper sounds Striking rap style with captivating lyrics to showcase your rapping talents.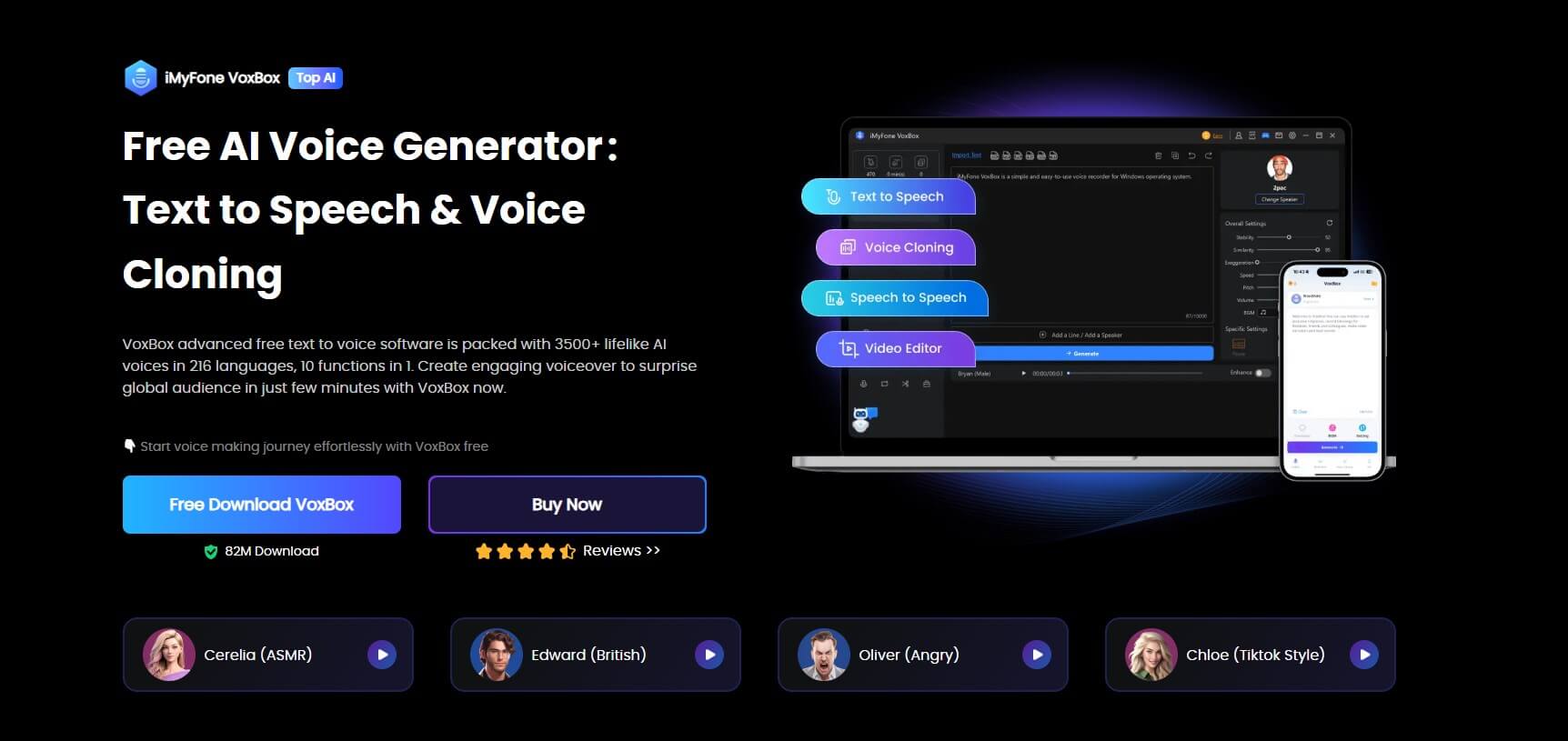 How To Make Lil Tjay AI Voice:
#Step 1: First begin by downloading and installing VoxBox on the web.
#Step 2: Tab "Text to Speech" on the left, click "change voice" to choose Lil Tjay voice among "rappers" option.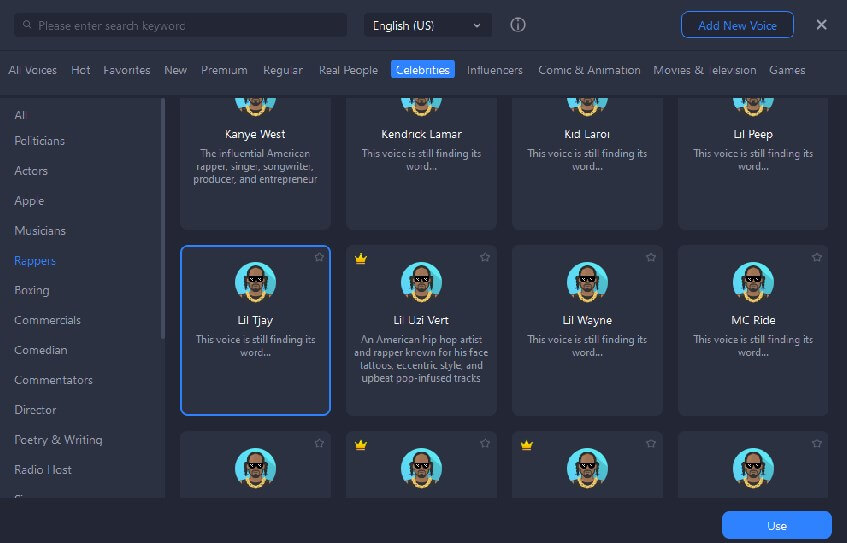 #Step 3: Enter the text you desire to convert and you can listen the voiceover, then output it.
Key Features:
Popular rappers voice generation using advanced AI technology.

Apply a variety of vocal effects and filters to personalize and enhance your AI-generated rapper voice.

Adjustable buttons like speed, pitch, add music to modify rap style.

Beginners can enjoy the benefit of using 2000 free characters.

A wide range of functionalities available: voice generation, cloning, editing, recording, text-to-rap, and upcoming noise reduction.

Export your dubs in various formats like MP3, WAV, OGG.
You can also use VoxBox to generate full rap songs from written lyrics, turning your creative expression into a full-fledged musical track. First of all, you need to input lyrics or let artificial intelligence help you write appropriate rap lyrics, and then choose a suitable track and voice to generate melody and rhythm to create an original rap song.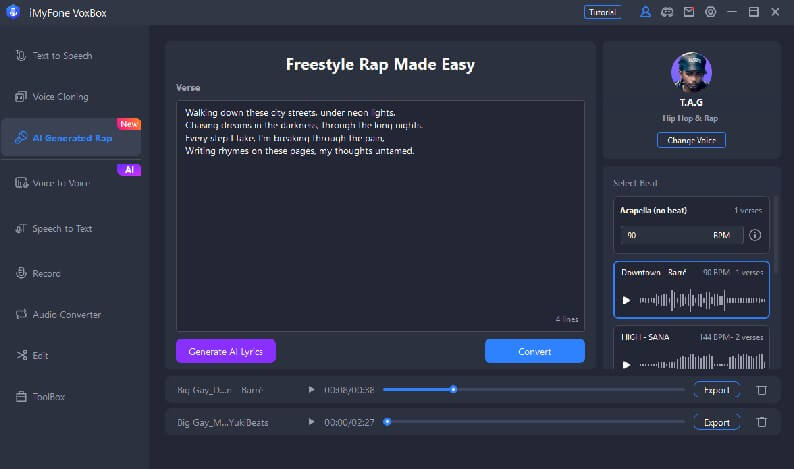 Part 3: How To Create Rap Songs Lil Tjay AI Voice?
MusicAI is a comprehensive and professional AI music generator. It can not only help you use artificial intelligence to realize your music ideas and create favorite tracks, but it also boasts a standout feature – AI Covers, supporting to use its most prominent AI Covers function to let you use many different kinds of famous AI voices to cover your favorite songs. Moreover, you can experience the software's capabilities firsthand with a free trial, allowing you to listen and download the results of your musical creations.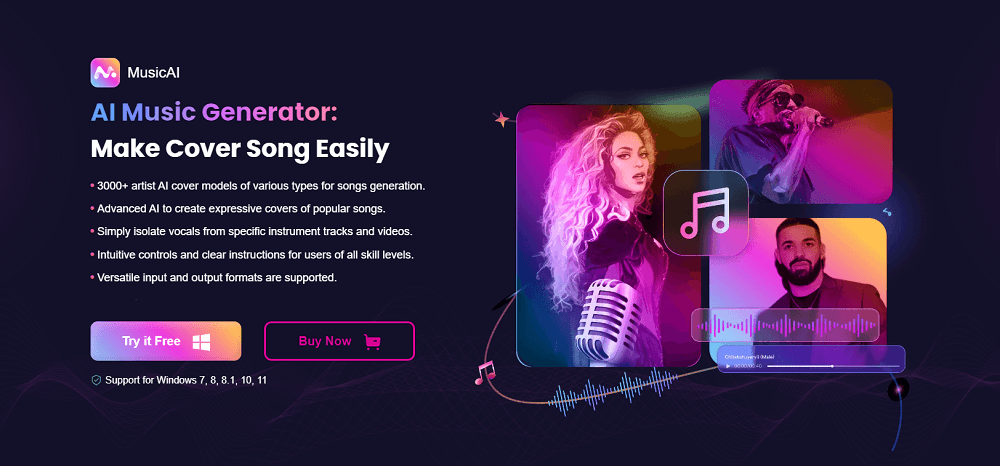 Steps to Use:
#Step 1: Download and install MusicAI, Hit and go to "AI Covers".
#Step 2: Choose a rapper voice model and upload a song you want to cover.
#Step 3: Click "Start" to begin the process, wait for few seconds and you can preview the song.
Key Features:
Provides text to song, AI composition, voice enhancement and vocal remover.

Utilize the AI-generated songs across various social media platforms.

An updating voice library with various rapper voice models.
Part 5: Hot FAQs about Lil Tjay AI Voice 2023
1. Can I generate rap songs using Lil Tjay AI voice?
Absolutely! Lil Tjay AI voice can be utilized to create rap songs with his unique vocal characteristics. You can input lyrics or texts, and the AI will render them in Lil Tjay's style, allowing you to create engaging rap tracks.
2. Is Lil Tjay AI voice available for text-to-speech conversion?
Yes, Lil Tjay AI voice can be used for text-to-speech conversion. You can input your text, and the AI will generate speech in Lil Tjay's voice, which is ideal for various content creation purposes.
3. How accurate is Lil Tjay AI voice in replicating his voice and style?
The accuracy of Lil Tjay AI voice can vary depending on the technology and tool used. Some AI platforms offer more advanced voice cloning capabilities, while others may focus more on general style emulation. It's a good idea to try out different options to find the one that best matches your expectations.
Conclusion
In conclusion, we've presented a streamlined and user-friendly method for acquiring Lil Tjay AI voice. VoxBox stands out as the optimal solution, perfectly suited for those who need Lil Tjay's signature voice. In addition, with the ability to input write ten rap lyrics, VoxBox's text to rap technology brings your crafted lyrics and rap song to life, giving you a chance to become popular.