Kanye West, a renowned rapper in the music industry, is widely recognized for his distinctive vocal style and thought-provoking lyrics. However, have you ever wondered if you could generate his voice or cover Kanye West's song using an AI voice generator?
This article explores the top Kanye West voice generators with text-to-speech currently available to get AI Kanye.
Listen AI-Generated Kanye West Voice

Tips
Watch this informative video to delve deeper into the utilization of
AI voice generators
for crafting rap speeches.
Part 1:Info of AI Kanye West
Basic Info of Kanye West
Born on June 8, 1977, in Atlanta, Georgia, and raised in Chicago, Illinois, Kanye West is a multi-talented American rapper, singer, songwriter, record producer, and fashion designer. He initially gained prominence in the music industry as a producer for Roc-A-Fella Records, contributing to the success of albums by Jay-Z, Alicia Keys, and various other artists. In 2004, Kanye released his debut album, "The College Dropout," which received widespread critical acclaim and achieved remarkable commercial success, solidifying his position as a respected solo artist.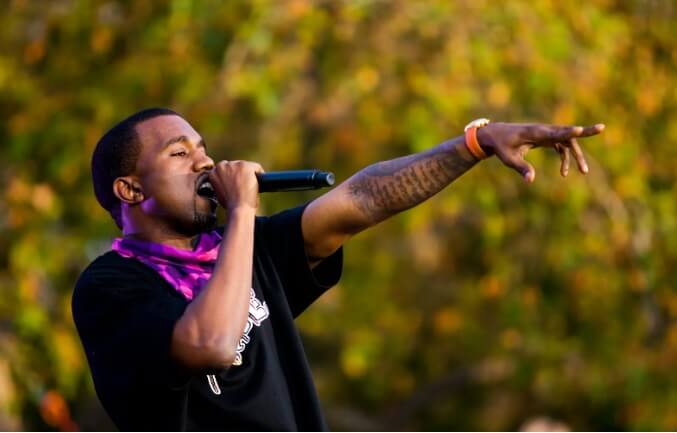 Why Exist AI Kanye West?
At the root of a widely circulated video lies an intriguing origin—an AI aficionado named Roberto Nixon. In his captivating video, he skillfully crafted a verse similar to Kanye West's voice for artificial intelligence on a computer program. This feat catapulted the video to viral fame.
In a concise explanation shared via Twitter, Nickerson unveiled his process, stating, "The process is simple: record Kanye West's voice and seamlessly substitute your preferred musician with a finely-trained model." This revelation sheds light on the creative journey that led to the birth of this poem, blending AI and musical ingenuity.
Part 2: How to Get Kanye AI Voice for Text to Speech?
A curated selection of speech generators tailored to meet the needs of content creators. While only some of these generators offer the coveted Kanye voice, others excel in producing remarkably human-like voiceovers. Elevate your content creation with these versatile choices that cater to a diverse range of preferences.
| Product Name | Character Voices Options | Languages and Accents | Custom Voice Creation | Sample Playback | Price |
| --- | --- | --- | --- | --- | --- |
| iMyFone VoxBox | 100+ | 100+ | Yes | Yes | $15.95/Monthly; $44.95/Yearly; $89.95/Lifetime |
| Speechify | 2 | 29 | No | Yes | $59/month $239/year |
| Capti Voice | No | 19 | No | Yes | $5.99/monthly $29.99/year |
| Streams Speak | No | 6 | No | 4.7 | $19/Monthly |
| Fakeyou | 100+ | 1 | Yes | No | $7/month $15 /month $25/month |
iMyFone VoxBox, the premier AI Kanye voice generator that leverages cutting-edge text-to-speech technology and advanced voice cloning techniques to flawlessly replicate Kanye's distinctive timbre. Whether you're an avid self-media enthusiast or a passionate video game aficionado, VoxBox emerges as a powerful creative voiceover tool, poised to elevate your content with unmatched authenticity audio.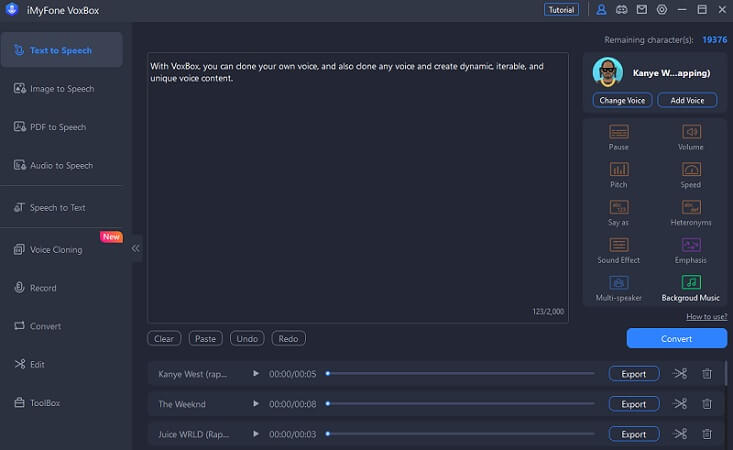 Features:
Over 3200+ meticulously tailored voices, encompassing an extensive array of voice types.

More than 100 custom languages and diverse accents offer a truly global vocal experience.

Craft your distinctive AI Kanye voice effortlessly with a multilingual voice clone option.

Provide adjustable settings and universal audio formats.

User-friendly and professionally designed interface.
Speechify is an advanced text-to-speech generator driven by cutting-edge artificial intelligence. Seamlessly synthesize lifelike voices for your voice-over endeavors. While Speechify may not feature Kanye's voice, it offers an array of iconic alternatives, including the distinct voices of Snoop Dogg and Gwyneth Paltrow. Unlock the potential of premium voice synthesis technology, now commercially available for your creative projects.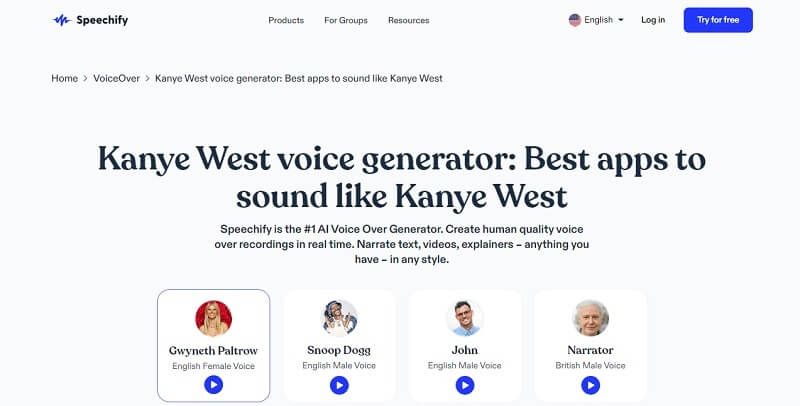 Features:
Snoop Dogg & Gwyneth Paltrow official and exclusive voices with more celebrity voices to come.

Our high-quality AI voices can read up to 9x faster than the average reading speed.

Anything you've saved to your Speechify library instantly syncs across devices.

Our reading voices sound more fluid and human-like than any other AI reader so you can understand and remember more.

Multi-lingual and high-quality natural-sounding voices in 30+ languages with multiple voices.

With our free text-to-speech online converter, you can type, paste, or even upload a file and convert it to speech.
Capti Voice is also a voice generator, which does not contain Kanye West ai voice. It is more common among students to convert any PDF file, assignment, or any other document into audio. You can also use it for your own purposes. But there is one limitation—you can't export the audio file. However, this should not cover up the fact that Capti Voice offers a lot of features.

Features:
Capti Voice has a user-friendly interface, so it is simple to use.

It supports 10 languages. It means that you can most probably use it in your native language (if it is included here).

You can get different Regional accents there to choose from.

Capti voice text-to-speech generator works both online and offline.
Streams Speak is one of the most popular Kanye west voice generators out there. It is developed by Oveit,It is considered ideal for storytelling because of the variety of accents it offers. But you can also use it for pranking and other purposes.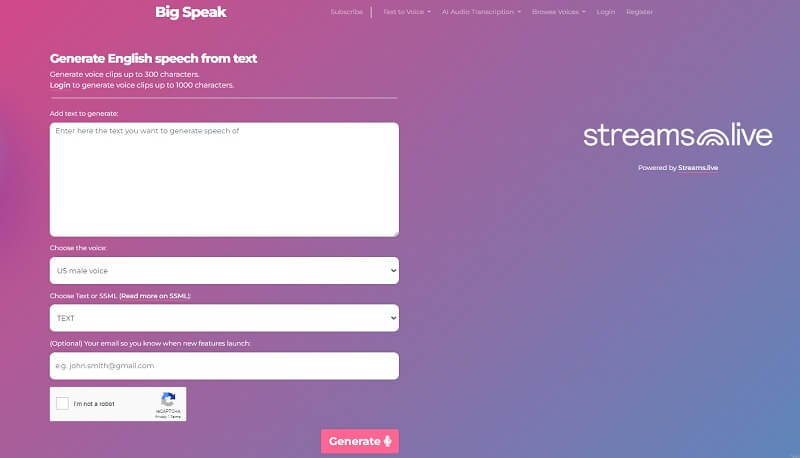 Features:
It is a free online tool where you can add up to 1000 characters to generate the voice. But if you don't sign up, you can only put in less than 300 characters.

This tool uses the latest "Machine Learning" algorithms, which allows it to generate human voices.

Streams Speak is powered by Streams Live; that's why it is user-friendly.

It also gives you the option to upload the audio file, which you can convert into another human-sounding voice.

You can also choose from different accents there (USA, UK, and Australian accents are offered).

Streams Speak supports five languages- English, German, Italian, French, and Japanese.
FakeYou is a deep fake text-to-speech AI kanye voice generator that can generate human-like speech clips using celebrity voices, character voices, and more. Users first select a voice, then enter text, and FakeYou uses text-to-speech technology and machine learning algorithms to generate audio.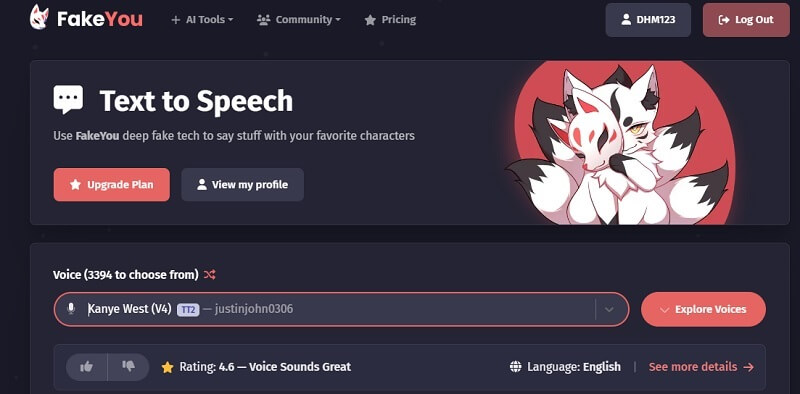 Features:
The quality of the AI voice soundboard.

Voice intonation and emotion.

Access 3000+ voices.

Support voice cloning.
Part 3:Tips: Using Kanye AI Voice Make AI Sing
MusicAI is a generator that includes Kanye AI voice, but it mainly provides software for music producers or music lovers to generate music. The following are the steps to use Kanye AI voice to generate songs
Step 1: Download and install the software-MusicAI.
Step 2: Enter "AI Covers"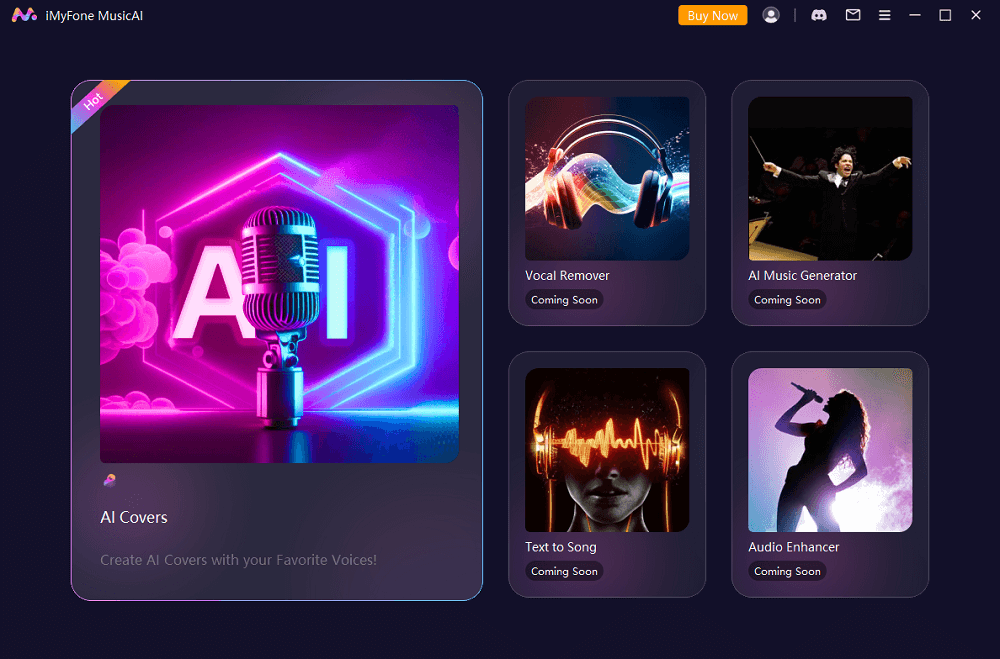 Step 3: Select "kanye" voice, and drag the audio or upload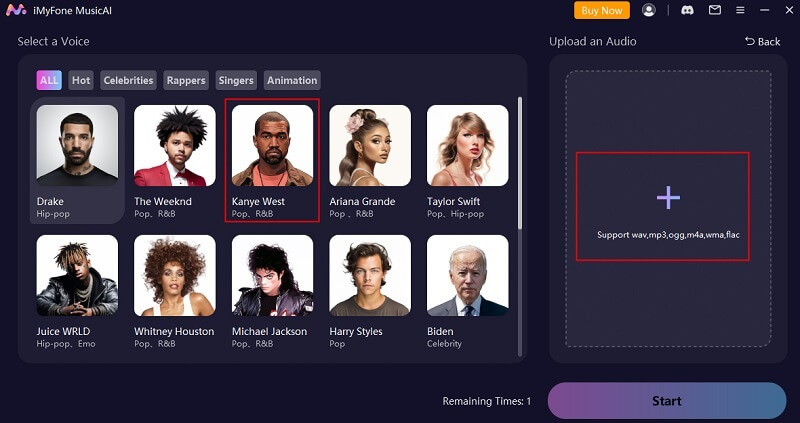 Step 4: Click on "Start", log in your account and wait a few seconds, the cover song will be generated.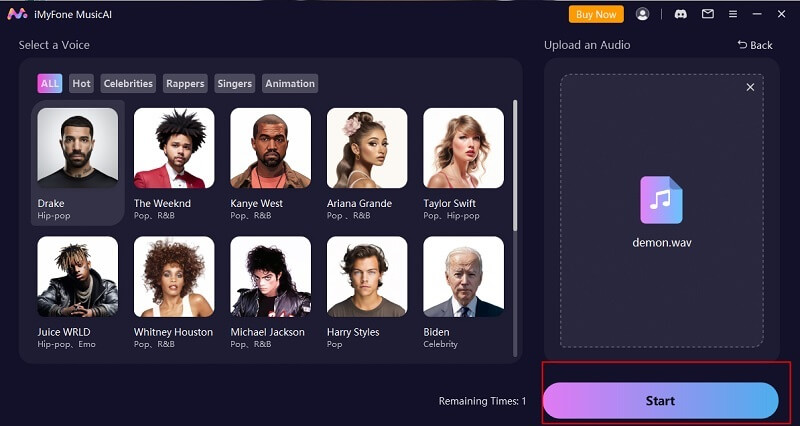 Part 4:Hot FAQs about AI Kanye West Voice
1.Has Kanye West released any AI-generated music or artwork?
Kanye West had not officially released any AI-generated music or artwork. However, he has been known to experiment with AI techniques in his creative endeavors.
2.How has AI influenced Kanye West's artistic style or evolution as an artist?
AI has the potential to influence Kanye West's artistic style and evolution by providing new tools, techniques, and possibilities for creative expression. It may shape his artistic vision and push the boundaries of what is considered traditional music and art.
Conclusion
This article explains the origin of AI Kanye's voice, and recommends several powerful AI voice generators to obtain Kanye's voice. If you are interested in cover singing, you can directly read the third part of this article. If you are a content creator If you have a need for voice-over, it is strongly recommended to experience iMyFone VoxBox, a voice generator with tts and voice cloning. There are still 2000 free characters available for the first trial.