China has the largest population in the world, dominating every industry in all parts of the world. At the same time, more and more people around the world are learning Chinese, either for business or just for fun.
Therefore, the need for Chinese accent voice generators does exist, since many business owners wanna use them for making marketig materials, and more. Whether you want to create content, make voiceovers, or just for fun, you can use Chinese text to speech tool to get human-sounding Chinese AI voice. Therefore, we are going to list the best available Chinese text to speech tools in the market for your reference.
Tips
Listen to the realistic Chinese AI Voice on VoxBox.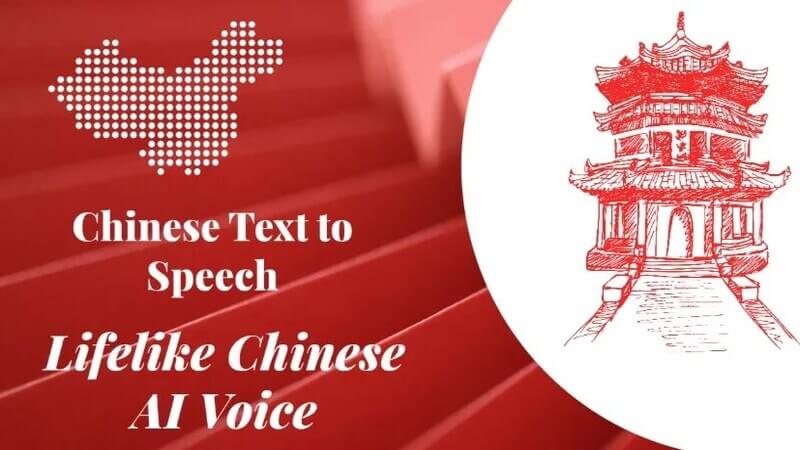 Part 1: Available Chinese Text To Speech Converters for Realistic Chinese AI Voice [ Chinese TTS]
Let's start with the best text-to-speech Chinese converters. iMyFone VoxBox is a professional software available for Windows, macOS, Android and iOS. You can convert your text into speech in the Chinese language with single click using iMyFone VoxBox. It is an AI-powered tool that generates a realistic and natural accent of the Chinese language, satisfying all your dubbing needs.

Tips
No voice artists are needed, and no recording equipment is needed. You can easily convert your text to speech and voice using
iMyFone VoxBox
, the best
Chinese Text to Speech
Voice Generator! Download it and try it out for free now!
Whether you want to generate a female Chinese voice or a male voice in the Chinese language, you can do it with VoxBox. iMyFone VoxBox is a go-to solution for professionals who want to create several voiceovers with the most realistic human-like voice.
Besides, you can also add pleasant effects to voiceovers like
Darth Vader
, robotic voices, cartoon characters, etc.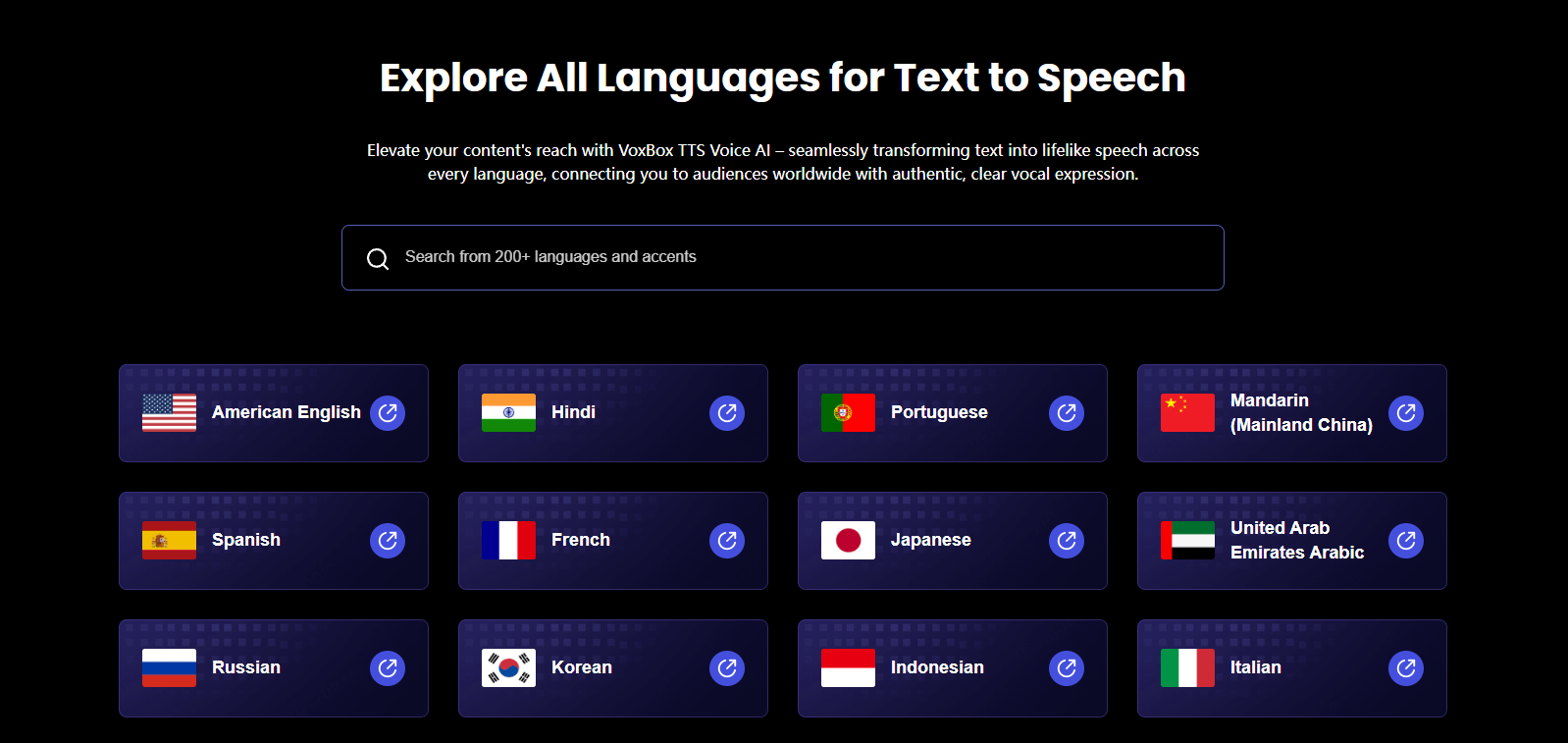 Steps To Convert Text to Speech in Chinese
Step 1: Download & Installation
Step 2: Click "Text to Speech" to enter your text, and select "Change Voice" to get lifelike Chinese AI voice.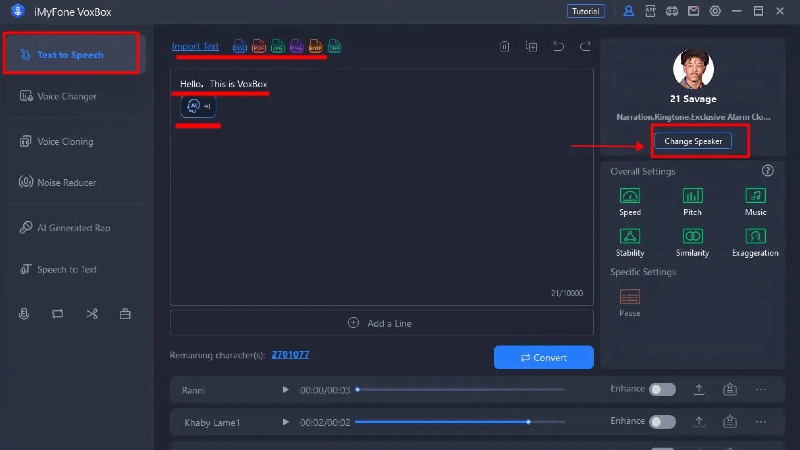 Step 3: Search for "Chinese" under Language, choose the voice you like from the 32+ male and female Chinese AI voice it provides, and click "use".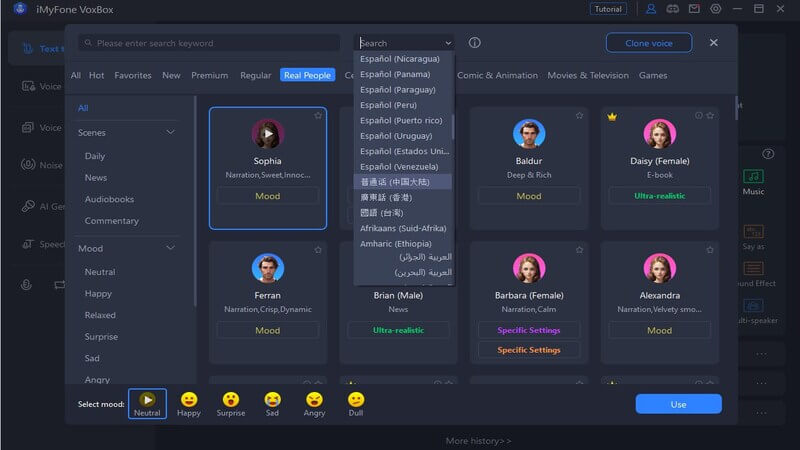 Step 4: Click on "Convert" to get the voiceover, and then you can choose to directly export it or further edit it.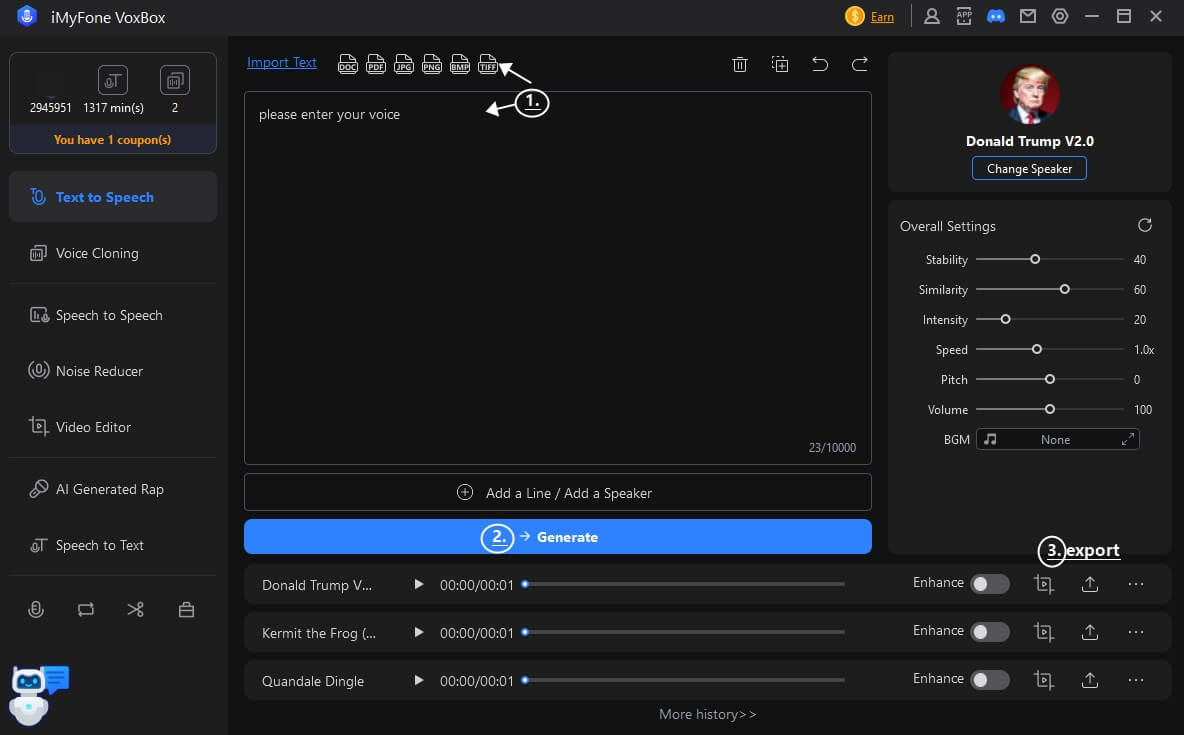 Pros:

There are thousands of voice filters and effects to choose from.

Realistic Chinese text-to-speech conversion with AI.

Available for personal and professional users.

Multiple languages support.
Cons:

Must get a premium subscription to unlock all features.

Not available for Android or iOS yet.
Imtranslator.net is also one of the best text-to-speech generators for the Chinese language. You can create realistic Chinese male and female voices for personal and professional purposes. You don't have to download or install any software to use imtranslator.net, as it is an open-source platform for Chinese text-to-speech.
You can install the extension of software on your web browser and convert text to speech or vice versa on the go. Imtranslator.net supports popular browsers like Opera, Firefox, Chrome, Yandex, etc.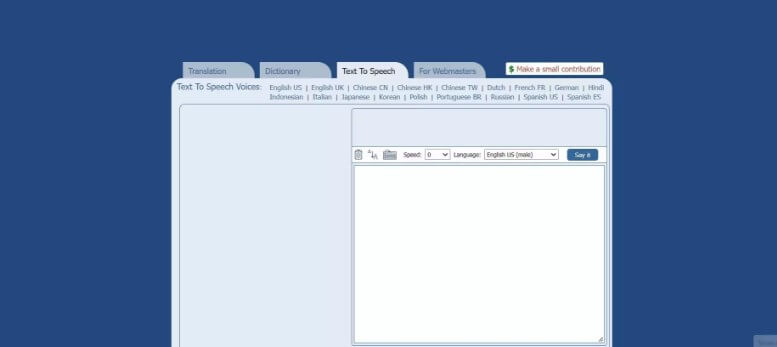 Key Features:
Available to all users via a web browser.

Choose from any language besides Chinese TTS.

An all-in-one platform with a translator, spell checker, dictionary, keyboard, and TTS.

Translate and Speak at a time by pasting your German text.
Pros:

The open-source platform is free.

Browser integration with free extensions.

Translate and speak at a time.

Download the converted audio.
Cons:

A very old-school user interface is not enjoyable.

Not for professional users.
GetListen2it is also an online platform for free for Chinese text to speech conversion. It is one of the top TTS generators if you want to generate realistic Chinese male and female voices for personal and professional use. Realistic voices can be used for ads, presentations, voiceovers, or wherever you want.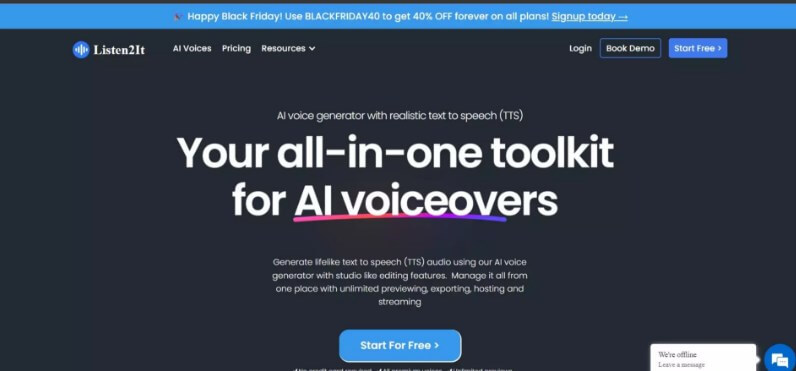 Key Features:
Chinese male and female voices with accents from all Chinese regions.

Online free TTS converter.

Downloaded converted audio and use it as you want.

AI-powered conversion generates realistic voices.
Pros:

Natural voice generation with an accurate accent.

Supports more than 70 languages.

Online Chinese text to speech generator.
Cons:

The voice flow might sound robotic sometimes.

Word limits for TTS.
You can also use MicMonster as your Chinese accent voice generator from any device. The online converter doesn't need any installation on your laptop or PC. However, you can install the Android and iOS apps of the software on your mobile devices. MicMonster supports multiple languages and voices you can choose for creating natural audio.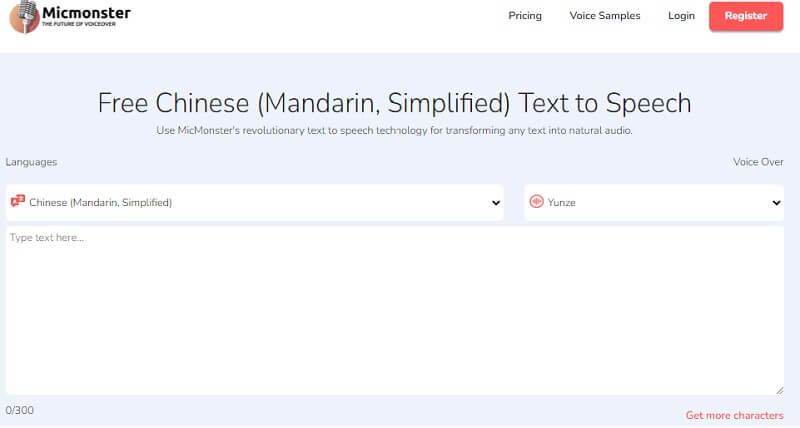 Key Features:
Online Chinese text to speech generation with a natural accent.

Choose from male and female voices with multiple dialects of the Chinese region.

Supports 140 languages that you can use for personal or professional purposes.

Advanced editor by adjusting tone, speed, pitch, emphasis, etc.
Pros:

The user-friendly interface of online tool.

Multiple language support.

Available on Android and iOS.

Affordable price.
Cons:

Voice editing is available in the pro version only.

The free version might generate unrealistic results at times.
Lastly, murf.ai is yet another online TTS for the Chinese language that uses AI technology for voice generation. Murf is a popular tool for TTS due to the realistic and natural voices it generates in different languages. You can install the software on your Android and iOS, also.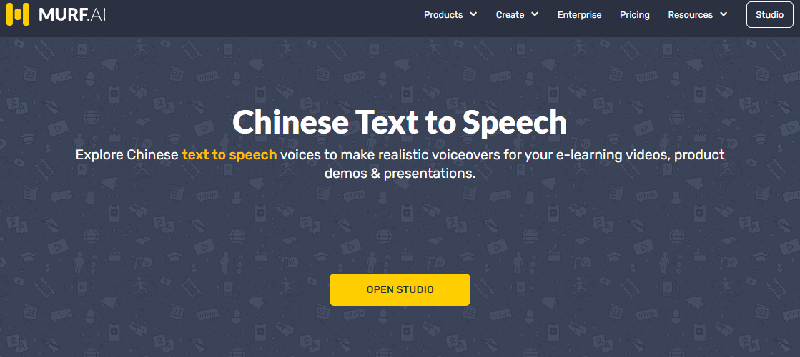 Key Features:
Many voice filters and effects available in Chinese speech to text generator.

Polish your script with grammar and editing tools.

Supports more than 15 languages.

Sync the time of voiceovers with visuals.

Voice editing features like phasing, chorusing, reverberation, etc.
Pros:

Realistic text-to-speech conversion.

Multiple language support.

Integration with tools like Google Slides.

Data security and privacy.
Cons:

Voice editing is available to premium users only.

No PC version is available; only the web version for PC.
Part 2: Price Comparison Of Chinese/Mandarin Text To Speech Voice Generator
Tool's Name
Operating System
Price
Major Highlight
iMyFone Voxbox

· Windows

· Quarterly $14.95

· Yearly $44.95

· Lifetime $89.95

An AI-powered tool with an accurate accent
Imtranslator.net

Web-based extension

Free
Online Chinese TTS
Listen2it

Web-based Online Tool

Starts from $9 per month for 20,000 words limit

Realistic voice conversions
Micmonster

Web, Android, iOS

Starts from $19 per month

Audio editing features available
Murf.ai

Web, Android, iOS

Starts from $13 per month for 24 hours of TTS

Available for web, Android, and iOS with exceptional data security and privacy.
Part 3: Bonus Tip: Best Chinese Speech to Text Converter
A Chinese (Mandarin) speech-to-text service is highly impactful due to globalization and the popularity of the language. It helps businesses offer multilingual support, expand to new markets, and conduct market research. It's critical for legal use and facilitates communication for international academic teams. Overall, the service provides quick and accurate transcriptions in Chinese (Mandarin).
With Voxbox, you can not only make voiceovers using its text to speech feature, but convert speech in 46+ languages to text within no time. You only need to click "Speech to Text", upload your audio file, choose the export language, and click "Convert". Easy as a breeze, right? Go have a try!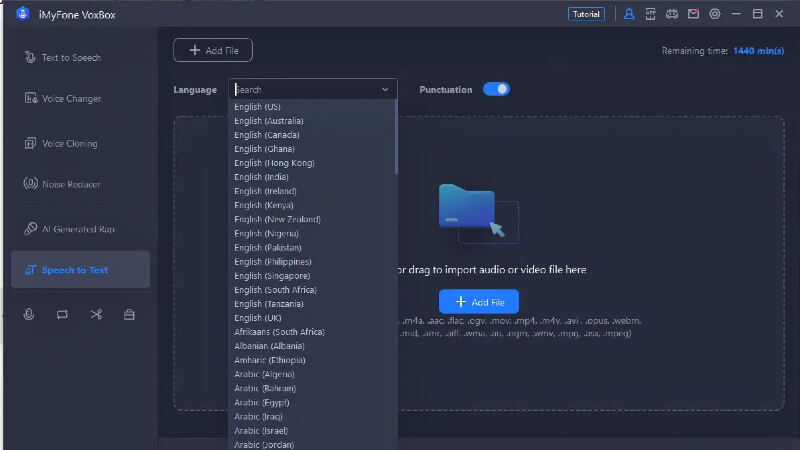 Part 4: FAQs About Chinese Text To Speech and Chinese AI Voice
1. How do you do text-to-speech for Chinese Mandarin on PC?
Yes, you can do text to speech for Chinese Mandarin on PC by installing iMyFone VoxBox on your Windows device. Once downloaded, launch the software, paste your text, choose language and voice effects, and generate the realistic voices.
2. Can I convert Chinese text to speech with a male voice online?
Yes, you can rely on imtranslator.net or murf.ai to convert Chinese text into male speech.
3. Which is the best Chinese text-to-speech software?
VoxBox is probably the best software for Chinese TTS due to the accuracy of accents and realistic voices with a choice of multiple languages, dialects, and regional flexibility.
4. How to convert Chinese speech to text?
With Voxbox, you can convert spoken or recorded Chinese Mandarin - Mainland audio to written text effortlessly. Upload your MP3/WAV/MP4 or FLAC file, and after processing, you will receive the transcript in no time.
5. What is Chinese AI voice technology?
Chinese AI voice technology refers to the use of artificial intelligence (AI) to generate natural-sounding human-like speech in the Chinese language. It involves sophisticated algorithms and neural networks that analyze and synthesize audio data to produce realistic voice output.
6. Can Chinese AI voices sound human-like?
Yes, with advancements in AI and deep learning, Chinese AI voices have become remarkably human-like. These systems can emulate emotions, tones, and accents, making the speech sound more natural and expressive.
7. Is Chinese AI voice technology capable of handling regional accents and dialects?
Yes, some advanced Chinese AI voice systems can handle various regional accents and dialects. The training data often includes diverse speech samples from different regions, allowing the AI to adapt and understand variations in pronunciation.
8. What are the applications of Chinese AI voice technology?
Chinese AI voice technology finds applications in various fields, including:
Virtual Assistants: Powering voice-activated virtual assistants that respond to user commands and queries in Chinese.
Audiobooks and Narration: Creating lifelike narration for audiobooks, podcasts, and e-learning platforms.
Call Centers: Enhancing customer service by deploying AI-powered Chinese voicebots for interactive communication.
Language Learning: Facilitating language learning by providing natural speech samples and pronunciation assistance.
Accessibility: Assisting visually impaired individuals with text-to-speech capabilities in Chinese.
Conclusion
We have discussed different Chinese accent generators that professional and personal users can rely on.With them, you can effortlessly make Chinese voiceovers for various use. But if you want the best one out of these recommendations, we highly recommend iMyFone VoxBox as the best professional text to speech converter, as you can generate unlimited voices in different languages and accents on the go.
No more hesitation? Go have make your Chinese voiceover now!