If you are looking to make any sort of video or audio in the Japanese language, but you cannot speak Japanese. When you need to talk in Japanese ( your business requires) but you cannot speak Japanese. so how to do that?
Well, don't worry. In this article, you will know some top Japanese Text-to-Speech Voice generators and you can choose them to solve difficulties. Let's begin!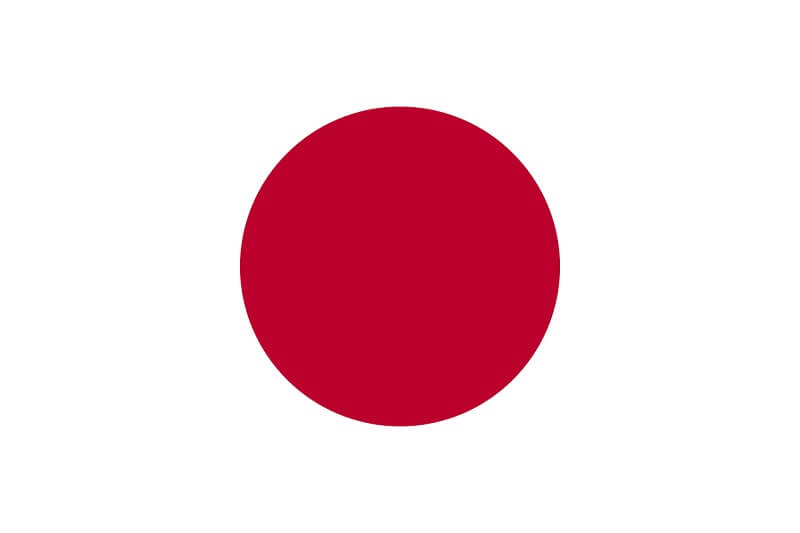 Try it Free
Part 1: Top Janpanese Text-to-Speech Voice Generators
VoxBox is not only support Japanese text-to-speech, but also provide other 46+ languages and 3200+ voices. you can use it easily to convert text into Ai voiceover for your content like podcast, audiobooks,etc.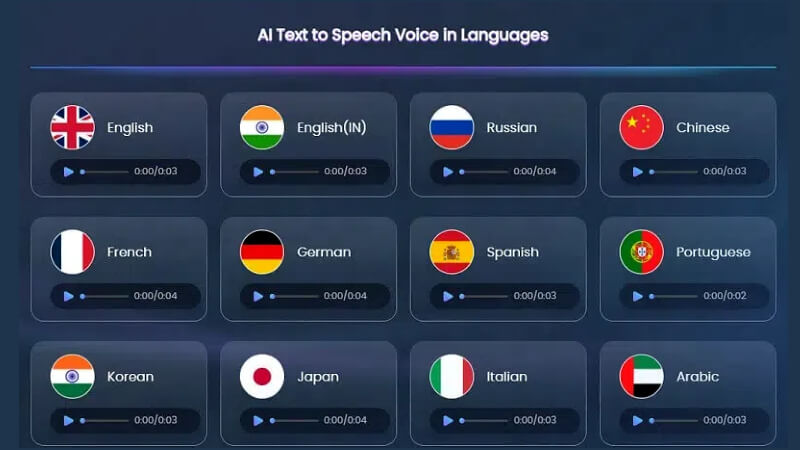 Features:
46+ global languages like SpanishSpanish, German, French.

3200+ voices like Rappers, YouTubers, Cartoons, Celebrities, etc.

100+ accents like a British accent and a Aussie accent, etc.

Supported Pause, Pitch, Emphasic, Speed,Volume.

4-in-1 software of voice record, generate, convert, and edit.

Supported voice record even from platforms like iTunes.

Supported select, cut, trim.

Easy-to-use.

User-friendly interface.
Japan
Try it Free
Watch this video to learn more about the Best Japanese TTS Tool iMyFone VoxBox:
Synthesia is a text-to-speech software which supports 60+ languages and has voices/ accents in hundreds.you also ues it to convert text into Japanese voice easily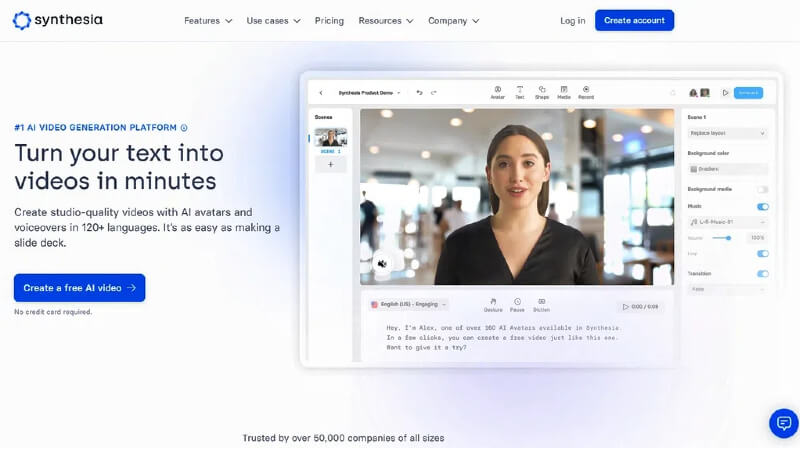 Features:
Synthesia is really easy to use. Just a few clicks, and you will have Japanese speech ready.

Unlike many software, it can do the conversion right in your browser.

When it comes to Japanese, Synthesia offers four male and three female voices to choose from.

You can also adjust the pronunciations using the software.
Part 2: Top 4 Online Website for Japanese Text-to-Speech
Listen2it One of the best text-to-speech websites you can use to get Japanese speeches is Listen2it. It is known for producing life-like voices that feel like a real person is talking. The website has more than 580 voices in 70+ languages, and each of them is of high quality.

Features:
It is easy to use because of its user-friendly interface.

The website gets help from advanced Artificially Intelligent Algorithms to make the voices sound real.

You can choose from 15 voices (both male and female).

You can also download the Ondoku extension on Chrome.

You can also hear the demo of the voices before you select them.
Another text-to-speech website you can get Japanese voice is Play.ht. That is easy to use and finish text to speech. It is trusted by more than 7000 users, and more people are signing up for it.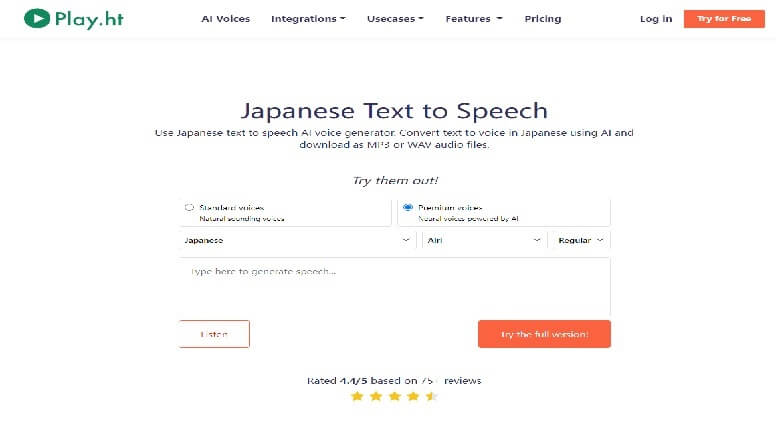 Features:
You can easily convert and then also download the speech in no time. It supports two formats- Mp3 and WAV.

You can choose from 17 Japanese accents.

A demo option is also available where you can play the voice before you decide which one suits you the best.

Premium voices are powered by Artificial Intelligence, while Standard voices also sound life-like.
MicMonster is perhaps the most famous Japanese Text-to-Speech website . The leading user of MicMonster is the United Nations.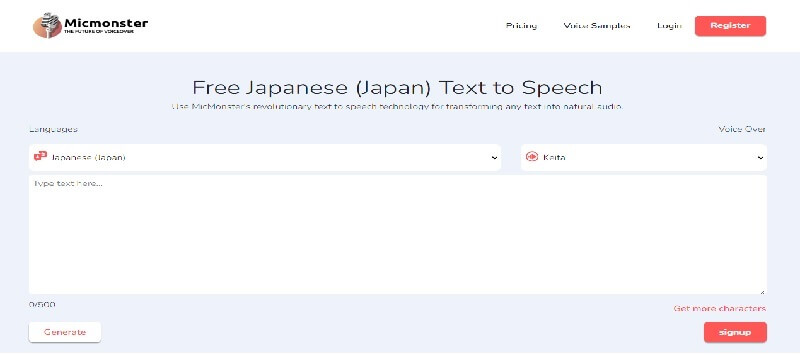 Features:
MicMonster offers you Preview mode, which you can use to hear the voices before choosing one.

The website allows you to add up to 120000 characters at once, which is more than what most websites allow.

MicMonster allows you to Edit voice inflections as well to give you clear voices.

Two high-quality voices, Nanami and Keita, are listed on the website.
NoteVibes text-to-speech tools offers over 225 voices in 25 languages, and they are continuously improving its service. Trusted by 25000+ companies, including Google, Amazon, Pepsi, Johnson & Johnson, Rolls Royce, and IBM.Now it has users in more than 150 countries, and more people are joining it.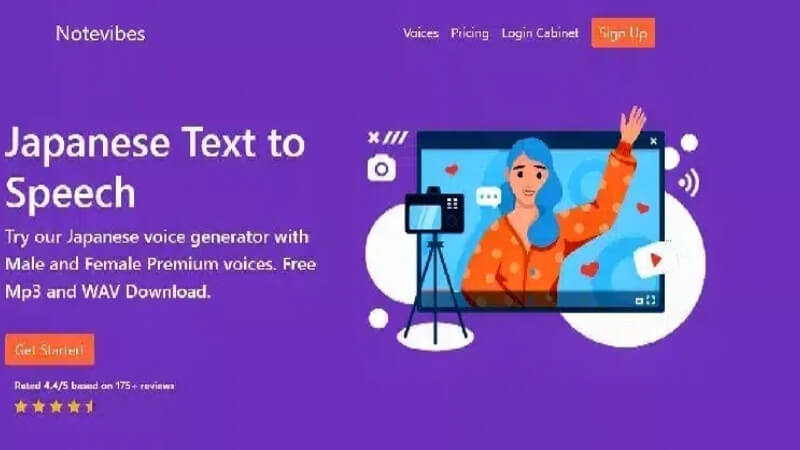 Features:
You can enjoy great control over the pitch and speed of the speech.

The volume control option is also there. You can increase/ decrease the volume according to your liking.

The website also allows you to download the speech in Mp3 and WAV formats.

You can also add pauses to make the audio sound like how you want.
Part 3: Price Comparison of Japanese Text-to-speech
| Product Name | Price | User Rating |
| --- | --- | --- |
| iMyFone VoxBox | $14.95/Monthly ; $39.95/yearly; $79.95/lifetime | 4.9 |
| Listen2It | 19$ / month(mini-starter), 119$ /1 month(full) | 4.8 |
| Play.Ht | 19$ / month(basic), 119$ /1 month(business) | 4.7 |
| MicMonster | 19$ /3 months, 60$ /1 year, 134$ /lifetime | 4.6 |
| NoteVibes | 8$/ 1 month, 90$ /month, 4000$ /lifetime | 4.7 |
| Synthesia | 30$/1 month | 4.8 |
Conclusion
All in all,I have discussed the top websites and software which you can use text-to-speech generate japanese voice. But if you ask me, which one is the best among them that you can use without any hesitation, then the answer is simple & straightforward. It's VoxBox.
It is a multi-tasker that is efficient, user-friendly, and affordable. It offers more than 3200+ Ai characters voice to choose from, and provide 100+ accent like british, hindi. which is requirement your entertaiment and business purpose.
Try it Free