Freestyle rapping is to music what Improv is to comedy, where you think on your feet and entertain the audience. There have been many legends in Rap music that can rap and freestyle unmatched by very little. So, if you love rap songs and how rappers rap to enthrall their audience, you can also do that now.

Listen to Kanye-West's Text-to-Speech Voice for free using iMyFone Voxbox down below!

With the help of a basic ai rap generator, you can now generate an AI rap voiceover that can rap like the legends. In this article, we are discussing three ai rap generator apps that you can use for AI rapping and make your content go viral.
Part 1: What is an AI Rap Generator?
A freestyle song is an improvised artistic expression that blends various influences and methods to produce a distinctive piece. Your voice is the crucial instrument you have to use in freestyle music. The melodies, words, musical rhythm, and beat are the other things you must consider.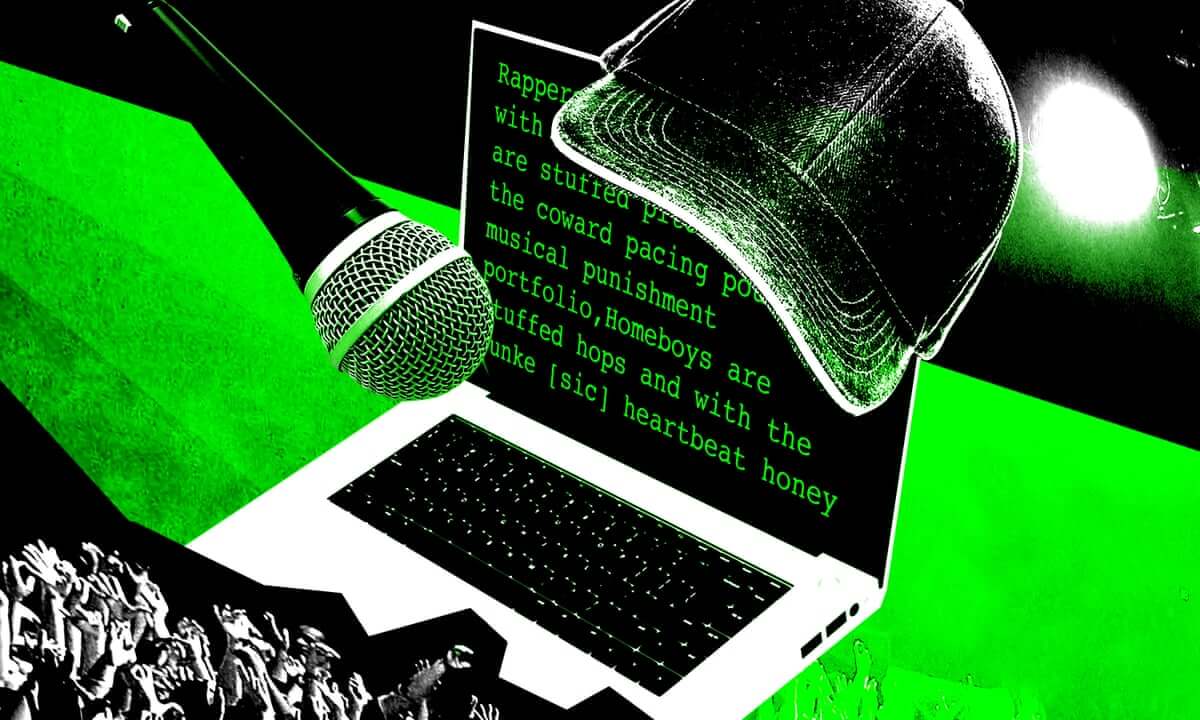 An AI rap generator is a tool that converts whatever you say, write or sing into rap style using AI rap machine learning technology. It uses the same technology as many text to speech generators online. The only difference is that the tone and pitch have been tweaked to resemble AI rapping.
Part 2: Best AI Rap Generator to Get AI-generated Rap
Are you still surprised how TTS tools and apps can make and generate rap songs using rap AI? Simple, these two AI rap generator apps are in the list below.
VoxBox is a dedicated desktop and Android app with over 3,200 voices that you can use in 46+ languages. It even has quite a few AI rapping voices to convert your text into rap songs in your favorite rappers' voice. Let's find out how and its best features.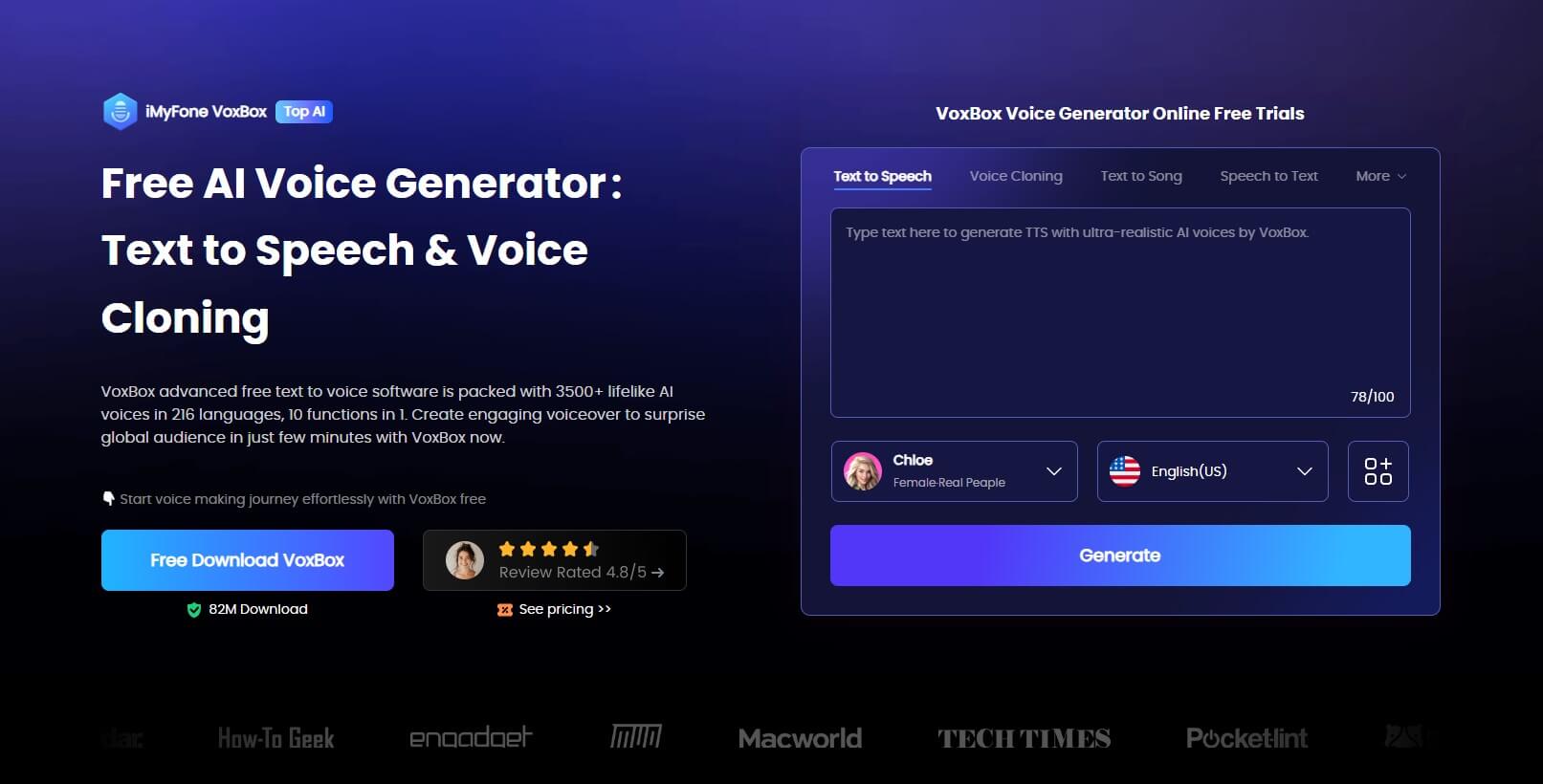 How to Step: How to Put in Rap lyric to generate rap song
Step #1: Open the VoxBox app after downloading from their main page.
Try it Free
Step #2: Head over to the app's Text to Speech section.
Step #3: Choose 'English' and 'English (US)' in 'Language & Local,' while 'All Voices' in 'Voice Type'.
Step #4: Choose any rapper, as shown in the image below.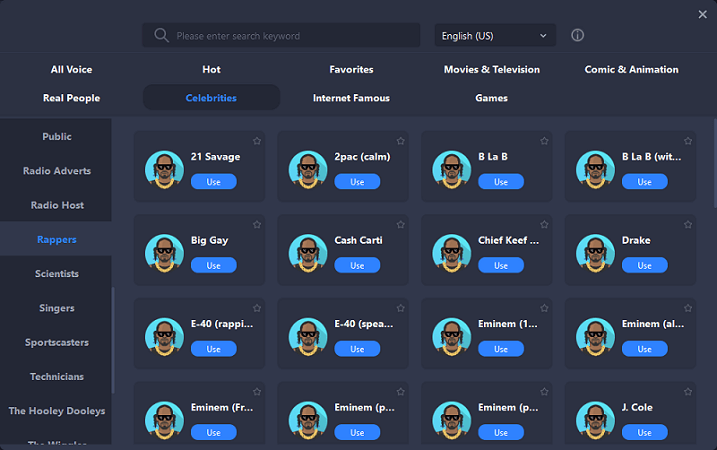 Step #5: Now you can enter lyrics from any rap song in the text box.
Step #6:You can press convert to generate rap songs in the voice of your choice.
Pros:

Hundreds of viable options.

HQ generated voices.

Multiple human voices for choice.
Cons:

Conversion takes time for low-end machines.
Another option to use for rap AI is Uberduck.ai. Many new APIs are regularly added as an open-source programs to enhance their functionality.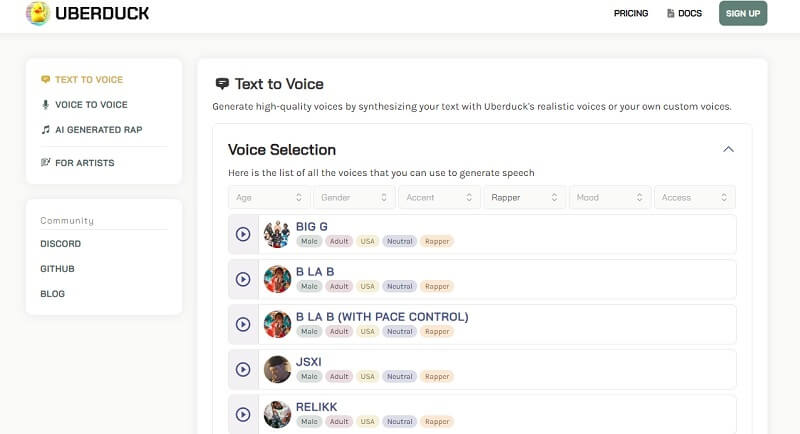 Key Features:
Anyone can use API in their apps for a small price.

5,000 royalty-free voiceovers available.

Fully featured workshop.

Tweak and edit any voice or sound.
How to Step:
Step #1: Go to the official page of Uberduck.
Step #2:>Navigate to their AI-Generated Raps page.
Step #3: Choose a topic to rap about, and then choose a voiceover and background sound.
Step #4:Press go, and you will have a rap song by rap lyric generator AI.
Step #5: You can always add a background video from the Upload Background button.
Step #6: This feature is only for premium users.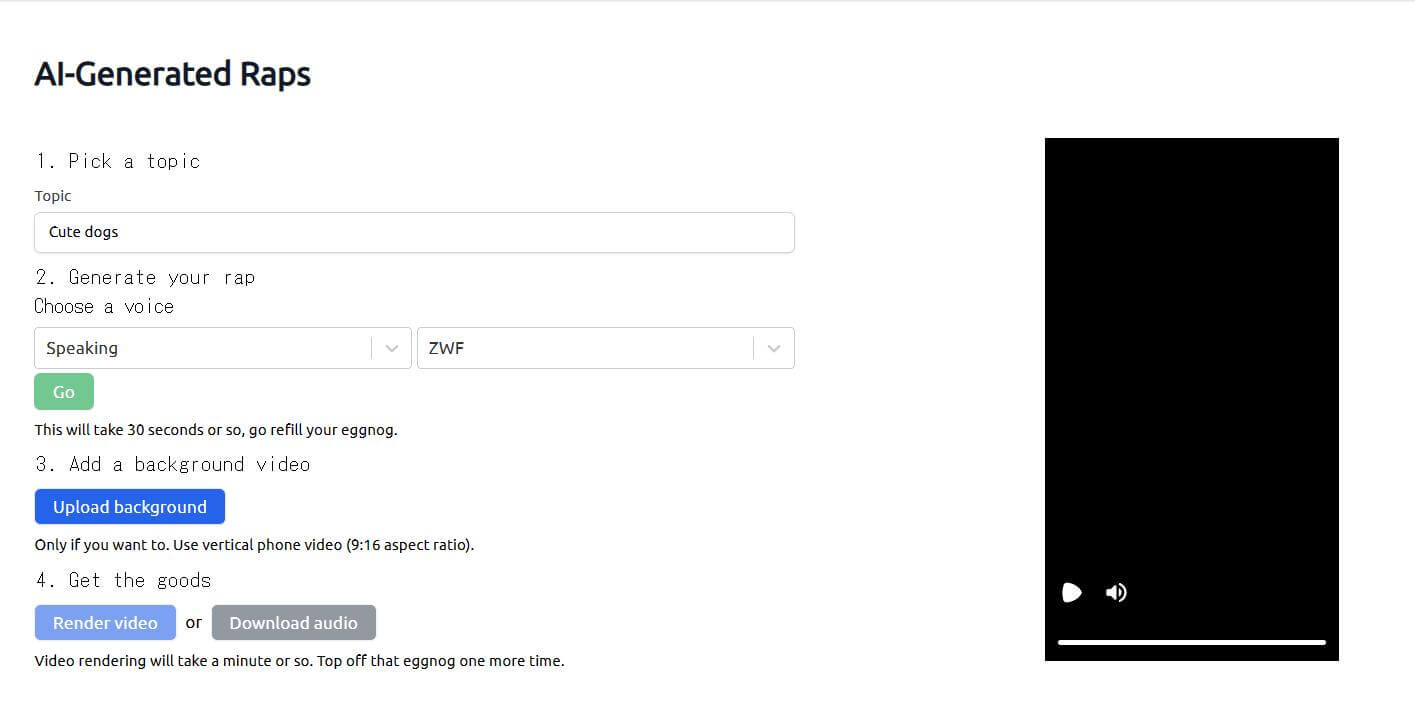 Pros:

Fantastic web page with tons of functionality.

Open source with nothing hidden.

Can make your app with their API.
Cons:

AI rap generator tool is only for paid customers.
Part 3: Bonus Tip: How to AI Generate Rap Lyrics
DeepBeat is an AI rap generator combining popular rap music lyrics to create new AI rap lyrics using machine learning algorithms. It tries and mostly succeeds in pairing rhymes and coherent words resulting in quite a good AI rapping.
Read their study, "DopeLearning: A Computational Approach to Rap Lyrics Generation," for more information about how they achieved rap AI.
#1: Click "Generate lyrics" to begin rap lyric generator AI, and the AI tool will fill in all blank words.
#2:Additionally, you can write your lyrics or use the "Suggest (Rhyming) Line" option to compose songs line by line.
#3: Click on the upper right corner to adjust the settings.
#4: You can, for example, add keywords that must exist in the lyrics that are generated or, for better performance, enable the deep learning feature, which is turned off by default.
Try it Free
Part 4: FAQs About AI Rap Generator
1. How Can I Make a Rap Song with Text to Speech?
Using an AI rap generator, you can easily convert text to speech into rap songs. Some apps allow you to generate entirely new rap lyrics, which you can then use an AI rap tool to generate a voice to sing in.
2. Which is the Best AI Rap Generator?
In our list, we have mentioned 3 of the best AI rapping tools, and you can use any of them to get the best rap AI songs within minutes. Uberduck is an online AI tool that is open source, so completely safe and crowdfunded.
Deadbeat is making waves in the AI rap generator scene and is liked by many, but it is mainly for rap lyric generator AI. VoxBox is more of a complete package for rap, TTS, voice recordings, and more.
3. How Can I Make My Voice Like My Favorite Rapper?
Many AI rap generator apps can generate rap voiceovers from texts. Most apps have many voiceover options that you can use. VoxBox has an extensive library of rappers that you can choose from. If your favorite rapper isn't on the list, you can choose the nearest sound and tweak the voiceover.
Conclusion
Voice generation to make your voice sound like something else is definitely a great tool and feature. It reaches a new height when users can use these tools to teach students languages and help them practice. The 3rd level is singing songs from simple texts.
Are you going to use one of the three above for your next rap song? We recommend
iMyFone VoxBox
due to all the features we mentioned in this article.
Try it Free