Rap songs typically incorporate pop culture references, boasting, storytelling, and wordplay. The structure commonly consists of a chorus, verse, and bridge. Rap music serves as a potent means of self-expression, allowing artists to convey a broad spectrum of emotions.
Feel free to utilize our AI rap generator for the creation of a distinctive song or to spark original song ideas! Whether you engage in this activity purely for enjoyment or with aspirations of crafting a chart-topping hit, we sincerely hope you have a great time in the process!

Part 1: What are AI Rap Generator and AI Rap Lyrics Generator?
AI Rap Generator
An AI rap generator is a tool powered by artificial intelligence that is designed to generate rap lyrics or even complete rap songs. It utilizes machine learning algorithms to analyze patterns, rhymes, and vocabulary in existing rap lyrics and then generates new lines or verses based on that analysis. These generators are trained on extensive datasets of rap lyrics from various artists and styles, allowing them to mimic the structure and language of rap music.
Bonus Tips
Discover the transformative power of these
AI voice generators get rap song
, if only for a moment.
AI Rap Lyrics Generator
An AI rap lyrics generator is a specific type of AI-powered tool that is designed to generate rap lyrics. The AI Rap Lyrics Generator can provide users with ready-made rap lyrics or serve as a creative tool to inspire and assist in the songwriting process. It can generate rhymes, wordplay, and even suggest ideas for specific themes or topics.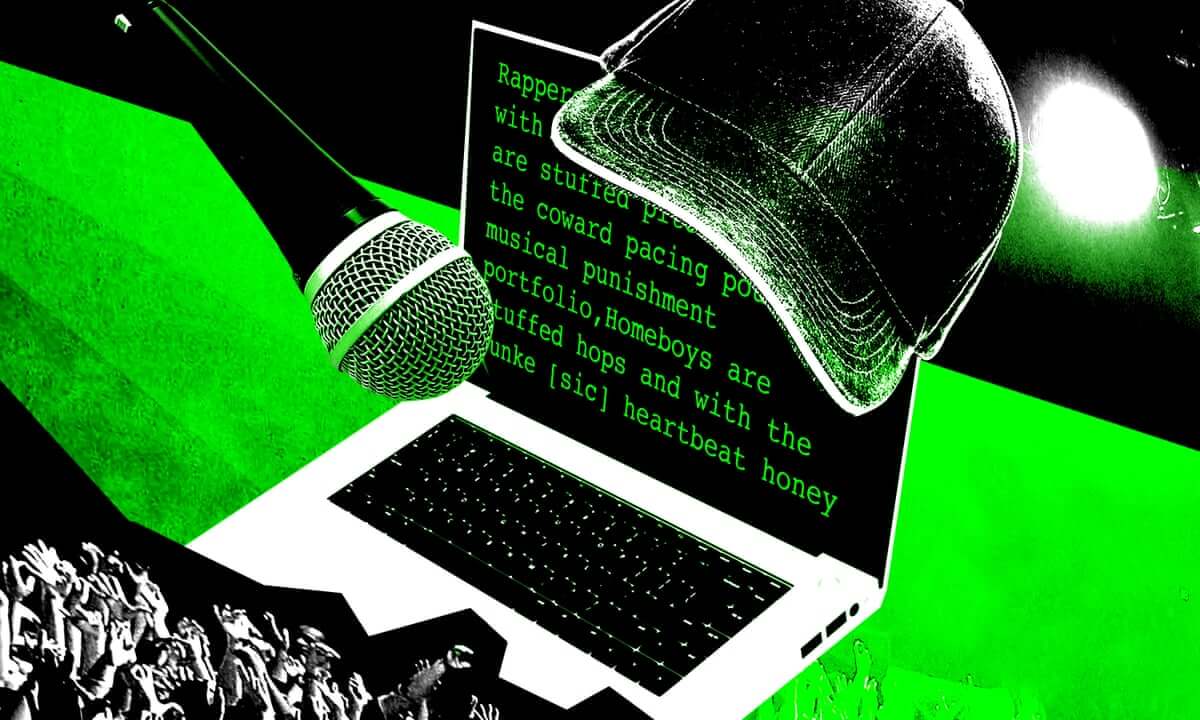 Part 2: How To Use AI Rap Lyrics Generator Generator Get Freestyle
Rap lyrics are known for their vivid imagery, wordplay, and slang. They often take on a poetic form, incorporating metaphors and other literary devices. These lyrics delve into a wide range of topics, including identity, politics, relationships, and various aspects of life.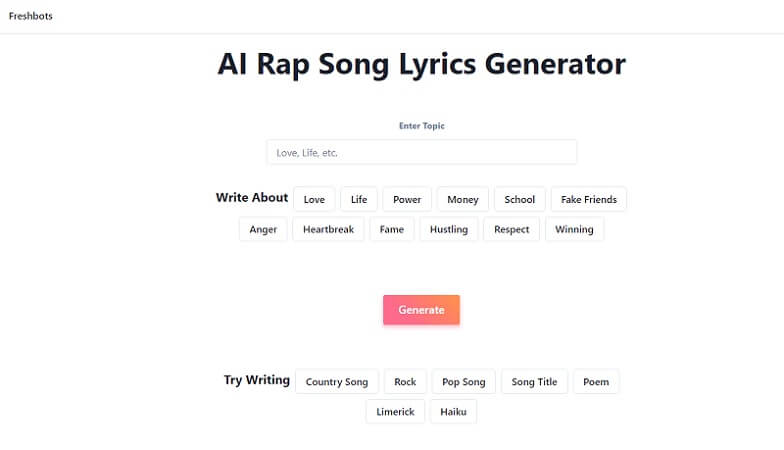 Freebots, an AI Rap Lyrics Generator, harnesses the power of natural language processing (NLP) and machine learning. By analyzing a vast database of top artists, it gains an understanding of the structure and flow of rap lyrics. Leveraging this knowledge, Freebots generates new lyrics that emulate the style, flow, and cadence of the input it has studied.
Step#1: Select the topic of the song you would like to write
Step#2:Then hit generate and watch the lyrics come to life!
Part 3: Useful Tips: Ways of RAP Song With AI RAP Generator
Are you seeking clarification on how an AI speech generator can create a rap song? Additionally, are you curious about the process of making a rap song with AI? We'll provide answers to these questions in the following section.
1. iMyFone VoxBox-AI Voice Generator with TTS
VoxBox is an impressive tool that offers a variety of AI-generated rapping voices capable of transforming text into rap songs resembling the styles of popular artists such as Drake, Jay-Z, The Weeknd, and more. Not only does it excel in mimicking renowned rappers, but it also supports the voices of singers like Taylor Swift and Ariana Grande. Let's delve into the details of how VoxBox accomplishes this and explore some of its best features.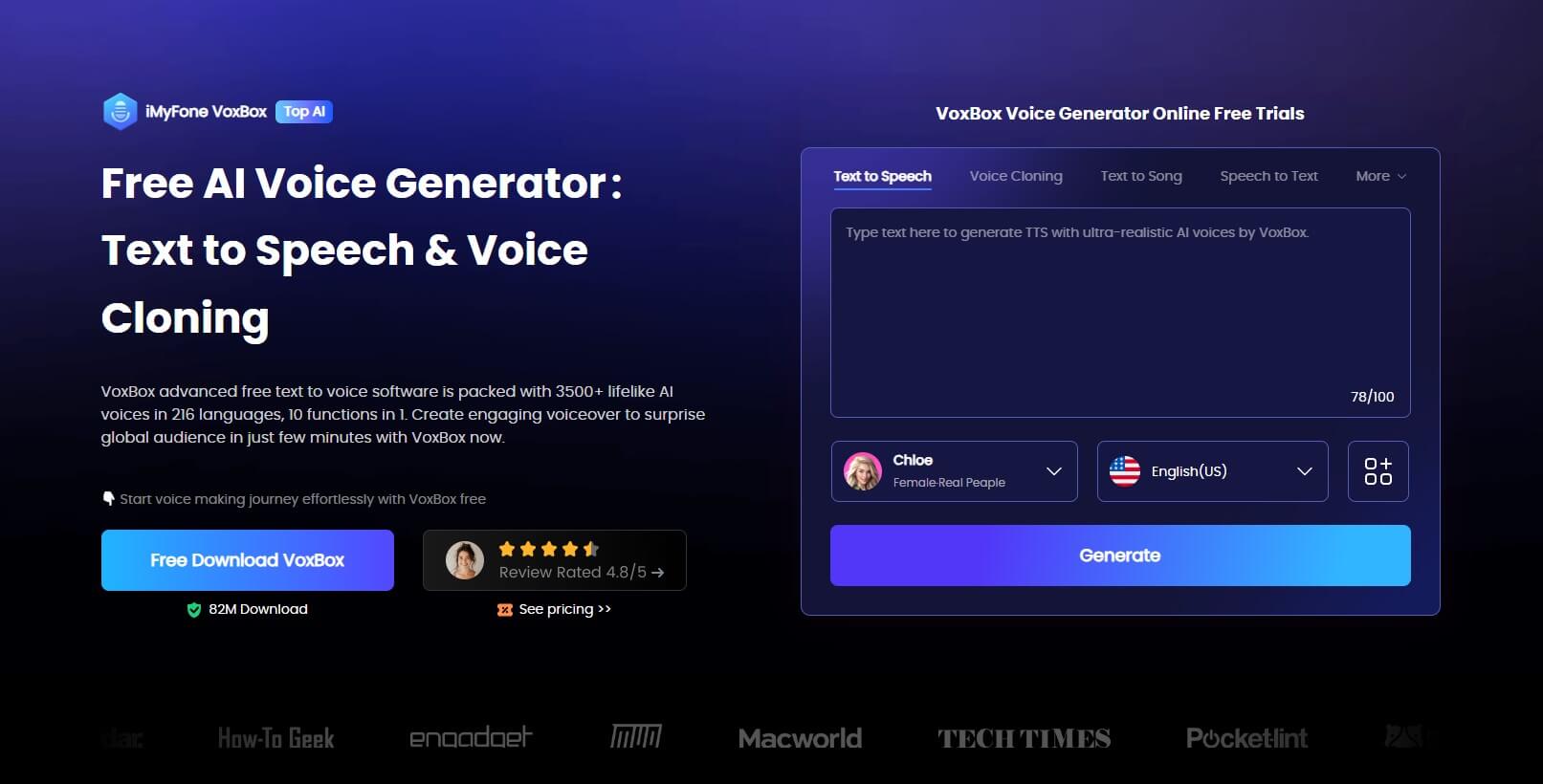 Key Features:
A specific section for Rappers and rap song generation.

You can generate rap songs in those popular rappers ai voices, like Kanye West, Drake,Eminem, and many others.

Massive voiceover library.

Multiple languages that you can use for TTS.
Listen to Kanye-West's Text-to-Speech Voice for free using iMyFone VoxBox down below!

Easist Steps of AI-Generate Rap Song
Step #1: Open the VoxBox after downloading from their main page.
Step #2: Head over to the Text to Speech section.
Step #3: Choose any "Rapper"-your favorist artist ai voice.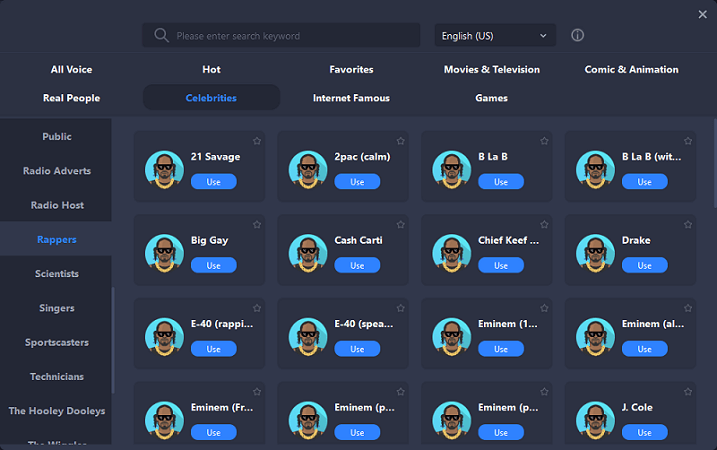 Step #5: Now you can enter Rap lyrics in the text box.
Step #6:You can press convert to generate rap songs in the voice of your choice.
Pros:

Hundreds of viable options.

HQ generated voices.

Multiple human voices for choice.
Cons:

Need Install
Another option to make RAP song with AI is Uberduck.ai. which provide AI-generate RAP feature. and Many new APIs are regularly added as an open-source programs to enhance their functionality.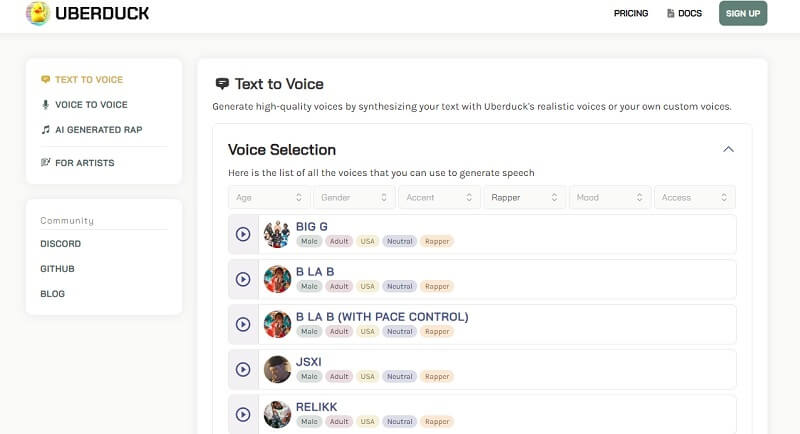 Key Features:
Anyone can use API in their apps for a small price.

5,000 royalty-free voiceovers available.

Fully featured workshop.

Tweak and edit any voice or sound.
How do You Make a Rap from Text AI:
Step #1: Go to the official page of Uberduck.
Step #2:Navigate to their AI-Generated Raps page.
Step #3: Choose a topic to rap about, and then choose a voiceover and background sound.
Step #4:Press go, and you will have a rap song by rap lyric generator AI.
Step #5: You can always add a background video from the Upload Background button.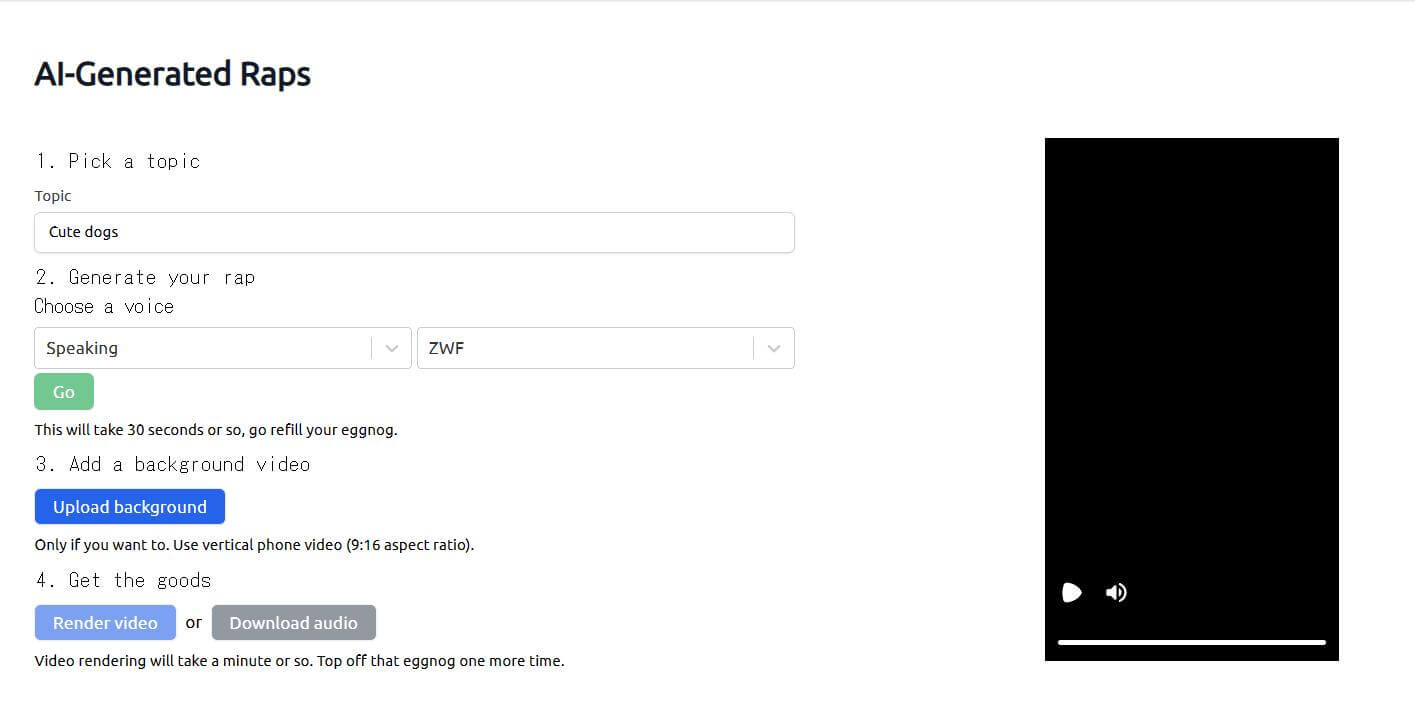 Pros:

Fantastic web page with tons of functionality.

Open source with nothing hidden.

Can make your app with their API.
Cons:

AI rap generator tool is only for paid customers.
Part 4: FAQs About AI Rap Generator
1. How Can I Make a Rap Song with Text to Speech?
Using an AI rap generator, you can easily convert text to speech into rap songs. Some apps allow you to generate entirely new rap lyrics, which you can then use an AI rap tool to generate a voice to sing in.
2. How to Make a Rap Song with AI?
As we mentioned before, you can choose VoxBox Rapper rapping to get an AI cover rap song and also could go to Uberduck AI to create AI-generated raps.
3. How Can I Make My Voice Like My Favorite Rapper?
Many AI rap generator apps can generate rap voiceovers from texts. Most apps have many voiceover options that you can use. VoxBox has an extensive library of rappers that you can choose from. If your favorite rapper isn't on the list, you can choose the nearest sound and tweak the voiceover.
4. Is there an AI rapper?
Capitol Records made a groundbreaking announcement on August 14, 2022, as they officially "signed" FN Meka to their label. This significant development marked FN Meka as the first AI-generated rapper to ever be signed by a major record label.
Conclusion
In summary, AI rap generators use machine learning to analyze rap lyrics and rapper styles, generating songs that replicate the characteristics of different artists. Users can input their lyrics, select an artist's style, and let the AI system create a rap song in their desired sound. For fun AI cover rap songs, I highly recommend iMyFone VoxBox.
While AI-generated rap songs have their limitations, they offer an exciting and innovative way to explore and experiment with the genre.