It is quite problematic to find out the best video editing platform. Most of the people who proceed with premium video editing platforms use Camtasia or Adobe Premiere Pro. However, when it comes to choosing between Camtasia or Adobe Premiere Pro, people often become confused because both of them are excellent video editing tools and allow you to proceed with your video editing project more precisely and concisely.
A detailed comparison of both these will give you an idea of whether you should choose Camtasia or Adobe Premiere Pro. So this is a comprehensive guide talking about Camtasia vs Adobe Premiere Pro. We will also guide you about the best alternative. So if you find them expensive, you should choose the alternative tool which is iMyFone Filme.
Part 1. Camtasia vs Adobe Premiere Pro - An Overview
Camtasia Overview
The video editing features of Camtasia are very excellent because it provides the user with the very high-quality output and is widely used for various business applications, especially within media organizations. Moreover, the use of Camtasia is also common among web content makers where it benefits them for the creation of technical videos and makes it possible for them to get the best output due to proficient evaluation features.

Some businesses use Camtasia for recording and creating explainer videos in order to attract their clients.
Adobe Premiere Pro Overview
It is another video editing platform that contains undeniable cinematographic items and various other editing options that will convert your simple videos into amazing and fantastically wonderful videos. It would be right to say that it is a business standard video editing platform that supports all the video formats.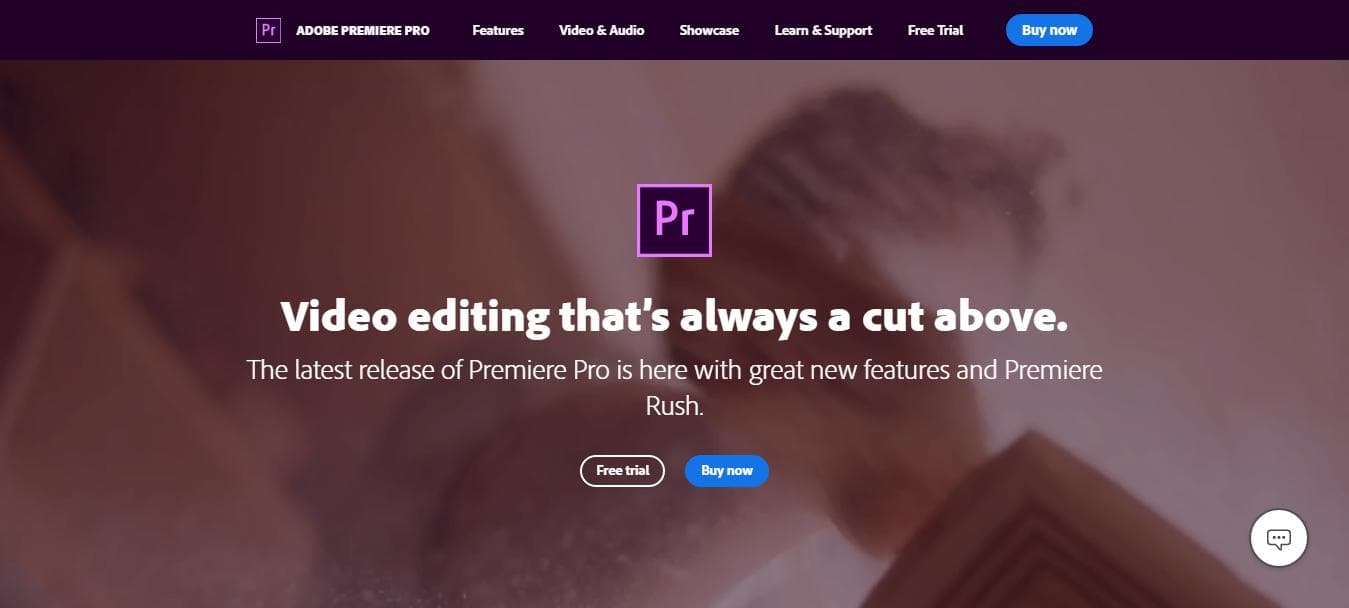 Most people use it for recording clips and shooting purposes. This platform serves as an organization because it solves all the problems related to recordings, videos, music, and voiceovers and helps businesses in various ways by providing them with proficient outcomes.
Part 2. Camtasia vs Adobe Premiere Pro - Features
Let's have a look at the prominent features of both platforms. It will make it easy for you to decide which one you should choose.
Camtasia Features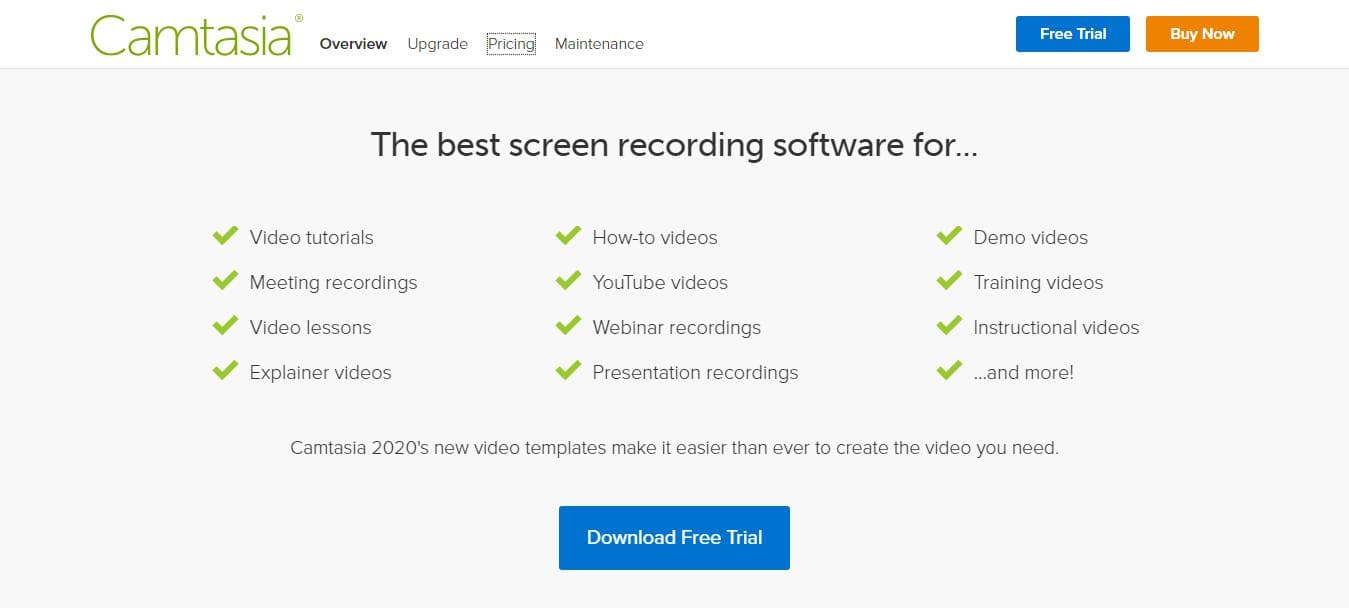 In Camtasia, you can find a variety of animation changes, cursor effects, and annotations. Here you can also find a lot of video improvement features in the library such as the addition of friends symbols and preset alternatives.

It is no secret that video creation is incomplete without proper sound effects and clear audio. This platform clearly addresses this problem and provides mood sound with various features like background noise cancellation, adjustment of sound pressure, etc.

Most platforms create interesting videos for costing them to social media platforms, especially Facebook and Instagram. These videos are usually without audio and require interesting and catchy captions. Camtasia has inbuilt options for the creation of interesting captions along with the videos and their adjustments accordingly.

The interactiveness of Camtasia is very remarkable and is totally astonishing for the people who use it for the first time. It is basically the feature that allows you to add various interactive functions to the video tutorials making it more interesting such as arrows, green buttons, etc. Unlike other functions, this procedure is quite simple. All you need to do is to go to the toolbar on the left side and choose interactivity.

Camtasia also has speech recognition and voice narration features that give you more control over your video editing. Remember that speech recognition is particularly useful whenever it comes to adding captions to the videos. Moreover, this platform also allows you to convert your video into text. You can also clear all the errors by clicking on the Modify tab in the toolbar.

You can also enjoy various visualizations in Camtasia. There are limitless visual effects available in the application that allow you to proceed with the creation of stunning visualization including color changes, removal of colors and aligning the elements on the video screen, etc.
Adobe Premiere Pro Features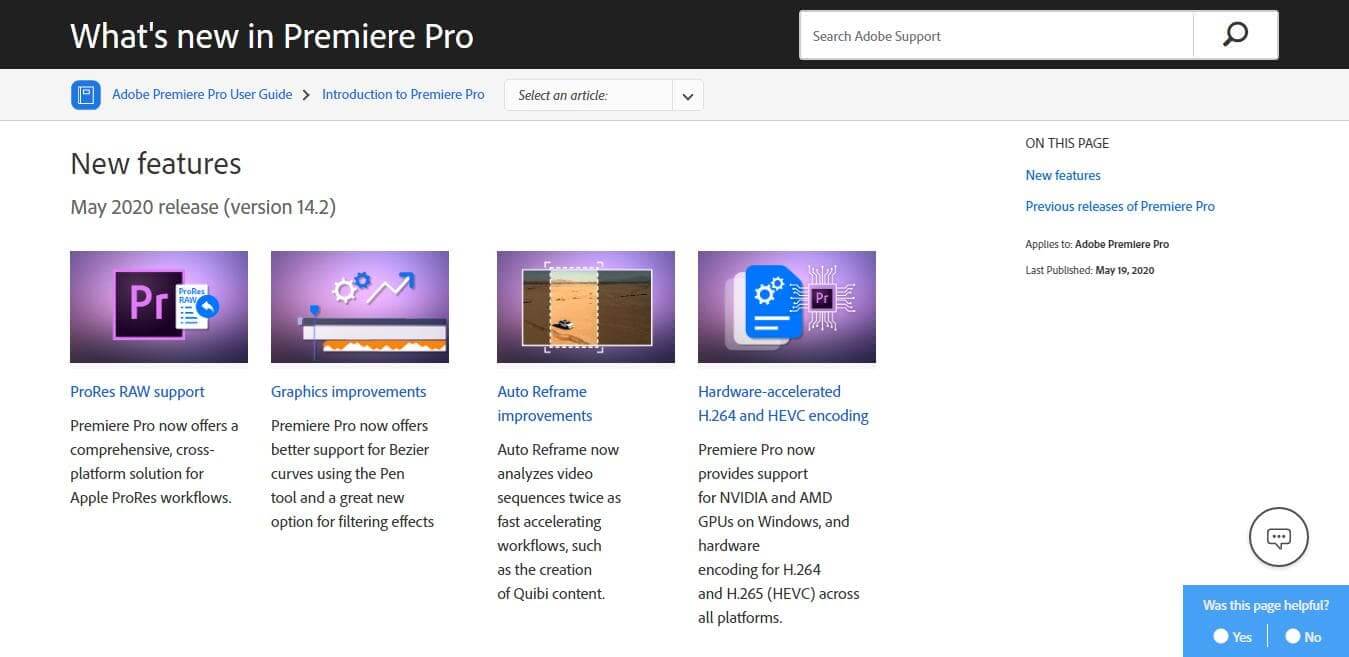 The most important and prominent feature of the Adobe Premiere Pro is the versatile and advanced design that makes it a suitable platform for professional purposes. Moreover, its interface is highly responsive and unique. The best part about the software is that it is regularly refreshed and updated to maintain its uniqueness.

The main purpose of this application is to maintain the workflow within business organizations. The workers should use this wonderful application to share project information details and videos with their bosses.

Businesses also utilize this tool for the creation of standard videos for clients and workers. You can add various fundamental scenes to the videos and get the best outcomes.

Remember that Adobe Premiere Pro can also be used for the removal of all the distractions and distortions from the videos. It supports almost all the video formats and allows the users to create slideshows from the clips.

It also analyses the video sequences that play a vital role in the acceleration of the workflows. These auto reframe improvements to make it possible for businesses to boost their sales by making attractive videos for their customers.
Part 3. Best Alternative Video Editor - iMyFone Filme
iMyFone Filme is a great video editing tool in which you can access all the premium features without paying even a single penny. There are various reasons due to which you should prefer the iMyFone Filme. Even if it is 100% free both professionals and you can take maximum benefits of its remarkable video editing features including slideshows, picture in picture effects, and other features like cropping, rotation, background removal, trimming, and many others. The downloading process of the software is also very easy. All you need to do is to visit the official website and click on the download option for the installation process to begin.
Features of iMyFone Filme
The instant preview option of this software makes it possible for the users to look at the changes they have made. This feature is particularly helpful for professionals, marketers as well as beginners who do not have enough knowledge about how their editing will appear on the previous screen.

Allows the user to proceed with multiple video editing tasks for example the creation of picture-in-picture effects & slideshows, video background removal, addition of transitional effects, and the frame addition to the photos.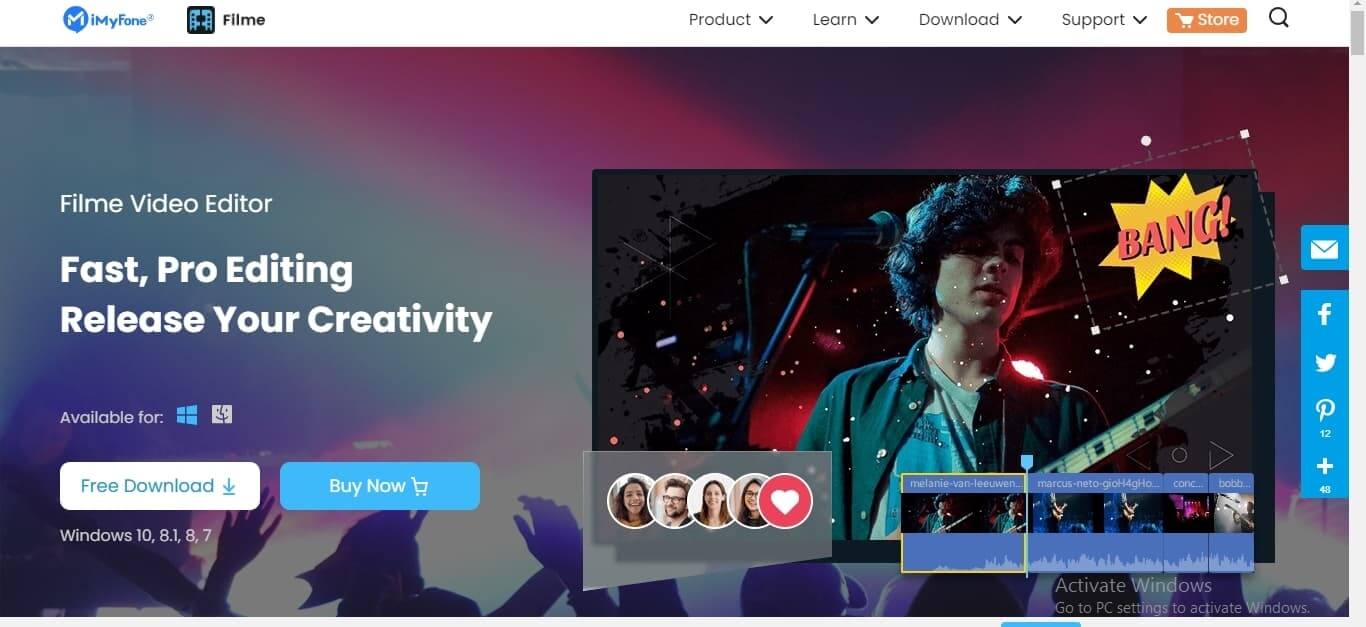 Pros

100% free.

Beginner-friendly.

Allows advanced video editing.

24/7 customer support.

Compatible with Windows 10, 8.1, 8, 7.

Available for offline use once downloaded.

Simple and easy interface.

The perfect tool for professionals.

Allows you to adjust the speed of the videos.
In the given steps we have guided you in general on how to use iMyFone Filme and how to edit your videos in no time. If you are using this tool then stick around and go through the detailed steps.
Step 1: Being the best alternative to Camtasia and Premiere Pro, iMyFone has an easy downloading process. show the first step is to click on the Download option. Clicking on this option will bring you to the next step where the .exe file will start downloading and you will get the software within a few seconds into your PC.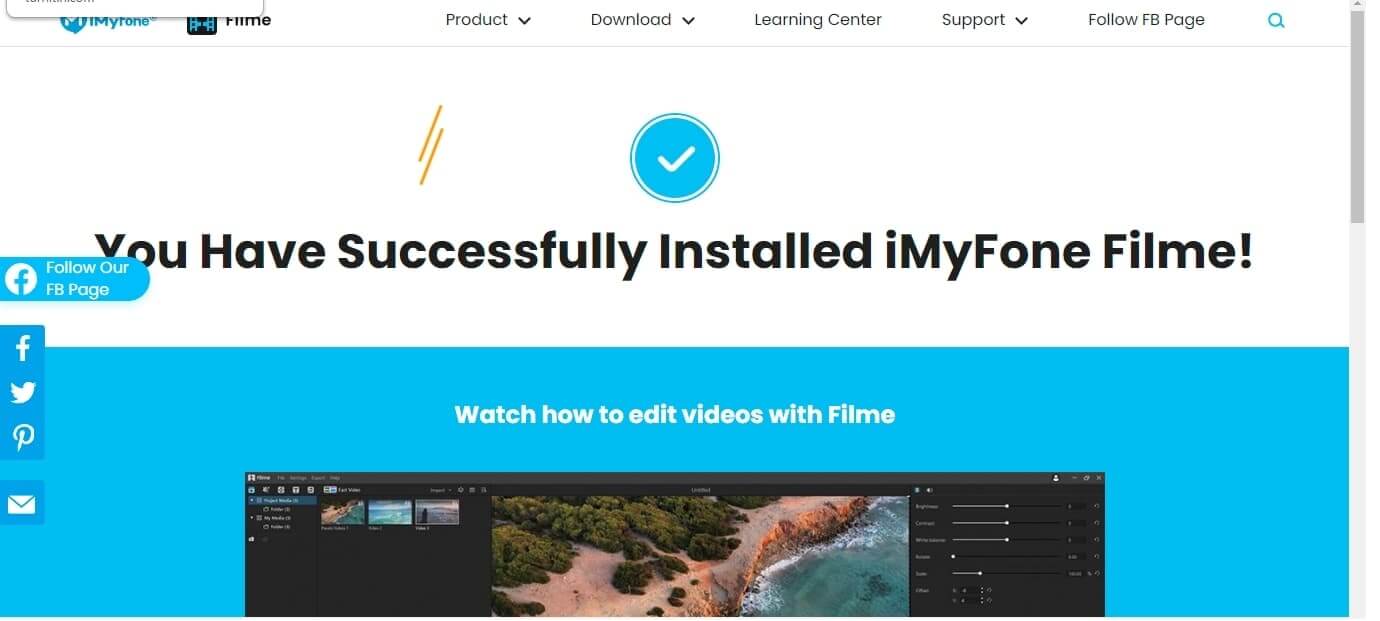 Step 2: Another application is into your system and you click on the main icon and open the application. here you will see the new project option. Click on your project and import the video that you want to edit. Once the video is imported to the software, you can easily do editing and make the best use of all the editing options.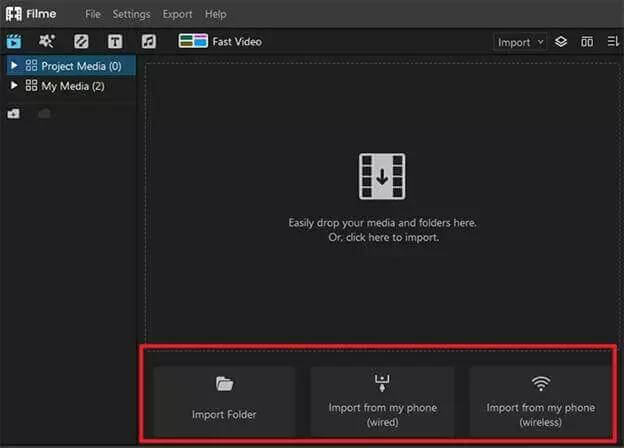 Step 3: In order to edit a video, click on the settings and a detailed list of editing features will appear in front of you. Use these features for video editing according to your unique editing needs. on the left side of the screen, the preview option is also available where you can easily preview every edit.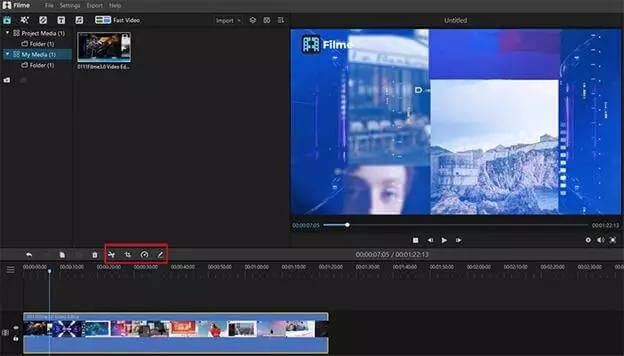 Step 4: Once you are satisfied with all the editing that you have done to your video it is time to Export it. The Export option is available on the top right of the screen. Click on this option to either download the editing video to your desktop or share it directly to social media or video-sharing platforms like YouTube.
Conclusion
After a lot of research and detailed analysis of the features of Camtasia and Premiere Pro, we have come to know that both tools are useful for professional purposes. However, if you want an all-in-one tool that is super easy to use but has all the advanced features covered by Camtasia and Premiere Pro, you should go for iMyFone Filme. No one can deny the fact that the iMyFone Filme is the best alternative to premium video editing tools and is super beginner-friendly. So instead of confusing yourself, it is better to go for the best alternative and enjoy the premium features for free.