Do you want to isolate voice from background noise?How many times you've faced circumstances where you found irritating background noise on your video?
There's no need to answer that question because everyone faces this issue. Whether it is a fan's voice or wind's voice coming through a window can make your video unbearable.
It is why you need to reduce background noise as soon as possible to achieve the goal by uploading a video on YouTube or any social media platform.
In this guide, we've opted to explore the befitting ways to remove/get rid of background noise using Premiere Pro video editors and its alternative.
Part 1. How to Get Rid of Background Noise in Premiere Pro
Premiere Pro is an excellent video editor, but i would recommend iMyFone Filme, Filme is more cheaper than Premiere Pro. Filme is a much more comprehensive video editing tool. you can remove noise in Filme easily, you can upload edited video to facebook,vimeo,youtube with single click. Filme has the best 4k HD support. Download iMyFone Filme below.
There is no need to look for special software for removing background noise from a video. You'll find DeNoiser Effect in Adobe Premiere Pro that can serve your purpose.
In addition, you'll also find some more audio effects in Adobe Premiere that are worth your attention. Importantly, the DeNoiser effect offers some prolific advanced audio parameters to adjust your audio of a video.
Before we dive into the step-by-step guide to noise reduction using Adobe Premiere, let us talk about a couple of key voice effects of Premiere Pro.
1. DeNoiser
Using the DeNoiser noise reduction effect, you can remove noise from an audio signal. DeNoiser has been used to remove unwanted background noise from audio, such as an air-con or fan humming behind the dialogue.
2. DeReverberation
It is used to remove the echo from your audio signal. People use it to remove echoes from the dialogue.
Steps of Removing Background Noise Using Adobe Premiere Pro
Here's a simple guide to get rid of background noise from audio using Premiere Pro.
Step 1: Launch Adobe Premiere Pro
After installing Adobe Premiere on your desktop, you need to launch it in the first place.
Step 2: Import a file
Now, you need to upload an audio file you want to remove background noise from.
Step 3: Navigate to the audio workspace
You need to move from the'' Editing'' workspace to the 'Audio' workspace in this pause.
Step 4: Select the preset
After moving to the'' Audio'' workspace, you need to select your audio clip. After selecting it, you need to assign the audio clip as a Dialogue option from the Essential sound tab option on your right side. Now, you need to select the preset you like. We're selecting Balanced Male Voice.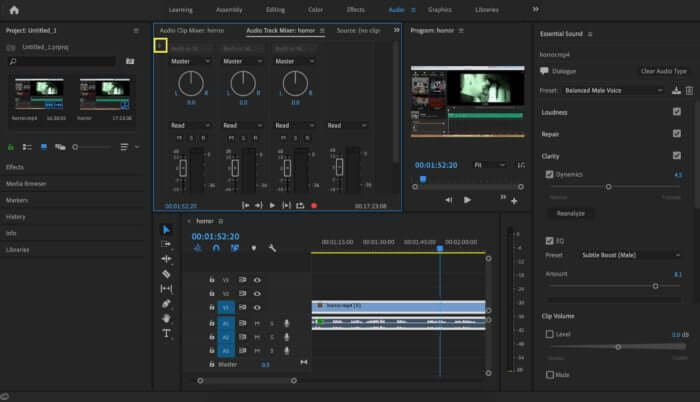 Step 5: Open audio track mixer panel
After navigating the audio track mixer panel, you need to press the small triangle pointing option to the right to pop up your effects panel.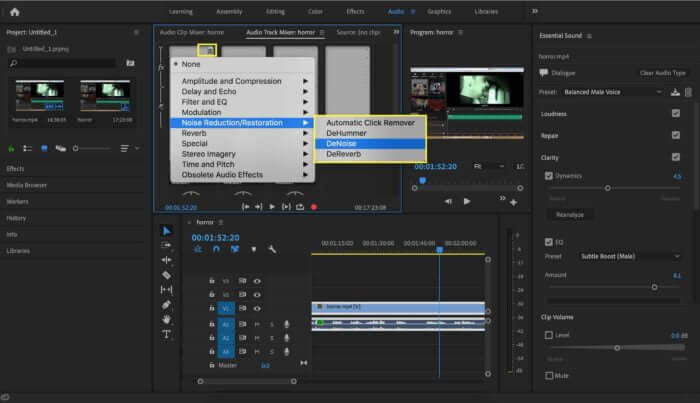 Step 6: Add DeNoise noise reduction effect
You need to add the'' DeNoise'' effect and then choose the DeNosing level you'd want to apply to audio through a slider option in the DeNoise FX editor.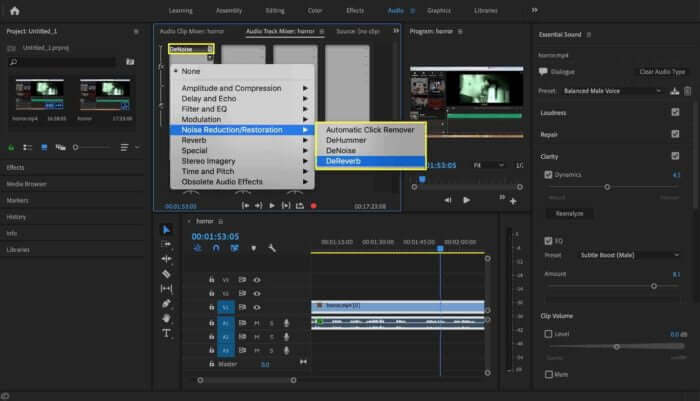 Step 7: Add DeReverb effect
You can also have another effect named DeReverb after going into the effect panel. You can set reverb level by using the slider on audio to eliminate the unwanted noise you'd be hearing in your room.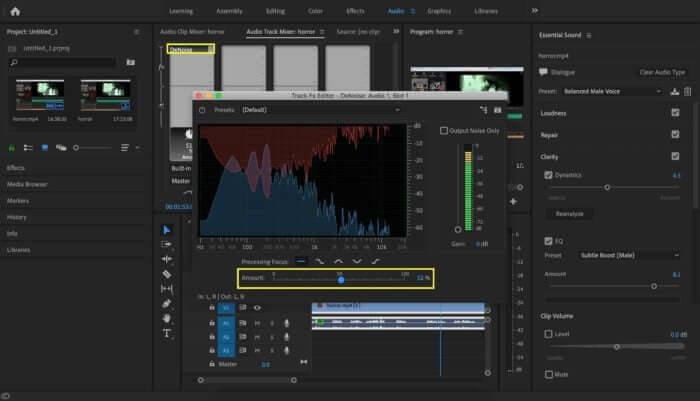 Step 8: Check auto-gain
You also need to make sure your audio level doesn't drop too low by checking auto-gain. Sometimes, when you remove the unwanted noise from the background, you accidentally slow down the actual voice of the audio.
Part 2. Best Alternative Video Editor to Remove Background Noise - iMyFone Filme
Removing unwanted background from your audio has always been a point of concern for many people. When you shoot a video, you may face a situation when many outside voices can make your content worthless.
It is why you should remove background noise from the video before uploading it to a platform. You'll find some breathtaking tools to reduce or reduce background noise, but no one can compete with iMyFone Filme when it comes to efficiency and effectiveness.
Filme is a professional tool that makes the job easier for beginner and pro users as well. You only need to follow some small steps to put all the things in order.
Steps to Remove Unwanted Noise from Video by Filme
Step 1: Import a video file
You need to start the proceedings after deciding which version you'd like to use of iMyFone Filme. First, you need to start a new project and proactively look for importing a video file you want to remove background noise from.
Step 2: Push to timeline
After importing the video clip, drop it to the timeline and get on with the things you're working on.
Step 3: Detach the audio
After dragging your clip to the timeline, you need to click on it and try detaching the audio from the video. It is necessary to separate the audio from a video to reduce the background noise. You can also remove you've made pressing the'' Undo'' button option.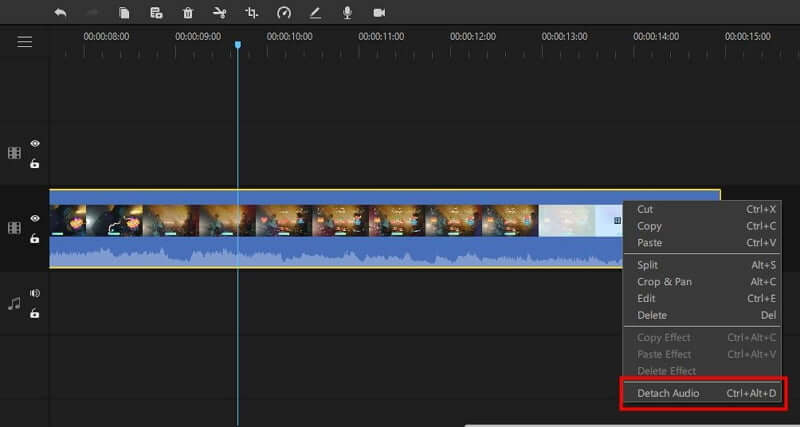 Step 4: Split the audio
Now, you need to split the audio you've detached to remove any wanted background noise. You can serve your purpose by moving the Playhead to a point you want to split the audio from in the timeline.
After choosing it, you need to right-click on the audio clip and split. This process will separate the audio files. You can save the appropriate audio clip you'd want to add to your video and remove the other one carrying the background noise.

Step 5: Export the file
Now, you navigate to the video file you've imported in the first place. You'll not hear background noise in your video. After checking it, you can save changes and download the video file by hitting the'' Export'' button.
Part 3. Tips for Reducing Background Noise
Many times you'd notice that the video you've filmed contains background noise. Although you can noise reduction using a video editor, you should record a video to minimize the risk of adding unwanted background noise to your video.
Here are some Pro tips to reduce the background noise.
1. Wear Headphones
If you're recording your video without headphones, it might cause chaos. Sometimes, your mobile's speaker catches every outside noise from your surroundings, making your video irrelevant.
It is why you need to use Headphones while recording any video. Headphones will make sure the unwanted noise stays away from your video.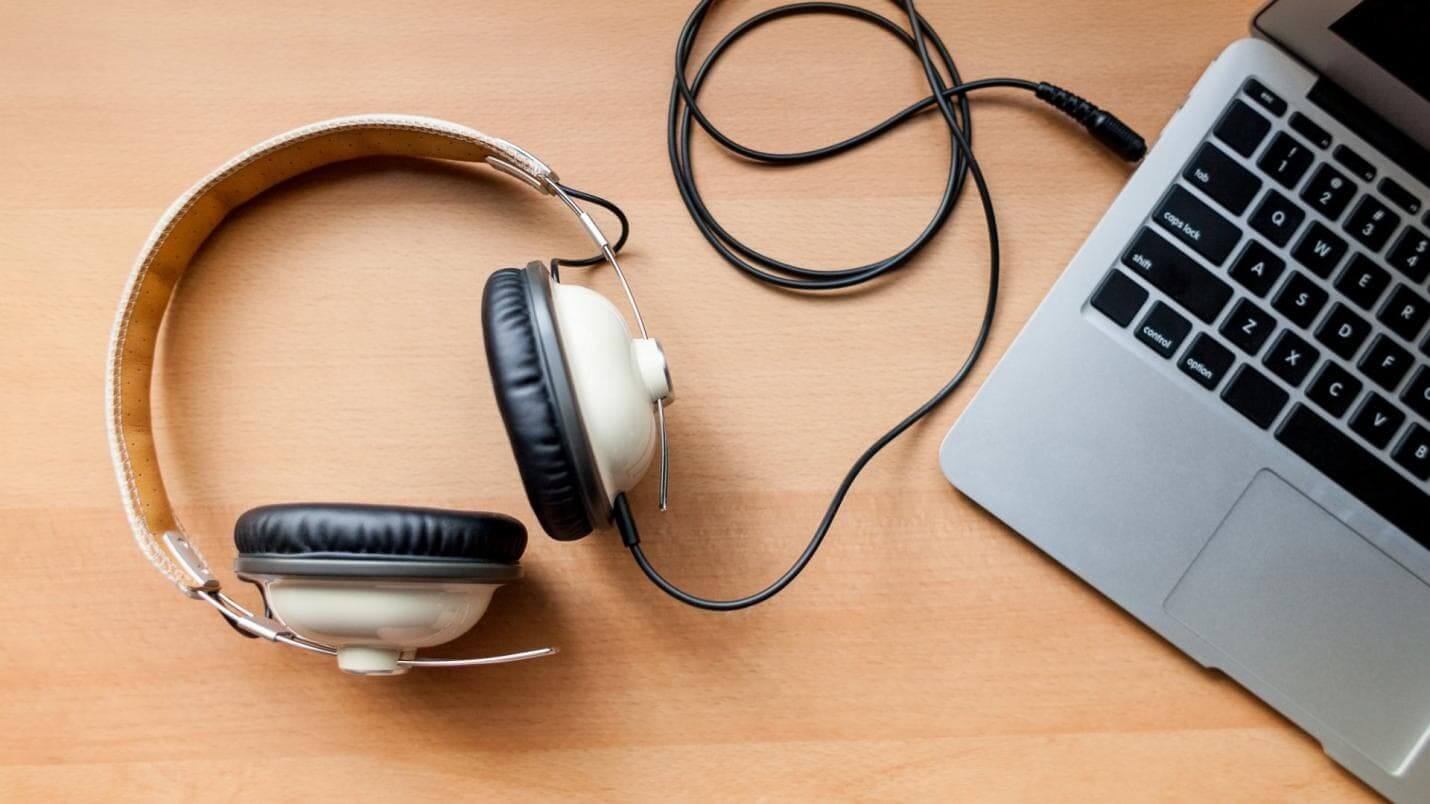 2. Stay Away from Noisy Areas
To reduce the fear of unwanted noise, you need to shoot the video in a place where you don't see any activity.
For instance, if you want to record your video in your room, you need to turn off the fan and close the window to avoid outside noise coming in. Another thing you need to consider is to stay away from the phone microphone while creating a video.
Because sometimes, the microphone captures the person's breathing voice, consequently making the video useless. It is why you need to take care of the few little things that might end up irritating you.
3. Real-Time Noise Suppression
Even though you can remove any unwanted voice using a video, you should use real-time noise suppression to reduce the background noise in real-time. The reason is apparent; everyone doesn't possess time to edit the video on a computer. It takes time and consumes a lot of your energy.
Some worthy real-time noise suppressions are available that make sure to record the speech and background noise separately. Later, you can remove the wanted noise from a video giving a single click.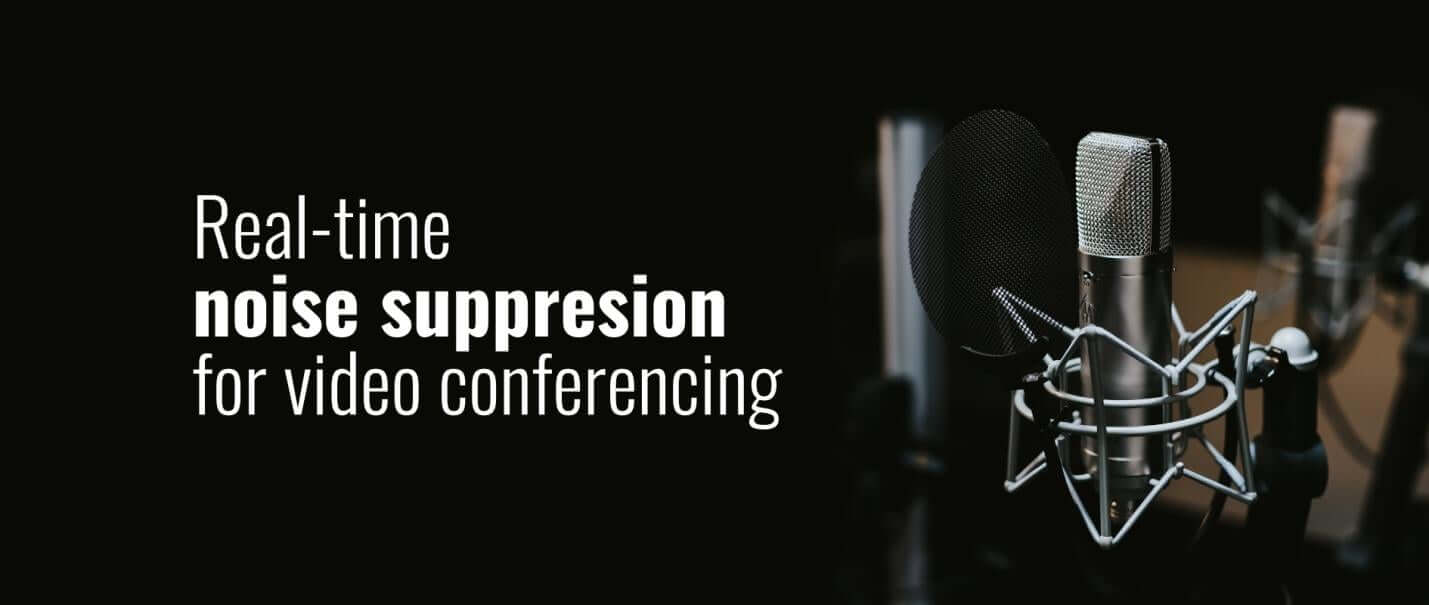 Conclusion
Have you ever wondered why so many professional content creators use iMyFone Filme?
They opt to edit their content in iMyFone Filme because this tool provides complete support and reliable services. In addition, many content creators have claimed that Filme helped them become better content creators by creating flawless and eye-catching videos. It comes with some fabulous features and easy to use interface.
Features
1. Crop or trim your video
If you think your video doesn't justify your thinking or some parts are irrelevant, you can crop the video to make the things relevant. On the other hand, you can trim your video to make your video short and precise. Luckily, iMyFone Filme provides you with the fantastic ability to crop or trim video without quality loss.
2. Make stunning slideshow videos
If you want to create a birthday video for someone or wish someone his success, you may try creating slideshow videos. To make an eye-catching slideshow video, you'll feel the need for iMyFone Filme. It offers some fascinating templates to make your slideshows videos worth admiring.
3. Change the soundtrack or color of your video
Filme doesn't get restricted to some basic and simple features. Instead, it ensures to make your content unique and breathtaking. Using iMyFone Filme, you can change the audio of your video and make it more relevant. In addition, if you think the video isn't good enough to impress others, you can take the opportunity to alter your video's color to make it pleasing to the eyes.