Filmora is a versatile tool that offers a pretty simple interface, meaning you don't need to acquire prior knowledge to use it. In addition, it possesses the ability to handle 100 audio tracks and 100 videos tracks in one project.
Meanwhile, Adobe Premiere Pro offers advanced and professional features compared to Wondershare Filmora, which is why the interface can sometimes be difficult to understand. But you'll see a lot of debate around which is the better video editor.
We'll compare these two video editors to figure out which is an appropriate option for you in this article. Moreover, we'll also introduce you to the alternative to these two video editors.
Part 1. Wondershare Filmora vs Premiere Pro
Let's explore the features of both video editors to judge who is a better pick for you.
1. Wondershare Filmora Review
Fillmore was developed by Wondershare, which is a modern company for developing online software for users. You'll find pretty reliable and trustworthy features in Filmora.
Let us explore some of its most useful features.
Ease of use
Downloading and using Filmora is pretty easy as you'd not face any issues even if you're a newbie.
It is easy to launch and import a video to Filmora's timeline. You'll find titles and preset transitions in Filmora that are pretty easy to use, even for beginners. However, you'll see pretty limited customization in Filmora.
Text/Titles
Filmora offers a more preset base compared to Premiere Pro. It means that you can easily implement the titles, but there's not enough customization for you.
It isn't easy to animate titles using Filmora because you can't embed them into your video using 3D trackers.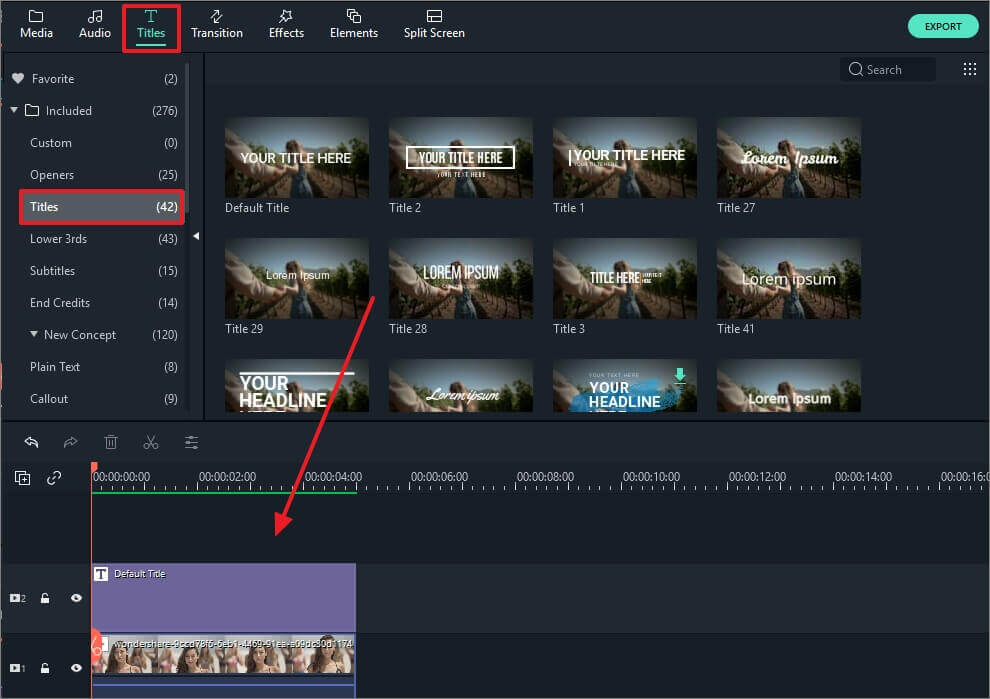 Color Correction
The color correction tool of Filmora is pretty simple. Filmora allows you to change the saturation, contrast, temperature easily, copy and paste your presets, add Luts, and more.
You can serve your purpose effortlessly without any prior knowledge about the software. The only downside of the color correction feature of Filmora is that you won't have complete control over your editing.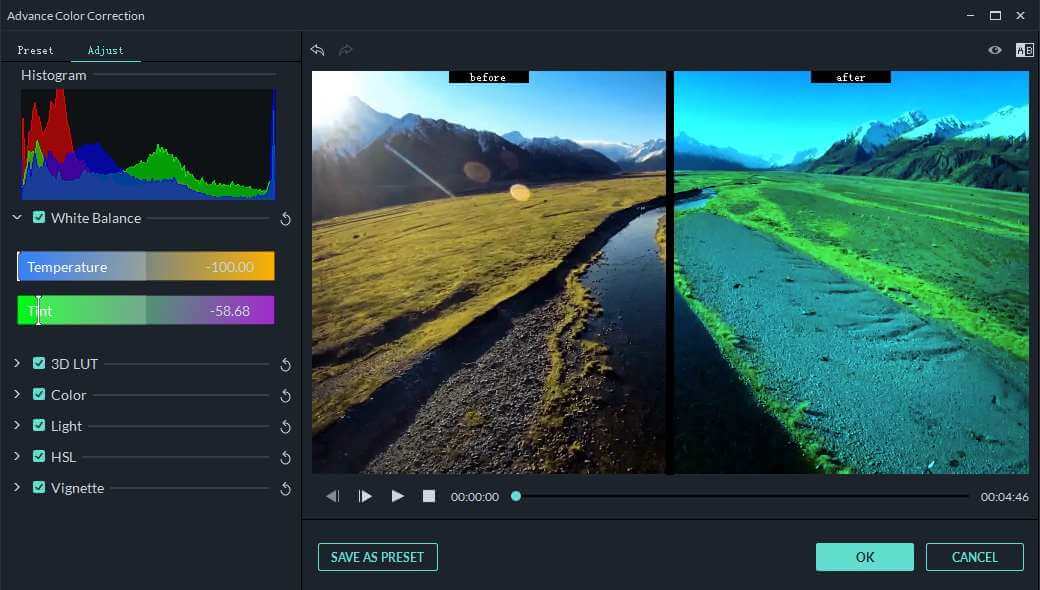 Plugins
You'll find some fascinating plugins in Filmora because its approach is fairly simple and understandable. It allows you to add titles and transitions with ease.
However, if you're looking for a specific transition or design, Filmora might not provide you with that facility. You'll get pretty limited options with Filmora when it comes to plugins.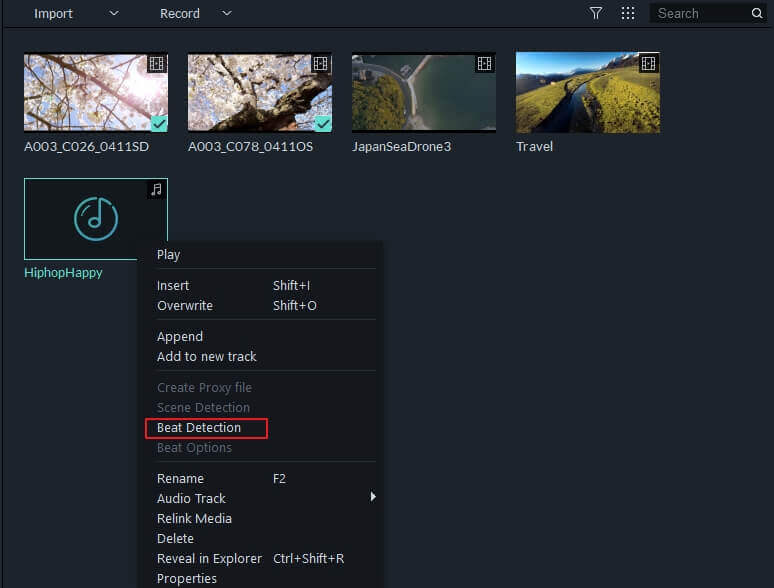 Effects and features
You'd find some fantastic effects and features with Filmora that can serve your proposal better than you expect.
But you can't seek Filmora to serve you as a professional video editor. Despite the simplicity and the presence of many effects, you can find it below par video editor if you're a pro content creator.
2. Adobe Premiere Pro Review
You'll not find many video editors providing the services that Premiere Pro provides to its users. It comes with some stunning and professional features for its users. Many production companies opt to use Premiere Pro due to its credibility.
Let us talk about the features of Adobe Premiere Pro.
Ease of use
Premiere Pro isn't an ideal option for beginners. Because it can be a bit tricky to explore its initial features, but once you've mastered its tools and features, you may not find a better video editor than Premiere Pro.
But if you want to edit your content faster, Premiere Pro will probably not live up to your expectations.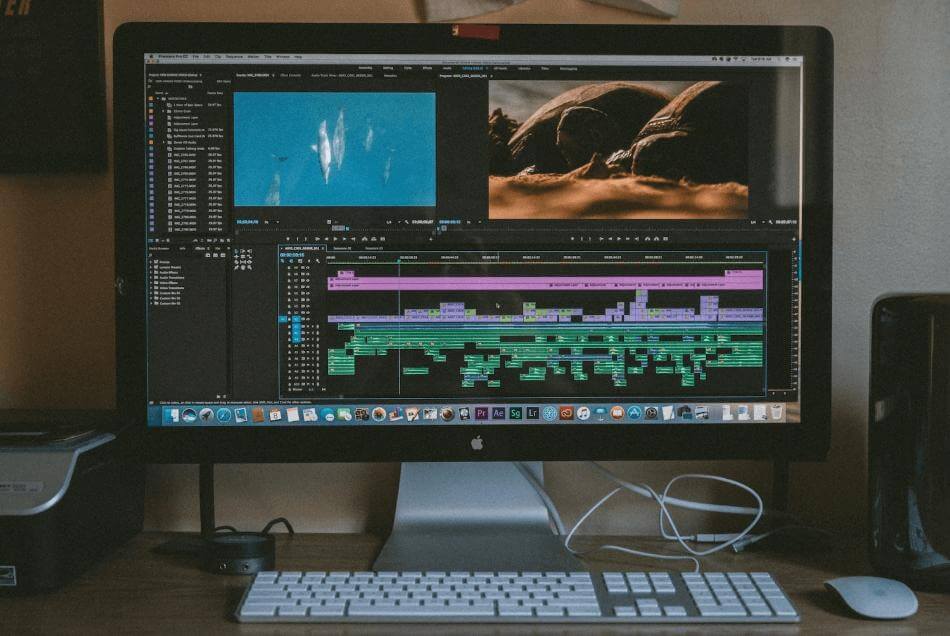 Text/Titles
You'll find a graphic panel in the Premiere Pro that can help you manipulate and add text to your video.
It also allows changing the centering, font, and style of your text pretty easily. Another huge thing with Premiere Pro is that it gives you complete control of editing, unlike Filmora.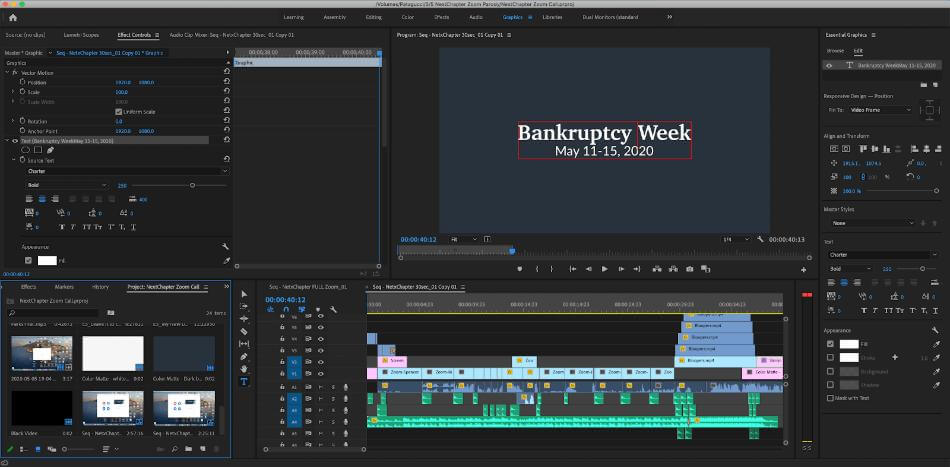 Color Correction
The color correction feature of any video editor can play a huge role in the outcome of a video.
Premiere Pro is a professional editor that can give you complete control when adjusting your videos' color. Using Premiere Pro, you can color through linear graphs, waveforms, and color wheels.
Besides, you can also manipulate the shadows, temperature, and highlights of your content. In addition, it also allows you to increase saturation and isolate colors.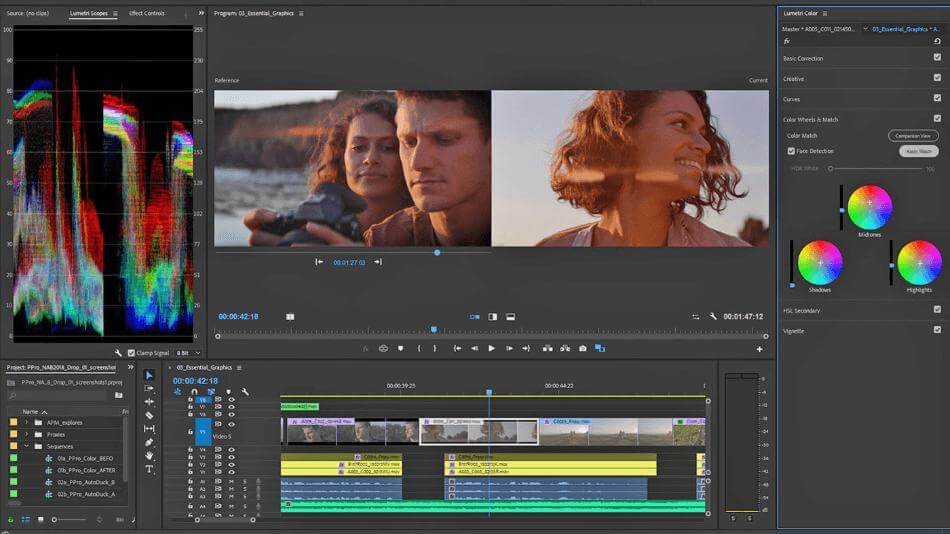 Plugins
Premiere Pro offers you some of the popular and fascinating plugins you'll ever see. Millions of users use Premiere Pro for editing purposes which is why you'll find plugins for every purpose.
You'll also find some third-party plugins for Premiere Pro. Some of them are free for use, but some charge a premium fee.
Effects and features
Adobe Premiere Pro possesses some fascinating effects for users. On top of that, you'll find all the effects customizable and professional.
Moreover, there are also some fascinating audio effects that users can explore using Adobe Premiere Pro.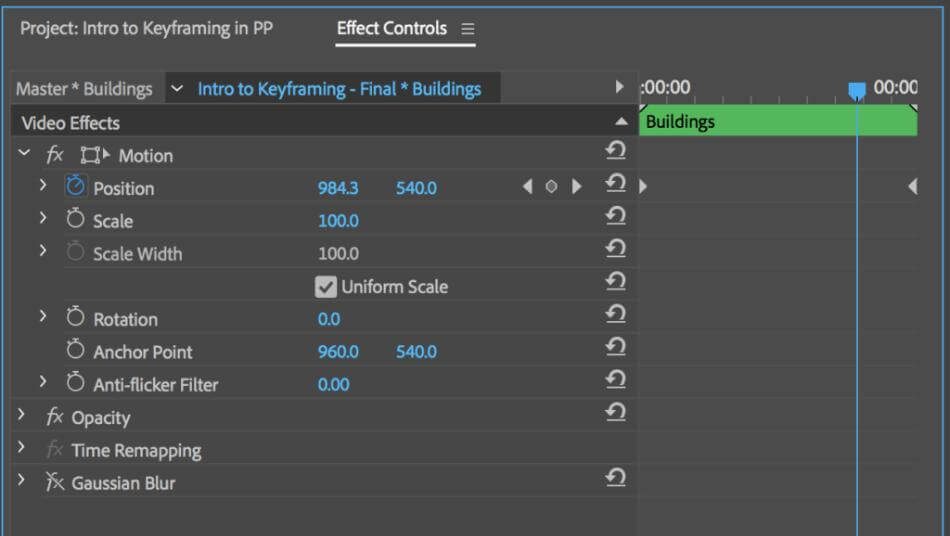 Part 2. Best Alternative Video Editor - iMyFone Filme
Why do you want to acquire the services of a video editor? Of course, you'd want to create catchy content for your audience or friends. For this purpose, you need to look for befitting and prestigious software that can justify what you've been looking for.
Luckily, iMyFone Filme is available in the market that can generate flawless content in a flash. Using this tool, you can do wonders creating unique and innovative video content.
On top of that, you'd find a pretty easy-to-use video editor in the shape of iMyFone Filme that doesn't require any prior knowledge to start the cracking in video editing.
Features
Quick Slide show maker
If you want to wish your friends or family by making an adorable slideshow video, iMyFone Filme provides you with the best possible way to make it even more memorable.
You only need to import some pictures of your friends on iMyFone Filme and select a song you want to add to the video. After you need to add some effects to your video, you'll be able to create a prestigious slideshow video with minimal effort.
Edit your content without technical knowledge
One of the best things about iMyFone Filme is its slick user interface. Using this tool, you can make your video look pretty fascinating without any prior knowledge of iMyFone Filme.
Whether you want to crop a video or trim your content, Filme comes with all guns blazing and provides you with the opportunity to serve your purpose.
Similarly, it also allows you to rotate your video in the right orientation and adjust its speed. Overall, iMyFone Filme is a brilliant package for those who are looking for reliable software.
Fast video mode and other features
Using iMyFone Filme, you can edit your video from any angle you want. It allows you to create a pretty quick video because it provides a remarkable fast video mode.
On the other hand, you can also slow track your video using its slow-motion mode. Moreover, adding sensational transitions and stunning Picture-in-Picture effect is also not a daunting task by any means.
And when it comes to audio features, Filme doesn't stay behind and provides its users with 50+ Audio features to play with. Using iMyFone Filme, you can play more than eight audio tracks simultaneously.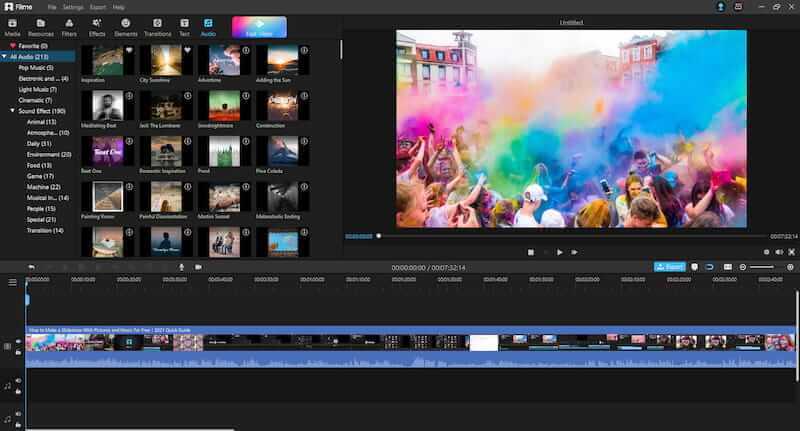 Part 3. FAQs about Wondershare Filmora vs Premiere Pro Comparison
1. Is Premiere Pro better than Filmora?
Every video editing tool offers different features from other tools. Similarly, the interface of every video editor varies from other tools.
But when you talk about Premiere Pro and Filmora video editors, Premiere Pro is far more superior. The reason is apparent; you'll get more advanced and professional attributes with Premiere than Filmora.
However, newbies can try out Filmora due to its easy interface, but content creators are advised to go for Premiere Pro.
2. Why is Premiere Pro expensive than Filmora?
Filmora comes with simple features that are easy to negotiable and usable. Since you'll not have advanced and professional features with Filmora, its price will be reasonable and affordable.
Comparatively, the premium version of Premiere Pro is much more expensive than Filmora. It comes with some stunning and professional features to play with. Moreover, you can access every additional plugin with ease.
The progressive and creative nature of Premiere Pro makes it an expensive video editor.
Conclusion
Filmora is a pretty reliable video editor that can perform appropriate tasks on your content. Moreover, it is user-friendly and offers a lot of good things for your videos in a flash.
However, it lacks professional and advanced features that famous content creators want to see in a video editing tool. On the other hand, Adobe Premiere Pro has all covered when we talk about video editing tools with advanced and professional features.
It allows content creators to shape the video in any way they want. It is why Premiere Pro wins the debate of '' Fillmore VS Premiere'' by some margin.
Furthermore, suppose you're looking for a video editor that offers the features like when we combine Fillmore and Premiere Pro.
In that case, iMyFone Filme can be a valuable addition that can serve your purpose. It comes with some scintillating features which you'd not see in any other video editor.